Madeleine McCann: how the story unfolded
KATE AND GERRY McCANN
Gerald Patrick McCann: [apartment 5A ground floor]
Father of Madeleine Beth McCann
DOB: 05 June 1968 As stated in day33
Place of birth: Glasgow, Scotland
Education: Holyrood R.C. Secondary School, Glasgow Studied medicine at Glasgow University, initially specialising and lecturing in sports medicine.
Met Kate Healy: Western Infirmary in Glasgow Scotland.
Married ------1998
Employment: Cardiologist at Glenfield Hospital in Leicester, England
Kate Marie (Healy) McCann : [apartment 5A ground floor]
Mother of Madeleine Beth McCann
DOB: 05 March 1968
Place of birth: Allerton, Liverpool, England.
Education: Notre Dame Catholic High School, Everton Valley, Liverpool -11-18 years.
Studied: medicine at the University of Dundee, in Scotland. She initially specialised in gynaecology but later changed to become an anaesthetist.
Met Gerry McCann: at the Western Infirmary in Glasgow, Scotland.
Married: 1998
Employment: P/T GP in Melton It is reported that she work as a GP because the hours would more suitable and flexible to arrange around a family.
Gerry and Kate McCann met as junior doctors in Glasgow 12 years ago, got together as they travelled in New Zealand
Kate McCann trained as an anaesthetist before retraining as a GP because, as two hospital doctors, they rarely saw each other.

Gerald Patrick McCann (known as Gerry) is a consultant cardiologist at Glenfield Hospital in Leicester who colleagues today described as "popular and hardworking",
Kate Marie McCann, from Liverpool, is a GP in Latham House Medical Practice in Melton Mowbray.

The McCanns underwent IVF treatment near their Leicestershire home before Madeleine was conceived. They had further IVF treatment to conceive their twins while they were living in Amsterdam."
Kate McCann gave birth to Madeleine Beth in May 2003, before the couple moved to Amsterdam, where Gerry McCann, a cardiologist, would study heart scanning....In vitro fertilization proved successful again while in Amsterdam, and

Kate McCann became pregnant with the twins. Madeleine was 20 months old when the twins, Amelie Eve and Sean Michael, were born in January 2005. The family settled in Rothley when they returned to England."
Gerald Patrick McCann comes from Glasgow and has 3 sisters, Patricia, Jacqueline and Phil, and a brother John. Madeleine's paternal Grandmother, Eileen lives in Glasgow. Her paternal grandfather, John (Jack) McCann - a joiner - was born in Londonderry and grew up in St Johnston. He is now deceased. Gerry's brother and 3 sisters were born in Donegal but the family re-located to Glasgow in 1967. At Easter 2005, 46 members of the extended family and friends from all over, spent 5 days in Dungloe and visited St Johnston.
Kate McCanns Parents, Brian and Susan Healy live in Allerton, Liverpool. Brian Healy suffers from Parkinson's Disease and says only his anger keeps him going.
The McCanns relaxing with friends in Amsterdam, 22 June 2011
Photos reproduced courtesy of Sharonl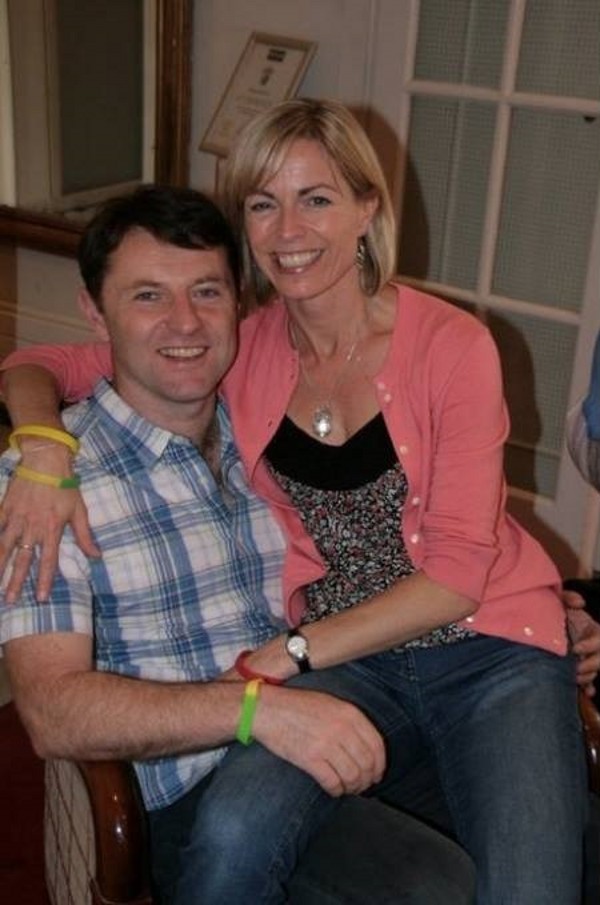 The McCanns relaxing in Amsterdam, 22 June 2011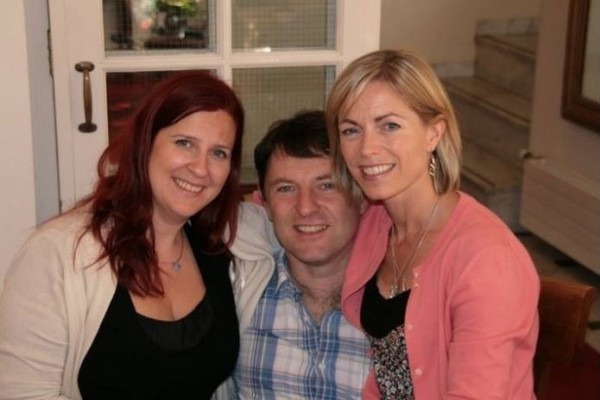 The McCanns relaxing with Seija Rutter in Amsterdam, 22 June 2011
10K RUN SEFTON PARK LIVERPOOL SUNDAY 06 MAY 2012
McCanns vow they will 'never give up' on missing Maddie as couple take part in charity run

mail
NICKY GILL KATE MCCANN
AMAZON IMAGES

Irish family talk of five years of 'hurt and pain' in the hunt for Madeleine

HERALD IE-07-05-2012

Kate and Gerry McCann grateful for Liverpool support in quest to find missing Madeleine after running Sefton Park 10k

LIVERPOOL POST-07-05-2012

Kate and Gerry's Mad dash: Madeleine McCann's parents in "Never Give Up" message on 10k run

MIRROR-07-05-2012

Kate and Gerry McCann 'positive' about Madeline

ITV NEWS-06-05-2012
WEDNESDAY MAY 02 2012 CENTRAL LONDON PRESS CONFERENCE
EVERTON-14-04-2012 Amanda Holden, Chris Hughes, Dame Judi Dench
Everton vs Liverpool FA Cup semi final 14 April 2012 McCanns with other VIPs: Amanda Holden, Chris Hughes Dame Judi Dench
EVERTON-14-04-2012
MAIL-17-03-2012

Review into Madeleine case is 'a huge step forward', say the McCanns ahead of 10k run for missing people

MAIL-17-03-2012

Review into Madeleine case is 'a huge step forward', say the McCanns ahead of 10k run for missing people
Missing people Service 21 December 2011
NPIA hosts a poignant carol service to remember missing people at Christmas

NPIA-21-12-2011
McCanns Get Court Date For £1m Cop Lawsuit

SKY-11-12-2011

Detectives travel to Barcelona in hunt for Madeleine McCann 'to probe reports she was smuggled to Spain

MAIL-06-12-2011

Madeleine McCann: Yard Cops Fly To Spain

SKY-05-12-2011

Parents of missing Madeleine McCann tell Britain's press ethics inquiry of media pursuit

NEWSER-23-11-2011

Parents of missing Madeleine McCann tell Britain's press ethics inquiry of media pursuit

Kate McCann 'felt raped' after her secret diary was printed in the News of the World

MAIL-25-11-2011

Leveson inquiry: Sun picture editor regrets McCann media scrum

GUARDIAN-09-11-2011

Leveson inquiry: McCanns deliver damning two-hour testimony

GUARDIAN-223-11-2011

Kate McCann 'felt raped' after her secret diary was printed in the News of the World

MAIL-25-11-2011

Scotland Yard officers in Spain as search for Maddy crosses the border

LONDON STANDARD-05-12-2011

Kate McCann 'felt raped' after her secret diary was printed in the News of the World
HAMBURG 16 SEPTEMBER 2011 GERMANY BOOK PROMOTION
Maddies parents at 'Beckmann'The parents of the missing girl child Maddie, Kate (m) and Gerry McCann (l) sit together with moderator Beckmann during the recording of the 'Beckmann' show at a TV studio in Hamburg, Germany, 15 September 2011. Maddie, Madeleine McCann disappeared four years ago without a trace from the families hotel room. In an extraordinary campaign, the parents tried to find her, but without results. Now they spoke about their time of suffering, their hopes and throwbacks. Photo: Marcus Brandt
GERRY MCCANN UNDESTANDS WHY PEOPLE KILL THEMSELVES

STAR_18_09_2011

16 Sep 2011Kate and Gerry McCann, stand on a hotel balcony in Hamburg, Germany, 16 September 2011.

IMAGES
HAMBURG 15 SEPTEMBER 2011 GERMANY BOOK PROMOTION
Maddies Eltern stellen deutsche Ausgabe ihres Buches vor
The parents of the missing girk Maddie, Kate and Gerry McCann, present their new book at a hotel in Hamburg, Germany, 16 September 2011. Maddie, Madeleine McCann disappeared four years ago without a trace from the families hotel room. In an extraordinary campaign, the parents tried to find her, but without results. Now they speak about their time of suffering, their hopes and throwbacks in their book 'Madeleine. Our daughters disappearance and the continuing search for her' by Kate McCann. Photo: Christian Charisius

METRO-29-09-2011

Kate McCann named one of the 20 most inspirational women in Britain

VIDEO

Stephanie Lamprecht Intervuew
LINK
"I Don't Think That Madeleine Has Died"

MARIE CLARE-01-09-2011

"I Don't Think That Madeleine Has Died"

MADELEINE IMAGES
BOOK IMAGES

The lurking demon that took away our sex life

TIMES-15-05-2011

news / German tv book tour10 sep 2011

ML

Mona Lisa




Maddie

McCann

disappeared

forever

?


Kate

and Gerry

McCann

Her

picture went around the

world,

Maddie

McCann, who

disappeared

in

Portugal

in 2007

.

Her parents

Kate

and Gerry

began

an unprecedented

search without

success

.

And

themselves became

suspect.

In

ML

they

speak

for the first time

on German television.

VIDEO LINK

Kate McCann, mother of missing Maddie, has now written a book about the search for her daughter. She and her husband Gerry in an exclusive interview with Susanne Gelhard for ML Mona Lisa.

news Germany 13 Sep 2011 Nora Wolfslast / Bild.de

LINK

McCanns hoping to speak at phone-hacking investigation

LEICESTER MERCURY-07-09-2011
FAMILY IMAGES
Mccanns with Denise + Bruce Morcombe (Daniel), 2011 Caption: " The Mccanns anguish is shared by the parents, (Denise + Bruce) of Daniel Morcombe, who was abducted on the Sunshine Coast (Australia), in 2003. Recently they met each other, two families holding onto hope "

source of image and caption : 25 July 2011, Yahoo ! 7

Mccanns with Denise + Bruce Morcombe (Daniel), 2011 Caption: " The Mccanns anguish is shared by the parents, (Denise + Bruce) of Daniel Morcombe, who was abducted on the Sunshine Coast (Australia), in 2003. Recently they met each other, two families holding onto hope "

source of image and caption : 25 July 2011, Yahoo ! 7
YAHOO 7 NEWS AUSTRALIA VIDEO 25-07-2011
AMSTERDAM NETHERLANDS 22 JUNE 2011
video
Photos Source AAPone

PORTUGAL 21 to 23 MAY 2011

caras -01-06-2011

Kate and Gerry McCann. "We Want the Persons Who Did Not Talk To Do So Now"

I ONLINE-23-05-2011

Scotland Yard detectives probe Spanish Madeleine lead

PORTUGAL NEWS-10-12-2011
McCann couple "is stronger than in 2007"
CORREIO D MANHA -22-05-2011
MADELEINE BOOK PROMOTION PHOTOS LEADING UP TO MADELEINES 8th BIRTHDAY 12 MAY 2011
McCann's return to Portugal

The Merrion Hotel for a press conference regarding the launch of their book 'Madeleine' . Dublin, Ireland - 13.05.11.

leaving the RTE studios after appearing on The Late Late Show. Dublin, Ireland - 13.05.11

Prime Minister is accused of politicising police by meddling in Maddie investigation

MAIL-14-05-2011

Open up the Maddie files

SUN-12-05-2011

McCanns: Haunted

SUN2-07-05-2011

I couldn't make love to Gerry

SUN-10-05-2011

Open up the Maddie files

SUN-12-05-2011

Kate McCann: I wanted to die

TIMES-08-05-2011

Kate McCann: I believe kidnapper drugged my twins on the night Madeleine was taken

MAIL-12-05-2011

Kate McCann: I believe kidnapper drugged my twins on the night Madeleine was taken

On her eighth birthday, please help us find our darling Maddie, pleads Kate McCann

You will be 'arguido' ... suspects

SUN3-09-05-2011

Madeleine McCann: Parents don't believe young blonde girl spotted in India is their missing daughter

MIRROR-29-07-2011

The Merrion Hotel for a press conference regarding the launch of their book 'Madeleine' . Dublin, Ireland - 13.05.11.

leaving the RTE studios after appearing on The Late Late Show. Dublin, Ireland - 13.05.11

MAIL-13-05-2011

Prime Minister is accused of politicising police by meddling in Maddie investigation

MAIL-14-05-2011

PM reopens Maddie files

SUN-13-05-2011

Kate McCann: I believe kidnapper drugged my twins on the night Madeleine was taken

MAIL-12-05-2011

Next chapter in the search for Madeleine

MADDIE MUM: MY TORTURE

MADDIE MUM: MY TORTURE
MADELEINE 04 YEAR MISSING 03 MAY 2011
10 kilometre run Regent park 02 April 2011
McCann parents run for charity
McCanns call for case review

ALGARVE RESIDENT 19-11-10

Kate and Gerry call for Madeleine case review

ALGARVE RESIDENT 10-11-10
McCanns seek joint Madeleine review
TELEGRAPH-03-11-10
McCanns: We feel the hunt for Maddie is over
SUN-03-11-10
McCanns: We feel the hunt for Maddie is over

Madeleine McCann inquiry 'running out of funds'

BBC-03-11-10
POLICE CHIEF: WE WILL REOPEN MADELEINE MCCANN CASE
EXPRESS-07-11-10

'Madeleine may never be found,' admits Kate McCann as she reveals appeal fund will run dry within months

MAIL-03-11-10
Kate and Gerry McCann walk after speaking about the disappearance of their daughter Madeleine at a news conference in Quorn
QUORN-02-10-10
I'm disappointed in you Home Secretary, says Kate McCann
MAIL-07-11-10

McCanns: We feel the hunt for Maddie is over
SUN-03-11-10
McCanns tire of 'fluffy and worthless' words offered
by authorities
N-SCOTSMAN-03-11-10
Thousands sign Madeleine McCann petition to force joint review by British and Portuguese
MAIL-04-11-10
Kate and Gerry McCann walk after speaking about the disappearance of their daughter Madeleine at a news conference in Quorn
QUORN-02-10-10
MADELEINE MCCANN PARENTS: DAVID CAMERON'S A LET-DOWN
STAR-07-11-10
McCanns 'delighted' over support
PRESS ASSOCIATION 07-11-10
Kate McCann spotted at Everton FC game
LIVERPOOL ECHO-01-11-10

Thousands sign petition for Madeleine McCann review

LIVERPOOL ECHO-08-11-10
3 YEARS MISSING

Maddie plays dressing-up, weeks before she vanished: McCanns fly back to Portugal in bid to reopen case - and release new picture

MAIL-02-05-10

Our twins keep gifts for Maddie

McCanns issue new Maddie pic
SUN-03-05-10
SUN-02-05-10

McCanns pray for missing daughter Madeleine as they mark third anniversary of her disappearance

MAIL-03-05-10
SandraFelgueiras interview McCanns 01 May 2010

SANDRA FELGUEIRAS-01-05-10

SandraFelgueiras interview McCanns 01 May 2010
I know who took Maddie

SUN-01-09-10
Interview with Mike Williams
30-4-10 BBC World Service
Madeleine McCann parents say some don't want their daughter found

Madeleine McCann search: Kate McCann and Gerry McCann plead for donation

MIRROR-03-11-10

I know who took Maddie

Gerry McCann breaks down as he tells how hunt for Madeleine 'is shaking his Catholic faith'

MAIL-01-05-10
Mummy was a doctor …. but now her job is to find Madeleine.

SUN-28-04-10

Parents of Madeleine McCann tell five-year-old twins how their older sister was 'taken'

MAIL-28-04-10
Kate McCann: I pray for the people who have kidnapped Madeleine

MAIL-14-03-10

United front: The McCanns wore T-shirts with Madeleine's picture on and the plea: 'Don't give up on me'

McCanns fun run for missing

United front: The McCanns wore T-shirts with Madeleine's picture on and the plea: 'Don't give up on me'

McCanns In Charity Run For Missing People
SKY-13-03-10
Rachel Elias, sister of Richey Edwards, Nicki Durbin and Kate and Gerry McCann

Kate: Mother's Day too painful
Gerry and Kate McCann were shocked at the attitude of the Portuguese police for having hidden sightings and leads to Madeleine from them.

LUX-05-02-2010

Gerry and Kate McCann were shocked at the attitude of the Portuguese police for having hidden sightings and leads to Madeleine from them.

LUX-05-03-2010
Kate and Gerry McCann speak exclusively about life without Madeleine, the feelings that torment them and the struggle to find her.

LUX-25-02-2010

Kate and Gerry McCann speak exclusively about life without Madeleine, the feelings that torment them and the struggle to find her.

LUX-25-02-2010
McCanns demand new Madeleine inquiry

Kate and Gerry McCann promise they'll never give up searching for Madeleine

KATE KEEPS SHRINE TO MISSING MADDIE

'HEART-BREAKING' FAILURES IN SEARCH FOR OUR MADELEINE

'We're just keeping our heads above the water': Desperate and angry, Kate McCann begs British police to take over Maddie hunt

19-02-10

19-02-10

19-02-10

19-02-10

19-02-10

19-02-10

Kate: I used to wish I was dead

McCanns fear child protection plan

Kate McCann exclusive: My Liverpool and why we're closer to finding Madeleine

MCCANNS BEG CAMERON TO HELP THEM FIND MADELEINE

LIVERPOOL ECHO -28-04-10

Madeleine McCann's parents to be interviewed by Lorraine Kelly

Kate and Gerry McCann accuse British Government of hampering search for Madeleine

Kate's comfort in Maddies bedroom

McCanns criticise "heartbreaking" failure police to find Madeleine as they launch fresh appeal

19-02-10

Madeleine Petition As Parents Rap Theresa May

19-02-10

19-02-10

19-02-10

19-02-10

19-02-10

19-02-10

19-02-10

19-02-10

19-02-10
Photos By Frederico D Carvalho

Madeleine McCann's parents wait to hear about book ban

BBC-10-02-10
LISBON 10-02-10
LISBON 10-02-10
LISBON 10-02-10

"Ignored" evidence may lead to re-opening of Madeleine case

ALGARVE -RES-11-02-10

Kate and Gerry McCann await Maddie book ruling

METRO-11-02-10

"It smells to me like fresh meat and vultures"

24 HOURS 11 FEBRUARY 2010
DAYLIFE
10-02-10
10-02-10
10-02-10
10-02-10

McCanns back in court to defend book ban

INDEPENDENT-10-02-10

10-02-10

10-02-10

'British police said McCanns should be investigated after Madeleine went missing

British police DID say investigate McCanns (Paper addition only Headline)
MAIL-11-02-10

"Ignored" evidence may lead to re-opening of Madeleine case

ALGARVE -RES-11-02-10
EXPOSAY
Kate and Gerry McCann host star-studded fundraiser to mark the 1,000th day since their daughter Maddie went missing

GO TO 1,000 DAYS
MAIL-27-01-10

KENSINGTON ROOF TOP GARDENS 1,000 DAYS
LISBON 14-01-10
/www.daylife.com
LISBON 14-01-10
LISBON 14-01-10

Kate McCann: It's hard toFEBclaims I faked my daughter's abduction - but nothing is worse than losing Madeleine

MAIL-14-01-10

LISBON 14-01-10

McCann Lawyer: Knew Trial Was 'Pandora's Box'

SKY-14-01-10

LISBON 14-01-10
LISBON 14-01-10
LISBON 14-01-10
SKY-10-02-10

Kate McCann: It's hard to hear claims I faked my daughter's abduction - but nothing is worse than losing Madeleine

MAIL-14-01-10

Kate McCann: It's hard to hear claims I faked my daughter's abduction - but nothing is worse than losing Madeleine

LISBON 13-01-10
LISBON 13-01-10
LISBON 13-01-10
LISBON 12-01-10
daylife.com

Court agony for McCanns: Couple listen in disbelief as Portuguese police say Maddie is dead and abduction was faked

MAIL-13-01-10

LISBON 12-01-10

Madeleine McCann's death 'covered up by parents who faked kidnap', court hears

TELEGRAPH-12-01-10

Court agony for McCanns: Couple listen in disbelief as Portuguese police say Maddie is dead and abduction was faked
LISBON 11-01-10

Ex-Police Chief Faces Madeleine Libel Court
Madeleine McCann 'Died In Holiday Apartment'

SKY-12-01-10

Ex-Police Chief Faces Madeleine Libel Court
Madeleine McCann 'Died In Holiday Apartment'
12 DEC09 Kate,Gerry Mccann, Susan Hubbard PdL
PRAIA DA LUZ 12-12-09

Madeleine McCann's parents make emotional visit to resort from where she was abducted

TELEGRAPH-12-12-09
Gerry + Kate McCann with Susan Hubbard 12 Dec 09
PRAIA DA LUZ 12-12-09
PRAIA DA LUZ 12-12-09

McCanns attend dawn church service

with Mrs Hubbard's relatives

UPDATE 12 DEC 2009
Macs With Salvador da Cunha, 1st left CEO of Lift Image Consulting, McCann's PR in Portugal11 Dec 2009

HELP & ADVICE PEOPLE
LISBON 11-12-09

McCanns fly to Portugal for nothing as judge postpones libel trial against police officer who wrote book about Madeleine

McCann's parents to attend libel case against police officer

CNN-11-01-10
MAIL-11-12-09

LISBON 11-12-09

LISBON 11-12-09
DIARIO_DE_NOTICIAS_10_01_10

LISBON 11-12-09
Gerry Kate McCann Isabelle Duarte Lisbon 11-12-08
LISBON 11-12-09
Great Kibworth Run - September 2009
LLI-HARBOROUGH-28-09-09

466 Peter Neal Patterson, 486 Andy Jackson, 449 Kate Healy, Gerry McCann, 450 Fiona Payne, 454 Simon Green
Kibworth & Fleckney half marathon goes to William Nock
LEICESTER MERCURY-29-09-09
Kate and Gerry McCann give an interview to Portuguese TV channel RTP's reporter Sandra Felgueiras, following the launch of a new video by the Child Exploitation and Online Protection (CEOP) initiative, at the Millbank Studios in London as the couple continue the search for their daughter, Madeleine, who disappeared while on holiday in Portugal in May 2007.

SKY GALLERY

Madeleine McCann's twin siblings angry as they start to understand horror of her abduction

MIRROR-04-11-09

Madeleine's Parents May Sue Ex-Cop For £1.2m
SKY-23-09-09

Millbank Studios in London
23-09-09-mc6

Millbank Studios in London


23-09-09-mc
Millbank Studios in London
23-09-09-mc1
Millbank Studios in London
23-09-09-mc2
23-09-09-mc3
23-09-09-mc4
23-09-09-mc5
| | |
| --- | --- |
| | |
| Madeleine: The British have never shown them 'Secret' accounts of Kate and Gerry | Madeleine: The British have never shown them 'Secret' accounts of Kate and Gerry |
06 SEPTEMBER 2008 EXPRESSO INTERVIEW
McCann's rowed before snatch

01 YEAR MISSING
Our Lady of Annunciation Church, Liverpool, 1 year
McCanns back web child initiative
BBC-24-05-08

Kate and Gerry McCann leave the Church of St Mary and St John in their Leicestershire home town of Rothley after a prayer service to mark one year since their daughter Madeleine disappeared on May 3, 2008 near Leicester, England. Madeleine McCann vanished from the family holiday apartment in Praia da Luz, Portugal on May 3, 2007. Her family and friends are marking the one year anniversary with church services in Praia da Luz and Rothley which will be dedicated to all missing children as well as to Madeleine
[One year on]

Kate And Gerry McCann Warned Not To Go Back To Portugal For Madeleine Anniversary
[One year on]

MIRROR-21-03-08

MADDIE COPS TO SHOW MCCANN'S EVIDENCE

MCCANNS ROW COP SET TO GO

Rob Chaytor, Daily Mirror

Hyatt Regency Hotel, One Year Anniversary

MEDIA
Madeleine's parents: 'We will take lie detector test to clear our names'

Row as McCanns use £1million Madeleine fund to pay their mortgage

MAIL-21-09-07
Gerry McCann 'played tennis days after Madeleine disappeared'

Madeleine's parents: 'We can't tell the twins she may be dead'

MAIL-19-09-07

Madeleine's Parents 'Utterly Innocent'

SKY-18-09-07

Haunted by Maddy's disappearance, Kate McCann spends three hours a day trawling files

McCanns 'didn't say Madeleine probably dead'

Green light for abducted children alert system campaigned for by Liverpool-born Kate McCann

Kate and Gerry McCann 'could be charged with neglecting Madeleine

Kate McCann blasts Portuguese police chief who wrote book about hunt for Madeleine

Hunt For Gerry's Missing Tennis Bag Which Could Have Been Used To Carry Madeleine Away

McCann's are no longer suspects
Madeleine: Now British police ask if twins are 'at risk'

'A year in jail and you can go home'

SUN-29-04-08
DAY 130

'PANIC' FLIGHT BACK TO BRITAIN ONLY FUELS MORE LOCAL SUSPICION
KATE & GERRY PHOTOGRAPHED OPENING MAIL 16-08-07
BLOG DAY 105

Maddy police were no Poirots, mock their own prosecutors
Huelva bus station 3 aug 07

Police Probe Lost Two Hours

Huelva 3 aug 07

Gag Bars McCann's From Answering New Madeleine
Body Dumping Claim
McCanns' SOS to Miliband

'Sickened' parents of Madeleine McCann in showdown with
Portuguese police
Madeleine: Top cop inisists McCanns are 'victims not suspects'

MAIL-02-09-07
POPE VISIT 2007
Madeleine's parents have audience with Pope

The Pope: VIPs at the Vatican

MIRROR-15-09-10
Madeleine's Parents To Sue Newspaper

SKY-11-08-2007

23 MAY 07

Madeleine Detectives Hunting Portuguese Drifter who Is The Spitting Image Of New Kidnap Suspect
Lagos, PORTUGAL: Gerry (R-Back) and Kate (C) McCann, the parents of the missing three-year-old girl Madeleine McCann leave Our Lady of Light church after a vigil for Madeleine in Praia da Luz, southern Portugal, 11 May 2007. The parents of Maddie, who disappeared last week in southern Portugal, said Friday they were satisfied by the police that was doing all it could to find their daughter as authorities wound down their search of the local countryside. AFP PHOTO/ VASCO CELIO (Photo credit should read VASCO CELIO/AFP/

Getty Images)

11 May 2007 Kate Gerry
Ragdoll & cuddle Cat
Portuguese Police Make Suspect Sketch in Kidnapping of British Toddler

FOX NEWS 06-05-07

Madeleine McCann Witness
Breaks Her Silence
Fighting fund' set up by lawyers in Madeleine search

Sweaty Murat was breathless and excited during Maddie police quiz'

Reopening the wounds: Kate McCann visits Maddie's room twice a day and the pain is raw. But she hopes her book will revive the hunt

MAIL-16-04-2011

'We believe our Madeleine is safe and we won't go home without her'
Maddie - A year in the darkness

May 4th 2007
| | |
| --- | --- |
| PUSH CHAIRS | |
'Allegations Cannot Go Unchallenged'

[Updated to] Why McCanns Are Suing Over 'Lurid' Claims

SKY-01-09-07

Mystery of Madeleine parents' secret emails 'intercepted by police'

MAIL-09-08-07
Madeleine suspect's lawyer attacks 'these bloody McCanns'

MAIL-09-08-07

Madeleine parents are re -interviewed by police
Inflatable Billboard

Madeleine's parents invited to Vatican for private meeting with Pope

GUARDIAN-29-05-07

Kate McCann: 'If I weighed another two stone, had a bigger bosom and looked more maternal, people would be more sympathetic'
| | |
| --- | --- |
| Madeleine's mother to be quizzed again by Portuguese police | |
McCanns back face book

Madeleine's mother hits out at 'fluffy worthless promises' as appeal fund is set to run dry

MAIL-02-11-10
Kate and Gerry McCann to fly to Portugal for trial against former police officer involved in search for Madeleine

MAIL-10-12-09

Outrage as art event invites participants to 'Make your own Maddy McCann porn'

Kevin Halligen: On the run from friends, the FBI and his fake wife too

TIMES-22-11-09
MAIL-22-01-09
| | |
| --- | --- |
| Where were you mummy? | Where were you mummy? |
Madeleine McCann's parents call for case review

ITV-02-11-10
Berlin city mayor Klaus Wowereit
06 JUNE 2007 Berlin Tour

Someone in Praia da Luz knows what happened to Madeleine, claim private detectives
MAIL-03-05-09
McCanns delighted at 'Maddie alert'

SUN-05-04-10

Dungeon rescue gives me hope

Dungeon rescue gives me hope
Express-28-09-09-gkm

Kate and Gerry McCann plan first trip back to Portugal resort where Madeleine vanished
MAIL-07-10-09
McCanns fly out to America to appear on Oprah... to show the world new pictures of what Madeleine would look like today

Cavorting half-naked as a pole-dancing nurse, the nanny who is a key witness in Maddie case

May 7 2007: Kate and Gerry McCann make an appeal for their three-year-old's return
Steve Parsons/PA

Kate's Maddie holiday premonition
SUN 20-10-08
Brian Ashton, Coach, England Rugby Union July 4, 2007 in Vilamoura, Portugal.

Maddie lie' cop to face McCanns in court fight

Anti-McCann group facing fraud probe
SUN-02-12-09
Madeleine at six? Two years on, the startling image that could rekindle McCanns' hope
MAIL-02-05-09

May 14 2007: Gerry and Kate McCann talk to journalists
Armando Franca/AP
Kate And Gerry McCann Sorry

Mystery of Madeleine parents' secret emails 'intercepted by police'

MAIL-09-08-07
Gerry & Kate

Madeleine 'killed in moment of thwarted desire'

May 15 2007: Gerry and Kate McCann cast a shadow on the
wall of the Ocean Club resort
in Praia da Luz

In pictures: Madeleine McCann
'I know where Madeleine is' call traced to Argentina

MAIL-09-06-07

McCanns To Work With Child Campaigners

SKY-06-07-07

Six months without Madeleine: Is this the Moroccan village that holds the key to her disappearance

Kate: We all checked kids
Madeleine police to come to Britain to re-interview Tapas Nine

Gerry's fears for Kate on the day Madeleine disappeared

MAIL-28-02-08

McCanns asked for missing Madeleine to be made ward
of court
Madeleine's mother:
Why we didn't use a baby listening service
PUT ME ON MCCANN TV SHOW BEGS AXED COP
STAR-23-04-09
Madeleine and the missing hour: how often did the McCann's
check on their children?

Portuguese police fury over Tapas Nine's secret
Madeleine summit

Madeleine: McCanns consult American lawyers over
'cadaver dog' evidence

T-I-LONDON-27-06-08
T-I-LONDON-12-12-07

Revealed: Mystery benefactor funding Madeleine's parents
is a millionaire double glazing magnate
| | |
| --- | --- |
| | Twins pick up the phone every day and say 'Where are you Maddie?' |
| | |
| --- | --- |
| Kate And Gerry McCann Are Spared Police Questioning until after Christmas | |
A child's

red T-Shirt, with aeroplane motifs

FORENSIC CLOTHING
RED T-SHIRT

McCann's Private Detectives We Know Who Took Madeleine And She Will Be Home By Christmas

When The Spotlight Fades.

SKY-31-05-07
Madeleine's parents: 'We will take lie detector test to clear our names'

MAIL-21-09-07
Cops think Kate killed Maddie

Kate McCann: My struggle to control 'very difficult' Madeleine

MAIL-17-09-07

Investigation Continues For Missing Madeleine McCann LEICESTER, UNITED KINGDOM - SEPTEMBER 12: Kate and Gerry McCann leave their home today to take their children Amelie and Sean to a local play park on September 12, 2007 in Rothley, England. Portugal's public prosecutor is due to review police papers detailing the Madeleine McCann inquiry.
In this photo: Kate McCann, Gerry McCann
Photo: Pool/Getty Images
Sep 12, 2007

www.life.com/image
Madeleine's parents meet with Ken Bigley's brother to discuss abduction agony

BBC chiefs apologise to McCanns after blunder saw 'Madeline' film scheduled for disappearance anniversary

Madeleine's DNA Does Prove Her Body Was In McCann's Car

McCann's 'Positive' Over Police Decision
JOGGING AND PINK TRAINERS ROTHLEY
JOGGING LAGAS PORTUGAL 04 JUNE 2007
Gerry and Kate McCann jog on Luz beach near the Portuguese beach resort of Lagos Gerry (R) and Kate McCann, parents of Madeleine "Maddy" McCann, jog on Luz beach, near the Portuguese beach resort of Lagos June 4, 2007. The parents of missing British girl Madeleine McCann said on Sunday it could take "just one phone call" for her to be found as they marked a month since the four-year-old disappeared from a villa in Portugal. REUTERS/Nacho Doce (PORTUGAL)
JOGGING & PINK TRAINERS PORTUGAL
Jogging Lagos 16-05-07

26-05-2007
kate-mccann-parents-of-missing-child-madeleine-mccann-gerry-and-kate-mccann-may-26-2007-0nKGXA
LAGOS PORTUGAL 22 MAY 2007
Gerry and Kate McCann leave after addressing the media regarding their missing daughter Madeleine, in Lagos Gerry and Kate McCann leave after addressing the media regarding their missing daughter Madeleine, in Lagos May 22, 2007. REUTERS/Hugo Correia (PORTUGAL)
MADELEINE MCCANN: PAEDOPHILE WANTED FOR QUESTIONING STRUCK DUMB BY THROAT CANCER

JUDGE REFUSED BID TO
BUG MCCANN'S

STAR-09-12-09

I saw 'Maddie' too
D-DAY COMING FOR THE MCCANNS

"MADDIE MUM ORGY FURY"

STAR-17-07-08

Madeleine DNA in bag of clothes
McCann's plan family holiday

Hounding of the McCann's

He's evil enough to have snatched Maddie

SUN-23-05-10

Cop: McCanns' spokesman 'lies'

How could he?

Maddie: special report part three

SUN-30-04-08
| | |
| --- | --- |
| McCanns to finally find out what evidence Madeleine police have against them | Six months without Madeleine: Is this the Moroccan village that holds the key to her disappearance |
Gerry & Kate

'Our friend Kate McCann, the perfect mum,' two of her closest friends speak out

Gerry and Kate's Wedding

Madeline Gerry & Kate McCann

zj8d3m

Kate & Gerry McCann photos used for the age progression
Madeleine McCann: how the story unfolded
TELEGRAPH 04-10-07

With thanks to find Madeleine forumotion for photograph information