Nicky Rajska left and Louise Oldrige
Nick Oldridge is Simon Oldridge's brother and his wife is Nicola Rajska, the lady who arranged for the phones to be delivered to David Payne. Here she is launching her new business venture with her sister-in-law. Miss Rajska used to work for the BBC commissioning programmes
DAVID PAYNE ROGATORY

1485 "Who lent you these phones that SA had organised for you''
Reply "Err I mean, S brother err is a gentleman called Nand N's wife N had got friends out in the Algarve and they were just you know basic people who were just willing to help us in whatever capacity it was, whether we wanted a room for the night or anything and they asked is there anything we can do, err whether they could do, and err and that was, you know, that was one thing we said well actually you know err Kate's phone's nearly ran out, we're sat, we don't know how long we're gonna be at the Police Station you know could, you know, can they, you know is there any way of getting phones to us just so that you know, we can, for communication. Err and err so that was, that was a capacity really err of people.
Nicky Rajska left and Louise Oldrige Mail link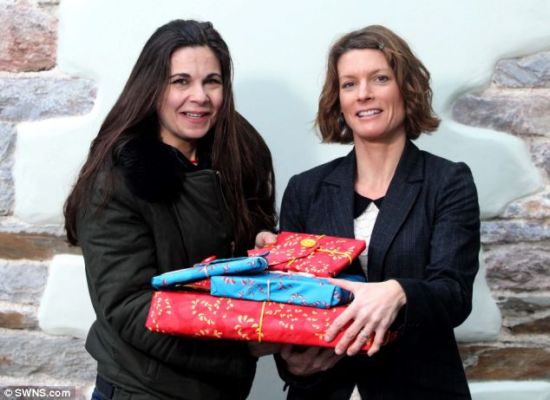 Tara Gold University of Dundee 1991 — 1996
Netmums Family friend
| | |
| --- | --- |
| Madeleine McCann appeal | |
UNKNOWN
A colleague of Mrs McCann offered a reward of £100,000 even before the announcement of a £1 million reward by the Scottish businessman Stephen Winyard.
JACQUELINE McKERNAN AND ELAINE DOYLE
Jacqueline McKernan and Elaine Doyle are both neighbours of Madeleine's aunt. They designed the luggage labels in the hope that their campaign will keep the search for Madeleine in the public eye. The tags were made available through travel agents in Clydebank and Dumbarton and at West Dunbartonshire Council offices. Jacqueline McKernan, a council customer services assistant, said: "They are very distinctive and we hope people will take a tag to tie onto their luggage when going on holiday over the next few weeks.
Jacqueline McKernan

Elaine Doyle

No Photo available
CALUM MACRAE (19) Year 2007
19-year-old internet expert runs Find Madeleine website which has attracted more than 400,000 unique users and helped to raise more than £1 million in donations for campaign. He is a Director of Infohost. (His father, Cameron MacRae, a police officer, is the Director/Secretary of the company) Calum is an ex-pupil of Phil McCann.
| | |
| --- | --- |
| Calum McRae Website | |
MICHAEL LINNETT
Michael Linnett, a retired accountant, is also a Director of the Madeleine Fund.appointed 15 August 2007 D.O.B: 11/09/1941
PHILIP TOMLINSON (76) year 2007
Philip Tomlinson, a lawyer and former coroner, in Leicestershire was also a Director of the Madeleine Fund appointed 20 June 2007 (Resigned) replaced by: John Corner January 9th 2008.. He holds 4 directorships. Born 1931, Philip Tomlinson trained in medicine. He's a local councillor and sits on Charnwood Borough Council elected to Chair of The Standards Committee till 2008. He has published medical papers in psychiatry and surgery papers: http://lib.bioinfo.pl/auth:TOMLINSON,PJ
| | |
| --- | --- |
| No photo available | No photo available |
81 MILES
SUNDAY 16 MAY 2010
Kibworth & Fleckney half marathon 466 Peter Neal Patterson, 486 Andy Jackson, 449 Kate Healy, Gerry McCann, 450 Fiona Payne, 454 Simon Green
| | |
| --- | --- |
| Kibworth & Fleckney half marathon goes to William Nock | Kibworth & Fleckney half marathon goes to William Nock |
Missing Maddy loved her Guernsey holiday

Beechwood School balloon release to mark the 50th day since the disappearance of Madelaine McCann while on holiday in Portugal with her parents. The event was organised by family friend Steve and Lottie Evans

Balloons go up to remember Maddy
The McCanns relaxing with Seija Rutter in Amsterdam, 22 June 2011

Seija Rutter Amsterdam playgroup friend Een Vandaag

Seija Rutter: "Yeah, the pupil runs into the iris and that's something that she'll always have and that will never, ever change and I think this is positive, this is something that's completely unique to Madeleine and she's instantly recognisable from her eyes."

Seija Rutter: "They're incredibly aspiring and strong parents. They... they had about five years IVF treatment before they conceived Madeleine and they had so much strength, they was told they'd never be able to conceive and after five years they finally had Madeleine. She was the centre of their world... errm, they completely doted on her 100%.

Seija Rutter: "I... they're not in the wrong, they're not the people that's in the wrong. The person that has taken Madeleine away from such a loving family - they're the people in the wrong and I don't think anybody has the right to question the judgement that they chose."

Seija Rutter: "They came over because Gerry, errr... was working at the VU hospital doing some research - he's a cardiologist. So, that's the reason why they was over here. And, errr... when they fell pregnant with the twins they almost, errr... miscarried the twins and they were advised that, errr... Kate has to have complete bed rest for the rest of the pregnancy and I think at the time she was only 7 or 8 weeks pregnant, so they decided to move back to the UK so they could have support of friends and family around them."

Seija Rutter: "She's a very strong-willed child. She's, errr... very witty. Always was a happy child, always was a... ehhh. Just... just bubbly and... yeah. And I... I'd imagine right now that she's probably feeling very scared and being away from her family and... I just, yeah. I dread to think what she's going through right now... I just... "
Jennifer Walker Amsterdam playgroup friend Een Vandaag

Jennifer Walker: "To see this, to... to... the first time I... I looked at the news and I saw Kate's face, errr... you can't imagine what a mother... errr, what a mother must be going through."

Jennifer Walker: "There's a risk every time you step out the door, I look at Dutch parents who put three kids on their bike and ride through downtown Amsterdam. Is that not a bigger risk than the risk that Kate and Gerry took? I don't know. You know, how do I... I don't judge, you know. That's not for me to judge. We each as a parent take... do what we feel confident in, as parents, and we have our best instincts and our best... errm, heart at the centre of it all and I have no doubt that Kate and Gerry had this."
CHAIN E MAIL

Family hopes the world of the internet can bring the critical breakthrough
PETER HUBNER (64) Year 2007
Peter Hubner is a retired hospital consultant and Director of the Madeleine Fund. appointed 21 May 2007 D.O.B.30/09/1942 A friend of the McCann's,
| | |
| --- | --- |
| No photo available | No photo available |
DOUG SKEHAN
Dr Doug Skehan D.O.B: 04/11/1952 is the clinical director of cardiology at Glenfield hospital and a Director of The Madeleine Fund, appointed 16 May 2007 He is Gerry McCann's boss and golfing buddy. As an avid rugby fan, he managed to get Martin Johnson on board for the launch of the fund. His wife, Marcelle Skehan (also known as Dr Morris), is a general practitioner (GP) in a Coalville practice.
MARCELL (MORRIS) SKEHAN

No photo avalable
STEWART HILLIS
Prof W Stewart Hillis, was educated at Glasgow University, and qualified in 1967. His postgraduate training was undertaken predominantly in the West of Scotland and at Vanderbilt University, U.S.A. He is now professor of cardiovascular and exercise testing in Department of Medicine and Therapeutics, University of Glasgow, Western Infirmary. He also has an interest in Sport and Exercise Medicine. He is a member of the Management Committees of the Scottish Institute of Sports Medicine and Sports Science and the National Sports Medicine Institute, representing the three Royal Colleges of Physicians, a member of the Faculty for Sports Medicine created by the Academy of the Royal Colleges and is Vice-chairman of the UEFA Medical Committee. The Glasgow cardiologist, who worked with Scotland's football team, knew Sir Alex Ferguson. This gave the campaign their link to the football world. There are strong professional connections between Stewart Hillis and Gerry McCann as they are co-authors or joint-authors of several medical papers and articles, writing for for the British Medical Journal in 2004 and for Clinical Pharmacology & Therapeutics and others, when Gerry McCann was a Registrar at Glenfield Hospital in Leicester
ALISTAIR DOUGLAS
Alastair Douglas, is a GP in Possilpark Health Centre. He has known Gerry since he was a teenage student at Glasgow University. Alastair Douglas also took part in the 10K for Men at Bellahouston Park on Father's Day in Glasgow. (Photo shows Alistair and Gerry in 1991
| | |
| --- | --- |
| We would run to the ends of the earth if that would bring Maddie back to our pal Gerry. . | |
ALISTAIR CURRIE


Alistair Currie is the Manager of running group JogScotland and was involved in the campaign by Gerry's brother, John. (The jogscotland programme is supported by NHS Health Scotland, sportscotland and the Scottish Executive Health Department; three national bodies working together to help many people in Scotland adopt a healthier and more active lifestyle.) Alistair Currie took part in the 10K for Men at Bellahouston Park on Father's Day in Glasgow. He has also known Gerry since the latter was a teenage student at Glasgow University

.
PAUL AND KATE McINTYRE (44 and ??)


Dr Paul MacIntyre, a consultant cardiologist at the Royal Alexandra Hospital in Paisley and his wife, Kate, also a doctor, are part of a small group of close friends of Madeleine's parents, Gerry and Kate McCann, who are at the centre of the campaign to help publicise the little girl's kidnapping in Portugal. Through a network of around 10 couples in Glasgow, mostly doctors, and John McCann, Gerry's brother, they have seen prominent sportsmen, businessmen, celebrities and politicians become involved. Dr McIntyre first met Gerry McCann at a running club in Coatbridge when he was a teenager. Both John McIntyre and Gerry McCann trained at Glasgow University before specialising in sports medicine. Paul attended Kate and Gerry's wedding. Their paths crossed again when Dr McCann returned from New Zealand, with his wife Kate, and took over Dr MacIntyre's teaching post at Glasgow University. Paul was at Gerry and Kate's wedding and last November 2006 he was trying to convince Gerry, to head back north and take up a cardiology post at the Glasgow's Western Infirmary. After Madeleine's disappearance, Dr MacIntyre first made contact with the McCanns through a mutual friend, Dr Andrew Renwick.

Dr Paul McIntyre

We would run to the ends of the earth if that would bring Maddie back to our pal Gerry. .

Dr Kate McIntyre
No photo available
E

STHER McVEY (39)

Year 2007
McVey has been friends with Kate McCann since they went to school together and is a

board member and spokesperson for the Find Madeleine Fund until she resigned on 9th January 2008.

appointed 20 June 2007, (Resigned) replaced by: Edward Smethurst

A former television personality - she appeared on GMTV and in programmes such as 5's Company, The Heaven and Earth Show, Shopping City and Channel 4's Nothing But The Truth with Ann Widdecombe - McVey now runs a PR firm in Liverpool, and hopes to become a Tory MP at the next general election. A former girlfriend of shadow culture minister Ed Vaizey, she narrowly failed to win Wirral West in 2005, losing by about 1,000 votes to Labour's Stephen Hesford.

Caption: Julie Kirwan, left, and her husband, David, second from right, with colleague and Wirral Tory parliamentary candidate Esther McVey, outside one of their offices

Esther Mcvey Was on fund committee
JON AND MICHELLE CORNER Year 2007


Distraught Kate rang long-time friends Jon and Michelle Corner, the twins' godparents, at their Merseyside home to break the news. Jon Corner is the owner of Online Media, PR and Marketing Company - River Media in Liverpool. He has acted as the family spokesman and accompanied the McCanns on their trip to Huelva, along with Michael Wright, John McCann and a cameraman. In the Panorama programme (November 19th) Jon said that they know the McCanns through his wife, Michelle, "who is Kate's longest friend. I mean they met each other back in primary school and stayed lifelong mates."

Jon Corner was appointed as a

Director of the Madeleine Fund on January 9th 2008

D.O.B: 12/02/1957 Film and TV producer and friend of the McCann's (wife is a long-time friend of Kate) Reportedly drafted in to help Clarence Mitchell look at offers they have received, such as making a docudrama or writing a book.

Jon Corner:Godparent to the twins, Amelie and Sean

River Media's Shanghai success
LINDA AND MARK McQUEEN (45 and ??) Year 2007


Linda McQueen, a 45-year-old teacher from Formby, Merseyside, has also known Kate since they were children. Linda recalled how she had spoken to Kate at about 2am on the night Madeleine vanished. "She just said, 'Somebody's taken Madeleine, somebody's taken Madeleine. The McQueen family joined Kate and Gerry on their family holiday in Donegal at Easter 2007. Linda spent time with the McCanns in Portugal: Getty images show her to be there on 8th May and she also spent time with them during June 2007. Linda's husband, Mark McQueen is the headteacher of Ursuline Primary School. He is godfather to Madeleine's brother, Sean. Linda McQueen and Nicky Gill praised (Kate) as a devoted mother. Nichola Gill and Linda McQueen travelled to London specifically to defend their friend against allegations surrounding her character. Kate is godmother to the McQueen's daughter Ellie and is photographed holding her at her own wedding to Gerry and Gerry is pictured with Linda at her own wedding

Mark Mcqueen, Aug 2007
Mark Mcqueen, headmaster at Ursuline Primary School in Blundellsands, and godparent to Maddie's younger twin brother Sean,

Mark Mcqueen, Aug 2007
Mark McQueen, headteacher of Ursuline Primary School is godfather to Madeleine's brother, Sean. His wife Linda is currently in Portugal with Kate and Gerry McCann

Linda & Mark McQueen Aug 2007
Elli, Linda & Mark McQueen, Aug 2007

Linda & Mark McQueen, Aug 2007

Mark & Ellie McQueen,left

15 Aug 2007 Funday Liverpool from right Father Seddon, Mark McQueen, Linda McQueen

FATHER SEDDON
LINDA MCQUEEN 13-05-07

LINDA MCQUEEN & Gerry McCann

'Our friend Kate McCann, the perfect mum,' two of her closest friends speak out

BABY ELLIE
Linda McQueen, Aug 2007

Linda McQueen 18-10-07
Linda McQueen

LINDA MCQUEEN & NICKY GILL

LINDA MCQUEEN 13-05-07
NICHOLA GILL (39) Year 2007


Nichola Gill lives in the Liverpool suburb of Childwall and has known Kate since they met at the age of six on their first day of school. She flew out to PDL after the disappearance to support the family. Nicky is a fitness coach / personal trainer and returned from PDL to lead the warm-up for those taking part in women's 10K and 5K races at Sefton Park on 13th May. Record numbers were reported to have taken part in the 21st women's 10K, Liverpool's longest-established race event, because of the focus on raising funds for Madeleine's fund.

NICKY GILL 13-05-07

Rachael works overtime to win 10K

NICKY GILL & KATE MCCANN

DAVID PAYNE -NICKY GILL
KATE MCCANN
MICHAEL WRIGHT & NICKY GILL

NICKY GILL & KATE MCCANN

NICKY ILL & KATE MCCANN
10K Race Sefton park Liverpool 06-05-2012

NICKY GILL ALEX WOOLFALL

NICKY GILL & ALEX WOOLFALL

LINDA MCQUEEN & NICKY GILL

Kate and Nicky making their first communion


Our friend Kate McCann, the perfect mum,' two of her closest friends speak out

NICKY GILL & KATE MCCANN

Kate and Nicky outside a zoo

'Our friend Kate McCann, the perfect mum,' two of her closest friends speak out
JILL AND ANDREW RENWICK


"Jill Renwick has known the couple since they all worked together at a Glasgow hospital more than a decade ago. She spoke to Kate at 7am on the morning after Madeleine vanished: "She just said, 'Help me, please help me'. She said, 'We've been searching all night until 4.30am, and then everybody left us'. At that stage there was only one police officer at the door. They didn't know what to do. So I phoned GMTV." Andrew Renwick is a Consultant Surgeon at the Royal Alexandra Hospital, Paisley. Both Jill and Andrew are part of the network of around 10 couples in Glasgow, mostly doctors, and John McCann, Gerry's brother, who are heading the campaign which has seen prominent sportsmen, businessmen, celebrities and politicians become involved.

Parents' anguish for Maddie
CHARLOTTE AND JAMES GORROD (32 and 34 respectively)Year 2007


A British family who have been linked by police in Portugal to the disappearance of Madeleine McCann today denied any involvement in the case. James Gorrod, 34, and his blonde-haired wife Charlotte, 32, branded any suggestions of their involvement "ridiculous". Coincidentally the Gorrods ar

e

friends of Dr Russell O'Brien and his partner Jane Tanner

-

who are close friends of the McCanns - and met the O'Brien family at the resort.

James Gorrod

From left, Dr O'Brien and partner Jane Tanner, James Gorrod and his wife Charlotte friends of O'Brian & Tanner, they were all in PDL on 03 May2007

Charlotte Gorrod

British family cleared of any link to Madeleine McCann's disappearance.
Agenda
Liverpool Madeleine Team Meeting
7.30pm, Tuesday, 16th October
Venue: Linda Mcqueen's, Formby
Paul - vigil vigil
Linda
Welcome and apologies
New Posters : printing and distribution
Continuation of Campaign: Spain and...
Madeleine Golf Day: 8th Novemb...
Naylors Rd, L27
Golf Teams Teams Teams
Sponsorship of
Raffle
Auction
Dinner
D....
www.blinkx.com/watch-video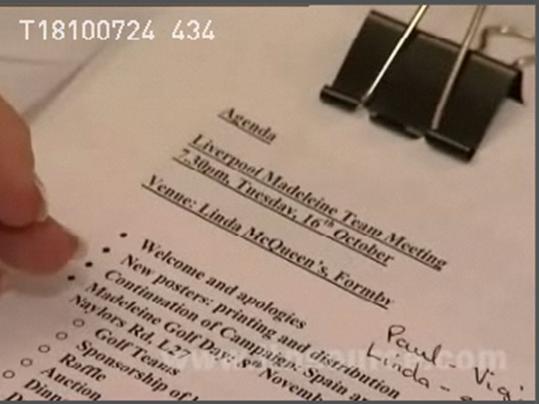 Present - Tracy, Linda, Pat C, Margaret, Sue, Brian, Paul, ? , ?,
Nicky, Carolyn, Clarence
Pat opened meeting and welcomed everyone
Vigil - Paul discussed possibility of something happening ........
6 months since Madeleine missing. Possibly 3pm...
...Fr Des and Sue. Sue asked a...
www.blinkx.com/watch-video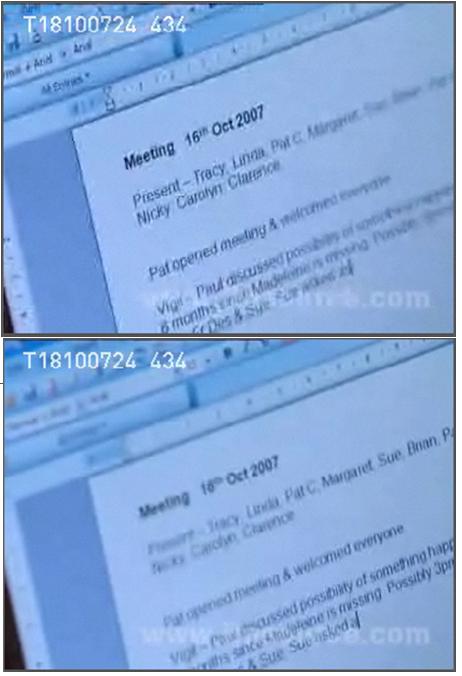 Liverpool Meeting 17 Oct 2007 Susan & Brian Healy, Nicky Gill, Paul Seddon,
Linda McQueen, Pat Perkins and others