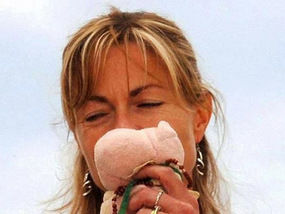 CLINGING TO HOPE:
Kate with Madeleine's Cuddle Cat toy
KATE McCann's despair in the dark days following her daughter Madeleine's disappearance was revealed for the first time yesterday.
The devoted mother kept a secret diary that laid bare the anguish she and her husband Gerry were enduring.
In one heartbreaking entry Kate writes: 'Can't stop thinking about Madeleine, about her fear and pain.
How can I go on knowing that her life could have ended like this'

'This week I have been quite overtaken by black thoughts. Please God, bring her back.'
Last night experts said Kate's emotions read like those of a bereaved mother.
Chartered psychologist Dr Rick Norris said: 'The diary shows she is an intelligent woman who is able to articulate her feelings on paper.
'This is a horrible situation ' every parent's worst nightmare.
'Writing a diary will have helped Kate deal with the trauma of having Madeleine snatched. You can see the incredible frustration.
At times there's the bitterness, almost hatred, for the person who has taken Madeleine.
'Then there's the love she has for her daughter.

'When I counsel people suffering bereavement it is not uncommon for them to talk directly to the person who is deceased.
'The difference here is that Kate still believes Madeleine is alive. She clearly has a very deep faith to which she turns.'
The 135-page journal, from which extracts are shown here, reveals the heartbreak behind Kate's brave public face.
Feelings of numbness give way to desperation and rage at the abductor who snatched three-year-old Madeleine from the family's holiday apartment in Portugal.
She talks of her frustration at the lack of progress of the Portuguese police investigation.
Detectives made public selected passages from the diary in a bid to portray Kate and Gerry as cold and dispassionate.

But the full journal paints a very different picture.
The diary begins on May 3, 2007 ' the day Madeleine vanished from the Algarve resort of Praia da Luz.
Kate gives Madeleine and two-year-old twins Sean and Amelie milk and biscuits and reads them a bedtime story.
She writes: 'Kisses goodnight for M (Madeleine). Pulled the door to as far as possible without shutting it. Silence. Dry hair. Put make-up on. Glass of wine. Restaurant.'
Madeleine was discovered missing at 10pm that night.
On May 4, Kate writes: 'No sleep. Gerry and I started looking through the streets around 06.00 as it was starting to get light. Nobody around. Why not' Desperate. Minutes seem like hours.'
The diary allows Kate to vent her frustration at the way local police were conducting the inquiry.
She says of her and Gerry's first visit to the police station: 'Nobody from the police introduced themselves. Nobody offered us a drink or food.
'All the police dressed informally and smoking. No sympathy was shown and far from inspiring.'
Later, Kate is left furious over a claim from Portuguese police that the McCanns had been responsible for contaminating the crime scene and holding them to blame for the loss of vital evidence.
Describing her 'tears, despair, rage, helplessness', Kate says: 'How dare they insinuate that our daughter's life could be put in danger because of us.
'My darling little Madeleine, you know that we wouldn't do anything to put you in danger.'
She outlines her struggle to try to remain strong for her twins and how the family marked Madeleine's fourth birthday on May 12 with a special mass at a church in Praia da Luz.
But on May 30 dark thoughts begin to crowd in on the grieving mother.
She says: 'Tomorrow it will be four weeks since Madeleine was taken.
'We are not certain we will ever see her again, but know that we have to keep up our hope and strength for the others, at least. Exhausted.'
Then she adds: 'I love you so much, Madeleine. You must come back! X'
The diary ends on July 31 ' the day before it was seized by Portuguese police.
Kate's final entry reads: 'Night-night Madeleine, my dearest little angel.
'Sweet dreams my little one. Be strong. Mummy. XXXXX.'