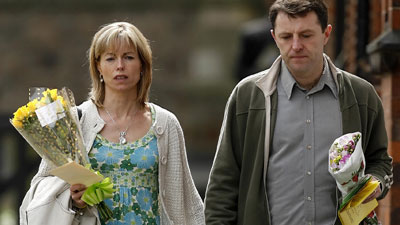 Kate and Gerry McCann leave flowers at church a year after Madeleine vanished
The News of the World has apologised to Kate McCann for publishing extracts of her diary without her permission.
The Sunday tabloid also said it had made a donation to the fund set up to find her missing daughter.
Last week's edition devoted the lead story and four other pages to revealing the 40-year-old's "black thoughts" and her dreams of lying beside Madeleine again.
Extracts were printed after the diary was seized and then leaked by Portuguese detectives investigating the three-year-old's disappearance in Praia da Luz on May 3 last year.
The paper's six-paragraph apology, on the second page of this week's edition, says: "We published the extracts in the belief held in good faith that we had Kate's permission to do so.
We have agreed to make a donation to be used in the search for Madeleine.
News of the World
"It is now clear that our belief was misplaced, and that, in fact, Kate neither approved of nor knew the extracts were to be published.
"Upon learning of our error we immediately removed the extracts from our website and we today offer Kate our immediate and sincere apologies."
The tabloid's sister paper, The Sun, also published an apology for the "error and for the distress caused by it".
A spokesman for the McCanns was unavailable for comment when contacted by Sky News Online.
The size of the donation to the Find Madeleine fund is not known, but it is not the first time a newspaper has apologised to the little girl's parents.
The McCanns won a £550,000 libel settlement and apology from Express Newspapers for suggesting they were responsible for Madeleine's death.
The Daily Express and Daily Star both carried front-page apologies, with the headline: "Kate and Gerry McCann: Sorry."