News from June 2009
Raymond Hewlett - The UK media's "new" suspect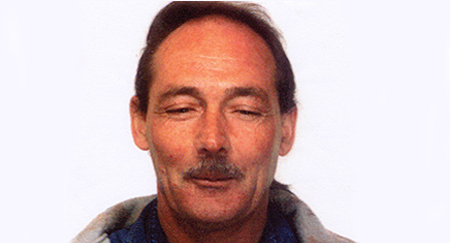 Previous reports, pictures and videos:
Crunch-hit tycoon scales down cash aid for the Madeleine McCann campaign, 06 June 2009
Crunch-hit tycoon scales down cash aid for the Madeleine McCann campaign Daily Mail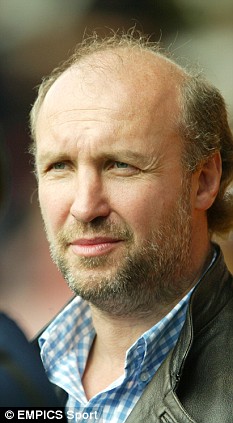 Losses: Brian Kennedy
by DANIEL BOFFEY
Last updated at 10:00 PM on 06th June 2009
The multi-millionaire tycoon backing Kate and Gerry McCann in their search for their daughter has cut back his financial support after losing an estimated £50million from his fortune.
Brian Kennedy, who pledged to support the McCanns until Madeleine was found, has stopped paying for the couple's media campaign after the credit crunch hit his business interests.
The Madeleine Fund – which is down to £500,000 and expected to be empty by the end of the year – is now paying for the media relations work of former BBC reporter Clarence Mitchell, although at a reduced rate.
The McCanns continue to regard a high-profile campaign as a crucial part of their efforts to find Madeleine, who went missing two years ago from her parents' holiday apartment at Praia da Luz in Portugal.
But a source said Mr Kennedy, 49, who made his fortune in home improvements, had stopped paying the team promoting the McCanns' investigation as part of a 'costs-cutting exercise'.
Mr Kennedy saw his fortune dwindle from £350million to £300million over the past year, according to a newspaper Rich List.
However, he is still reportedly the joint 178th richest man in the UK through his company Latium, which owns Sale Rugby Club and Everest Double Glazing.
The source said: 'Mr Kennedy was paying for reputation protection for Mr and Mrs McCann. So when their arguido, or official suspect status, was removed by the Portuguese police, he believed there was no further need to pay Mitchell's costs.
'Of course, it was also a way to cut costs given the state of the economy. The fund are paying a reduced rate for Mitchell to deal with the continuing Press attention.'
But the source added: 'Kennedy continues to talk to Kate and Gerry and his lawyer is involved in the latest legal action against the former Portuguese detective Goncalo Amaral. His wallet is there if needs be.
'This does not represent a scaling down. For example, his company funds the offices from which the investigators are working.'
The Madeleine Fund amassed over £1million in the first few months of the then three-year-old's disappearance after an unprecedented public reaction.
However, it was immersed in controversy after it was revealed that money from the fund had covered two mortgage payments on the McCanns' home.
The fund was also drawn upon heavily by private detective agencies hired by the McCanns and Mr Kennedy, including an American firm, which charged £500,000 for six months work.
It was replenished by defamation action against British media organisations. And this newspaper can reveal that the defamation case against Mr Amaral is expected to reap the McCanns a six-figure compensation fee.
But the couple and Mr Mitchell face the possibility that Mr Amaral, who was removed from the Portuguese police investigation for criticising the British police involved, will launch a legal action against them for defamation.
He claims to have launched his own private inquiry into Madeleine's disappearance and warned he intended to call a string of witnesses to court to show his reputation had been stained.
Detectives working for the McCanns are still hoping to interview convicted paedophile Raymond Hewlett, who lives in Germany.
On Thursday he was interviewed in Aachen police station by two detectives from West Yorkshire over two offences in the Seventies.
Last night Brian Kennedy's lawyer, Ed Smethurst, confirmed Mr Kennedy and Latium were no longer paying Mr Mitchell's salary directly, but added: 'They remain fully supportive of Kate and Gerry McCann and the search for their daughter.'
Kennedy, Mitchell and the plundering of Madeleine's Fund, 07 June 2009
Kennedy, Mitchell and the plundering of Madeleine's Fund
By Nigel Moore
07 June 2009 - 03:20AM
Daniel Boffey's article in the Daily Mail, 06 June 2009, tells us what we already knew; that the McCanns' spokesperson Clarence Mitchell is no longer paid by Brian Kennedy, but by Madeleine's Fund - a fund founded on the goodwill and generous donations of pensioners and children. Certainly not breaking news.
Indeed, Brian Kennedy actually withdrew his financial support for Clarence Mitchell immediately after the McCanns' arguido status was lifted, on 21 July 2008, figuring, quite logically, that the McCanns had no further need for 'reputation protection'.
That would appear to neatly conclude Kennedy's involvement.
Yet, in October 2008, three months after the McCanns arguido status was lifted, Kennedy spoke to the Times:
"Am I still involved?" he said. "Absolutely. Have we given up hope? Have we hell. The battle has just commenced. We have plans and when we are ready to tell the world about them we will do so."
Talk of going into 'battle' with secret 'plans' certainly implies a greater depth of involvement and commitment than a short-term skirmish to protect the McCanns' 'reputation'.
So what has happened to encourage him to abandon the front line and retreat to the safety of his desk?
Clarence Mitchell and the plundering of Madeleine's Fund
On 01 March 2009, the Independent wrote:
'These days Mitchell gets 40 per cent of his former salary as a retainer from the Find Madeleine Fund.'
It is widely reported that Mitchell was on a £75,000 pa salary with Kennedy, so, by simple mathematical calculation, he must be taking a £30,000 pa salary from Madeleine's Fund.
The lifting of the McCanns' arguido status, on 21 July 2008, surely meant there was no further need for 'reputation protection', so why do two educated doctors - one of whom does not work - continue to need Mitchell's 'media relations work' to support them?
Why would do two people, who are 'wholly innocent', continue to drain Madeleine's Fund for protection from a UK media that has - on the whole - shown them nothing but unstinting support, certainly since they embarked on legal action against the Express Newspaper Group?
What, exactly, are the McCanns frightened they may be asked?
Or frightened they will not be able to answer?
McCanns' millionaire backer hit by crunch, 08 June 2009
By Andrew Gregory
8/06/2009
They may lose PR man
Kate and Gerry McCann could lose PR man Clarence Mitchell after their millionaire backer stopped paying his wages.
Tycoon Brian Kennedy, who vowed to support the McCanns until daughter Madeleine was found, has pulled the plug on their media team after losing £50million in the credit crunch.
Former BBC reporter Mr Mitchell, who is said to have taken a salary cut, is now having to be paid out of The Madeleine Fund, which is likely to be empty by the end of the year. He also receives a separate salary from PR firm Freud Communications.
Mr Kennedy, 49, has seen his fortune drop from £350million to £300million. But he remains Britain's joint 178th richest man through his firm Latium, which owns Everest Double Glazing.
A source said: "He remains extremely supportive of the McCanns. He will always try and help them financially and is still funding the offices their detectives are working from."
*
Same day update to title of article:
Kate and Gerry McCann may lose PR man after tycoon Brian Kennedy pulls funding
Daily Mirror
(Text of article remains unaltered)
Madeleine McCanns' man now speaks for Freud, 01 September 2008
Madeleine McCanns' man now speaks for Freud Telegraph
Kate and Gerry McCann's once ubiquitous spokesman - has accepted a job with a PR company.
Last Updated: 9:54PM BST 01 Sep 2008
In what will inevitably be seen as tacit acceptance that public interest in the Madeleine McCann story is dwindling.
Clarence Mitchell tells Mandrake that he will be joining Freud Communications, which was founded by Lucian Freud's nephew, Matthew.
"I'm going to specialise in crisis management for a range of clients which might include businesses, football clubs or even showbiz personalities," says the former BBC reporter. "I want to broaden out my portfolio of interests."
Mitchell, 47, told me in July that he had been advising the parents of Jimmy Mizen, the 16-year-old schoolboy murdered in London in May, and Fiona MacKeown, the mother of 15-year-old Scarlett Keeling, who was murdered in Goa in February, on a pro bono basis, but wanted to put himself on "a firm financial footing".
He stresses that he will still represent the McCanns, whose daughter went missing almost a year-and-a-half ago, and adds that he will be paid on a retainer basis from the "Find Madeleine" fund.
"Kate and Gerry are happy for me to do this, it became clear that I wasn't needed on a full-time basis to work for them anymore so this move makes sense," he says.
Maddie search aid cut, 08 June 2009
By Dean Valler
8th June 2009
THE tycoon helping to bankroll the McCanns' search for their missing daughter Madeleine has cut back his support.
Brian Kennedy, 49, has lost an estimated £50million in the credit crunch and has stopped paying for their media campaign.
But the McCanns' spokesman Clarence Mitchell said the double-glazing millionaire continued to provide some financial assistance to the investigation.
He said: "I am not at liberty to discuss financial matters relating to the investigation but I will continue in my role."
Last night, Mr Kennedy's lawyer Ed Smethurst confirmed they were no longer paying Mr Mitchell's salary directly.
Kevin Maguire's Sick "Maddy" Cameron Jibe, 08 June 2009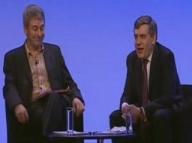 By Guido Fawkes
08 June 2009
This morning at a breakfast briefing seminar held at the City offices of corporate lobbyists
Hanover Communications
, Kevin Maguire was the star turn giving the assembled spin-doctors and fee paying clients the benefit of his insight derived from his years of service to Gordon Brown and Damian McBride, the former Downing Street press adviser, who was Kevin's long time drinking partner.
When the cappuccino supping Maguire was asked by one of the croissant chewing seminar participants if there was any possible way Gordon Brown could win the general election his smirking reply was:
"The only way Gordon Brown can win the general election is if Madeleine McCann's body is found in David Cameron's garage."
Kevin has previous for this sort of tasteless innuendo – he was
the key source for the Smeargate stories
that were intended to be used by Damian McBride, Derek Draper and Charlie Whelan to smear David Cameron, George Osborne's wife and other leading Tories. The sheer hypocrisy of Kevin Maguire is breathtaking. He talks down to the readers of the
Mirror
, telling them Gordon can win while at the same time telling high powered corporate insiders that Brown is finished.
The Mirror
was at the forefront of the campaign to find Maddy, Maguire just thinks it is a joke.
When Guido contacted our Kev' this afternoon he made no effort to apologise or express any regret.
Kate and Gerry McCann's spokesperson coming to Dubai for PR Congress 2009, 10 June 2009
Kate and Gerry McCann's spokesperson coming to Dubai for PR Congress 2009
zawya.com
The brains behind the high profile Find Madeleine campaign, Clarence Mitchell, will be sharing his experiences first hand at IIR Middle East's annual PR Congress this November. Mitchell, who is spokesperson for Madeleine's parents, Kate and Gerry McCann, has worked on a number of high profile murder and missing person cases including working for the families of missing teenager Scarlett MacKeown who was murdered in Goa, and Jimmy Mizen who was stabbed to death in London.
Mitchell, a former BBC journalist and head of media monitoring for the Cabinet Office resigned from the civil service in September 2007 to handle the intense international press interest in the case of Madeleine, who vanished while on holiday with her family in Portugal.
"Mitchell's work on these cases offers important lessons for all PR professionals," says Kosta Petrov, Conference Director at IIR Middle East. "He will show how these kinds of events attract the attention of the world's media, and when handled correctly, this attention can be harnessed to help the families solve the mysteries surrounding the disappearances and deaths."
Other high profile presenters at the event include Colleen Harris, Former Press Advisor to HRH Prince Of Wales and Kay Luo, Senior Director Communications at Linkedin in USA.
The IIR PR Congress 2009 is now in its 5th year and will be held from 8 - 12 November 2009 at The Monarch Hotel in Dubai, UAE.
Log on to www.prcongress.com for more info.
Panorama: The Death of Kiss and Tell, Monday, 15 June, BBC One at 2030BST, 15 June 2009
Panorama: The Death of Kiss and Tell, Monday, 15 June, BBC One at 2030BST
BBC News
15 Jun 09 06:19 07:19 UK
(...)
Colin Myler, editor of the News of the World, which lost its case with Mr Mosley, said unreasonable limits placed on the tabloid press in the name of privacy will filter down to every aspect of society.
"We're talking here about a situation that touches every part of our life. The book that you read…publishers, broadsheets, the BBC, broadcasting, radio.
"It is an issue that fundamentally goes to the heart of who we are as a society and where we want to be - the public's right to know."
*
Comment: An admirable attitude from Colin Myler and one that it is hoped extends to Gonçalo Amaral's book, 'The Truth of the Lie'.
Maddie case: GNR officer suspected of receiving 120 thousand euros, 19 June 2009
Maddie case: GNR officer suspected of receiving 120 thousand euros
tvi24
He was one of the first agents to arrive in Praia da Luz. PJ is already investigating the handover of "live" money
19-06-2009 20: 33
Thanks to
Astro
for translation
One of the Guarda Nacional Republicana agents who was first to arrive at the resort in Praia da Luz and at the McCann couple's apartment is suspected of having received over 120 thousand euros of "live" money, a short time after Maddie's disappearance. This GNR officer is essential to the entire investigation, given the fact that he was among the first to arrive at the location where the little girl disappeared, and also one of the first people to get into contact with the parents.
TVI has established that the case of the sudden 120 thousand euros in the GNR officer's hands is being investigated by the Polícia Judiciária (PJ).
On the night that Maddie McCann disappeared, the first authorities to arrive on location were the GNR officers. It was their task to search the apartment, to perform the initial searches, to speak with the McCann couple, and to direct the searches on the beach and in the village, namely the open areas where sewer and piping works were under way, only tens of metres away from the resort that the British family had booked for their holidays.
According to depositions that were made within the process, the GNR agents even witnessed a walk by Gerry McCann, late in the night, near the church in Praia da Luz. All fundamental moments to understand what happened to the missing child.
TVI knows that one of the first agents that took care of the event is being targeted by an inquiry. The issue is an amount of over 120 thousand euros that were received in cash, in two bank accounts under his name, one of which at Caixa Geral de Depósitos. The most serious coincidence is that the money started being deposited, on those accounts, only a short time after the disappearance of little Madeleine McCann.
This amount is much higher than that of a GNR officer's salary and was deposited on "live" money, according to investigation sources, in parts of over 10 thousand euros.
The investigation into these deposits is being carried out by DCICCEF [Central Directory for the Investigation of Corruption and Economical and Financial Crime], which tries to understand the reasons for these payments. Even if their illegality is proved, a connection to the Maddie case may not exist, despite the strong temporal coincidence and the high amount of money.
Contacted by TVI, the officer denied the existence of said deposits, having offered the possibility that his name was unduly used to open those accounts. Police sources in the area manifested their strangeness concerning the possibility that this officer, whom they consider of honest reputation, could be involved in illegal actions.
Maddie: Military investigation, 20 June 2009
20 June 2009 - 00h33
Translation by Nigel Moore
Thanks to
Astro
for addendum note
The DCIAP is investigating a cabo [police rank] from the GNR for several deposits made into two bank accounts for about 120 thousand euros. The military was the first to come to Praia da Luz where Maddie disappeared and the deposits in cash, began shortly after. He argues that the money is not his and that there is another person with the same name.
*
Note: This short online article mentions an officer with the rank of 'cabo', which means that it would be José Maria Batista Roque.
Maddie cop in riddle of bank £100k, 21 June 2009
Maddie cop in riddle of bank £100k News of the World (paper edition only)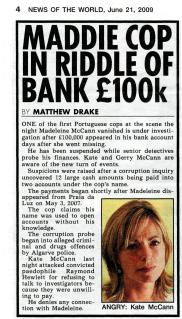 By Matthew Drake
June 21, 2009
ONE of the first Portuguese cops at the scene the night Madeleine McCann vanished is under investigation after £100,000 appeared in his bank account days after she went missing.
He has been suspended while senior detectives probe his finances. Kate and Gerry McCann are aware of the new turn of events.
Suspicions were raised after a corruption inquiry uncovered 12 large cash amounts being paid into two accounts under the cop's name.
The payments began shortly after Madeleine disappeared from Praia da Luz on May 3, 2007.
The cop claims his name was used to open accounts without his knowledge.
The corruption probe began into alleged criminal and drugs offences by Algarve police.
Kate McCann last night attacked convicted paedophile Raymond Hewlett for refusing to talk to investigators because they were unwilling to pay.
He denies any connection with Madeleine.
Maddie Cop Took £100K, 22 June 2009
By Tom Worden
22nd June 2009
ONE of the first officers at the scene the night Madeleine McCann disappeared had £100,000 deposited in bank accounts soon after, it was claimed.
The policeman is being investigated by anti-corruption detectives, Portuguese TV station TVI reported.
National Republican Guard (GNR) officers searched the apartment and area around the McCanns' holiday flat in Praia da Luz before the investigation was taken over by the Judicial Police.
The GNR was later criticised for destroying potential clues by trampling through the crime scene, contaminating the area.
The television station, which did not name the corporal under investigation, said several payments were made into two accounts in the officer's name "shortly after Maddie's disappearance".
The TV channel said the policeman denied knowing anything about the money and suggested his name may have been used without his know-ledge to open the accounts.
Police sources said he is known as an honest officer.
Costa Lima, spokesman for the GNR, told newspaper 24 Horas: "We have not opened any investigation into any officer involved in the Maddie case, nor do we have knowledge of any other body investigating anyone."
Madeleine, now six, disappeared while on a family holiday on the Algarve.
Her parents Gerry and Kate, both 41, doctors from Rothley, Leics, have launched a campaign to find her.
Cops let Maddie suspect off hook, 29 June 2009
Cops let Maddie suspect off hook The Sun
By SIMON HUGHES and ANTONELLA LAZZERI
Published: Today (29 June 2009)
A SUSPECT in the Madeleine McCann case was let off the hook — after a private detective tailing him was deported by cops.
The detective was told to leave Portugal after the suspect complained.
It is illegal in Portugal to run a private investigation into a crime when a police one is still active. As a result of the deportation, the suspect had nearly a year to get rid of any possible evidence against him.
The man lived near the holiday complex in Praia da Luz where Maddie, three, disappeared on May 3, 2007.
A source close to the McCann family last night accused Portuguese cops of "hindering" the investigation, adding: "It's a disgrace."
The detective was working for the Spanish firm initially hired by Kate and Gerry McCann. Their British investigators are now looking into the man.