All the important events from December 2008
Thousands join East Lancashire group's prayers for Madeleine McCann, 08 December 2008
Thousands join East Lancashire group's prayers for Madeleine McCann
Blackburn Citizen
2:40pm Monday 8th December 2008
THOUSANDS of people around the world joined an East Lancashire group's online prayer day for Madeleine McCann.
Madeleine's mother Kate McCann is thought to be one of the 20,000 Christians who joined the Accrington and Burnley-based prayer circle in a day of remembrance for Madeleine and all missing children worldwide on Friday.
The prayer circle known as 'music download revolution' has been up and running for a year and members say they are becoming increasingly popular.
The core of the organisation is the Christian music download site, from which the group's campaign to raise awareness of child trafficking has attracted global attention.
John Wearne, who belongs to St Paul's Church in Accrington and co-runs the site, said: "Eight jumbo jet loads of children disappear every single day for the purposes of sex trafficking and the church has a responsibility, a duty, to impact this evil.
"We still believe that Madeleine is out there and we believe in spiritual warfare and that prayers for her will help bring her home.
"I have also spoken to Madeleine's mother, Kate McCann, who is happy we are promoting this for her lost little angel. She confirmed to me that she would be joining in."
John runs the site with Burnley man Robert Robinson, a singer-songwriter who promotes the site's music.
Why I weep for crybaby Britain, 09 December 2008
By A N WILSON
Last updated at 12:12 AM on 09th December 2008
It's a sign of moral emptiness that we let ourselves be gulled by cheap tears on TV, yet cast those with self-control as uncaring villans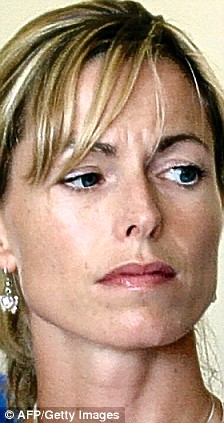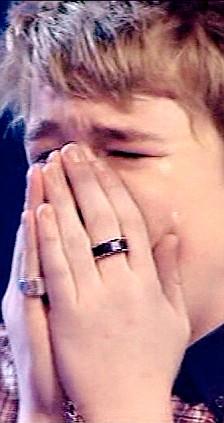 Contrast: Kate McCann (left) and X Factor contestant Eoghan Quigg (right)
Excerpt:
We are too often taken in by tears, and the consequences are far reaching. Karen Matthews, mother of poor nine-year-old Shannon, made tearful appeals on behalf of her daughter we all now know she had kidnapped - and her baleful pleading convinced much of the nation.
In contrast, Madeleine McCann's mother Kate showed control. Among the many haunting things about that case was her extraordinary poise.
You could watch her exercising an iron will over herself during the press conferences. There were some thoughts and fears too intimate to be shared with us; they belonged, with her tears, in private.
Yet this very self-control was what made the more ghoulish members of the public brand Mrs McCann a villain, and even nurse the palpably false suspicion that she'd had a hand in the tragedy. The ghouls would have preferred her to sob.
Maddie not kidnapped, says lawyer, 14 December 2008
Madeleine McCann's parents faced fresh heartache yesterday over a book claiming their daughter was NOT abducted.
The book, by retired lawyer Anthony Bennett, comes as Kate and Gerry prepare to launch a second Christmas appeal for help in finding Madeleine.
It sets out 60 reasons against the belief that she was a kidnap victim.
Mr Bennett, 61, of Harlow, Essex, has sold hundreds of copies of the £3 paperback on the internet. He said: "Readers will find things not published in any newspaper. I can prove it all."
Lawyers for the couple, whose daughter vanished in Portugal 19 months ago, said: "We are watching Mr Bennett's activities very closely."
What really happened to Madeleine McCann? 60 reasons which suggest that she was not abducted - by Tony Bennett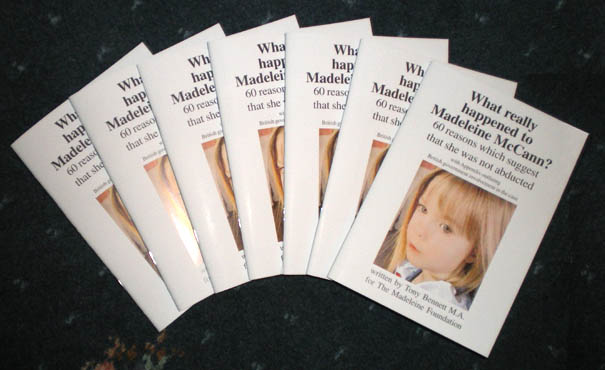 Madeleine McCann: Kate and Gerry's fury at 'club' devoted to prosecuting them, 08 July 2008
Madeleine McCann: Kate and Gerry's fury at 'club' devoted to prosecuting them
Telegraph
By Gordon Rayner, Chief Reporter
Last Updated: 7:55PM BST 08/07/2008
Gerry and Kate McCann have expressed their anger at the establishment of a fee-paying "club" dedicated to seeing them prosecuted over the disappearance of their daughter Madeleine.
A retired British solicitor, Tony Bennett, has set up a fund called The Madeleine Foundation, which aims to bring a private prosecution against the McCanns for alleged child neglect.
But Madeleine's parents fear members of the public will inadvertently donate money to it because they may mistake it for the McCanns' own Madeleine Fund, which pays for private investigations into her whereabouts.
Mr Bennett, 60, who has in the past worked with the family of Stuart Lubbock, the man found dead in Michael Barrymore's swimming pool in 2001, described his fund as a subscription-only members' club, charging a £10 annual fee.
Last year he tried unsuccessfully to launch a private prosecution against the McCanns, only to be told by magistrates in Leicester that they had no jurisdiction over the case, because Madeleine disappeared in Portugal.
Mr Bennett said: "Some of the money immediately raised will be used to pay for a barrister to give his or her opinion on how best to proceed with a legal action against the McCanns.
"We are a group of people, which is rapidly growing in number, who want to get to the truth of what happened to Madeleine.
"We will also campaign for changes to the law about parents who leave children on their own.
"If you go on the internet and look at some of the forums and blogs about Madeleine, there is a large and significant number of people who feel powerless and who want to do something about it."
Mr Bennett said the official website for the Madeleine Foundation, which will not have charitable status, is about to go live.
He said all the money raised would be used "in an above board way" and would be openly accounted for.
Clarence Mitchell, the McCanns' spokesman, said: "It is a great shame that Mr Bennett feels the need to make money out of Madeleine McCann. "He did not seek permission from Gerry or Kate to use Madeleine's name. This so-called foundation is in no way doing anything to help find Madeleine.
"It purports to be a foundation helping the search for Madeleine but it does nothing at all to help that search and goes against Gerry and Kate.
"Mr Bennett has already tried to take a private prosecution against Gerry and Kate but a court said it has no jurisdiction over something which allegedly happened in Portugal."
'As meninas que vieram das estrelas' - 'The little girls that came from the stars', 12 December 2008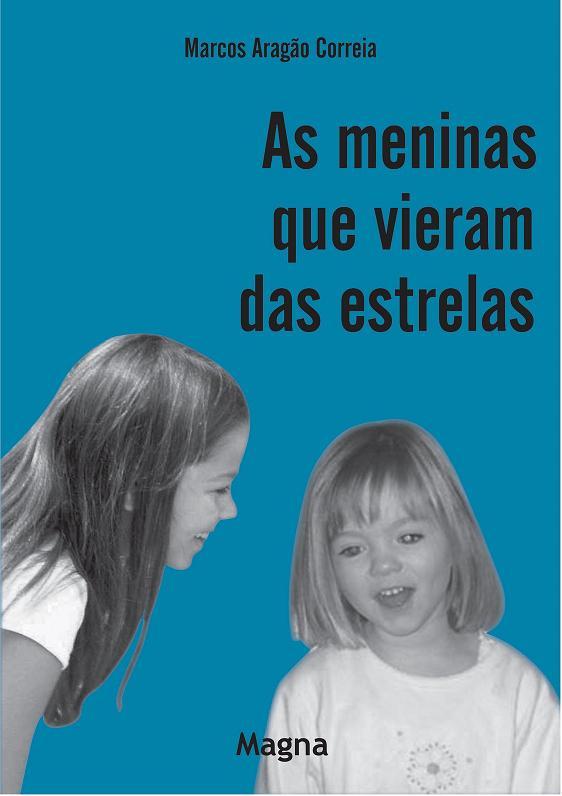 Book by Marcos Aragão Correia
Summarised version
(Thanks to Joana Morais for translation)
:
In his first book, the author Marcos Aragão Correia gives life to a story of extreme sweetness. Along the story there were several children who disappeared and what remains of them, for the closest relatives, are only fragments of memories. In this book, the author raises a metaphorical scenery which illustrates the destiny of these children who disappeared. This scenery is really hopeful, and it invigorates the familiar victims of these children. In this destiny, of love and friendship, the lost children keep on fighting for their happiness without forgetting those who still love them and of whom they are separated. At the same time the struggle between the Good and the Evil is presented in a way of alerting the parents for the familiar values and of the love so that they have attention to his children and to the form that, for times, these they are left without care. A great deal of the cases of the missing children are mentioned in this book in the form of alert but principally as a form of praise to their memory. A story that returns to us the hope in the love and in the fraternity, in abridgment, a charming story...
Some background to Marcos Teixeira Aragão Correia
(adapted from an original article by
Joana Morais
)
:
Marcos Teixeira Aragão Correia is a 35 year old lawyer from Madeira, who once claimed that underworld criminals had contacted him, on 06 May 2007, to give him details about Madeleine's rape and murder. He further claimed that he gave this information to the judiciary police of Funchal, Madeira, on 09 May 2007, who ignored it.

He has since admitted, in an interview given to 'O Crime' magazine, that this information actually came to him in a 'vision' after he had returned from a spiritualist meeting in Madeira, on 05 May 2007.
"On the 5th of May, upon returning from a spiritualist meeting in Madeira, right after going to bed, but before falling asleep, at around midnight, an extraordinary thing happened to me for the first time in my life: I saw the image of a little girl that must have been around 4 years of age, with blond, shoulder-length straight hair, blue eyes, very disturbed, visibly unable to understand what was happening to her, accompanied by a female being of great beauty and great spiritual standing..." said Aragão.

"Then, other images appeared, related to what had happened to her: I saw a strongly built man, blue eyes, somewhat balding and with blondish hair, brutally raping that girl and then strangling her with his hands, throwing the cadaver into a lake. I perceived by a map that was shown to me, that this happened in the Algarve, but I couldn't read the name of the village. I stress that I hadn't seen any photo of Maddie before, I only knew, from what I'd heard on the radio, that she was 3 years old."
In the first private search at 'Barragem do Arade' (reservoir), an isolated man-made lake, Aragão funded the £1,200-a-day search with help from local companies. He had asked companies for around 5 thousand euros to pay for the searches in the dam and, in return, he promised to publicise the names of the companies to all the Portuguese and foreign media that covered the event. "The exclusive sponsor benefits from huge, unique publicity", said the lawyer at the time.
The results from the search were: a sock too big for a three-year-old child even though Aragão alleges that it is from a child, cats bones inside a small bag, some ropes - which, by Aragão's account, were used to tie Maddie's cadaver - and a plastic bag. The 'evidence' collected by Aragão has been held by Metodo3, since April, and is still awaiting DNA analyses.
It is reported that Aragão has no record, in Portugal, as a Human Rights lawyer and is not known in relation with any high profile case where human rights were at stake.
In November 2007, he failed to prosecute the Correios de Portugal (CTT) because, allegedly, they did not deliver a registered letter to the McCanns. "These are controversial matters, because there is no material proof of them," said Aragão about his claims, "but I assure you there is a high degree of credibility about them. I am fulfilling my duty as a Portuguese citizen to take my ideas to the right place. I took my ideas to the PJ in Funchal, but since they didn't reply, I took them direct to the McCanns."
The letter, according to the lawyer, provided clues "that have a high degree of credibility" and that could help in the investigation into the disappearance of Maddie. Those elements were referred to the PJ (Judiciary Police) of Portimão by researchers from Funchal, but were deemed to have no credibility.
Recently Marcos Aragão Correia has been at Court defending Leonor Cipriano in the
The Joana Case
.
Police ignored tip that Madeleine was 'raped, murdered - and then dumped in reservoir', 12 January 2008
Police ignored tip that Madeleine was 'raped, murdered - and then dumped in reservoir' Daily Mail
Last updated at 21:13 12 January 2008
Madeleine McCann was raped, murdered and her body dumped in a reservoir within 48 hours of her disappearance, a lawyer has claimed.
Underworld criminals contacted a human rights lawyer on May 6, three days after the girl vanished, with details of her alleged abduction and murder, he said.
But when Marcos Aragao Correia tried to tell police, he was ignored, he added.
The lawyer has contacted Kate and Gerry McCann's detective agency, which has begun to investigate his theory. If true, Mr Correia, 32, believes it would clear the couple of suspicion that they were involved in their daughter's disappearance.
He refused to reveal his underworld sources but said: "They indicated that Madeleine had been abducted, raped and murdered within the first two days after her abduction, and her body thrown into a lake in the Algarve."
From the description of the location that he was given, Mr Correia deduced that Madeleine's body is at the bottom of the Barragem do Arade reservoir, near Silves, 40 miles from Praia da Luz.
The lawyer, from Madeira, travelled to the Algarve to investigate the claims and visited the reservoir, 150ft deep in places, with Metodo 3 last month.
In an interview with the Portuguese magazine Lux, Mr Correia said: "It is the ideal place for somebody to get rid of a body, practically without leaving any trace."
He said Metodo 3 was "very interested" in his information.
The private detective agency has also investigated a sighting in Silves by a Portuguese lorry driver, who said he saw a woman handing a child to a man on a nearby roadside on May 5.
The witness told Metodo 3 the woman looked like Michaela Walczuch, the girlfriend of Robert Murat, the first official suspect in the case.
She said the claim was "ridiculous".
Mr Correia said Metodo 3 "sent two detectives to Praia da Luz to meet with me and told me that their own investigations indicated that Madeleine was switched from one car to another, precisely in Silves".
Police sources told Lux they did not believe Mr Correia's information was credible.
The McCanns' spokesman said: "The lawyer concerned has acted appropriately by making contact with the authorities and our investigators and clearly the matter is now in their hands."
McCanns concentrate on police files, 15 December 2008
McCanns concentrate on police files Leicester Mercury (currently appears in paper edition only)
The parents of Madeleine McCann have scaled down the Portuguese search for their daughter to concentrate on sifting through the official police files into the disappearance.
The couple are continuing to work with a small investigative team - including members with policing experience - to work through the pages of files handed over to them earlier this year.
The search of data accumulated by Portuguese police during their investigation has been under way since August and is expected to last until at least the new year, their official spokesman, Clarence Mitchell, said.
It had been thought they would have finished scouring the records by Christmas.
Mr Mithcell said Kate and Gerry - who live with their twin children Sean and Amelie in Rothley - were still in touch with two detective agencies they had worked with in the past.
Metodo 3, in Barcelona, and Oakley International, in the USA, are no longer contracted to the family but the said the McCanns were ready to call them in if and when any new leads appeared.
Last month, the McCanns said they were personally overseeing the job of combing through the 17 volumes of official documents.
Today, Mr Mitchell said: "They are still going through the files.
"I imagine that will take at least until January or February.
"They are going through them as best they can although the files are not revealing a great deal, which is depressing in a way.
"But they are still ploughing on and hope they will have something positive by the end, to take the search on.
"Metodo 3's contract finished months ago but it is still available if we need work done on the ground in Spain.
"We took out a contract with Oakley International which lasted six months.
"It did a lot of good work ruling stuff out, but is not under contract at present.
"Now the investigation has effectively been taken in-house and there is a small team of people supporting Kate and Gerry - some of them with previous policing experience."
Mr Mithcell said Christmas would be a private affair for the McCanns this year.
There are, however, plans to issue a worldwide television appeal to jog people's minds over the festive season.
An as yet unnamed sports person or celebrity is understood to be lined up for the appeal.
Mr Mitchell said: "We don't know what the appeal's going to look like yet and we're not going to release it until close to Christmas.
"Christmas for the family will be private."
Ex-Cop Plans 'Maddie' Translation, 16 December 2008
December 16, 2008 12:36 PM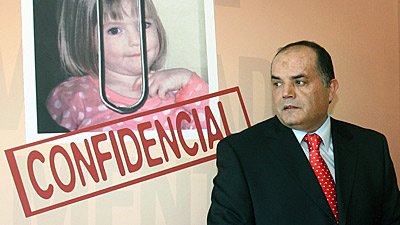 December 16, 2008 12:36 PM
Even though he's on trial in Portugal over another missing child case, former police chief Goncalo Amaral is finding time to promote his book Maddie - the Truth of the Lie.
This time he's talked to Italian news agency Ansa, still accusing Gordon Brown of using undue influence to help Madeleine's parents Gerry and Kate McCann.
Mr Amaral, who is fighting charges of perjury and failing to report a crime, told a friend of mine his book has been translated into English and will be published in Britain soon.
Stand by for a mammoth legal battle.
Madeleine book, 18 December 2008
Updated: 18 December 2008


The book, which is being sold on the internet for three pounds sterling, sets out 60 reasons against the belief that Madeleine was the victim of kidnap. According to Anthony Bennett, "readers will find things not published in any newspaper. I can prove it all".
Solicitor claims Madeleine McCann book 'will stand up in court', 18 December 2008
Solicitor claims Madeleine McCann book 'will stand up in court'
Harlow Star
First published: 18/12/2008
Clarence Mitchell - BBC Radio 4 'Today' programme, 19 December 2008
Clarence Mitchell - BBC Radio 4 Today programme
BBC Radio 4
19 December 2008
Sarah Montague: Rachel Nickell's parents were asked to tell the court yesterday about the impact her murder had had on their life. In his statement her father Andrew says it was a bit like trying to describe how you felt after being run over by a very large truck and he spoke movingly of all they had lost including their anonymity and he described how 'you become ever more wary of strangers and reveal nothing because they might be the media or have contacts with the media'. And after the trial he appealed to the media that after they had reported this case 'please don't run pictures or video of Rachel. Every time we see it, it hurts us.'
Jeff Edwards is former chief crime correspondent with the Mirror. He's in the radio car. With me in the studio is Clarence Mitchell who, as a former BBC correspondent, actually covered this case at times but is now advising the McCanns, errr... is working as a PR to the McCanns. Good morning to you both.
Jeff Edwards, do you think there is any hope of that for the Nickell's? That the media will stop running those images of Rachel Nickell that we're so familiar with?
Jeff Edwards: Yes, I think there is. I think now there is a resolution to this case. Now we know who did it, and he has been convicted, I suspect this case will now slip into criminal history, although from time to time, because it was such a landmark homicide investigation with so many elements, errr... so many shocking things had happened along the way, that it will be referred to from time to time but I think it's really been laid to rest.
SM: Clarence Mitchell you must be familiar with this from both sides of the story. Obviously it's a different situation for the McCanns because goodness knows how they feel when they see pictures of their missing daughter Madeleine but they want the pictures out there don't they?
Clarence Mitchell: That's right. I think Kate and Gerry would recognise a great deal in what Andrew Nickell said in his statement, but you're right whilst Madeleine remains missing, while she remains out there, they are still firmly of the view that she is alive and that she is still out there to be found and therefore they will work with the media and cooperate with the media. But nevertheless they still are entitled to a degree of basic privacy, as you or I are, and there have been abuses of that in the past and they will stand up to that where necessary but they want to work with the media's cooperation to find Madeleine.
SM: Do you think there has to be some development in the way that the media covers these stories because one of the things we know from this case of Rachel Nickell is that her former partner, I think it was about seven months after her death, took his son overseas and moved, I think it was twice, to avoid the media and one thinks is there not some better way of arranging things so that this needn't happen.
CM: Well, you'd think so, particularly in the 24/7 online era that we now live in which of course wasn't the case back in the early 90s. Errm... I think the media are a great force for good when they are accurate and fair and they have a great desire to help both the authorities in tracking down an offender, if they're out there on the run or whatever, and equally they have a great desire to help find the missing child find the person at the centre of any particular story but I don't believe there has been any sense of collective duty of care, if you like, on the part of the media collectively whereby in very high profile cases the sheer intense pressure, the daily pressure, on a family at the centre of any story of this nature can get to them.
SM: Jeff Edwards do you see any way that can be limited?
JE: Yes, I do, I mean you have to understand that even in policing terms this was a different era entirely when this took place. The police now have a very sophisticated family liaison branch...
SM: Just briefly from the media's point of view though?
JE: Well there is now a buffer system that the police put in place that can... there's a much more, errr... civilised arrangement, I think, errr... in terms of keeping a distance between the media and victims of crime because don't forget that Rachel's family were also victims of this dreadful murder so I think that the sort of abuses that happened in the 1990s...
SM: Jeff Edwards we must leave it there and Clarence Mitchell thank you both.
10 things to forget about from 2008, 28 December 2008
Fury over spoof chat to Maddie, 28 December 2008
Fury at Maddie 'ghost chat', 29 December 2008
Fury at Maddie 'ghost chat' The Sun
Published: Today (29 December 2008)
Anger over writer's sick 'interview' with Madeleine McCann, 29 December 2008
Anger over writer's sick 'interview' with Madeleine McCann
Glasgow Daily Record
(article removed 4 hours after publication)
Madeleine McCann: Police follow new leads, 30 December 2008
Madeleine's grandmother still has Christmas present for her, 30 December 2008
Madeleine's grandmother still has Christmas present for her
Herald.ie
Outrage over joke Madeleine interview, 31 December 2008
Updated: 31 December 2008


In the mock interview on his blog named mi mesa cojea, my limping table, Jose Pérez pretends to have spoken to the ghost of the missing five-year old, who he describes as being well educated but having a cheeky attitude.

In the fictitious piece, Exclusive interview with Madeleine McCann, Madeleine criticises her parents, Kate and Gerry McCann, telling Jose Pérez that she has become the "business of the century".

"More t-shirts have been sold with my face on than that of Mickey Mouse, and they are thinking of negotiating the rights of my story with Hollywood. And why? So that my mother can leave her job to play with the (Nintendo) Wii for 12 hours a day."

The fake interview also describes Madeleine as calling the Pope and other people who trust her parents as imbeciles.

Following the post, Jose Pérez received a wave of criticism, including one reader who wrote: "From the start, it's of the worse taste that I have ever seen." Another wrote: "You seem pathetic, ridiculous, without sense."
Exclusive interview with Madeleine McCann, 16 January 2008 - updated 31 December 2008
This is the 'spoof interview' with Madeleine McCann, which was originally published by Jose A. Pérez on his blog, on 16 January 2008.
"If everybody's thinking alike, somebody isn't thinking."
General George S. Patton
British media protest against a Spanish humour blog, 31 December 2008
British media protest against a Spanish humour blog
20minutos
Maddie found safe and sound, 31 December 2008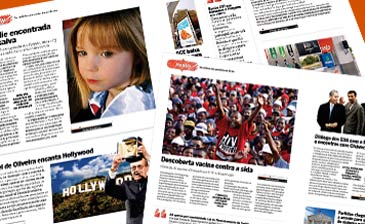 Maddie found safe and sound
(*)
VISÃO