ALONE: Kate yesterday
KATE McCann made a solitary pilgrimage this weekend to the Portuguese resort where her daughter went missing "for emotional reasons and to pray for Madeleine".
Yesterday morning the anguished mum went to the Nossa Senhora da Luz church, five minutes walk from the flat where the McCanns holidayed in May 2007.
Kate is staying with Praia da Luz's Anglican priest Father Haynes Hubbard and his wife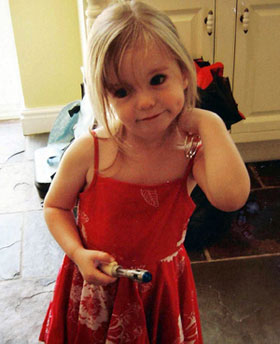 MISSING: Maddie
Susan who have become close friends.

Passengers who saw GP Kate, 42, on a flight from East Midlands airport to Faro on Friday morning said she cut a lonely figure.

One said: "Kate looked very sad, she was by herself. It is clear time is not healing the pain."

Husband Gerry is thought to have stayed at home in Rothley, Leics, with twins Sean and Amelie.

As Kate revisited the scene of Madeleine's abduction aged just three it emerged that there are new efforts to find her.
Three British ex-cops have joined Dave Edgar's team in Portugal.
"Gerry and Kate have some very experienced people working for them now and they will also pray for a miracle", said a pal.