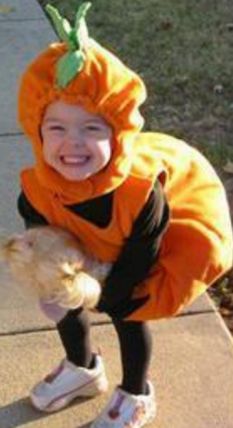 Swoop: A new picture of Madeleine dressed as a pumpkin for Halloween who police fear may have been snatched for a Belgian paedophile ring
An e-mail from British police warning that Madeleine McCann could have been abducted by a Belgian paedophile ring took six weeks to reach detectives in Portugal, it emerged today.
The Metropolitan Police in London received a tip-off 10 months after Madeleine vanished that she had been stolen to order after a 'spotter' saw her on holiday in the Algarve and sent her photograph to the gang's leaders.
Details of the confidential e-mail were revealed in the secret police files made public this week.
But the documents contain no explanation as to why the message sent on March 5 this year by the Met's vice intelligence unit to Leicestershire police, who were co-ordinating the British end of the investigation, was only passed on to officers in Portugal on April 21.
Inspector Ricardo Paiva, one of the detectives working on the case, then sent it to Lisbon Interpol a week later asking them to investigate the claim as a matter of urgency.
More than a month later, Interpol replied that some of the information gathered from around Europe was not credible.
On May 27, Lisbon Interpol sent a further urgent message requesting information but received an undated fax claiming there was nothing to add.
The revelation of a possible link to Belgium – the scene of several notorious child sex cases - came as a second woman claimed to have seen the missing girl in neighbouring Holland.
Another sighting, in Belgium itself just 12 days after Madeleine vanished, was also revealed today.
Line Compere, 31, told local police she saw a young girl who looked 'very much' like the three-year-old with an Eastern European couple on a tram in Brussels.
Her account emerged hours after the message from Scotland Yard emerged as part of the secret police files.
The message from Scotland Yard read: 'Intelligence suggests that a paedophile ring in Belgium made an order for a young girl three days before Madeleine McCann was taken.
'Somebody connected to this group saw Madeleine and took a photograph of her. The purchaser agreed that the girl was suitable and Madeleine was taken.'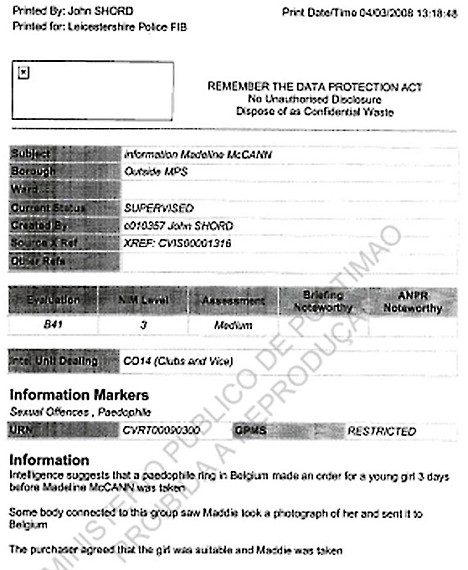 Warning: The e-mail sent by Scotland Yard to Portuguese police
The dramatic development, and the horrific picture it draws, will bring fresh agony to Madeleine's parents Kate and Gerry McCann.
It would fit with two claimed sightings of their daughter across the border in the Netherlands, where Belgian paedophiles could hide their victims.
But what prompted the tip-off is unclear, and it seems highly odd that if someone had abducted Madeleine to take her to Belgium, they would let her be seen in Amsterdam.
The McCanns' spokesman Clarence Mitchell said: 'Their private investigators will be pursuing this line as an absolute priority to establish if it has been fully investigated and properly ruled out.
'They have got some of the information already, from their lawyers and investigators, and they are waiting to hear from them what is legitimate, what is promising, and what is not.
'They are frustrated by the delays and the mistakes that were made. They have learned an awful lot about this kind of thing and God forbid she has fallen foul of any of these types.'
Sightings: Hannie Wiechmann (left) and Anna Stam both believe they saw Madeleine with a woman in Amsterdam
Earlier this week it was revealed that Amsterdam shop worker Anna Stam told police within days of Madeleine's disappearance in May last year that she thought she had seen her.
The report was passed to Portugal, but never followed up. Yesterday Hannie Wiechmann, 71, said she saw a girl resembling Madeleine in the Dutch capital at around the same time.
She said the child's hair had been badly cut and partially dyed red. She was with a woman who was pacing up and down beside a canal.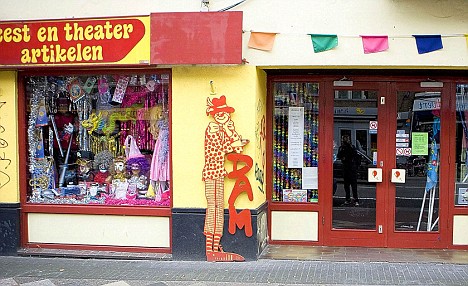 Lead: The party shop in Amsterdam where a woman says she talked to a girl calling herself Maddie
Mrs Wiechmann said: 'Those eyes, her badly-cut fringe with this red painted lock of hair. I just knew it was her.'
She told the Dutch newspaper Metro that she spotted the child twice near the city's famous Rijksmuseum.
Mrs Wiechmann said the woman, who was aged 30 to 35, was speaking English to her.
She added: 'You could see by the way she handled the kid she wasn't used to children.'
She was so convinced the girl was Madeleine that she called police from her mobile phone, then followed the pair as they walked towards the Rijksmuseum.
But when police arrived and spoke briefly to the brown haired woman, they accepted her account that she was a tourist who was baby-sitting the child.
Mrs Wiechmann said they dismissed her suspicions without even taking her details or talking to the girl. But she was so convinced the girl was Madeleine that she called British police, who took details but did not contact her again.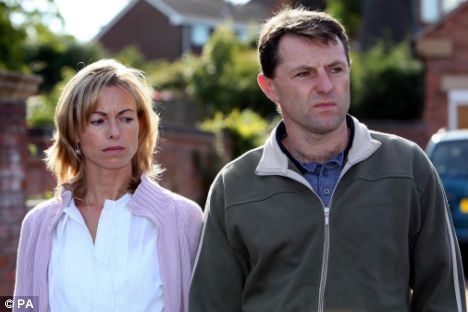 Despair: The McCanns are furious at the string of blunders
Mrs Wiechmann said that a week later she saw the pair again in a park, and the little girl came over to pat her dog.
She said: 'She came right to me to pat the dog. Then I let her go. Stupid, but…. I let her walk away.
'It would have been better if I had taken her home and reported it to all the international criminal investigators. Such a beautiful girl.
The McCanns' private detectives have considered the theory that Madeleine was given to a 'carer' who would have disguised her appearance and kept her in a safe house.
Mrs Wiechmann's account came just a day after the Portuguese police files revealed Miss Stam's description of a young girl with an adult couple and two other children.
Miss Stam, 41, said the girl called herself Maddie and said of the woman with her: 'She took me from my Mummy….They took me from my holiday.'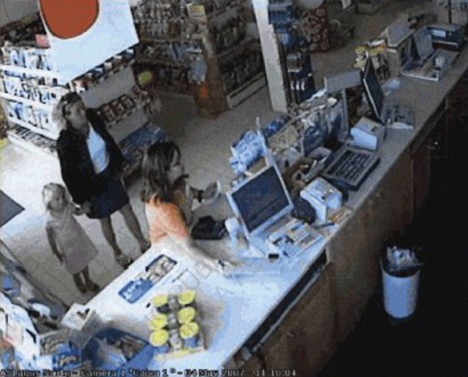 Possible lead: A little blonde girl holds a woman's hand at a petrol station near Praia da Luz hours after Madeleine first disappeared
A Dutch police report was sent to Portuguese police but it is not clear what action, if any, they took.
Miss Stam said: 'I think it's stupid because maybe they could have done something more at that time and maybe now it's too late to find any clue. So I think it's very neglectful by the police.'
Family spokesman Clarence Mitchell said the McCanns' private detectives would interview both women 'as a priority'.
Dutch and Portuguese police refused to comment.
The huge case files also revealed that Portuguese police asked the FBI to compare a DNA sample from Madeleine with the body of a child washed ashore in Galveston, Texas, last November. But it was not a match.
In the UK, a former detective accused the Portuguese of 'giving up'.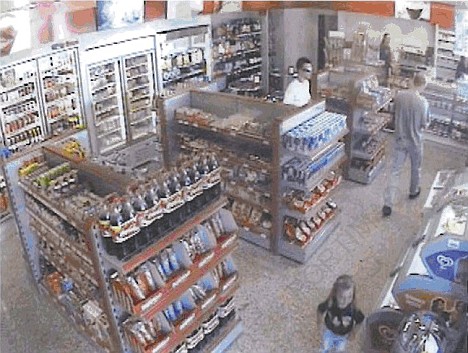 Clues: A mystery girl walks into a petrol station yards behind a man in the nearby town of Albufeira. It was never shown to the McCanns or released to the public
Child protection expert Mark Williams-Thomas said: 'The file should have been made available to another law enforcement agency from another country before it was made public.
'There is information there which should not have been put in the public domain and should have been followed up. It is a huge blunder to make it public.
'They have given up. The police are absolving themselves of responsibility.'