Maddie 'seen in the U.S.'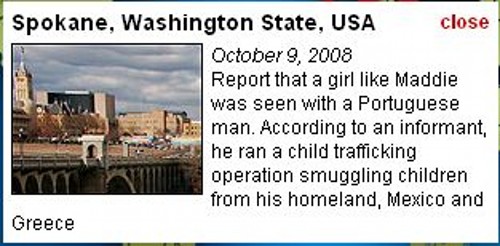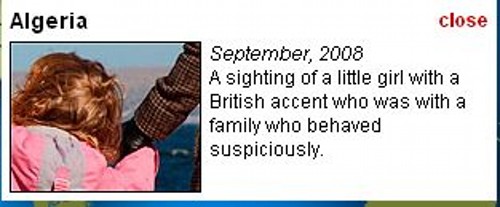 'It's not our Maddie': McCanns' hopes dashed after sighting in India

MAIL-28-07-2011

McCanns' Maddie hopes are dashed 'Sighting' in India is lookalike

SUN-29-07-2011
Anna-Stam
AMSTERDAM - Anna-Stam

Madeleine McCann dossier:
Did this Dutch couple snatch Maddy?

AMSTERDAM - Anna-Stam

AMSTERDAM - Anna-Stam Photofit of man she saw Madeleine with

Madeleine McCann dossier:
Did this Dutch couple
snatch Maddy?

SPOKESMAN PICS
MIRROR-08-08-08

ANNA STAM -AMSTERDAM

I saw 'Maddie' too

Email warning that Madeleine was 'stolen' by Belgian paedophile ring took six weeks to reach Portuguese police

MAIL-17-08-2008
AMSTERDAM
Hannie Wiechmann
Hannie Wiechmann Amsterdam

I saw 'Maddie' too

Madeleine 'stolen to order' lead was filed away

Email warning that Madeleine was 'stolen' by Belgian paedophile ring took six weeks to reach Portuguese police
KATLEEN SAMPERMANS, JOLIEN HOUBRECH, SJANNEKE and ED HOFSTEDE
KATLEEN SAMPERMANS, JOLIEN HOUBRECH, SJANNEKE and ED HOFSTEDE (33, 21, 4 and ?? respectively) Year 2007
Katleen Sampermans, a child therapist alerted police after saying she was "100% sure" she had seen the four-year-old at a restaurant in the Flemish town of Tongeren, not far from the Dutch border, on July 28. Student Jolien Houbrech, 21, was working at the De Pauze restaurant in the Belgian border town of Tongeren on Wednesday when a Dutch man and an English woman arrived with a small child. She confirmed the sighting. Police treated the report seriously, and released a computer image of the man - believed to be Belgium, aged about 40, and spoke Flemish with a Dutch accent. His female companion was British. DNA tests were carried out on the cup the young girl used at the restaurant. A nationwide alert was issued for the car the couple fled in, a black Volvo with Belgian number plates beginning with VUV. The child was identified as Sjanneke Hofstede who was on an access visit with her father, a Belgian man from the town of Hoogstraten, and his Polish girlfriend. Sjanneke was a little ill-at-ease because it was the first time that she had met her father's girlfriend.
Sjanneke-Hofstede

'A year in jail and you
can go home'

KATLEEN SAMPERMANS

Volvo in Belgian Madeleine 'sighting' had fake plates, say police

MAIL-09-08-07

BELGIUM -
JOLIEN HOUBRECH
Served suspects

BELGIUM
JOLIEN HOUBRECHA
photo-fit of the Dutch-speaking man seen with the girl

BELGIUM

Ed Hofstede
BELGIUM
JESSICA BEEM
JESSICA BEEM
Jessica Beem reported seeing Madeleine in her flower shop, the "Doornroosje", at Eksel, according to the newspaper 'Belang van Limburg'
Tea-Dedic
ANONYMOUS IRISH WITNESS - TEA DENIC (3) year 2007
On 10th November it was reported that an Irishman on a pilgrimage to the "miracle" town of Medjugorje in Bosnia had been in contact with Metodo 3 to tell them he heard a little girl cry, "I want my daddy" as she was driven away by a man and a woman. The witness reported seeing the girl struggling with the couple and felt there was something wrong. The father of six, asked to remain anonymous. He wrote down the registration of the couple's car, a VW Golf, and alerted local police but claims his sighting was not followed up. The witness, from Fermanagh, was on holiday in the Bosnia-Herzegovina town with his wife and two-year-old at the beginning of November. Bosnia police identified the child as Tea Dedic, who lives in the city of Ljubuski with her parents. Her father Alen Dedic explained that the car was traced back to his father Slavko Dedic who lent it to him so that the family could go to pray with his family at Medjugorje. Alen Dedic said: "I am sorry that the family had to go through this but my daughter is nothing to do with the case. "She is three-and-a-half years old and is very hyperactive and was a bit out of control when we were in Medjugorje.
"I really had to push her into the car when we went to pray.
"To be honest I had seen that people leaving the church were staring at her behaving badly and I was very embarrassed, I just wanted to get out of there. I did not dream I would create such a fuss."
BOSNIA

Tea-Dedic

Balkans girl is not Madeleine

BOSNIA

Tea-Dedic

Balkans girl is not Madeleine
BOSNIA
MARINA DUGANDZIC (39) and MONIKA PANDZA
MARINA DUGANDZIC (39) and MONIKA PANDZA Year 2007
Local shop assistant Marina Dugandzic, 39, backed up the Irishman's story. She said a tourist came into her shop and was very animated, asking if any English-speaking locals could help him because he was having difficulty getting police to understand him. She said: "He did not mention the name of Maddie McCann or tell us his name. "However, he said that he had seen someone pushing a little girl into a black VW Golf with Bosnian number plates. "Our colleague Monika Pandza, an English language professor, translated his words." She said the father of six, from Fermanagh, even gave police the number plate for the car the couple sped off in. He had told her: "I was about to speak to the child when the man put his hand over her mouth and shoved her into the car." But Bosnian police still denied receiving the tip-off.
| | |
| --- | --- |
| No Image available | No Image available |
BRUSSELS

BRUSSELS Can we go back now?

BRUSSELS

Can we go back now?

BRUSSELS

Madeleine McCann hunt: Parents hire crack USA team

BRUSSELS

Can we go back now?

BRUSSELS Can we go back now?

BRUSSELS

Can we go back now?
ALIVE' ON TV
| | |
| --- | --- |
| MADDIE SEEN 'ALIVE' ON TV | Lost: Maddie double who cried 'help me' |
Dino-Drpic-Leone
CROATIA

Dino-Drpic-Leone

CROATIA

Dino-Drpic-Leone
Jon Hazelhurst with his stepdaughter Lauren Kingsbridge, Devon
Jon Hazelhurst with his stepdaughter Lauren Kingsbridge, Devon England
Maddie lookalike quizzed by cops
SUN-04-09-09

Jon Hazelhurst with his stepdaughter Lauren Kingsbridge, Devon England
Maddie lookalike quizzed by cops
SUN-04-09-09
MELISSA FIERING E-FIT FRENCH MAN MONTPELLIER
MELISSA FIERING (18 ) Year 2007
Melissa Fiering, a student, claims she saw Madeleine McCann in a cafe on 15th February. She described the dark-skinned male to sketch artist Emre Altin, 28, exclusively for the The Daily Mirror. Speaking at her home in Nijmegen, Holland the travel and tourism student said of the police-style e-fit: "This is definitely an accurate likeness of the man I saw. I'd recognise him straight away if the police found him." Melissa said the person she saw in Montpellier, southern France, was about 6ft, in his late 30s, possibly Algerian, with slightly receding hair and a distinctive sharp jaw line. He wore a black leather jacket and "looked quite rough". French police viewed the CCTV videos and concluded that the child was not Madeleine.
FRENCH MAN MONTPELLIER SUSPECT E-FIT

MELLISSA FIERING
FRANCE
| | |
| --- | --- |
| Maddie: New file | Maddie: New file |
MALTA

The total number of reported sightings of Madeleine in Malta has reached twenty-nine.

MALTESE NATIONAL (Woman)
The first report of a sighting of the missing girl reached the Maltese Police on the 27th May. A Maltese national claimed that she had seen Madeleine in Valletta in the company of a man one week earlier. Investigations began immediately afterwards.

TWO BRITISH WOMEN
A second report was filed on the 17th June, when two British women claimed to have seen a girl remarkably similar to Madeleine McCann near the Floriana bus terminus. The girl was seen in company of a middle-aged woman. The two boarded a bus headed for Qawra and alit it once they reached St Paul's Bay.

MALTESE WOMAN
There has also been a sighting by a Maltese woman, who reported seeing a girl resembling Madeleine on the Gozo ferry on June 20, reports claim.

SIX WOMEN, ONE MAN AND AN ANONYMOUS PERSON
Following media reports pertaining to the case which were published in the media on Thursday, Police received seven further reports of alleged sightings. Police said that the reports were given by six women, one man and an anonymous person. The person or persons allegedly accompanying the child differed in the reports. The girl was allegedly seen in Valletta, Sliema, Mdina and Marsascala in the days and weeks leading up to Thursday, 21st June.

RAY ROBERTS
Police denied that they received a report from Ray Roberts, who claimed to have seen Madeleine wearing a black wig in company of an Arab man. Ray Roberts, from Anglesey, north Wales, told British tabliod The Sun that a child resembling the missing four-year-old was spotted in Sliema. Police also denied that Mr Roberts gave evidence in front of the inquiring Magistrate.

MALTESE MAN
Also on Thursday, a Maltese man approached Police with an image of a girl resembling Madeleine which was snapped by a mobile phone during the Żejtun feast on Sunday. However, an analysis of the photograph revealed that the pictured girl is not Madeleine.

ANONYMOUS CALLER
On Friday June 22nd an anonymous caller told Police that the 4-year-old British girl might have been spotted in Baħar iċ-Ċagħaq on Thursday.

UNIDENTIFIED
A further report, also filed on Friday, June 22nd claimed that a similar looking girl was also seen in Marsascala about a fortnight before.

SEVERAL SIGHTINGS - THE ARAB WITH THE YACHT
A girl resembling missing Madeleine McCann was allegedly seen being taken aboard the yacht of a wealthy Arab family, police in Malta have been told. The island's over-stretched force was last night desperately trying to trace the boat. Several people contacted police to report the sighting. Some were so convinced the girl was Madeleine that they tried to approach the Arab family but were blocked from getting near the yacht by security guards.

Most of the following info taken from

http://www.maltamedia.com/artman2/publish/law_order/article_2386.shtml

http://express.lineone.net/posts/view/11399/Maddy-Find-the-Arab-s-yacht
Antonio Toscano ARAB'S YACHT
ANTONIO TOSCANO
Antonio Toscano is a Spanish investigative journalist who claimed to know the name of Madeleine's abductor. In several interviews with Spanish newspapers and TV companies he introduced himself as an expert in satanic cults. Antonio Toscano is certain the four-year-old girl was snatched by a French paedophile on orders from wealthy organisers of a European child sex network. It was reported that he handed his file of evidence to the PJ on 27th June.
Antonio Toscano

MADDY: FIND THE ARAB'S YACHT

I'VE NAMED MADDY KIDNAPPER

Antonio Toscano

MADDY: FIND THE ARAB'S YACHT

I'VE NAMED MADDY KIDNAPPER
Naoual Malhi
MOROCCO
Naoual Malhi

Six months without Madeleine: Is this the Moroccan village that holds the key to her disappearance

Mafia threats for woman who 'spotted' Madeleine

EXPRESS-06-11-2007

Witness who saw 'Madeleine' in Morocco receives Mafia death threats

MAIL-06-11-2007

Good riddance to Portugal's police

MIRROR-05-11-2013

LEVESON INQUIRY:

This is the exhibit marked "NP6" referred to in the Witness Statement of Nicole Patterson dated this 16th day of September 2011PDF
Exhibit-NP6-to-ws-of-Nicole-Patterson PDF

02 Nov 2007, On page 2, is a claim for expenses from Padraic Flanagan, Employee No 510424, for €500, Cash paid to Naoual Malhi, Urbanacion Calahonda Royale, Mijas Costa, for exclusive buyup on Madeleine eyewitness.
MOROCCO
CLARA TORRES AND BUSHRA BINHISA
CLARA TORRES AND BUSHRA BINHISA (??? and 5) year 2007
The alleged sighting by Clara Torres was reported to have occurred on 31 August. The photograph, taken in the remote hillside village of Zinat, northern Morocco, was of a blonde girl who looked like Madeleine. But the child turned out to be five-year-old Bushra Binhisa, the daughter of a local olive farmer. Bushra comes from a village in the Rif mountains in northern Morocco where her family have lived and farmed for several generations.
MOROCCO Photographer Clara Torres

MOROCCO Photographer Clara Torres

MOROCCO

'A year in jail and you can go home'

MOROCCO - Official press picture Morocco family below Picture was taken by Spanish Tourist -ClaraTorres-31 Aug 2007

MOROCCO - This is the official press picture. Not a photo shopped one of the Morocco child below

MOROCCO Bouchra-Benaissa

'A year in jail and you can go home'

SIGHTINGS

MOROCCO - Madeleine's eyes superimposed over Moroccan picture

created by

Speefts

MOROCCO - Madeleine's photoshopped pictures

Created by

Speefts

MOROCCO
Picture and a later picture
of Moroccan child
MOROCCO
MARI OLLI POLLARD
MARI OLLI POLLARD (45) Year 2007
Mari Olli, a "Norwegian tourist", lives in Fuengirola on Spain's Costa del Sol. The incident happened at around 10am on Wednesday, May 9, at a petrol station next to the Ibis Palmeraie Hotel on the outskirts of Marrakech. She was on holiday in Marrakech witrh her British husband when she saw the child she thinks Madeleine. She says that she didn't come forward then because she was unaware of the missing four year old Maddie but, at the time of reporting, said that she was 99.9% certain it was Madeleine McCann. The Moroccan Police have confirmed that they viewed to CCTV video. Mrs Mari Pollard is seen coming inside the shop and buying water and other small items. But there was no record of a child in these images. Videos from CCTV cameras at both hotels were checked. There was no child matching Madeleine's description. Mari Olli is married to Ray Pollard, who was born and raised in Groby, close to Glenfield Hospital, where Gerry McCann has been working since 2000. The McCanns moved from Glasgow to the city of Leicester in that same year and bought a house at Rothley, close to Groby, 1½ years ago.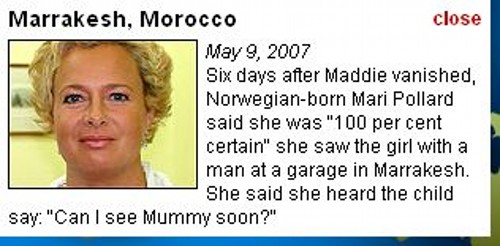 | | |
| --- | --- |
| Mari Olli is convinced that she saw Madeleine in a petrol station shop in Marrakech | |
MOROCCO
UNKNOWN YORKSHIRE MAN
UNKNOWN YORKSHIRE MAN
A Briton told Moroccan police that he is sure that the little girl he saw in the lobby of the Ibis hotel in Marrakech was Madeleine. When the man, who is from Yorkshire, arrived home from Morocco, he saw Madeleine's picture and was convinced he had seen her. He reported the sighting to Leicestershire police who passed the information to Moroccan and Portuguese authorities. The Moroccan secret police took his report seriously because witness Marie Pollard, a Norwegian woman who returned to Spain, reported spotting Madeleine a few hundred yards away at the Afriquia petrol station.
MOROCCO
NAOUAL MALHI
NAOUAL MALHI (30) Year 2007
This alleged sighting by Maoual Malhi occurred on August 21st but was not reported to the Spanish police until 6 days afterwards. It was then said to be reported to Metodo3 at the end of October. Naoual Malhi is a Moroccan doctor who lives in a British expatriate community near Malaga, Spain. She is divorced with a 4 year old child. Mrs Malhi said she was told by police that more than 100 people had called them to report seeing the missing four-year-old in the same mountain area. The blonde girl identified in the city of Fnideq as Madeleine McCann is a Moroccan child and was found living with their parents, according to the director of Moroccan Judicial Police
MOROCCO
MAJID JAZOULI
MAJID JAZOULI (43) Year 2007
A school inspector claimed to have seen the child in Karia Ba Mohamed, near the town of Fez in Morocco, around the start of October. Teacher, Majid Jazouli, told the Daily Express on 5th November that "The little blonde girl was seen about a month [before] at a farm on the outskirts of Karia, Morocco. I sent a boy inside the compound to verify it, and he said there was a blonde girl there. I could not go in there myself because I am a stranger and that would be against our culture." Mr Jazouli claimed that 15 of his neighbours can back up his story. Desperate to help find the missing four-year-old girl, he phoned the Madeleine hotline with the information. Detectives from the Metodo 3 private investigative team, hired by the McCann family, searched the area after a tip-off from the local schools inspector. However, after enquiries the local police were adamant that she was not there
MOROCCO
Isabel Gonzalez
ISABEL GONZALEZ AND JAVIER GALLEGO (60 and 61) Year 2007
Isabel Gonzalez, a Spaniard, also said she was certain she saw Madeleine being dragged along a street by a Muslim woman in the remote northern town of Zaio, in the north of Morocco, at the end of May. She said she saw a "sad and scared" blonde girl being dragged across a street by a woman in a Muslim headscarf. She told how she and her husband, Javier Gallego (a retired Spanish air force helicopter pilot), were on a day trip from their home in Melilla, a Spanish enclave in North Africa, when they believe they saw Madeleine. They were driving when the Muslim woman walked out into the road in front of them, "walking very fast and dragging a young blonde girl with her".
MOROCCO

Isabel Gonzalez, Zaio, northern Morocco / sep - Nov 2007

Murat lover 'was at Jehovah's meeting as Maddie vanished'

MOROCCO

Isabel Gonzalez, Zaio, northern Morocco / sep - Nov 2007

Murat lover 'was at Jehovah's meeting as Maddie vanished'
Michael Griffiths and Mary Habib
Balclutha couple Michael Griffiths and Mary Habib

Dunedin Madeleine sighting ruled out but more claimed

Maddie: New file
NEW ZEALAND
Taryn_Dryfhout
'It WAS Maddie': Witness convinced girl in photo that Portuguese police kept secret was missing Madeleine

MAIL-03-03-10
SMITH FAMILY
MARTIN AND MARY SMITH (? and 59) Year 2007
According to their deposition to PJ, Martin Smith, his wife (Mary) and his children, after leaving the Kelly bar, which is located approximately 400 metres from the Ocean Club, around 9.50 / 10.00 p.m., saw an individual described as caucasian, measuring 1.70 - 1.75 m, walking towards the beach. The Irish man told Sol that he knew Robert Murat (the only arguido in the process) visually for years and also remembered seeing the anglo-portuguese man in a bar that evening, "already a bit intoxicated". Therefore, the Irish dismissed the possibility that the person he saw carrying a child could be Murat. "If it was him, I guarantee to you that I would have recognized him".

A nanny that allegedly saw a suspect near the McCann apartment. The suspect was spotted in 2006, one year before Madeleine McCann disappeared, according to the Daily Mail edition of October 30.
| | |
| --- | --- |
| ROUTE 01 SMITH FAMILY ROUTE 02 JANE TANNER SIGHTING | SMITH FAMILY SIGHTING |
PORTUGAL
Ivan Mochacho,
who works at a beachfront restaurant visited by Kate and Gerry McCann, told police of a 'strange man' taking pictures at
Zavial beach

Madeleine McCann: 'Strange Englishman' photographed children on beach
PORTUGAL

Taxi driver
Antonio Jose Castela Cardoso, or Castela as he is known in Vila Real de Santo Antonio,
ANTONIO CASTELA (67) year 2007
Antonio Castela, a taxi-driver, said he dropped off Madeleine and her English-speaking mystery companions at an Algarve hotel and watched them drive off in a blue jeep. He insisted he was "100 per cent sure" his passengers included Madeleine, aged 4, saying he even noticed her famous eye defect as his son had a similar defect. "She was with three men, one of whom looked like Robert Murat, and a blonde woman," he said. "The blonde woman with them looked to me like Madeleine's mother but I couldn't say whether or not it was her," he added. Castela, a taxi driver for the past 17 years, said he picked the group up at at a taxi rank in Monte Gordo an hour's drive east of Praia da Luz where Kate and Gerry McCann were holidaying with their three children on the evening of May 3. He was certain about the timing, he said, as it was approaching the end of his shift. He claimed Madeleine was wearing a pair of pink pyjamas and sat on the lap of one of the two men. They asked him to drive them to the Apolo Hotel in the nearby town of Vila Real de Santo Antonio, a 15 minute drive from Portugal's southern border with Spain. And the only one words one of the men uttered at the end of the two and a half mile journey was "How Much?" in English when it was time to pay, Mr Castela told Jornal do Algarve in an exclusive interview.
| | |
| --- | --- |
| | March – Banks admit crisis as Madeleine coverage continues |
PORTUGAL
petrol station near Lagos
May 10 2007: A petrol station where CCTV images of two men and one woman suspected in
the disappearance of Madeleine were recorded near LagosMelanie Mapps/Getty Images

May 10 2007: A petrol station where CCTV images of two men and one woman suspected in
the disappearance of Madeleine were recorded near LagosMelanie Mapps/Getty Images
PORTUGAL
PORTUGAL

Maddie: New file

PORTUGAL

Maddie: New file
PORTUGAL
Jorge Vitorino Cabral Martins & Maria Alice dos Santos Silveira outside Silves, Portugal
| | |
| --- | --- |
| Was this ragdoll given to Maddie by her captors? | 'I'm convinced the little girl I saw was Madeleine McCann': The riddle of Maddie and 'the fat gipsy women' |
PORTUGAL
Yvone Albino outside Silves, outside Silves,Portugal
| | |
| --- | --- |
| Was this ragdoll given to Maddie by her captors? | 'I'm convinced the little girl I saw was Madeleine McCann': The riddle of Maddie and 'the fat gipsy women' |
SPAIN

Maddie: New file

SPAIN

Maddie: New file
Karen Sisson

3 new clues to Maddie. Cops to check Costa sighting

SUN-08-05-2012

Cabopino campsite, near Fuengirola,

3 new clues to Maddie. Cops to check Costa sighting

SUN-08-05-2012

'That wasn't Maddie... it was my daughter': Swiss father says he was mystery man seen driving blonde girl identical to Madeleine days after she vanished

MAIL-09-05-2012

'That wasn't Maddie... it was my daughter': Swiss father says he was mystery man seen driving blonde girl identical to Madeleine days after she vanished

MAIL-09-05-2012
Spain's Penoncillo Beach between Torrox and Nerja
Rose Johnson (right), 70, came forward to insist she saw the missing girl playing on Penoncillo beach – between Torrox and Nerja

Maddie in Spain?

OLIVE PRESS-17-05-2012
SWEDEN

McCanns: Find girl in Swedish photo
Trevor Francis
Portugal

Unidentified Portuguese trucker

It has emerged four-year-old Madeleine may have been handed by her kidnapper to a paedophile gang in the historic town of Silves, 30 miles from Praia da Luz and 12 miles from the nearest harbour, Portimao.
A Portuguese trucker claims to have seen a blonde woman pass a child wrapped in a blanket to a man, who then "bundled" her into a car, on May 5, two days after she vanished. Detectives believe she was then smuggled to North Africa.
The witness, who has not been named, reported the sighting several weeks ago to a telephone hotline set up by the agency in Spain.
He allegedly identified the woman as Michaela Walczuch, 34, from pictures shown to him.

18.11.07

From Malta to Portugal: A quick list of Madeleine's sightings
Mari Olli, Clara Torres, Isabel Gonzalez and Naoual Malhi: They all saw Madeleine in Morocco


Madeleine McCann spotted in Portugal
Bosnian police confirms – Blond girl from Medjugorje is not Madeleine
Philomena McCann: Madeleine could have been snatched by a Saudi paedophile
Madeleine McCann spotted in Bosnia
Metodo 3 confirms: Madeline is alive and in Morocco
Spanish detectives: A Portuguese paedophile kidnapped Maddie
Seventh witness claims she saw Madeleine in Morocco
McCanns: 'Important clues suggest Madeleine will be found in Spain'
Police asked Interpol to investigate witnesses that claim they saw Madeleine
Madeleine: New hope for McCanns as kidnapped American girl 'is found safe in Morocco'
Investigators scour Morocco after 10 'sightings' of Madeleine with 60-year-old woman
Clara Torres: If it's nor Madeleine, it's her twin sister"...
Fourth witness says she saw Madeleine in Morocco
Possible sighting of Madeleine McCann in Tongres (*), Belgium
Alípio Ribeiro, head of Portuguese CID: Antonio Toscano's informations "don't deserve particular credibility" to Police
False alarm on flight from Switzerland
11 'sightings' of Madeleine in Malta - but police investigations draw a blank
Ray Roberts, who says he saw Madeleine in Malta, never contacted local police
Portuguese police received the "Dutch Maps"
Report sent to British Police by Mrs. Mari Olli about Madeleine's sighting in Morocco

Posted by Paulo Reis at 15:51:00

Dossier Of Sightings Released To UK Press 2010
The following emails were sent to me on 11 and 14 Jan 2013 Re: Brazil sighting: Hoax
New for 2013: New year alleged sightings of Madeleine Beth McCann New Zealand
http://www.mccannpjfiles.co.uk/PJ/ASSORTED_SIGHTINGS.htm
http://gazetadigitalmadeleinecase.blogspot.com/2007/11/from-malta-to-portugal-quick-list-of.html