MARIO FERNANDO MADEIRA MARREIROS
Laundry worker at Ocean club
MARTIN SMITH
PJ FILES: SMITH FAMILY SIGHTING, FAMILY STATEMENTS, IMAGES
Mario Fernando
Mario Fernando Laundryman Madeleine McCann: Witness saw 'weird' stranger lurking near apartment
Mirror-29-05-2013
MIGUEL MATIAS (Manager of the Paraiso Restaurant)

A restaurant manager in Praia da Luz said the family were at the beach at around 5pm, while the couple insist Mr McCann was playing tennis as Mrs McCann gave the children supper at the Ocean Club resort, where they were staying. Miguel Matias, who runs the beachside Paraiso restaurant said he saw Mr McCann dancing with his daughter as the family ate a meal on the terrace in the early evening. Several days later he contacted police and handed over CCTV footage: "We would not have handed the CCTV if we were not sure. They have taken it as evidence."
No photo available

Revealed: Gerry McCann's last dance with little Madeleine

MAIL-19-09-07

Paraiso Restaurant
Down's syndrome woman names paedophile ring Hollie tells police she was abused by sheriff

PRESS JOURNAL 18-11-09

Down's syndrome woman names paedophile ring Hollie tells police she was abused by sheriff

PRESS JOURNAL 18-11-09
Patrick Mathews, Bowen
practitioner, the Algarve

Madeleine McCann: Bundle smuggled on jetski

Maddie 'bundle' seen on jet ski

SUN-04-03-08

Patrick Mathews, Bowen
practitioner, the Algarve

Madeleine McCann: Bundle smuggled on jetski

Maddie 'bundle' seen on jet ski

TELEGRAPH-04-03-08
LORI CAMPBELL (Sunday Mirror)

Lori Campbell is the Sunday mirror reporter that reported Robert Murat to the police. "My decision to report Murat had nothing to do with being a journalist. It was based on gut instinct and a natural sense of duty that I should share my suspicions. Given the unimaginable horrors which Madeleine's parents were enduring, it seemed the very least I should do."
Lori Campbell Journalist
Kate McCann: My Story

Lori Campbell Journalist
CHARLOTTE PENNINGTON (20) Year 2007 (Mark Warner Nanny)

Former Mark Warner nanny Charlotte Pennington said she spotted the man in a small dinghy just off the Praia da Luz seafront at 11.30pm. She claims he was kicking at an object stored in the boat's hull. When she moved closer to investigate, the man - whose name she has given to Portuguese and British police - stooped out of sight then hurriedly rowed away.
CATRIONA BAKER (20) Year 2007 (Mark Warner Nanny)

The Mark Warner employee who was looking after Madeleine in Praia da Luz's Kids Club in the hours before her disappearance is 20-year-old Catriona Baker, the daughter of a nurse and draughtsman from Manchester. She was witness to the McCanns' movements during the week they were on holiday in Portugal and fed Madeleine less than three hours before she disappeared. On the morning after Madeleine's disappearance it is believed she even told Portuguese police of a man she had seen acting 'suspiciously' around the apartments.
NANNY CATRIONA BAKER

Revealed: The nanny who could help clear the McCanns' name

NANNY CATRIONA BAKER
KIRSTY MARYAN (19)Year 2007 (Mark Warner Nanny)

Kirsty Maryan has been described by the McCann family's private investigators as a key witness in the case but was featured by the Daily Mail posing in a nurse's uniform and stockings and suspenders. Miss Maryan is said to be regarded as an important witness in the case after reportedly voicing doubts about the movements of suspect Robert Murat in the days following Madeleine's disappearance. Miss Maryan's mother, Joy, lives in Eastbourne, Sussex.
NAJOVA CHEKAYA (Aerobics Instructor/Quiz Organiser)

Najova Chekaya is the aerobics teacher running the quiz. She was invited over to the McCann table by Mr McCann himself when the game ended at
9.30
. She stayed for half an hour. She later claimed to friends that nobody left the table. Najova Chekaya lives in Flitwick, Bedford.
Ms Najova Lilia Chekaya
Aerobics instructor

I just want to go home, says fitness teacher who is
key witness
Paedo Raymond Hewlett admits visiting Madeleine holiday flats
MIRROR-23-05-09
PETER & NISRINE VERRAN

Paedo Raymond Hewlett admits visiting Madeleine holiday flats
MIRROR-23-05-09

Maddie mystery of ex-soldier and his camper van: Police contacted Army for information days before confirming they had identified new 'persons of interest'
VICKY AND LOUIE BOYD

We feel so much for Maddie's mum

FIRST MAG 19-05-07

VICKY AND LOUIE BOYD

Keesh's Analysis of: The Boyd family are in The Playground photo ( i.m.o.).
IVAN MOCHACHO

who works at a beachfront restaurant visited by Kate and Gerry McCann, told police of a 'strange man' taking pictures at Zavial beach

BARS & RESTAURANTS
ADRIAAN JACOBUS VAN MARAIS GOLFINO / DOLPHIN RESTAURANT STATEMENT
PAMELA FENN DIED MARCH 2011
PAMELA FENN (Neighbour) Year 2007

Ex-pat Pamela Fenn, a widow in her 70s. She claims she "scared off" an intruder who had broken into her apartment in the days before the McCanns arrived to stay in the holiday flat directly below her. Mrs Fenn has told friends she heard a noise as she watched television and found a man escaping through her bedroom window. Her niece, who was staying with her, also saw the man. The widow reported the incident to police but claims no one contacted her after Madeleine vanished - until two weeks ago, when British detectives called on her. Mrs Fenn's niece is travelling to Portugal from the UK next week to be interviewed by the Policia Judiciaria. Mrs Fenn is also said to have heard the McCann children crying two nights before Madeleine's disappearance.
From Kate McCanns Book "Madeleine" page 75 Comment about Mrs Fenn
Mrs Fenn page 75
Then a lady appeared on a balcony – I'm fairly certain this was about 11pm, before the police arrived – and, in a plummy voice, inquired, 'Can someone tell me what all the noise is about?' I explained as clearly as I was able, given the state I was in, that my little girl had been stolen from her bed, to which she casually responded, 'Oh, I see,' almost as if she'd just been told that a can of beans had fallen off a kitchen shelf. I remember feeling both shocked and angry at this woefully inadequate and apparently unconcerned reaction. I recollect that in our outrage, Fiona and I shouted back something rather short and to the point.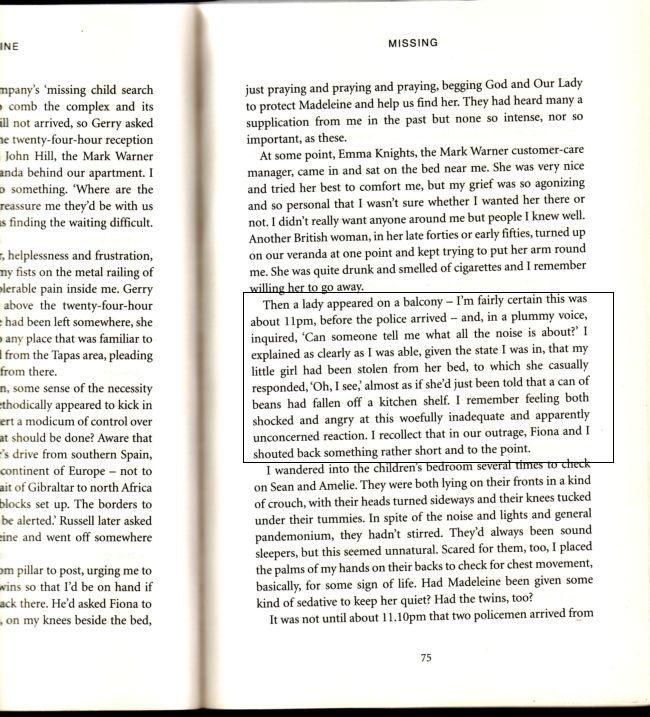 PAMELA FENN DIED MARCH 2011

Gerry McCann snooping around Witness: Mrs Pamela Fenn.

PAMELA FENN

MRS FENN APARTMENT
JOSE BATISTA AND MARIA FERNANDEZ (45 and ???) Year 2007
(Waiter in the Tapas Bar and his wife)

Mr Batista, who served the McCanns and their friends at the tapas restaurant where they were dining on the night Madeleine disappeared, says they could not have seen their apartment from their table, as they have claimed. He also says he was surprised that they apparently made a special arrangement with staff so that they could leave their children alone on four consecutive nights to eat at the tapas bar near their apartments in the Ocean Club complex in Praia da Luz with their friends, dubbed the Tapas Nine. "The group did check on their children regularly," he told the Daily Express. "I know that because I often took food to the table and found one of them was not there. It was always the men who went to check, never the women. Maria Fernandez works in The Ocean Club's other restaurant (the Millennium) and said of Madeleine, "She was like a little angel, very quiet and good as gold. Just a lovely little blonde girl".
JOSE BAPTISTA

MADELEINE: POLICE QUIZ WAITER FOR THIRD TIME

MADELEINE: WITNESS GOES ON THE RUN 'TO PROTECT HIS EVIDENCE
JEREMY WILKINS (36) (Played tennis with Gerry McCann) AND BRIDGET O'DONNELL Year 2007

9:05pm
Gerry McCann left the table to check on his children, who were all sleeping soundly, he says. Returning, he bumped into another British tourist, Jeremy Wilkins and was walking his eight-month-old son in the night air, with whom he had played tennis. They chatted for several minutes, as Mr Wilkins has confirmed. British holidaymaker, Jeremy Wilkins, has given a deposition that does not support Jane Tanner's evidence. Mr Wilkins says he saw no man carrying a child or Jane Tanner herself. "It was a very narrow path and I think it would have been almost impossible for anyone to walk by without me noticing," he said. His girlfriend
Bridget O'Donnell
was in Praia da Luz with the producer and their eight-month-old son and 3 year old daughter. Jeremy Wilkins is known as Jes Wilkins and became Head of Factual Entertainment for Zig Zag in 2001. Jes has a strong background in factual entertainment and pop docs having previously worked as a producer / director for Zig Zag, the BBC, Chrysalis and TWI.
BRIDGET O'DONNELL

Bridget O'Donnell is the partner of Jeremy (Jes) Wilkins. She is a writer and Director for the BBC. She worked as a producer in the BBC crime unit where she directed many reconstructions and produced new investigations for Crimewatch. She wrote an article for The Guardian on December 14th: "My Months with Madeleine"
JEREMY WILKINS & DAUGHTER

Sweaty Murat was breathless and excited during Maddie police quiz'

MAIL-16-12-08

JEREMY WILKINS

BRIDGET O'DONNELL
partner of Jeremy Wilkins

My months with Madeleine
ANNIE WILTSHIRE AND JAYNE JENSEN (58 and 53) Year 2007 (Holiday friends)

Annie Wiltshire and Jayne Jensen, both from Aylesford in Kent, were on a fortnight's holiday in the Algarve resort of Praia da Luz. They stayed in an apartment opposite the tapas bar and became friends with the McCanns through tennis. Annie Wiltshire and Jayne Jensen told police they saw Mr Murat smoking a cigarette outside the Ocean Club's entrance, 20 metres from the McCanns' apartment, between 10.30 and 11pm on May 3. The sisters joined in the search for Madeleine that night. They recognised Murat the next day as he acted as an interpreter for cops. The sisters said his behaviour was "strange" and described how he changed his clothes at least once during the day of May 4, but then insisted to them that he had been wearing the same outfit all day.
ANN WILSHIRE & JANE JENSEN
British witnesses: 'We saw two blond men on balcony next to Madeleine apartment

ANN WILSHIRE & JANE JENSEN

Madeleine: SIX key witnesses cast doubt over Robert Murat's alibi
GAIL COOPER (50) Year 2007

Gail Cooper, a community healthcare co-ordinator from Newark, Nottinghamshire, was staying 600 yards from the McCann family's Portuguese holiday flat when she had three separate encounters with a moustachioed man. Two of her sightings were also witnessed by her husband, and a 12-year-old girl has also come forward to back up her story. Gail Cooper first spotted the man on the beach at Praia da Luz on April 20 at about 1pm when she went for lunch with friends at the Paraiso Restaurant. Later that day, at around 4pm, Mrs Cooper was startled to find the stranger knocking on the front door of her holiday villa. He said he was collecting for an orphanage in nearby Espiche that was caring for three children whose parents had recently been killed in an accident on the main coast road. Mrs Cooper saw the man a third time, two days later on April 22, as she lunched with her husband Jonathan at Bar Habana on the beach. Based on Mrs Cooper's evidence an FBI-trained police artist produced the first detailed likenesses of the alleged stalker. On 19th January, armed with the new pictures, detectives in Portugal and Britain were joined by Interpol in a desperate race to trace the suspect as Jane Tanner has now told the McCanns: "The man in the new suspect picture strongly resembles the person I saw on May 3rd." The man is 38 to 45, with sallow skin, lank dark hair, distinctive droopy moustache, large teeth and speaks broken English. "This man was very unpleasant and creepy. Mrs Cooper said, "He wasn't Portuguese—I think he was North African, either Tunisian or Moroccan
."
MADELEINE SUSPECT 'ON BEACH SNAP'

I'LL NEVER FORGET MADDIE SNATCHER'S DEAD EYES

GAIL COOPER Drawing of Gail Cooper sighting. Website now edited to say
Gail Cooper 22.05.2008
PLAYGROUND MAN? RAJ BALU ??? IN THE PLAYGROUND PICTURE, HE'S AN IMMIGRATION BARRISTER WITH COOPER TUFFS
Raj Balu??? 1st Right

Raj Balu??? 1st Right
Raj Balu??? 1st Right
BLACK WHITE

03_volume_III_o_apenso_VIII
_Page_608_play

Raj Balu??? Circled in red

Mystery man in McCann photo questioned

Raj Balu??? 1st left

clearer view
MYSTERY MAN SEARCHING 2.40.MINS INTO VIDEO
Comment from Textusa blogspot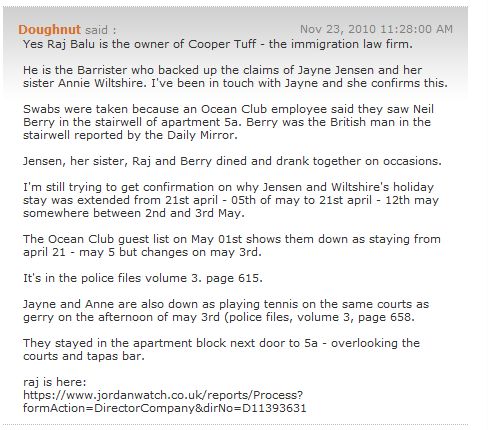 ANTONIO CASTELA Taxi driver
Antonio Jose Castela Cardoso, or Castela as he is known in Vila Real de Santo Antonio,
ANTONIO CASTELA (67) year 2007

Antonio Castela, a taxi-driver, said he dropped off Madeleine and her English-speaking mystery companions at an Algarve hotel and watched them drive off in a blue jeep. He insisted he was "100 per cent sure" his passengers included Madeleine, aged 4, saying he even noticed her famous eye defect as his son had a similar defect. "She was with three men, one of whom looked like Robert Murat, and a blonde woman," he said. "The blonde woman with them looked to me like Madeleine's mother but I couldn't say whether or not it was her," he added. Castela, a taxi driver for the past 17 years, said he picked the group up at at a taxi rank in Monte Gordo an hour's drive east of Praia da Luz where Kate and Gerry McCann were holidaying with their three children on the evening of May 3. He was certain about the timing, he said, as it was approaching the end of his shift. He claimed Madeleine was wearing a pair of pink pyjamas and sat on the lap of one of the two men. They asked him to drive them to the Apolo Hotel in the nearby town of Vila Real de Santo Antonio, a 15 minute drive from Portugal's southern border with Spain. And the only one words one of the men uttered at the end of the two and a half mile journey was "How Much?" in English when it was time to pay, Mr Castela told Jornal do Algarve in an exclusive interview.
| | |
| --- | --- |
| | March – Banks admit crisis as Madeleine coverage continues |
| | |
| --- | --- |
| JANE TANNER | |
NEW IMAGE OF MADDIE MCCANN ABDUCTOR

I saw Maddie in Pyjamas the day after she disappeared

No Image available
A nanny that allegedly saw a suspect near the McCann apartment. The suspect was spotted in 2006, one year before Madeleine McCann disappeared, according to the Daily Mail edition of October 30