Within a small courtroom at Lisbon's white Palace of Justice, an emotionally charged drama is playing out to a packed public gallery.
It concerns an extraordinary and highly contentious allegation in a book by a Portuguese detective that Madeleine McCann was killed in an accident, and that her parents covered up her death.
Unsurprisingly, Madeleine's parents protest that this is a cruel, damaging and false accusation. They are suing the policeman, Goncalo Amaral, and claiming almost £1million from him or defamation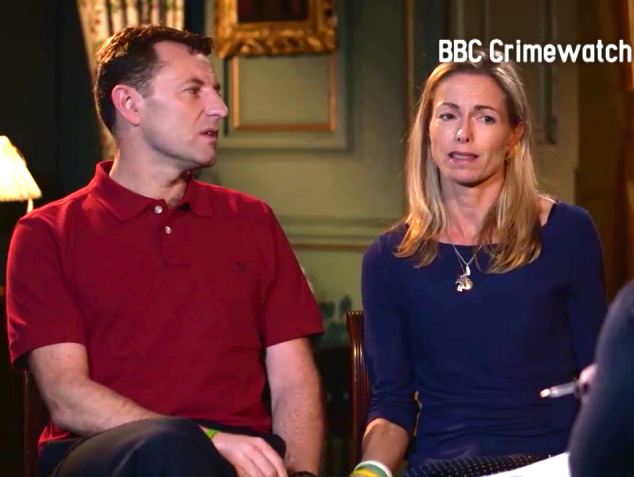 Damaging: Kate and Gerry McCann say accusations in a book published by a Portuguese detective have soured public opinion of them
The couple say that his book, The Truth Of The Lie, has poisoned public opinion against them and hampered their search for their beloved daughter by wickedly making people believe – wrongly – that she is dead.
It is the latest chapter in the enduringly sad mystery of what happened to Madeleine. The libel case will culminate in an explosive hearing next month when the main protagonists, Gerry and Kate McCann and Mr Amaral – who led the Portuguese police hunt – each hope to have their say in the witness box.
By then we hope to know much more about the events of May 3, 2007, the night of Madeleine's disappearance on the Algarve.
Last week, Scotland Yard, which is running a new multi-million-pound inquiry into the case, hinted it is about to make a dramatic breakthrough in its investigation and today's release of e-fits of one suspect will generate worldwide headlines.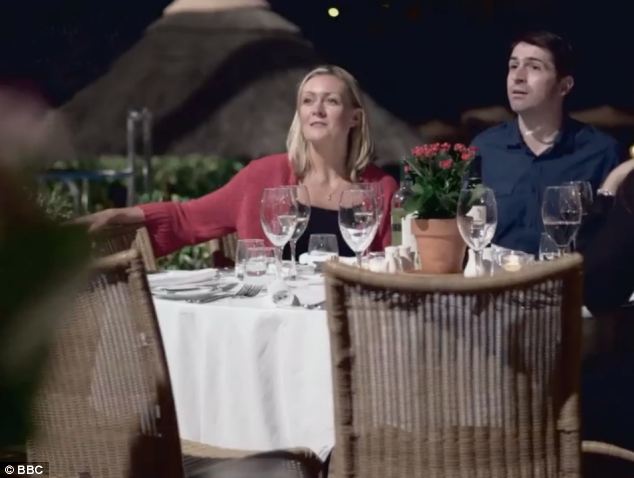 TV reconstruction: The couple will be portrayed by actors during tonight's episode of BBC Crimewatch, including a reenactment of the dinner they had with their friends at a nearby restaurant
These are significant steps in the police inquiry, launched in July and being run from the second floor of Belgravia police station in London, where detectives are studying more than 39,000 documents as well as photographs and files connected to the case.
Witness statements, numerous 'sightings' of Madeleine from across the world and Portuguese police files are all being re-examined. Detectives have identified 41 possible suspects, including 15 Britons.
And, in what will undoubtedly be a herculean task – considering the data protection laws – the Yard is attempting, by analysing mobile phone records, to identify everyone who was near the McCanns' holiday apartment between April 28 and the night Madeleine disappeared.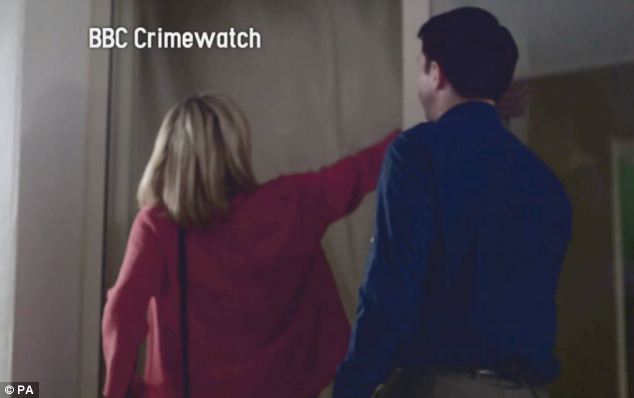 Night: Another scene shows Maddie's parents closing the curtains in their room on the night their daughter disappeared
The new investigation is the fruit of a hugely slick international campaign to make sure people don't forget about Madeleine. It has cost vast amounts of money, much of it public donations to the McCann family in a not-for-profit company called Leaving No Stone Unturned Limited. This was set up 12 days after she went missing, to 'find Madeleine, support her family and bring her abductors to justice'.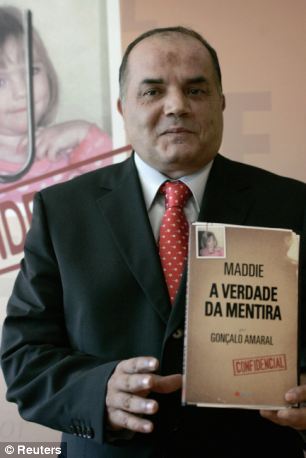 Case: Policeman Goncalo Amaral poses with his book entitled 'Maddie:The Truth about the Lie', which the McCann's say is cruel and damaging
Annual accounts show the fund's income to March 31, 2012 had reached £3,742,385, including royalties paid for Kate's book, Madeleine, and a donation from a newspaper group in lieu of damages.
The campaign, led by the McCann family, has seen a visit to the Pope, promises of support from the then PM Gordon Brown, the involvement of David Cameron, an appearance by Kate and Gerry on the Oprah Winfrey show and posters of Madeleine being distributed to British bookshops as they opened at midnight for the sale of a new Harry Potter book.
More than 50million people visited the McCanns' Find Madeleine website in the first 48 hours it was launched – and many millions more have done so since. Nothing quite like this has been seen before and probably never will again.
Throughout the entire sad affair there have been claims and counter-claims about what happened on that night in May at the Mark Warner resort in Praia da Luz.
It was just before 10pm that Kate McCann left the dinner she was having with her husband and seven English friends at a tapas restaurant and walked the 50 yards back to their apartment to check on her three sleeping children. She slipped in through the patio windows, which the couple had kept unlocked so as to make the checks easier. The twins, two-year-old Sean and Amelie, were soundly asleep – but their sister's bed was empty. In deep distress, and calling Madeleine's name out loud, Kate ran back to her friends to tell them through tears: 'They've taken her, they've taken her.'
The police were called and – initially – said that they were concentrating on the 'missing hour'. Officers thought she had been kidnapped by a stranger between when Gerry had last checked on her at 9.05pm and her mother's awful discovery less than an hour later.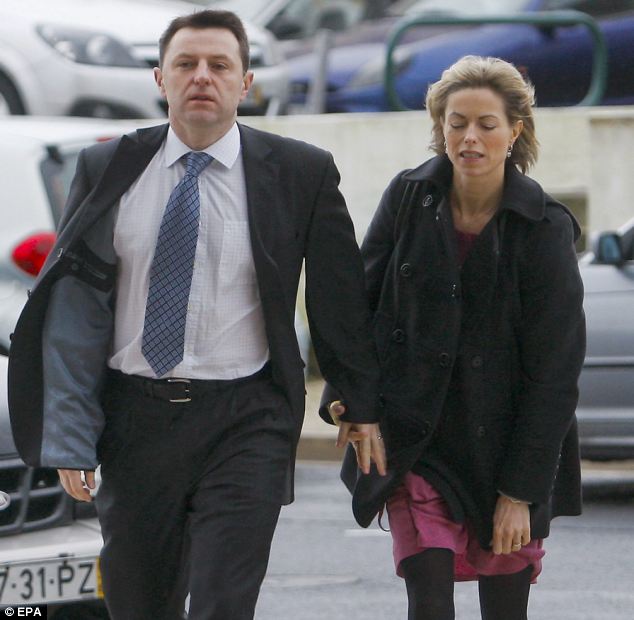 Together: British couple Gerry and Kate McCann arrive at a Lisbon courthouse in 2010 where the case against the former policeman was heard
But within weeks the police story changed dramatically. It has emerged at the Lisbon libel case, and linked hearings, that both Portuguese detectives and British police who were helping the investigation suddenly suspected that Madeleine had died at the apartment and that her death had been covered up by her parents.
More disturbingly, evidence given at the hearings by some of Portugal's most senior policemen peddles that deeply wounding view even today.
For example, Chief Inspector Tavares de Almeida has said: 'The conclusion… was that the McCann couple simulated the abduction to hide the fact that they had not taken care of their children.
'There was a tragic accident in the apartment that night and they neglected the care of their children. It was the conclusion of both the Portuguese and British police. We have always spoken of a tragic accidental death. There was no murder. The McCanns did not kill her, but concealed the body.'
He added that the controversial book by his police colleague was a 'true history of facts', closely based on the actual Portuguese police files: thousands of pages, recordings and film, including the statements of the so-called Tapas Seven, other witnesses at Praia da Luz and forensic evidence.
Mr de Almeida claims that suspicions about the McCanns appeared to be confirmed when sniffer dogs, brought from Britain, found traces of blood and the 'smell of death' in the McCanns' holiday apartment. In evidence at the libel trial last week, Luis Neves, head of the Portuguese organised crime and kidnapping unit, went further. He said it was the British police who 'first developed the theory' that Madeleine had died at the apartment.
I have discovered that this has been confirmed in diplomatic correspondence sent by the US ambassador to Portugal, Al Hoffman, to the US government about a meeting with his British counterpart, Alexander Wykeham Ellis, four months after Madeleine's disappearance and just after the McCanns were temporarily made suspects by the Portuguese.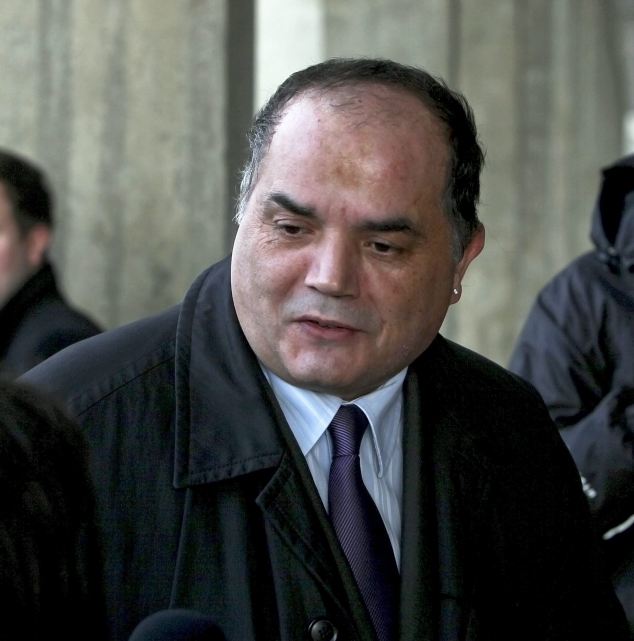 Views: Goncalo Amaral was originally in charge of the investigation into the disappearance Madeleine and has been supported by his colleagues who say the book is a 'true history of facts'
Hoffman said in the cable, marked confidential: 'Ellis admitted that the British police had developed the current evidence against the McCann parents, and he stressed that authorities from both countries were working co-operatively.'
Of course, the claims have been trenchantly dismissed by the McCanns.
Through their trusted spokesman Clarence Mitchell, the couple say the diplomatic cable is 'historical' stuff which no longer has any bearing on their worldwide search for Madeleine.
Meanwhile, the Yard investigation is based on the belief that Madeleine was abducted and is still alive.
Yet, to the exasperation and dismay of the McCanns, Goncalo Amaral stubbornly sticks to his outlandish thesis. His book suggests – without, the McCanns argue, a shred of justification – that Madeleine woke up while her parents were having supper, having been stirred either by her father checking her at 9.05pm or, minutes later, talking to another holidaymaker in the street outside the bedroom window.
At the sound of her father's voice, Madeleine got out of bed, and in a dreadful accident, fell behind the sofa in the living room of the apartment and was killed.
Amaral says: 'I think someone discovered the body, concealed it, cleaned everything up, and moved the sofa.'
At the Lisbon hearing, police colleagues have given collaborating evidence. One, retired officer Francisco Moita Flores, criticised the Scotland Yard investigation for assuming Madeleine had been kidnapped.
No doubt Portuguese detectives such as him, who support Amaral's theory, would question why the Yard and Crimewatch are putting such extensive resources into the hunt for Madeleine, six and a half years after she vanished.
In turn, Gerry and Kate's supporters feel anger towards those they accuse of holding discredited and profoundly distasteful theories.
Even if Gerry and Kate win their libel case, they will feel it is only a staging post in their efforts to find their daughter.
One can only hope that Scotland Yard's efforts will finally produce a breakthrough in this most troubling of cases.