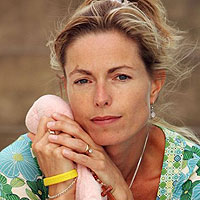 Kate McCann (SM
POLICE MOVE IN.. AS KATE TELLS OF PAIN Every hour I ask myself 'Why did I think she was safe?' We have doubted what we did & I do feel regret we weren't there

Heartbroken mum Kate McCann quietly sobs as she speaks for the first time of her guilt about leaving little daughter Madeleine alone the night she was snatched. "I feel desperately sorry to her that we weren't there," she says.
"Every hour now, I still ask myself, 'Why did I think that was safe?' But it did feel safe and so right. I do feel regret. I've gone through all my life and said I never want to have any regrets, but you can't not regret something like that."
Speaking without her husband Gerry at her side for the first time, Kate, 38, reveals how she is haunted by the unbearable regret that she wasn't there to protect her daughter.
In an emotional interview, in which she repeatedly breaks down in tears, Kate says that if she could tell her four-year-old daughter anything now, it would be that she loves and misses her.
Clutching the pink Cuddle Cat toy which has been a constant source of comfort to her since it was left lying in Madeleine's bed the night she was taken, Kate says: "I want to tell her we love her very much. She knows we're looking for her, that we're doing absolutely everything and we'll never give up."
Kate reveals how their happy girl had told her she'd had the best day of her life before she fell asleep on the evening she disappeared.
Madeleine had spent the day at a kids' club near the family's holiday apartment in Praia da Luz in Portugal, swimming, face-painting and colouring-in with other children.
But Kate now plays over in her mind the heart-wrenching words which could tragically be the last Madeleine ever said to her.
She says: "As I put her to bed, she smiled at me and said, 'Mummy I've had the best day ever. I'm having lots and lots of fun'."
Kate reveals Madeleine had been practising a dance at the club which she was looking forward to showing her mum the following day - "but I never got to see it".
After putting Madeleine and two-year-old twins Sean and Amelie to bed, Kate and Gerry joined friends at a tapas restaurant 50 yards from their ground-floor villa.
They took turns to check on the children every half-hour. But when Kate returned at about 10pm, she discovered Madeleine was gone.
Recalling the moment she found her daughter's bed empty, Kate says: "There was 20 seconds of disbelief where I thought, 'That can't be right'. I was checking for her. Then there was panic and fear. That was the first thing that hit. I was screaming her name. I ran to the group. Everyone was the same. It was total fear.
"I never thought for one second that she'd walked out. I knew someone had been in the apartment because of the way it had been left.
"But I knew she wouldn't walk out anyway. There wasn't a shadow of a doubt in my mind she'd been taken."
Kate says she saw that Madeleine's toy Cuddle Cat had been left behind, but was careful not to touch it in case it held a clue to who took her.
She says: "I knew straight away a crime had been committed, we had no doubt about that. We were very conscious of not touching things."
Speaking with moving honesty, Kate reveals how she asks herself every day whether she and Gerry were wrong to leave their children alone.
She says they felt so safe at the "family-friendly" resort they didn't think twice about leaving Madeleine and the twins - and she reveals how they'd left them alone every evening as they ate dinner in the week until Madeleine was taken on a Thursday night.
But she admits it was a decision that torments her with every waking moment. "We've doubted what we did," Kate says. "It's hard to answer the question, 'Were we wrong to leave them?' If I'd had to think for one second, 'Should we have dinner and leave them?' I wouldn't have done it.
"It didn't happen like that. I didn't have to think for a second, that's how safe I felt. It's not like we went down town or anything. That night runs over and over in my mind and I'm sure people will learn from our mistake, if you want to call it that. I love her and I'm a totally responsible parent and that's the only thing that keeps me going."
Her eyes falling to Cuddle Cat, which she has reluctantly washed after it became filthy from her carrying it around, Kate adds: "I feel desperately sorry to her that we weren't there."
But Kate says she and Gerry have never blamed each other for that night. She says: "We have a strong relationship. We don't row. We talk a lot and that is vital at the moment."
Kate, a GP, can't imagine ever returning to the family's home in Rothley, Leics, without Madeleine as it holds too many memories of the bright and playful youngster.
She says: "I can't bear the thought of it. We had lived in that house for a year and it was a really happy home. When we left it the last time we were so excited. I can't think about going back without her."
Speaking at a charity headquarters in Lagos, a 10-minute drive from the apartment where Madeleine was kidnapped, Kate says she had asked Gerry, 39, not to join her. She wanted to express her feelings as a mother, and to say thank you to all the mums who have sent her letters of support. Kate says: "Sometimes I want to speak, but I just can't. It's not natural for me. Gerry's used to having to speak at conferences and it's harder for me. I've had so many letters from mothers, really kind words. They have said, 'Kate, we've done this a hundred times over ourselves'. I wanted to say thank you for that support and reassurance."
Kate tells how she and Gerry had the agony of celebrating Madeleine's fourth birthday without her, eight days after she went missing.
She says: "She was due to have a party in the nursery, including her best friend. That went ahead and quite rightly. But it was hard to ignore the reason why they were there, because Madeleine wasn't. Not having her there was such a huge void."
Kate now wears a silver locket round her neck with a picture of Madeleine inside and the words "Tower of Strength" engraved on it.
She says a friend gave it to her because "that's what Madeleine was to us, a tower of strength".
The McCanns have moved from the apartment two doors from where Madeleine disappeared to a villa just outside the resort as they continue their campaign to find her.
And Kate says they are still clinging to the hope she will join them there. "We unpacked some of Madeleine's things. I've kept her clothes together. She has lots of presents to open that people have sent - mostly people who don't know her."
Kate also speaks for the first time of her first visit back to the UK for a family baptism two weeks ago.
She says: "The hardest thing wasn't being in the UK, it was to be with such close family and for Madeleine not to be there. She's such a big part of our lives."
Conscious to speak of her in the present tense, she adds: "Despite her small size she just has this huge presence. She brings a lot of joy."
She says the twins often ask about their older sister. "They know she's not there and they do miss her," Kate explains. "But on a day-to-day basis they are happy. They're lovely, like a little double act, they're so funny."
Smiling, she adds: "They talk about Madeleine's things and if they get a biscuit they say, 'One for Sean, one for Amelie, one for Madeleine'.
"There was an empty seat on the plane on our trip to the UK and Sean said, 'That's Madeleine's seat'. Amelie asked me afterwards, 'Where's Madeleine? I miss my big sister'.
"Amelie will point at the Cuddle Cat and say, 'Madeleine. Her Cuddle Cat. Looking after it'. She's probably heard me saying that. It catches me."
Kate reveals she still battles with nightmarish thoughts that Madeleine might be dead. "I still have moments of panic and fear. It's not as intense and unrelenting as the first five days. We have hope now and it's important to hold on to that."
And she says she is still not considering returning home to the UK. "It's a gut feeling. I'm aware there are probably things that would be easier at home, but at the moment this is the right thing for us."
With next Saturday marking 100 days since Madeleine was snatched, Kate reveals her heartache at each passing day without news of her.
She says: "I'm still hoping we're not going to get there. Every day I'm hoping we won't get to the next day without her. It's a long time. But we have to keep going for Madeleine."