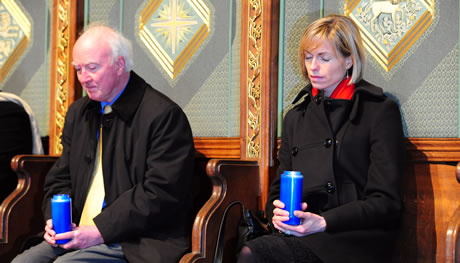 THE parents of missing Madeleine McCann and Claudia Lawrence held a vigil for their missing daughters yesterday.
Peter Lawrence and Kate McCann united to say prayers of hope at York Minster on Claudia's 37th birthday.
The chef went missing in March 2009 and police have since launched a murder probe.
Madeleine disappeared while on holiday with her family in Portugal in 2007.
Kate said: "It is nice to spend some time with some people who are in the same position as you.

"Our daughters are different ages and the circumstances are different but we share the same pain and fear and hope.

"Today is the first time I have met Peter. I have been in touch with his wife Joan.
"It is nice to be able to support each other because it is one of those things that, unless you have been in that situation it is very difficult to understand."

Peter, 64, and Kate, 42, met in the centre of York before walking to the service.
They marched along with family and friends, holding up a placard with Claudia's picture on it and the question 'Where are you?'

Peter, of Slingsby, Yorkshire, is a member of the cathedral's congregation. He believes Claudia is alive.

He said: "The service is not just for Claudia, we have organised it for other missing people too.
"Today is difficult, just like Christmas was but on every occasion we have to make the fact that Claudia is missing apparent. Kate got in touch when she heard that we were having this event and she said that she wanted to come along.

"It is nice to raise awareness for both of our daughters and for the families to come together."

At the vigil, Kate and Peter were presented with a blue candle each before prayers were said for their daughters and other missing people.
Archbishop of York John Sentamu addressed the congregation of 50 people.
He said: "I have a picture of Claudia and a picture of Maddie next to my computer and I pray for them every day."