The purpose of this site is for information and a record of Gerry McCann's Blog Archives. As most people will appreciate GM deleted all past blogs from the official website. Hopefully this Archive will be helpful to anyone who is interested in Justice for Madeleine Beth McCann. Many Thanks, Pamalam
Note: This site does not belong to the McCanns. It belongs to Pamalam. If you wish to contact the McCanns directly, please use the contact/email details campaign@findmadeleine.com
The prime suspect in the abduction of Madeleine McCann last night revealed he has no sympathy for her parents
Original Source:

EXPRESS: MONDAY 16 JULY 2007
Monday July 16,2007
By Matt Drake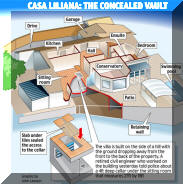 ROBERT MURAT'S HOME
THE prime suspect in the abduction of Madeleine McCann last night revealed he has no sympathy for her parents.

As expatriate Robert Murat challenged detectives to charge him or clear his name, he defiantly declared: "All I am bothered about is myself."

He said his life has been destroyed by allegations that he kidnapped the four-year-old and is terrified his nightmare will continue for years unless Madeleine is found alive soon.

Murat, 33, even astonishingly claimed that he believes more people are now praying for police to admit he is innocent than for Madeleine's safe return.

Last week the Briton underwent four days of intense interrogation by Port­uguese police over contradictions in the alibi he gave for the night Madeleine vanished from the family's holiday complex at Praia da Luz on the Algarve.

Murat is now preparing for further interrogation next week following the return of vital DNA evidence.

Speaking at his villa, Casa Liliana, 100 yards from where the toddler was snatched on May 3, the former estate agent admitted he has considered running away but has decided to see his ordeal through for the sake of his family.

He said: "I have not thought about Gerry and Kate McCann or what they are going through because all I am bothered about is myself and what is going to happen to me, not them.

"I can't carry on living like this, no human being could. I am an innocent man. I am not a paedophile or any of the other things I have been called. I have done nothing wrong.

"I wake up with this nightmare every morning and I go to bed with it every night. This has had a terrible effect on my family both here in Portugal and back in Britain.

"I am the only suspect and it could take years for them to release me from the investigation. I was questioned all last week but it's still far from certain what is going to happen.

"They have to find enough evidence to present a judge with a case, and it appears they do not have enough information to do that.

"If they let me go it will look like they have no idea and they do not want to do that. There is a huge difference in the mentality of the Portuguese police and detectives in the UK.

"When anything bad happens in Portugal people disappear, they run and they hide and now I understand why they do it.

"I have thought about it but it would not be fair on my family. The law here dates back to the days of fascism and it shows. I am putting my life at risk just by speaking like this.

"At the start of this, people were praying for the little girl to be found but now those same people are wanting me to be cleared. They are thinking about me and my nightmare. The attention is on me.

"I have a four-year-old daughter but I have not been able to see her while all this has been going on.

"My ex-wife Dawn also has a son who I have brought up like my own. Last year his lung collapsed and this year he needs to have another operation. It hurts me that I cannot be there for him.

"The police are just going over the same ground over and over again and I am not even allowed to tell my side of the story. It makes me so angry I want to punch something. Certain people think I should be in prison but the police obviously cannot find enough evidence to do that, so why should I be made to live like this? I am in a corner and I cannot defend myself."

Looking gaunt and pale, Murat said he has tried to lead a normal life but found it almost impossible because he is under constant police surveillance.

He added: "I refuse to hide myself away from the world but my fate is in the hands of the police. I can see no light at the end of the tunnel."

Yesterday Madeleine's mother, Kate, 38, returned to Britain for the first time since her daughter vanished 73 days ago.

She flew back to join her husband, Gerry, who is in the UK meeting child abduction experts.

TO HELP KEEP THIS SITE ON LINE CONSIDER