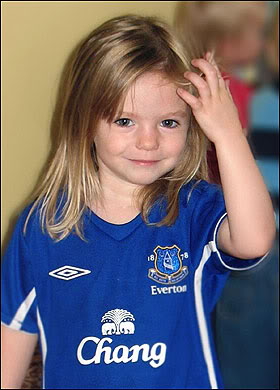 Maddie ... missing
Ways to donate
OVER the counter in branches of NatWest and the Royal Bank of Scotland.
By sending a cheque, made payable to 'Madeleine's Fund: Leaving No Stone Unturned', to: Madeleine's Fund, c/o The International Family Law Group, 26 Southampton Street, Covent Garden, WC2E 7RS.
By internet bank transfer to "Madeleine's Fund: Leaving No Stone Unturned", Sort Code 60 40 05, Account Number 32130058.
All donations will be processed free of charge.
A FUND was launched today to help find missing Madeleine McCann.
Family and friends launched the fund at Leicester's Walkers Stadium and invited people to make donations in person, at their local bank, by post or via the internet.
The money will be used to search for the missing four-year-old, to support her family and to "bring her abductors to justice".
Any surplus cash from the not-for-profit company will be used to help families and missing children in the UK, Portugal and elsewhere in similar circumstances.
Three of the company's directors will be Madeleine's uncle, John McCann, her great uncle, former head teacher Brian Kennedy, and Gerry McCann's colleague, Dr Doug Skehan, a consultant at Leicester's Glenfield Hospital.
Mr McCann said: "This is potentially a very important time for all our family. We have got one principal objective with this fund - we want Madeleine back.
"A lot of people have offered support in different ways and this will be a vehicle to help our family to get our darling niece back.
"If as a result of this fund and as a result of getting Madeleine back we can help other families in a similar situation that would be fantastic."
Colleagues of Madeleine's parents, Gerry and Kate McCann, have already donated £10,000 to the fund, Dr Skehan revealed at today's media conference.
He said: "Gerry and Kate are part of Leicestershire's medical family and the support they have received from colleagues and close friends demonstrates what dedicated parents they both are.
"The medical family at Leicester's hospitals have already contributed significantly to the 'Madeleine Fund - Leaving No Stone Unturned' to support the family and keep the search going until she is found.
"Since Madeleine went missing colleagues have been asking if there is anything they can do to help. The launch of the Madeleine Fund means they can now make a pledge for Madeleine and her family and demonstrate their support.
"As we have got to know Gerry during his time in Leicester we have fully appreciated how he commits himself to his work and family. The arrival of Madeleine and later the twins, Sean and Amelie, obviously brought Gerry and Kate great joy. His family would be part of his conversation with colleagues on a daily basis."