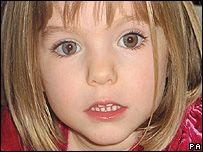 Madeleine McCann disappeared on 3 May
A fighting fund has been launched to help cover escalating costs in the search for missing Madeleine McCann.
The fund was launched at the Walkers Stadium in Leicester by Madeleine's uncle John McCann.
Earlier, Chancellor Gordon Brown told relatives of the four-year-old he would help "in any way he can".
Madeleine, from Rothley in Leicestershire, disappeared from an apartment in the Algarve resort of Praia da Luz on 3 May.
Madeleine disappeared from her bedroom 13 days ago as her parents ate dinner at a nearby tapas restaurant.
Speaking at the launch, Mr McCann said: "This fund will be a vehicle to help our family get our darling, wee niece back."
This fund will be a vehicle to help our family get our darling, wee niece back
John McCann
Madeleine's uncle
It was also announced that any money raised not needed for the search for Madeleine would be used to help find missing children in the UK, Portugal and elsewhere.
"If, as a result of this fund, and as a result of getting Madeleine back, we can help other families in a similar situation that would be fantastic," Mr McCann added.
Also at the launch, colleagues of Madeleine's mother Kate and father Gerry paid tribute to the couple as "very successful doctors within our community".
She is a GP and he is a consultant cardiologist.
And former England and Leicester rugby union captain Martin Johnson said Madeleine's disappearance had "touched everyone".
Details of how to donate to the fund - at banks, by post or via the internet - can be found at www.findmadeleine.com.
Madeleine's aunt, Philomena McCann, of Glasgow, visited Parliament on Wednesday to lobby MPs and peers for support.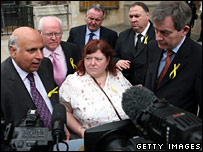 Philomena McCann appealed to MPs for their help
She said that, in a personal meeting, Mr Brown had offered support on "a practical and a personal level".
She added: "For someone to abduct Madeleine, we're aware they would want such a beautiful, caring little girl as she is, and I can totally understand them.
"But give her back, she isn't yours, we want her home and safe."
'Life ruined'
The family's push to keep the search in the public eye comes after British suspect Robert Murat, 33, was questioned for 12 hours by police.
Police have searched his mother's Algarve villa, Casa Liliana, close to where Madeleine was last seen.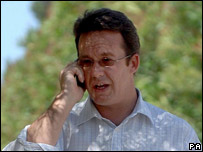 He wants to get the focus back on to Madeleine and away from him
Tuck Price
Friend of Robert Murat
Mr Murat, who previously lived in Hockering, Norfolk, has recently been living with his mother Jenny, 71, in Praia da Luz.
Speaking off camera after questioning, Mr Murat told Sky News: "This has ruined my life and made my life very difficult for my family here and in Britain."
Members of Mr Murat's family have insisted he was having dinner with his mother on the night the four-year-old disappeared.
Tuck Price, a friend of the family, said Mr Murat was keen to get the focus "back on Madeleine and away from him".
"His daughter is now in hiding in the UK," he added.
"The one thing, the compassionate thing, that made him get involved in the case has put his daughter in this horrible position."
Mr Murat has not been formally named by police as their suspect.
Mr Murat may have been designated a suspect by police, or he could have chosen to take "arguido" status himself to gain additional protections under Portuguese law.
On Tuesday, Chief Inspector Olegario de Sousa told a news conference he could not confirm whether Madeleine was alive or dead.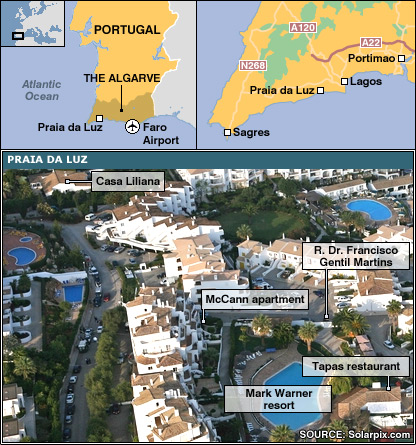 Map of locations