McCann's vow to keep up search for Madeleine and leave...
NO STONE UNTURNED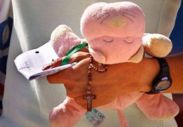 CUDDLE CAT
Under the table, out of sight of cameras, her hand trembled as she gripped her husband's, fighting to keep her emotions in check.

When Kate McCann spoke, her trembling voice laid bare the unimaginable ordeal she and husband Gerry had been put through.
The couple had just been formally cleared of involvement in Maddy's disappearance. But with her daughter still missing, this was no time for rejoicing.
Kate, 40 - poignantly clutching the youngster's favourite Cuddle Cat toy inside a child's pink rucksack - said plaintively: "We look forward to scrutinising the police files to see what has actually been done and, more importantly, what can still be done, as we leave no stone unturned in the search for our little girl."
The couple were yesterday free to speak openly for the first time since the farcical police inquiry wrongly labelled them suspects last September.
And they laid bare their anguish and fury as they told of their fear that the bungle may have hindered the search for Maddy.
Kate said: "We welcome the news today although it is no cause for celebration.
"It's hard to describe how utterly despairing it was for us to be named as arguido and subsequently portrayed in the media as suspects in our own daughter's abduction and worse. Equally, it has been devastating to witness the detrimental effect this has had on the search for Madeleine." She and husband Gerry, 40, fear that being branded suspects dissuaded people with key clues coming forward.
Spokesman Clarence Mitchell explained: "Their reputations were damaged and they are quite sure that witnesses who could have given vital information have held back because they wrongly suspected Kate and Gerry were themselves involved."
Portuguese police have now shelved the 14-month inquiry after admitting they could find no evidence against the couple or fellow suspect Robert Murat.
The McCanns' lawyers will this week get their first look at detectives' casenotes. The parents hope it will kickstart the search abandoned by Portuguese cops.
Mr Mitchell added: "The priority is now to find their daughter. It is good news that the police files will be opened to our lawyers who will rigorously examine them for clues and leads.

"It would have been immoral for all that information to be allowed to gather dust on a shelf in Lisbon or Portimao.

"Whatever seems relevant will be handed to our investigators to pursue."
The couple - looking tired and drawn as they addressed a press conference in their hometown of Rothley, Leics - hope being cleared will once again encourage people to help their anguished search. Kate appealed to the public: "We would again urge anyone with relevant information who has not yet come forward to please do so.
"Please contact our hotline number, 0845 838 4699, or visit our website, findmadeleine.com.

"We would like to thank everyone who supported us and stayed with us through this extremely difficult period. We can assure you we will never give up on Madeleine."
Gerry would not rule out going back to Portugal for the search, where Madeleine vanished in Praia da Luz on May 3 last year. But he said: "We don't have any immediate plans to return to Portugal at the moment.
"Obviously we want to digest the statement and also get access to the files to see what can still be done."
He also refused to rule out legal action against police and said: "Our priority has always been the search for Madeleine.
"Anything else is secondary and will be considered in due course."
Spokesman Mr Mitchell also stressed they would try to put their torment behind them as they concentrate on finding their daughter. He said: "There is no joy or celebration. They are a wronged couple who have been falsely suspected of involvement in their daughter's disappearance.

"It is a shame and sadness it has taken Portuguese authorities so long to acknowledge that fact. This has been a distraction from the hunt for Madeleine.
"They have spent nearly 10 months having to endure that agony, quite unnecessarily, on top of losing Madeleine."
Meanwhile, Mr Murat spoke of his joy at being cleared but said he too now wanted the focus to be on finding her.
The dad of one, 34, said: "It's a good feeling but doesn't take away from the fact there is still a child missing, which is very sad.
I was dragged into this because of Madeleine's disappearance so I would like to know what happened."
Portuguese officials said the case may be reopened if credible new clues emerged.
But shamed detective Goncalo Amaral, axed from the probe last October, yesterday repeated his claim that Madeleine died inside the family's holiday flat.
He added: "I don't know what happened next. We'll have to wait for the case files to be made public."
The retired copper this week publishes a book with allegations against the couple.
Mr Mitchell hit back: "It's a great shame he apparently feels the need to make money out of Madeleine's disappearance."
The 447 days of anguish

2007
MAY 3
Kate and Gerry McCann, from Rothley, Leics, leave their three children asleep in apartment in Praia da Luz in southern Portugal while they dine with friends at a nearby tapas restaurant.
Nothing amiss when Mr McCann checks on the youngsters at just after 9pm, but when his wife goes back at about 10pm she finds three-year-old Madeleine missing.
Jane Tanner, one of the 'Tapas 7' friends eating with McCanns, later reports seeing a man carrying a child away earlier that night.

MAY 5
Portuguese police reveal they believe Madeleine was abducted but is still alive and in Portugal, and say they have sketch of suspect.

MAY 14
Ex-PAT Robert Murat taken in by police for questioning and made him an "arguido", or official suspect.
Officers also search home he shares with his mother in Praia Da Luz, 100 yards from where the youngster was snatched.

MAY 25
After pressure from McCanns, their legal team and the British Government, detectives finally release description of man reported by Jane Tanner.

MAY 30
Mccanns meet Pope in Rome, first of a series of trips around Europe and beyond to highlight the search.

AUGUST 6
Portuguese newspaper reports British sniffer dogs have found traces of blood on wall in McCanns' apartment.

AUGUST 11
One Hundred 100 days after Madeleine disappeared, detectives publicly acknowledge for first time she could be dead.
AUGUST 31
Mccanns launch libel action against newspaper Tal & Qual over front-page story which claimed police believe they killed their daughter.
SEPTEMBER 7
Police make McCanns "arguidos".
SEPTEMBER 9
The couple fly back to England with two-year-old twins Sean and Amelie.

OCTOBER 2
Goncalo Amaral, detective in charge of inquiry, removed from case after criticising British police in newspaper interview.
OCTOBER 9
Case taken over by Paulo Rebelo, senior detective with investigative Policia Judiciaria in Lisbon.
OCTOBER 25
Mccanns release new artist's impression drawn by FBI-trained expert showing man described by Jane Tanner.
NOVEMBER 1
Mr McCann returns to work as consultant cardiologist at Leicester's Glenfield Hospital.
NOVEMBER 19
Bbc Panorama screens video of Mr McCann saying be believed a "predator" was watching his family in days before Madeleine's disappearance.
NOVEMBER 22
Portugal's attorneygeneral, Fernando Jose Pinto Monteiro, says the huge publicity campaign surrounding Madeleine's disappearance could have resulted in her kidnapper killing her.
DECEMBER 13
Francisco Marco, boss of Metodo 3, private detective agency hired by McCanns, quoted in Spanish newspaper claiming he knows who took Madeleine and saying he hopes to have her back with her family before Christmas.
DECEMBER 22
Mccanns send public message to their daughter, telling her: "Our only Christmas wish is for you to be back with us again."
2008
JANUARY 9
Mr McCann plays down speculation they may approve a film about the disappearance.
JANUARY 20
Police artist sketches released by McCanns - they are based on statement given by British holidaymaker and show man the couple believe may have abducted Madeleine.
FEBRUARY 4
Portugal's top detective, Alipio Ribeiro, says in radio interview that police were "hasty" in making Madeleine's parents suspects.
FEBRUARY 13
Portuguese justice minister Alberto Costa says police investigation into disappearance is nearing its end.
MARCH 19
Mccanns accept £550,000 libel damages and front-page apologies from Express Newspapers group over allegations they were responsible for Madeleine's death.
APRIL 7
Three Portuguese detectives fly to Britain to re-interview 'Tapas 7'.
APRIL 10
Mccanns call for Europe-wide missing child alert system. Leak of couple's first police interview, which reveals Madeleine asked her mother on the morning before she vanished: "Why didn't you come when we were crying last night?"
APRIL 26
In interview for Radio 4 Mr McCann says he believes Madeleine still "probably alive" and "absolutely zero" evidence to suggest otherwise.
MAY 3
Tearful Mrs McCann urges people to "pray like mad" on first anniversary of disappearance.
JULY 1
Portuguese newspapers report police are shelving the Madeleine investigation. Mr Pinto Monteiro confirms police have handed over their lengthy final report.
JULY 7
Leics Police agree to hand over to McCanns 81 pieces of evidence.
JULY 16
Mr Pinto Monteiro tells reporters in Lisbon they will be informed about "solution" to Madeleine case on following Monday.
'It has been devastating to witness the detrimental effect being named as suspects has had on the search for Madeleine'
'We look forward to scrutinising the police files to see what's been done, and more importantly, can still be done'
"There is no joy or celebration. They are a wronged couple who have been falsely suspected of involvement in their daughter's disappearance."
- McCANNS' SPOKESMAN CLARENCE MITCHELL