Named as the first 'arguido' in the case, Robert Murat has always strenuously denied any involvement in the events of May 3rd and the disappearance of Madeleine McCann.
On 21 July 2008, he was released from his arguido status.
This page covers the period from 03 May 2007 to 30 June 2007.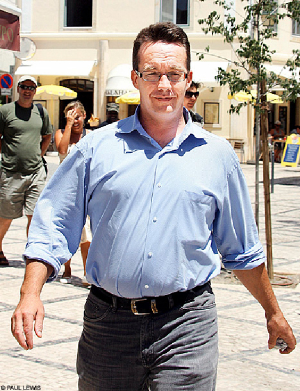 | | |
| --- | --- |
| | |
| | 03 May 2007 - 30 June 2007, with timeline |
| | 01 July 2007 - 31 December 2007 |
| | |
| | 17 July 2008 / 14 November 2008 |
"Basically, I'm just an ordinary, straightforward guy who's the victim of the biggest f***-up on this planet - if you'll excuse the language."
Robert Murat talking to David Jones, Daily Mail, 02 June 2007
"I've never met the man before and the idea that I'd met him when he was campaigning for the Labour Party is laughable. I've been a Conservative all my life."
Robert Murat on Gerry McCann, Daily Express, 14 September 2007 (no link, appears in paper version only)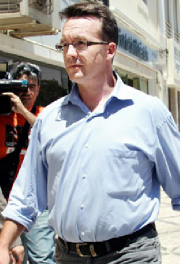 On 15 May, Murat became the first offical suspect, or 'arguido', in the case. He is half Portugese and lives in Casa Liliana, a villa owned by his 71-year old mother, Jenny Murat, which is about 150 yards from Apartment 5A.
In the initial stages of the investigation, Murat acted as translator and there are differing opinions about who he actually translated for during the police interviews. Some reports have suggested the interviews included 'Tapas Nine' member, Diane Webster and the Ocean Club nannies; Catriona Baker, Charlotte Penningon and Kirsty Maryan.
He appears to have been first brought to the attention of Portugese investigators by Lori Campbell, a Sunday Mirror journalist, for no other reason than he appeared 'suspicious' and his behaviour reminded her of Ian Huntley.
He has consistently denied any involvement in Madeleine's disappearance, saying that he was at home all evening with his mother. He says he only became aware of what had happened the following morning. He also disputes witnesses, including members of the Tapas group, who say he was outside the McCanns' apartment shortly after Madeleine had been reported missing by Kate McCann.
It was also reported that Murat had denied any recent contact with Russian, Sergei Malinka, who had previously built a website for him. However, police were apparently able to discover that the couple had spoken briefly by mobile phone at around 11:40pm on 3rd May, for about 30 seconds. Murat claims he cannot remember any details of the call or what may have been discussed.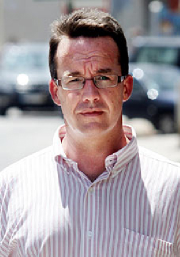 Robert Murat was born on November 20, 1973, at Queen Charlotte's Hospital, Hammersmith, West London - the elder son of John Henry Queriol Murat, a Portuguese national who worked as a company director, and Jennifer (nee Eveleigh) from Sidmouth in Devon.
At the time of his birth, Murat's parents were living in Richmond-upon-Thames, but later moved to Portugal, where he was educated.
As a young man, he returned to Britain, where he took a variety of jobs and enjoyed playing darts and clay pigeon shooting.
Mr Murat, who lost an eye in a motorbike accident as a teenager when he crashed into the wall of a railway station, worked for the turkey tycoon, Bernard Matthews, at the company factory in Lenwade, Norfolk, between 1994 and 2000.
At 19, he began a relationship with a married woman eight years his senior, Dawn Chapman. She already had a son, aged six, but divorced and married Murat at Gretna Green, in March 2001. Their daughter, Sofia, was born 18 months later.
He and Dawn bought a modest, semi-detached, three-bedroom house, now worth £190,000, in The Street, Hockering - a quiet Norfolk village near Deerham (population 230).
Mr Murat went on to become a successful car salesman with Inchcape for four years before moving on to work at Desira car dealership in Norwich, selling Nissans, Alfa Romeos, Fiats and Citroens.
But he also earned £150 a time as a translator for Norfolk police, using his language skills to help their inquiries among the large Portuguese community in the county.
Mr Murat had a reputation, not only in the car trade but in Hockering, as something of a Good Samaritan.
Murat and his wife had been trying for a baby for many years until Dawn fell pregnant in 2002 and had a girl who they named Sofia. Murat was later to describe his daughter as the 'spitting image' of Madeleine.
They embarked on a new life together in Portugal in 2005 but Dawn became unhappy and homesick. She had spent all her life in Norfolk and all her family lived there. She only stayed for three or four months before she decided to come home with their daughter.
Murat decided to continue his work in Portugal, even though he missed his daughter desperately. At first, he tried to maintain his relationship with Dawn and kept flying back to the UK to spend time with her and their daughter. But in the end, the relationship fizzled out.
In April 2005, he joined the Remax property company and worked there on two separate contracts during 2005 as a sales executive. He was well liked and fondly remembered but left suddenly stating that he had to go for personal reasons.
It was whilst working at Remax that Murat became instantly attracted to another member of the sales staff, Michaela Walczuch, a blonde German divorcee Jehovah's Witness. She also used the name Matias, which was believed to be from a former marriage.
About a month after handing his notice in to Remax, Murat took a three-month contract as a Salesman with portugesehomes.com, a real estate business that has an office a few doors along from Remax in Lagos.
He worked there from September 2005 until returning to Remax in November that year, a month after Ms Walczuch had left. He stayed until September 2006 before leaving again to set up business on his own as a property developer.
Around Christmas 2006, he is understood to have moved into the apartment that Ms Walczuch shared with her ex-partner Luis Antonio, apparently with his full agreement. It is believed Murat stayed there for a few months and that subsequently Ms Walczuch was a frequent visitor to Casa Liliana.
Just prior to May 3rd, Murat spent 10 days at his sister's home in Exeter, whilst he did some work on a property his mother owns in nearby Sidmouth. His sister's home is less than a mile from the house where Jane Tanner and Russell O'Brien live.
It has been speculated that there may be some connection as Tanner and O'Brien are neighbours of James and Charlotte Gorrod, who were also at the resort at the same time as the 'Tapas Nine'. Murat returned to Praia da Luz two days before Madeleine's disappearance.
On the evening of May 3rd, Murat claims to have spent all evening at home with his mother, spending a large percentage of the time chatting in the kitchen. His mother has supported his alibi and has accused those members of the Tapas group, who say they saw him outside the McCanns' apartment, of 'lying'. Jenny Murat says she returned home at , after walking the dogs, and that they spent the rest of the evening together.
After initially helping police with translation duties, the Portuguese investigators turned their attention to Murat after Lori Campbell, a Sunday Mirror journalist, rang Leicestershire police to convey her concerns about his behaviour. Those concerns appear to have been based on her gut instinct that he was acting suspiciously, that he would not give any details about himself and that he reminded her of Ian Huntley. After questioning, Murat found himself named the first official suspect 'arguido' on the case, on 15 May 2007.
Casa Liliana, the villa in which Murat lives with his mother, was initially searched on 14 May 2007. The house and grounds were searched again over the weekend of 04/05 August 2007, with British police involvement and British sniffer dogs. It would appear nothing of interest was found as Murat's status did not change and he has not been recalled for any further questioning.
It was initially speculated that police were investigating whether Murat, Antonio and Walczuch - two dark-haired men and a blonde - might be the same trio captured on CCTV footage at a filling station shortly after Madeleine disappeared.
The "lead" was later dismissed by a senior officer when he reported that detectives had "no suspects". But it was speculated, at the time, that police may have downplayed the evidence in order to avoid panicking their suspects while they kept them under surveillance.
The trio came back into the news on 20 November 2007, when newspapers named them as the possible trio seen by a witness, two days after Madeleine's disappearance, with a blonde girl matching Madeleine's description.
Events related to Robert Murat

19:00pm Robert Murat returns home from work.

20:00pm Jenny Murat, Robert's mother, returns home after walking the dogs. Murat says he spent the rest of the night in the kitchen, with his mother, before going to bed. He claims to have heard police activity but did not go to investigate and only heard of Madeleine's disappearance in the morning.

22:00pm Madeleine reported missing.

22:30pm Charlotte Pennington claims to have seen Murat outside the Ocean Club reception as the first big search party was being assembled.

She told the Daily Mail: "He was outside the lobby just before we started on our big search. He was adamant that he wasn't there. But he was. He was there in the road, he was just looking. It was about 10.30. He was just watching.

"I didn't know his name then. But the next day he was our interpreter and I met him then. He didn't take part in the searches, but he was there."

23:40pm Murat speaks with Sergei Malinka on his mobile phone. The call is reported to have lasted only 30 seconds and Murat cannot remember what they talked about.

00:00am Charlotte Pennington, contradicting her previous claim to have seen Murat outside the lobby at 22:30pm, tells The Sun that when she saw Murat he was outside the McCanns' apartment and it was midnight.

Three of the Tapas group (Russell O'Brien, Rachel Oldfield and Fiona Payne) claim to have seen Murat on the streets of Praia da Luz during the aftermath of Madeleine's disappearance.

O'Brien claims to have met Murat at 01:00am in the morning and says Murat told him he also had a daughter.

A few days after Madeleine's disappearance, Charlotte Pennington reports seeing Robert Murat chatting to a man outside the Baptista supermarket in Praia da Luz.

The sighting suggested that this man fitted the description given by Jane Tanner of a man she allegedly saw walking 'urgently' away from the McCanns' apartment on the night of 03 May 2007.

Lori Campbell, Sunday Mirror journalist, reports Robert Murat to Leicestershire police because she was "suspicious about his behaviour".

Robert Murat hires a car from Auto Rent Algarve for the period 12 May - 15 May. He is reported to be desperate to get a vehicle.

At 7.00am, police launch simultaneous raids at Casa Liliana, the home of Robert Murat's mother - situated 150 yards away from the McCann's apartment, Murat's German girlfriend's apartment and several addresses with which Murat is believed to have had a connection.

At 16:00pm The swimming pool is drained. Murat, Walczuch and Antonio are questioned at the police station in nearby Portimao. No arrests are made. Under Portuguese law arrests can only be made when a person has been given arguido (suspect) status officially; prior to being given this status persons are treated as witnesses.

Robert Murat is given the status of argudo but he has not been arrested or charged. It is not clear if Murat or the Police asked for the arguido status, it is thought that Murat might have asked for the status as it gives extra rights such as the right to remain silent. It is reported that Murat has since gone to an unknown destination.

Chief Inspector Olegario de Sousa tells a news conference that a 33-year-old had been interrogated, but not enough evidence was found to justify arresting him. Sousa said police had searched five houses on Monday and seized "various materials" from the properties which were being subjected to forensic tests and had questioned two other people as witnesses.

He reports that the suspect has signed an identity and residence statement which prevents him from moving house or leaving the country, and requires him to regularly report to police. Though no names were mentioned in the conference, the 33-year-old is believed to be Robert Murat and the other two questioned to be Murat's alleged German girlfriend Michaela Walczuch, and her Portuguese former husband Lui­s Antonio.

Despite Murat's reluctance to make a public statement, he stated that "It's ruined my life. It's made things very difficult for my family here and in Britain. The only way I'll survive this is if they catch Madeleine's abductor."

Murat also stated that he was being made a "scapegoat" so that the Police could be seen to have found a suspect.

Murat returns his hire car.

It is reported that two cars used by the Murat's had been examined, and computers, mobile phones and several video tapes were taken away from their villa. It was claimed that, on examination, several links to paedophile websites were found on the computers and that some video tapes showed depraved sexual acts and bestiality though nothing was found to directly link Murat to Madeleine's disappearance.

It also emerged that a British architect who built the villa where Murat lives was ignored when he called police about a hidden basement within the property. However, it is later shown - and admitted by the architect - that this was not a basement but an inaccessible area under the building that had simply not been filled in when built.

The police are understood to have taken Sergei Malinka in for questioning, from whose property officers also took away a laptop computer and two hard drives. Malinka had previously set up a website for Murat's property company ROMIGEN.

According to the Portuguese media, Malinka is said to be a convicted child sexual offender and a computer technician, who is believed to be on good terms with Robert Murat. The two are believed to have exchanged frequent phone calls since Madeleine's disappearance, which is the reason the authorities started suspecting him.

A press conference was held in which Chief Police Inspector Olegario de Sousa reiterated there was insufficient evidence to make an arrest. Regarding Sergei Malinka, police said that he had been questioned as a witness for approximately 5 hours, which did not, due to the "dynamic" nature of the investigation, mean the witness couldn't become a suspect.

Malinka spoke negatively of the coverage of the case in the Portuguese media, which had alleged that he was a convicted sexual offender, and denied he had contacted Murat and claimed to be "completely innocent".

Inconsistencies in Malinka's account of his relationship with Robert Murat emerge; while the Russian IT specialist had said he had not contacted Murat in a year, he mentioned three months to another reporter while Murat's mobile phone records allegedly show he called Mr Malinka at 23:40 on the night Madeleine went missing.

Portuguese detectives fly to England to interview Dawn Murat, the estranged wife of Robert Murat.

Taking questions from the press, Gerry McCann is asked: "Did you know Robert Murat?" He replies: "I'm not going to comment on that".

Detectives re-interview witnesses connected with Murat; his German lover Michaela Walczuch, and her estranged husband Lui­s Antonio, which hinted at the police's enduring interest in Murat.

Murat is interviewed for a second time in the morning to clarify what detectives described as details and possible contradictions from his previous statement in the light of new information.

Robert Murat returns to the police station in Portimao and is questioned for more than eight hours.

Three of the Tapas group (Russell O'Brien, Rachel Oldfield and Fiona Payne) are re-interviewed by police to clarify points in their initial statements. Robert Murat is then brought into the questioning by police to 'confront' the 3 members of the Tapas group. The police apparently allow them to argue over the inconsistencies in their statements. The police later say that this was a valuable exercise.

As many as 10 police officers spend the day clearing away thick vegetation from the grounds of Casa Liliana. At night, a British sniffer dog is used to search the home and grounds.

British detectives, with Portugese detectives, continue to search the home and grounds of Casa Liliana.

Police fail to find any new evidence after a two day search at the home of Murat's mother, according to BBC sources.

Kate McCann is reported to have confided to friends that she is suspicious about Robert Murat's alibi. A friend of Kate and her husband Gerry said: "Kate has always felt there are questions concerning Murat and a body of evidence contrary to what he is saying. Gerry doesn't know whether he is involved but Kate has always been suspicious."

An Irish tourist who saw someone carrying a child towards the beach on the night Madeleine McCann disappeared insists that the mystery man was not Robert Murat.

It is reported that Kate and Gerry McCann are certain Robert Murat is not the man who snatched Madeleine. But their private detectives believe he may have acted as a "spotter" for a kidnap gang targeting the McCann family. One theory suggested is that Murat – going through an expensive divorce – may have been paid by a paedophile gang to select a child.

Portuguese police return computers and other possessions seized from Murat. He describes the move as a "very positive sign" - but still waits to be officially cleared of involvement in Madeleine's disappearance.

Robert Murat accepts a £600,000 settlement from 11 British newspapers over allegations of his involvement in the Madeleine McCann inquiry.

Robert Murat's arguido status is lifted.

Murat accepts a 'substantial' undisclosed sum from Sky News in relation to a video report and article, which followed an interview with Sunday Mirror journalist Lori Campbell.

Murat accepts an invitation to speak at the Cambridge Union Society in favour of a motion that "the tabloid press does more harm than good".

"There was never a shred of evidence that I was in any way involved, despite eight months of lurid headlines," Murat said.

"At times, I felt like a fox being pursued by a pack of hounds. I was literally forced to jump over fences to avoid the scramble of photographers waiting outside."
Lori Campbell talks to Ian Woods from Sky News, 14 May 2007
Transcript
Lori Campbell: I was so suspicious by the Monday that I just felt I had a duty to pass those suspicions on. I spoke to my news desk back in London and then they said they thought that that was the right thing to do.

Ian Woods: Now, let's discuss why we were a little suspicious of him, because your suspicions were aroused first of all and you shared those suspicions with me. I then talked to him, investigated it, tried to find out whether his story was true and I have to say I came back and said his story checked out. What first of all made you suspicious of the fact that he was spending so much time around the scene?

LC: It was just very reminiscent of the Soham murders was my first instinct. There was a local guy. He was hanging around the scene an awful lot. He was asking us questions about what was going on in the investigation, maybe trying to find out what we knew and he just seemed to be giving an air that he was authoritative and he was working in an official capacity for the police. And I was just very suspicious about that, that they would take on board a man who was just a local guy. They have many people, I am sure, who speak Portuguese and English. Why would they ask him to, you know, go into the apartment, speak to the family and have that sort of contact with them?

IW: Now, how co-operative was Robert when you were talking to him, because first of all he wouldn't do any interviews with me. I have asked him to do interviews on camera. He declined and you approached him to do a proper interview and asked his identity and things like that?

LC: Well, he was very vague when I tried to ask about his background. He would chat to me quite openly, but he wouldn't give me his surname. He wouldn't tell me really where he was from, where he lives over here. He wouldn't give me a telephone number for him. And then I asked him what he did for a living. He was very vague. He said he worked for real estate. And I just had a really uneasy feeling about him from day one.

IW: You reported him to who and what was the response?

LC: My first call was to Leicestershire police back in the UK and they took all my details. A detective constable called me back and she suggested that I also speak to somebody out here. We didn't really have a police contact last week. So, I called the British Embassy and they said to speak to a policeman on the scene. So, I walked up to a GNR policeman and said, you know, "I've got suspicions about a gentleman who's been near the scene and I'd just like to pass those on." And one of my main suspicions was that he said he was translating witness statements and I asked them if that could be true and they said, "No, that's highly unlikely."
Robert Murat made formal suspect 'arguido', Sunday Mirror 15 May 2007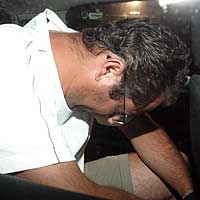 Robert Murat (PA)
Swoop on villa 150 yards from her room
Vanessa Allen & Martin Fricker in Praia da Luz 15/05/2007
A British father is being treated as a formal suspect by police in Portugal investigating the disappearance of four-year-old Madeleine McCann.
Robert Murat, who is in his 30s with a four-year-old daughter, lives with his widowed mother Jenny, 71 in Praia da Luz.
Their villa is situated 150 yards from the apartment from which Madeleine vanished 12 days ago.
Murat was escorted from the villa late last night by police, and was later questioned by detectives while forensic experts searched the house.
While considered a suspect, under Portuguese law Murat can remain at liberty.
He was one of three people questioned by detectives in the town of Portimao. All three were released overnight.
Murat, fluent in Portuguese, has been helping local police and Madeleine's distraught parents Gerry and Kate cope with the language barrier by translating for them.
He and mum Jenny also manned a stall in the resort appealing to locals for information about Madeleine.
Witnesses to the police raid on Murat's villa said there were scenes of frenzied activity as officers swooped with sniffer dogs.
One onlooker said the dogs could be heard yelping - and added: "It all went mental."
Police arrived at the villa, called Casa Liliana, at dawn along with forensic teams in white protective suits.
Murat, who has a four-year-old daughter in Britain who he claims looks "just like Madeleine", was escorted to nearby Portimao police station for questioning.
Last night detectives said Murat was one of three people being interviewed and stressed that there had been no arrests.
At around 11.30pm he was driven away from the police station in a blue car. It is not known where he was being taken.
Back at the villa, officers searched a small shed beneath the pool where chemicals appeared to be stored. They also drained the pool and searched the villa, its roof, the grounds and a garage. Just before 10pm detectives left in a convoy of cars, clutching at least one large plastic bag.
Murat has been involved in the police investigation from its earliest days.
He is fluent in Portuguese and offered to work as a translator to help local police in their dealings with Madeleine's parents Kate and Gerry.
Murat also claims to have helped the family, from Rothley, Leics, overcome the language barrier - and said he translated witness statements. He has been regularly seen crossing police crime tape and heading towards the McCanns' apartment.
He and his mother have also been manning a stall on the seafront from a green van which is emblazoned with posters of Madeleine - using it to appeal to locals for information about her. On Sunday Murat told the Mirror: "My mother hopes she can give people the opportunity to speak to her instead of police.
"She believes there are many reasons why people would not want to speak to police - if they are working illegally or living here without resident permits."
One of Murat's old school friends said last night that he had joked about being a suspect in the case. Gaynor de Jesus said: "The joke was going round that he was the guy, as jokes do."
Murat's mother is English and his father Portuguese. He was brought up in Portugal until he was 16, then went to live in Britain. He moved back to Praia da Luz when his marriage broke up. Murat, who has a glass eye, told journalists he was involved in a custody battle for daughter Sofia.
Murat's estranged wife Dawn and Sofia were last night taken away from their home in Hockering, Norfolk, in an unmarked police car. The couple split up three years ago.
Villager Geoffrey Livock, 71, said he knew Murat well. He added: "Robert is a good-hearted chap. He often comes back here to visit his little girl. I am shocked to hear this news. He is never in any kind of trouble and is always a nice guy to pass the time of day with.
"He is just a normal fellow." Mr Livock said Murat had worked part-time as an interpreter for Norfolk police before moving to Portugal. He said: "If any of the local Portuguese community got into trouble he would do the interpreting for the police.
"When this little girl went missing in Portugal, I went round to see Dawn. She told me how Robert had just phoned her and told her that he was doing interpreting for the police over there and helping with the hunt.
"She was very concerned about how this little girl could have gone missing." Murat's cousin Sally Eveleigh said there was no way he could be involved with Madeleine's disappearance. She said: "I've known him all his life - he loves children.
"It's true there is a resemblance between his daughter and Madeleine but are we going to accuse the fathers of all children who look like her?"
Murat, a former car salesman, works as an estate agent in Portugal, friends said. Daniel Andre, 26, added: "He always wants to help the police. He is nice and very calm." Another friend said Murat had a German girlfriend in the resort who has a young daughter.
Sunday Mirror journalist Lori Campbell told last night how she spoke to police about Murat after holding a number of conversations with him over the hunt for Madeleine.
She said: "He told me he had a daughter in the UK and talked about how upset he was and how, as soon as he heard about the disappearance, he wanted to help. He seemed to give an air that he was authoritative, working in an official capacity.
"But the police have many people working with them so why would they ask him to talk to the family? He was very vague about his background. When I asked him he wouldn't give his surname or tell me where he lived. He wouldn't give me a phone number and he was vague about what he did for a living.
"Initially I called Leicestershire police and a detective took a statement. When I spoke to the police in Portugal I didn't mention his name but they knew who I was talking about and said they would look into it."
Police last night sealed off the villa behind a cordon and put up a green tarpaulin around the building. As the searches continued, Madeleine's dad Gerry could be seen pacing up and down his apartment's balcony with a phone pressed to his ear.
Ex-nurse Mrs Murat, 71, said last night: "They came in here but they have not found anything. They drained the swimming pool.
"I'm okay, I don't know what is going on. I insist that the police issue a formal statement once this is over to clear his name."
Madeleine vanished from her parents' holiday apartment during the night of May 3 as they were at a nearby tapas bar with friends.
MY TALKS WITH COP QUIZ MAN
Vanessa Allan In Praia Da Luz
I MET Robert Murat on day three of the hunt. He told me he had access to the police investigation.
He said he was acting as a police translator and spent long days outside the McCanns' apartment talking to detectives and the media.
Murat told me he had a daughter and said he was in a custody battle with his ex-wife.
The 5ft 8in stockily built father rarely spoke about Madeleine herself and instead seemed more concerned about the progress of the police investigation.
He defended Portuguese police against claims they were acting too slowly and told me detectives knew more than they let on.
Murat claimed he had signed a secrecy declaration because of his work as a translator. I met him again this Sunday when he and his elderly mother were manning an information stall near the church where Kate McCann had just attended mass.
He told me that his mother was desperate to help the investigation and believed people who would not talk to police might talk to her.
Ubiquitous man who went out of his way to help media, 15 May 2007
By Ian Herbert
Tuesday 15 May 2007
The man whose mother's home was searched by police in Praia da Luz last night had joked with a translator at the scene about how his presence was making him a suspect in the investigation.
Robert Murat, who seemed happy and at ease near the scene of Madeleine McCann's disappearance, shared the joke with Gaynor de Jesus, a local woman who has been translating for Sky TV, soon after the child's disappearance.
Mr Murat was a ubiquitous figure in the first few days after the crime. Journalists found him helpful in the extreme. On the Sunday after the disappearance, he expressed concerns that the supermarket's early closure would leave the media without supplies and arranged for bottles of water to be put in the car park of the apartment where Madeleine disappeared.
Mr Murat told journalists that he had been living in the UK but had travelled to Portugal to work in the family's property business. He lived in Hockering, Norfolk, before moving to Portugal and is believed to have a daughter who is due to start school this year. Geoffrey Livock, of Hockering, said Mr Murat lived in the village with his ex-wife, Dawn, until a few years ago. He said Mr Murat returned to the house periodically. "I last saw him working in the garden a few weeks ago," Mr Livock said.
Mr Murat also distributed a business card with his face on it and the company name Portuguese Homes. But despite his initial presence at the scene, he was unwilling to be photographed. He has been absent from the scene since last Tuesday.
His mother, Jenny Murat, 71, has also been a high-profile figure in Praia since Madeleine disappeared. She set up an information post in Praia da Luz, and, as a result, made some of the Portuguese papers. "There may be someone out there who doesn't want to go to the police but will talk to us anonymously," she told one journalist. "We have to try."
Mrs Murat has been resident in the Algarve for 40 years and conducted searches of her own in the past week. "I know this area like the back of my hand," she said, "and I just wanted to help."
Mrs Murat insisted last night that her son was merely helping police with inquiries.
'He was the sort who wanted to be involved in everything', 16 May 2007
By Ian Herbert
Wednesday 16 May 2007
When Robert Murat's wife was driven away from the Norfolk village of Hockering in an unmarked police car with a blanket over her head late on Monday night, it was evident that the area's rural calm was about to be shattered. But villagers were still bewildered and astonished when they awoke yesterday to the news that the former used car salesman they knew was the first "suspect" in the Madeleine McCann inquiry.
To those who know him, there is something remarkably familiar about the story of how the first suspect in the Portuguese police investigation was unusually keen to help at the scene of Madeleine's disappearance. Gareth Bailey also found Mr Murat "overly helpful" when they worked together for four years at the Inchcape Autoparc used car dealership in Norwich. "He was [one of those] people who likes to get involved with everything," said Mr Bailey. "Sometimes at work I had to tell him to go away in a friendly way." Mr Murat would spend up to four hours with a single customer and "catered for every single issue," Mr Bailey said. Mr Murat had also volunteered to work as a translator between Norfolk police officers and the large community of Portuguese workers who arrived to work in the food processing industry. He earned £150 a time. "He would get called to Dereham police station in the middle of the night to act as an interpreter," said Mr Bailey. Carla Cunha, 35, a Portuguese factory worker, said Mr Murat had helped him find work at the local Bernard Matthews plant in Great Witchingham. Mr Murat's formative years were spent in Portugal with his English mother and Portuguese father, where he is remembered for his BMX biking.
As a teenager, he suffered serious injuries in a motorcycle crash when he smashed into a railway station wall. This left him blinded in his left eye and in need of a metal plate for his fractured skull. The crash also seriously damaged Murat's thyroid gland, leading to him having to take the thyroid hormone thyroxine for the rest of his life. It meant he could not drink alcohol, according to associates.
He married in Norfolk about 11 years ago and was stepfather to his wife's 18-year-old son from a previous marriage. The couple had tried for a number of years for a daughter of their own. Some in Norfolk say he split from his wife after returning to Portugal with her and their daughter, Sofia, to start a new life. He found work as a self- employed property consultant helping to market and sell homes on the Algarve, but his wife is believed to have been homesick and, after four months in the Algarve, decided to return to Norfolk. They tried to make a shot of a long distance marriage and he was constantly shuttling between the two countries but it fizzled out, according to one friend.
Mr Murat was distressed by not seeing his daughter who, according to Geoffrey Livock, 71, a Norfolk family friend, could be the "twin sister" of Madeleine. "At first glance if you saw them walking down the street you would think they were twins," said Mr Livock. "Their hair is about the same and their faces are similar. I didn't think anything about it when Madeleine went missing. It was only when all this came out that I realised they were so similar."
Sky News report, 16 May 2007
May 16, 2007
Friend: 'Robert's keen to be liked by everybody'
The only formal suspect in the Madeleine McCann investigation says he's been made a "scapegoat". Meanwhile, the four-year-old's family have appealed to her abductor to release her unharmed. Sky's Ian Woods reports from Portugal.
00:03:09
Madeleine Case: Who Is Robert Murat? Sky news
Updated:08:54, Wednesday May 16, 2007
Robert Murat is a well-known figure among journalists in Portugal.
He worked as a translator for the local police and was on good terms with them.
He told reporters he had been in the McCann's apartment in the aftermath of the abduction, translating for the police.
Mr Murat, who is believed to have a four-year-old daughter in Norfolk, also worked as a fixer for Sky News for several days.
But among journalists he was regarded with suspicion.
A joke began spreading among the press pack that he was the "prime suspect".
And the joke spread to Mr Murat as well, with him introducing himself as the chief suspect, Sky's Ian Woods said in Portugal.
Woods took him aside and pressed him as to why he was so involved in the case.
"He told me he had an estranged wife and a daughter and he was upset because Madeleine reminded him of his daughter," Woods said.
"People began to ask who he was. After a few days people were getting a bit suspicious as to who he was and why he was around so much.
"I asked him to do an interview but he refused, which was unusual because everyone was happy to do an interview."
Woods asked twice if Mr Murat could do an interview for Sky News.
Woods said Mr Murat left the area a few days ago because he had become concerned about the attention he was receiving.
"He became very spooked by the news photographers who were taking pictures of him," Woods said.
"He became uncomfortable with the amount of attention he was getting.
"He told me he was going to withdraw from the scene because he felt he was becoming a distraction."
Mr Murat lives with his mother Jennifer, who is a long-time Algarve resident.
She had set up a stall on the sea front and asked people who did not want to give information to police to come to her.
'I didn't take Maddie', The Sun 16 May 2007
'I didn't take Maddie' The Sun
By JOHN ASKILL
May 16, 2007
Madeleine McCann suspect Robert Murat last night denied taking the four-year-old and said: "I've been made a scapegoat."
Murat, quizzed by Portuguese cops, claimed the ordeal had ruined his life. He said: "The only way I will survive this is if they catch Madeleines abductor."
Murat returned to the villa he shares with mum Jennie, 71, after he was released by police. Officers hunting Maddie formally named him as a suspect.
But cops said they had too little evidence to arrest or charge him.
Murat, 33, said: "This has ruined my life and made things very difficult for my family here and in Britain. Ive been made a scapegoat for something I did not do."
Earlier Murats ex- boss gave an insight into his character.
He told how the suspect astonished pals by leaping on kids bouncy CASTLES at parties.
Paul Titcombe said: "Instead of mingling, he'd go straight to the bouncy castle and jump around. He got a bit of a name for himself. It seemed like a fixation."
The current online report ends here but originally contained the following which has since been deleted:
Paul, 49, of Taverham, Norfolk, met Murat while working at a local Bernard Matthews factory in 1999.
He said Murat had at least two affairs with women at the plant.
Paul later employed him as a car salesman at a garage. He said: "We got matey, but there's a coldness and distance to him."
It also emerged that Murat had a 14-month affair with a married mum. He romanced German blonde Michaela Walczuch, 33, who had a Portuguese husband, Luis Antonio, 47.
Both were questioned and released by police.
Cops have been searching for two men and a blonde seen near Praia da Luz, Algarve, where Maddie vanished on May 3. They were captured on CCTV at a petrol filling station.
One-eyed Murat, who split from wife Dawn, was questioned on Monday after cops swooped on the villa just 100 yards from little Maddies holiday complex.
Following his release his movements are being restricted and he must check in with cops every five days.
Police last night said they did not know if Maddie, of Rothley, Leics, was still alive.
·
A fund in Maddies name that aims to leave no stone unturned will launch today at Leicester Citys stadium.
also claim the following appeared within this report:
'The Sun hears from Murat's former work colleague Ji Stanton. Says he: "If he didn't take his medication, he could be very Jekyll and Hyde. People did see him as creepy." Ji once accused Murat of trying to nick his sale: "Rob just flipped out in seconds. He went berserk, eyes bulging. I was freaked out."'
Murat needed hire car in a hurry, 18 May 2007
Murat needed hire car in a hurry Daily Mirror
Vanessa Allen And Martin Fricker In Praia Da Luz, 18/05/2007
POLICE hunting missing Madeleine McCann are probing claims that suspect Robert Murat hurriedly hired a car two days before he was arrested - despite already having two vehicles.
Hire firm worker Maria Rocio says Murat rang her on Saturday and asked to rent a Hyundai Getz for three days, insisting he needed it immediately and could not wait.
Maria added: "Robert said to me, 'I need to rent a car for myself because the English people who are looking for the little girl need to borrow my car. They need to put information posters on it.'"
Maria said she told him she was about to shut for lunch - and he threatened to take his business elsewhere unless she let him pick up the car before she went. She said: "There was something about his voice, he was saying, 'I need to have it quickly.' His voice was impatient, I could tell from his voice that he needed it in a hurry."
Portuguese police are reported to have had Murat under surveillance at the time - and were tailing both his gold Kia and a green van owned by his mum Jenny. Maria, who works for the Auto Rent III in Praia da Luz, was so confused over why Murat needed a third vehicle she contacted police.
The blue Hyundai was returned to the firm on Tuesday evening.
It was still in his drive along with the van when the villa he shares with Jenny was raided on Monday.
Police searched both vehicles and have examined Auto Rent's records. Little Madeleine's family yesterday admitted for the first time they fear she has been smuggled out of Portugal. Aunt Philomena told of their anguish as she threw her weight behind a campaign to publicise the four-year-old's plight across Europe.
She said in an email to well-wishers: "We don't believe that she is in Portugal any more and need to get her picture and the story across Europe as quickly as possible."
Philomena also urged people to pass on photographs and details of Madeleine to "everyone you know."
The campaign to publicise Madeleine's abduction, which is being spearheaded by her parents Kate and Gerry McCann, has achieved astonishing success.
The family's website www.findmadeleine.com received an astonishing 25million hits in its first day.
And Madeleine's story even made front page news in US magazine People. Police have also not ruled out the possibility that Madeleine could have been smuggled into North Africa after she was abducted from a holiday apartment in Praia da Luz two weeks ago. Posters have been printed in Arabic for use Morocco, Algeria, Tunisia and Egypt.
Sergey Malinka, the Russian computer expert arrested on Wednesday, yesterday refused to comment on claims that there were several phone calls between him and Murat shortly after Madeleine went missing.
He said: "I'm afraid I can't tell you. That's privileged information. I can't share it with anybody."
Malinka, 22, who helped 33-year-old Murat set up a website, said their relationship was confined to business.
Moscow-born Malinka was released at 3am yesterday after five hours of questioning by police. His laptop and two computer hard drives have been seized. He claimed police had interviewed him after finding his number in Murat's phone.
Malinka said he was stunned by the investigation - and added: "My life has fallen apart. I have been building my life here for seven years. In one hour suddenly I'm a paedophile."
He said police had questioned him about Madeleine, adding: "They were asking if I had any connection with Robert Murat. They asked if I had anything to do with Madeleine's disappearance. I volunteered to help."
Malinka, whose mum and dad followed him to Portugal after he emigrated from Russia, worked for a number of internet cafes in Praia da Luz before setting himself up as a website designer.
He was also linked to a business in Lagos offering boat trips in the Mediterranean and to North Africa.
Last night, police chief Olegario Sousa confirmed that Malinka is being treated as a witness rather than a suspect. But he added: "It might be that during the course of the investigation it could change."
There were reports in the Portuguese press yesterday that police photographed Murat and Malinka together in the days after Madeleine vanished. Tuck Price, a Murat family friend, said this was "absolutely not" sinister. He added: "It's possible, of course. They would probably have a coffee and talk about the website."
It was also revealed that 71-year-old Jenny has been questioned about her son's alibi. He claims he was having dinner with her on the night that Madeleine vanished.
Murat's friends say he is staying out of sight in Jenny's villa, 150 yards from where Madeleine was snatched.
Posters proclaiming Murat's innocence were yesterday put up around the Norfolk village where he used to live with estranged wife Dawn and their daughter Sofia, four.
The A4-sized posters were placed by Murat's Portuguese friend Carla Cunha on front doors, fences, a bus shelter, and the village hall in Hockering, Norfolk.
The posters show his face and say: "Rob is innocent. Please Rob be strong for Sofia. She love you very much."
Why I shopped Maddy suspect - Lori Campbell, 20 May 2007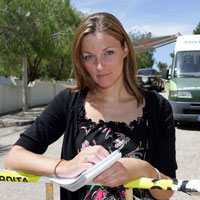 Lori Campbell
The search for Madeleine: Day 18
By Lori Campbell Sunday Mirror reporter who shopped Murat to Portuguese police 20/05/2007
I HAVE no idea if Robert Murat is guilty of the kidnapping of Madeleine McCann.
But I would never have been able to live with the guilt had I not told police of my grave concerns about his behaviour.
Which is why I reported him to British police, the British embassy here in the Algarve and to Portuguese police.
At first, little came of it and I began to wonder if I had maybe been wrong to speak up. Then, on Monday, when Murat was arrested, my heart raced and I was gripped by a terrible sense of foreboding. Within minutes, I was thrown into the epicentre of her disappearance.
TV crews from around the world were desperate to hear what it was I told police - and what police said to me. Since then, I have replayed over and over again in my head what the prime suspect in this case said to me, desperate for any more clues that could help police.
It was on the third day of Madeleine's disappearance that I interviewed Murat - and what he said left me deeply troubled.
Having seen him with police, I assumed that he was part of the investigation and asked him for any news. He gestured at me to sit with him on the pavement outside the McCann apartment.
He told me: "Officers have turned this whole area inside out looking for her. They have thoroughly searched a 3km radius around the apartment and found nothing. Soon they will abandon hope of finding her here and look further afield.
"It is likely that whoever kidnapped Madeleine is far away by now. They could have changed her appearance. The Portuguese police didn't take her disappearance seriously at first. They thought she had just wandered off. Because of this, it was 15 hours before they alerted the Spanish border police. It is only a couple of hours' drive to Spain. The poor little thing could be long gone by now."
I found it strange that he would criticise the police operation he seemed to be part of, so I asked what his role was. He said "I've been acting as a translator for the police. I live here and speak fluent Portuguese and English. I wanted to do anything I could to help."
I then asked him when he had first heard of Madeleine's disappearance and he said: "It was first thing Friday morning. I went to the McCanns apartment and immediately offered my services to police as a translator."
He added with pride: "I helped the McCanns communicate what had happened the night before to the police. They were frantic with worry and frustrated that they were not being understood.
"I have also been translating witness statements for the last few days from Mark Warner workers and holidaymakers."
Much of that, we now suspect, was not true. But at the time, he made it sound like the police knew him very well and he was trusted enough to assist them.
Since Murat's arrest, the McCanns have said they have no memory of even meeting him. One family member said: "He is talking lies and rubbish." But it is what he said next that really set my alarm bells ringing.
I asked why he was so touched by her disappearance. "I have a daughter of the same age," he replied. "In fact, she's the spitting image of Madeleine. I felt sick to the stomach when I heard. I rushed here as soon as I could to offer my help."
WHEN I pushed him further on his background, he suddenly became uncomfortable.
He said: "I'm going through a divorce at the moment so I don't see my daughter much."
There was an evasiveness and unease about Murat that left me feeling extremely uncomfortable.
Murat was reluctant to tell me what he did for a living when I asked. After pausing for several seconds, he said: "I'm in real estate. I've just bought a couple of properties in the Algarve which I'm doing up." Why all the mystery? At this point I still knew him only as Robert, so I asked him his surname. Again he stonewalled. "It's not important," he blustered. "I'm no one really. I'd rather not say."
One minute he was desperate to talk up his role in the investigation, the next he was acting coy.
I asked him for his phone number, hoping he might be a useful source of information.
"No." he replied. "I'm not giving it out to people. I don't want to be quoted. I'm just trying to help. I'll be here quite a lot for the next few days if you need me."
More mystery, more contradictions, more mixed messages.
While we had been speaking, Sunday Mirror photographer Alban Donohoe had taken our picture.
MINUTES after we said goodbye, Murat came back to our car, agitated. He was desperate for Alban to erase the photos.
"I saw you take my picture," he blurted. "I really need you to erase it. I'm not important in the investigation."
He was polite as always, but I sensed panic in his voice and it made me uneasy. Why would a man so apparently keen to attract attention suddenly be so concerned about a couple of pictures?
Like so much else about him, it just didn't add up. Later, as we drove past I deliberately glanced at him and waved goodbye.
He was holding court as usual at the centre of a dozen film crews. He stood, hands on hips, just yards from the police tape which cordoned off the crime scene. But as he caught my eye, he appeared to freeze for just a moment and his expression changed to one of a man exposed.
My encounter with him played on my mind that night. I rang my office in London and we agreed I should pass on my concerns.
I called Leicestershire Police and they took a statement and advised me to speak to the Portuguese authorities. I called the British Embassy in the Algarve and then approached an officer for GNR - the local police force - who was guarding the McCann's apartment.
I told him I had suspicions about a man called Robert who said he was translating for police. He knew instantly who I meant and assured me he would be checked out. I told him Robert had claimed he was translating witness statements and he replied: "That is very unlikely to be true."
My decision to report Murat had nothing to do with being a journalist. It was based on gut instinct and a natural sense of duty that I should share my suspicions. Given the unimaginable horrors which Madeleine's parents were enduring, it seemed the very least I should do.
Murat insists he is innocent, a scapegoat for the failure of police to find Madeleine. He also claims he is a victim of a smear campaign orchestrated by me.
Nothing could be further from the truth, or more absurd. I have no grudge against Murat - just a desire to see Madeleine found.
All I did was pass on information I thought the authorities should be privy to. The rest is in the police's hands.
Dawn Murat: My ex-husband is innocent, 23 May 2007
23 May 2007
Dawn Murat this week insisted that she had "no doubt at all" of ex-husband Robert's innocence in any involvement in the disappearance of Madeleine McCann.
Mrs Murat, who lives in Hockering, said her former partner was not capable of harming a child.
Portuguese police searching for the missing four-year-old have named Mr Murat as "arguido" or suspect in the case.
In an exclusive interview on Anglia News she said: "He isn't the person to do this. He is the most helpful and genuine person I have ever met. He isn't capable of hurting anybody. I feel he has been made a scapegoat."
Speaking of her "absolute total shock and disbelief" at events since Mr Murat's arrest, she said the 33-year-old Anglo-Portuguese was a devoted father who would be doing everything in his power to help find Madeleine.
A stony-faced Dawn Murat appeared with her friend Caroline Steward, with one arm protectively wrapped round her shoulder, outside a house in Norwich Road, Dereham, where she is believed to have been staying since she was whisked away for her own safety by police.
"I am absolutely disgusted at what people are saying," she added. "All I have tried to do through this is protect my own daughter.
"I just hope and pray that Madeleine is found quickly and safely," she said. "Nobody can understand what they are going through. We all feel for them, from the bottom of our hearts we are praying for them."
A fierce bidding war erupted outside the house shortly afterwards as the main Sunday tabloids clamoured for an interview, waving cheques for tens of thousands of pounds.
Meanwhile Mrs Steward's father, Neville Lake, said Mr Murat had been taken in for questioning three or four times. "The police have got nothing on him. Robert is a very nice guy, one of the best guys I have ever met."
In Hockering, posters have been put up protesting Murat's innocence.
And in a second local link to the biggest news story of the year, it has been revealed that until Easter, Father John Wilson, of Wells, was priest at the church at Praia da Luz which has been visited daily by the McCann family since little Maddie was snatched.
He still has an apartment in the area and has returned to the village and speaking from there spoke about the feelings of the ex-pat community for Mr Murat, who lived at Hockering until two years ago.
Father John said: "A number of the congregation have spoken to me about him and have expressed shock and surprise at this."
*
Note: It is not clear when Father John Wilson left Praia da Luz, although we do know that he was replaced by Father Haynes Hubbard, who arrived from Canada on 06 May 2007.
The weekly Algarve online newspaper, '
getrealweekly
', were still advertising 'Holy Communion at 12pm with Rainbow Club for Children, at Sra da Luz (the church on the beach) conducted by Fr. John Wilson' throughout May 2007.
Trial by Fleet Street, 27 May 2007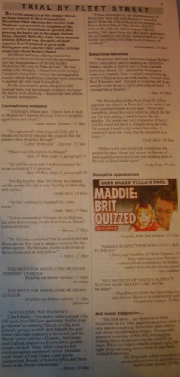 Click to enlarge
Trial by Fleet Street (No online link)
(Taken from Private Eye #1185)
Senior managers at the Sunday Mirror, perhaps buoyed by their triumph last December when supermarket worker Tom Stephens was arrested on suspicion of the murder of five prostitutes in Ipswich after pouring his heart out to the paper (before being released three days later when someone entirely different was charged), advised reporter Lori Campbell to go to both Portuguese and Leicestershire police with her suspicions about Robert Murat.
Mr Murat had been offering translation services to those involved with the investigation into the disappearance of British toddler Madeleiene McCann in Praia de Luz. "He was acting very strangely. I found him to be creepy," Campbell told police. "Given the unimaginable horrors which Madeleine's parents were enduring, it seemed the very least I should do."
As the Eye went to press, the police still insisted there was not enough evidence to charge Mr Murat with anything - despite the best efforts of the British newspapers...
Contradictory evidence
"Chillingly, Murat said: 'I know how it feels to Madeleine's parents because I have a daughter aged three and a half'."
(news report, Express, 15th May)
"As a parent of a four-year-old little girl it breaks my heart to imagine the anguish the parents must be going through."
(Letter of the Day, Express, 15th May)
"Murat was reluctant to be filmed."
(The Sun, 15th May, page 4, paragraph 11)
"He told his story and wandered around the scene in front of TV cameras."
(The Sun, 15th May, page 4, paragraph 14)
"For the last few days Mr Murat had helped out the media. He has a very friendly relationship with the police."
(Daily Mail, 15th May)
"He continually haunted the crime scene."
(Daily Mail, 17th May)
"police swooped on Moscow-born Malinka, 22, after discovering emails from him on Murat's computer."
(Mirror, 17th May)
"Mr Malinka conformed that he worked for Mr Murat earlier this year to create a website for his estate agency. The Russian citizen is believed to have volunteered to help police."
(The Times, May 17th)
"THE HUNT FOR MADELEINE: RUSSIAN PERVERT QUIZZED."
(Headline on Mirror website, 17th May, morning)
"THE HUNT FOR MADELEINE: RUSSIAN QUIZZED."
(Headline on Mirror website, 17th May, afternoon)
"MADELEINE: THE EVIDENCE
Casa Liliana - Two-storey white-painted villa 150 yards from McCann apartment. Sniffer dogs go 'mental' on entering. Search of villa, roof, grounds, garage, a small shed beneath the pool where chemicals appeared to be stored, and the Murat's green van and Hyundai. Swimming pool drained, internal walls torn down, garden cesspit checked. Three video casettes and communications equipment seized. Shredded paper found at Casa Liliana could not be reassembled. Results of tests for DNA and fibres found at Murat villa awaited."
(Mirror, 19th May)
"Police investigating the disappearance of Madeleiene McCann have found no 'material proof' from the villa of their prime suspect, the Briton Robert Murat. The results of DNA tests at the villa Mr Murat shares with his mother, 160 yardsfrom the McCann's apartment, are still awaited, but initial forensic analysis has turned up nothing and there is no evidence of a kidnap."
(Independent, 19th May)
Suspicious behaviour
"Madeliene McCann abduction suspect Robert Murat astonished pals by leaping on children's bouncy castles at parties, his ex-boss claimed yesterday. Murat, 33 - quizzed by Portugeuese cops over Maddie, four - couldn't resist playing on the inflatible toys at work bashes. Former boss Paul Titcombe said: 'Instead of mingling, he'd go straight to the bouncy castle and jump around...It seemed like a fixation'."
(The Sun, 16th May)
"Mr Murat phoned the Auto Rent III ofice opposite the church in Praia de Luz to order a car. Sales assistant Maria Rocco said: 'There was something about his voice when he asked for the car. He was saying, I need to have the car quickly. His voice was very impatient. When I said he could not have it straight away he said, Oh, maybe I need to try somewhere else. I could tell from his voice that he needed it in a hurry'."
(Daily Mail, 18th May)
"Police were also last night examining the possibility that Murat had access to dozens of unoccupied properties in the surrounding area in his role as a local estate agent."
(Daily Star, 19th May)
Deceptive appearances
"MADDY SUSPECT BAHAVED JUST LIKE HUNTLEY."
(Front page headline of Daily Express, 16th May, referring to Ian Huntley's conversations to reporters in Soham, rather than the fact he murdered two children)
"SEX SECRETS OF MADDY SUSPECT...MADDY MAN SHARES GIRL WITH HUBBY."
(Headline in Daily Star reporting fact that Robert Murat is in a relationship with a 34-year old woman, 16th May).
And moral indignation
"The McCanns...are desperate to keep Madeleine on the front pages because they think it may lead to a sighting. Sometimes their efforts can create uncomfortable images. Photographs appeared yesterday of Mrs McCann jogging, wearing black shorts and crop top, midriff on show. While her trips to church seemed right, the sight of her devoting time to keep fit may have seemed disquieting."
- The Telegraph, which nevertheless printed the pictures in question in a double-page spread, 18th May.
*
Also in the same issue, it notes that more reporters were dispatched to Praia de Luz to report on a story where there was virtually nothing to report, than were dispatched to the Lebanon last summer for the Israeli invasion.
Murat's wife talks about their relationship, 27 May 2007
The Search for Madeleine Day 25 Exclusive - My life with the suspect by his wife
By Grant Hodgson, Nick Owens and Tom Hendry 27/05/2007
A THOUSAND miles away in Portugal, Robert Murat picked up the phone to call wife Dawn back in Britain.
He was ringing to say he was dumping her. Just a few days earlier he had burst into tears when the couple were forced to part briefly while Dawn visited relatives.
Weeping Murat had dropped Dawn and their daughter Sofia at Faro Airport - then tearfully pledged to join them in Norfolk once he had tied up some business.
Less than a week later, Dawn's world fell apart when he called to say: "I'm not coming to see you. And I don't want you to come back to Portugal either."
"I went to pieces," Dawn says. "I begged him to let us try to make it work, but that was it. I felt as though he had abandoned me and Sofia. Sofia found it difficult to cope and it was horrendous seeing her suffer, missing her daddy."
She is convinced Murat was not cheating on her with his current lover Michaela Walczuch. "There was no one else involved," says Dawn. "I just know there wasn't. I've met Michaela a couple of times and we got on well. Her eight-year-old daughter and Sofia play together."
She recalls how she met Murat at Christmas in 1993. Murat was 19 and Dawn was 27, unhappily married with a six-year-old son from a previous relationship. Murat was a friend of her sister Shirley, 51, who lives in Sidmouth, Devon.
Dawn says: "I thought Rob was good looking, young, but I was married with a child."
By February 1994, her marriage ended. "I went to my sister's to get away from everything. While I was there I met up with Rob and realised I had feelings for him."
One night, in Shirley's front room, Dawn blurted out: "I love you Rob." He replied: "What did you say?" So she told him again and he stuttered back: "I love you too." The friendship turned into a romance. Dawn recalls: "I didn't think we stood a chance. There was the age gap, I had my son and there were 300 miles between us. I thought we should try though."
Eventually Murat got tired of travelling, so in February 1994 he moved to the Norfolk village of Hockering and got a job on a Bernard Matthews turkey farm.
"Rob was a great lover," says Dawn. "It was a normal, healthy physical relationship. He was thoughtful and sensitive."
The romance went from strength to strength and they eventually married. "The wedding was over the anvil at the Old Smithy in Gretna Green on March 16, 2001," Dawn says.
A year later, Dawn fell pregnant. "It was the icing on the cake," she says. Sofia was born on October 31, 2002. "Robert was very emotional, overwhelmed by seeing his little girl for the first time. He was the first person to feed her and to change her nappy. And he chose her name."
Two years later they discussed a move to Portugal. It was the dream of bilingual Murat, whose mother is English and dad Portuguese. Dawn says: "I had my concerns of course, but decided to give it a try."
In June 2005 they went to live with Murat and his mother Jenny at her villa, Casa Liliana. But cracks began to appear when Murat started working long hours, desperate to be a success as an estate agent.
"Our home life began to suffer," she recalls. "He was spending less and less time with Sofia and we fought about it. Our rows got worse and worse, but Rob was never violent. He never hit me or Sofia."
In September 2005 homesick Dawn flew back to the UK with Sofia for a few days. Then came that phone call from Murat.
Although Murat regularly returns to Britain to see Sofia - and last year brought Michaela with him - neither Dawn nor Sofia have been back to Portugal since.
Dawn reveals how after she began divorce proceedings she gave Sofia's passport and birth certificate to a family member for safekeeping.
She says: "I was being cautious. You hear about mothers in similar situations to mine who lose their child to a partner who's abroad.
"Of course it crossed my mind that it might happen to me but I never seriously thought Rob would take Sofia."
Given the heartbreak she has suffered, Dawn is very charitable about Murat, and believes he is not guilty of Madeleine's abduction.
"But his name will always be linked to Madeleine's disappearance," she says.
Then she adds: "I haven't considered changing my name yet, but maybe I will have to. I'm trying not to think about the future."
Dawn talks about her life with Robert Murat, 27 May 2007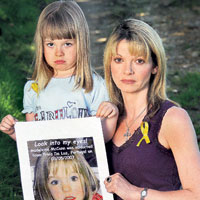 Dawn and Sofia Murat
Exclusive: My life with the suspect by Murat's ex wife
The Search for Madeleine Day 25
By Grant Hodgson, Nick Owens and Tom Hendry 27 May 2007
THE startling likeness between Madeleine McCann and Robert Murat's daughter hits you at once.
As little Sofia Murat stares into the camera wearing a yellow "Madeleine ribbon", she bears a haunting resemblance to the missing four-year-old.
Murat, 33 - the man named by Portuguese police as their prime and only suspect - said as soon as Madeleine went missing that she looked incredibly like his own child, who is the same age.
Until now not a single picture has been made public to bear that out. But today - as the Sunday Mirror's exclusive picture shows - the two ARE incredibly similar.
Mother Dawn, seen protectively cuddling Sofia, has allowed us to show her daughter's face as she breaks her silence over her ex-husband's arrest.
Dawn, whose marriage to Murat broke up 18 months ago, also reveals how:
SHE was twice visited by police, who took away pictures of Sofia and asked Dawn if she had ever caught Murat looking at porn.
HE was agitated and tearful when he rang begging to speak to Sofia just hours after Madeleine was snatched
HE has yet to account for key inconsistencies in his evidence - despite repeated phone calls from Portugal back to frantic Dawn's home in Norfolk.
She says: "My life has been turned upside down. Everything has become chaos. I've had to explain to my little girl why her Daddy is on the TV in our sitting room all day. I'm convinced Robert is innocent. He would never hurt a child."
And she has told for the first time how she learned of the disappearance of the little girl who looks so much like her daughter when Murat called her at 2pm on Friday, May 4 - just 15 hours after Madeleine vanished. Dawn says: "He said, 'Is Sofia there? I need to speak to her to hear that she's OK'. He seemed on the verge of tears. I said, 'No, she's at play school'.
I had no idea what he wanted or what was wrong.
HE said, 'Haven't you heard? There's a little girl missing in Praia da Luz, its all over the news'."
"While he was talking I put the TV on and couldn't believe it. Madeleine looked just like Sofia. It felt very strange and quite troubling. Like any mother, I was thinking, 'What if it had been my own little angel?'"
Later, desperate to make contact, Murat rang again and Dawn put Sofia on the phone to him. "She said, 'Hello Daddy', and he said something to her.
"Rob told me how much better he felt now that he had heard her voice. He said he knew she was safe."
From then on, Dawn kept the TV on, anxious for the latest news and spoke to Murat every day. He told her he was a key player in the police operation - now shown to be untrue.
But at that point Dawn believed it might have been true as he had helped police by translating for Portuguese speakers when he was living in East Anglia. The first indication that her ex had become a suspect came when Madeleine had been missing for just over a week. Dawn says: "I tried to ring Rob from the Friday to Sunday, but couldn't get hold of him. I called his mobile and his mum's villa constantly."
Then on the following Monday, May 14, she was woken at 8am by two policewomen at her door. "They were brisk and businesslike. They said they were just checking some basic facts about who Robert was, who I was, how we knew each other and so on."
Dawn assumed, wrongly, that the officers were simply making routine checks about Murat because of his "work" with the Algarve police.
"They left after about 70 minutes and there was no indication anything was amiss. I didn't think that much more about it. At the time, it all seemed quite logical," she says. But at 6pm the two PCs returned. This time their tone was much more urgent, and the questioning embarrassingly direct.
It was clear the officers had been told to find out if Dawn had ever discovered Murat with pornography. She says: "The questions were much more intimate. They made me think, 'What's going on here?' Something had to be wrong.
"They asked me about Rob's state of mind, did he ever watch pornography with me or did I ever catch him watching it. They wanted to know if he was under any stress and did I have any fears about him.
"I told them I had never caught him watching porn.
"They were asking a lot of general questions about Robert. I think they were trying to build up a picture of his life."
They also wanted to know about his relationship with Michaela Walczuch - the German-born woman who is involved in a love-triangle in Praia da Luz with Murat. Michaela, 33, still shares a flat with her husband Luis, 47, who has given his approval for her to see Murat.
"The police asked how long they had been seeing each other and was the relationship serious. I told them what I knew, but his relationship with Michaela is his business.
"I know there's something going on between them, but I've never really asked him about it. They also wanted to know how often he had been back to England and when was the last time he was back.
"I said the last time I saw him was the second week of April when he was over here seeing relatives."
News that police are actively investigating whether or not Murat has links to pornography is the first concrete line of inquiry to emerge since his arrest. Unconfirmed reports in Portuguese newspapers have alleged that police believe Murat has an interest in "depraved" sexual imagery. The two PCs from Leicestershire took away pictures of Sofia when they left and remarked on her similarity to Madeleine.
The minute they had gone, agonised Dawn tried to raise Murat to establish what was happening. But his phone was still ringing out without no one answering.
Then her brother Andrew rang to say police were searching what turned out to be Murat's mother's home, Casa Liliana, in Praia da Luz. Dawn says: "My world collapsed. I rushed to the TV and recognised the gates straight away. My mind was in chaos. I couldn't think. I literally started to pull my hair out. I screamed at the TV. I couldn't comprehend what was happening."
With more urgency than ever, she called and called Murat's phone, hitting the redial button every few seconds. "It felt like the world was just crashing in on us. I had to, had to get hold of him and he just wasn't picking up." With a child's intuition, Sofia saw Dawn's distress and asked: "What's wrong with mummy?" Trying to shield her from the drama, Dawn asked her mother Margaret to distract Sofia.
"We didn't tell her that her daddy was in trouble and tried to make everything as normal as possible."
That soon became impossible. Within hours, Dawn's home was besieged by TV news crews from around the world. Dawn fled with a blanket over her head and went to stay with her friend Caroline Steward, 39.
"I still hadn't heard from Rob and I was worried sick, still ringing him and ringing him," she says. "Then my mobile finally rang at 3.30am. It was Rob, but I barely recognised his voice.
"He sounded shattered, like someone who could barely speak. He said, 'I've been at the police station. I don't know what the hell is going on. I've been questioned all day about Madeleine, but I had nothing to do with it'.
"They'd been asking him were he was on the night Madeleine disappeared and what he was doing in Portugal. He said he was at home with his mum.
"Then he said, 'Where's my baby? He wanted to know Sofia was all right."
Murat told her his computer and phone had been taken away for analysis. Unable to sleep, Dawn spent the rest of the night glued to the TV. When Sofia awoke, Dawn and Caroline took turns to stand in front of the screen to stop Sofia seeing photos of her father.
"Eventually, we stopped trying to hide what had happened and decided to be honest if Sofia asked the question," says Dawn.
SHE saw a picture of Rob's mum Jenny on the news. She ran to the telly and said it's nanny Jenny! She then turned around and went back to playing with her toys.
"I breathed a sigh of relief. She hadn't asked any difficult questions."
Later Caroline's daughter saw Madeleine's photo on the news and screamed in excitement: "It's Fia!" - Sofia's nickname.
"Even a child can see they are similar. Sofia has now got used to seeing her daddy on the news. I've explained to her that he says he was trying to help find the little girl. She knows Madeleine's name and each night when I put her to bed she asks if the little girl has been found yet.
"It's heartbreaking to tell her that she hasn't. Obviously, it's confusing for her. She asked me in a vague kind of way why Rob is on the TV and I just told her, 'Some bad men are after Daddy. Daddy's got to stay in Portugal.' I will tell her more if she asks, but thankfully she hasn't so far." Dawn says Murat claimed he was being persecuted by police. He has always protested his innocence. She said: "He thinks it's ludicrous he's become a suspect. He feels like a prisoner in his own home."
She has also briefly talked to him about Russian internet expert Sergey Malinka, 22, who has also been quizzed by police.
One question is whether phone records prove the pair spoke late on the night Madeleine disappeared, when Murat claims he was asleep.
But Dawn says: "Rob hasn't talked to me about whether or not they spoke on the night. It's up to him to tell me if he wants to."
Another question is why Murat, who had access to both his own and to his mother's car, was so keen to get hold of a hire vehicle two days after he was arrested.
Dawn believes there may be an innocent explanation. "He has problems with his own car quite regularly. He's in the property business and needs transport."
She is adamant Murat is innocent, saying: "He wouldn't hurt a fly. There is no way he could have done anything to that little girl."
And she says that if he is cleared, she will allow him to see Sofia again. She adds: "I have no fear whatsoever about leaving Sofia alone with her daddy."
And she adds: "I have been through hell since Rob became a suspect - but it's nothing to what Madeleine's poor mum and dad must have suffered."
Maddie suspect had kid porn, The Sun 28 May 2008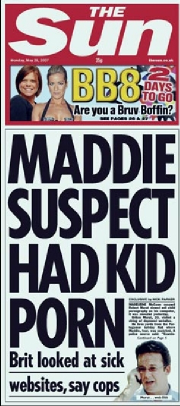 Maddie suspect had kid porn The Sun
By ONLINE REPORTER
Published: 28 May 2008
MADELEINE McCann suspect Robert Murat viewed child pornography on his computer, it was revealed yesterday.
Briton Murat, 33, visited a string of depraved websites.
He lives yards from the Portuguese holiday flat where Maddie, four, was snatched.
A police source said: "Examination of Mr Murat's computer has confirmed an unhealthy appetite for deeply disturbing material.
"There is no direct link between what was found and Madeleine. But officers are describing it as a 'relevant sexual history'."
Murat's ex-boss Paul Titcombe, 49, called him "a huge porn fan, addicted to women."
Garage owner Paul, of Norwich, said Murat once terrified a female colleague at the Bernard Matthews factory by stalking her.
In a section that has since been deleted from the online version:
Titcombe continued to say that all the women hated him (Murat) and that he suspected he had an "unhealthy" interest in children.
Police shield McCanns, 28 May 2007
Vanessa Allen and Martin Fricker
28/05/2007
THE family of missing Madeleine McCann were being protected from some horrific aspects of the inquiry last night.
Child porn is believed to have been found on the computer of sole suspect Robert Murat, 33.
Detectives also discovered links to depraved websites featuring other sickening images.
Dad Gerry McCann, 38, has been made aware of the development but has asked not to be given details.
Police disclosed that mum Kate, 38, is being completely "shielded" from the nature of the web links.
Despite the discoveries, nothing was found to connect Briton Murat to Madeleine, four, who vanished from her apartment in Praia da Luz, Portugal, 24 days ago. Murat denies being the man seen carrying a child near the McCanns' holiday apartment on the night Madeleine disappeared.
He said: "It isn't me. But the description is so vague it won't put me out of the picture. I hope I'll soon be able to clear my name. It's been almost two weeks since my life was turned upside down.
"I'm on tenterhooks about what will happen now they have released the description of this man."
Property dealer Murat and his ex-wife Dawn have been quizzed about their sex life.
Dawn, who lives with the couple's four-year-old daughter Sofia in Hockering, Norfolk, said: "They asked me about Rob's state of mind.
"They wanted to know if he was under any stress and did I have any fears about him.
"Did he ever watch pornography with me or did I ever catch him watching it? I told them I've never caught him watching porn."
It is understood Murat's girlfriend in Portugal, Michaela Walczuch, 33, has faced similar questions during police interviews.
Murat has said he only learned of Madeleine's May 3 abduction hours after having dinner nearby with his mother Jenny, 71.
But police found a series of phone calls between him and Russian computer ace Sergey Malinka, 22, starting about 30 minutes after the child was snatched. Malinka has been questioned as a witness. Yesterday the McCanns spent the afternoon in Praia da Luz taking their two-year-old twins, Sean and Amelie, swimming.
Earlier Kate revealed she was so trauma-tised by Madeleine's kidnap she could not face sleeping away from the twins. She said: "We've become totally protective parents."
The McCann family have been warned that Madeleine's abductor could try to contact them. They now wear latex gloves when opening letters so as not to disturb potential clues.
Phone experts from the UK have travelled to the resort to examine all landline and mobile calls made on the evening of May 3.
Two former British soldiers who have volunteered to help in the hunt have been searching empty warehouses in the area.
Prince Charles and Camilla released a statement saying they hoped that Madeleine would be reunited with her family.
Police raided a house in Hampshire after emails were sent claiming to be Madeleine's abductor. But the messages were found to be from a 10-year-old boy with learning difficulties. No further action was taken.
Robert Murat: Suspect or scapegoat?, 02 June 2007
Madeleine: Is Robert Murat a suspect or a scapegoat? Daily Mail
By David Jones
Last updated at 11:06am on 2nd June 2007
In the eyes of many, Robert Murat has already been tried and found guilty of abducting Madeleine. But David Jones has had the first full interview with him - and comes to a very unsettling conclusion
Last Wednesday, while Gerry and Kate McCann were in Rome imploring the Pope to pray for the safe return of their four-year-old daughter, Madeleine, I spent a disquieting afternoon on the Algarve, drinking coffee with Robert Murat.
Depending on your point of view (and in a tragedy whose every grim twist is played out in the public gaze, everyone has an opinion), Murat is either the most vile creature on earth or the most unjustly vilified.
Eighteen days ago, this enigmatic, Portuguese-raised Englishman was arrested on suspicion of abducting Madeleine from a holiday apartment just 120 yards from the villa he shares with his widowed mother, Jenny.
Murat was released without charge after 19 hours of questioning. Yet today - a month after Madeleine's hauntingly pretty face first became etched in our collective nightmares - he remains the only formally identified police suspect.
Ordinarily, of course, an accused man retains his innocence until proven guilty. But this is no ordinary case. The McCanns' increasingly desperate publicity campaign (yesterday they were in Madrid) has made it the most high-profile child abduction in history.
So, inevitably, every aspect of Robert Murat's life is being subjected to microscopic scrutiny. And in the absence of confirmed facts, wild rumours are circulating about his life and background.
If we believe some of what has been written about him, Murat is a pervert who fits the profile of a child abductor all too well. He may be the father of a four-year-old girl, but, according to unnamed sources, he is a social misfit who visits paedophile websites.
It has also been suggested that he coldly volunteered to assist in the hunt for Madeleine to glean inside information, and remain one step ahead of the police investigation, just as Ian Huntley did after the Soham murders.
Weighed with various accrued morsels of suspicion against him - an unexplained 11.40pm phone call on the night of the abduction; a car hired hastily two days later - some close observers have concluded that Murat is, indeed, the monster who took Madeleine, and that it is only a matter of time before he is formally charged with her abduction.
Over the forthcoming days, they may yet be proved right, though given the performance of the Portuguese police, this seems unlikely. For the story Murat had to tell me raises profound and disturbing questions about the nature of the Madeleine investigation.
"They held me for all that time, but they didn't even take a DNA sample from me," he told me, incredulously. "Can you believe that? I would happily have provided a swab."
Assuming Murat is telling the truth, this is a jaw-dropping omission, and throws the entire forensic operation into question.
Privately, it will doubtless appall the McCanns. However, a source close to the couple assures me they do not believe Murat took their daughter, regarding him as a "sad loner" whose involvement has distracted attention which could have been usefully deployed elsewhere.
At the risk of being proved foolish, having spent 90 minutes with Murat - who chatted to me in the bar of his cousin's guesthouse near Praia da Luz - I believe the McCanns' instincts are probably right. Either that, or Murat is a consummate actor.
He was first thrust to the forefront of the investigation after a journalist found his behaviour sufficiently odd to merit reporting to the Portuguese police.
In a career spanning 30 years, I, too, have met some pretty despicable characters, but there was no aura of evil about the man I encountered last Wednesday.
Despite being under such stress that he has lost more than a stone, and has turned from a non-smoker into a 40-a-day man, Murat was reasonably articulate and polite. He even apologised for swearing.
Within the confines of Portuguese law, which forbids a suspected criminal to defend himself on peril of imprisonment, his denial of any involvement in Madeleine's abduction carried the ring of truth.
That said, he shows little insight into the way that some of his protestations leave him wide open to accusations of, at best, insensitivity and, at worst, utter callousness. For example, at one stage in our conversation he compared his own suffering to that of Gerry and Kate McCann.
"I'm going through exactly the same experience as the McCanns, so I can empathise with them,' he told me, seemingly unable to understand that no one - not even a man perhaps wrongly accused of child abduction - could begin to understand their torment.
"Whenever there's a sighting of a little girl, my hopes rise. And when it's not Madeleine, they sink, just like the McCanns'. Why? Because if they find Madeleine my name will be cleared."
Later, when protesting his innocence, Murat made another wholly inappropriate remark.
"It might sound harsh, but if anyone has broken the law, then the McCanns have," he said, frowning behind the thick-lensed glasses he has worn since a motorcycle accident cost him the sight of an eye.
"Portuguese law says that you can't leave young children unattended. They say they were eating in the complex (the Ocean Club, where the family were holidaying). But actually the apartment is outside, across an alley. So, I'm sorry, but they broke the law.
"I would never leave my daughter (Sofia, who lives with his estranged wife, in Norfolk). I won't let her out of my sight because she gets up at night and walks off.
"That said, I wouldn't criticise them because children are different, and only they know how their kids behave."
Listening to Murat talk in this manner, one wonders whether even the PR guru Max Clifford - who has offered his services to him, if and when he is cleared - can salvage his reputation.
But whatever we make of Murat, one thing is plain: he inhabits such a different world from the McCanns - caring parents, brilliant medical professionals, devout Roman Catholics.
Ultimately, however, only one thing matters: is Robert Murat telling the truth?
Even to start addressing that question, we need to return to the night, one month ago, when Madeleine disappeared from her bed in apartment 5A of the Ocean Club, in Praia da Luz, some time between 9.10pm and 10pm, as her parents ate supper in a tapas restaurant roughly 40 yards away.
The most plausible theory holds that she was snatched by someone who had studied Gerry and Kate's movements, possibly for days, and knew their evening routine.
Madeleine and their two-year-old twins, Sean and Amelia, were left alone in the apartment, but were checked approximately every 30 minutes. And this provides the first inconsistency in the case against Murat. He says he returned to Portugal, after a lengthy spell in Britain, at 9.40am, on Tuesday, May 1, two days before Madeleine's disappearance.
"So I am supposed to have planned the kidnapping of a little girl inside 50 hours," he told me, shaking his head.
"In that time, I supposedly identified the apartment where she was sleeping and spied on her, and worked out the times her parents went to dinner each night, then took her away. It's ludicrous.
"If you want my opinion, it had to involve someone on the inside, who works at the Ocean Club.
"How else would the abductor know when it was safe to take Madeleine? Have the police started looking at the people who work there? If not, they should."
The answer to Murat's question is 'Yes'. The police have checked out the Ocean Club staff - after a fashion. In the early days, all who worked there were interviewed. Yet, typically in an investigation botched and lax almost beyond belief, the questions were hardly probing.
By contrast, Murat was grilled for 19 hours, during which time he claims to have been offered only water. Fearing being jailed for speaking out, he declines to describe his experience, but says "it wasn't very pleasant".
"I was moved from room to room and interviewed by different people. You wouldn't believe the sort of things they asked me."
Meanwhile, detectives combed his mother's villa inch by inch and took away her green Volkswagen camper van.
They also confiscated five computers: three belonging to Murat, and two owned by a former business partner.
The hard drives are still being examined, but when I ask him about the allegation, reported by the Portuguese Press, that pornography of the most depraved kind has been found on one of the computers, he snapped: "It's scandalous. It's just made up. Pure fantasy."
So what is the firm evidence against him? Does his background perhaps offer some insight into the cold-hearted man some suspect him to be?
Born Robert James Queriol Eveleigh Murat, on November 20, 1973, he hails from an old family of port wine exporters. His late father John's ancestors settled in Portugal in the early 1700s, a history he plays up proudly.
His appearance is uncomfortably close to the description of Madeleine's likely abductor, which was provided by one of the McCanns' holiday companions who witnessed a man carrying a child away from the resort - a key piece of evidence belatedly released by the police this week.
Aged 33, Murat is about 5ft 8in, clean-shaven, stockily built and has short brown hair. He has a classless accent and behaves in the slightly superior, old-fashioned manner of an Englishman raised and educated abroad.
His early years were spent on the western tip of the Algarve, before it became an overdeveloped magnet for British expats-After leaving school, he sought work in the UK, drifting between menial jobs, including spells in a Norfolk garage and the Bernard Matthews turkey plant.
At 19, he began a relationship with a married woman eight years his senior, Dawn Chapman. She already had a son, aged six, but divorced and married Murat at Gretna Green, in March 2001. Their daughter, Sofia, was born 18 months later.
Murat's ambitions always extended beyond turkey-processing, but he never progressed in Britain. Finally, two years ago, he returned to Praia da Luz to forge a career in property sales.
With Dawn and Sofia, he moved into his mother's spacious £350,000 villa, Casa Liliana, barely visible behind a tall stand of pine trees amid unprepossessing breeze-block holiday apartments.
Murat's grand scheme foundered after barely three months. In September 2005, after a series of rows about his long working hours, his wife and daughter flew back to Britain.
He has since formed a relationship with a thirty-something German property saleswoman, Michaela Walczuch, who lives with her husband in nearby Lagos.
They have been described as lovers, but Murat denies this. "She's my partner, and we are very, very, very close - but she's not my girlfriend because she can't be. She's a Jehovah's Witness and she's still married. I'm not a Witness, but I attend study classes."
In recent months, Murat says, he has been striving to set up an on-line property sales business. His website was being designed by Sergey Malinka, 22, one of many Russians eking out a living on the Algarve.
However, Murat spent the spring in Sidmouth, Devon, renovating a house bequeathed to his mother, Jennifer, 71. He says it was she who collected him from Faro airport on May 1, a story she confirmed to me.
If we believe him, Murat spent the two days before the abduction in meetings about his website.
On Thursday, May 3, he returned home at about 8pm and ate supper with his mother. He thinks they had cheese and ham sandwiches. "I'm not much of a one for eating in the evening."
He claims to have passed the evening chatting with his mother and, again, she supports his alibi.
"It's an absolute nightmare," Mrs Murat told me. She is weatherbeaten and wears her long grey hair in a bun.
"I've lived in this area for 40 years. Now I can't walk into the supermarket. It's the biggest character assassination ever. Robert's older sister, Samantha, says he's the cleanest person she's ever known."
By Murat's account, he first learned about Madeleine's disappearance around 7.30am the following morning, when Samantha phoned from Devon after watching the news on TV.
Feeling the need to help, he quickly headed to the Ocean Club, mingling with the throng of police officers, family members and search volunteers.
As he is bilingual, he offered to interpret, and was later requested by the police to sign an oath of secrecy. "That's a matter of public record.'
At some stage, he recalls, he spoke to Gerry McCann, but he can't remember what passed between them. I ask him if he would like to meet the McCanns now? "I don't think that would serve any purpose for either of us," he replies, deadpan.
According to one witness, Murat went in and out of the McCanns' apartment. It has been suggested that he did this quite deliberately, so that he would have an explanation if and when his DNA was found inside.
However, he told me adamantly that he has never been inside apartment 5A, and knows its layout only because he searched a similar flat in the same block.
All this sounded plausible enough. His manner was less assured when I asked about the late-night mobile phone call to Sergey Malinka on the night of Madeleine's disappearance - a call he initially denied making, leaving some to suggest that the two men were in league. "I've checked my phone records and I admit they do show I made a call at 11.40pm," he says, lighting another cigarette.
"It lasted 30 seconds, so we must have talked, but I honestly can't remember what about. He was setting up my website, so it was probably that.
"It might seem very late to call someone, but that's how we live here. Afterwards, I phoned my sister. I rarely go to bed before midnight or 1am."
Ironically, Murat believes his mobile phone offers the best hope of proving his innocence.
He claims it is always switched on and in his possession.
British experts are said to have been coopted to pinpoint its precise whereabouts between 9.10pm and 10pm on May 3, using data about its position in relation to nearby phone masts, which can provide a mobile's location accurate to a radius of a few yards.
But this would be significant only if Murat could prove the phone was with him during that crucial window of time. Until these tests are complete, he is left in limbo.
"Basically, I'm just an ordinary, straightforward guy who's the victim of the biggest f***-up on this planet - if you'll excuse the language," he said.
Murat's gay American designer friend, Tuck Price, 43, who flitted in and out of the room during our interview, hardly helps his cause.
"When this is all over, I hope he makes a buck or two out of it," Price said shamelessly. "He bloody deserves it."
If Murat does, indeed, "make a buck", we may come to regard him in the same vein as Colin Stagg, who was wrongly accused of the Rachel Nickell murder on Wimbledon Common, for little reason other than that he was a local oddball who seemed to fit the frame. He is about to receive a huge police compensation pay-out.
Or will he turn out to be another Ian Huntley?
For Gerry and Kate McCann's sake, we can only hope that we find out unequivocally, one way or the other - and soon.
Murat and Malinka did talk after Madeleine's disappearance, 03 June 2007
Exclusive The Search for Madeleine Day 31
By Lori campbell in Praia da Luz and Olga Krepysheva in Russia 3/06/2007
THE two men at the centre of the investigation into Madeleine McCann's abduction both misled police, the Sunday Mirror can reveal.
Chief suspect Robert Murat and Russian IT expert Sergey Malinka DID talk by phone the night she disappeared.
Previously they had insisted they were not close friends, just occasional business associates. But yesterday Murat, 33, confirmed an 11.40pm phone call on the critical night of May 3.
"It lasted 30 seconds, so we must have talked, but I honestly can't remember what about. He was setting up my website, so it was probably that," he said.
Malinka, 22, has also changed his story, according to his family.
His grandmother Lilia said he and Murat were good friends and did talk on the phone that night.
Speaking from her home in Saratov in southern Russia, she said: "Sergey was always good with computers, it was his great hobby, and in Portugal he opened a tiny company doing something with computing. For some time he dealt with Murat, this British man who was selling property, the one who is the main suspect now.
"It was a year ago when Sergey stopped working with him, but they exchanged phone calls from time to time because they had a good relationship. This Englishman called Sergey on his mobile exactly after the little girl was kidnapped. I heard it was about 11.30pm that day."
Retired teacher Lilia, 71, said Malinka made the confession about the call to his dad Igor.
She said: "It was Igor who told me all this and later Sergey even forgot somebody called him at that hour and what it was about.
"But then the police came and took away his car and his computers. The car is back now but not his computer hard drive yet." Murat and Malinka both strenuously deny they had anything to do with Madeleine's disappearance.
But parents Gerry and Kate McCann, both 38, were "distraught" yesterday after Murat was reported to have accused them of breaking the law when they left their young daughter unattended.
He was quoted in a newspaper as saying: "It may sound harsh, but if anyone has broken the law, then the McCanns have.
"Portuguese law says that you cannot leave young children unattended. They say they were eating in the complex but the apartment was outside across an alley so, I'm sorry, but they broke the law. I would never leave my daughter, I would not let her out of my sight because she gets up and tends to walk off.
"That said, I would not criticise them because children are different and only they know how their kids behave."
However Murat's spokesman disputed the words attributed to him in the article calling them "absolutely untrue".
"The family has been through enough and Mr Murat is disgusted with the way this has been reported," he said.
Yesterday, after weeks of solid campaigning, the McCanns stepped out of the media spotlight to spend time with their two-year-old twins Sean and Amelie at the beach.