Death mystery of Nelson man after Maddie hunt
THIS IS LANCASHIRE -07-10-10
Quote from Stevo
In May 2007, a former British paratrooper, Colin Sahlke, went to Praia da Luz to search for Madeleine McCann. He sold his possessions and gave up his job and his rented home to finance the search.
Under strange circumstances almost 3 years later, Sahlke suddenly died in bed on April 19, 2010. His death is a mystery and the traces of what caused his death are gone forever—Sahlke was cremated in Skipton on April 29, 2010. At the time of writing in early June 2010, the family still do not know the cause of death.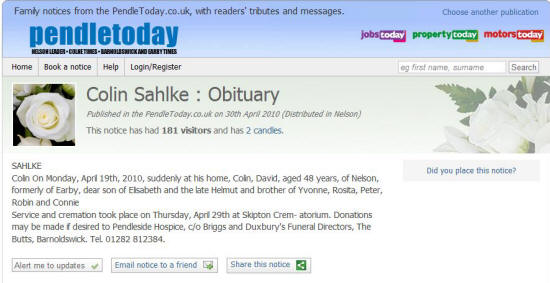 Colin Sahlke : Obituary
SAHLKE
Colin On Monday, April 19th, 2010, suddenly at his home, Colin, David, aged 48 years, of Nelson, formerly of Earby, dear son of Elisabeth and the late Helmut and brother of Yvonne, Rosita, Peter, Robin and Connie
Service and cremation took place on Thursday, April 29th at Skipton Crem- atorium. Donations may be made if desired to Pendleside Hospice, c/o Briggs and Duxbury's Funeral Directors, The Butts, Barnoldswick. Tel. 01282 812384.
Stephen Taylor and Colin Sahlke Search 1
TELEGRAPH ARGUS 25-05-07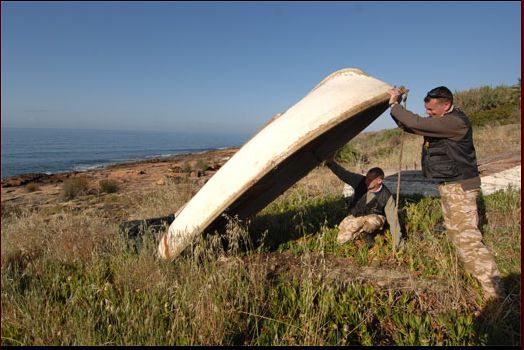 Stephen Taylor and Colin Sahlke 4
CRAVEN HERALD -25-05-07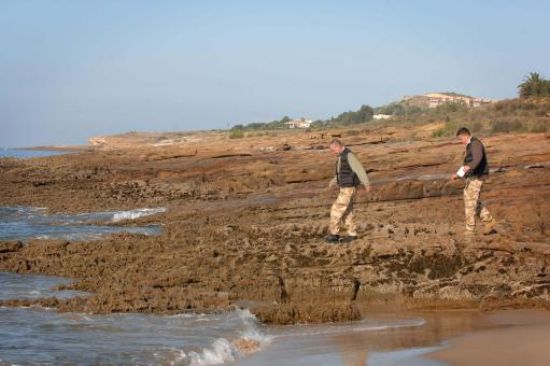 Stephen Taylor and Colin Sahlke
CRAVEN HERALD -25-05-07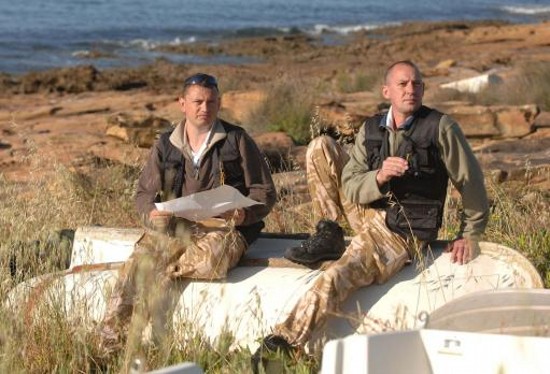 Stephen Taylor and Colin Sahlke 1
TELEGRAPH ARGUS 25-05-07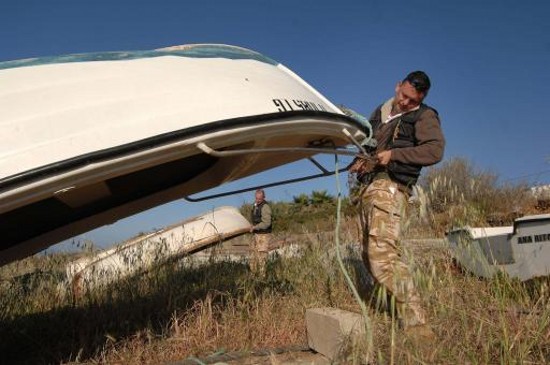 Stephen Taylor and Colin Sahlke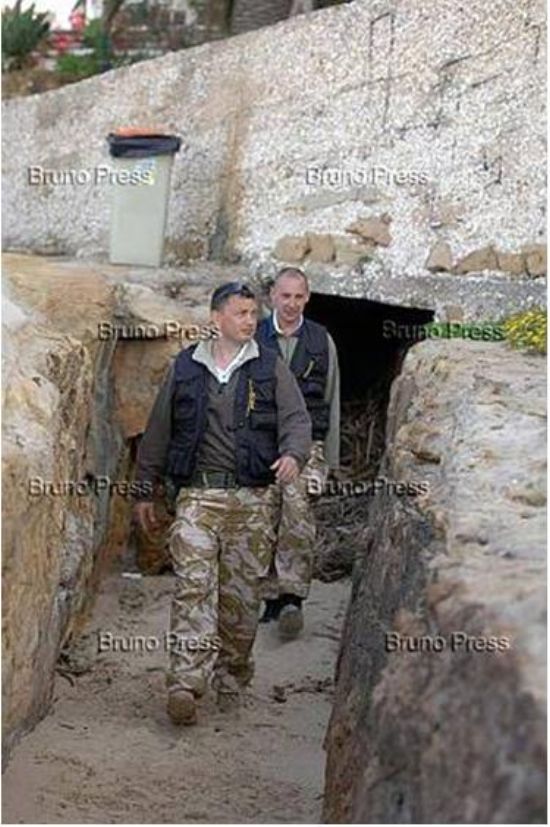 Stephen Taylor and Colin Sahlke 2
CRAVEN HERALD -25-05-07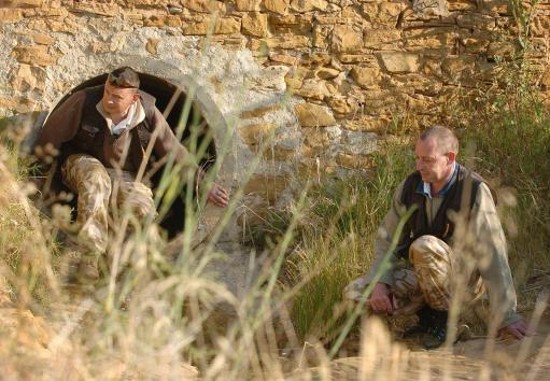 Stephen Taylor and Colin Sahlke 3
TELEGRAPH ARGUS 25-05-07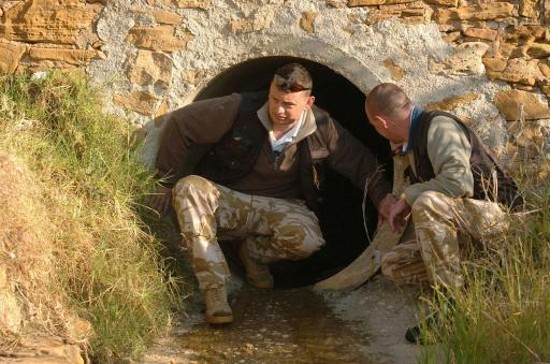 Stephen Taylor and Colin Sahlke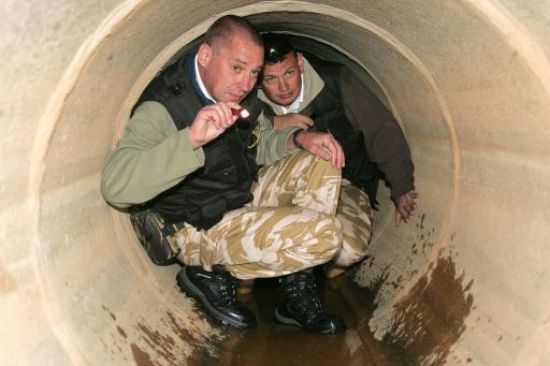 historyholmes
Thank you Kate. You have not seen fit to credit those who you know did search for Madeleine from the hotels that you were not in. I know they all turned out and you know it too. The ordinary folk did turn out, as did the late Colin Salhke who died last year. A man who sold up and went to search under every overturned boat and ditch. He and Steve Taylor did a physical search.

And I did too as you well know. That time was given in good faith by all of us for no reward. You know that a thank you is in order not least to the memory of Colin as he cannot search using his own funds for your daughter anymore as he is dead. I am still alive, very much so and searching for your daughter at my expense. I would thank anyone who did this for me or my family.

You well know that the searching was done by ordinary persons as soon as you shouted, the staff and locals stayed up through the night in a certain hotel. I stayed in that hotel. So I know first hand. Thank you for chucking this back in my face. I should have spent the money searching for your daughter on my own grandchildren but I considered my vocation and skills and went. I went to use energy in a search that is find where a child could hide or be hidden. I am sorry your book dismisses the acts of others. I really feel sick now I really do. I feel used, and I feel sad. But most of all there is this feeling of worthlessness to those who did search. Right that wrong now. I pray on my rosary you will,
Monday at 8:55 AM
3 replies to historyholmes's comment
cazthebiz
Historyholmes, don't feel bitter. You and Colin and Steve and countless others did what you thought was right, out of compassion and love. And you did it at the right time. If Maddie was to be found, she would have been found then, thanks to all those volunteers. The truth will come out. A work of fiction will not change anything, except to make others feel used.
Monday at 9:07 AM
markbennettd
People often forget those who helped and by the sounds of it a few of you gave not just money but you valuble time. The best thing you can do now is not keep throwing your money at this or your time because the world is a vast place and non of us has the money to search it all. Just pray to your god and hope. The truth will come out and I hope no others get hurt by its outcome.
Monday at 9:33 AM
abondbon
you are not worthless you are a very kind person who donated time and money to a cause you felt compelled to, and the world would be a much better place if it was filled with people like you and not those who are selfish and selfcentered. your children and grandchildren have a wonderful role model in you
Monday at 10:42 AM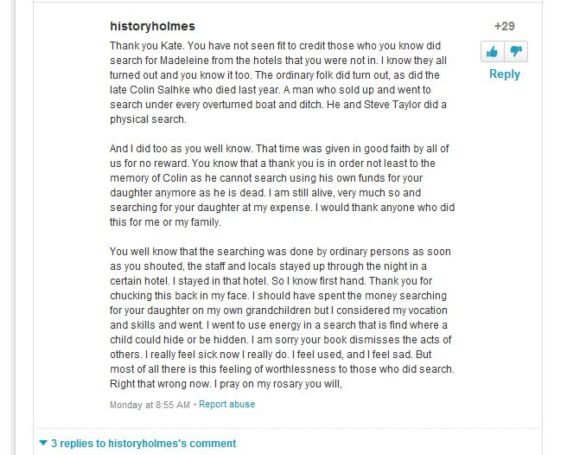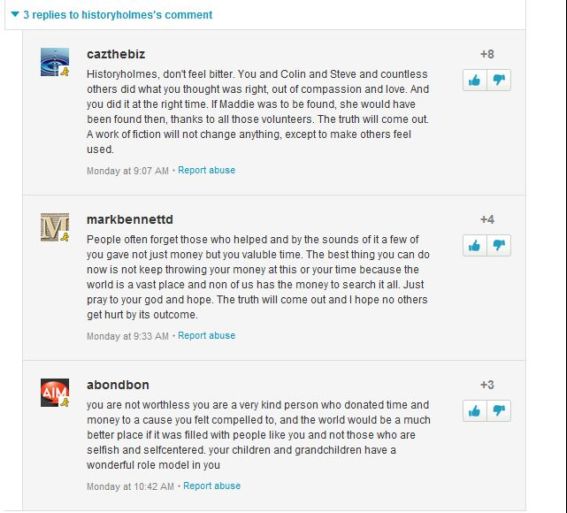 NEWS REPORTS
PENDAL TODAY-10-10-10Tragic death of ex-para who joined in hunt for Madeleine McCann
THIS IS LANCASHIRE-07-10-10
Death mystery of Nelson man after Maddie hunt
GUARDIAN-25-05-10
Madeleine police: 'We have a suspect'
CRAVEN HERALD
-25-05-07
Former paratrooper's search for Madeleine
T
ELEGRAPH ARGUS 25-05-07
Former paratrooper's search for Madeleine
GUARDIAN 29-05-07
Madeleine's parents invited to Vatican for private meeting with Pope