The father of Madeleine McCann has called for an example to be made of "vile" internet trolls who have been targeting the family.
Gerry McCann said he had "grave concerns" about letting his nine-year-old twins use the internet after threats of violence and kidnapping.
The comments, in an interview with the BBC Radio 4 Today programme, came after it emerged that police are looking at a dossier of abuse posted on Twitter, Facebook and chat forums.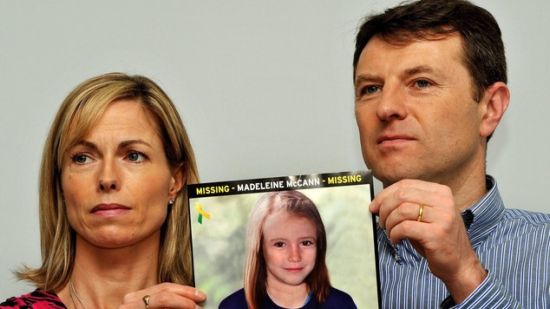 Kate and Gerry McCann have suffered abuse from internet trolls over the disappearance of their daughter, Madeleine
Mr McCann, whose daughter Madeleine went missing in Praia da Luz in 2007, said he and wife Kate did not read such material because it was too "upsetting".
He also blamed the press for inciting trolls - renewing his calls for the new industry-backed regulator Ipso to be scrapped and replaced by an official body established by Royal Charter.
"I think some of the internet trolling is fuelled partly by the newspaper reporting. If it was more responsible I think we would have less of the former," Mr McCann said.
"Clearly something needs to be done about the abuse on the internet. I'm glad to say that there have been a number of people who have either been taken action by the police.
"I think we probably need more people charged."
Asked about one female alleged troll who uses the Twitter nickname @sweepyface and was confronted by Sky News, Mr McCann said: "I haven't read her tweets ... I think that is an issue, that our behaviour is modified by this.
"We do not have any significant presence on social media or online.
"And I've got grave concerns about our children as they grow up and start to access the internet in an unsupervised capacity.
"There have been other instances where people are threatening to kidnap our children. People are threatening violence against Kate and myself.
"Of course it's not just us - it is many other people who happen to fund themselves in rather tragic circumstances.
"I'm glad to see the law around this area is being reviewed. But I do think we need to make examples of people who are causing damage."
Mr McCann also condemned the Sunday Times for making the couple fight a libel battle over a story alleging that they had deliberately hindered the search for Madeleine.
The newspaper has reportedly now apologised and paid out £55,000 in damages - which the family are giving to charity.
Mr McCann insisted they should not have been forced to go through an 11-month battle, saying the case showed there was "no sign of any post-Leveson improvement" in press culture.
He said the family would probably not have been able to bring the challenge if lawyers had not been willing to act on a no-win, no-fee basis.