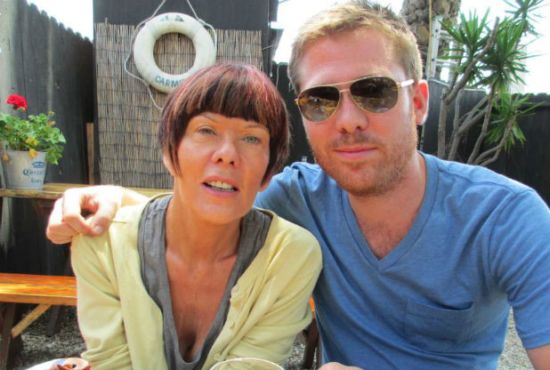 Brenda Leyland and her son Ben Leyland
The death of 'Twitter troll' Brenda Leyland has caused a huge reaction from members of the public and sparked a passionate debate about social media and the press.
The 63-year-old, from Burton Overy, who was accused of being one of dozens of people who sent abusive messages to the parents of Madeleine McCann, Kate and Gerry, was found dead at the Marriott Hotel, in Smith Way, Enderby, on Saturday.
Following the news, hundreds of people have taken to social media to make comments about her death, the abusive messages to the McCanns and the way the media has handled the situation.
Ms Leyland's son, Ben Leyland, who lives in LA, was one of the first to post a message and expressed his grief through Facebook, saying: "I love you mum and miss you forever".
His friends and family offered messages of condolence via social media, and hundreds more have taken to the Internet to express their views on the news.
Keith Osbourne was one of those paying his respects to the Leicestershire mother.
He posted: "Such sad news RIP BRENDA u dint deserve death. Wunt be same not seing u in Leicester."
John Cawley also expressed his sorrow at the news.
"Sad," he wrote. "We have to admit that social media is a drug just like real drugs and alcohol.
"Don't judge this lady, judge the world we live in. God bless her. RIP."
Tanveer N Anisha Mohinudeen wrote: "Omg so sad to hear. Going back to college days n remembering Brenda she wasn't like that but I guess pple chnge but still sad tho."
Other people have not been as sympathetic, and have continued to condemn the way she had allegedly attacked the McCanns.
Daniella Ella wrote: "No disrespect to her family but she was giving out something she couldn't take!
"Bullying should not be tolerated in any form and should always be exposed!!"
Lucy Willgress posted: "I'm sorry, but anyone who attacks other people online behind a facade (without knowing the full story) is not a nice person.
She added: "I'm sorry for this woman's family but she did what she did...obviously couldn't face the music for her own actions."
Responding to the post, Sheetal N Krupesh wrote: "She couldn't face the music? Are u serious?
"Yes she may have said a few things that maybe were taken out of term!!
"But she did not deserve to be hunted down, stalked or harassed to the point she had to take her life!"
Many have also blamed the press for the death of Brenda Leyland.
Sky News reporter Martin Brunt, who filmed her outside her home and questioned her about the hateful messages, has been receiving abuse from people on Twitter.
Sarah Thomas (@ArsenalSarah) tweeted: "Abhorrent hounding of a Woman who's mental strength was obviously unimportant to you.
"Shame on @Skynews @skymartinbrunt RIP #BrendaLeyland."
Others have also expressed concerns about how the media has gone about the story.
Commenting on the story on Facebook, Abdul Khaled wrote: "These newspapers are selfish and have no regards to people's welfare all they are interested in is chatting and spreading rubbish."
Erica Justice Williams wrote: "Rupert Murdoch's henchman should hang their heads in shame!"
Who was Brenda Leyland?
Brenda Leyland, 63, had lived in Burton Overy, in Leicestershire, for around 15 years, since 1999.
She was a church-going mother, with two sons, Ben, 30, who now lives in Los Angeles and his younger brother Dan, who is believed to still live in Leicestershire.
It is believed she was divorced but still uses her married name of Leyland.
It has been reported that Ms Leyland was educated at a convent school and studied at Goldsmiths, University of London.