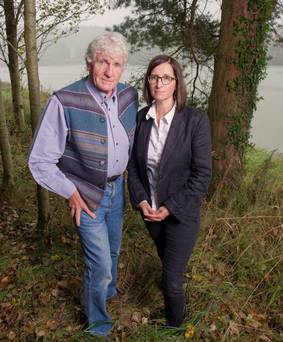 Target: Anthony Summers and Robbyn Swan, who wrote a book about Madeleine McCann and the missing girl's parents, Kate and Gerry. Michael MacSweeney/Provision
A vicious internet campaign has been unleashed against the Irish-based authors of a book which exonerates Gerry and Kate McCann of any involvement in the disappearance of their daughter, Madeleine, in Portugal seven years ago.
Anthony Summers and his wife, Robbyn Swan, have been subjected to a campaign of abuse, mostly via Facebook and Twitter, because their investigative book, Looking for Madeleine, vindicates the missing girl's parents.
The Waterford-based authors, who between them have written eight award-winning biographies and investigative books, now believe something has to be done to tackle the "feeding frenzy" on the internet which targets individuals. Kate and Gerry McCann also suffered abuse in the months and years after their daughter went missing.
Madeleine vanished from her parents' apartment in the Algarve resort of Praia da Luz just nine days before her fourth birthday on May 3, 2007.
The couple were having dinner with friends just a few metres from where their three children, including ­Madeleine, were sleeping, when the youngster vanished.
The monitoring system the couple set up didn't work properly that evening, and, because they weren't physically in Apartment 5A, they have become the targets of a witch-hunt by internet 'trolls' who blame them for what happened.
Despite one of the biggest manhunts in European police history, no trace of Madeleine has ever been found.
The McCanns launched an appeal to find their missing daughter and continue to campaign for information on Madeleine's disappearance.
The UK is currently funding a Scotland Yard probe into the youngster's disappearance that could cost more than €14m.
Anthony and Robbyn, who are based in west Waterford but don't want their precise location given for personal security reasons, said they were completely taken aback by the savage nature of the internet abuse they were subjected to. The book, an analysis of the events of May 3, 2007, revealed that there was no evidence as to what happened to Madeleine and no forensic indication that the little girl had suffered harm.
Their research also showed just how many convicted paedophiles were in the Algarve at the time and how a number of UK children had been the subject of attempted attacks.
Three of those paedophiles have died in the years since - one of whom took his own life after the death of a five-year-old girl in Switzerland just three months after Madeleine's disappearance.
A dossier on the abuse against the McCanns - similar in nature to the abuse directed against the authors - has now been submitted to the Metropolitan Police by a group of concerned internet 'watchers'.
"As part of our research into the hate campaign, one of the people we interviewed was part of the group that recently passed a dossier and a letter of concern to the Metropolitan Police Commissioner," Robbyn explained.
"The internet attacks on the McCanns were so vicious and hateful they feared they could spill over into actual physical (attacks).
"As far as these internet trolls are concerned, we were informed about a week before our book came out that we should be very careful and very alert to the possibility that our book would become a target for these people.
"Sure enough, days before the book was published, it was being reviewed despite the fact people couldn't have seen the book."
Robbyn said the worrying aspect is that at least some of the online abuse and vilification appears to be organised.
"It is a combination of what cultural anthropologists call 'mobbing' where a group of people anonymously gang up on someone and it's then a feeding frenzy. They find a target and everyone moves in on that target."
The authors stressed that what the McCanns have been put through is nothing short of appalling given the ongoing rumours and innuendo.
"The truth is that there isn't any such evidence (as claimed online)," Anthony explained.
"This is an embattled couple who have vulnerable children."
When Looking for Madeleine was published, the authors were accused of being "mercenaries" and "agents for the McCanns".
"My daughter burst into tears over some of the things she read online. She was worried that her friends might read and believe the things that had been written about me," Robbyn said.
The priority for the authors now is that the Portuguese police continue to co-operate with the Scotland Yard inquiry and that no effort be spared to uncover the truth of what happened.
Anthony said the reality, as of now, is that no-one knows precisely what happened to Madeleine or if she is dead or alive, but he pointed out that a US study into the abduction of children aged under five years found that 56pc eventually turned up alive as older teens or even adults.
"No one has the right to remove from parents any hope that they might have," he said.
Anthony Summers was born in the UK but brought up in Ireland and has been living in Waterford since 1976.
Robbyn, a native of Connecticut in the US, has been living in Waterford since 1991.