DEATH threats were allegedly sent to the woman found dead in a hotel just after she was publicly accused of trolling Kate and Gerry McCann over their missing child Madeleine.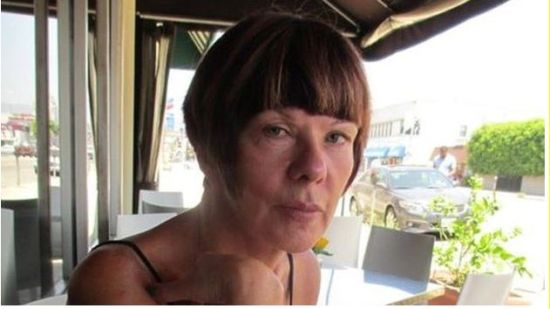 Ms Leyland was confronted by Sky News over McCann twitter abuse [REX]
In tragic irony, the hate messages directed at lonely divorcee Brenda ­Leyland were tweeted by someone who aggressively defended the McCanns on the internet.
The Sunday Express has passed on the five disgraceful messages to Leicestershire Police who are preparing a report for the coroner over the unexplained death of mother-of-two Ms Leyland, 63.
They were sent on Friday, October 3, from someone calling themselves Rainne and addressed directly to Ms Leyland's Twitter account, @sweepyface.
The following day her body was found at the Marriott Hotel in Leicester where she had fled to after being identified as the sender of tweets expressing her views on the Madeleine mystery.
Today we can disclose some of the appalling comments sent to her. The first states: "Hoping you get beaten so bad you beg for mercy, only to have gasoline thrown on you and set ablaze."
The next adds: "You have reached the end of your torturing campaign against the McCann family, understand."
The third message is a direct threat against her life with the sadistic author stating: "Death is waiting and watching for u @sweepyface..Do you feel it????"
The next attack was so disgusting it is unsuitable for publication.
The last message states: "Sweepyface, we're coming for you. Do you feel us?? The decent kind folk who pray for this family and their sad loss.You go to hell *****."
Police are trying to establish the details of the sick pro-McCann troll, who may face prosecution, and discover whether Ms Leyland read the messages and if she discussed them with any family or friends prior to her death. A spokesman for Leicestershire Police said: "We are investigating the circumstances around the death. If any offences are disclosed, we will investigate appropriately."
There is no suggestion that Kate and Gerry McCann or any members of their wider family know Ms Leyland's troll.
Ms Leyland was confronted about her Twitter comments about the McCanns by Sky News, which revealed that Scotland Yard detectives on the Operation Grange squad were examining a so-called dossier of anti-McCann trolls.
She was not named in the report and crime reporter Martin Brunt did not say she lived at Burton Overy, a village just 15 miles from the McCanns' home in Rothley, Leicestershire. However, her identity quickly became known.
After the report Gerry McCann told BBC Radio 4's Today programme: "Clearly something needs to be done about the abuse on the internet. I think we probably need more people to be charged. We do not have any significant presence on social media or online and I've got grave concerns about our children as they grow up and start to access the internet.
"I'm glad to see the law around this area has been reviewed. We need to make examples of people who are causing damage."
A friend of Ms Leyland said she "couldn't live with herself" after being outed and feared going to jail.
"I'll really miss her, yes she was eccentric and opinionated but she was flamboyant and fun too"
A neighbour
The neighbour, who had been due to accompany university-educated churchgoer Ms Leyland to a harvest festival the day after her death, said: "We never dreamed she was trolling the McCanns. That was very wrong.
"Brenda was a proud, very bright, articulate and upstanding lady and the thought of a prosecution and a prison sentence hanging over her would have devastated her. Sadly she couldn't live with herself.
"I'll really miss her, yes she was eccentric and opinionated but she was flamboyant and fun too."
Today we can reveal fresh momentum in the investigation to find out what ­happened to Madeleine, who vanished from a holiday home in Praia da Luz in Portugal in May 2007.
Scotland Yard detectives are due to fly to Portugal tomorrow for a meeting with Portuguese officers and possibly Ines Sequiera, the new prosecutor for the case, who is reported to be "utterly determined" to crack it.
They want their Portuguese counterparts to interview three of seven suspects for a second time and search their homes.
McCann family spokesman Clarence Mitchell, responding to alleged online death threats against Brenda Leyland, said yesterday: "We will not be commenting. It is a matter for the coroner."
A source close to Kate and Gerry said: "Abuse online seems to go in either direction but it has nothing to do with Kate and Gerry. They do not encourage or condone anything online. People seem to say anything they want."