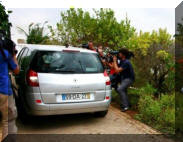 Renault Scenic hire car
59-DA-27
MADDIE: CORPSE WAS HIDDEN IN CAR
17th October 2007
By Jerry Lawton
Madeleine McCann's parents were last night rocked by claims detectives have proof a dead body was in their hire car.
Portuguese police sources ay forensic results show "bodily fluids" in the boot of the Renault Scenic came from a corpse.
They claim it was found on the underside of the carpet above the spare tyre well and officers believe the find indicates a body had been deliberately hidden there.
They previously claimed the fluid had an 88% match to Madeleine's DNA. Detectives were last night awaiting the results of further tests to confirm who it belongs to.
The bombshell came as Kate and Gerry McCann admitted for the first time their daughter was "probably dead".
Police have also began searching a remote reservoir for the youngster's body. A tema of detectives visited Barragem da Bravura, a wildlife haven 10 miles from the Praia da Luz holiday apartment where Madeleine vanished.
Detectives have also seized a computer used by Gerry, 39, in the days after Madeleine disappeared.
They plan to apply to the judge handling the case for permission to open the heart surgeon's emails.
Detectives are also demanding that Kate, 39, hands over her diary.
Last night police sources admitted the investigation was still heavily focused on the McCanns, who have been named suspects.
Police believe Kate accidentally killed Madeleine after giving her sedatives. They claim the pair then disposed of the body.
A Portuguese police source said fluids found in the boot could not have been transferred from Madeleine's clothes because they were under the carpet.
He said: "police are being told the fluids came from a dead body. These are bodily fluids that could only come from a corpse.
"Police are waiting for the results to confirm the identity of the DNA."
Last night a source close to the McCanns' legal team insisted the couple were "entirely innocent".
And their spokesman Clarence Mitchell said the couple still desperately hoped Madeleine would be found alive but realised it was unlikely.
He said: "Kate and Gerry are realistic enough to know that there is a probability she is dead."