Police investigating the disappearance of Madeleine McCann have been given permission to seize her mother's diary, it was reported today.
A judge has ruled that officers should be given access to Kate McCann's journals and other personal items, according to a Portuguese newspaper.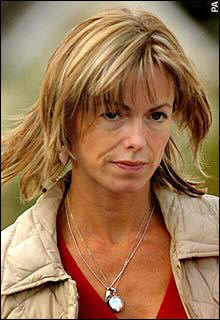 Kate McCann denies any wrongdoing

Gerry McCann's computer can also be examined by officers providing he is present, the Correio da Manha newspaper claims.

The decision was reportedly made by Judge Pedro Daniel Dos Anjos Frias. There has been no official confirmation.

The McCanns' spokesman said: "We do not comment on any further unsubstantiated reports in the Portuguese press."

Portuguese police had applied for access to Mrs McCann's diary in the hope of uncovering more about her mental state in the weeks after her daughter disappeared.
She remains a formal suspect in the inquiry, although she vehemently denies any wrongdoing.
Mrs McCann kept a diary throughout her time in Portugal, writing in it as the couple travelled round Europe on private jets and commercial aircraft.
Police also applied for access to Mr McCann's white Apple Mac - the computer he used in Portugal to write his blog during the campaign to find his daughter - to read his email correspondence.
Earlier today, Mr McCann contradicted the family's official spokesman and said that he does not accept the fact that his daughter is probably dead.
Writing in his online blog, Gerry McCann said: "Contrary to some other reports Kate and I do NOT accept that Madeleine is 'probably' dead".
"We know it is a possibility, however the fact there is no evidence Madeleine has been seriously harmed gives us ongoing hope that she will be found alive."
Previously, the couple's spokesman said that the balance of their feelings about what has happened to the four-year-old had tipped towards accepting the worst possible outcome, nearly six months after she vanished.
"Kate and Gerry are realistic enough to know that there is a probability she is dead," Clarence Mitchell said.
"They have not given up hope that she could still be alive and is being looked after somewhere.
"And they cling to that and have not given up, but human nature is that you always fear the worst and they need to know what has happened.
"This open-uncertainty cannot hang over them for the rest of their lives."