A schoolboy who created a Facebook page mocking the disappearance of Madeleine McCann has written a heartfelt apology to her parents.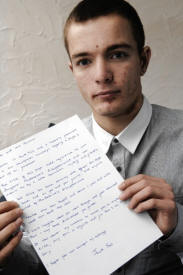 Jack's letter to the McCanns
"Dear Mr and Mrs McCann,
"My name is Jack Tims and I recently featured in a Sun newspaper campaign highlighting a page I set up on Facebook.

"The title of this page made reference to your daughter Madeleine's disappearance and was meant to be a joke between myself and friends.
"It has since hit home exactly what effect this page may have had on you and your family, and anyone affected by Madeleine's disappearance.
"I realise now how stupid and naive I was and wish I could turn back the clock. I can't imagine what you went through and felt ashamed that I may have distressed you further.
"It was never my intention to cause you or anybody else any pain or anguish and for that I am truly sorry.
"I hope you can accept my apology."
Jack Tims, 17, became a national hate figure after The Sun newspaper unmasked him as the "sick internet troll" behind a page titled 'If I get 1 million likes I'll Let Maddie Go'
But the part-time shop worker, from Herne Bay, says it was a "stupid and naive" prank which got out of hand.
Speaking exclusively to the Kentish Gazette, he says being exposed has made him realise the hurt he may have caused Kate and Gerry McCann – prompting him to pen the letter this week.
The couple are still searching for their daughter more than four years after she disappeared on holiday in Portugal.
Jack – who has received threats since The Sun published the story on Saturday – said: "The page was never meant to be malicious or directed at the McCanns.
"I was just chatting with a friend about jokes comedians like Frankie Boyle come out with and decided to create the page.
"I had no intention of hurting anyone.
"It was closed by Facebook after three days and I never thought any more of it until it was in The Sun. Then it really hit home how much I may have distressed people.
"I was just stupid and naive and didn't think through what I was doing. I just wish I could turn back the clock."
The Sun described him as "shameless" and a "coward".
But the teen – who is studying for his A-levels and has never been in trouble with the police – says he's not the person he was portrayed to be.
He said: "I read the story and thought that's not me. Yes, I was stupid, but I'm not a nasty person.
"If I had known the hurt it would cause I would never have done it.
"That's why I decided to write to the McCanns. I only hope they can forgive me."