The purpose of this site is for information and a record of Gerry McCann's Blog Archives. As most people will appreciate GM deleted all past blogs from the official website. Hopefully this Archive will be helpful to anyone who is interested in Justice for Madeleine Beth McCann. Many Thanks, Pamalam
Note: This site does not belong to the McCanns. It belongs to Pamalam. If you wish to contact the McCanns directly, please use the contact/email details campaign@findmadeleine.com
Amazon banned Criminal Profiler Pat Brown's book on the Madeleine McCann case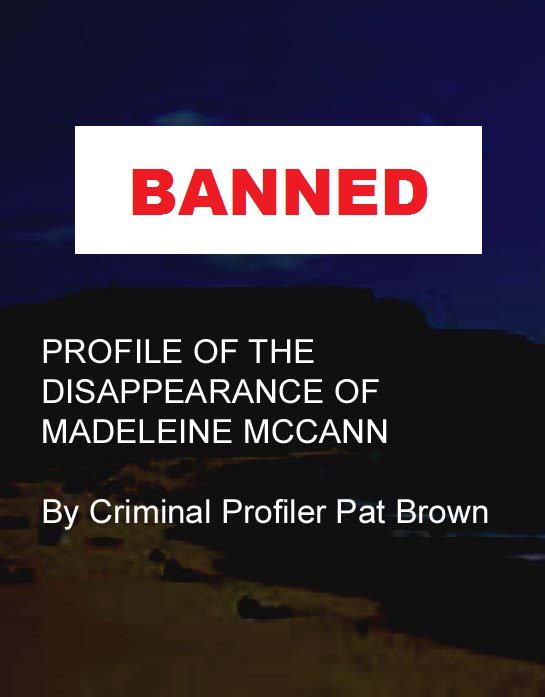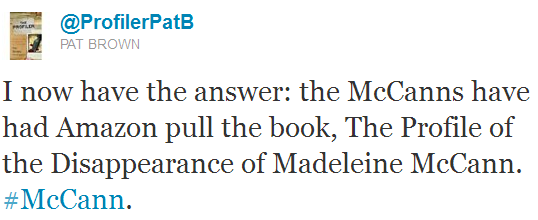 Anything else than the McCann's 'sanitized' version is to be silenced
After Gonçalo Amaral's book on the Madeleine McCann case was removed from being sold in Amazon, two years ago, due to the McCann's injunction - an injunction that was overruled by a Portuguese superior court last year, now the McCann's lawyers have successfully banned another book. According to the Criminal Profiler Pat Brown on twitter: "the McCanns have had Amazon pull the book, The Profile of the Disappearance of Madeleine McCann" due to "legal conflicts" with the "content and the title".

It's obvious the McCann couple will continue to use their powerful team of lawyers, in the UK and in Portugal, to stifle the Rights of Freedom of Speech and Expression in order to prevent anyone to have a different opinion on the Madeleine McCann case.
Update at 3:00 am GMT: Pat Brown has just confirmed on Levi Page radio show that she was Carter-Rucked by the McCann couple, quote from twitter "I have indeed been Carter-Rucked. Amazon has pulled my book because the McCanns claim it is defamatory."
You can now listen the to the interview excerpt here (video clip by Hideho):

Update 27 July, 1 am GMT: Pat Brown is going to set up a fund to search Madeleine McCann, on her twitter she stated: "I am setting up the Madeleine Search Fund. We will be looking in Praia da Luz, Huelva, and Rothley."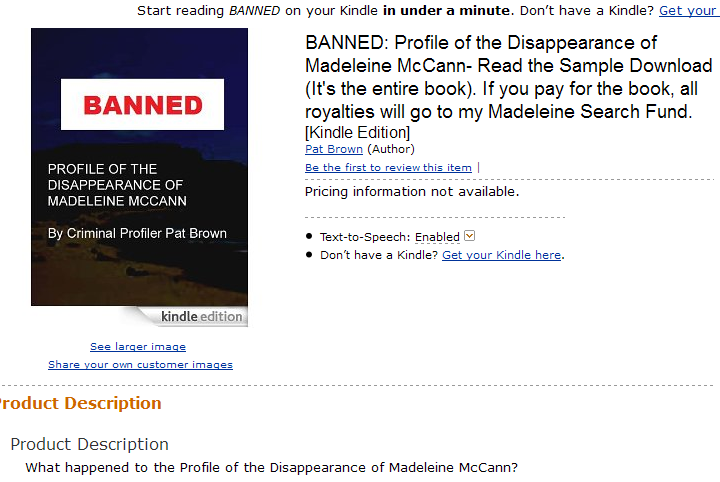 In Amazon UK, there's an advertisement of what will soon be a new kindle version of Pat Brown's book titled: "BANNED: Profile of the Disappearance of Madeleine McCann - Read the Sample Download (It's the entire book). If you pay for the book, all royalties will go to my Madeleine Search Fund."

Update at 13:00 pm GMT: via Pat Brown's twitter: "Top national US radio show booking me now to discuss the Carter-Rucking of my book, from Amazon!"
TO HELP KEEP THIS SITE ON LINE CONSIDER