The purpose of this site is for information and a record of Gerry McCann's Blog Archives. As most people will appreciate GM deleted all past blogs from the official website. Hopefully this Archive will be helpful to anyone who is interested in Justice for Madeleine Beth McCann. Many Thanks, Pamalam
Note: This site does not belong to the McCanns. It belongs to Pamalam. If you wish to contact the McCanns directly, please use the contact/email details campaign@findmadeleine.com
Maddie's parents sue Goucha, Sargento and Hernani Carvalho

Arguidos: Manuel Lu' Goucha, Paulo Sargento and Hernani Carvalho
Manuel Luis Goucha, Paulo Sargento and Hern'i Carvalho have been made arguidos yesterday, Wednesday, in a libel action started by Kate and Gerry McCann.
The criminal complaint, initiated by the couple's lawyer in Portugal, also affects the TVI administration. It was during a talk show broadcasted by TVI that the alleged crime has occurred.

The psychologist Paulo Sargento ' arguido since yesterday ' confirmed the information and stated 'that he did not speak yesterday but that he intends to do so during the proceedings because he has knowledge of elements which may lead to the reopening of the inquiry related to the disappearance of Madeleine McCann.'

An interesting detail is that the process is not under the law of secrecy of justice.
A source close to Maddie's parents has confirmed the complaint and added that 'other complaints may still occur'.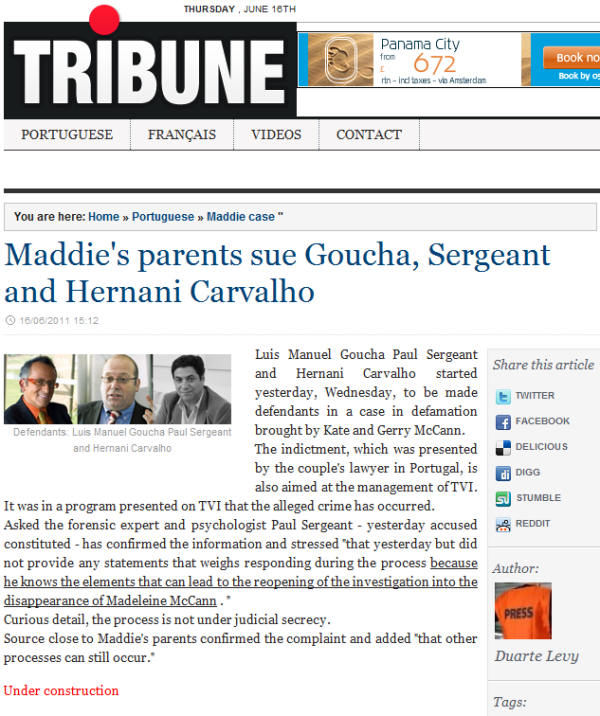 TO HELP KEEP THIS SITE ON LINE CONSIDER