translated by Ines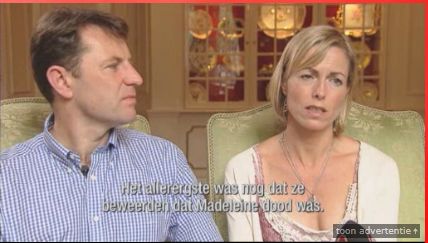 Exclusive: Interview with Madeleine McCann's Parents

[VIDEO in link above]

Maddie's Parents talk to Hart van Nederland

Kate McCann, the broken mother of little Madeleine, speaks exclusively to us about the disappearance of her daughter. Kate and her husband Gerry, after four years, have still no idea about where their daughter's whereabouts and they can not live with this.

The police still do not have any idea about Madeleine's whereabouts, and even Kate and Gerry were made suspects at a given moment. Right now, the case is still, and this is something that Kate cannot bear. She wrote the book ?Madeleine? about the drama, which is still continuing for her. In the early and late editions of Hart van Nederland you can hear her heartbreaking story.