Kate McCann has branded 'a disgrace' the Portuguese detective who led the hunt for her daughter.
In her first interview since being cleared of involvement in Madeleine's disappearance, Mrs McCann openly criticises Goncalo Amaral for his role in the inquiry and his decision to write a book about the search.
Mr Amaral, 48, was sacked from the investigation for briefing against Mrs McCann and husband Gerry.
Kate McCann has blasted Amaral, who has published a book about
Madeleine's disappearance
The couple were made suspects while he was in charge of the case and had previously declined to speak out against him publicly.

But the lifting of their arguido status has freed the McCanns to vent their anger and they have given an interview to Portuguese paper Expresso to be published tomorrow.

Asked what she thinks of Amaral and his book, a bestseller in Portugal, Mrs McCann says: 'It's a disgrace.'
The McCanns' animosity towards him has long been known in circles close to the couple.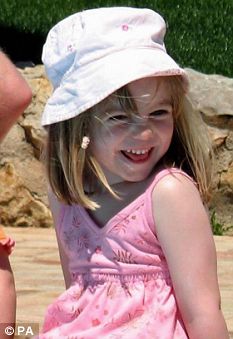 Still missing: Madeleine vanished while on holiday in the Algarve last May
Until now they have kept their counsel, not wishing to harm the police investigation into Madeleine's disappearance in May last year a few days before her fourth birthday.
But the inquiry has now been shelved after Portuguese gainst either the McCanns or Robert Murat, the only other official suspect in the case, whose status has also been lifted.

In the interview the McCanns, both 40, from Rothley, Leicestershire, speak of their hopes for finding Madeleine and their fears of being arrested last summer.
A short video posted on Expresso's website shows the couple looking relaxed as they answer questions, both wearing the yellow wristbands of the official Find Madeleine campaign.
Mr McCann said: 'I will be honest. We have got no idea whether Madeleine is alive or not. What we are certain of is that there is absolutely no evidence.'
Asked if the couple feared being arrested or accused by Portuguese police over their daughter's disappearance, he said: 'If you believe what was written in the papers, then of course we feared it. The situation for us was very frightening, of course it was.'
Quizzed whether this was why they returned to the UK in September last year, Mrs McCann replied: 'They could still have arrested us, couldn't they. They could have stopped us from going home.'
Clarence Mitchell, the couple's official spokesman, said: 'Kate and Gerry have chosen to speak out to an element of the Portuguese media now because they still firmly believe that there may well be important information that somebody knows in Portugal.

'It is important the message is targeted in that region initially, and Kate and Gerry will assess the reaction to their interview and public opinion in Portugal before deciding on whether to do any further media interviews in the near future.
'Everything Kate and Gerry are doing now is geared towards assisting their own investigation into finding Madeleine. They will do everything they can to generate vital new leads.'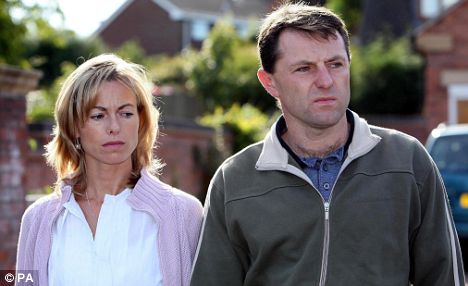 Determined: The McCanns have vowed never to give up the hunt for their daughter although they admit they don't know if she is alive or dead
Madeleine was nearly four when she vanished from her family's holiday apartment in the Algarve resort of Praia da Luz on May 3 last year as her parents dined with friends nearby.
Despite a huge police investigation and massive coverage in the Portuguese and British media, she has not been found.