The purpose of this site is for information and a record of Gerry McCann's Blog Archives. As most people will appreciate GM deleted all past blogs from the official website. Hopefully this Archive will be helpful to anyone who is interested in Justice for Madeleine Beth McCann. Many Thanks, Pamalam
A former senior UK cop who sent criminal profilers to investigate Madeleine McCann's disappearance and whose final report helped trigger the UK investigation into the crime has told nine.com.au that despite some early questions he is now convinced Kate and Gerry are innocent of any wrong doing.
Jim Gamble, the former head of Child Exploitation and Online Protection centre (CEOP), has worked closely with Madeleine's parents, Kate and Gerry, ever since the couple's three-year-old daughter suddenly went missing in Portugal in May 2007.
The arrival of specialist profilers to the coastal town of Praia da Luz on the Algarve gave British police "early exposure to the McCanns" and details of the case, Gamble told nine.com.au.
In episode two of Maddie, Nine.com.au's new podcast investigating Madeleine's disappearance, Gamble outlined the profilers' mission, and potential crime scene scenarios his team explored.
"When the case first began to unravel … I began to simply watch the news feed and then get direct feedback from our team on the ground," Gamble said.
"Being a police officer, I am a cynic," he said.
"I believe that any good investigator clears the ground beneath their feet.

"So of course the first people you suspect are the parents, because they are there, they are in proximity, it is their child.
"Did I believe at the beginning that the parents could possibly have done it? Yes. As time went on, did I see evidence that supported that hypothesis? No, I did not."
Gamble said as more evidence and information from Portugal came to light his team were convinced the McCanns were not involved.
"Now that's not to say that something couldn't turn up in the future where I think: 'Oh flip, you know I was right in the beginning and I'm wrong now'. But I've seen nothing, been briefed on nothing and heard nothing that would make me think that Gerry and Kate McCann [had] something to do with their daughter's disappearance."
In episode two of Maddie, two other former law enforcement officers highlight what they claim could be possible "red flags" relating to crime scene evidence and witness accounts on the night Madeleine went missing.
In 2009, Gamble wrote an extensive report that analysed the Portuguese police search for Madeleine. His report, commissioned by former Home Secretary Alan Johnson, led to London's Metropolitan Police launching its own investigation, Operation Grange, into the McCann's holiday to Portugal.
Gamble stepped down as head of CEOP, an agency once linked to the UK's Serious Organised Crime Agency, in 2010.

Kate and Gerry McCann have steadfastly denied they were involved in the disappearance of their daughter. Nine.com.au does not suggest they had any involvement.
Maddie is currently the number one podcast on Australia's iTunes chart, reaching that spot inside of 24 hours of launch.
LISTEN TO EPISODE ONE AND TWO OF MADDIE NOW
Maps, graphics, stories and all episodes of Maddie can be found at nine.com.au/maddie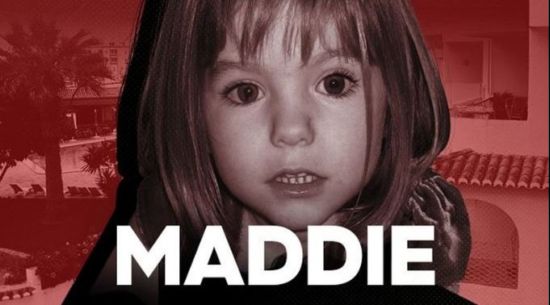 Maddie podcast investigating Madeleine McCann's disappearance (Nine)