The way Madeleine McCann's mother described her daughter's bedroom window as wide open on the night the three-year-old vanished could be a "red flag", which would have drawn the attention of the investigating officers, a former British police officer has claimed.
Madeleine's bedroom window is a potentially important piece of evidence from inside the holiday apartment where the McCanns stayed in May 2007.
Since Madeleine's unusual disappearance, Mrs McCann has said that when she entered her children's shared bedroom around 10pm on May 3, a small sliding window in the room was open, a set of exterior metal shutters was rolled all the way up and the curtain was blowing.
The open bedroom window appeared to suggest two potential scenarios; an unknown abductor broke into the bedroom through the window, took Maddie and left through a door; or he forced the window open, snatched the girl and clambered back out.
Peter MacLeod, a retired superintendent from the Nottinghamshire Police, has visited Praia da Luz, closely inspected Madeleine's ground floor bedroom window at the Ocean Club Resort and raised further queries about both theories.
In episode two of Nine.com.au's just-released true crime podcast Maddie, Mr MacLeod said he did not think it was possible for a man to carry a three-year-old child out the window. Maddie has reached number 1 on the Australian iTunes charts less than 24 hours after being released.
"My shoulders are wider than that little window. So although you could climb in sideways you certainly can't jump in if you are a normal sized person," Mr MacLeod said
Mr MacLeod also expressed other concerns about the window, and its apparent significance in the early stages of the police investigation.

Kate and Gerry McCann have steadfastly denied they were involved in the disappearance of their daughter, and have never been charged by police. Nine.com.au does not suggest they had any involvement.

The couple from Rothley, Leicestershire believe an abductor entered the apartment after they left their children alone while they ate dinner with friends at a nearby restaurant.
In the second episode of Maddie, Mr MacLeod raised other issues about the bedroom window's roller shutters, which were widely reported as being "broken and jemmied" despite Portuguese Police saying there was no forensic evidence of forced entry.
"That [reporting of broken shutters] was the first red flag to me," Mr MacLeod said.

The McCann's have pursued a Portuguese detectives through the courts following a controversial book he wrote about the case, and accused him of focusing on them to the detriment of the investigation.
LISTEN TO EPISODE ONE AND TWO OF MADDIE NOW.
Maps, graphics, stories and all episodes of Maddie can be found at nine.com.au/maddie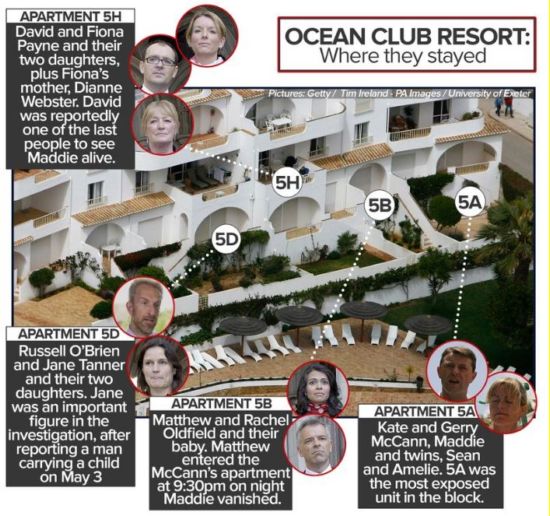 This diagram of the Ocean Club Resort shows which apartments were given to the McCanns and their friends, who became known as the Tapas 7, during their week-long vacation in Praia da Luz. (Nine)