A collection of press articles/supplements published to mark the one year anniversary of Madeleine's disappearance
The Portugal Resident: Madeleine McCann supplement
Madeleine Mccann
Supplement
After the storm - a scarred town tries to forget, 19 April 2008
After the storm - a scarred town tries to forget
Guardian
Twelve months after the disappearance of the three-year-old few have emerged unscathed
in Praia da Luz, Saturday April 19 2008
They still pray for Madeleine McCann in the little whitewashed church in Praia da Luz, a small but faithful clutch of 15 or so locals and ex-pats who stumble down the little cobbled hill to the church every Friday evening for a "service for missing children". "We pray for those who have acted in evil or practised acts of kidnapping," they mutter quietly, week after week. "We pray that they may repent and see your light. Lord, in your mercy, hear our prayer."
Aside from this tiny band of faithful and the much faded photograph of Madeleine's face on the church noticeboard, now so bleached by the sun that her black pupils stare out from a face that is a sickly blue and green, there is little to suggest that this idyllic spot could have been the scene of such an act of evil.
The birds sing all day long here, and although the summertime crowds are yet to arrive there are always a few cheerful children shouting in the distance. But the overwhelming impression of Praia da Luz, aside from the dazzling light that gave it its name, is the quiet. It is almost possible to believe that one of the most overwhelming news storms of modern times happened somewhere else.
And yet all is not quite as calm as it seems in Praia da Luz. Just a few metres from the church of Our Lady of Light is the home of Sergey Malinka. One of the incidental players caught up in the maelstrom surrounding the three-year-old's disappearance last May, Malinka is a Russian web designer and business associate of Robert Murat, the first official suspect in the Madeleine case. He briefly came to public attention two weeks after she disappeared, when his computers were seized by police.
No evidence has emerged to suggest he is anything other than completely innocent. And yet as you walk up Rua 25 de Abril the tarmac changes colour abruptly outside Malinka's apartment. This is the spot on which, last month, his car was set alight as he slept, the Portuguese word "fala" ("speak") scrawled crudely in red paint on the pavement alongside.
In exactly two weeks, Kate and Gerry McCann will mark a year since their eldest child disappeared, a year that has transformed them from an anonymous couple into devastated parents, canny PR operators, mistrusted suspects and maligned media victims, sometimes all at once.
It has also soured the lives of almost everyone caught up in the story. The McCanns last month won £550,000 in an out of court settlement from Express Newspapers for "numerous grotesque and grossly defamatory allegations" published without evidence.
Their relationship with the Portuguese Polícia Judiciária, which they have been careful to pretend remained cordial even after it named them suspects, at last collapsed into open insults this week when Clarence Mitchell, their spokesman, accused the PJ of leaking extracts of the couple's witness statements to a Spanish TV station.
The leak, he said, was timed to distract from their campaigning visit to Brussels; the PJ, almost uniquely, were angered into rebutting the claim in a statement.
The seven friends with whom the couple were holidaying continued to be interviewed this week by officers from Leicestershire police, observed by Portuguese officers, the purpose of these further interviews unclear.
Robert Murat, meanwhile, the local man named the first official suspect in the case (though, again, no evidence against him has emerged) this week launched what may be Britain's biggest libel claim against 11 media organisations, after he also attracted lurid and apparently entirely unfounded allegations. His girlfriend, Michaela Walczuk, similarly traduced and similarly, now, represented by Max Clifford, may well be next.
While Madeleine's disappearance is without question a tragedy of unfathomable proportions for her family, rarely can there have been a major crime or news event which has so roundly damaged everyone associated with it. It is a sorry way to mark a terribly sad anniversary.
Despite its tranquil appearance, it is clear that Luz, too, has been corrupted by the mystery of the little blonde girl. Most obviously loathed in the town are the journalists who came in their scores from France and Germany and Scandinavia and the United States, as well as Portugal and the UK, and who stayed, in some cases, for months at a time.
"It was bloody awful when they were here. They wanted a receipt to go to the toilet," says Nancy Thompson, landlady of the Bull, an ersatz English boozer just opposite the church. "It was just a horrible feeling in our little place. You couldn't get across the square. The vans and things. It wasn't nice."
"She was hounded for months and months, and for the first few months she couldn't park her car and could barely leave the house," says Ian Fenn when asked about his mother, Pamela, who is in her 80s and lives in the apartment above the one from which Madeleine was taken. "She doesn't know anything, and she won't tell you anything, and I ask you, please, not to knock on her door."
"It was really nasty," says Haynes Hubbard, the thoughtful Anglican parish priest who often met the McCanns while they were in Luz, and whose church became the focus, in the early days, of the media's most glaring attention.
"Hard, hard, hard. We would watch the news and see the helicopters fluttering around, and turn the news off and you still hear the helicopters fluttering around. It was a very strange period when the news was ... we were the news. It wasn't edifying. It was important and necessary, but it wasn't right."
Hubbard, who is Canadian, arrived in the town to take up his post two days after Madeleine disappeared. It must have been like walking into a hurricane, I say. "I saw Heather Mills McCartney, or whatever her name is, standing on the steps of the high court the other day with all those cameras and I thought: ha! That's nothing! I've seen worse."
The missing person posters came down almost overnight, says Thompson, when the couple were named official suspects in early September. Though the continuing value of a picture of the child a year on is perhaps debatable, it is striking to see so few visible reminders of Madeleine in a village that was once overwhelmed by her image.
Manuel Silva, owner of an electrical store in the area, says he will keep his posters up until she is found - "I have grandchildren who live here" - but he is almost alone. Why does he think the other businesses removed theirs? "I don't know. That is their concern."
What do people in the town now think about what happened that night? "Nobody talks about this. Nobody talks about it now." What changed? "I'm not inclined to say."
Only as an afterthought, almost, do people talk about the impact of the crime itself. Fatima Sousa, presiding over her beachside sun hat stall, says it badly affected business last summer. "At least until the end of the summer, things felt very different here. We had many fewer tourists. The beach was almost empty.
"Normally we have lots of children who come in here on their own to buy things, but after it happened the parents were afraid. You saw mothers taking lots more care with their children, they wouldn't let them play alone. Now it's changed a lot, of course. They've forgotten."
Hubbard, newly arrived into a crime scene with his three young children, recalls the terrible anxiety felt by his wife. "It was really awful. I mean, I didn't feel it, but she did, she would go to bed every night crying, locking the doors, double locking the windows. Just really frightening.
"But people carry on, life carries on. That intensity, you can't hold on to it. It's too hard. And she will now let our children run around, whereas eight months ago she wouldn't let them out of her sight. Your fear abates. Thank goodness. Because nobody could live in that intensity."
Not everything has abated, however. While the Portuguese and ex-pat English congregations of the small church have been brought together by the tragedy, says Hubbard, the same is not necessarily true of the town itself. Exactly what was behind the attack on Malinka's car is unclear, but he is not the only victim of whispering and suspicion.
"The English say disparaging things about the Portuguese," he says, "and the Portuguese say disparaging things about the English. This is a gross generalisation, but that is the impression one has. The Portuguese think, how could those awful parents do this? The English think, the Portuguese didn't do anything right."
"I do think the PJ will find the truth of this," says Thompson. "In the old days, before the revolution, when you had to have a licence for a lighter, the PJ was everywhere and people were always: 'don't say that'. That was Portugal. That was their regime. It's only 1974. And they are still a bit afraid and secretive."
She says she cannot understand how anyone could get away with abduction. "They are so nosy, people in Portugal, and especially in this village. You can't go for a piss in this town without somebody watching. That night I was back and forwards between my two bars all night. You notice these things, we have nothing else to do in this place, and I never saw a man carrying a child in a blanket."
But Luz is also a holiday town, with a rapidly shifting population, and life goes on. Spend an evening in one of the resort's bars and ask about Madeleine, and you are as likely to be told a sick joke about the toddler as you are to meet someone who was genuinely affected by her apparent kidnap. Praia da Luz will probably always be associated with Madeleine McCann, but for many it has already become no more than a subject of idle curiosity.
Claire Hughes's sister-in-law lives in Luz; she has visited several times from her home in Bournemouth since Madeleine disappeared. "Obviously I was curious to see the [Ocean Club] resort when we first came here. I was interested to see where she'd been taken from, so we went for a drive around. And we always have a look whenever we are here."
In fact, according to Antonio Pino of the Algarve tourist board, after a few cancellations immediately after the abduction, tourism has risen in this part of the coast.
"You see the tour buses driving past the house, the tour guides are now using it as a tourist attraction," says Hubbard, drily. "I don't think Praia da Luz has suffered a grievous blow because of an evil that was perpetrated in our midst."
"A little old couple came in the other day," says Thompson, "Portuguese. I said: 'Where are you from' and they said: 'Setubal' - that's near Lisbon. They said: 'We're on a day trip to see the church where Madeleine disappeared.'
"And we get that quite a lot now. English as well. 'We're just going over to the church to light a candle, say a prayer,' or whatever. It's, like, famous, isn't it?"
Where are they now?
The parents
Kate and Gerry McCann have been campaigning on two fronts since being named suspects on September 7: to find Madeleine, and to clear their names of suspicion. Last month they won a sizeable out of court settlement from four British newspapers for defamation; they recently visited Brussels to campaign for a Europe-wide alert system for missing children. Their own privately funded investigators continue to hunt for the missing toddler alongside the police investigation.
The other suspect
The record-breaking libel claim by Robert Murat against 11 British media outlets follows similar action against a number of Portuguese newspapers and broadcasters. His seized computer equipment was recently returned to him, but his expectation that he would formally be cleared shortly afterwards has so far failed to materialise.
The police investigators
Goncalo Amaral, the first officer in charge, was removed from the case and demoted on October 2; he is facing trial on charges of concealing evidence relating to the torture of the mother of another missing child. Olegario Sousa, who initially acted as spokesman for the police, dramatically quit the role in September in protest at continued leaks. Paulo Rebelo, one of Portugal's most senior detectives, now has personal charge; under his regime almost no information about the state of the inquiry has been forthcoming.
The spokespeople
At one point during the summer the couple's then spokesperson, Justine McGuinness, found herself being contacted at a rate of two phone calls a minute. After stepping down in September she ran Nick Clegg's Lib Dem leadership campaign, and she will shortly contest the European elections for the party. Clarence Mitchell continues as the McCanns' official spokesman, having been enticed away from the Foreign Office after McGuinness's departure.
The damning case against the police by Britain's top investigative reporter, 21 April 2008
Madeleine: The damning case against the police by Britain's top investigative reporter
Daily Mail
Last updated at 01:33am on 21st April 2008
Originally published online at 23:27pm on 19th April 2008
Almost a year after Madeleine McCann disappeared from apartment 5A at the Ocean Club in Praia da Luz, signs on the ground in Portugal of the search for her or her body have become difficult to detect.
The posters and fliers bearing her photo are almost all gone.
All last week in Luz, I saw the police just once - two uniformed officers in a green 4x4, parked opposite the fateful flat from which she vanished during the evening of May 3.
The vehicle's doors were open and the two men peered at me listlessly while I made a few notes, before going back to their business: listening to a radio talk show.
The apartment gate was padlocked, but in the little paved front yard, a purple hibiscus and some dusty geraniums were coming into bloom. The Algarve spring is finally coming.
"It's a new season," said a British woman who works in a local restaurant.
"It's tragic they haven't found Maddie. But the time has come to move on."
Of course, moving on is one thing Madeleine's parents, Kate and Gerry, cannot do.
They remain arguidos, official suspects, - as does Robert Murat, a British expat living in Praia da Luz who has strenuously protested his innocence - still supposedly being investigated on the grounds that they may have caused her death or disappearance.
"Intellectually, they have grasped what has happened," said Gerry's elder brother, John. "Emotionally, they have learnt, to an extent, to cope: one's psychology adapts.
"But they haven't really come to terms with it. There are times when they can seem cheerful, but then the devastation bursts through. Madeleine's disappearance is a cataclysm that is horrendous for them, and horrendous for all of us close to them."
"It's an intense, full-on existence for both of them," said the McCanns' spokesman, Clarence Mitchell. "Gerry is back at work [as a cardiologist] full-time, but when he gets home the campaign to find Madeleine is like having a second job.
"Kate is determined to make family life for the twins, Sean and Amelie, as normal as possible.
"They celebrated their third birthdays in the way you'd expect - though since Madeleine went, they haven't celebrated anything else: Kate's recent 40th passed without being marked.
"But the truth is, it can't be normal. The whole situation dominates every aspect of their lives."
Last week, amid a bitter, public row between Mitchell and the Policia Judiciaria (PJ) over the leaking of Kate and Gerry's original interview statements to a Spanish television station, it became clear that the long-vexed relationship between the family and Portuguese detectives is close to breakdown.
Mitchell's insistence that the leak did not come from the McCanns sounds more than plausible: the statements' emergence overshadowed Kate and Gerry's visit to Brussels to call for a Europe-wide "amber alert" system to aid the hunt for other missing children.
Instead of their campaign, news coverage was dominated by the statements with the agonising detail that on the morning of the day she vanished, Madeleine asked Kate why she had not come to comfort her and the twins when they cried for her the previous night.
As on the evening of May 3, Kate and Gerry had been having dinner with their friends in the Ocean Club's tapas restaurant - in partial sight of apartment 5A.
However, the Portuguese police detectives' union, which has been a semi-official conduit for detectives' opinions about the McCanns for months, responded to Mitchell's demand for an inquiry to discover whether the leak had come from the PJ by calling him a "Machiavellian liar".
According to the union, the McCanns leaked the statements - with the sole aim of damaging the Policia Judiciaria.
Last autumn, after the McCanns were first made arguidos and sections of both the Portuguese and British Press were filled with untrue stories about them, apparently from police sources, relations with the PJ hit a low.
In October, after the first Madeleine investigation leader, Chief Inspector Goncalo Amaral, was fired from the case for telling a Portuguese reporter the British police were 'shielding" the McCanns, their trust in the PJ improved.
"For a while, the leaks and smears stopped," Mitchell said. Amaral, meanwhile, was last month committed for trial for alleged perjury arising from his conduct in another, earlier case of a disappearing child.
However, now the relationship is back at rock bottom. "The Portuguese justice minister needs to get a grip on his police force," Mitchell told The Mail on Sunday.
"We are confident those statements came from someone in the police chain. It's not just disappointing that after nearly a year, there is no sign of Madeleine: it's an absolute tragedy."
If the PJ had been "doing its job properly", Mitchell continued, the McCanns would never have felt compelled to engage the Barcelona private investigation agency Metodo 3, on which the Find Madeleine campaign has already spent £200,000. "Not a penny would have been spent on the private investigators," he said.
To Mitchell, the recent PJ visit to Britain to reinterview the McCanns' seven friends who were dining with them on the evening of May 3 was a diversion from what should be the inquiry's main thrust, finding Maddie:
"All of them put their case forcefully, saying nothing had changed from when they made statements first time around. The re-interviews suggest the PJ has nothing substantive to go on."
Mitchell said the PJ's performance meant the time had come for an "international inquiry" into their handling of the Madeleine case. "What we want is not just an investigation of this latest leak, but a much wider inquiry into their conduct.
"It's the sort of thing that could be done peer to peer - maybe by officers from Europol, someone senior from Scotland Yard, or the FBI. It's not about blame, but learning the necessary lessons."
It is an extraordinary demand, born of exasperation, which is certain to be resisted in Portugal. Yet an examination by The Mail on Sunday of the PJ's record --not only in its failure to find Madeleine, but in the previous two Algarve cases where children have disappeared or been murdered - suggests it may well be justified.
"You have to remember: until 1974 Portugal was a dictatorship," said a veteran Algarve journalist, who asked not to be named. "That was the climate in which the PJ was created. Their methods were pretty rough."
Brutal treatment of suspects was routine. One expatriate British woman told me how a friend of her mother had been arrested in the late Eighties on suspicion of breaking and entering a house - only to be savagely beaten in custody.
"she was bruised all over her body. Of course, the police said they hadn't done anything, and were never called to account," the woman said.
"This is Heartbeat country," another expat said. "People talk to the police, and so often they think they know who's guilty, but can't prove it. So they make an arrest and turn up the pressure in the hope of getting a confession."
In the Portuguese criminal justice system, confessions are still regarded as they were in the days of the Inquisition - as the "queen of proofs". British police, it has to be said, sometimes used to operate in a similar way.
But it has its drawbacks, as shown by the succession of miscarriages of justice based on false confessions, such as the Guildford Four and Birmingham Six IRA cases.
The abduction of a child by a stranger is, mercifully, a rare event: in Britain, there have been about seven cases a year since records were first kept in 1970. But it poses daunting challenges to investigators.
"In these circumstances, having close contacts in the community may be of limited help," said Mark Williams-Thomas, a former Surrey police detective and an expert in paedophile crime. "You need to progress scientifically. Above all, you must preserve the scene and every scrap of physical evidence."
It has been widely reported that in the hours and days after Madeleine went missing, the PJ failed to do this, reacting sluggishly to her disappearanceand allowing apartment 5A to become contaminated. It was not the first time the PJ has made such mistakes.
Thirty miles east of Praia da Luz lies the resort of Albufeira, where a collection of clifftop villas known as Val Novio was once a thriving development, favoured by British expats.
Now largely abandoned, it was there, on November 19, 1990, that Rachel Charles, aged nine, went missing.
Neil McKay, a Bafta-winning TV scriptwriter who has specialised in factual dramas about crime, was on holiday nearby with his father at the time. "We were sitting in a bar having a beer one evening," he recalled.
"This English guy came in, saying a little girl had disappeared two days earlier but the police were refusing to mount a proper search. He said her family wanted every British tourist or expat to meet on the beach at seven next morning to try to find her.
"so we went. There must have been more than 200 of us. Tragically, it didn't take long to find her body, hidden among some pines."
Len Port, now an Algarve publisher who covered the case for The Portugal News, said: "The police search was highly inefficient, as, frankly, was everything else about the case. The way the police handled it was desperately amateurish - and ultimately, a travesty of justice."
Just as they would later do with the McCanns, the PJ soon hit on a suspect who knew the victim and her family. But according to Port, who attended his trial, it had "no real evidence. It was an unjust trial".
The defendant was Michael Cook, a British expat businessman who had taken part in the search, and in 1992 he was convicted and sentenced to 19 years. Having protested his innocence, he was released in 2002. Last week, he told of his ordeal for the first time.
"This has ruined my life," he said. "I still carry the scars from the six times I was stabbed in prison; as for the times I had the s*** kicked out of me, I long ago lost count."
Following Cook's conviction, his then-Labour MP, Bob Spink, became involved in his campaign. In a Commons debate in 1992, he said: "The only hard evidence linking Cook to the murder was bogus" - a claim by an elderly gardener that he had seen Cook bundling Rachel into his car.
However, Spink said, the police had hidden the fact that tyre tracks left by Rachel's abductor "were of an entirely different type" from those that would have been made by Cook's vehicle.
The PJ, Spink told the Commons, claimed Cook confessed - something he has always denied - and that they had tortured him: "Cook appeared in court, with black eyes and a missing tooth, and he was deeply bruised.
"It is claimed that Cook was hung from an upstairs window by his feet, that his feet were beaten until he could not stand, that he was tied to a chair and beaten, that he was deprived of sleep and that a revolver was forced into his mouth and the trigger pulled in a mock execution."
The PJ also claimed Cook had a record as a paedophile, Spink went on. This, too, was "entirely bogus'. The trial judge had asked a PJ witness how he knew this: "The officer replied that someone, unnamed, had told him. The judge accepted that so-called 'evidence' as clear and unequivocal."
It emerged at the trial that while there was no forensic link between Rachel or her clothes and Cook's car, blood had been found under her fingernails - presumably that of her attacker. But when Cook's lawyers tried to obtain it to test it for DNA, they were told the samples had been "lost".
Cook told The Mail on Sunday: "I was with the PJ four days and they gave me no food nor let me go to the lavatory - I literally s*** myself and p****d myself. I was in that state when they first brought me to court.
"What I learnt about Portugal is that once convicted, you never get the chance to get it reversed, because they destroyed the evidence."
Spink, who is still MP for Castle Point, Essex, said yesterday that as the Madeleine case had unfolded, he had become increasingly concerned by the "disturbing parallels' between the way the PJ had dealt with Maddie and the murder of Rachel Charles.
"In both cases, there was incompetence at the outset. And then, having become convinced they had the right suspects, the police seem to have ignored other avenues of investigation - especially the possibility that both were abducted by a stranger."
After the death of Rachel Charles, it was not for a further 14 years that another girl went missing on the Algarve.
On September 12, 2004, Joana Cipriano, aged ten, failed to return to her home in Figueira, near Praia da Luz, from a shopping trip. The parallels with the McCann case are again disturbingly close.
Like the McCanns, Joana's mother Leonor mounted a campaign for her daughter's return. And like them, she and her brother Joao became arguidos. As with the McCann investigation from May until October last year, the man in charge of the hunt for Joana was Chief Inspector Amaral.
According to the Portuguese Press, one factor that influenced his desire to make the McCanns arguidos was Kate's supposedly "cold" demeanour in dealing with police and on television.
In fact, as the photo published on Section 2's Page 1 today makes clear, the first known image taken of Kate on the morning after Madeleine's disappearance, she was distraught.
With Leonor and Joao Cipriano, a similar cod psychology was evident. "Amaral said he made them suspects because when Leonor was on television, she was wearing black, and speaking of her daughter in the past tense," said Sara Rosado, Joao's lawyer.
"But the camera only showed the top part of her body. In fact, she was wearing red trousers.
"The reason why she was speaking of Joana in the past tense was that she was being asked questions in the past tense. For example, the interviewer asked, 'How did your daughter do at school?' And Leonor answered, 'She was bright, she was doing very well.'"
There was a further parallel with the McCann case - leaks, apparently from police sources, to the media. One of the most damaging, Rosado said, was the suggestion that human blood, probably Joana's, had been found in the Ciprianos' fridge.
It was only when Leonor and Joao went on trial for murder that it emerged that this had never been DNA-matched to Joana and might even have come from some meat.
The Cipriano case, which ended in 2005 with Joao and Leonor being sentenced to 21 years, made Portuguese legal history: it was the first murder trial where, as with Madeleine, no body was found.
According to Rosado, the direct evidence was weak - "all they had against Joao was a witness who said he saw him going up the street carrying a plastic bag . . . the prosecution said that inside was part of Joana's dismembered body."
However, Joao and Leonor both made confessions, which they later tried to retract.
The Mail on Sunday has obtained a copy of the formal indictment against Amaral, and his subordinates, the PJ inspectors Paulo Pereira Cristovao, Leonel Marques, Paulo Marques Bom and Antonio Cardoso.
On March 26, all five men were committed to jury trial by Joaquim da Cruz, an investigating judge. It is expected later this year.
The indictment, the result of an investigation triggered by a complaint filed by Leonor's lawyer in 2004, alleges that having been questionedfor 48 hours, she confessed only as the result of a brutal assault.
The indictment states: "They threw her to the ground, kicked her and hit her with a cardboard tube. They put a plastic bag over her head, made her kneel on glass ashtrays . .. The accused believed that by causing her intense suffering, they would force her to tell them how she killed her child and where she put the body". This she finally did.
The police, it says, later took her to a clinic where her injuries were recorded. But the PJ officers claimed she had sustained them by throwing herself down the stairs, in an apparent suicide attempt.
Amaral faces charges of negligence and falso testimunho - perjury --under Article 360 of the Portuguese penal code, a crime punishable by up to three years in prison.
Cardoso is accused of fabricating a document. Marques, Bom and Cristovao are charged with torture, for which the maximum penalty is five years.
In Britain, it seems unlikely that officers facing charges of this kind would still be on duty, but last week Amaral was at work in the PJ office in Faro. Through his lawyer, Antonio Cabrita, he refused to discuss either the Joana or Madeleine cases.
As for Cristovao, he left the PJ after the Joana case to become a writer. Last year, as a columnist for Diario de Noticias, he became a prolific commentator on the Madeleine inquiry, writing a series of articles apparently derived in part from conversations with his former colleagues.
Last month, with the publication of his book The Star Of Madeleine, currently the Algarve's No3 bestseller, he has mounted a robust defence of the PJ in general and Amaral in particular.
"In the PJ's opinion, everything written about Amaral in the British Press had one purpose - to get him taken off the case," Cristovao's book says.
"He was a piece of meat on the barbecue of the British media, which accused him of drinking too much, dressing badly, having a prominent belly and spending too much time at lunch.
"He was too much the normal Portuguese policeman ... when what the British wanted was the British way of doing things."
The book, much of it composed of a fictional dialogue between two fictional PJ officers, Francisco and Joao, recycles some of the cruellest smears against the McCanns, such as the claim that Gerry did not get sufficiently involved in the children's routines. Such information, it claims, gave the police "an idea how the family functioned".
It also contains details that can have come only from inside the investigation: as a view of PJ thinking, it may well be as authentic an account as has yet been given.
If so, its conclusions are shocking, among them the view that Madeleine is dead and that if her parents did not kill her physically, they did so by their public campaign to find her.
"The publicity given to her face was her death warrant - that's if she really left that apartment still alive," he writes.
Cristovao refused to meet me, saying that too many British journalists were "racist".
But I managed to ask him whether he was not worried that the McCanns might sue him for libel, pointing out that they had been awarded £550,000 against four newspapers last month. "I'm expecting that," he replied. "I've no fear. It will be a big joy."
Visitor numbers on the Algarve are down this year, especially from Britain: since November, said Elderico Viegas, president of the region's tourist board, the fall has been about 12 per cent - not because of Madeleine, but because of the pound's fall in value against the euro.
"I don't think Maddie has anything to do with it," he said. "And that's my view as someone who has worked in tourism for the past 40 years."
At the same time, Viegas admits that the case has done little for Portugal's image.
"I do think it has been mishandled, especially in terms of the way the police and other authorities dealt with the media. Everyone here would like this problem solved, for there to be an answer."
Meanwhile, in Leicestershire, Cristovao's claims notwithstanding, Kate and Gerry McCann get through their days with their hope and belief that in the absence of any evidence of her death, Madeleine is still alive.
"Gerry copes by being active," Clarence Mitchell said, "throwing himself into his work and the campaign."
Kate, he said, was more vulnerable. 'she takes the twins to nursery, and much of her time is then taken up with campaigning, too - dealing with emails; meetings with children's groups and supporters.
"But she does have her ups and downs. It might be a particular media report, or some new claim by the PJ that gets to her, and it can take some time to pick herself up."
The twins, Mitchell added, knew what had happened, and sometimes they "called" Madeleine on their toy telephones. "Nothing is hidden from them, and the house is full of pictures of Madeleine."
John McCann said he usually found himself thinking about Madeleine on first waking up. "You do your best to live a normal life, but in the end, you can't. And I'm her uncle. One can only imagine what it's like for Gerry and Kate."
I asked him how Kate and Gerry dealt with the error for which they have paid so heavily.
"Of course they can't help but go over last May in their minds. But in the end, you can't change what happened. What you can do, and what they have been trying to do ever since, is to change the future: literally to keep turning over stones until Madeleine is found.
"Kate and Gerry don't talk about their emotions much. Maybe it's their Scots-Irish and Liverpudlian backgrounds: stoicism is part of our upbringing.
"I don't mean the stoicism where you're ready to accept any old s*** but the stoicism where you try to deal with a problem and get on with it - that dogged determination.
"That's what Kate and Gerry have, and their ability to stay focused and try to help other families who may face a similar plight in future is inspiring."
Master of media circus for Madeleine McCann, 24 April 2008
Master of media circus for Madeleine McCann
Telegraph
Clarence Mitchell is not backward about coming forward for Gerry and Kate McCann.
Last Updated: 7:27PM BST 24 Apr 2008
The first anniversary of the disappearance of Madeleine McCann will be marked next week with a two-hour television documentary which is the highlight of a carefully stage-managed publicity offensive.
The fly-on-the wall documentary on ITV1 of Gerry and Kate McCann has been organised by Clarence Mitchell, their official spokesman. The Portuguese press first referred to him as the "man in the shadows" when he took the job full-time in Praia da Luz in September.
The newspapers were reporting the (as usual) private views of the Portuguese police that Mitchell, 47, had been sent in by Gordon Brown, no less – when he was Chancellor – to spy on the investigation, which had been portrayed in Britain as amateur and cack-handed.
But the Portuguese media were wrong on both counts. Mitchell would have had at best only a nodding acquaintance with junior ministers, let alone Mr Brown. As director of media monitoring at the Central Office of Information, he was a back room boy but has never been in the shadows of the police operation.
The former BBC television reporter has loved being centre stage before the cameras in an investigation that has transfixed the world's media. "He is on the TV much more than he ever was when he worked for the BBC," said one former colleague.
So much so that photographers regularly have to shout at Mitchell to get out of the way when they are taking pictures of the McCanns. He remains at his fixed point by their shoulder even during photo-shoots, bucking the trend of media minders who avoid being photographed at all costs.
Mitchell has become such a familiar figure in his open-necked pink shirts that he is recognised in the street and is stopped so often on the forecourts of petrol stations that he now jokes it is because he has forgotten to pay his bill.
After almost 30 years as a journalist, he knows what makes a story and has been extraordinarily successful in maintaining a strong interest in Madeleine.
When interest has faltered he has invariably constructed a story or recruited a big name – even the American First Lady, Laura Bush, is on-side – to a campaign driven by parents who accepted early on that the media was a necessary partner.
Nevertheless, the documentary next Wednesday has provoked controversy because ITV1 has scheduled it against the BBC's The Apprentice as part of its ratings war.
The move has led to the accusation that Mitchell has allowed the parents to be exploited by a commercial broadcaster. The fact that Mentorn, the production company making the programme, has given £10,000 to the Find Madeleine fund has not diminished the fuss: the money will be more than recouped from syndication.
ITV1, with the help of Mitchell, has kept other media organisations from the McCanns during the five weeks of the access deal with Mentorn. The company has secured unseen footage of Mrs McCann, 40, her husband, 39, and their three-year-old twins behind the door of their home in Rothley, Leics.
It includes Mrs McCann breaking down in tears as she recalls the night Madeleine went missing. But Mitchell will be undeterred by the barbs, believing the two-hour documentary the best way to ensure that the search for Madeleine goes global again. This is what he is paid to do.
He always wanted to be a journalist and after O-levels at Friern Barnet School, Finchley, where he was head boy, he joined the Barnet & Potters Bar Times and then a BBC training scheme.
In a varied career he covered the Soham murders and, for two years from 2003, the Iraq war.
He was also on the royal beat when he was known – not very imaginatively – as "Clarence House". But it was as a presenter on various BBC news programmes that he hoped to make his career after years on the road. His spell doing hourly bulletins on News 24 is best remembered for him sleeping through a 3am slot, which had to be filled by a somewhat dishevelled producer. He became close to the McCanns after being sent twice by the Foreign Office to look after them when there were 40 camera crews outside their Portuguese apartment.
As a father of three children, aged two to 11, he has gone through the same agonies as many other parents who feared it could have happened to them. His £70,000 salary, equivalent to what he earned in the Civil Service, is being paid by the double-glazing magnate Brian Kennedy, who has bankrolled much of the McCann campaign.
Surrendering his Civil Service pension will be compensated by the future benefits of his role in helping to make Madeleine's the most heavily reported missing-person case in modern history. Offers are coming in for book, broadcast, and lecture circuit opportunities when he returns to "ordinary life" – and even Mohamed Fayed is rumoured to be interested in hiring him.
Mitchell divides his time between his home in Bath, London, and Rothley and speaks to the McCanns every day. They are grateful to him for raising the profile of the search across Europe and North Africa, through visits to Morocco, Italy, Spain and Germany. But the revelation that they were flying in a private jet was a bear trap that Mitchell should have spotted, and the couple flew home from a trip to Portugal on easyJet.
Mitchell was, as usual, only a few feet away from the couple when they met the Pope in St Peter's Square. He was so overcome he reached out to grasp the papal hand and was rewarded with a blessing and a set of rosary beads from one of the priests in the Pontiff's retinue.
While calm in public, he has often blown up behind the scenes at reporters and is occasionally guilty of overdoing briefings.
In the last few weeks his public approach has changed, bluntly blaming the Portugese police for leaking statements from Mr and Mrs McCann that revealed Madeleine was left crying the night before she vanished.
Mitchell moved from the shadows to being branded a "manipulative liar" by the police and the row ensured once more that the McCanns returned to front pages across Europe. It was a job well done by the man at the centre of the story in his own right.
'Sharing the McCanns' hell' - Emma Loach
, 27 April 2008
This Saturday marks the first anniversary of Madeleine's disappearance. How have the McCanns coped?
April 27, 2008 (First appeared online April 26, 2008)
Sitting at Kate and Gerry McCann's kitchen table, watching their three-year-old twins Sean and Amelie playing on the floor, you could be observing any normal family scene. There are no histrionics. No weeping or wailing.
In the general melee of a family of four, it takes a few hours before the absence of their daughter hits you. But when it does, it is overwhelming. The crime that someone has committed against this family is colossal. Someone, somewhere, took Madeleine and in doing so they have come as close as anyone can to destroying the fabric of this family.
Until Madeleine is found, or someone comes forward to tell the McCanns what happened to their four-year-old daughter, they will be forever stuck just after 10pm on Thursday, May 3, 2007. It is a potential life sentence.
When I was initially asked to make a film about the McCanns, I didn't immediately jump at the chance. I'd found it almost impossible to watch the news bulletins after Madeleine went missing and I didn't want to make a film that merely indulged in witnessing at first hand her parents' misery. And what could I say that hadn't already been said?
I needn't have worried. The McCanns, too, were uninterested in taking part in a "schlock doc". They had a different agenda. For eight months they had been trying to ride the media train, with only one aim in mind – finding Madeleine – and every decision they had taken had had that goal at its heart. Now they had decided to add another one.
At our first meeting they talked about how much they had learnt about child abduction, how horrified they were and how they wanted to use their knowledge to try to make Europe a safer place for children. It seemed clear to me that they needed to find a more positive narrative for their lives. This new campaign, however long it might take, had the advantage of being both inextricably connected to finding Madeleine but different enough to provide some respite from the relentless pain.
Kate and Gerry were also well aware that the first anniversary of Madeleine's disappearance on Saturday would rekindle media interest. And they decided it might be productive to try to channel that interest into a campaign that could benefit others.
There were numerous areas that they felt needed attention. Many European countries, they had discovered, do not require Criminal Records Bureau checks on people who want to work with children; many do not have a sex offenders' register and many do not even have an organisation that deals with missing people, let alone missing children.
Two areas stood out. Soon after Madeleine had gone missing, they had been shocked to find there were no data collected on how many children are abducted each year. The figures simply don't exist. And it's not just mainland Europe that doesn't bother collating them; no one can say for sure how many children are abducted in the UK. Part of the reason is that cases of abduction that end in murder or rape are logged only under the more serious category headings, which means the scale of the problem isn't recognised.
The McCanns became convinced of the need for "child-rescue alert" – a system that is used with great success in America. There, as soon as a child is abducted, police issue radio and television station alerts. Even more impressively, they can also text-message mobile phone users in the area where the child was last seen with descriptions they may have of the victim and abductor, car registration numbers and other pertinent information.
The first few hours after an abduction are known as the "golden hours" because they are so crucial. Of those children who are ultimately killed after being snatched, 74% are murdered in the first three hours. And 91% are killed in the first 24 hours.
However, only four out of the 27 countries in Europe have a US-style system in place. There is no "child-rescue alert" in Portugal, where Madeleine was taken. In Britain, where we do have an alert system, it has been used only three times since it was introduced in 1997.
Once we started researching alert systems with the McCanns, it quickly became clear that they serve little purpose unless those police officers who are first at the scene of a child abduction are properly trained.
We followed the McCanns as they spoke to experts in London, Brussels and Washington about the mechanics of child-rescue alerts. After each meeting in America, the couple were visibly buoyed. First there was Ed Smart, father of Elizabeth Smart. Six years ago Elizabeth – then 14 – had been snatched from her bed. Her family had then worked tirelessly to keep her photograph in the papers and her story in the news. And for them it paid off: nine months later a passer-by spotted her with her abductor in the street.
She was reunited with her family – a living and breathing vindication of the tactic of keeping press attention high – for which the McCanns themselves have been criticised.
Some have even suggested that if Madeleine's parents weren't involved in her death, they probably killed her with the coverage – the implication being that their daughter's abductor may have panicked at the attention the case was receiving and quickly disposed of her. So it was important to the McCanns to discover that Ed Smart had used the same strategy as they had; and in his case it had worked.
In Washington we also visited the National Center for Missing and Exploited Children – an impressive place, full of committed people who have the proper level of resources to combat child abduction. Since 1997, 393 children have been returned safely to their families because of a child-rescue alerts. And, in 33% of cases, the abductor actually gave up the child after seeing the alert himself.
There is no doubt in Kate's and Gerry's minds: these alerts save lives.
Crucially, the National Center has undertaken research that has given them fresh hope that Madeleine may still be alive. Even in the worst kind of kidnappings, just 40%-50% of children are murdered. The younger the child, the less likely that they will be seriously harmed.
The message from the statistics was loud and clear – until we know why Madeleine was taken and who took her, it cannot be assumed that she is dead. It was heartrending to see the McCanns' hopes rising.
Over the course of four months we followed the couple as they researched child abduction issues and then launched their campaign at the European parliament in Brussels. There were many diversions along the way: more apparent sightings of Madeleine; venomous letters that dropped on the doormat and the leak of their first witness statements.
The McCanns have remained committed. Observing them has been a sobering experience. They live at the edge of human endurance, yet manage to survive. In fact they do more than survive. They are living. Their twins are almost obscenely happy, filling the house with love and laughter.
Kate and Gerry also remain strong. I was struck by how kind and generous they are and how they refuse to be defined by their tragedy. So as well as documenting their campaign for child-rescue alerts, I also wanted to show them as I found them – intelligent and brave but flawed, like everyone else I know. People who made a mistake – parents who made the wrong call.
Before Madeleine was taken, leaving your sleeping children while you ate dinner 50 yards away would have been a question of judgment. Some of us would have made the same decision as the McCanns, some of us wouldn't. Thankfully, for the most part, our choices don't lead to catastrophic events and so our parenting goes unscrutinised. For Kate and Gerry McCann, it did. And they are paying for that every second of every day.
I would not have thought it possible to survive the year that Kate and Gerry have just lived through. They have. I'm sure that friends who knew them before miss the people they were. But they resist being victims.
For now, they are determined to build something positive out of the hell of the past year. And they will never give up looking for Madeleine.
Madeleine, One Year On: Campaign for Change is being shown on ITV1 at 8pm on Wednesday
Mystery remains: why was she left alone?
, 27 April 2008
In a town where children are always welcome, the locals just can't accept the McCanns' actions on that fateful night, writes Carol Hunt from Praia da Luz
It Is almost a year since Madeleine McCann disappeared without trace from her family's apartment in the small seaside Portuguese town of Praia da Luz.

This weekend the holiday village is quiet and peaceful. The summer has arrived with warm winds and cloudless skies. The sunshine attracts visiting families and young Portuguese teenagers to the famously golden sandy beach. On the surface, things are back to normal; business as usual. However, just the mention of the name "Madeleine" leads to pursed lips, stiffened shoulders and attitudes of angry frustration from the locals.

This week the town is waiting nervously amid rumours that the Portuguese police plan to stage a re-enaction of the events of that night. The McCanns have spoken about their reservations at joining such an endeavour, natural enough for them under the circumstances as they are still official suspects in the case.

The locals, too, are undecided about the merit of such an undertaking. One tells me that the media circus which will inevitably follow such an event will drive away business. others admit that until there is some sort of resolution to the case, their small town will remain a place to be avoided by many holidaying families.

Many are suspicious of journalists and, though ready to chat, reluctant to give their names or anything else which can identify them.

Kelly's Irish Bar, three minutes' walk from the Mark Warner Complex where the McCanns stayed, is -- allegedly -- one of the places visited by Gerry and Kate McCann during their brief stay on the peninsula.

The manager, Mary, is a friendly native of Donegal who has lived in Portugal for the past 20 years. She describes how badly affected the town -- which relies on tourism -- was by Madeleine's disappearance.

"People just packed up and left. They cancelled their holidays and they will never come back. This was always considered to be a very, very safe place for children. I used to let my own boy -- now eight -- walk from here down the road to where his father worked at Chaplin's restaurant. Now, I'm terrified of letting him go anywhere on his own.

"Because there has been no conclusion, because nobody really knows what happened to Madeleine, people will continue to fear for their children. It's a dreadful situation for the town." Mary shares the incomprehension of the locals at the child-minding arrangements that the McCanns and their friends had in place.

"I bring my son everywhere," she tells me. "They could have brought their children with them to Chaplin's or wherever else they wanted to go. Or, even if they didn't want to use the complex's babysitting service, why on earth didn't they just do what you or I would do? Which is take turns minding them.

"People here just don't understand. It's a complete mystery to us."

Recently, details emerged that Madeleine had "scolded her parents" for leaving her and her siblings alone the night before she was abducted.

According to the TV station Telechino, the Portuguese police had taken a statement from Kate McCann soon after the kidnapping where she reportedly said that on the morning of May 3, Madeleine had asked, "Mummy, why didn't you come when we were crying last night?"

Kate McCann reportedly added: "Gerry and I agreed to keep a closer watch over the children."

The Portuguese locals believe that "keeping a closer watch over the children" meant that the McCanns and their friends stayed within the bounds of the complex, checking intermittently on the children -- one of whom (not a McCann) was ill -- when they met later that night, rather than heading to restaurants or bars outside.

Not just here in Luz, but everywhere, that news of the details of that night has travelled. There has been criticism of the McCanns for leaving three small children alone in a strange apartment while they socialised with friends.

"In Portugal, we absolutely adore children," said another local. "We just cannot get our heads around the fact that these small babies were on their own in a town where children are always welcome, no matter what time of night or day."

I tell her that in a documentary due to be screened this week on ITV, Kate McCann is understood to explain that they would have used a baby-listening service had one been available, but because there wasn't they decided instead to leave the children alone and make regular checks on them.

"There was a babysitting facility and an evening creche available, why didn't they use that," she asks.

I have no answer for her, being totally unable to comprehend the McCanns' actions with regard to the welfare of their children.

Some of the locals I spoke to, despite feeling frustrated with the actions of the McCanns, and the unwelcome media attention on their town, still felt sympathy with them for the terrible tragedy which had occurred.

Others are still angry at the way they feel the McCanns manipulated the media and demonised the Portuguese police and, by extension, the Portuguese people.

The collateral damage is everywhere. One Portuguese woman I meet, Mieke, is a close friend of Robert Murat, a man who remains a suspect in the case.

What she and Murat's other friends find very upsetting is the treatment meted out to Robert, whom -- they claim -- was initially asked by the Portuguese police to help them with the case.

"Robert is one of the most caring men I know," Mieke says. "His life has been ruined all because of a chance comment by a journalist. He has been treated like a criminal by the police. His business has been destroyed.

"In his job he would have had many English families as clients. What family would deal with a man who is officially suspected of kidnapping -- or worse -- a child of one of their compatriots?"

Mieke tells me that Murat has now decided to sue the Portuguese government as well as all the media outlets which ran stories against him.

"And I think he's right to do so. Unless they find Madeleine -- either dead or alive -- Robert's name will never be cleared, and there was never a shred of evidence against him in the first place."

One could also argue that both Gerry and Kate McCann -- official suspects who were subjected to intense interrogation -- are in a similar situation. And they also have the loss of a daughter to deal with.

Such a view gets little sympathy from Mieke and her friends.

They do not understand why the McCanns have not been punished for what they see as gross neglect of their children: "If you or I left a child repeatedly alone, social services would be called in."

Later that evening, I watch a fireworks display in the nearby town of Lagos. Despite the late hour -- it is past midnight -- the square is filled with young, excited children enjoying the festivities with their parents.

To the Portuguese people, the fact that the McCanns repeatedly left their much-loved Madeleine alone -- while they socialised with friends -- is just as much a mystery to them as her later disappearance.
Portuguese resort has divided opinions on the McCanns
, 27 April 2008
Maddie horror still haunts Praia da Luz one year on Sunday Post
Portuguese resort has divided opinions on the McCanns
HUNGERFORD,

Soham

, Dunblane, Omagh. The names are easy to remember and impossible to forget.
Small villages and towns where terrible events sprung out of idyll and sentenced them to be forever associated with the horrors that put them in the headlines.
A year ago this week, another name was added to that awful list — a pretty, whitewashed and sun-baked village perched on the Atlantic Ocean.

Much to the dismay of all who live here, Praia da Luz will always be the place where Madeleine McCann disappeared.

It is certainly not the way they want it to be and most of the 5550 residents, half of whom are expats, are resentful of their sudden and unwanted notoriety.

They want things to be the way they were but know that they simply cannot win.

Praia da Luz is the village of the damned if they do and damned if they don't.

On one hand they face the pressure to keep up the search for a little girl that no-one believes will ever be found. On the other there is the desperate need to revive the tourist trade that is Praia da Luz's lifeblood.

The two aims are all but incompatible.

When I was in the village in the days after Madeleine's disappearance nearly every shop window was plastered with posters showing her face. Today there are barely a handful fading under the Algarve sun.

There's no lack of sympathy for the missing girl but it is washed over by the need to move on and make a living.

"It's so unfair," one English shop worker told me. "I can't believe what happened to this little village. It feels like this place has been raped.
Tainted
"Children go missing in other countries and in big cities all the time but they don't get all the publicity that this case has. They aren't tainted with it the same way Luz is.

"Of course we are so sorry about what happened to Madeleine but Luz is paying the price. People here are angry about it. It has all got out of control.

"Everyone here knows Robert (Murat), he grew up in Luz. There's no way he would have been involved in something like this but now he can't get work and he and his family are having a terrible time.

"It couldn't have been anyone from here that took Madeleine — everyone knows what everyone else is doing all the time, it's that sort of place — so it had to be someone from outside. Yet Luz still gets labelled with it.

"We've had a bad year and this one will probably be as bad. We just have to soldier on and hopefully one day the truth will come out."

Expat Scot, George Green, says the village has suffered greatly from a single event that was out of its control.

"The tourist trade went right down after the wee lassie disappeared," said the exiled Aberdonian. "The Ocean Club had to move people who had already booked out to different resorts because they didn't want to stay here. The place took a hell of a dunt.

"It has gradually picked up but is still not what it was before and of course everyone here relies so much on tourism. And the thing is it was a one-off, nothing like it had happened before. In fact, before Madeleine was taken, the crime level here was practically zilch."

George has no doubts about the innocence of Kate and Gerry McCann and says the British expat community are all fully behind them — although the Portuguese are not.

"The Portuguese people changed their minds as soon as the police here began leaking stuff to the local press. But the Brits are all convinced the McCanns had nothing to do with it. We knew just by looking at them that they couldn't have.

"The Portuguese are blaming the McCanns for leaving their kids alone and you can understand that. But you can't watch them every minute of the day and the McCanns are certainly suffering now. This could have happened to anyone."

Joe Agnew, who retired to the area from Cove in Aberdeenshire with his wife Rosemary nine years ago, agrees that the Portuguese simply cannot understand the McCanns leaving their children alone.

"It's because they would never do it. It is the Portuguese way to always take their kids with them when they go out to dinner or even into bars.
Mistake
"Even among the expats, most people feel the McCanns made a mistake in doing that but they were not involved in Madeleine's abduction.

"The police here took the view from the off that they were involved but a lot of what they came out with has been discredited.

"It has been a long year with no great result. The village has gone through a lot.

"Child abductions are far more common in big cities but this case has been highlighted across the globe.

"The press seem to have always been here. It took maybe four months for them to leave and then they all came back again when the McCanns were made suspects. It's been a very long year but the tourism is slowly picking up again and that can only be a good thing."

However the return of tourists to Luz is perhaps not all good news. Its new-found status also lures the curious and the ghoulish.
I watched with some amazement as a middle-aged English couple walked up to the Ocean Club resort and stopped outside the apartment from which little Madeleine disappeared.
Photo
The husband took a photo of the flat and then posed in front of it with a big grin on his face as his wife took over the camera duties.

According to Deborah Crawford, barmaid at The Bull pub and originally from Inverness, it happens all the time.

"Tourists are always asking about the case," she says. "It seems to be all they want to talk about. I must admit we're fed up with it. Every day someone will ask for directions to the McCanns' apartment so they can go up for a nosey. It's a bit sick.

"They've even been running coach tours just to see the place where it all happened.

"A busload of older people came down from northern Portugal and they were taken to the apartment, to the church and down to the Paraiso where Madeleine had an ice cream the day she disappeared. It's unbelievable."

Although the expats of Luz are firmly behind the McCanns, Deborah says the visiting tourists aren't so sure. "I'd say the majority of people that come in here think they were involved.

"Some of them get very angry about it.

"Everyone, residents and tourists, has their own theory. Personally, I would say they were guilty of neglect.

"Gerry McCann came in here one night after Madeleine went missing and sat right where you are now and had a beer with a friend. The place was mobbed but hardly anyone recognised him.

"I found it a bit odd."
The tourists who are in Praia da Luz this spring have clearly not been put off by the events of a year ago — although there seems to be fewer families with young children than in 2007 — but even they cannot escape the reminders of where they are.

John Paul King and his girlfriend Rona Smith stopped by the church of Nossa Senhora de Luz where Kate and Gerry McCann worshipped almost every day.

There will be a special church service on Saturday — a year to the day since the disappearance — and the couple from Stoke-on-Trent intend to go.
Support
"I'd like to go to the service," said Rona. "It is terribly sad what happened and we feel so sorry for the family. If we go it will show our support.

"We'd been to Praia da Luz a few times so knew what the village was like. It's sad, but it could have happened anywhere so it certainly didn't put us off."

For the sake of its tourism future, the village prays others take the same view. Praia da Luz was one of the most pleasant places to live or visit on the Algarve before Madeleine McCann's tragic disappearance and it still is. It's as safe as any village anywhere on the planet.

Yet for all that, it will have to work very hard, most probably in vain, to shake off the memory of a little blonde-haired girl who went missing in the night and caught the imagination of the world.
Ex-Pat defends cops
, 27 April 2008
Maddie: One year on
Sunday, April 27, 2008
By Gail Edgar
A Dublin man now living in Praia da Luz, close to the apartment where the McCanns were staying when Madeleine vanished, has defended the Portuguese police's investigation of the case.

Retired cellar master Morris Lee, who's been living in the Algarve town for five years, clearly remembers the night of May 3, 2007 when a friend of the couple came to ask if he or his wife Truda had seen the little girl.

"They knocked on our villa door about 11.25 to see if we had seen a child in pink pyjamas and my wife said no," he said.

"We went back to bed and we didn't think too much more about it. We honestly thought the child had just wandered off somewhere."

Morris said the woman was quite calm.

"She wasn't distraught, she just said have you seen a child that's gone missing?

"We said well if she was awake and walking down the road she would have been crying and someone would have noticed her."

In the days following Maddie's disappearance, members of the McCann family and British media began to criticise the local police for what they claimed was a slow response.

Other criticisms levelled at the police included a failure to notify the ports and borders in time and failure to secure the crime scene, leading to the loss of vital clues.

But ex-pat Morris said he thinks claims like these are unfair. "They said they destroyed a crime scene by wandering all around, but it wasn't a crime scene — it was a missing child scene, that's all it was.

"The child was missing and the Portuguese police were out searching for her until 2 o'clock in the morning.

"Yes, they did go into the apartment, but so did lots of other people — the McCanns' guests were in the apartment too."

He added that it would be possible to get to the Spanish border in under an hour-and-a-half.

"Another thing the Portuguese police were criticised for was that they didn't close the borders with Spain, but there are no borders between here and Spain.

"I drive over there quite often. You don't have to show passports and there are no guards there.

"Maybe if there was a war going on or something the border would be closed, but not for a missing child.

"They didn't notify the police here until an hour after she went missing so whoever took her had that hour's headstart."

Morris added that Irish and British people may find it difficult to understand the law under which the Portuguese police are working — legislation drawn up after the abolition of the Salazar-Caetano dictatorship.

"They've only had their freedom since 1974.

"They were a dictatorship up until then and they didn't know what freedom was.

"When the dictator was thrown out they changed all the laws because they didn't want people to go through the same torture etc to get information out of them. One of those laws is you don't charge somebody until you've got enough evidence."

Morris said most people in Praia da Luz want to forget about what happened almost a year ago and added that there has been downturn in tourists compared to last year. "The companies have noticed that the number of families were down at Easter.

"It could have been that Easter was too early, or because of the McCanns."

He's also critical of the McCanns for leaving their three young children alone in their apartment.

"They should just never have done it and they know they shouldn't have done it.

"They have to live with it for the rest of their lives which is tough on them, but hindsight is a wonderful thing. It's sad.

"With the greatest respect to Mr McCann, he could not have seen the apartment from where he was — I think he might have seen a corner of it.

"Kate said she checked every half hour, but a hell of a lot can happen in a half hour."

Morris said he is baffled why so much attention is focused on Maddie and not on the many other children who go missing.

"Here in Portugal everybody's talking about it and all over England and Ireland — why's that not happening with every child?"

The McCann family has strong Irish connections. Gerry's mother Eileen owns the People's Bar in St Johnston, Donegal close to the border with Co Londonderry.

As our picture shows, the family visited the village last Easter, just weeks before Maddie disappeared.
The Real Evil
, 28 April 2008
Tony Parsons
April 28, 2008
On Saturday it will be one year since Madeleine McCann was stolen from her family. Widespread support for Kate and Gerry McCann has ebbed away and increasingly you hear that Madeleine's parents must carry the blame for leaving their children alone.

But the McCanns are not the villains. Some members of the Portuguese police, undoubtedly humiliated by their inability to solve the crime, have constantly leaked smears, lies and innuendo to their lapdogs in the Portuguese media.

But the Portuguese police and papers are not the villains. The villain is the xxxxxxx who watched, and waited, and bided his time until that four-year-old child was left by her parents. The person, or persons unknown, who stole a child while she slept and casually wrecked so many innocent lives. The errors of Kate and Gerry McCann, and the cock-ups of the Portuguese police, all pall in comparison with that unspeakable crime.

There is only one villain. And there is only one victim, and that is Madeleine herself.
Points to note:
1) Madeleine was 3-years old when she disappreared.
2) Parsons says the 'villian... watched, and waited, and bided his time'. Why would he need to do this when the children were left alone every night of the holiday? He could have walked in and out whenever he so choosed.
3) If the 'villian' did indeed watch, wait and bide his time, then why did he choose to undertake the abduction when he knew that Gerry would be returning - placing himself inside the apartment when Gerry undertook his check?
4) Parsons obviously believes the abductor story but does not seem to understand that Madeleine would not have been placed into the hands of a 'villian' if her parents had taken responsibility and stayed with her, or arranged alternative care.
The fact remains that they abandoned three small, defenceless children - who, let's remember, they decided to bring into this world - in a dark and strange apartment so that they could pursue their own self-centred pleasures.
In essence, they were determined they would not miss out on their 'adult' time throughout the holiday but they have failed to provide any evidence since that they are adult in anything but years.
A year on, book will fund Madeleine McCann hunt
, 28 April 2008
A year on, book will fund Madeleine McCann hunt Timesonline
David Brown
April 28, 2008 (First appeared online April 27, 2008)
After a year of intense media scrutiny, the parents of Madeleine McCann announced yesterday that they were in negotiations to write a book about the disappearance of their daughter.

Kate and Gerry McCann, who have been unable to speak openly about the case since they were made official suspects on September 7, said that the proceeds of the book will be used to help fund the search for their daughter.

The couple are braced for a week of intense media interest leading up to the first anniversary on Saturday of Madeleine's disappearance from the Algarve resort of Praia da Luz.

Portuguese police are under pressure to make a decision on whether to charge the McCanns, either over the disappearance of their daughter or for neglect in leaving her alone.
Publishing experts have estimated that the McCanns' book could receive an advance of up to £1 million, but have said that the couple may struggle to say anything new.

Clarence Mitchell, their spokesman, said: "It will be the family's story, the only official book. Kate and Gerry are both keen to put the truth of everything that has happened to them on record. It will be a detailed account of their experience, from the pain of the night Madeleine was kidnapped to being named as official suspects in the investigation."

Scott Pack, a former head of buying for Waterstone's, said that the McCanns' book would fall into the category of "misery memoir" or "inspirational biography". He said: "I am sure there will be huge interest among publishers because it has the potential to be a huge success and they will not want it to go to someone else. It is bound to go for a decent amount and I think you are talking of at least £500,000. It could go for a million."

Proceeds of any deal would go to the Find Madeleine Fund, which has received more than £1.5 million in public donations and a libel payout.

The couple are staying at their home in Rothley, Leicestershire, having ruled out a return to Portugal while they remain official suspects. They told a television documentary to be broadcast this week that they were filled with renewed confidence that their daughter could be found alive after visiting a specialist centre for missing children in the US.

A number of books about the case have already appeared. The Portuguese detective in charge of the investigation is reported to have almost finished writing an account of his five months on the case. Gonçalo Amaral, 48, was removed after criticising British police. He said that he will retire this week so that he can "recover his freedom of speech".
'Madeleine McCann was abducted by an opportunistic paedophile'
, 28 April 2008
'Madeleine McCann was abducted by an opportunistic paedophile'
Mark Williams-Thomas: Analysis
April 28, 2008 (First appeared online April 27, 2008)
The investigation into the disappearance of Madeleine McCann is like no other I have seen before or will hopefully ever see again.
I have followed this case from the beginning. I visited the village of Praia da Luz within hours of Madeleine's disappearance and have returned on numerous occasions to examine what happened on May 3 last year.
I believe that Madeleine was abducted outside her family's apartment by an opportunistic paedophile with local connections. And I would be very surprised if this person has not been back to the area or still frequents it.
On the evening she disappeared Madeleine woke up and cried for a short time while her parents were dining at a nearby tapas bar at the Ocean Club resort. When she realised that her parents were not there she climbed out of bed and walked around the apartment. She found the back patio door partly open so she walked out, went down the small flight of steps, through the metal gate and turned right down towards the entrance to the tapas bar. It was at this point that she was abducted. Interestingly, police dogs first tracked a scent down this exact route. It is a vital clue that has been largely ignored. Unfortunately, although this area is in range of a CCTV camera at the nearby supermarket, it was not working that night.
Statistically the abduction of a child is very rare. On average it happens to six children a year in Britain. However, if we look at the abduction and murder of Sarah Payne in July 2000 we can see that she was snatched by a passing stranger while her brothers were just steps behind.
Madeleine became the victim of an opportunist and predatory paedophile. The abductor either lives in or had contact with Praia da Luz. This is not the sort of resort you just happen upon. For the past 12 months the Portuguese police have had only two lines of inquiry: that Gerry and Kate McCann were involved or that their daughter was abducted by a stranger. They have focused steadfastly on the first line. It is quite correct for the police to consider the parents as suspects because most murdered children are killed by a relative or someone they know. But what evidence do they have against Mr and Mrs McCann?
I don't believe Madeleine would have been deliberately killed by her parents. But could she have suffered an accident, causing the parents to panic? At the start Mr and Mrs McCann could easily have explained away a tragic accident. Yet the police believe they instead hid their daughter's body and came back five weeks later when they placed her by-now decomposed body in the rear of their Renault Mégane hire car before completely disposing of it.
The police have come to this conclusion because they have found partial DNA in the boot of the hire car, DNA which I believe has come from Madeleine's clothes and belongings or those of her brother or sister.
Mr and Mrs McCann believe their daughter was abducted and trafficked abroad but Madeleine does not fit the profile. Girls are trafficked into the sex trade as prostitutes or for domestic slavery, both with financial gain to the seller and purchaser. Who was to gain from her trafficking?
The problem with the police investigation was that it was crucially flawed from the very start. It was, without any doubt, the worst-preserved crime scene I have ever witnessed.
What is certain is that the investigation is now all but closed. The police clearly have insufficient evidence to charge Mr and Mrs McCann and when their arguido status is lifted the couple could return to Portugal without fear of arrest or prosecution.
They could then properly coordinate an investigation to find out what really did happen to Madeleine.
Mark Williams-Thomas is a former detective and authority on paedophile crimes
*
Problems with this theory:
1) The apartment was locked, as both Kate and Gerry told all their closest family and friends in the immediate hours after Madeleine was reported missing. The 'open' patio doors story only appeared after the 'jemmied' shutter story had been discredited,
2) There was a child safety guard at the top of the steps (since removed). How did Madeleine climb over this? If she had managed to open it, why have the McCanns not made great play of this in support of their 'abductor' theory?
3) Why was the window/shutter wide open if an 'abductor' just had to pick Madeleine up off the street?
4) It is surely beyond belief that an 'opportunistic' paedophile should just happen to be walking down the street in Praia da Luz at the exact moment Madeleine supposedly let herself out of the back gate.
5) According to the McCanns, Madeleine was 'abducted' whilst Gerry was on the street talking to Mr Wilkins and whilst Jane Tanner was returning to her apartment. Mr Williams-Thomas' theory would therefore imply that the McCanns are lying about the events of that night. Otherwise Madeleine would have been seen walking out of the back gate by Gerry, Mr Wilkins and Jane Tanner.
6) Surely a 3-year old, waking to find her parents gone, would scream and cry, not calmly look around the apartment before proceeding in an orderly fashion outside, down the steps and out through the gate. As Mr Williams-Thomas said, in a previous Times article: "Children at that age can be very demanding and difficult".
7) It was not a case that the CCTV camera in the supermarket was not working. The system in the supermarket merely relayed pictures from the aisles to a TV screen for the benefit of the cashiers - it did not have any recording equipment attached.
8) The question is asked: 'what evidence do they have against Mr and Mrs McCann?' Obviously, that remains a judicial secret but it is worth remembering that the British government would not have approved the re-interview the Tapas Seven without being convinced that there was not only evidence against the McCanns but that it was damming.
9) The PJ have given absolutely no indication that the case is about to be closed. Quite the opposite, they have expressed their satisfaction that the process is continuing towards a conclusion.
10) Why is there no mention of the scent found by the cadaver dog?
We must support the McCanns on this bleak anniversary
, 29 April 2008
We must support the McCanns on this bleak anniversary Telegraph
Last Updated: 11:01pm BST 29/04/2008
It has been one year since a little girl went on holiday to Portugal and never came back. It seems like yesterday that the cameras first clattered into sleepy Praia da Luz; the sunny backdrop framing daily episodes of an increasingly dark story.
Since then, the McCanns have embarked on a hellish nightmare; first to find their daughter and then to prove their innocence.
It has been a switchback of emotion for everyone, not least the public they invited to be involved.
A spasm of national grief following the abduction manifested itself in generous donations to the Madeleine fund, the lighting of thousands of candles and the formation of a teddy-stocked shrine.
Yet as the months dragged on and no trace of Madeleine was found, public opinion against the luckless McCanns hardened.
Vociferous elements demanded a happy ending, as if engrossed in some dreadful soap and thirsty for a neat conclusion as a reward for their interest.
Denied this, they turned on the McCanns in a way that still seems harsh. The money that poured into the fund bothered a lot of people and continues to do so.
No one is lighting a candle of hope now, except Kate and Gerry McCann. It is now, in this bleakest and most unhappy of anniversaries, that they need our support the most.
The Find Madeleine McCann campaign must NOT go on for ever, 30 April 2008
The Find Madeleine McCann campaign must NOT go on for ever
Daily Mail
By Allison Pearson
08:48am 30th April 2008
They didn't find Maddie yet, did they, Mummy? My eight-year-old son doesn't usually listen to the news.
But, over this past 12 months, the name of Madeleine McCann has become almost as familiar to him as his best friend's.
If we hear "Maddie" mentioned on the radio, I tense slightly, wait for the inevitable questions. And then come my inadequate answers.
"No, they didn't find her yet, sweetheart. Yes, it's very sad. No, a bad man will not take you. Because Mummy and Daddy will keep you safe, that's why."
Since May 3 last year, how many parents have mentally run the "Maddie safety test|" before daring to turn away from their children even for a moment? That may be her lasting legacy and our greatest burden.
Still, my small boy is not satisfied. "Maddie" is the big story of his childhood, bigger even than Harry Potter and infinitely more disturbing.
Like millions of others, he wants to find out how it ends.
No one wants to know that more than Kate and Gerry McCann. A year after Madeleine's disappearance, they have launched a "media offensive", including a two-hour ITV interview this evening and a year-long deal with Hello! magazine
Without doubt, this Saturday will be unbearable for them.
Milestones in a child's life are there to be celebrated. But what do you do with a milestone in a child's absence?
Relatives and friends will be returning to pray in the church in Praia da Luz, but not the McCanns, who, quite disgracefully, are still official suspects in Portugal.
And it will be especially hard, on this first anniversary, to avoid the haunting "what ifs?" What if they had walked to the restaurant as a family? What if they had heeded Madeleine's protests that she had been crying the previous night?
Even Kate's mother, Susan Healy, now admits she is astonished that the so-called Tapas Seven believed it was OK to go out for dinner without their children. "I could shake all of them," she says.
Susan accepts that her daughter believed the resort was perfectly safe. But the brutal, unyielding fact, the one Kate and Gerry must smash their heads against, is that if it had been perfectly safe then Maddie would be here now.
Kate feels she has let Madeleine down, says her mum. "The only way she can cope is by trying to get her back. She can't possibly give up."
Perhaps that is why the case has continued to exert such a remarkable hold over us. We can't give up either.
There is a fascination in a momentary mistake that can never be undone, no matter how much a mother persecutes herself.
In Greek tragedy, Antigone, the daughter of King Oedipus, cannot rest until she has recovered the body of her brother after his death in battle and given it a proper burial.
One suffering leads to another. And there is some of that obsession, and that remorselessness, in the case of the McCanns.
Could this explain the visceral hatred that has been directed at Kate in particular? What kind of person sent them the Christmas card saying: 'Your brat is dead because of your drunken arrogance'? Not much better than the one who snatched Maddie. Do we think we protect ourselves from cruel acts of Fate if we finish off those it has struck down?
Of course, the McCanns have unwittingly conspired in this circus of torment.
The publicity juggernaut that was launched with the best of intentions has taken on a momentum of its own.
But this week's 'media offensive' will strike many as, well, offensive.
Do the two doctors really deserve two whole hours of prime-time when so many other people's kids are lost and thousands are dying in Zimbabwe? Even those, like me, who have never doubted Gerry and Kate's innocence must feel a flinch of unease.
There comes a point when we have to ask whether any of this is going to help bring Madeleine back. And if not, what purpose does it serve?
I suppose the truth is that it keeps Maddie alive in the world, and thus helps her parents to assuage their terrible guilt.
Their campaign to improve safety for all children across Europe is commendable, but it is also a displacement activity. Postponing that dreadful moment when the search must be called off.
Kate says: "We're never going to get to a day when you think: 'OK, we've tried everything now. We're exhausted and we need to start living."
But they will. And they must. For their own sakes and for Sean and Amelie, who can't grow up with parents forever chasing a child they know they should never have lost.
Twelve months on, like my little boy, we still want the Maddie story to have an ending. I wish with all my heart that it could end happily. But end it must.
Madeleine McCann: first anniversary of her abduction
, 30 April 2008
Posted by Doctor John Crippen
Wednesday, April 30, 2008 at 10:10PM
Three days before my mother died, we had an argument. Can't really remember what it was about but, as they say, "words" were exchanged. It was over and forgotten within an hour and yet, after she died, I felt bad about it. Does that mean I was a bad son? I think not. Some years later I can now smile about it, as would my mother.

Kate and Gerry McCann have analysed every second of every minute of the day before Madeleine was abducted. If only they had known, there are many things they would have done differently. Sadly, for Kate and Gerry, as time passes, unless Madeleine is found, they will not be able to smile.

We approach the first anniversary of Madeleine's abduction. Kate and Gerry McCann continue to hope and continue to search. They have now broadened the appeal and are addressing the problems that arise when any child disappears. The Times today has today featured their campaign. When I looked at the article on the internet this morning there were already half a dozen comments, most of them profoundly unsympathetic. One or two were downright offensive. The Times has now removed all the comments.

I do not understand how people can react in this fashion. Kate and Gerry McCanns decision to eat out on that fateful night may have been ill advised. I do not know. I do not have all the facts. I was not there. If they did make a mistake, they will be more aware of that than any commentator, and will relive it every day. I do not believe the Kate and Gerry McCann are bad parents. If they did make a mistake, they are even more deserving of our sympathy.

The chances of finding Madeleine cannot now be good. But should we not be supporting the McCanns rather than forever criticising them?
Tragedy trail: trippers flock to Madeleine McCann abduction sites
, 01 May 2008
Tragedy trail: trippers flock to Madeleine McCann abduction sites Timesonline
By David Brown, in Praia da Luz
May 1, 2008 (First appeared online April 30, 2008)
With its beautiful beaches, quaint fishing villages and impressive golf courses, the Algarve has long been a popular tourist destination. But the disappearance of Madeleine McCann has drawn a new type of visitor to the pretty village of Praia da Luz — on tours of locations linked to her case.
Hundreds of sightseers have descended on the village to see the apartment where Madeleine slept and the restaurant in which her parents ate. The first anniversary of her disappearance on Saturday is expected to bring an influx of more visitors.
Groups of up to 40 people have been arriving by coach outside the whitewashed church of Nossa Senhora da Luz (Our Lady of the Light), where Kate and Gerry McCann prayed for their daughter's safe return.
Ricardo Silva, 32, who runs a coffee shop close to the church, said: "They come here and have the same question, 'Where is Madeleine's house?' They are mainly old Portuguese people who come on coaches from the north. It seems very strange to me but in the past year everybody knows this place. It is famous and people want to see the important places."
The groups then walk to the villa of the official suspect Robert Murat, who soon expects to be cleared of any involvement. He has been advised by his lawyer to stay out of the village during the anniversary to avoid harassment. The highlight of the tour is 5A of the Ocean Club resort, the ground-floor flat where the McCann family stayed. There the tourists pose for family photographs outside the window that Mr and Mrs McCann told police had been forced open by their daughter's abductor.
Pamela Fenn, a British expatriate who lives in the block where the McCann family stayed, said: "The [visitors] stand in front of the window with their children and have their photographs taken. It is private property but they don't care and how can you stop them? It happens all the time but is worst at the weekend, particularly Saturday. It seems mainly to be Spanish but there are other nationalities."
After the apartment, the tour stops on the main road into Praia da Luz with its view across the Ocean Club's pool and the tapas bar where Mr and Mrs McCann dined on the night of their daughter's disappearance.
An Ocean Club employee confirmed: "These are big groups, 20, 30, 40 people. I would love to find out who is organising it so we could ask them to stop."
The final visit is to the home of Sergei Malinka, who was interviewed by police because of his friendship with Mr Murat. Mr Malinka, 23, has strenuously denied involvement in Madeleine's disappearance and is not a suspect, but that has not stopped the sightseers.
He told a friend: "Loads of people are actually doing a Maddie tour. I have seen them. They wear the green Madeleine T-shirts and follow each other around. It made me laugh. I thought it was sick."
Mr and Mrs McCann will today carry out a fresh round of television interviews in London before heading home to Rothley, in Leicestershire, to mark the anniversary privately.
A friend of the couple condemned the Praia da Luz tours. "I think people should have better things to do with their time," he said. "It is offensive and hurtful and it is disrespectful to Madeleine."
More Madeleine McCanns waiting to happen?
, 01 May 2008
The McCann case should have held lessons for the authorities, but systems for finding missing children are still flawed
Can anything positive come from the disappearance of Madeleine McCann? Given that it is now a year since she disappeared, and that the high profile of her case is unprecedented, it's a question worth asking. Might her tragedy be the spur that leads to the creation of co-ordinated and effective systems for recovering missing children?

Certainly her parents are determined that the loss of their child will make a difference. A few weeks ago Gerry and Kate McCann again met Ernie Allen, the man who leads the National Centre for Missing and Exploited Children (NCMEC) in America, recognised globally as the gold-standard service for recovering missing children. Then they took their quest for a Europe-wide alert system to Brussels; they even cooperated with a TV documentary about their campaigning, which no one could fail to see as anything other than an admirable and dogged expression of their grief.

Yet the question remains. Of the issues highlighted by Madeleine's disappearance, key was the unformulated response of the local police in Portugal - and who can be certain that police reaction in a small seaside resort in Britain would have been more forensic? The truth is that in much of Europe the morbid curiosity that has surrounded the case has yet to translate into improved procedures to recover missing children. Britain is no exception.

Catherine Meyer has been at the forefront of the debate around missing children for eight years and, other than the McCanns, is alone in having both a detailed knowledge of the practical improvements needed, and an emotional understanding of the pain involved. Her sons were 7 and 9 when their father, Meyer's ex-husband, prevented her from seeing them, and only now that they are adults is she in contact with them. As a result of her experiences Meyer founded PACT - Parents and Abducted Children Together - and she still bristles with energy, outraged that the commonsense developments she is certain would help missing children are so slow to materialise.

"The problem is that there has never been a centralised system for the police to hold information, and there are some 15 different computer systems which don't talk to each other," she says. "What's difficult about working with the police [she sits on the Strategic Oversight Group, chaired by the Association of Chief Police Officers and overseen by the Home Office] is that it's difficult to change the mentality. There is this belief that the way we do things in Britain is the right way and we're not going to be told. Sometimes I hear people say, we don't have a problem here, we have only 50 cases a year, or five cases a year. You feel like saying, 'Excuse me, if it was your child, how would you feel?'"

This notion that few children go missing in Britain is predicated on a lack of facts. If we don't know how many children disappear - and the Children's Society estimate is 100,000 a year - there is no foundation for formulating policies to recover them. Meyer has long campaigned for a national database, and is heartened by the recent arrival of the Police National Missing Persons Bureau, which will analyse data at the National Policing Improvement Agency (NPIA). But she still wants to see a national centre dedicated to the recovery of missing children, and believes that the existing Child Rescue alert system, launched in 2006 and used three times, could be better understood and more widely used. She would like to see further promotion of the www.missingkids.co.uk website, which she believes could be expanded across Europe.

"In Britain we have five government departments involved in missing children, so you don't have anyone who is responsible. It's uncoordinated, fragmented, because you also have social services in there and a huge number of NGOs [non-governmental organisations]. I would like to see people coming together but none of these groups wants to lose its identity. We're moving very slowly, people are closing their eyes to what I think is a huge problem - but children don't vote."

Meyer is supported by the MP Helen Southworth, chair of the allparty parliamentary Group for Runaway and Missing Children. In January, when she presented her Ten Minute Rule Bill, Safeguarding Runaway and Missing Children, she called for the collection and reporting of information on such children, and co-ordination between police and local authorities.

"Although a small number of police forces are leading initiatives to identify and protect runaway and missing children, a number are still using paper-based systems," she noted. "There is better information available nationally on stolen cars than there is on missing children ... ACPO [the Association of Chief Police Officers] has calculated the social cost of policing runaway and missing children at £222 million every year, yet the government investment to tackle the issue last year was only £1.1 million."

Talking to the police about this issue isn't easy. Repeated requests for phone conversations about missing children with ACPO and the NPIA led, after nine working days, only to a defensive e-mail from ACPO. Transplanting the tried and tested US child alert system would add "little to the already high level of police interconnectivity" and the UK system "works well", ACPO said. I cannot help but observe that this complacent response appeared to be given only because ACPO had received similar media requests for information as the anniversary of Madeleine McCann's disappearance approached.

The failure of the NPIA to talk to The Times over a two-week period is equally eloquent, but then, as I discovered from talking to others in the missing children field, few are well informed, and those who are may work for an organisation with limited and uncertain funding.

How can Meyer be so confident that the systems she calls for would work? Largely because of evidence that the American system does work, and there can be no doubt that its 25 years of expertise is relevant worldwide. Of the 800,000 children who go missing in the US each year, more than 99 per cent are recovered. Of the most serious cases dealt with by the NCMEC, the recovery rate has climbed from 62 per cent in 1990 to 97 per cent today.

Ernie Allen, of NCMEC, says there are three elements of missing children investigations that are not in place in most of the world (including Portugal, where my request to police for information about their procedures for recovering missing children was also ignored). First, police should be required by law to take immediate reports of missing children. "In much of the world that still doesn't happen," Allen says. "Speed of response is key - we know that in abduction homicides, where children are abducted by strangers, in 76 per cent of cases the child is dead within the first three hours. You can't wait until tomorrow, you have to move now."

Secondly, says Allen, missing children should be registered on a central database because it is easy for abductors to move them across borders. And thirdly, he advocates "a system for rapidly providing key descriptive information and mobilising the eyes and ears of the public to help in the search". In the US this is known as the Amber alert, and is issued to media and transport networks when a missing child is thought to have been abducted and is believed to be at risk, and when there is enough descriptive material to tell the public what to look for. In Britain, resistance to such a system centres on the idea that alerts lose their potency if used too often, yet in the US the decreasing number of alerts - from 275 in 2005 to 227 in 2007 - shows that with improved training, the deterrent effect and better public awareness, the need for them drops. As a result of this system, 393 children have been returned to their families - and in a third of the cases last year, the abductor released the child safely after hearing the alert.

Meyer notes that a similar system was introduced in France in 2006, and as a result six children have been safely recovered. Why was an alert not issued when Shannon Matthews was reported missing? A spokesman for West Yorkshire Police explained: "A child rescue alert can only be used where there is a partial car registration and it's an abduction rather than a missing person inquiry." Information about Shannon was given to the media the next morning, he added - but she had been reported missing at 7pm the previous night, meaning that potentially vital hours had been lost.

America has responded to harrowing cases of missing children by improving its systems to find them. Ernie Allen believes that Madeleine McCann is a similar catalyst. We can only hope he is right.
McCanns' family will be in the media for the rest of their life, 02 May 2008
McCanns' family will be in the media or the rest of their life
SOL
LUSA/SOL 02.05.2008
(Thanks to 'Li' from the3arguidos forum for translation)
From empathy to distrust, several British journalists recognise that excesses were committed when covering the disappearance of Madeleine McCann but they deny that interest in the private life of the family will decrease.

"What we have done to this couple was not our best moment as journalists", recognises the ex journalist Roy Greenslade in declarations to the Lusa agency, a year after the disappearance of the 3-year old British child from a flat in Praia da Luz, Algarve.

Esther Addley, sub-editor of The Guardian agrees "it was not edifying, nor admirable" what was written and said in the United Kingdom about the case.

"But when we have so many journalists trying to get the slightest piece of news it is at that time that we risk things getting out of control", she notes.

Only one day after the 3rd of May of 2007, the issue was the opening news of all channels and on the front cover of all British newspapers - without speaking of the Portuguese, Spanish and even German or Japanese - and the little village in Algarve was invaded by journalists.

Some of the interest generated in the public was due, according to Adley, to the fact that several people identified themselves with the situation, which led the journalists to show empathy with the case.

"It is a story that affects many people because it is a medium class story, a nightmare to go to a calm tourist resort and a child goes missing", she justifies.

But Greenslade, actually a teacher in the City University, London, understands that the posture grew, first to a phase of scepticism, "which is the right attitude that should be adopted by journalists and after to distrust when they were treated as suspects".

In his opinion this is the dominant position now because the newspapers reflect the doubts and reproach of the readers concerning the McCanns.

"The great majority of people in United Kingdom thinks that they should not have left their children (alone), he says quoting numbers of a poll made in the Internet for the Sunday Times in August of 2007, when around 70% of the British condemned the couple for leaving the children alone.

The tendency is proved by the large number of hostile comments received on the Sky News website about the issue, that refers to Lusa the journalist Martin Brunt is superior to the messages of support.

But the news channel's crime correspondent considers that the British press continues, in general, to support the McCanns and the criticism was redirected against the Portuguese police due to the idea of facing a "weak police investigation".

"The difficulty of knowing with exactitude what the police were doing led to criticism of the press and to the impression that the investigation was not going anywhere", he says.

An important changing moment in the way the the case was covered was the action initiated by the McCanns against the Express group, Daily Mirror and Daily Star, that were obliged to apologise and to pay a financial compensation.

Although the defamed content was allegedly taken from news published in Portugal the newspapers were obliged to admit that there is no evidence that the parents are involved in the disappearance of their daughter as they insinuated.

Esther Addley, who reads Portuguese, was scandalised very often with what she read in the Portuguese press and astonished that the Portuguese journalists were not worried with the legal consequences.

"Some of the things were shocking and I thought several times that either the laws (in Portugal) are a lot different or if I wrote the same in United Kingdom I would be in trouble", she guarantees.

In the McCanns country, the threat of new lawsuits for defamation seems to have decreased the hunger of some tabloids for information and the interest started to vanish, only increasing with the first anniversary says Brunt.

For example, Sky news that made direct reports from Portugal in the months following the disappearance, and had a section dedicated to the case on the Internet, is not going to mark the anniversary in Praia da Luz.

"We are only interested in true developments", says Brunt foreseeing the "emptiness" of the story.

To mark the anniversary, Kate and Gerry McCann gave interviews to national and international media in the days before, to try to relaunch the campaign to find their daughter.

But since they were made arguidos in the process, in September, the news stopped being about Madeleine and began to be about her parents.

"The McCanns will always be in the news till they die. This story was too big for them to be forgotten", says the sub-editor of the Guardian.

Martin Brunt still believes that the control of their image and their privacy depends on them but Greenslade has no doubts that the McCanns have already lost that capacity and that everything they do will be under the scrutiny of public eye through the media.

"They are now a celebrity couple and all the events of their life will be exploited by the media, either when the twins go to school or for domestic problems", he says.

"This family will be in the media for the rest of their lives", he adds.
Kate McCann 'Madeleine just feels very close', 02 May 2008
Kate McCann 'Madeleine just feels very close' Telegraph
Richard Edwards
Last Updated: 12:02am BST 02/05/2008
Yesterday, the McCanns launched a new appeal to find their daughter. Richard Edwards, who spent four months in Praia da Luz, looks back on their year of torment As her parents use the first anniversary of her disappearance to promote a desperate, last-ditch attempt to find her
One year ago, I watched Kate and Gerry McCann as they stood shivering in the dark in front of the apartment in Praia da Luz from where their daughter Madeleine had disappeared.
Their anguish was so raw that it was painful to watch them. They blinked at the flashbulbs. Kate could not speak; whenever she tried, she wept. She clung on to Gerry, whose eyes were red and tear-filled as he stumbled through the statement written on a notepad, using a cycle light to read the words.
"Please, if you have Madeleine, let her come home to her mummy, daddy, brother and sister," he said.
Yesterday, the McCanns were back in front of the cameras as they embarked on what they see as the "last chance" to raise their daughter's profile again internationally.
From a hotel near Marble Arch, they gave countless media interviews to broadcasters and newspapers from all over the world to mark the anniversary of her disappearance, urging anyone who has spoken to the Portuguese police to contact them via a new hotline. In effect, with their May Day for Madeleine campaign, they were launching their own investigation.
''This is a last chance to capture a lot of information which has gone into the investigation and we are not privy to," Gerry McCann said. ''Clearly, we need to know that everything has been done. What we are asking people to do is, if you have given information to the police, Crimestoppers, the Portuguese police, we are asking you to give it to us as well."
Kate and Gerry are slick media operators now but they battle daily with the trauma of not knowing what happened on the evening of May 3, 2007. There have been almost 8,000 articles in British newspapers mentioning Madeleine's name in the past 12 months.
Detectives, reporters, commentators, politicians, the public - everyone has had an opinion, and yet there is just one incontrovertible fact: a four-year-old girl is missing.
Kate, 40, said yesterday that she "senses" that Madeleine is alive. She still looks frail and seems permanently on the verge of tears. ''Madeleine just feels very close. It's more of a kind of sensation that she's there. You try to be objective and you think it is because I am her Mum and I want to believe, but it has not changed."
Gerry was as personable as ever and, as ever, more pragmatic in his comments. ''Today is about Madeleine and today is about us stating our absolute categoric belief that there's no evidence Madeleine has been seriously harmed."
He said he and his wife were taking advice from experts. ''They are saying there is a strong chance Madeleine is out there. We need to address the situation of who took her."
He added: ''People want to help. They must want to help. She's a completely innocent four-year- old girl. Surely we can find her if everyone pulls together..."
Asked again whether they felt guilty for leaving Madeleine and the twins alone that night, Kate sighed "yes" and added: "We have said the same thing over and over. We can't change it. We have to live with that."
Critics accuse them of enjoying the limelight, but Kate, last year's most photographed woman, hated it from the start and still does. While privately Gerry, 39, is approachable and chatty with reporters, Kate is shy, quiet and cannot bear the fact that while her daughter is missing, the story has focused so intently on her and her feelings.
"It is like walking a tightrope," she told me once. "I do not like talking about this publicly but you've got to put your own feelings aside. I think in my head if we can be strong, strong for Madeleine, that will help get her back."
When I interviewed Gerry last August, before he and his wife were named suspects ("arguidos") we had argued about the press coverage.
"We didn't ask for the media attention," he said then. "When we came back from the police station on day one there must have been 150 journalists there. That was without us doing anything.
"We were faced with a decision, an instantaneous decision, that we could either interact, or hide away. The gut reaction was that I did not want to face any of this. But it came back to 'What can we do to help find Madeleine?'. We chose to speak to the media, but what were our options?"
In the four months I spent in Praia da Luz last summer, I came to have the greatest respect for the way Kate and Gerry handled themselves and the media. They gave themselves totally to the campaign to find Madeleine.
I have spent enough time with them to know that any suggestion that they had any role in Madeleine's disappearance is preposterous. The emotion was too real, the pain too much. I have looked again at the interviews they gave in the first desperate days and every word they spoke then is as true now.
At first we saw little of them, hidden away in an apartment, but soon we got to know them. Gerry sought to include journalists, even describing us all as being on this journey with them. In the early days, he said he hated waking up, because it meant that there had been no call in the middle of the night telling them the good news.
"At first it was as though Madeleine had died," he told me. "It was anguish, despair, guilt, helplessness, all falling into one.
"But then you realise it is different from a death, where you can grieve and try to move on. We were thrown into an ongoing trauma, an ongoing crisis of the unknown."
The couple took strength from Kate's strong Catholic faith. She said a prayer every morning as she got up - it was sometimes the only way she could face getting out of bed. The priest at the local church taught them three words which became their mantra: "esperança, força, coragem" - "hope, strength, courage". Meanwhile they clung to their close family and to the twins, Sean and Amelie.
I think that without them it would have been so much harder to bear.
Gerry, a consultant cardiologist at a hospital in Leicester, immersed himself in the launch of a campaign to find Madeleine, so much so that it became his day job, his way of coping. He would sit in an improvised office, tapping away at a laptop and drawing charts of action plans.
His language changed, and he started to use soundbite phrases. He praised the Portuguese police despite his private fears that their initial blunders had jeopardised chances of finding Madeleine.
Kate, however, wore her heart on her sleeve. She was always more direct and less diplomatic. During a series of hoax tip-offs she demanded that the perpetrators should be found and jailed for hindering the search.
At other times, Kate McCann demonstrated an inner strength when her husband seemed to falter. During their meeting with the Pope at the Vatican in May, nerves almost overcame Gerry. Kate took over, talking in a quiet, determined manner to the Pontiff, asking him for his prayers and blessing.
She sought relief from torment through exercise, on punishing runs on the beach and up mountains. One day she was sitting on a rock looking out to sea. She said she felt like jumping in and just wanted to "swim and swim and swim", until the pain went away.
There were also lighter moments, when she would tease her husband for his constant organising and control - his "McCann" characteristics - and joke with him about the Scottish, more extrovert side of the family.
She was only truly animated when talking about Madeleine, the twins and her love for them. But always eating away at her was the guilt of not being there for her daughter. "Whenever I laugh with the twins or eat something nice, it's always there in the back of my mind - 'Madeleine would love this'," she told me.
Yesterday, Gerry said that Sean and Amelie still miss and talk about their big sister endlessly.
"They say heart-breaking things like 'I'm going to find Madeleine and bring her home'," he said. If only someone could.
Resort still living in Madeleine's shadow, 02 May 2008
Newsbeat reporter in Praia da Luz
The small gate that leads directly from the apartment onto the road has been padlocked - as if trying to ignore the place will make it easier for people to move on.
This is Praia da Luz and the apartment the McCann family were staying in 12 months ago is now completely boarded up.
It's strange how this corner of the Ocean Club resort is the complete opposite of the rest of the place.
Elsewhere, guests are making the most of the sunshine, lounging by the pool and getting drinks from the now infamous tapas bar.
One year on, the Madeleine McCann case remains unsolved, and just about the only place you can still see missing posters is on the church notice board.
Police and private investigators have drawn a blank, but the authorities still class both parents as suspects in the case.
Despite this, Gerry and Kate McCann say they've not given up hope of finding their daughter alive.
"They shouldn't have left her"
Walking around Praia de Luz, talking to people sat in the beachside cafes and bars, it seems like all they're talking about is Madeleine's disappearance - and a lot of people are blaming Gerry and Kate for what happened.
Martin moved here from Britain seven years ago: "I feel very sorry for them but they should never have left her alone," he said.
And Martin's not the only one. "It should never have happened in the first place," said one man who didn't want to give his name.
"They should have either taken the kids out with them, or stayed indoors with them."
"I came to say a prayer"
Dozens of people are expected at a special church service for the four-year-old on Saturday, exactly one year on from when she went missing.
Inside the church there's a little shrine asking people to pray for her - which is exactly what Cathleen from Glasgow came here to do.
She said: "I get quite upset about it. I have two granddaughters who are twins - same age as Maddy.
"I just think of them every time I see her picture – it's upsetting."
Maddie the most famous missing girl in the world, 02 May 2008
Alexandra Serôdio
02 May 2008 (Thanks to 'Li' from the3arguidos forum for translation)
A year after, the mystery surrounding the disappearance of Madeleine McCann, from an apartment in the Ocean Club at Praia da Luz (Lagos) remains unsolved. The investigation continues based on indirect evidence and runs at the taste of bureaucracy, but also of time and willingness of several British authorities who have cooperated with the PJ.

If, in fact, the British girl with green eyes died in the apartment - as the evidence points out - the truth is that what the investigators think is the crucial proof has not yet appeared, the corpse. The absence of the body has disabled the total clarification of the case by the PJ, and allows the McCanns to continue to feed, as they affirmed yesterday in London to the press, the idea that their daughter is alive and that she was the victim of an abduction.

The investigators continue not to picture what really happened in the Ocean Club between 18 hours - the time when Kate entered the apartment with the three children - and 22 hours, when the alarm of her disappearance was made. The depositions of Kate and Gerry and the seven friends who dined with them in the Tapas restaurant are contradictory. And the McCanns have not yet answered the questions that the PJ considers essential to the progress of the investigation. A silence only broken by the several interviews given by them - the last one was given yesterday to JN - and in that interview nothing was said, again, about what happened the night of 3rd of May of last year.

Steps under way

There are other testimonies and other evidence that will help the inspectors to give small steps, but the resolution of the mystery, for many, seems far away from happening.

The truth is that never before has the disappearance of a child caught so much attention in the world, nor was the target of so many political interventions. The English prime minister, Gordon Brown, had conversations about the case with his Portuguese counterpart, José Sócrates.

The last conversation took place a month after Kate and Gerry were made arguidos - on suspicion of concealment of the corpse and simulation of the crime of abduction - and showed the powerful connections of the couple in England. A country where newspapers and journalists were obliged to pay huge compensations and apologize publicly for the news published about couple and their involvement in the case.

One year after the disappearance of Madeleine, the image of the PJ continues to be questioned and subjected to veiled threats from the United Kingdom. The investigators and their personal life began to be scrutinised by the media. The most striking example was the one of the former coordinator of the PJ of Portimão, Gonçalo Amaral, criticized for his personal living habits and involvement in a process of alleged torture of Leonor Cipriano.

The faces of the investigation changed - Paulo Rebelo is the new responsible - the methods too, but in fact few steps were taken. The rogatory letters took five months to be completed and days before the interrogations were made by the police of Leicester the British already knew the steps that the PJ wanted to make. Of the new evidence collected little is known, but if the contradictions continue, the PJ will be once again hostage of the laboratory results that still did not arrive.

A year after, the mystery involves the most famous girl who disappeared in the World.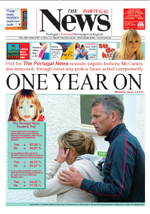 One Year On The Portugal News
(No online link)
A survey conducted Wednesday by The Portugal News among British expatriates resident in the Algarve has uncovered some surprising findings. While most believed that Portuguese police had handled the case well, little more than half felt Kate and Gerry McCann had in no way been responsible for their daughter's disappearance. However, almost four in five respondents were critical of the British media, believing they had been unfair to the Portuguese police in their reporting of the case.

This Saturday marks a year since the mysterious disappearance of Madeleine McCann. Much has changed since May 3rd 2007, most notably, the shift away from the village of Praia da Luz.

Not so long ago, posters of Madeleine could be seen in every shop window in this otherwise sleepy little village. Finding one now is almost like a treasure hunt, in what is perhaps the clearest indication yet that the people of Praia da Luz want to move on from the tragedy involving what remains the essence of this story, the disappearance of a toddler days short of her fourth birthday.

International media, mostly from Britain, were expectedly back in the Algarve this week. Around a dozen British newspaper journalists and photographers have returned to familiar territory, after their lengthy stays here were abruptly ended in March, largely as a result of the £550,000 out-of-court settlement deal between the McCann family and the Express Group of Newspapers.

The media circus, though nowhere near that experienced throughout the summer of 2007, is set to remain in Praia da Luz for at least the next fortnight, which will see the celebration of Madeleine's fifth birthday, and also mark a year since police emphatically swooped on a villa located fewer than a hundred metres from the apartment where Madeleine went missing. This police action resulted in Robert Murat, who lives in the house with his mother, being constituted the case's first arguido, which by definition, means "a person of interest to the inquiry", though "formal suspect" has become the widely accepted translation of a Portuguese word known by half of Britain.

The story shifted away from Portugal at the beginning of September, when Kate and Gerry McCann were sensationally declared arguidos by Portuguese police.

Television documentaries done since, such as the reputed BBC Panorama piece in November, and Wednesday's marathon two-hour production for ITV, focused only minimal attention on Portugal.

In both, the McCanns were the unwilling stars (though some observers would disagree) and in the latter programme, fewer than three days were spent gathering footage at the site of Madeleine's disappearance, which is a drop in the ocean when it is borne in mind filming started back in January.

In the documentary, the McCanns explain they had considered taking their children out to dinner with them the night Madeleine went missing.

They had contemplated visiting the Millennium restaurant, located about five hundred metres from their holiday apartment, but decided against this as their children were tired and they had no buggies, opting instead to dine at the nearby tapas bar.

Ironically, had they visited the Ocean Club resort this year, they would have been unable to dine there, as closing time has been brought forward to 6pm, and will only be extended to 7pm for the summer.

Madeleine, One Year On: Campaign For Change, showed the McCanns at their home in Rothley, Leicestershire, and accompanied them to Brussels and Washington, as they campaigned for an EU-wide alert system for missing children.

While family members have made mention of a police deal in the past, this was the first occasion that Kate indicates that she was offered a light sentence in exchange for confessing to her daughter's accidental death.

She also attacks the Portuguese police for attempting to smear them, especially in what she says were deliberate leaks to the press to discredit them.

Kate and Gerry agreed to do the programme as it would promote their campaign to have an EU-alert system employed for missing children, but had no editorial control, except for telling the makers not to film twins, Sean and Amelie.

No payment was made to the McCanns, but a £10,000 donation was made to the Find Madeleine campaign fund.

In the meantime, Praia da Luz struggles to return to normality, though locals are adamant that the notoriety gained by the village is fast disappearing.

Luísa João, who works at the Praia da Luz Parish Council, told The Portugal News that the village's recovery is complete.

"I believe Praia da Luz has recuperated from what happened last year, at least those working in tourism say things are looking good and figures point to a good year. The only thing that is keeping Luz from looking even better are the road works, which are not yet complete!"

Comparing 2008 with last year, she believes things have actually improved. However, she believes the declaration of the parents as arguidos has helped the village regain its reputation as a tranquil and safe place for families: "There are already a lot of tourists about, but no longer is there a sense of fear like we felt last year, when parents would walk around literally carrying their children through fear of them disappearing, as everyone believed Madeleine had been kidnapped. Since all the mess came out and people started believing the family may have been involved, they are not as frightened".

Sylvia Batista, an employee at the Ocean Club resort, told The Portugal News how, in her opinion and inside the resort, nothing much has changed since last year.

"It is still too early on in the season to say how things are going to go, but everyone is ready and looking forward to another good season".

She reflected, "Of course Madeleine is not a forgotten topic, because the press never really left Praia da Luz, there is always someone about, but things calmed down and eventually everything returned to normal".

On a wider scale, the chairman of Algarve Hotels and Resorts (AHETA) Eldérico Viegas, told The Portugal News on Wednesday that Madeleine's disappearance was not necessarily associated with the Algarve as a whole.

"The Maddie case was awarded extensive coverage, but most people did not relate the case with the region. Last year was a very good year for tourism, with the number of tourists for the area almost doubling initial forecasted figures.

"This year demand for the region has dropped, but I don't believe it is related to Madeleine, as there are many factors to consider, such as international economic difficulties," said Mr Viegas.

A real estate agent who preferred to remain anonymous, said Madeleine's disappearance has not affected local property sales, claiming people have not been put off investing in the area and they "realise what happened was not Luz's fault".

He also described the area as "safe", justified by the fact "it does not even have its own police station".

Last year, in an exclusive interview given to The Portugal News, the sole police spokesman the case has known admitted: "It is possible we will never find Madeleine".

He also explained that "investigators could already have an idea as to what happened, but they need to prove their theories. That is what counts.

"We need to provide evidence. We can even be certain of what happened, but if we can't supply the evidence to a court of law then what we believe is meaningless."

Regarding the sniffer dogs sent over from the UK, Mr Sousa said he could not comment on what the two British dogs detected in the apartment.

However, later in the interview he explained that one of the dogs "Smells death in a very specific context. Very short term - within the first minutes or first hour. It would have been stupid on our part not to have used this dog." Concerning police leaks, for which the police have been vehemently criticised, he explained: "They are undesirable. But it is difficult to establish who these 'leaks' are or where they are coming from. Information is probably not leaked on purpose. I believe sometimes things are said at an informal lunch after which a friend tells a friend who knows a journalist. But there's no doubt, these leaks do complicate my job".

When questioned over contradicting testimonies given by the so-called Tapas 9 during police questioning, he explained: "Contradictions in witness reports are normal. People are on holiday, relaxing and having a meal. The last thing on their minds is that something bad is about to happen.

"When confronted with a disappearance, it is normal that different versions are given. Eye-witnesses vary in their credibility, some people are more observant than others. In a bank robbery, we could have ten descriptions of the robber. Eye-witness reports are fallible".

"It could be that if I was at the table I could have not recalled anyone leaving the table. Only major discrepancies are questioned, such as when a witness says he never left the table and then says he left every ten minutes".

While he said he was unaware of any pressure exerted by London on Lisbon for the Portuguese police to release more information, he did admit: "It does seem that the McCanns have good contacts back in Britain".

His view, back in July of Kate and Gerry McCann? "I don't even think of criticising the parents.

"They have enough problems as it is, it cannot be at all easy to be living with this daily uncertainty".
Inspector 'No Clues' and the bungling investigation that shames Portugal, 02 May 2008
Inspector 'No Clues' and the bungling investigation that shames Portugal
The Olive Press
On May 3 it will be a year since Maddie McCann, 3, was apparently abducted from her holiday resort in the Algarve. JON CLARKE was the first UK journalist on the scene that day. Here, he analyses the catalogue of errors that hampered the investigation right from the start
I HAD spent a number of days trying to piece together the most mysterious disappearance of modern times. The three-year-old had literally vanished without trace. But ultimately, as it turned out, it wasn't such a surprise.
Here I was on a Sunday - four days after Maddie McCann had gone missing - and a pair of overzealous Portuguese border guards were rifling through my car, irrelevent of the press pass I had shown them.
A real show of force, it was, of course, too little too late for a police force that hadn't even bothered to inform the border of a missing toddler for 12 hours. And worse still took two full days before they actually got organised to start searching vehicles.
Aside from the fact that the CCTV had not been working on the A22 motorway as it tore along the short hour-and-a-half drive to the Spanish border – nor at the expensive Mark Warner resort where the McCann family were staying – it was a fairly comprehensive police disaster.
I had been in Praia de Luz since noon on the day after her disappearance. I had been scrambled by the British dailies to urgently cover the key first few hours of the investigation as they desperately tried to bring in their big guns, via Frankfurt, Rome and even Oslo.
Some 15 hours after Maddie had disappeared, it was straight away apparent that the investigation was lacking urgency.
Sniffer dogs had yet to arrive and any number of neighbours, friends and locals had been traipsing in and out of the holiday apartment where Maddie had been staying with her parents Gerry and Kate McCann and her twin siblings.
People wandered around aimlessly, holding photocopies of the girl. Staff at the resort looked bewildered and unsure what to do.
Most interestingly of all, was the local constabulary's choice of translater; neighbour Robert Murat, who had direct line of sight of the apartment from the house he shared nearby with his mother. Police never checked his background or his alibi and he was used only because he spoke Portuguese. More on him later.
Bedding was allowed to be washed
Evidence then, was contaminated then from the very first hour. In Britain and America, such an abduction would have triggered an almost instant police dragnet — sniffer dogs and helicopters would have scoured the area while the child's picture would have been handed to the Press and TV to make it public as fast as possible.
None of this happened and, bizarrely, the Portuguese police decided that a lack of publicity was the best option, to keep suspects in the dark about the investigation's progress.
But their first big error was failing to seal off the crime scene until later the following day. With all the "helpers" traipsing through the property, any DNA clues found would be as good as useless.
Police boss, Inspector 'No Clues' Olegario Sousa – as he was soon dubbed – admitted more than 20 people had entered the apartment touching furniture and opening and closing doors and windows.
But it got worse and it later emerged that police had failed to send Madeleine's bedding for forensic tests. By the time they revisited the apartment 24 hours after she was taken, cleaners had washed the sheets, blankets and pillowcases. Vital fibres from the abductor's clothing, or even their fingerprints, may have been lost.
It took the police nearly two weeks before they started interrogating their first suspect. Yes, their first translater Robert Murat.
Living just 100 metres away, his house Casa Liliana was sealed off and his computer and cars were seized on May 14. He was named as an "arguido" — the Portuguese legal term for a suspect — but there was not enough evidence to arrest him or keep him in custody. He has still not been charged with any offence.
Still an arguido, the half-Portuguese, half-English property salesman, 34, had a daughter Sofia, who was Maddie's age and had lived with him until his ex-wife had returned to live in the UK the year before. He has always insisted that he had gone to bed early on the night of May 3 and only knew about the disappearance the next day.
While it is perhaps hard to imagine with all the drama, shouting and screaming, his mother, Jennie, 71, backed him up.
I remember Murat well from those first few hours at the resort. He was hanging around outside the house and offering anyone titbits of information and offering to help. I had a short chat to him, before going off to try and find some clues of my own.
Eventually, another reporter I was working for the Sunday Mirror Lori Campbell, reported him to the police, who put him under surveillance. He was watched and his phone calls logged.
A shady Russian business associate, computer expert Sergey Malinka, 22, was soon brought in for questioning but not charged, as was his German girlfriend Michaela Walczuch and her estranged Portuguese husband Luis Antonio.
There was nothing concrete to connect Murat to the abduction, despite many hours of questioning and comprehensive checks on his background, movements and property.
British holidaymakers, including the McCanns' friends, repeatedly claimed they saw him near the complex on the night of May 3, seemingly contradicting his alibi. But in January it emerged that a local estate agent, also in Praia that night, is a remarkable lookalike of Murat. Perhaps it was him they saw and not Murat — and thus his alibi was sound.
Whatever, this didn't stop the Portuguese press from printing a series number of wild and seedy allegations.
Murat's lawyer Francisco Paragete defended him to the hilt, while his aunt Sally Eveleigh said: "Robert's life has been ruined by the most disgusting, cruel allegations imaginable. His only crime was wanting to do anything he could to help find a missing girl."
Under Portugal's strict secrecy laws, Murat has been barred from defending himself publicly. But he has said: "I am an innocent man. I am not a paedophile or any of the other things I have been called. I have done nothing wrong. I wake up with this nightmare every morning and I go to bed with it every night."
With no new evidence to charge him police changed tack and over a period of months the McCanns became the chief suspects. Despite having neither leads or solid evidence, the increasingly desperate Portuguese police decided that they had disposed of her body and concocted an elaborate lie to dupe the world.
The theory was that, being doctors, they had no problem in drugging their children to help them sleep. They had given her an overdose, and knew that if the truth came out they would have lost their jobs, home and children. They would therefore go to any lengths to avoid it.
It was so far fetched, but to this day, many Portuguese and Spanish believe it to be true.
The simple, sad truth is that in the 'Golden Hours', as detectives term the hours immediately after an abduction, Portuguese's finest had been napping. Caught out on the hop, they desperately tried to fight back, to allay the blame. But now, they will forever be known as the clueless force led by, appropriately, an Inspector No Clues.
Police haunted by Madeleine case, 02 May 2008
Police haunted by Madeleine case
BBC News
BY Alison Roberts, BBC News, Praia da Luz
Page last updated at

23:54 GMT, Friday, 2 May 2008 00:54 UK
Saturday marks the first anniversary of Madeleine McCann's disappearance from an apartment in the Algarve. A year on the consequences are still being felt in Portugal.
The Madeleine McCann saga has had a big impact in Portugal, on tourism locally, and in particular on the Polícia Judiciária (PJ), the criminal investigation force that is still handling this case.

Officials at the PJ and the Ministry of Justice, which oversees the force, were this week adamant Saturday would be marked by no special event or indeed any comment on the investigation, which is covered by judicial secrecy until mid-May, with a possible extension to August.

But the PJ's national director, Alípio Ribeiro, felt obliged to react to figures that emerged this week on his force's performance, and which some observers saw as pointing to a lack of resources and strategy, or even a crisis in confidence.
They showed sharp drops in the number of detentions by PJ inspectors and in charges resulting from their investigations in the past year.
While nationwide, the number of detentions dropped by 50%, in the Faro region where the investigation into Madeleine's disappearance is being handled, the drop was 37%, while the number of investigations that led to charges fell 58%.

Brain drain

That is likely to reinforce a widespread public perception here that police time and resources were disproportionately allocated to one high-profile case.

In Oporto, where police are investigating a string of nightlife murders, the number of detentions fell by 60% and investigations leading to charges by 10%.

Mr Ribeiro - who made headlines in February when he said detectives had been "hasty" in declaring Kate and Gerry McCann official suspects five months earlier - played down the figures.
In comments to the Lusa news agency, he said the number of detentions was no indicator of effectiveness, given a changing legal framework.
But Carlos Anjos, president of detectives' union ASFIC, said there had been a brain drain and sagging morale in the two years since Mr Ribeiro came in.
He told TSF radio: "It's logical that operational capacity has diminished. We've lost more than 20% of personnel, that can only give the result we're now seeing."

Justice Minister Alberto Costa is expected to face questions on the issue in a parliamentary debate next Wednesday on the security forces.

'Clarify the truth'

Meanwhile, the former coordinator of the PJ's criminal investigation department in Portimão, who oversaw the Madeleine McCann case until he was removed from his post by Mr Ribeiro in October after reportedly criticising his British counterparts, is preparing to sue unnamed British media outlets.

Though as department head he had no hands-on involvement in the case, he bore the brunt of British media criticism of the PJ - criticism that António Paulo Santos, the Lisbon lawyer retained to prepare the libel action, says Mr Amaral feels tipped over into personal insults.

Having put in for retirement, the former PJ coordinator also plans to publish a book about his work, to be entitled "Verdade da Mentira" - "The Truth about the Lie".

"It wouldn't be written if he hadn't been the victim of personal insults - even his children suffered at school," said his lawyer. "It's not for financial gain."

The book would not, he added, violate judicial secrecy or aim to incriminate anyone, but to tell Mr Amaral's side of things and lay out the evidence so readers can draw their own conclusions.

"Its one mission is to clarify the truth," Mr Santos said.

No date has been set for publication but it would be after Mr. Amaral's retirement, which is set to take some months.

Several books about the case have been published in Portugal, but this would be the first by anyone involved and is likely to find a ready market.

Resentment in Portugal of the critical tone of British media coverage, as expressed in letter, emails and phone calls to newspapers and broadcasters, and on internet forums, is widespread and often fierce.
Village still prays for Madeleine, 03 May 2008
Village still prays for Madeleine
BBC News
Page last updated at 02:04 GMT, Saturday, 3 May 2008 03:04 UK
One year on from the disappearance of Madeleine McCann, people in her home village of Rothley, Leicestershire have not given up hope of her safe return.
The village was thrown into the media spotlight when Madeleine went missing in Portugal on 3 May.
The Reverend Rob Gladstone said villagers are still behind her parents Gerry and Kate McCann and regularly pray for Madeleine.
An ecumenical service will be held at the Church of St Mary and St John on Saturday morning.
The event to mark the anniversary of the youngster's disappearance is also dedicated to other missing children.
Two thousand cuddly toys left at the village's Cross Green war memorial were washed and sent to children in Belarus. They have now been replaced by a candle.
On Friday, a single pink rose lay by the candle with a message from an unknown well-wisher that read: "Our lovely Maddie. We will never give up on you. We will never forget you."
Mr Gladstone said: "People remain very strongly supportive of Kate and Gerry.
"People seem to continue to pray for Madeleine. I often bump into people who say they pray for her every night.
"I think there is still that solid bedrock of support across the whole community."
The McCann's spokesman, Clarence Mitchell, said the couple struggle to cope with life in the spotlight when they go out of the protective environment of their home village.
He said villagers do not approach the couple but give them space to carry on their daily lives.
"They literally cannot move anywhere beyond Rothley without somebody somewhere thinking there might be some money in this.
"They get recognised and it causes a stir wherever they go now and that's very hard to deal with.
"Some newspapers think that if they offer hundreds of thousands of pounds they'll get access to Madeleine's bedroom... and even more money for Kate hopefully crying in the bedroom. It is just mawkish emotional guff."
The once anonymous village is now known throughout the world as the home of the McCanns.
The post office gets phone calls from people who have written to the McCanns and are desperate to know if their message has reached the family.
Postmaster David Lynch said some of the callers are in tears.
"We try and comfort them obviously. You assure them that any correspondence sent to the McCanns that Gerry and Kate will read them," he said.
Villagers were overwhelmed when media representatives from all over the world gathered in the heart of Rothley 12 months ago.
Resident Jacqui Harvey said she was not resentful of the attention that Madeleine's disappearance has brought but hopes it will help to bring her home.
"At the beginning, when we had 20 vans surrounding the square, it was a bit difficult but it was not at all media intrusion because they're keeping the whole Madeleine case up and running and keeping it at the front of everybody's mind," she said.
'Wrong reasons'
However, some residents are fed-up of having their home in the spotlight and are stony faced when approached.
Councillor Percy Hartshorn, chairman of Rothley Parish Council, said: "They've had enough. I think there's been so much media coverage for the village.
"I think Rothley's got its name for the wrong reasons - not for being a beautiful village."
Madeleine disappeared shortly before her fourth birthday from a holiday resort in Praia da Luz.
Her parents had been eating with friends at a nearby tapas restaurant and were later named as suspects by Portuguese police.
They have always denied any wrongdoing and have campaigned hard for people to help in their search for Madeleine.
Never give up on Madeleine, 03 May 2008
A year ago today Madeleine McCann's mummy and daddy, Kate and Gerry, became victims of the most colossal crime.
On May 3, 2007, their beautiful three-year-old daughter was taken from their holiday apartment, opening the dark door on a year which has been truly horrific for them.
I cried when I first heard the story l2 months ago and, I'm afraid, I filled up as soon as I met Kate McCann on Thursday. I think it was finally coming face to face with a lady we think we all know - a mum who is still going through what no parent should ever have to endure.
I hugged her and watched as various people approached the make-up room door at GMTV, spotted her and walked away, unable to find the appropriate words to say.
I went to meet Gerry, who was sitting in the corner of a small guest-room looking like he had the weight of the world on his shoulders and yet exuding the determination for which he's become known.
Meeting them makes everything else seem so trivial, knowing that some days they just don't feel like going on.
"We have had moments," Kate told me, "where it all gets too much and you think 'I would just love to pull the duvet over and it's all over.'"
Gripping Kate's hand so very tightly, Gerry admitted: "There are days and nights and you're just like 'I don't want to wake up tomorrow, I can't take it.'"
But take it they do. They have to, for their twins Sean and Amelie, and for the hope of finding Madeleine.
"Can you imagine if people just gave up on her? Madeleine's only four," said Kate, "We need to look for her."
Even as I was talking to the McCanns, a vicious minority were phoning and emailing saying, "they shouldn't have left their children alone," in a desperate attempt to convince themselves it could never happen to them.
The fact is, it could. It could happen to any of us.
I fill my car up with petrol and sometimes leave the children in the back when I go and pay for it. It could happen to me.
I've seen mums chatting to friends in supermarkets and on busy pavements while their children wander off. It could happen to them.
It happened to the McCanns in a child-friendly, family holiday village. It could happen to you.
Kate and Gerry live with the torment of hindsight every day, but the fact is there's a heartless beast out there who knows where Madeleine is.
As Kate told me: "It's a hideous crime - someone has gone in and taken her out of bed. That's a crime and it's so important to concentrate on that - to focus on the person who is out there."
So why, on the anniversary of her disappearance, don't we all do just that - for the sake of Madeleine, a little girl who wants her mummy and daddy back just as much as they desperately want her.
Madeleine, the incidental onlooker, 04 May 2008
Come on, be honest. When Kate McCann appears before you on your television screen, do you sink your head low and remember poor Madeleine, somehow spirited out of that Praia da Luz apartment, or are you overwhelmed with a sense of irritation, annoyance and ennui?

Or like me, is it a little bit of both, callous pig that I am?

Madeleine went missing exactly a year ago. I very much hope she is found, but I very much doubt that she will be. And I'm absolutely certain that the latest anniversary publicity blitz will do nothing to help any of us - Kate, Gerry, the viewers - find anything about "Maddy", one way or the other. Perhaps another dippy tourist will see some toddler in Chiang Mai or Torremolinos or Constanta and hysterically contact the media.

Kate and Gerry will be there to express hope and reiterate the point that they know they let her down by having a meal 100 metres away when they, or someone, should have been in rather closer contact.

The weird thing is the way the story has taken on a life of its own, with Madeleine as a terribly absent onlooker, almost incidental to the whole charade.
Every parent is haunted by a near-miss story, 06 May 2008
From Tuesday's Globe and Mail
May 6, 2008 at 9:16AM EDT
On the first anniversary of Madeleine McCann's disappearance last week, I paid a visit to the official Find Madeleine website, where I read statements by her doctor parents, Kate and Gerry McCann, and clicked on the Madeleine Online Store, where you can buy a "Look for Madeleine" yellow wristband or a "Don't You Forget About Me" T-shirt with the now familiar image of the adorable blond little British girl.
We all know the facts in what a spokesman for the incredibly well-organized McCann family has called the "biggest human-interest story ever": Madeleine disappeared from a vacation villa in an Algarve resort in Portugal last May, days before her fourth birthday, while her parents were famously off having dinner with friends, "not 50 yards away," Mr. McCann said in a recent documentary.
For leaving Madeleine and her two younger siblings alone while they partied, albeit periodically checking on them, the McCanns were pilloried worldwide, becoming a poster couple for "bad parents."
That was only the start: They were then named as suspects by the Portuguese police, but there has been no evidence to support this. The McCanns recently won a settlement from a British newspaper group for suggesting they were implicated in their daughter's death.
And so, although the online chatter suggests there are thousands out there convinced that the McCanns "did it," the couple have morphed from victims to villains and back to victims again.
And what about us? How have we morphed through this story that made us all so queasy?
First there was fear - how could this happen to a "nice" family on vacation? Then frustration - why haven't the police made any progress? Then suspicion - these parents, were they behaving oddly? And finally outrage - how could two doctors, supposedly well-meaning parents, leave their babies unattended?
I went outside and measured "not 50 yards" and figured it was probably to my neighbour's house at the corner, which, if you left young children alone without a walkie-talkie to hear them, might as well have been halfway across town.
The McCanns have said they will "forever regret" their decision. "I think the worst thing is we kind of almost thought about not going - and ... did," Mr. McCann said in an interview on British TV.
Still, I'm not sure that decision merited worldwide opprobrium, compounding their grief and guilt. According to one news story, they received one card that read, "Your brat is dead because of your drunken arrogance. ... Shame on you. I curse you and your family to suffer forever."
But we should beware being hypocrites on the subject. Every parent, surely, has a near-miss story, when inattention or a bad decision - often made for selfish reasons - could have led to their child's death.
One of mine was during the supper hour, when, as the frazzled mother of a one-year-old and a three-year-old, I reasoned that the little one could remain on the third floor with her brother watching television, while I went down, blessedly unhampered, to cook dinner. In an open-concept house, I figured I would hear any trouble.
After a few minutes, I called up to ask my son how his sister was doing, but got no answer. I took the stairs two at a time, my heart rate escalating. I found my son still engrossed in the TV, but his sister had crawled off into a bedroom, where she was sitting upright with the cord from a window blind wrapped tightly around her neck, pulling away from it. "No," I thought, a one-word instant horror story.
I scooped her up and took her back downstairs to safety. And so there was no news story about a child strangling, no observers to ask, "But where was the mother?" No tragedy to wreck our family.
I think of this not when I hear about extreme neglect, but when a mother dashes into a store leaving her child in the car, and tragedy ensues. Or a child drowns in a family swimming pool.
This is part of what we muddle through as parents - the close calls, the near tragedies. I've heard countless stories from friends - the scare, the guilt, the what-ifs. Or worse - "I did it once and nothing happened, so I'll do it again."
I hope the McCann tale, whatever the true story, straightened out parents tempted to pop out even for a few moments while the kids are in bed.
The exhausting truth about young children is that you can't take your eyes off them while they are up, or withdraw a vigilant presence even while they are soundly sleeping.
That's why parenthood is so satisfying. You get to keep someone you love alive, making sacrifices small and large to do so. You help bring them to the point - always debatable - when they are at last responsible for their own safety. And then, of course, a whole other level of gruesome possibilities looms.
The McCanns have said this anniversary is their "last chance" to focus public attention on Madeleine. To spur people on to keep looking for her. They have seen the Pope, visited Washington, made friends around the world.
The other day I saw a perfect blond little girl with a floppy sunhat sitting in a café with her mother, having lunch. They seemed so happy together.
Accidental tourist, 08 May 2008
Rob Blackhurst books a family break at a Portuguese resort - and finds himself babysitting in Praia da Luz
My girlfriend and I had planned a quick week away with Kitty, her four-year-old. Cash-strapped after moving house, we'd heard of the travel company Mark Warner's middle-class holiday camp regime: sun, sailing, tennis, good food, children's meals and a well-staffed kids' club that lasted all morning. We signed up to the 40 per cent reduction offer (it normally costs around £1,000 each) before someone else snapped it up.
It was only when we googled the "Upscale Ocean Club" in Portugal that it dawned on us: we were taking a four-year-old to the same complex, with the same company, as the McCanns had visited a year ago. This took some finding, as there was scarcely any mention of Praia da Luz on its website.
We are normally pretty risk-averse, but - with a combination of lethargy and an unscientific hunch that lightning doesn't strike twice - we decided that we'd go ahead. After all, we told ourselves, we wouldn't be leaving her alone in the apartment. Reactions of families and friends varied from the gut response "You are sick" to (more commonly) a philosophical "These things can happen anywhere". From our parents, there was just a tight-lipped "Be careful".
We wondered whether the weight of the abduction and the expected media scrum would hang over the holiday, but it is easy to forget when you are there. Praia da Luz itself is stripped of the striking photos of Madeleine that were everywhere a year ago. The only image we saw in the entire village was a sun-bleached poster on the church noticeboard. Next to it was a diary of the weekly services in English and Portuguese - including a vigil every Friday evening for "Madeleine and all the missing children".
With its crushed-diamond sand, cloudless skies, sprinkled green gardens and English pubs serving toad in the hole, Praia da Luz (Portuguese for "beach of light") feels too pretty and too perfect to be the theatre of nightmares. Above all, it felt safe: the beach alone could have been designed by a risk consultant - small, with water that is too shallow for anyone to get into trouble, and a rescue boat on permanent standby. It was the logistics - making sure the children's factor 30 was packed in the bag - and the eye-watering strength of the euro against the pound that occupied our thoughts, rather than any ruminations on missing children.
The slew of media images from last summer made me expect functional, high-rise apartments that had sprouted up recently - a large-scale suntrap built in the middle of nowhere. In fact, the village is small, full of character and history. Next to the beach are the remains of Roman baths. And although two-thirds of the population is English (mostly Telegraph-reading expats in their sixties), a Mediterranean sleepiness pervades the town. There was a cash drought for four days this past week when both cashpoint machines ran out of notes, making us empty our pockets, hoard our small change, and borrow from Kitty's purse to pay for meals. It's a public holiday, the waiters shrugged; no one will come and fix them.
But the ripples of Madeleine's abduction were just beneath the surface, and not just the journalist from Smooth FM who pursued us across the rock-pools in search of an interview. When we took Kitty to her kids' club, we shivered when we realised that it was the same bright room - with buggies and dolls, mini-furniture and finger paintings - in which Madeleine spent that last afternoon. We had expected to see it full of children, but there was only one other child enrolled in the below-fives club last week. The lack of visitors was clear wherever we went on the Algarve: on a day out to the local water park, Splash and Surf, we had the slides to ourselves.
We, too, found the uphill walk from the apartments to the Millennium Restaurant too far for a cantankerous four-year-old exhausted from a day at the beach. It was this gruelling journey, said Kate McCann in the documentary shown on ITV at the end of last month, that made the couple decide to dine at the tapas bar near to their apartment instead. But rather than leave Kitty alone, we put her in the "sleepover service" - a sleeping bag in front of a DVD and a nanny - while we ate our evening meal.
Inside the apartment, paranoia ruled. Like the McCanns', ours was on the ground floor, with public paths on either side. We hardly needed the hastily added security notices: "Do not leave your doors unlocked - even for a minute." My girlfriend swiftly abandoned me in our bedroom and decided that she would sleep in the twin bed next to her daughter instead.
The handful of other families that had booked with Mark Warner were no-nonsense, phlegmatic, with large broods. They weren't the sort to be easily spooked by irrational fears. But although it felt like a taboo to discuss Madeleine, every parent shared their own heart-stopping moment after a few glasses of wine. Ours came in the village supermarket when Kitty disappeared behind a stand of beach balls and we lost her for 15 seconds. Another father reported leaping out of bed when he saw a man's silhouette fall across their curtains - only to find it was one of the black-clad security guards that Mark Warner has hired this year to patrol the apartments at night. The local English population was clearly jumpy, too. When Kitty and I were playing her favourite game (hiding in the bushes together and pretending to be escaping from giants) there was not the indulgent smile that adults normally give other adults playing with children. Their gaze lingered, obviously wondering if the scene was as innocent as it initially appeared.
And when I wandered around Praia da Luz in search of cigarettes late at night, it felt a very different place. The streets that were so dazzlingly whitewashed and carefree during the day, the walls that radiated heat like a hot stove, felt sinister now: deserted, unlit and anonymous. The fairy-tale land had turned into a dark wood where strangers could come and go unnoticed. I hurried back to the apartment and double-checked the patio doors.
ABC News coverage, 28 April / 02 May 2008
Exclusive: The McCanns Speak Out
ABC News
On One-Year Anniversary of Daughter's Disappearance, Questions Remain
April 28, 2008
This week, an unforgettable "20/20." On the one-year anniversary of their daughter Madeleine's disappearance, Kate and Gerry McCann speak exclusively about the night 3-year-old Madeleine vanished without a trace while on a family vacation in Portugal.
This powerful and intimate portrait of the McCanns — told through unprecedented access inside their home — shows them straddling between hope and anguish, and will shatter everything you thought you knew about this case. The sensational story has been front page news around the world, in part because the McCanns still remain official suspects, despite any direct evidence against them. Now, "20/20" brings you new and startling details about what happened that tragic night.
Hours before Madeleine disappeared, why did the McCanns miss a warning sign from their daughter that something might be wrong? Why did they leave their three children alone in an unlocked apartment? Why did they show little emotion in public after their child went missing? And why does a cloud of suspicion still hover over them? Friday, their dramatic story, in their words.
Did Madeleine See Something Strange the Night Before She Disappeared?
ABC News
Exclusive: Kate and Gerry McCann Talk About Their Daughter's Disappearance
By Alan B. Goldberg
May 1, 2008
A year has passed since 3-year-old Madeleine McCann vanished without a trace during her family's vacation in Portugal. Her parents, Kate and Gerry McCann, have waged a public battle to find Madeleine and endured their own private hell after being named as suspects in her disappearance by Portuguese police.
The McCanns say they are haunted by the possibility that Madeleine's cries the night before her disappearance may have been a hint that she had seen a stranger lurking around the hotel room or something that made her uncomfortable.
Watch "20/20" this Friday at 10 p.m. ET for more of the exclusive interview with Kate and Gerry McCann.
In mid-April this year, as the McCanns campaigned for a European Amber Alert system, sealed statements the couple made to Portuguese police about Madeleine's cries the night before became public.
According to the leaked statements, on the morning of their last day together, Madeleine asked her mother, "Mummy, why didn't you come when we were crying last night?"
"It was sort of fairly early in the morning, she just very casually really said, 'Where were you last night when me and Sean cried?' and we immediately looked and said, 'When was this Madeleine, was this when you were going to sleep?'" said Kate McCann.
"We obviously told the police because we thought, does this indicate that someone has been round the night before and that's what has woken her up?" she said. "Which is significant you know … I've persecuted myself over and over again about that statement because you think, why didn't they [the police] kind of just hold it and say, 'What do you mean?'"
Madeleine didn't answer her parents' question and "carried on playing, whatever she was doing, totally undistressed," Kate McCann said.
The McCanns say that because Madeleine didn't make a big deal about the issue that they let the matter go. But they say they consciously decided that evening to be more vigilant about checking in on the children.
The couple has faced harsh criticism for leaving their children alone in the resort condo while at dinner the night Madeleine disappeared.
The McCanns say the leak was no accident and was meant to make them look negligent. The couple believes police in Portugal are responsible for the leak, a charge which the police have strongly denied.
The McCanns try to reassure themselves that Madeleine would have told them if she saw someone or something strange.
"As Gerry said, 'She's a very bright little girl, and if Madeleine had something to say she'd say it,'" Kate said. "And also bearing in mind that that night, the night that she went, she said that had been the best day of her holiday, so she certainly wasn't upset by anything."
Exclusive: McCanns 'Going to Fight the World'
ABC News
One Year After Madeleine Disappeared Parents Distraught About Daughter's Question
By Alan B. Goldberg, Elizabeth S. Joseph and Shalina Sharma
May 2, 2008
On the anniversary of daughter Madeleine's disappearance, Kate and Gerry McCann spoke exclusively about the night the 3-year-old vanished without a trace while on a family vacation in Portugal.
Since January, the McCanns, who remain official suspects, have granted a British documentary crew unprecedented access inside their home and their lives. The filmmakers uncovered new details about what happened that night, as well as how the family is coping today.
The sensational story has been international front page news since the very first day Madeleine was discovered missing by her mother, Kate.
Sightings of the toddler have been reported from Australia to Chile. Gerry and Kate continue to investigate what they believe is her kidnapping by working with police and private investigators and launching an international media campaign to keep Madeleine's face recognizable around the world.
'Someone's Taken Madeleine'
The McCanns and a few family friends were vacationing at an upscale resort called the Ocean Club, in Praia da Luz , Portugal.
At the end of each fun-filled day, the adults would tuck their children into bed and spend their evenings with each other at the resort's tapas bar, located about 50 yards from the apartments where their children were sleeping. They took turns checking on the children every 30 minutes.
"It was the fifth night," Kate said. "It was on the third check, which was my check, that I went [to the apartment] and discovered Madeleine had been taken. I rushed around the apartment really quickly just looking in cupboards and things, and then just went flying down [to] the tapas restaurant, shouting 'Someone's taken Madeleine!'"
The decision to leave their children unattended continues to haunt Gerry and Kate.
"I don't think there had ever been one second when anybody had said, 'do you think it's going to be OK?'" Kate said. "There was absolutely no way if I'd have had the slightest inkling that there was a risk involved there, that I'd have done it."
Gerry feels remorse, as well. "People will say that they've never done that, and who am I to argue? We have to live with the fact that we weren't directly there, and if we were, then possibly, probably, it wouldn't have happened."
Portuguese authorities were called within 10 minutes, and within 30 minutes, an investigation team was on the scene.
Kate recounted, "I can remember our friends shouting, 'You need to close the borders' and they were shouting 'Morocco, Algiers!' You know I can remember all this going on. 'And roadblock, we need roadblocks!'"
But there were no roadblocks, and no borders closed. According to news reports, from the beginning, police bungled the investigation: They thought the child had simply wandered off so they didn't seal off the area or interview neighbors, and their reportedly sloppy work left the scene contaminated.
Furthermore, on the night Madeleine disappeared, the police left the parents to search on their own.
But what of the criticism that the McCanns showed no emotion in the days just after Madeleine's disappearance? Gerry explained, "A numbness sort of kicked in, you can't have that raw emotion 24 hours a day, seven days a week, you just can't physically, you can't do it."
Kate was especially ridiculed by the media for being "poker face[d]," but she was instructed to do so. "We had like behavioral specialists. Profilers who were telling us not to show emotion in case the abductor gets a kick out of it."
'Felt Like I Was Going to Fight the World'
With no real leads and news reports of a botched investigation, the McCanns received another devastating blow. Five months after Madeleine went missing, the McCanns were shocked when Portuguese police named them "arguidos," or persons of interest, and brought them in for questioning. In an instant, the international media turned on the McCanns, changing them from victims to villains.
Kate remembered how she felt after being labeled an arguido. "I felt angry, I felt strong. I wasn't scared. I felt like I was going to fight the world, to be honest. My daughter was worth more than that and I would do whatever it took to fight for justice and truth."
Gerry's concerns were that if the Portuguese police have labeled the McCann couple as arguidos, "then ultimately who's looking for Madeleine? … It felt like you were in the middle of a horror movie really, a nightmare."
After being declared suspects, the McCanns felt it was no longer safe to remain in Portugal, so they returned home to England with their twin toddlers. It was hard to come home without their daughter.
Kate explained, "Being in our family home without Madeleine was incredibly hard and yet at the same time there was some comfort in it."
There were a lot of adjustments they had to make as they tried to return to daily life and accept their new reality.
Kate described her routine: "When we first came back, I didn't cook a meal, just couldn't do it. … There were times in the early days with things like that I found I resented things like that because it was taking me away from M, you know. How can I handle the washing when my daughter's not here?"
But they had to go on for their other two children. Kate said they will never give up their quest for Madeleine. "I'll never get to a day where you think OK, we've tried everything now, we're exhausted and we need to start living. I can't imagine ever getting to that day you know so I just think, well we need to know because the thought of living like this for another 40 years isn't exactly you know a happy prospect."
For months questions arose about the strength of the reported evidence against the McCanns. Then, in February, Portugal's chief of police, Alipio Ribeiro, admitted that they may have been overzealous in targeting the McCanns.
In an interview with Portugal's Radio Renascenca he said there was a "certain hastiness" in making the McCanns suspects.
Pushing for a Child Notification Program
Searching for their daughter remains Gerry and Kate's main focus, but there is also another goal on their agenda: to push for legislation in Europe to create something similar to the Amber Alert System in the United States.
The McCanns argued for a new system all around Europe, urging every country in the European Union to adopt the U.S.-style missing child notification system.
"It's not right that families could be destroyed with something like this and action had to be taken," Gerry said.
Their quest for change even led them to Washington, D.C., to get advice from someone who understands the depth of their pain and despair: Ed Smart.
Six years ago, his daughter Elizabeth Smart made headlines and gripped the hearts of people across the country. She too was taken from her bed in the middle of the night. Nine months later Elizabeth was found, alive.
Ed shared his wisdom from the experience with the McCanns.
"The most important things you can do is keep her face out there … but you can never give up hope because you know she could be out there and the things that you're doing today could bring her home."
Most recently, while the McCanns made a plea for a child alert system to be established in Europe, sealed statements the couple made to Portuguese police just after Madeleine disappeared were leaked to the press.
According to the leaked statements, on the morning of their last day together, Madeleine asked Kate, "Mummy, why didn't you come when we were crying last night?"
The McCanns say the leak is no accident and is meant to make them look negligent. Portuguese police deny any responsibility for the leak but the McCanns feel the damage has been done -- once again, doubts are cast about their behavior.
Kate believes Madeleine's question was a potential clue.
"It was sort of fairly early in the morning, she just very casually really said, 'Where were you last night when me and Sean cried?' and we immediately looked and said, you know, 'When was this Madeleine? Was this when you were going to sleep?' … and she didn't answer and I said, 'When was this Madeleine?' and then she just carried on playing whatever she was doing totally undistressed."
Kate said, "It doesn't feel like a year since I saw Madeleine. I see Madeleine's best friend from time to time and you can't help but wonder what Madeleine would be like, would she be that much taller, is her hair as long as that, would she be writing her name too? She's there waiting for us, and she deserves us to keep going."