News from January/February 2012 that is not covered elsewhere on the site

The continuing saga of the Aarushi murder, 10 January 2012
The continuing saga of the Aarushi murder
IBNLive

Brijesh Kalappa
Supreme Court Advocate and Additional Advocate
Tuesday, January 10, 2012 at 13:59

Fourteen-year-old Aarushi Talwar, daughter of dentist parents, was found dead with her throat slit at the family's Noida residence on the intervening night of May 15-16, 2008, while the body of their domestic help, Hemraj, was found on the terrace the following day. The initial investigation in the case carried out by the Uttar Pradesh Police led to the arrest of Aarushi's father Rajesh Talwar on May 23, 2008. After frenzied media reporting and public outrage, the probe was handed over to the CBI and Rajesh Talwar was granted bail by the Ghaziabad court on July 11, 2008.

The CBI, after probing the murder for over two-and-a-half years, had filed its closure report in the case in the Ghaziabad Special CBI court, saying it had been unable to find out any evidence to prosecute the Talwars. The Ghaziabad trial court, however, had rejected the CBI closure report, saying there was enough prima facie material in the agency's report to put the couple on trial for their alleged involvement in the twin murders and had issued summons to them to face trial. The magistrate took cognisance of the case and summoned the Talwars on February 9, 2011.

Rajesh and Nupur Talwar went to the Allahabad High court, which had dismissed their pleas to quash the trial court summons and the proceedings initiated against them. They were then constrained to approach the Supreme Court of India which had on March 19 last year stayed the trial against them. The Supreme Court dismissed their petitions. The Talwars will now have to stand trial for the murder of their daughter.

Two features which point to the complicity of the Talwars is the surgical precision causing the death of the two, as also the fact that the crime scene was 'dressed up' before policemen arrived on the scene. The spate of 'honour killings' by parents in and around North India gives rise too to some suspicion regarding the role of the Talwar couple.

A year before the Aarushi murder, a three-year-old British girl, Madeleine McCann, whose parents were also doctors, went missing when the family holidayed in Portugal in 2007. The investigation appeared to focus more tightly on her parents. Portuguese police came close to charging parents Kate and Gerry McCann after demanding the mother's diary be seized as trial evidence. Madeleine disappeared from a room in a Portuguese holiday resort in May while she and her younger twin siblings were left unattended when her parents were dining with seven of their friends at a nearby restaurant 50 metres away.

The Portuguese newspaper 'Correio da Manha' cited police sources as saying new tests on blood found in the car hired by the McCanns conclusively showed it was Madeleine's. "The definitive result of the tests leaves no doubts for the Policia Judiciaria. The blood found in the Mc Canns' car is that of Madeleine as well as those samples detected in the flat," the paper said. Portuguese newspapers had already published what they claim are extracts from Kate's journal and say the diary is fundamental to the belief that the 39-year-old GP and mother-of-three was involved in the death of her daughter. Passages are said to reveal a mother at her wits' end coping with three hysterical kids. Her twins, Sean and Amelie, were aged two when their sister vanished. Cardiologist Gerry, 39, is said to be portrayed as an absentee dad happy to leave his wife to shoulder the burden while he relaxed on holidays.

Unsubstantiated claims in the Portuguese media said police believed that the child was killed in the apartment and her body moved in a car hired 25 days after she vanished. According to 'Correio Da Manha', the police case against the McCanns consisted of sniffer dogs and that traces of blood indicate the presence of the little girl's body behind a sofa and in the trunk of the car. The McCanns, though formally notified as 'suspects', were allowed to leave Portugal when the English Press thoroughly examined their rather shameful role in the sordid affair. The parents remain free even as the child remains untraced and reports recently emanated that a child resembling the missing one was seen in Leh in India sometime in July, 2011.

Seasoned investigators say that investigations alone cannot tell the complete story, some lucky breakthrough is often essential to solve a crime.

Investigations fall short in certain cases where the motive is completely oblique. It is for this reason that the celebrated Judge Lord Denning said, "The devil himself knows not the thought of man."

In a murder case in Chikamagalur District (Mrs Gandhi's constituency) in 1995-96, an attractive housewife, Smt. Aruna, was found strangled to death by an electric cord, in nude state. Her gold bangles were stolen but much of the valuables remained locked in her almirah. The needle of suspicion pointed towards her husband Dr Manjunath since their three-year-old daughter told the police during interrogation that her father, who had left for the clinic in the morning, had returned home for a brief while. Dr Manjunath was imprisoned without bail for as much as a year. Meanwhile, the trial went on. In the public eye and in the eyes of the press, Dr Manjunath turned into one of the worst kind of cold-blooded killers.

Two years later, in a stray incident, three travelling salesmen of a reputed company were arrested in Goa (about 600 km away from Chikamagalur) for strangling a lone woman to death. When interrogated, they provided a list of killings that they had been involved in, including that of Smt. Aruna. Dr Manjunath was forthwith absolved of all charges since a self-inculpatory confession had been made by the travelling salesmen.

This presents a lesson for the public who are baying for the blood of either the Talwars or Krishna in the Arushi murder case or even in that of Ruchika Girhotra's case. Ruchika's case is a stand-alone one, in which, if the facts as projected ultimately turn out to be true, Mr SPS Rathore deserves the worst kind of punishment.

However, the press or the public have not been invested with the powers to conduct trial. It reminds one of a lady teacher who was arrested for prostitution and for involving her students in the trade too. It turned out to be some journalist's idea of a great story. Trial by the media or by the people's court is dangerous. Civilisation has advanced far too much for popular trials where due process is not followed, nor the rule of law.
How did these two children simply vanish one day?, 21 January 2012
How did these two children simply vanish one day?
Sunday Express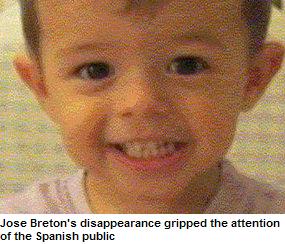 By William Bond
Sunday January 22,2012
AN INVESTIGATING judge in southern Spain will this week lift a secrecy order on the disappearance of two young children that has gripped the nation for more than three months.


It could cast fresh light on what happened to Ruth Breton, six, and her two-year-old brother Jose but could just as easily only fuel the mystery.
The children were reported missing by their father on October 8, 2011.
He approached a security guard in a popular public park in the city of Cordoba, telling him his children had simply disappeared when he was distracted and had taken his eyes off them for no more than a minute or two.
Jose Breton and his wife Ruth had just separated. He had weekend custody and had taken them to the park that Sunday.
Police launched a frantic search but the two children were nowhere to be found and no one had seen them. Even the park's numerous security cameras had captured images only of the father, none of Ruth and Jose.
Police immediately noticed that Jose senior seemed to show no emotion. In a flat voice, he repeated his story several times, never changing a detail.
Yet there wasn't a flicker of fear over what might have happened to his beautiful children. It was reported that he had shown no guilt either for having taken his eyes off them, nor anger that they may have been snatched by strangers to meet who knows what fate.
Detectives leaned heavily on him but he just kept repeating his story, virtually word for word. The children were playing, he took his eyes off them briefly and they were gone. Officers were convinced he was involved in the disappearance. A few days later detectives and uniformed police swooped on the country property just outside the city owned by his parents and little Jose's paternal grandparents at Las Quemadillas.
They were accompanied by sniffer dogs and spent hours turning the place inside-out. They found nothing. In the next eight days they repeated the operation twice more. But there were still no clues. Although Jose stuck to his story he was arrested and questioned as a suspect. After 72 hours – the maximum a suspect can be held in Spain – he was handed to an investigating judge, Jose Luis Rodriguez.
After a closed-door session, Breton was ordered to prison on suspicion of illegal detention, kidnapping and simulating a crime. A secrecy order meant that whatever evidence there was could not be disclosed.
Last week, state prosecutor Jose Antonio Martin-Caro said that when the secrecy order is lifted on Wednesday there will be evidence to back-up why Breton is being held. He admitted, however, that what actually happened to the children remains a mystery. The police are convinced that the father did not take them to the park and knows what happened to them, but they have yet to get him to admit it.
The pressure has not let up on the paternal grandparents. The estate where they live has been searched at least half a dozen more times. Drains have been scoured, false roofs torn down and walls opened up. Last Wednesday a team of National Police divers dragged the River Guadalquivir where it passes through Cordoba and near to the grandparents' property for a second time since the drama began.
The weekly Madrid news magazine Interviu reported that the father had let one ominous expression slip when a detective asked yet again: "Where are the kids, Jose?" "That," he is reported to have said, "is my secret."
Equally convinced that Jose senior is responsible for the children's disappearance is their mother, Ruth. She broke her silence for the first time this month as the 100th day of their disappearance approached.
She told a rally near the Portuguese border: "Everyone who knows Jose Breton knows that he did not lose his children. And to those who don't know him, I will assure them that he didn't."
The case bears a passing resemblance to the disappearance of British child Madeleine McCann on a family holiday in Portugal almost five years ago, in the sense that the mystery has a nation in thrall. Just as Kate McCann has clung to the belief that her daughter is still alive, so Ruth Ortiz is convinced her children are not dead. Also like Kate, she is determined to keep the spotlight on the case and not to give up until the mystery is solved.
Earlier this month she crossed the border into Portugal to put-up scores of posters with pictures of Ruth and Jose.
In Cordoba, a city visited by thousands of tourists every week, posters are being prepared in several languages, including English.
British expats are said to have offered to send posters to the UK as Interpol alerts police across Europe.
It has to be emphasised that there is nothing to connect the Spanish children's disappearance with that of Madeleine.
------------

Madeleine's parents support the family of the missing children in Córdoba europapress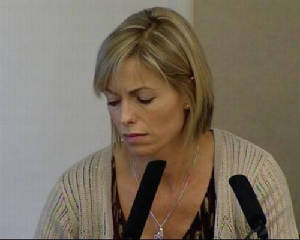 MADRID, 19 Oct. (EUROPA PRESS )
19.10.2011
The parents of the missing girl Madeleine McCann, Kate and Gerry, wanted to show their solidarity with the family of the two missing children in Córdoba and have said that their "heart" goes out to them and they hope that they will be found "safe and well".
"We have heard about this case but we do not know the details of what happened. Of course, our heart goes out to the parents and we hope that they will soon be found safe and well; we know from experience how hard it is when a child is abducted and we always feel with all our hearts for the parents whose children have also been abducted," said Gerry McCann.
Madeleine's father made these statements during a press conference in Madrid where they presented a book entitled "Madeleine" in which the girl's mother reconstructs the facts since the disappearance of her daughter on 3rd May 2007.
"When Madeleine disappeared at the beginning it was suggested to us that we should meet with other parents whose children had been abducted. This seemed a totally crazy idea to us because we thought that we were going to find our daughter straight away. We could not imagine that four and a half years later we would still be searching for her and now we know this feeling of other parents and we feel with all our hearts for them," added Gerry.
On the 10th October the siblings Ruth (aged six) and José (aged two) disappeared from a park in Córdoba. Since then National Police officers have been investigating the whereabouts of the children whose father was arrested on Tuesday in the face of indications of a possible crime of homicide.
------------------

The McCanns on the children of Córdoba europapress
19 October 2012

Transcript by Nigel Moore

Gerry McCann: When Madeleine was taken and it was suggested to us that we might want to speak to other parents whose children had been missing for a long time, we didn't want to go there because we couldn't imagine being in the situation we're in four and a half years down the line. So, we hope that the children are found as quickly as possible.
SOSNOWIEC: The kidnapping of 6-month-old Magda. Magda is the Polish Madeleine McCann, 28 January/03 February 2012
SOSNOWIEC: The kidnapping of 6-month-old Magda. Magda is the Polish Madeleine McCann
SE.pl

Published: 28.01.2012 19:40
The mysterious disappearance, the frantic searching and despair of their parents. And there are similar names. The Magda kidnapping case (6 months) from Sosnowiec is very similar to the disappearance of Madeleine McCann, British (4 years), in 2007.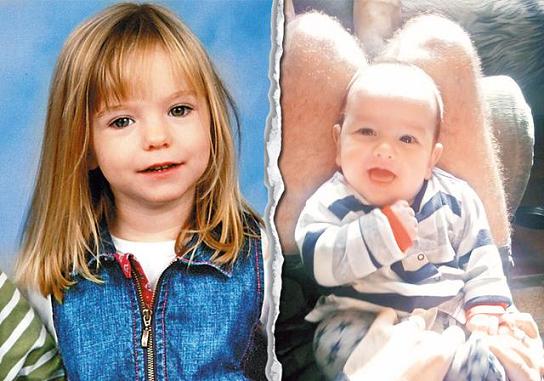 The parents left Madeleine alone for a while, while she slept in a bed. They went to dinner with friends and took turns to ensure that everything was in order. Once they found the bed empty.
That was the story told to British investigators by Kate and Gerry McCann, whose four-year-old daughter Madeleine disappeared from a hotel room in the Portuguese resort of Praia da Luz. Although a large scale search was undertaken, to this day we do not know what happened to that child.
For a time the parents were themselves in the circle of suspects. Investigators reportedly found biological traces of the girl in a rented car after McCann's disappearance. There were also suspicions that the child was given anesthetic which accidentally killed her, and claims by a private detective that the child had been kidnapped by a paedophile and taken to the United States.
At the end of the investigation it was shelved. We will probably never know what really happened. Let's hope that the "Polish Madeleine" will be different.
-----------

New twists in missing Magda case New Poland Express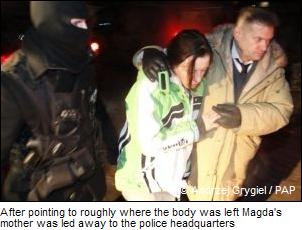 3rd February 2012

The case of missing baby Magda took a number of dramatic turns late Thursday night after the girl's mother reportedly told police where they could find the body.

At the time of going to press details were still sketchy, but it's believed that the woman has pointed out a tree next to which she left the body and police officers have been combing the surrounding area ever since.

The six-month-old baby was reported missing on January 24 in the town of Sosnowiec. Immediate reports stated that the mother had lost consciousness, presumably after being attacked, and when she came round, Magda's pushchair was empty.

Since then, the country has witnessed a nation-wide campaign, with huge amounts of money being offered up as rewards for the child's return.

However, according to recent reports on TVN24, it transpires that the mother has now admitted in an interview with Detective Krzysztof Rutkowski that her baby died in an accident and she later hid the body outside next to a river.

So far police have only uncovered a rolled up jacket, but have been unable to confirm whether it belongs to the girl.

"We are checking every bush and shrub," says Pawel Warchol, a spokesman for Sosnowiec police.

Reports state that the mother made the confession to Detective Rutkowski during an interview, in which she claims baby Magda fell out of her arms from a slippy blanket, hit her head in the bedroom and died.

"The mother did not know what to do with the body," states PC Warchol. "She packed it into her truck and eventually left it under a tree next to the river. Police are searching there as we speak."

He went on to stress that the child's father had no knowledge of the accident.

However, despite the tragic developments, there was officials said, still a glimmer of hope.

Mariusz Sokolowski, spokesman for Polish Police Headquarters (KGP) said that they would continue to search adding, "While there is no corpse, hope dies last."

The mother is currently at Katowice's Regional Police Headquarters, although reports claim that in her current state she is "unable to perform any acts".

The tragic case continues.
Madeleine McCann detectives to call in Tapas 7, 05 February 2012
Madeleine McCann detectives to call in Tapas 7
Sunday Express

By James Murray
Sunday February 5,2012

SCOTLAND YARD detectives are poised to interview the so-called Tapas Seven as their inquiry into the disappearance of Madeleine McCann steps up a gear.

The friends of Kate and Gerry McCann, who accompanied them on their holiday to Portugal almost five years ago, are expecting interview requests as soon as officers feel they could assist the investigation.

So far, the Yard's Maddie Squad has been concentrating on analysing every scrap of evidence in the case from files supplied by Leicestershire police, ­Portuguese detectives and Metodo 3, the Barcelona-based private investig­ators hired by the McCanns.

Officers have flown to Portugal three times and visited Spain twice.

With much of the analysis over, Detective Chief Inspector Andy Redwood wants to put his team of three detective chief inspectors, five detective sergeants and 19 detective constables to good use.

They are being supported by six civilian staff and three officers from the specialist murder review group, bringing the total number on the team to 37.

By April the cost of the inquiry will be £1.9million but it is thought that figure could double with the "investigative review" going into next year.

After nine months of information gathering, officers are checking statements from key witnesses.

They include the Tapas Seven, so called because they were eating at a tapas bar with Kate and Gerry at the time Madeleine disappeared.

In some cases the Yard officers have asked for documents to be retranslated from ­Portuguese to English so that they are absolutely sure of what was said and meant.

One theory they are examining is that if someone abducted Madeleine they could have had a copy of the key for the holiday apartment at the Ocean Club in the Algarve resort of Praia da Luz.

The Sunday Express has learned that the Tapas Seven "fully expect" to be asked to go over the statements they made to Portuguese officers shortly after Madeleine vanished on May 3, 2007.

They were also interviewed by Leicestershire detectives, with Portuguese officers in attendance, when they arrived home.

The most significant witness is mother-of-two Jane Tanner, partner of doctor Russell O'Brien, who said she saw a man carrying a child resembling Madeleine some time after 9pm.

Another key witness is Matthew Oldfield, who went to the apartment to check on Madeleine and twins Sean and Amelie, who celebrated their seventh birthdays last week.

Mr Oldfield saw the twins in their cot but did not push the door open wide enough to see Madeleine, although he was happy all was well.

All the Tapas Seven fully support the Yard's review of the case and hope it will provide a breakthrough.

Other members of the group include Mr Oldfield's wife Rachael, David and Fiona Payne and her mother Dianne Webster.

A Yard spokesman declined to say who would be interviewed and when. "We are not going into that level of details," he said. "We are not at the stage of speaking to individuals yet. We are laying the groundwork."

The McCanns' spokesman Clarence Mitchell said they and their friends would do everything to assist attempts to discover what happened to Madeleine.
Helping the cops, 05 February 2012
Helping the cops
Unterdenteppichgekehrt

Posted by Johanna at 12:06
Sunday, 5 February 2012
Questions:
To Matt:

Are you being treated for your colour blindness (regarding fabrics), your inability to count (windows) and your problem identifying shapes (of tables)?
To Russell:

How did Matt react when you entered his apartment with his key on Sunday evening to check on his daughter while Matt was inside with his tummy bug?
To Jane:

Did you hear Rachael snoring when you listened at her window on Wednesday evening to check on her daughter?
To Rachael:

Didn't it feel odd to watch a group of children at tennis on Thursday when none of the group's children took part but were instead out on a boat trip at the beach?
To Fiona:

When you collected Maddie together with Kate from the creche on Thursday at lunch time, was she as drenched, cold and wet as yourself from sailing on the rough sea?
To David:

How did it feel to get thrown in the deep end when your buddy claimed that you checked on his daughter on the WEDNESDAY alone inside the apartment?
Trial for alleged defamation of Gonçalo Amaral postponed to March 29, 08 February 2012
Trial for alleged defamation of Gonçalo Amaral postponed to March 29
SIC Noticias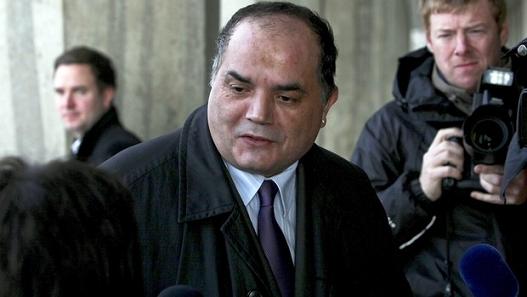 Lusa
08.02.2012 19:37
With thanks to
Astro
for translation
The trial of lawyer Marcos Aragão Correia and of the university teacher António Pedro Dores, over defamation of former PJ inspector Gonçalo Amaral, within the case of Leonor Cipriano, which was to take place on Thursday, in Faro, has been postponed to the 29th of March.

Isabel Duarte, Marcos Aragão Correia's lawyer, has told Lusa Agency that by a dispatch from Faro Judicial Court, the trial was postponed to the 29th of March, at 9.30 a.m.
Despite not having had Access to said dispatch yet, the lawyer said that she had been informed, by telephone, that the postponement was due to a pending appeal, which was filed by the other arguido in the process, António Pedro Dores, the president of the Association Against Exclusion through Development, whose defence attorney is José Preto.
For the trial in Faro, Marcos Aragão Correia has called António Marinho Pinto, presently the head of the Lawyers' Order, and Ana Maria Calado, the former director of Odemira Prison, as defence witnesses.
Former Judiciary Police (PJ) inspector Gonçalo Amaral – who investigated the disappearance of Joana, the daughter of arguida Leonor Ciprinao – has criminally sued Marcos Aragão Correia and António Pedro Dores, because they publicly alluded to the alleged torture that Leonor Cipriano was a target of during the Joana case's questioning stage.
Marcos Aragão Correia, lawyer to Leonor Cipriano, alleges that the Portuguese courts have already decided that it has been proved that His client was tortured, yet the Public Ministry (MP) continues to uphold the accusation in the defamation lawsuit that Gonçalo Amaral has filed.
He further recalls that, within the alleged case of torture of Leonor Cipriano, Gonçalo Amaral was condemned over the crime of false statement, to a one-and-a-half-year prison sentence, which was suspended over the same period of time.
The defendant of Marcos Aragão Correia in the defamation lawsuit is lawyer Isabel Duarte, who is equally the lawyer for Madeleine McCann's parents, who has pending lawsuits against Gonçalo Amaral.
The trial in Lisbon over the defamation lawsuit that has been filed by the parents of Madeleine McCann, the little girl that disappeared in the Algarve, in May 2007, which was equally scheduled for Thursday, has also been postponed, without a new date, according to lawyer Isabel Duarte's indication to Lusa.
That process concerns Gonçalo Amaral's book, "Maddie: A verdade da mentira".
-----------------

Further/background reading: Gonçalo Amaral v. Marcos Aragão Correia & António Pedro Dores
Leveson inquiry: Ian Edmondson contradicts Colin Myler evidence, 09 February 2012
Leveson inquiry: Ian Edmondson contradicts Colin Myler evidence The Guardian

Former News of the World news editor gives different version of events surrounding the publishing of Kate McCann's diaries

Dan Sabbagh
Thursday 9 February 2012 13.08 GMT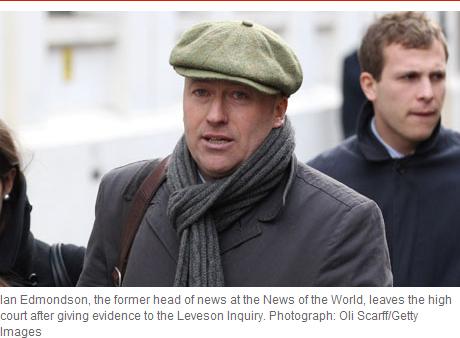 The former news editor of the News of the World has contradicted evidence given to the Leveson inquiry by his one time editor Colin Myler over what a spokesman for the McCanns was told about the planned publication of Kate McCann's diary by the now closed Sunday tabloid in 2008.
Ian Edmondson, giving evidence to the inquiry on Thursday, said he was instructed by Myler to call Clarence Mitchell, the McCanns public relations representative, and tell him only in "very woolly" terms that the newspaper would be running a story about them without giving the family any indication that the tabloid was going to publish her diaries in full.
The editor's instruction, Edmondson said, was to give Mitchell the impression "that we were running a story, but not tell him specifically what story" and that "certainly don't tell him [Mitchell] that we were in possession of the complete diaries". Myler, Edmondson added, was "frightened that if Clarence knew what we had, he might take action".
Robert Jay QC, counsel to the inquiry, asked Edmondson what was the purpose of "having an ambiguous or woolly conversation?" Edmondson replied that the purpose would be "in order to blame Clarence Mitchell that he hadn't acted properly upon instructions" if there was a row post-publication.
Edmondson's appearance before Lord Justice Leveson was the first time he has spoken publicly since he was arrested and bailed on suspicion of phone hacking in April of last year. The former News of the World news editor was not asked any questions about hacking because of the ongoing police inquiry.
Edmondson's evidence directly contradicts that given by Myler to the Leveson inquiry on 14 December. Myler was asked: "Did Mr Edmondson make it clear to you that he had made it clear to Mr Mitchell that he had the whole diary and was going to cause extracts from it to be published in the News of the World?"
In response, Myler said: "That's what he led me to believe, yes."
Kate McCann told the Leveson inquiry in November that she felt "mentally raped" by the News of the World's decision to publish her diaries in full – diaries that she had written after her daughter Madeleine had disappeared on holiday in Portugal in 2007, and which were subsquently seized by the Portuguese police. The diaries were translated into Portuguese and acquired by the News of the World, which retranslated them to publish them.
A week later, the News of the World printed an apology for publishing the diaries, and it subsequently emerged that the Murdoch-owned title paid £125,000 to the fund for finding Madeleine.
Edmondson told the inquiry on Thursday that Myler's instruction to ring Mitchell came after a meeting that he, Myler and the News of the World's former legal manager Tom Crone had ahead of publication. Edmondson said that Crone gave "his legal view, which I'm told I'm not allowed to repeat, but which dismayed, shall I say, Mr Myler". The News of the World editor then asked Edmondson to call Mitchell.
Myler lost his job as News of the World editor upon the title's closure last July in the wake of mounting phone hacking revelations.
In January it was announced that he was to become the editor of the New York Daily News, the bitter rival of Rupert Murdoch's New York Daily Post.
-----------------

Further reading: Leveson Inquiry: Dacre, Edmondson and Clifford
Kate McCann's new book, 12 February 2012
Kate McCann's new book
Scottish Sunday Express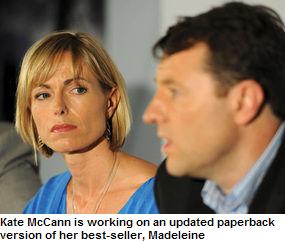 By Sunday Express reporter
Sunday February 12,2012

KATE McCann is working on an updated paperback version of her best-selling hardback book, Madeleine, writes Tracey Kandohla.

It is thought the new book, set to be published in the spring, will include details about the Scotland Yard review of her daughter's kidnapping.

It will be published shortly before the fifth anniversary of three-year-old Madeleine's disappearance in Portugal on May 3, 2007. The hardback raised £2million for the Madeleine Fund. More than 280,000 sold in Britain. Thousands more have been sold around the world in countries such as Australia, Spain and Portugal.

Kate hopes the paperback will be a hit with British holidaymakers over the summer. Kate, 43, a doctor, said: "Somebody holds that key piece of the jigsaw. I am hopeful that this book may help the investigation. It might prompt someone who has relevant information, maybe without even knowing it, to come forward."

Her publisher Alison Barrow, from Transworld said: "Kate's first book was a phenomenal success. It achieved astounding sales, especially for a first-time author, and it was the number one book in Britain for weeks.

"We just hope Kate's original book and her new book bring her one step closer to finding her daughter."

The 384-page hardback, was launched on Madeleine's eighth birthday on May 12 last year.
Madeleine McCann detective made £300k from book about tragedy, 12 February 2012
Madeleine McCann detective made £300k from book about tragedy
Daily Record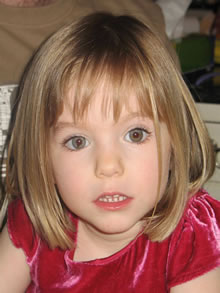 Feb 12 2012

THE Portuguese detective who was thrown off the Madeleine McCann case has made a ­fortune spouting lies about the missing girl's parents.

Gonçalo Amaral has been paid at least £320,000 for a book and DVD ­peddling claims that Kate and Gerry McCann ­covered up Madeleine's death in their holiday apartment.

The McCanns are suing Amaral for at least £1million for libel and breaching their human rights.

Their case against him was due to be heard in Lisbon last week but was ­postponed when he split from his legal team.

Amaral was booted off the police investigation following the disappearance of the three-year-old in 2007 after five months in charge.

His book – The Truth About The Lie – became a bestseller in Portugal, even though the country's top legal officials insist there is no evidence to back up his accusations.

Amaral is believed to have made £1million from information about the case.

A legal source close to the ­McCanns said: "Amaral made an astonishing amount of money from his ­campaign to discredit the ­McCanns.

"I don't know how he sleeps at night, knowing he cashed in on the tragic story of a young girl's disappearance."

Lawyers for the couple are expected to present proof of some of the ex-detective's ­earnings when the case is heard.

They will show Amaral ­received at least £287,000 from the ­book publishers and £33,600 for a DVD.
Revealed: How shamed cop made a fortune spouting lies about Madeleine McCann's parents, 12 February 2012
Revealed: How shamed cop made a fortune spouting lies about Madeleine McCann's parents Daily Mirror

By Mirror.co.uk
12 Feb 2012 00:00

Gonçalo Amaral has been paid at least £320,000 for a book and DVD peddling his outrageous claims that Kate and Gerry McCann covered up the death of Madeleine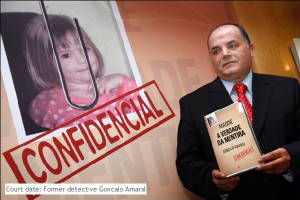 The Portuguese detective who was thrown off the Madeleine McCann case in disgrace has made a fortune spouting lies about the missing girl's parents.

The Sunday Mirror can reveal Gonçalo Amaral has been paid at least £320,000 for a book and DVD peddling his outrageous claims that Kate and Gerry McCann covered up the death of Madeleine in the family's holiday apartment.

Amaral was booted off the investigation after just five months in charge. But his book, The Truth About The Lie, became a bestseller in Portugal even though the country's top lawman insists there's no evidence to back up his accusations.

A legal source close to the McCanns believes Amaral could have made as much as £1million in total.

"Amaral made an astonishing amount of money from his campaign to discredit the McCanns," said the source.

"I don't know how he sleeps at night, knowing he's cashing in on the tragic story of a three-year-old girl's disappearance."

Gerry and Kate are suing Amaral for at least £1million for libel and breaching their human rights.
Lawyers for the couple, from Rothley, Leics, are expected to present proof of some of the ex-detective's earnings when the case is heard.

They will show Amaral received at least £287,000 from the publisher of the book, which has been translated across Europe, and £33,600 for a DVD documentary.

SLURS

The McCanns' civil case against Amaral was due to be heard in Lisbon last week but was postponed when the ex-cop split suddenly from his legal team.

In 2009 the Sunday Mirror revealed the McCanns had lodged a 36-page writ at the Lisbon court saying Amaral's slurs left them "totally destroyed".

Friends, relations and those who worked with the couple after Madeleine's disappearance will support their claims as witnesses. The McCanns are not expected to give evidence in person.

If they win, the money will be used in the search for Madeleine, who disappeared in May 2007 on a family holiday in the Algarve.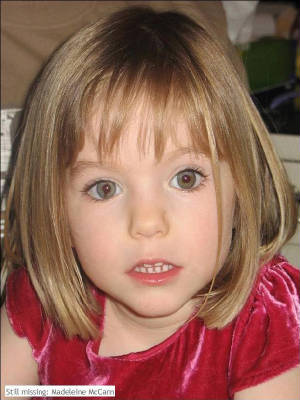 Amaral, 52, led the investigation until October 2007 when he was removed for claiming British police were only helping with leads provided by the McCanns.

During his stint heading the inquiry, the Sunday Mirror caught him enjoying regular boozy lunches, one of which lasted more than three hours.

Portugal's attorney general Jose Pinto Monteiro later archived the investigation and cleared the McCanns of any wrong-doing.

Kate and Gerry have never given up hope of finding Madeleine, and Scotland Yard detectives are now carrying out their own probe into her disappearance.
The case of Maddie McCann, 13 February 2012
The case of Maddie McCann
SIC
13.02.2012 12:57
Brian Robertson and Simon James use their gifts to try to point the way of truth in the disappearance of the English girl in 2007.
-------------

Note: I have been advised that this video is from a SIC television show named "Até à Verdade" (Until the Truth) that uses the "gifts" of mediums/psychics to "investigate" famous criminal cases/mysteries that were not solved by the police. The gifts displayed by the men relate to psychic "powers", talking to the dead, etc.

The English language section starts from around the 12:00 mark and the video contains some good, if fleeting, views of Praia da Luz and its surrounds.
I saw Maddie in a supermarket on the Costa del Sol, 22 February 2012
I saw Maddie in a supermarket on the Costa del Sol
The Olive Press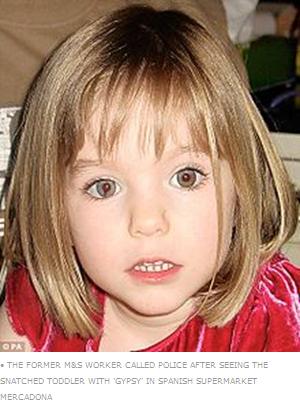 EXCLUSIVE by James Bryce
February 22, 2012

A BRITISH expat based in Spain is '100 per cent sure' she saw missing Madeleine McCann in a supermarket on the Costa del Sol.

The former M&S sales assistant, 63, is adamant the young girl is the missing Briton after seeing her with a man she describes as looking like 'a gypsy'.

Yvonne Tunnicliffe, who has lived in Spain for six years, made the sighting while shopping at a Mercadona store in Alhaurin el Grande in 2009.

The grandmother has only now come forward, after reading about increasing suggestion that the toddler might have been snatched by a gypsy gang while on holiday in Portugal in 2007.

"My whole body shook when I saw her, she looked just like her daddy (Gerry)," Tunnicliffe told the Olive Press newspaper.

"I'm certain it was Madeleine, I wouldn't even say I'm 99 per cent sure, I'm 100 per cent sure.

"She had mousy blonde hair in scruffy plaits, very fair skin and looked about seven or eight, which is how old she would have been now."

Tunnicliffe contacted police a week after the sighting and was visited by detectives who immediately took her back to the store to view CCTV footage.

But police were informed by the store's manager that footage was only stored for one week and had subsequently been destroyed.

So convinced was she of the sighting, she was unable to sleep for much of the week and finally drew a number of sketches of both the girl and man for police.

Fighting back tears, she told the Olive Press: "It really upset me and I couldn't stop thinking about it and why I hadn't gone to the police straight away.

"It was Christmas and we had friends over. I kept getting sidetracked."

On the sighting she said: "The girl's demeanour bothered me. I don't think she belonged to the man because she didn't look anything like him.

"He had dark, curly hair down to his neck and was wearing a distinctive bullring-type earring.

"He sounded Portuguese and was certainly not from Alhaurin."

Tunnicliffe claims the girl – who was wearing a pale blue top and trousers – did not look Spanish.

"It disturbed me for a long time and still upsets me thinking about it now," an emotional Tunnicliffe added.

When contacted by the Olive Press, a Scotland Yard spokesman confirmed: "It's an open investigation and any information received will be reviewed and considered by detectives."

The McCanns' spokesman was unavailable for comment as we went to press.
Private client, family and employment, 22 February 2012
Private client, family and employment
The Lawyer

Wednesday, 22 February 2012
- Extract -

Timothy Scott QC, 29 Bedford Row

Known for his intellect and unyielding tenacity, 29 Bedford Row's Timothy Scott QC is widely hailed as a guru in the field of family law, including both children work and matrimonial finance. Most of his practice has an international element and he has fast become a go-to counsel for cases involving prenuptial agreements made abroad. Throughout his long and distinguished career Scott has led on a wealth of standout cases, including advising the parents of missing child Madeleine McCann in 2008. Most recently Scott acted on Z v Z – the first case contested in front of a High Court judge in which the application and the limits of Radmacher v Granatino were tested. Acting for the wife, Scott won the first round before Mr Justice Ryder, securing English jurisdiction.
The Suzanne Pilley murder trial, 23 February 2012
The Suzanne Pilley murder trial in Edinburgh is of interest for the following reasons:

1) Suzanne Pilley's body has not been found
2) Cadaver dogs were used and indicated areas of interest - in the boot of a car belonging to the accused and in the garage area of the building where the accused worked with the alleged murder victim
3) No forensic material was discovered in those areas to link the accused to the perpetration of any crime
4) No confession has been made by the accused to police
5) No confession has been made by the accused to relatives/friends/inmates

Will the jury return a guilty verdict on the strength of the circumstantial evidence available?
Dog trained to look for bodies found areas of 'interest' at Suzanne Pilley's work
STV

23 February 2012 13:19 GMT
Jury told by scene examiner that dog trained to seach for bodies was interested in the parking bays at Suzanne Pilley's workplace.


A dog specially trained to look for bodies found three areas of interest in the building where missing bookkeeper Suzanne Pilley worked, a court has heard.

Jurors also heard that two cadaver police dogs were used to search the car of David Gilroy, the man accused of the 38-year-old's murder.
Mark Heron, a senior scene examiner with the Scottish Police Services Authority, said one of the dogs showed "some interest" in the boot of his car.
Gilroy, 49, denies murdering Ms Pilley on May 4 2010 in Edinburgh, or elsewhere, hiding her body and driving with it in the boot of a car. He also denies trying to cover up the alleged killing.
At the High Court in Edinburgh, Mr Heron said the specialist dog showed interest in the parking bays in the garage of Infrastructure Management where Ms Pilley and Gilroy had both worked.
But the defence told the court that no forensic link was found to connect items in the staircase, basement and the garage of the building to Gilroy.
Advocate depute Alex Prentice QC, prosecuting, showed the jury a computer-generated image of the office block in Thistle Street, Edinburgh, which Mr Heron said he first examined on May 9 2010.
The witness said he attended the scene with, among others, two dog handlers and two cadaver dogs.
Mr Heron, 47, said one of the dogs "made its way around the garage sniffing" and paused at three areas.
Mr Prentice asked if the dog handler marked them as areas of specific interest. He replied: "We decided to chalk these specific areas for further examination."
Jurors heard him describe two of the areas as being in parking bays and the other around a door.

Car boot

During cross-examination, defence QC Jack Davidson put it to Mr Heron that there was no forensic link from the Thistle Street building to the accused.
Mr Davidson asked the witness about the various scientific methods used to examine the garage, basement and stair area of the office building.
Jurors heard that Mr Heron had been to the address "as many as 10 or 15" times.
Mr Davidson asked him if an "extensive and meticulous" inquiry had been undertaken and he agreed that it had.
He asked: "There was no forensic link from examination of items in the staircase, basement and the garage to Mr Gilroy in relation to this inquiry?"
Mr Heron replied: "Not as far as I am aware."
The jury was then shown photos of Gilroy's silver car, impounded at a garage used by police for examining vehicles.
Mr Prentice asked: "When you opened the boot of the car, can you tell us what you experienced?"
The witness replied: "I could smell either a cleaning fluid or air freshener-type smell, a fresh, clean fragrance, when I opened the boot."
Asked what happened after that, he said: "The dog went into the boot and showed some interest in the boot."
"What is it you saw?" asked Mr Prentice.
The witness replied: "My observation was that at the top-right corner and the left-front corner the dog paused and showed interest in these areas."
Asked what the dog did at this point, Mr Heron replied: "(It) just paid particular attention, sniffing at that particular area."
Mr Davidson, defending, asked the witness why the smell was not recorded by colleagues who had examined the car when it came into police custody days earlier.
Mr Heron replied: "I am 100% certain I could smell it."
Gilroy, of Edinburgh, denies all the charges against him.
The trial before Lord Bracadale continues.
--------------

Cadaver dogs used in Suzanne Pilley murder probe
BBC News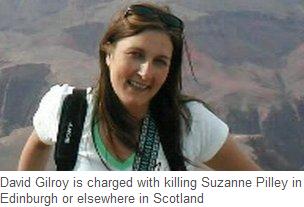 23 February 2012 Last updated at 13:16
The Suzanne Pilley murder trial in Edinburgh has heard how police used dogs which had been specially trained to find evidence of dead bodies.

The cadaver dogs searched the offices where she worked with David Gilroy, who denies her murder.
The springer spaniels identified three areas of interest in the office's basement garage, and two areas in Mr Gilroy's car boot.
Ms Pilley's body has never been found. The trial is adjourned until Friday.
Defence lawyers said the large number of forensic tests which had been carried out had failed to find any substantial evidence linked to the accused.
David Gilroy, 49, denies seven charges including murder. He is accused of killing Ms Pilley either in Thistle Street or elsewhere in Scotland.
On Wednesday the jury retraced the last known movements of the missing Edinburgh woman.
It followed the route the 38-year-old took to her city centre office on the morning she disappeared on Tuesday 4 May, 2010.
The jury members were accompanied by Mr Gilroy, her former lover and work colleague.
---------------------

This article outlines the prosecution's case against Gilroy:

Suzanne Pilley murder trial: David Gilroy in the dock accused of killing Edinburgh bookkeeper Daily Record

Feb 20 2012

A MAN has gone on trial accused of murdering a bookkeeper almost two years ago.

David Gilroy is charged with killing Suzanne Pilley, 38, on May 4 2010 in Edinburgh or elsewhere in Scotland.

Gilroy, 49, also stands accused of trying to cover up the alleged murder of the Edinburgh woman.

Prosecutors allege he tried to defeat the ends of justice, taking various steps to avoid detection, arrest and prosecution for the alleged killing.

They include allegations that he concealed Ms Pilley's body in the premises of Infrastructure Management in Thistle Street, in the Scottish capital, and transported it to various locations in Scotland in the boot of a car.

Gilroy, also from Edinburgh, denies the charges against him.

He is on trial before judge Lord Bracadale at the High Court in the city.

The murder charge alleges that Gilroy assaulted and injured Ms Pilley by unknown means in Thistle Street, or elsewhere, resulting in her death.

A further charge of attempting to defeat the ends of justice is broken into sub-sections. They include claims that he bought air fresheners on May 4 2010 and repeatedly visited the basement and garage areas of the Infrastructure Management offices that same day when there was no need for him to do so.

It is alleged he visited Lochgilphead High School in Argyll on May 5 when there was no requirement for him to do so and asked for bin bags which were given to him.

He is accused of trying to cover up injuries on his hands with make-up at Lothian and Borders Police headquarters and elsewhere.

It is also alleged he repeatedly told police his relationship with Ms Pilley ended in December 2009 when the truth is that it continued and he wanted it to continue further.

He is further accused of telling officers he saw Ms Pilley two days after he allegedly killed her.

Prosecutors also accuse Gilroy of accessing Ms Pilley's email account between August 24 2009 and April 30 2010 and accessing her account on an internet dating website.

Gilroy faces other charges, including an allegation that he assaulted his wife Andrea on various occasions between January 1 2009 and May 18 2010.

He is also accused of threatening two children, who cannot be named for legal reasons, and assaulting a man named Scott Stewardson in Edinburgh on November 9 2009.
Child killer vows: I didn't take Madeleine McCann, 26 February 2012
Child killer vows: I didn't take Madeleine McCann
Sunday Express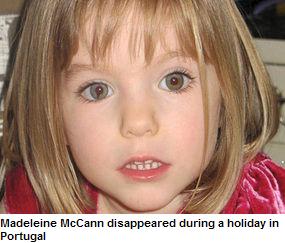 By James Murray
Sunday February 26,2012

A PREDATORY German paedophile who will be sentenced tomorrow for abducting and murdering three boys has denied he is behind other child crimes, including the abduction of Madeleine McCann.

Today we can reveal that Scotland Yard has been in contact with German detectives questioning Martin Ney, 41.

It follows our disclosure last May that Ney looks very like the photofit of a man seen acting suspiciously hours before Madeleine vanished from a holiday apartment in Portugal in May 2007.

The photofit was drawn up by a woman who saw a man leaving the rear of the next-door apartment. She said he very "quietly" closed the gate and looked around nervously to see if he was being watched. The photofit was published in Kate McCann's best-selling book, Madeleine.

When we asked the Yard why officers were interested in Ney, it issued a terse statement saying: "We are not prepared to discuss it."

Ney, who faces life in prison, claims he is not guilty of a series of other child ­murders across Europe. According to the Spanish newspaper El Mundo, he would be familiar with the Algarve coastline having travelled to Portugal in the mid-Nineties.

British detectives are believed to be interested in Ney's communications in internet chat rooms in which he used the nickname Gerd X. Although Ney claims his last child murder was in 2002, they found a posting by him in March last year which said: "Gerd X moves on to the next boy."

In a 2002 posting he bragged: "I bought a camouflage suit to jump out of the bushes in children's playgrounds if a beautiful boy goes past."

The softly spoken youth worker was free to kill for 20 years. His first victim was Stefan Jahrd, 13, in 1992. Three years later he murdered Dennis Rostel, eight. Six years after that he snatched nine-year-old Dennis Kleinfrom.

Kai Thomas Breas, spokesman for the German prosecutors, told the Sunday Express: "He has said he hasn't killed in Portugal.

"German police have been in contact with Scotland Yard. We think he had a sexual interest only in boys."