'Help find Madeleine' fund dwindles
The Press Association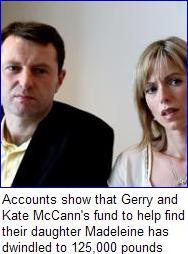 (UKPA) – Approx 15:00pm

Kate and Gerry McCann's fund to help find their missing daughter Madeleine dwindled to £125,000 last year, official accounts have shown.

The amount the couple raised for Madeleine's Fund dropped from £233,099 in 2009-10 to £177,534 in 2010-11. At the end of March last year the balance stood at £125,175, down from £470,034 a year earlier, according to newly-published accounts filed with Companies House.

The McCanns, both 43, from Rothley, Leicestershire, had feared that the dwindling fund would leave them unable to continue paying private detectives to search for Madeleine.

To avoid this Mrs McCann published a book about their daughter's disappearance in May last year, with all proceeds from sales and a serialisation deal with The Sun and the Sunday Times going to support the search.

The fund's directors wrote in a preface to the 2010-11 accounts: "Over the past financial year, as with the previous one, the costs of the search continued to be higher than the fund's annual income.

"Income, particularly donations, has been lower than in previous years, as might be expected. It became apparent to the directors that without a significant financial boost, the fund would be empty by the end of spring 2011.

"In view of this, Kate McCann made the decision to write a book about Madeleine's disappearance and her parents' search to find her."

Madeleine's Fund was launched a fortnight after the little girl vanished from her family's holiday apartment in Praia da Luz, southern Portugal, on May 3 2007. Donations flooded in from supporters around the world who wanted to do something to help her parents, and the income for 2007-08 totalled £1,846,178.

More than £487,000 was spent on the campaign to locate Madeleine and merchandise costs in 2010-11, the accounts show.

Last year the fund paid for the private investigators, a 24/7 telephone hotline for the public to pass on information, an ongoing awareness-raising campaign and three fundraising events.