News from July/August 2011 that is not covered elsewhere on the site
'Maddie alive' voted winner in dream headline contest, 04 July 2011
'Maddie alive' voted winner in dream headline contest
Hold The Front Page
by Sarah Bould
last updated on July 4, 2011
'Maddie Alive and Safe' has been chosen as the winning entry in a competition run by a regional newspaper which asked readers to come up with a dream headline.
The headline was submitted to the Liverpool Echo by reader Sylvia French, in reference to Leicester youngster Madeleine McCann who went missing while on holiday with her parents in the Algarve four years ago.
It was picked by the Echo news team because it was felt that it was "a headline that everyone would want to see" and was described as "succinct but emotive."
The competition was held in conjunction with the newspaper being awarded Freedom of the City, which senior journalists from the Echo and sister title the Liverpool Daily Post will collect today.
Other favourite subjects included Ken Dodd's knighthood campaign, The Beatles and the city's two football clubs, particularly hopes of a big-money Everton buy out.
Many readers sent in political headlines, with the recession, fuel prices, Afghanistan and world peace all popular themes.
The news team at the Echo said they chose Sylvia's entry because of her concise headline that shone out above the rest.
She won a bottle of champagne and a framed, full size copy of her front page.
The Lord Mayor of Liverpool Councillor Frank Prendergast will present the freedom of the city honour today to Echo editor-in-chief Alastair Machray and the managing director of Trinity Mirror North West and Wales Warren Butcher.
The Liverpool Daily Post and Echo have been awarded accolade by the city council for the relentless charity campaigns that have featured in the two titles and for their contribution to the city for the last 200 years.
Said Alastair: "We are delighted, excited and privileged in the extreme, to be recognised in this way by the city we serve and have been proud to serve for so many years."
"From their earliest days, the Post and the Echo set out to champion this city; to be a force for good. To be campaigners.
"At the core of our brand values is the belief that Liverpool and Merseyside is a great place to live; a great place to work; and a great place to do business."
Leader of Liverpool City Council Councillor Joe Anderson said that like the Mersey, the Three Graces, the football clubs and the Beatles, the Post and Echo have helped make Liverpool what it is today.
------------------

Freedom of Liverpool: Dream Liverpool ECHO headline winner revealed Liverpool Echo
by Helen Hunt, Liverpool Echo
Jul 4 2011

THE ECHO'S search for a dream headline culminated in the front page everyone would like to see.

Sylvia French, from Rosemary Close, Edge Hill, beat off dozens of hopefuls with her succinct but emotive headline which simply read: "Maddie Alive and Safe".

To celebrate the ECHO's Freedom of the City award and 200 years of newspaper publishing in Liverpool we threw down the gauntlet to readers to see if they could come up with their own headline.

All we asked is that they keep it clean and legal.

Readers responded in droves. Favourite subjects included Maddie McCann, Ken Dodd's knighthood campaign, The Beatles and the city's two football clubs, particularly hopes of a big-money Everton buy out.

Many readers sent in political headlines, with the recession, fuel prices, Afghanistan and world peace all popular themes.

Then there were the humorous ones and the plain bizarre.

But it was Sylvia's concise headline that shone out above the rest netting her a top prize.

Sylvia is invited, along with three guests, to the ECHO's official Freedom of the City ceremony on July 5.

She also wins a bottle of champagne and a framed, full size copy of her front page.

ECHO Editor Alastair Machray said: "Sylvia's headline said what so many people would love to hear and delivered it in four succinct and eye-catching words.

"Congratulations Sylvia and well done to all our readers who entered.

"The standard was very high with many showing the wit, imagination and community spirit for which our city is so renowned."

Sylvia, a former civil servant, said she was "surprised" to have won.

She said: "I didn't expect it. All I can say was that I had my tea and thought I'd have a second cup and read the ECHO and I looked at the page and the only thing I could think of, straight from the heart, was 'Maddie Alive and Safe'.

"I didn't think another thing about it.

"But I pray for that child every day."

Kate Roscoe, from Toxteth, captured the "make Ken Dodd a knight" campaign beautifully with the words Arise Sir Doddy and is one of our runners-up.

The other runner-up place goes to Kathleen Connor, from Dingle, for her humorous, optimistic headline 'Great grandmother Kathy Connor from Dingle wins Lotto Million'.
Great US Art - Serving the international community with great gifts and apparel: Madeleine McCann, 05 July 2011
Great US Art - Serving the international community with great gifts and apparel: Madeleine McCann
Arts Now
Note: It seems clear that these items of apparel were printed some time ago, given an old 'investigation line' telephone number is used. Nevertheless, the site remains active and the merchandise remains on sale.
British Minister Says Costa Rica Police Not Co-Operating On Missing Journalist, 12 July 2011
British Minister Says Costa Rica Police Not Co-Operating On Missing Journalist
PR Newswire

July 12, 2011
LONDON, July 12, 2011 /PRNewswire/ -- A British government minister has said Costa Rican police are responsible for preventing police co-operation in the search for missing journalist Michael Dixon.
"Any request from the Costa Rican authorities for assistance would need to come from the OlJ [the Organismo de Investigacion Judicial, a part of the interior ministry] ... An invitation has not been forthcoming," UK minister Jeremy Browne said in a letter to the Dixon family dated 28 June.
Browne highlighted that the OIJ position goes against the words of Costa Rica foreign minister Rene Castro, who "has indicated that he would welcome the help of the British police to solve Michael's case."
Browne ruled out putting diplomatic pressure on Costa Rica in the same way that Prime Minister David Cameron recently urged Portugal in the case of Madeleine McCann.
"The involvement of the Metropolitan Police Service in the McCann case is to review the available material. However, the case remains filed in Portugal and while the search remains active we are unable to comment on any specific details of the investigation," said UK minister Jeremy Browne.
Michael Dixon vanished after leaving his hotel room in Tamarindo, Costa Rica, on 18 October 2009. The OIJ has given up looking for him after first claiming he drowned on the basis of no evidence.
"This case will never be solved unless the Metropolitan police gets involved. [Foreign minister] Castro himself said the OIJ is not up to the job," Michael's brother, David Dixon said.
"We are being fobbed off with red tape on all sides. Is Michael a second class British citizen compared to the McCanns?"
Over a dozen EU, Canadian and US nationals have been either murdered or have vanished in Costa Rica in the past two years. Most of the cases go unsolved.
The Dixon family will on 19 July mark Michael's 35th birthday.
Cops crack Madeleine McCann codes, 17 July 2011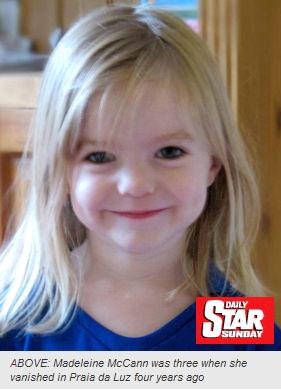 By Jonathan Corke
17th July 2011

MADELEINE McCann's abductors may have daubed coded messages on the outside walls of the family's holiday apartment to indicate when she was alone.

Police in Portugal's Algarve recently discovered arrows or circles are being used by criminals to signal a chance to break into homes.

A horizontal arrow means property is easy to get into during the afternoon. Semi-circles underneath a line indicate a child is alone in the evening.

The signs, believed to originate with Brazilian crime gangs, have been found on or near properties across the popular holiday region.

Madeleine McCann was three when she vanished in Praia da Luz four years ago as parents Kate and Gerry dined nearby. Police suspect the apartment may have been staked out for days.

And witnesses saw a man watching it in the week before Madeleine's disappearance in May 2007.

Dave Edgar, a former detective now investigating the case for the McCanns, has said: "Someone just doesn't go in, a passer-by, and pick up a child and take it.

"These things are planned. They may even have been watching the apartment for a week or more."

Police in Portugal hope publicising details of the codes may help prevent crime in the region.

A police spokesman said: "The signs indicate to other burglars how easy the property is to break into, as well as indicating when the house is empty or more likely to be empty, if there are elderly people or children alone in the house, among others."

And he warned residents: "If you see any of these signs around your house, you should remove them immediately and contact your local police."

Clarence Mitchell, spokesman for the McCanns, said anything the police were doing to raise awareness of possible crimes in the area was welcomed.

Sales from Kate McCann's book Madeleine, released in May, are believed to have now passed 200,000.

And Kate, 44, and Gerry, 43, from Rothley, Leicestershire, hope new information on their daughter's case will emerge.

A Metropolitan Police team of detectives is reviewing the evidence in her case to see if any clues have been missed.
200 kids abducted, 07 August 2011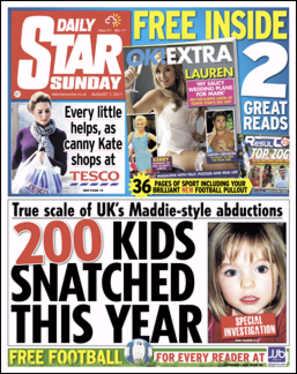 By Jonathan Corke
7th August 2011
MORE than four Brit kids are snatched by strangers every week, a shock Daily Star Sunday investigation can reveal.

Even more horrifying is that officials had no idea of the scale of the threat posed to children.
The only centrally-held statistics cover all child abductions but have no breakdown of those involving strangers.
Today there are calls for immediate changes to the way we monitor crimes affecting the most vulnerable members of society.
Our probe found that there were at least 500 reports of child abduction in England and Wales in 2010 and 211 and, of those, around 42% involved strangers snatching or attempting to snatch youngsters.
The figures, obtained by contacting every police force in England and Wales, show the whereabouts of abduction hotspots.
Just under a quarter of cases involving strangers were in the Metropolitan Police force area, while Greater Manchester Police reported 46 cases of "abduction of a child by other persons".
West Midlands police had 25 cases, although they pointed out that none had been "successful" stranger abductions.
Although we obtained the fullest picture ever collected, one police force out of the 43 refused to tell us how many children had been snatched or targeted. Cumbria Police claimed that giving us the figures would potentially breach data protection issues.
Almost all the figures submitted for child abductions included attempted abductions, so a breakdown showing how many children were snatched was not available.
Lady Catherine Meyer, who runs the Parents and Abducted Children Together charity (PACT), has been campaigning for a better system of recording missing and abducted children for the past five years.
Lady Meyer, who set up PACT after her own children were abducted, said 211 was "a lot of children abducted by strangers". She added that a central database was "something I've been lobbying and fighting for for years".
The charity Missing People said our investigation highlighted the need for a national strategy.
Chief executive Martin Houghton-Brown said: "These findings add further weight to the Government's announcement that it will be developing a national strategy on missing people."
A Home Office spokesman said: "We are determined to protect vulnerable children."
---------------------

Four children are abducted like Madeleine McCann every week Daily Star Sunday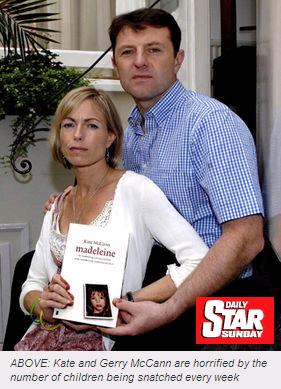 By Star on Sunday reporter
7th August 2011

KATE and Gerry McCann last night said the level of child abduction our investigation uncovered was "shocking".

Kate McCann the mum of Maddie – who disappeared aged three during a family holiday in Portugal in 2007 – said the situation in the UK was "horrific".

In a section of her book, entitled Madeleine – which she gave us permission to reproduce to highlight the problem – Kate, 43, wrote: "As we learned more, and discovered the massive scale of the problem, we were appalled.

"It is important to note, too, that abductions leading to more serious crimes, such as sexual abuse or homicide, will not be recorded as abductions but as the more serious crime.

"What is not in doubt is that the available statistics underestimate the scale of the problem.

"As a parent you need to know that all that can be done is being done – and as quickly and thoroughly as possible."

The family's spokesman said: "The figures you have discovered are clearly shocking."


--------------

Shock scale of child abductions is revealed Daily Star Sunday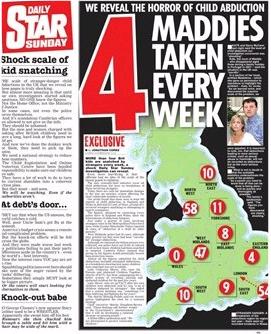 Daily Star Says...
7th August 2011

THE scale of stranger-danger child abductions in the UK that we reveal on these pages is truly shocking.

But almost more amazing is that until our own investigators started asking questions, NO ONE knew the figures.

Not the Home Office, not the Ministry of Justice.

In some cases, not even the police forces themselves.

And it's scandalous Cumbrian officers are allowed to not give us the info.

They should be ashamed.

But the men and women charged with looking after British children need to have a long, hard look at the figures we did get.

And now we've done the donkey work for them, they need to pick up the baton.

We need a national strategy to reduce these numbers.

The Child Exploitation and Online Protection Centre have been handed responsibility to make sure our children are safe.

They have a lot of work to do to turn the current shambles into a coherent action plan.

But they must – and soon.

We will be watching. Even if the authorities aren't.
41 children went missing last year, 10 August 2011
41 children went missing last year
Público
SOS-Criança [SOS-Children] report
10.08.2011 - 22:27 For Lusa
With thanks to
Astro
for translation

SOS-Criança has signalled 41 missing children [in Portugal] in 2010. Most of them ran away from home, but there were also parental abductions and flights from institutions. Some went missing for less than two days, others for over a year.


A report from SOS-Criança, an organization that was created in 1989 by the Child Support Institute (Instituto de Apoio à Criança) reveals that most of the children that disappeared last year had run away from home (25), but there were also 10 cases that were parental abductions and another six situations where the children fled from the institutions where they were staying. Ten children were missing for less than two days and another seven for less than one week.
The report further indicates that in five cases, the child managed to remain out of contact for one to two weeks, and three children disappeared for two to three weeks. Three minors ran away for three to four weeks and another two remained unaccounted for a period over one month. In three cases, the minors disappeared for over half a year, and in four cases, for over nine months. The report further indicates that three minors remained missing for over one year.
Most of these children had someone "waiting for them": 12 were with a parent, 16 with companions or friends and five with their siblings. Fifteen minors ended up returning "home" on their own, while in six situations it was the family or police (six times) that cleared the case. "Two children did not want to return home/to the institution, and nine have an open process", the report mentions, indicating that 12 of the "missing" were repeat situations.
Concerning parental abductions, in 13 cases the parents were still married, eight were divorced, six were separated, and there were also two cases of people living together or single. The civil situation of the parents of nine missing children remains unknown until now.
Family conflicts are the most common motive for runaways
Family conflicts were the main motive for running away, followed by the internet and the influence of friends. "Domestic violence was responsible for four disappearances and abuse was responsible in three cases". The report further points out cases of psychiatric illness, neglect, behavioural problems, dating and even the story of a minor who ran away to attend a concert.
Last year, 31 girls and 10 boys disappeared, and most of the cases take place near the weekend: 11 on a Friday, seven on a Thursday and another five cases on a Monday. As far as ages are concerned, there is no pattern: last year, two children aged two and six children aged three, five, six, seven, ten and eleven, but also five 16-year-olds and four 17-year-olds.
Most of them lived in Lisbon (11). In Évora and Bragança, four minor went missing in each of the regions. Setúbal, Braga, Coimbra, Faro, Leiria, Viseu, Santarém and Aveiro also registered cases.
In most of the situations, the alert was given by the family, but there were also eleven flights that were denounced by the community, and seven by professionals from institutions that are related to children. In two cases, the "fugitives" themselves contacted the SOS-Missing Child services.
Eight denunciations arrived at the SOS services by e-mail, while the other 33 arrived by phone, the report reveals, further indicating that the Missing Children Service has already signalled 318 cases over the years. Last year, there were 41 cases, half of what was registered in 2009, when the services signalled 88 missing children.
Maddie flat back on the market as couple with young child are seen staying there on holiday, 16 August 2011
Maddie flat back on the market as couple with young child are seen staying there on holiday
Daily Mail
By JO RILEY
Last updated at 12:39 PM on 16th August 2011
The apartment from which Madeleine McCann was kidnapped is being hired out by holidaying families for the first time since the crime.
A couple and their young child were spotted this weekend in Apartment 5a of the Ocean Complex in Praia da Luz, Portugal, which has been empty since the abduction in May 2007.
'I saw a young family staying in the apartment, enjoying their holiday,' said a British tourist.
'They didn't seem to have a care in the world and the flat looked no different to any of the others.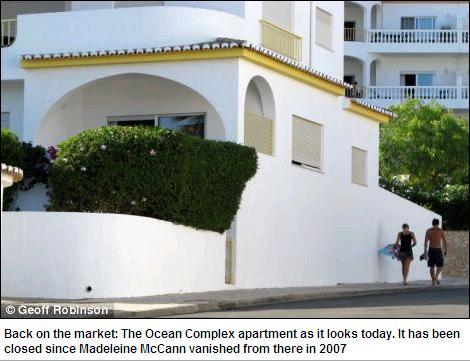 'If I didn't know about its history I wouldn't have given it a second look.'

The British owner of the flat, Ruth McCann, 57, has been trying to sell the two-bedroom ground-floor apartment since 2007 with an asking price of £255,000 - around £50,000 less than the asking price.

Retired teacher Mrs McCann, from Liverpool, who is not related to Madeleine's family, began letting the apartment after her husband died and was planning to sell it once legal details had been sorted.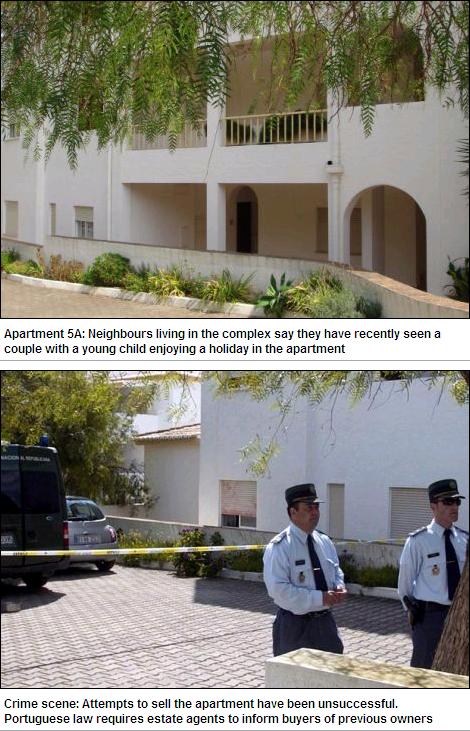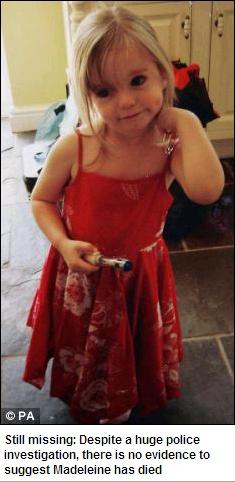 But she took it off the market in May this year after finding no one was interested because of its history.

She is now believed to be using rental firm the Ocean Club to let it to holidaymakers once again.

The apartment was last rented to Madeleine's parents for £1,500 a week.

Another British tourist staying at the resort added: 'I would never stay in that flat with my young family in a million years. I wouldn't be able to sleep at night as I'd be worrying about what happened.'

Madeleine was nearly four when she vanished while her parents dined at a nearby restaurant.

Earlier this year Mrs McCann said a number of people had viewed the property but women particularly were put off when they found out about its past.

Under Portuguese law, estate agents have to tell prospective purchasers about the previous owners.

The police investigation at the resort ended in September 2007 and the property has been empty for the last three-and-a-half years.

A neighbour of the holiday flat recently described the empty apartment as a 'mausoleum', adding: 'The flat has never been used again since the little girl went missing.

'The shutters have stayed down and it is more like a mausoleum than the happy holiday letting it once was.'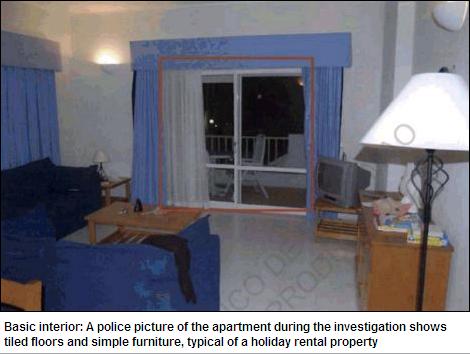 It would have been Madeleine's eighth birthday in May this year.

The official inquiry was shelved in July 2008, but after the McCann's recently wrote to Prime Minister David Cameron, he ordered the Metroplitan Police to carry out a review.

Despite a huge police search no evidence has been uncovered to suggest that she has died.

Mark Warner would not say if the apartment is being let through them in England.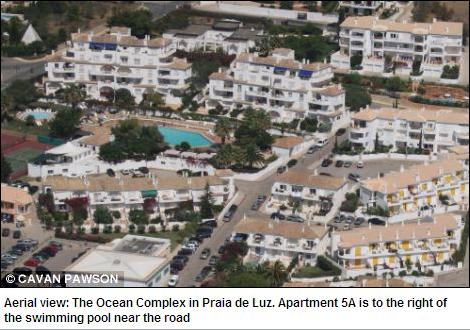 Morcombes and McCanns united in grief, 17 August 2011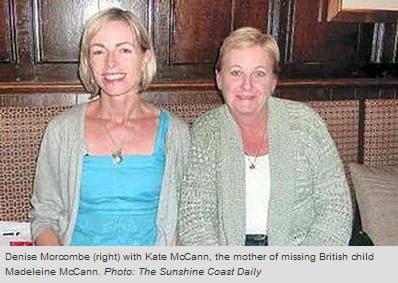 Bridie Jabour
August 17, 2011

Denise Morcombe woke up in the middle of the night, realising she had not told some important people that a man had been charged with the murder of her son Daniel.

She had not shared the news with Gerry and Kate McCann, who still are searching for their missing daughter Madeleine who was abducted in 2007.

The McCanns and the Morcombes have built a friendship over their shared losses.

As soon as she got up yesterday, Mrs Morcombe said she sent them an email to let the McCanns know how close they were to finding Daniel.

"They are people who understand, we understand how each other is feeling," she said.

"I just told Kate and Gerry that someone had been charged with Danny's murder.

"I asked Bruce if he had spoken to Kate and he hadn't so I thought it would be nice to let them know."

The two families struck up a friendship when the Morcombes wrote to the McCanns after their three-year-old daughter had been abducted from an apartment in Portugal.

Mrs Morcombe said there were differences in the cases because Maddie went missing in a different country to her home and the McCanns had to deal with language barriers and foreign police.

"My hope for them is they find Maddie and soon," she said.

The couples met for the first time in June when they had dinner at a pub in Stratford in the UK, with the hours flying by in what seemed like minutes.

"I looked up at the wall and could not believe the time," Mrs Morcombe said.

"We talked about our families, about Danny and Maddie and their cases."
Families united in grief, 17 August 2011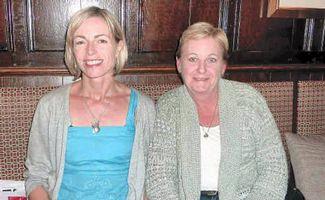 Kieran Campbell and Rae Wilson
17th August 2011

BEING separated by 17,000km has not stopped the Morcombe and McCann families from being close. The families are united by the grief of losing a child.

British parents Kate and Gerry McCann have searched for their daughter Madeleine since she was abducted from their Portuguese hotel room on May 3, 2007. Bruce and Denise Morcombe have exchanged emails with the McCanns for years, sharing their heartache about the alleged murder of their son Daniel.

Yesterday was no different when Mr and Mrs Morcombe sent their British friends an email to say they were close to finding "Danny".

The four parents met in person for the first time two months ago.

After years of exchanging emails at birthdays and Christmas, the Morcombe and McCann families shared a meal in "a typical English pub" at Stratford upon Avon in June.

"We were in the same club," Mrs Morcombe said. "The kind of club no one wants to join."

Mr Morcombe said their three-hour meeting felt like 10 minutes.

"The warmth they had for us was like somebody we'd known for a long, long time," Mr Morcombe said.

"It was almost like a school reunion and yet we'd never met.

"I think that is the bond – it is something very tragic and incredibly rare as well.

"There was very much mutual respect for each other's position."

The Morcombes later spent a night at the McCann family home at Leicester when they passed back through the area.

There were striking similarities between the two families, including the fact that both were made up of an elder child and younger twins.

Four-year-old Madeleine is the older sister of twins Sean and Amelie.

Daniel has a twin brother, Bradley, and older brother Dean.

Mr Morcombe said a stark difference they had from the McCanns was the global scrutiny the British family had faced about accusations that they were involved in their daughter's disappearance.

Mr and Mrs McCann were listed as suspects for four months after their daughter went missing. They were later cleared of that allegation.

The Morcombes were supported nationwide as soon as their story spread in December, 2003.

"We've never had any scrutiny in the media regarding accusations that we were in any way involved," Mr Morcombe said.

"Clearly that is a marked difference with (the McCanns).

"They were quite moved and dumbfounded as to how they've ended up in what looks like a relatively similar abduction case that has been globally questioned.

"They were genuinely shocked that there was such a marked contrast in the two cases."

Language barriers and movements between European countries probably hindered their campaign, Mr Morcombe said.

"Even in those early weeks we were canvassing support within a 300km radius," he said.

"We're doing the same stuff as you guys, we just didn't have the complications of the political barriers and language barriers and I suppose even monetary barriers."

Mr Morcombe said he was still trying to comprehend the weekend's breakthrough.

"Here we are, two-and-a-half days later, and we're still coming to terms with someone being charged with murder," Mr Morcombe said. "It's good news but it's terrible news. I can't find a word to describe the space we're in.

"But I'm sure at the end of the day we should see it as good news.

"It's very definite news and that's the difficult thing we wrestle with.

"(The McCanns) will be very pleased with the advancements in the search and no doubt they hope that it brings us closer to finding Danny."

Among the 3000 emails the Morcombes have received is a message from former NSW deputy fire commissioner Ken Thompson, who last year tracked down his six-year-old son in Amsterdam after he was abducted by his mother.

"We've never had any ... accusations that we were involved. That is a marked difference with (the McCanns)."
"An investigator cannot receive phone calls such as in the Maddie case", 29 August 2011
"An investigator cannot receive phone calls such as in the Maddie case"
Diário de Notícias
31 interviews in August - Francisco Moita ...
29 August 2011
With thanks to
Ines
for translation

He holds the position of President of the Santarém Municipal Chamber but he left his mark on various activities – some of which still stick to his skin – such as being a PJ inspector, literature and politics. Francisco Moita Flores guarantees that he will abandon the latter, but his writing will not be interrupted so soon because he has many book projects that he still wants to write. He recently published a satire about national politics and is researching a historical romance TOMORROW: Mário de Carvalho.


The ex – PJ inspector prefers to say little about the media dominated case of the disappearance of Madeleine McCann, but ends up "letting slip" a criticism or two: "If I had been part of the investigation the first examination of the scene would not have happened as it did".
However, he points out the "conditions" that the inspectors responsible for the case were subject to. "An inspector has to be a free man by nature, he cannot have phone calls pressuring him saying "don't do this" and "don't do that." And when these phone calls began to arrive, they constricted the liberty of the police," he states.
Ready to request retirement – "I am preparing my dossier. I have worked for 40 years and Social Security also seems to be retiring..." he promises never to stop writing.
Read the full interview in DN's e-paper.
31 interviews in August is a line from "Made in Portugal": during the 31 days of August DN will publish 31 interviews with Portuguese figures, who speak of the country we have and that we want. All interviews will be conducted by journalist João Céu e Silva. TOMORROW: Mário de Carvalho