Why did Madeleine McCann detectives ask so few questions?
Mail on Sunday
By TOM WORDEN, MARTIN DELGADO and ANDREW CHAPMAN
Last updated at 11:33 PM on 15th August 2009
Private detectives leading the hunt for Madeleine McCann faced questions last night after a Mail on Sunday investigation revealed apparent shortcomings in chasing a 'strong lead'.
The detectives failed to make even rudimentary inquiries before announcing a 'significant' development in the worldwide search for the six-year-old.
At a Press conference in London, lead investigator David Edgar appealed for help in finding a 'bit of a Victoria Beckham lookalike' whom a British tourist saw looking agitated outside a dockside restaurant in Barcelona three days after Madeleine disappeared.
Retired Cheshire Detective Inspector Mr Edgar said it was possible that Madeleine had been smuggled into the Spanish port by yacht from the Portuguese resort of Praia da Luz, where she vanished on May 3, 2007.
The agitated woman, thought to be Australian, made a remark to the tourist which suggested she was waiting for the arrival of a child.
Mr Edgar, 52, told the 50 journalists from several countries: 'It's a strong lead. Madeleine could have been in Barcelona by this point. The fact the conversation took place near the marina could be significant.'
As a result of his appeal for information and the issuing of an e-fit image of the woman, the search switched to Australia, where a woman in Sydney made a statement to police claiming to know the identity of the mystery female seen in Barcelona, although this apparently came to nothing.
The Mail on Sunday, however, has established that members of Mr Edgar's team who had visited Barcelona:
Failed to speak to anyone working at the seafood restaurant near where the agitated woman was seen at 2am.
Failed to ask the port authority about movement of boats around the time Madeleine disappeared.
Failed to ask if the mystery woman had been filmed on CCTV.
Knew nothing about the arrival of an Australian luxury yacht just after Madeleine vanished until told by British journalists, who gave them the captain's mobile phone number.
Failed to interview anyone at a nearby dockside bar where, according to Mr Edgar, the mystery woman was later seen drinking.
Failed to ask British diplomats in Spain for advice before or during the visit.
Also, Spanish police could not confirm that they had been contacted by the British investigators.
Last night Mr Edgar said: 'We are not above criticism and I take responsibility for any shortcomings. If somebody has not done what they should have done, that's my job to deal with that.'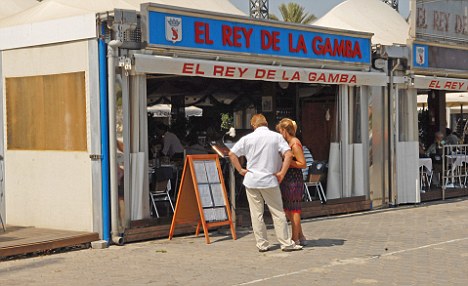 Conversation: The bar belonging to Jose Luiz Lopez where the key conversation between a tourist and an Australian woman allegedly took place
---
He was hired by Kate and Gerry McCann after Portuguese authorities shelved their investigation last year.
According to the Find Madeleine Fund website, 'the majority of the fund money has been and continues to be spent on investigative work to help to find Madeleine'.
The McCanns, doctors living in Rothley, Leicestershire, originally hired Barcelona-based detective agency Metodo 3 to look for Madeleine in 2007 as they were convinced that Portuguese police had given up the search.
Metodo 3 reportedly charged £50,000-a-month and its director, Francisco Marco, was criticised after making a series of boasts about his team's ability to find Madeleine.
In December 2007, he caused a sensation by claiming he knew who had kidnapped her and hoped to have her home by Christmas.
Metodo 3's six-month contract ran out in January 2008, although it has continued to help with the search.
The Mail on Sunday's inquiry by a Spanish-speaking reporter in Barcelona last week has exposed worrying gaps in the British detectives' strategy, including failure to question several people who might have vital information.
Appeal: Clarence Mitchell, left, and David Edgar with their e-fit of the 'Victoria Beckham lookalike'
---
Jose Luis Lopez, owner of the El Rey de la Gamba restaurant where the mystery woman was seen, said: 'The private detectives did not make any enquiries at my restaurant.
'I am almost always here when the restaurant is open and my staff would have informed me if anyone had approached them about such an important matter. You are the first person to ask about this Australian woman.'
The manager of the bar next door, Kennedy's Irish Sailing Club, where the woman was later seen drinking, said: 'You are the first person to ask about this Australian woman or the Madeleine case. If someone came into the bar asking questions about Madeleine, I would hear about it very quickly.'
Barcelona port director Joan Guitart said: 'Nobody has been here asking questions about Madeleine or this Australian woman. This is the first I have heard about any possible link to the port. We would be happy to help the investigation in any way possible.'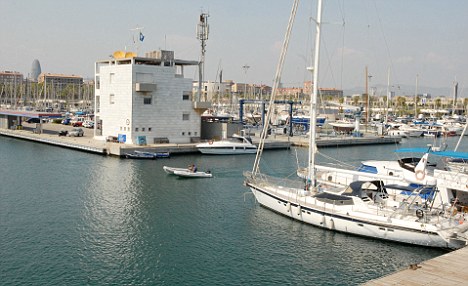 Riddle: Was Madeleine taken to Barcelona marina?
---
A senior port authority worker added: 'There are several security cameras monitoring the port but we have not been approached about footage from the night in question.
'The footage is not available, as it was over two years ago that this conversation is said to have taken place. But I would have expected anyone carrying out the investigation to at least have asked about it.'
A source at the British Embassy in Madrid said: 'The detectives did not inform us or the consulate in Barcelona that they were coming to Spain, nor request any assistance in their investigation.'
Jewellery designer Hannah Tait, 35, from London, who lives on a 34ft yacht yards from El Rey de la Gamba, said: 'This place is like a small village so news travels very fast.
'Nobody has been here asking about Madeleine or the Australian woman.
'The first I heard was when I read about this on the internet. If someone had been investigating something so important here in the port, I would have heard about it.'
A Barcelona-based private detective with more than 20 years' experience of missing persons cases said: 'I cannot understand why the Madeleine detectives would have released this story and e-fit to the public without first making their own investigation in the port.
'It beggars belief that they did not even speak to the owner of the restaurant or the port authorities.'
One of the most significant pieces of information about a possible Barcelona connection to Madeleine's disappearance was uncovered by British journalists.
Later, The Mail on Sunday gained access to port records for the key dates of May 6 and 7, 2007.
They revealed that nine boats arrived in the marina in the 48-hour period, only one of which was unfamiliar to harbour authorities.
It was the £6million Sunseeker powerboat Willpower, owned by the Australian multi-millionairess Rhonda Wyllie.
When the then captain of the boat was eventually found, he said he had not been approached by any British detectives.
Although he has since been contacted by Mr Edgar's team, the investigators are in the embarrassing position of having to explain why it was left to reporters to discover the boat's presence in Barcelona and trace its former captain.
There is no suggestion that Mrs Wyllie, widow of property tycoon Bill Wyllie, is connected in any way with Madeleine's disappearance.
The Barcelona stage of the inquiry was led by Mr Edgar's assistant, former Merseyside Detective Sergeant Arthur Cowley, and an interpreter.
Mr Cowley, 57, is sole director of Alpha Investigation Group, based in Flintshire, North Wales.
He declined to discuss the details of his visit to Barcelona.
Asked last night why Mr Cowley and his colleague had not spoken to the port authorities, Mr Edgar said: 'My instructions were that they couldn't get through security at the marina at the time. I've got to take that at face value. We are a small team. We are dealing with finite resources and will have to manage with that.'
He said Mr Cowley's company had no connection with the Madeleine investigation. 'I am employed by the McCann family and I pick my staff,' he added.
Madeleine was nearly four when she disappeared from a holiday flat while her parents dined with friends in a nearby restaurant.
Last night the McCanns' spokesman Clarence Mitchell said: 'The private investigation into Madeleine's disappearance is being conducted entirely professionally and thoroughly under the direction of Dave Edgar.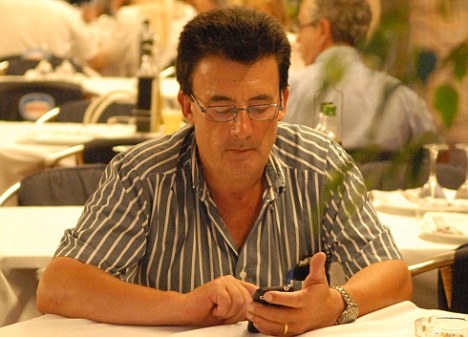 In the dark: Jose Luiz Lopez, the bar owner who was not spoken to by private detectives
---
'Upon receipt of the new witness information, two members of the investigative team travelled to Barcelona to conduct preliminary inquiries during a brief initial visit.
'This included identifying the exact marina where the witness had been and all relevant locations within it. At that stage, the precise bar involved had not been identified by the witness. Nevertheless, inquiries were conducted at a number of bars, with staff members being interviewed.
'However, not all of the bars were open during the investigators' visit. Because of the transient nature of bar work, it was also found that many of the workers who were spoken to were not present at the marina in May 2007.
'Other relevant personnel in the area were also interviewed, although we will not discuss the detail of who was spoken to for operational reasons.
'The information, once gathered, including photographs, was brought back to the UK for witness confirmation. Both British and Portuguese police were kept fully informed of the investigators' visit to Spain.
'The news conference was then held for the simple reason that public assistance was needed once the e-fit had been drawn up from the witness account. The public appeal does not preclude further enquiries being conducted in Barcelona as appropriate.'
He declined to say how much the private detectives were being paid, adding: 'We will not discuss contractual matters concerning the investigation costs nor the investigator remuneration.'
*
Update to title of article:
So why did Madeleine McCann detectives ask so few questions after major breakthrough?
Daily Mail
By TOM WORDEN, MARTIN DELGADO and ANDREW CHAPMAN
Last updated at 12:58 AM on 16th August 2009
(Body of article remains unaltered)