Highly respected forensic psychologist Dr Joe Sullivan arrived in Praia da Luz within days of Madeleine's disappearance as part of a so-called 'Cracker' team, with Detective Chief Superintendent Graham Hill. He returned to the UK on 09 May 2007.

He later helped in the production of, and personally narrated, the 'A Minute for Madeleine' campaign video; an appeal directly to the person keeping a 'secret' about Madeleine, 'who knows who's involved in her disappearance' and who may have been groomed by the perpetrator(s) to stay quiet.

In January 2010, he shared a stage with Gerry McCann at the CEOP conference entitled: 'Taken: Sexually-motivated child abductions' - an event for law enforcement officers only. Gerry McCann, who according to the published agenda was due to deliver the closing speech, actually spoke earlier in the day and is then rumoured to have left (unconfirmed). Thus he would have missed the keynote speeches of both Dr Joe Sullivan and Detective Chief Superintendent Graham Hill, not to mention the closing question and answer session for all speakers.
Tackling Child Sex Abuse: A Challenge For All, 21-22 February 2007
Tackling Child Sex Abuse: A Challenge For All
vgtconference.com

21 - 22 February 2007
Renaissance Mayflower Hotel
Washington D.C.
Speakers

- Extract -


Joe Sullivan MA (Crim), BA (Hons), CQSW, Dip Psych

Joe Sullivan is a recognised authority on this subject now seconded to CEOP. He is an Honorary Lecturer in Forensic Psychology at the University of Birmingham. He has assisted police forces in the UK and in other European countries on major crime enquiries involving the sexual murder of children, child abduction, organised child crime abuse and the sexual abuse of children on the Internet.
The secret network of child predators, 23 April 2007
The secret network of child predators
Macleans.ca

Pedophilia has exponentially worsened through communities of the like-minded
BRIAN BETHUNE
April 23, 2007
In Britain, London police once arrested a photographer with 130,000 pornographic images of children. That was in 1874, a striking reminder from investigative journalist Julian Sher in his
One Child at a Time
(Random House) that there have always been pedophiles among us. Sher's riveting account of online predators and their police pursuers also cites a famous survey of 200 male undergraduates in California in which one in five admitted to some kind of sexual attraction to small children, while almost one in 10 reported having sexual fantasies about them. Seven per cent said they might even have sex with a child if they could avoid detection and punishment. In Canada, Dr. John Bradford of the Royal Ottawa Hospital's Sexual Behaviours Clinic estimates that two to seven per cent of the population could have pedophiliac tendencies.
Pedophiles are thus scattered across society: well off or poor, tortured with guilt or enthusiastic participants, involved in functioning sexual relationships with other adults or complete loners. Their prevalence means that up to 20 per cent of adults were molested as children in some manner. And not by strangers: up to 90 per cent of victims suffer at the hands of relatives or others they know well. For all we don't know about pedophilia, though, there is one evermore manifest fact. Just as it has proved for millions of ordinary people, the Internet has become for pedophiles the greatest empowering tool ever created. Which means, according to Sher, that what has always been part of the human condition is now growing exponentially worse, "both in magnitude and in severity."
The Internet "doesn't create pedophilia," Sher notes, "but it certainly does fuel it." In the past, pedophiles were isolated, repressed by the revulsion most people felt toward them and limited in their opportunities. "But now offender after offender will tell you about their eureka moment," says Sher, "when they first went online and saw not only the images -- the
live
images -- available, but immersed themselves in the acceptance, the assurance they were among like-minded people."
The Net has vastly increased the money-making possibilities of child pornography, and hence the supply on offer. In the late 1990s, Thomas and Janice Reedy, a Dallas couple who never earned enough to own a home, were parking his and hers Mercedes in their mansion driveway. Their money came from Landslide, an Internet portal that offered credit-card customers access to 5,000 porn sites. Business limped along at first, Thomas Reedy later confessed, until he realized where the real money was. In the first month of offering access to a site called Child Rape, the Reedys garnered 1,277 registrations, and over the next two years Landslide brought in more than $10 million.
More insidiously, the Internet doesn't just make access easier, it facilitates supply: the Washington-based National Center for Missing and Exploited Children now finds that as much as 10 per cent of their seized material comes from older children who have taken compromising pictures of themselves. More often than not these self-made images were the result of what NCMEC calls "online enticement" -- children manipulated by a "friend" met on the Web who coaxed them into snapping pictures of their own bodies. In a U.S. Justice Department survey, one in seven young Web surfers reported encountering unwanted sexual material or online harassment.
Worst of all, adds Sher, "the Internet drags in those who probably wouldn't have done what they did otherwise." Canadians will need no further reminder of that than the case of Michael Briere. In his confession to the rape and murder of 10-year-old Holly Jones, Briere told the court he had fantasized about molesting a girl for "maybe a year or two." He kept alive what he called his "dark secret" on the Web: "The more I saw it, the more I longed for it in my heart." On the night of May 12, 2003, "I viewed some material beforehand. I just got excited. I really wanted to do it. I really wanted to have sex with a child. I just came out of my place and she was just there." Forty minutes later Holly was dead.
Briere's tipping point goes to the heart of the first and, to Sher, most important myth he wants to dispel with his book. "It's not
just
pictures," Sher says emphatically. "They're crime-scene photos. But you still hear from people that 'Better perverts look at dirty pictures than actually molest a child.' Looking doesn't deter doing; study after study shows that 35 to 40 per cent of those arrested for pornography possession are also hands-on abusers." Another common misconception, according to Sher, is that many of the victims are already sexual beings -- underaged only by law. In fact, fully 39 per cent of known victims, according to NCMEC, are only 5 or younger; 19 per cent are under 3.
We still don't know much about the men -- and most are men, although a tenth are women -- responsible for this spiral of abuse, especially what we really want to know: the combination of brain chemistry, genetics and personal experience that makes them what they are. The nature vs. nurture argument, as so often, rages inconclusively around them. Much points to a hard-wired nature: Sher cites British psychologist Joe Sullivan, who found that 80 per cent of offenders knew by age 18 that they were sexually attracted to children. On the other hand, 33 per cent of offenders were abused themselves as children, a rate statistically higher than the general population -- fodder for the nurture side. Whatever the cause, the condition is incurable. "They know it doesn't go away," Sullivan says. "Once you've got it, you've got it."
Dr Joe Sullivan arrives in Praia da Luz, 08 May 2007
Experts on tracing paedophiles fly out to boost search for girl, 09 May 2007
Experts on tracing paedophiles fly out to boost search for girl
The Times

David Brown in Praia da Luz
May 9, 2007
Two British experts on sex offenders arrived in Portugal yesterday to help in the hunt for the kidnapper of missing Madeleine McCann.
The forensic behavioural analysts from the Child Exploitation and Online Protection Centre, which combats paedophiles, were sent in response to a request from the Lisbon Government. The Foreign and Commonwealth Office said that their arrival would ensure a range of experts was available to explore "every possible avenue" that may have led to Madeleine's disappearance.
One of the two British experts is the forensic psychologist Joe Sullivan. Mr Sullivan has helped police in Britain and Europe to investigate child sex murder, abduction, organised paedophile rings and underage internet pornography.
He formerly dealt with paedophile priests at the Lucy Faithfull Foundation, a child protection charity that strives to assess and treat abusers. He has published a study into professionals who abuse children. Its conclusions included the striking finding that one in seven paedophiles, including priests, admits choosing vocations to enjoy easy access to children.
Last night John Buck, the British Ambassador to Portugal, confirmed that British experts had arrived in addition to the three family liaison officers from Leicestershire Police.
Mr Buck also defended the actions of the Portuguese police, saying that they had to operate under the constraints of the country's law.
He added: "I have been in touch closely over the last few days with the cabinet minister here in Portugal and the Prime Minister and Portuguese police. They all assure me that everything possible is being done to ensure the safe return of Madeleine.
"We continue to work closely with the Portuguese authorities. They are very pleased with the collaboration with the British authorities.
"They are in close touch with Interpol and Europol and I know Kate and Gerry, with whom I have just been speaking, are very grateful for their efforts."
A British tourist claimed yesterday that two weeks ago she saw a man trying to steal a pushchair at the resort where Madeleine went missing.
Amanda Mills, 34, of Basildon, Essex, said that she reported the incident to police last week after reading about the girl's disappearance. "It was late at night," Mrs Mills said. "This guy came along and put his hands on a pushchair outside somebody's apartment. He didn't even look to see if there was a child in it."
Portuguese police have told British officers that they believe the man who abducted Madeleine was a tourist from Britain or an expatriate linked to a network of paedophiles in the country.
Portugal is known to be a favoured destination for British paedophiles and the discovery in the early 1990s of a group of men who were abusing local boys helped to persuade the Government to make it illegal for Britons to have sex with underage children abroad.
Reports in Portugal have suggested that Madeleine, whose fourth birthday is on Saturday, had been "abducted for order". The
Correio da Manha
said: "One of the most substantial possibilities that the Policia Judiciaria is investigating is that this was paid for and commissioned by a international paedophile, probably of British origin."
Specialist detectives from the sex abuse and homicide unit in Lisbon were dispatched to the holiday region yesterday to take charge of the investigation after growing criticism that the police had been slow to react and had failed to make progress in tracking the abductor.
Antonio Santana Carlos, the Portuguese Ambassador in London, said that police were doing all they could but had to abide by the country's secrecy laws. He said: "They are doing their best in cooperation with Europol and Interpol. For the parents of Madeleine McCann, we respect their suffering but unfortunately the investigation has to carry on in secrecy as that is in accordance with our laws." He added: "They have our understanding and we support them and we hope that soon there will be an end to their suffering."
Detectives have now ruled out a kidnap for ransom. There is nothing in the family history to suspect a revenge motive.
A source close to the police investigation told the
24 Horas
newspaper: "Were it a kidnapping [for money] it would not be rational for someone to take on an almost 4-year-old when they could take one of the infants. It could be a kidnapping for sexual ends but one cannot exclude the possibility of the child having walked out and got lost and having fallen in a stream or a well."
Madeleine, from Rothley, near Leicester, disappeared when she was left with her brother and sister, 2-year-old twins Sean and Amelie, in a holiday flat. Her parents, Gerry and Kate, both 38, had been dining in a nearby restaurant and checking on them regularly.
Yesterday Mr McCann and his wife visited the Nossa Senhora da Luz (Our Lady of Light) Roman Catholic church, where they had taken Mass on Sunday, to pray privately for their daughter's return. Mrs McCann, a GP, was again clutching the Cuddle Cat that Madeleine took to bed.
Colleagues of the couple were offering prayers at Glenfield Hospital, in Leicester. About 300 people met at the hospital, where Mr McCann is a consultant cardiologist, at 1pm.
Villagers in Rothley held a silent vigil yesterday in a show of solidarity with the family. People were encouraged to light a candle or to tie a red ribbon around railings at the war memorial on the village green.
John Terry, the England and Chelsea footballer, with his colleague Paulo Ferreira joined Cristiano Ronaldo, the Portuguese international and Manchester United player, in making an appeal.
Terry said: "We are urging anyone out there with any information at all – please, please, please come forward. It's a terrible thing for her family to go through, she's only young so please, please come forward." Ferreira repeated the appeal in Portuguese.
Cuddle Cat
— The small soft toy that Madeleine McCann's mother, Kate, has been seen clutching is a favourite of her daughter's
— The stuffed pink kitten is called Cuddle Cat and Madeleine hugs it when she goes to bed. She is also given the kitten when she feels scared or upset
— Since her disappearance, the soft toy has been all the more precious to her parents. On Sunday, before an emotional church service, Mrs McCann knelt kissing the toy's head
Expert flies out to help local cops, 10 May 2007
Expert flies out to help local cops Scottish Daily Record (paper edition)

May 10, 2007

ONE of the two British experts who has travelled to Portugal is highly respected forensic psychologist Joe Sullivan.

Sullivan has helped police in Britain and Europe investigate child sex murder, abduction, organised paedophile rings and under-age internet pornography.

He works at the Child Exploitation and Online Protection Centre, which combats paedophiles.

He has previously dealt with paedophile priests.

Sullivan has also published a shocking study into professionals who abuse children.

It found one in seven paedophiles, including priests, admitted choosing work which would give them easy access to children.

He has also studied women who sexually abuse children.
Madeleine's parents cling to hope of safe return for their missing toddler, 10 May 2007
Madeleine's parents cling to hope of safe return for their missing toddler
The Independent

By Ian Herbert
Thursday, 10 May 2007
The parents of Madeleine McCann said last night that they still hold out hopes for her safe return, with Portuguese police apparently no closer to finding the three-year-old a week on from her abduction.
Gerry and Kate McCann were unable to face the cameras yesterday but in a statement said they continued to remain positive. "We are grateful to all of those currently taking part in the search for our daughter Madeleine," they said. "At present, we are channelling all of our emotions and all of our efforts into the steps that are being taken to secure Madeleine's safe return."
Clues to Madeleine's disappearance - she went missing from an apartment in the Algarve resort of Praia da Luz while her parents dined in a nearby tapas bar - seemed few and far between yesterday. An e-fit of the "abductor" shown by police to local businesses was little more than a crude outline of a long oval face with hair but no facial features.
Detective Chief Inspector Graham Hill, from Britain's Child Exploitation and Online Protection Centre (CEOP), one of only two centres of excellence for child abduction and paedophile behaviour in the world, continued to work with the Portuguese yesterday. His colleague, the forensic psychologist Joe Sullivan, has already returned to Britain to fulfil previous commitments but will continue to work on the case.
After identifying the failure to circulate images of Madeleine as a weakness of the investigation, the CEOP also issued an internet appeal for Madeleine's safe return yesterday. It came through the Virtual Global Taskforce (VGT), which receives hits from more than 130 countries.
It also came to light yesterday that the Portuguese police have included a photograph of Madeleine and a telephone number for the public to call on its own website but had failed to draw attention to the site or to make the number available at its press conferences.
David Hill, a former area commander of the National Crime Squad now working for security firm Red24, who was awarded the Queen's Police Medal for helping write the police response procedures for kidnap scenarios, said the Portuguese response had been "apathetic".
Stung by criticism of their efforts, Portuguese police adopted a higher profile yesterday, with mounted officers and maritime patrols among the search teams.
Officers have been passed a CCTV tape from a service station a few miles from where Madeleine was abducted, showing a woman with a girl fitting her description who raised staff suspicions. The woman was said to be urging the girl to say "thank you" to staff but apparently wanted to say something else.Police have said no more about the tape.
They are said to focusing their search on the possibility Madeleine was abducted by an organised paedophile network. But the investigative Policia Judiciaria (PJ) have not commented publicly. The force has come under intense criticism for its handling of the case but refuses to reveal details of the investigation because of the national segredo de justica law which prevents details of a criminal investigation being revealed.
Madeleine's uncle, John McCann, just back from Portugal, stepped in to defuse criticism. "Everybody's working to the same end," he said.
The Prime Minister's spokesman indicated Tony Blair was following the case. "These are very difficult days for... the family, and we clearly understand that and appreciate that," he said. "We have a certain level of expertise which has been made available and has been taken advantage of by the Portuguese authorities."
Algarve 'haven' for paedophiles, 10 May 2007
Algarve 'haven' for paedophiles
The Sun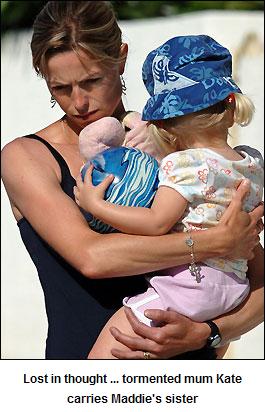 By MIKE SULLIVAN
Crime Editor
Published: 10 May 2007

THE hunt for abducted tot Madeleine McCann took on a grim new urgency last night as it emerged Portugal is a haven for paedophiles to prey on youngsters.

Portuguese police are now desperately trying to track down potential suspects from a blacklist provided by UK cops.

Their chief fear is that Maddie, three, was stolen to order by an international gang of perverts.

Unlike here, Portugal has NO sex offenders register - and its relaxed policing has made it a magnet for sun-seeking paedophiles from Britain and the rest of Europe.

Under tough British laws, anyone on our register of 30,000 sex criminals must inform cops if they plan to travel abroad.

That information has been used to compile names of at least 130 paedophiles known to be on Portugal's Algarve coast, where Maddie, vanished a week ago.

Police hunting for missing Madeleine McCann were today scrutinising four pieces of "very useful" fresh information, Crimestoppers said.

The tip-offs came among hundreds of calls made from Portugal to a special UK number set up by the charity.

A spokeswoman said they have been passed to Leicestershire Police, who are working alongside Portuguese police on the case.

She declined to comment further on the nature of the information.

Crimestoppers have created the number, 44 1883 731 336, because of problems with routing phone calls from Portugal to its normal 0800 555 111 number.

Reports in two separate Portuguese newspapers said police were investigating the possibility that Madeline was snatched by a group of three - two men and a woman.

24 Horas and Correio da Manha both reported that CCTV footage from a petrol station just outside Praia Da Luz could hold the key.

It was confirmed yesterday by a source that police had taken CCTV footage from the service station.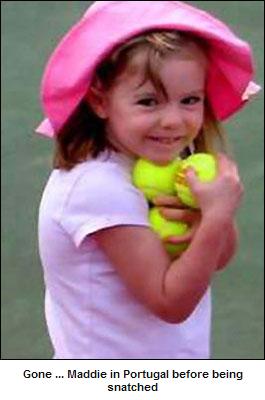 But accounts differ as to the details of what is shown.

24 Horas said the woman was in her 40s, blonde and appeared foreign.

An earlier report pointed to a woman alone with a girl.

The newspaper said the image had been passed to British police for help in attempting to identify her. It added that it was also being shown to those who gave witness statements to the police.

Correio da Manha said the CCTV footage showed a car with a British number plate and claimed that the number has already been circulated through Interpol.

It said one theory was that the kidnap was carried out by one of the men with the complicity of a couple.

Several child sex ring scandals have hit Portugal in recent years.

And Scotland Yard investigated reports of a ring of teachers visiting the Algarve to prey on young boys.

One senior British police source said: "We are the only country in Europe who keep a list of sexual offenders and maintain intelligence on their movements. We have given our information to the Portuguese."

A Home Office spokesman said: "We are giving every possible assistance to our colleagues in Portugal. Everybody who is on the register must inform police of any foreign trip, including dates of travel and where they are staying."

Last night it emerged that Portuguese cops were probing reports of a car containing up to four men driving "suspiciously" near the complex where Maddie went missing.

A local shopkeeper said she saw the car TWICE in a few days - once on the night of the snatch.

It was also revealed that a senior British policeman who worked on the kidnap and murder of schoolgirl Milly Dowler has flown to Portugal to assist in the hunt.

Detective Superintendent Graham Hill is attached to the Child Exploitation and Online Protection Centre (CEOP), part of the Serious Organised Crime Agency set up a year ago. He previously worked for Surrey Police.

Milly, real name Amanda, was snatched near Walton railway station, Surrey, in 2002 while walking home from school. Her body was found six months later in a wood. No one has been charged.

Det Supt Hill also worked on the re-investigation into the murder of 14-year-old Roy Tutill. He was abducted in Chessington, Surrey, in 1968 and strangled.

Paedophile Brian Field was convicted of Roy's murder in 2001.

A colleague of Det Supt Hill said: "Graham has great experience of investigating abductions of children."

Another British expert, behavioural psychologist Joe Sullivan, has also been helping the hunt. He worked with Det Supt Hill on the Roy Tutill probe and advised officers on their interview strategy with Field.

Mr Sullivan, who also works for the CEOP, has wide experience of child sex murders and probing paedophile rings.

Mr Sullivan flew to the Algarve last week and returned to Britain yesterday. A source said: "He has many commitments but will be travelling back and forth to Portugal."

Mr Hill and Mr Sullivan are regarded as the top brains in Europe on paedophile inquiries. Maddie, of Rothley, Leics, was taken by someone who broke into her bedroom at a Mark Warner holiday village in Praia da Luz as her parents Gerry and Kate, both 38, ate at a nearby restaurant.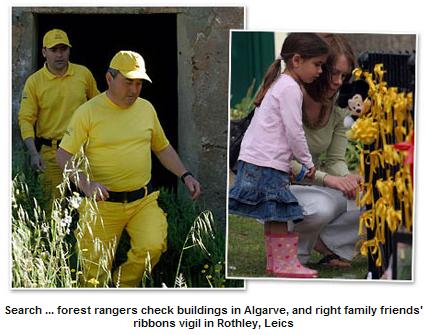 Cops have drawn up a computer image of a Brit they want to quiz. He is described as white, 5ft 8ins, aged 35 to 40 with short dark hair.

But one person shown the picture by Portuguese detectives described it as "an egg with hair" because it did not have any facial details.

Officers have checked 500 apartments in and around Praia da Luz.

More than 100 people have been interviewed. And police have followed up 350 possible leads.

But the Portuguese investigation into Maddie's disappearance has been widely criticised. Astonishingly, they have yet to issue their own photo or appeal to trace her.

Sources said last night that the hunt is about to be scaled down, because Portugal cannot afford it.

British law was tightened to restrict travel of paedophiles under the Sexual Offences Act, 2004.

Anybody on the sex offenders register spending three or more days abroad must give details to local police a week before they leave.

This gives the authorities time to inform foreign cops. But it is up to the host country to decide whether or not to monitor them.
At home and abroad: team Madeleine, 15 May 2007
At home and abroad: team Madeleine
Daily Mail
Last updated at 08:52 15 May 2007
Behind Kate and Gerry McCann is a growing band of family, friends and specialists desperately trying to ease their burden. The original party of friends who flew out to the Algarve with their children and the McCanns remain in Praia da Luz comforting the couple while the team, both at home and abroad, is maximising publicity and expertise. Here MICHAEL SEAMARK profiles Team Madeleine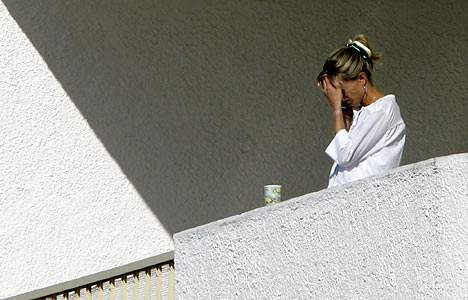 The lawyers

The McCanns have instructed the International Family Law Group, specialist London lawyers in child abduction and international family law, together with barrister Michael Nicholls QC, to help them in the search for Madeleine.

Mr McCann said the arrival of lawyers from the firm in Praia da Luz had meant 'a burden being lifted from our shoulders' and the law group says members of the public will soon be able to make their own financial contribution to a 'fighting fund' for the search, which could pay for private detectives across Europe.

Mark Warner, the holiday company the McCanns booked with, said accommodation and flights for them and their relatives was being given free for as long as the family needed it.

The family priest

Father Paul Seddon married the McCanns and baptised Madeleine. He led a service to pray for her safe return at Our Lady of Compassion Church in Formby, near Liverpool, last Thursday night.

The Roman Catholic parish priest and family friend had been in regular phone and text contact with the distraught couple in the aftermath of her disappearance.

He flew out at the weekend and accompanied Kate to Mass on Sunday.

The PR man

Experiemced public relations man Alex Woolfall has been acting as the family spokesman when Kate and Gerry McCann have not wished to appear themselves before the world's media.

He is described as press officer for the Mark Warner holiday group but, in fact, has been seconded from the Bell Pottinger Group - the PR firm headed by Lord Bell, Lady Thatcher's former PR guru.

The Cracker experts

Two criminal behaviour experts from the Child Exploitation and Online Protection (Ceop) Centre flew into Portugal to help assist in the hunt.

Detective Superintendent Graham Hill of Surrey Police has worked on a string of high-profile cases, including the kidnap and murder of schoolgirl Milly Dowler - whose body was found in a Hampshire wood six months after she was snatched in 2002 while walking home from school. Joe Sullivan, a forensic psychologist, has wide experience of child-sex murders and paedophile rings.

Trauma counsellors

Mark Warner flew out two specialist counsellors to help comfort the McCanns, spending time with the couple through the traumatic days. Leicestershire police sent three family liaison officers.

Back in Glasgow

Madeleine'es uncle John McCann is spearheading the fight to keep her 'name up there so no one forgets about her'.

The family are targeting the 40,000 Spanish fans and 500 journalists from across Europe congregating in Glasgow for tomorrow's UEFA Cup final at Hampden Park between Seville and Espanyol.

Mr McCann, a 48-year- old drugs company representative, hopes to gain permission for a picture of his niece to be placed on every seat at the stadium.

Leicester

Thousands have travelled to the McCanns' home village of Rothley to place messages on railings by the village green, no longer visible beneath a mass of yellow ribbons.

Villagers and visitors alike have begun to tie yellow ribbons to their vehicles while in nearby Queniborough - the McCanns' home until a year ago - Madeleine's great-uncle Brian Kennedy was among those who released 40 pink balloons on Saturday to mark her birthday.

Liverpool

Before Sunday's Premiership match at Stamford Bridge against Chelsea, the Everton players ran out wearing T-shirts featuring Madeleine's picture and fans in the crowd carried banners calling for her safe return.
Inside the Police operation tracking the abductors of Madeleine McCann, May 2007
Inside the Police operation tracking the abductors of Madeleine McCann NewsMonster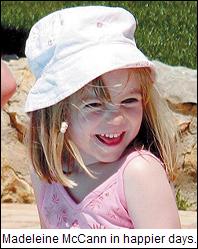 By Julian Sher

It is hard to find any good news in the nightmare that has gripped the McCann family – and much of the British public's imagination – with the disappearance of their three year old daughter, Madeleine, in Portugal.

But if there is a glimmer of hope in this story, it is this: never before have the police in the UK and around the world been as prepared and coordinated in their hunt for child predators. It's a far cry from the situation surrounding the abduction of the child Ben Needham in Greece in 1991.

It was just last spring, one year before Madeleine's abduction, that the Child Exploitation and Online Protection Centre (CEOP) was formally set up – bringing together under a single roof not just police but also psychological profilers, educators and financial investigators in perhaps the world's most ambitious project to fight child predators.

"This is about us using technology to make the world smaller," CEOP's founder and director Jim Gamble once told me. "You will be caught," he warns predators. "There is no place to hide."

Gamble brought the same zeal he deployed as a gruff police commander on the streets of Belfast during 'The Troubles' to the hunt for worldwide predators.

When news of Madeleine's abduction broke, CEOP immediately made two of its top behaviourial analysts available to the Portuguese investigators, including forensic psychologist Joe Sullivan, one of the world's leading experts on child predators. I have seen Sullivan mesmerize an international conference of hundreds of investigators with his insights into what makes child sex offenders tick.

"We don't have the luxury of allowing ourselves to see them as monsters," Sullivan says. "That may be a comfortable place to be, but it's dangerous. Seeing someone as a monster dehumanizes him, makes him so different from us that we cannot really begin to understand him."

And you can't catch what you can't understand.

British police have also supplied the Portuguese authorities with a list of men on the sex offenders register who have traveled to the area where Madeleine disappeared. Knowing the movements of known predators has been a top priority for CEOP's intelligence force. "If you're a pedophile, I want to know everything about you," Gamble says. "We're going to be all over you like a cheap suit."
According to press reports, Madeleine's parents spent several hours looking at hundreds of photographs of known paedophiles.
Should pictures of Madeleine turn up anywhere on the Internet, the police are also better equipped to find her.
CEOP's crack image analysis team uses Childbase, sophisticated facial recognition software. Started with about 280,000 images in 2003, it has grown substantially since and is robust enough that it can cope with slight changes in someone's appearance, such as hats and glasses or other disguises.
The cooperation between the British and Portuguese authorities "to ensure" as CEOP puts it, "the full range of expertise available for every possible avenue of investigation" is also typical of a new era of international sharing between police hunting the predators.
For crime without borders, think of it as Police Without Borders. CEOP's London operations also houses the headquarters for the Virtual Global Taskforce, which aims to bring a 24/7 police presence to the Web and coordinate Police in the UK and a half dozen other countries have also begun to deploy the Child Exploitation Tracking System (CETS), a vast database of police intelligence on victims and predators developed by Microsoft after a Canadian police officer sent an anguished email to Bill Gates several years ago pleading for help.
The richest man in the world answered that email and Microsoft -- working with police forces around the world -- invested several million dollars to build a powerful tool that can analyze and make connections between seemingly disparate pieces of clues and evidence.
To share confidential files, pictures and sensitive data and leads, police also use a super-encrypted file sharing and communication tool known as Groove so that no matter where they are in the world, they can work on – and hopefully solve -- the same cases.
And there have been some remarkable successes.
Back in 2003, when Canadian, UK and American police scrambled to find a girl whose pictures of abuse inside a cage had flooded the internet, they were able to locate and rescue her in North Carolina within 33 hours.
Last year, when a Canadian police officer passed on information to CEOP about a UK man who was filming the rape of a 12 year old girl, the culprit was arrested in London within 24 hours and the girl was saved. That investigation eventually led to the bust of an international ring of online predators, with more than 64 arrests and 43 children rescued around the world.
CEOP's slogan is: "Making Every Child Matter – Everywhere."
And they mean it. For all the Madeleine's out there.
______________
Julian Sher is the author of the just-released One Child at a Time: Inside the Fight to Rescue Children from Online Predators (Vision Paperbacks, £10.99)
-----------------

Comment: Julian Sher's book, 'One Child at a Time...', was released on 10 May 2007, which dates this article to around that time. Given the inclusion of the 'last photograph' of Maddie (released 24 May 2007), it seems likely this article appeared towards the end of that month.
Infiltrating the realm of the online predator, 19 June 2007
Infiltrating the realm of the online predator JulianSher.com
Police have become increasingly adept at tracking the digital footprints of child pornography

[This analysis ran in Canada's leading paper the day after UK police announced a major international bust of a pedophile ring and the rescue of 31 children]

JULIAN SHER
June 19, 2007
LONDON -- The Internet cannot turn someone who has no sexual interest in abusing children into an offender. But there can be little doubt it has brought latent child sex offenders out of their dark corners - giving them anonymity, access and acceptance. Just ask the Alberta pedophile whose arrest two years ago led police down the trail that ended with the sentencing of the British online kingpin yesterday.
When the Alberta man was arrested in the spring of 2005, he offered to help police track down some of his Web buddies.
Are indecent pictures of children on the Web a "safety valve" as some say, I asked when I visited him in prison where he is serving a 14-year sentence. In other words, is it better that men like him look at pictures rather than go out and abuse children themselves?
"That's bullshit," said the man, who cannot be named because it would identify the children he abused. "All it does is make me want me to get more. And the further I go on and the more I see the pictures, the more I'm going to want to do something. It's just the next step before you start abusing."
He remembers the moment he clicked on a website that offered illicit pictures of children. "I just couldn't believe my eyes. ... That's when I started building my fantasies."
Joe Sullivan, the principal forensic behaviour analyst with Britain's Child Exploitation and Online Protection agency, calls this the "spiral of abuse."
"Some people spent all their lives hiding their predilection and never spoke to anyone about the feelings they had," said the psychologist, who has treated and interviewed hundreds of child sex offenders. "Now they were able to share ideas and get new ideas, develop their fantasies to another level."
But the same Internet that has emboldened the predators can also entrap them. Bank robbers don't shoot videos of their crimes and then post them on the Internet. Pedophiles do. They boast and brag, swap and trade.
When Carl Treleaven - of the initial chat room dismantled by police in the early stages of this operation - was arrested early last year, he had 90 people standing by online ready to download from a vast collection of more than 20 gigabytes.
Timothy David Martyn Cox, the British site administrator who was sentenced yesterday, had more than 75,000 indecent images on his computer - and he had shared more than 11,000 with his fellow offenders.
Posting and trading these images leave digital footprints, clues that police are becoming increasingly sophisticated at tracking.
It's not easy. It took months for Toronto police to first monitor and then infiltrate Mr. Treleaven's chat room; then an American investigator helped crack the code that gave police access to the encrypted identities of some of the room organizers. From there, police were able to arrest some of the leaders and seamlessly take over their identities, working patiently to ensnare and eventually arrest dozens.
In effect, they turned the very tools the predators exploit - the secrecy and anonymity of the Web - against them.
Just as online offenders try to fool young people by lurking in chat rooms pretending to be young children, police are infiltrating the darkest lairs of the Internet by posing as perpetrators.
In the British end of the operation revealed yesterday, police presided over the chat room for 10 days after they arrested the leader known as "Son of god."
Now it's not just children and their parents who need be afraid on the Web.
CEOP's Jim Gamble - who helped lead counterterrorism operations in Northern Ireland before becoming Britain's top child abuse cop - makes no excuses for deploying the same tactics police use against organized crime and terrorism.
As Mr. Gamble warned yesterday: "Anybody who thinks they can carry out such horrific activities undetected is in for a rude awakening."
And dozens of rescued children can finally sleep soundly tonight, knowing that, for them at least, the nightmare is over.
________________________
Julian Sher is the author of One Child At a Time: Inside the Global Hunt to Rescue Children from Online Predators
'A Minute for Madeleine' CEOP video, 03 November 2009
Madeleine McCann disappearance: New internet campaign launched, 03 November 2009
Madeleine McCann disappearance: New internet campaign launched
ITN [Source]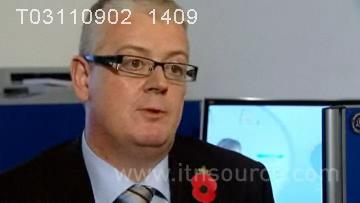 03 November 2009
Story:

The criminal psychologist behind a new Madeleine McCann appeal has told ITV News that her abductor is very likely to strike again.
The parents of Madeleine McCann have launched another desperate appeal, a one minute film, featuring a fresh attempt to show what she might look like now. It's aimed at millions of internet users. The hope is that it will touch the conscience of someone, perhaps the one person, who can tell the McCanns what happened to their daughter on that summer night, more than 2 and a half years ago. So far it has received a phenomenal response.
-------------------

Transcript

By Nigel Moore

Keir Simmons: [to Dr Joe Sullivan] So, this is where you planned this appeal, thought about these words, in close detail?

Dr Joe Sullivan: That's right, this is the Behavioural Analysis Unit at CEOP, where, errr...

Presenter: [Voice Over] Tonight the police psychologist who designed the message spoke exclusively to ITV News.

Dr Joe Sullivan: The person responsible for the disappearance of Madeleine McCann is a significant risk to children. This person is very likely to behave in the same way again and there's... it's crticially important that we identify that person.

Presenter: [Voice Over] He says that person will have persuaded those around him to keep quiet.

Dr Joe Sullivan: Most people associate grooming with something that the perpetrator does to the victim but grooming is also something that is, errr... used by the perpetrator to silence those people around them, that will potentially, errm... disclose information or cause their identity to be... to be known to the police.
'A Minute for Madeleine' video, 03 November 2009
Transcript

By Nigel Moore

Screen text:

Madeleine McCann disappeared on 3 May 2007 while on holiday with her family in Portugal

She was nearly four years old at the time

She will now be six years old

Here is a special message

Delivered by the UK's Child Exploitation and Online Protection (CEOP) Centre

Dr Joe Sullivan: [Voice Over] Madeleine disappeared on the 3rd of May 2007 while on holiday with her family in Portugal.

Madeleine is now six years old.

This is how she might look today [age-progressed image].

We know that there's someone out there who knows who's involved in her disappearance.

They may be keeping this secret out of fear, misplaced loyalty or even love.

Keeping this information secret only increases the anguish of Madeleine's family and friends and increases the risk to other children.

If you know who is involved and you're keeping this secret, remember that it's never too late to do the right thing.

We urge anyone who knows anything about the whereabouts of Madeleine, or who has information regarding her disappearance, to do the right thing now and give that information to their local police.

Screen text:

It is never too late to do the right thing

If you know anything at all

Do the right thing now and contact your local police
Dr Joe Sullivan shares a stage with Gerry McCann at CEOP conference, 26 January 2010
Gerry McCann to speak at CEOP conference this week, 23 January 2010
Gerry McCann to speak at CEOP conference this week CEOP
By Nigel Moore
23 January 2010
Gerry McCann will speak at a one day conference, organised by the Child Exploitation and Online Protection Centre (CEOP), on Tuesday 26 January 2010, in London.
The conference is entitled: 'Taken: Sexually-motivated child abductions' and Gerry McCann will deliver the closing speech at 16:00, prior to a question and answer session for all speakers.
---------------------

Agenda (see screenshot below for full agenda)

- Extract -

14.45 Insight from the minds of child abductors: Detective Chief Superintendent Graham Hill, Dr Joe Sullivan, Consultant Chartered Psychologist, Child Exploitation and Online Protection Centre

16.00 Closing speech: Gerry McCann

16.30 Questions and answers session: All speakers


-----------------------
Key Note Speakers
- Extract -


Dr Joe Sullivan, Principal Forensic Behavioural Analyst, Child Exploitation and Online Protection Centre

Since 1986, Joe has specialised in the assessment and treatment of adults accused or suspected of sex crimes, professional misconduct or representing a risk of sexual abuse towards children. He holds a PhD in Forensic Psychology, a Masters degree in criminology, a Bachelor of Arts degree in applied Social Sciences, a Certificate of Qualification in Social Work and a Postgraduate Diploma in Psychology. He is an honorary tutor at the University of Birmingham, School of Forensic Psychology. Joe was formally employed as Principal Therapist for the Lucy Faithfull Foundation's Wolvercote Clinic, a specialist residential assessment and therapeutic intervention centre for the treatment of adults with a sexual interest in children. Joe has supported law enforcement enquiries into cases involving child sexual abuse in UK, USA South East Asia and Australia.
CEOP One Day Conference, 26 January 2010

Late change to CEOP Conference Agenda, 17 February 2010
Late change to CEOP Conference Agenda


By Nigel Moore
17 February 2010
For reasons unknown, Gerry McCann delivered his speech earlier in the day. This meant he would have been unavailable for the speeches of Graham Hill and Dr Joe Sullivan, as well as the closing 'question and answer' session.
---------------------

Confirmation email from CEOP
17 February 2010

Classification: NOT PROTECTIVELY MARKED//

Dear Mr Moore,

The conference that Mr McCann spoke at was for law enforcement officers only and as such was for that particular audience only. We do not have a podcast or transcript of what was said.

With regards to the time of his talk, he did speak earlier in the day.

Kind Regards

Hannah


Hannah Bickers
Corporate Communications Officer
Child Exploitation and Online Protection (CEOP) Centre
hannah.bickers@ceop.gsi.gov.uk

Help Us Help Children Stay Safe Online
Visit CEOP's Digital Asset Library and Register Today ceop.police.uk

Give A Minute for Madeleine McCann...
Over 500,000 peak time views per hour
Please watch our short film and spread the link ceop.police.uk
Capacity building about child sexual abuse in Sarajevo, 15 December 2010
Capacity building about child sexual abuse in Sarajevo
Save the Children - Norway
15.12.2010
Leading experts in profiling child sex offenders trained police officials, prosecutors, judges and university professors from BiH and Serbia
On December 13th and 14th training titled Understanding child sex offenders: a foundation course in behavioural analysis was held in Sarajevo. This is a prestigious course implemented by the Child Exploitation and Online Protection Centre (CEOP), state police service of the United Kingdom and its goal was to teach professionals, through practical presentations, on how to effectively protect children from sexual predators, based on behavioural analysis of specific perpetrators of such monstrosities. The training was organized by Save the Children Norway and the Ministry of Security of B-H, with the support of the Oak Foundation.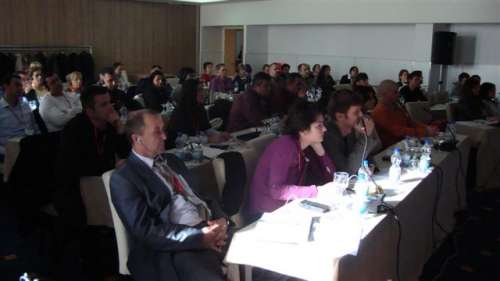 "This is a great step for Bosnia and Herzegovina. We consider that with this training we rounded up the issue of strengthening of institutional capacities for the protection of children in B-H within the final year of the project 'Comprehensive response to child sexual exploitation and on-line abuse' and that we are on the right track to fulfil the set objectives of the State Action Plan for Improvement of the System of Protection of Children from Child Pornography and Other Forms of Sexual Exploitation and Abuse of Children through ICT 2010-2012", stated Mr. Samir Rizvo, State Coordinator for Combating Human Trafficking and Illegal Immigration of BiH in his introduction.

The training was attended by 57 experts, representatives of police agencies, prosecutors, judges, university professors from Bosnia and Herzegovina and Serbia and representatives of NGOs specialized in child protection.

"We are especially honoured and glad that we were able to bring in the leading experts in the world in this area, who participated in some of the most famous international investigations of the worse types of violence against children", highlighted Mr. Bjorn Hagen, Director of Save the Children Norway.

During the training, the lecturers disclosed some shocking research results which indicate that every third girl and every fourth boy have been or will be before reaching adulthood, victims of sexual abuse at least once, while only 3-5% of such cases are reported to the police.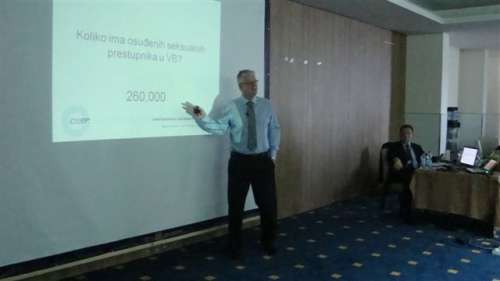 Mr. Joe Sullivan, PhD forensic psychologist and renown professor of the University of Birmingham, employee of CEOP and Mr. Tom Simmons, Internet Detective employed in the Behavioural Analysis Unit of CEOP have been helping the police forces of UK, but also in other countries of Europe, North America, Australia and Asia for the past 25 years in big investigations of crimes such as child murders, child abductions, organized crime of child abuse and in the past ten years, on investigations of sexual abuse of children on Internet. One of the most famous investigations in which they were involved is the case of little Madeline McCann who went missing on May 3rd 2007 in Portugal.
Not all sexual predators the same, expert teaches, 28 August 2013
Not all sexual predators the same, expert teaches Winnipeg Free Press

By: Mike McIntyre
Posted: 08/28/2013 3:19 AM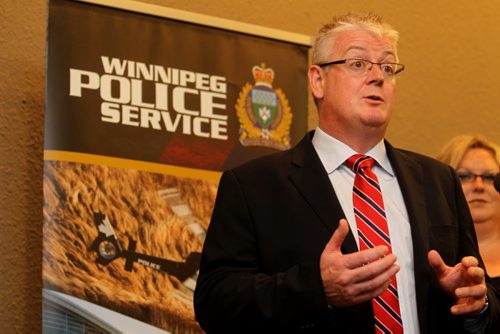 Dr. Joe Sullivan of Mentor Forensic Services teaches Winnipeg Police Child Abuse unit members on specialized child exploitation training. See story. August 27,, 2013 Ruth Bonneville Winnipeg Free Press
RUTH BONNEVILLE / WINNIPEG FREE PRESS

Dr. Joe Sullivan, a forensic psychologist from Ireland, is in Winnipeg sharing his expertise on sexual predators with police, social workers and border guards.
HE figures he has sat across the table from thousands of sexual predators trying to figure out what makes them tick.

Now a renowned expert on child exploitation has brought his skills to Winnipeg to help protect local children from being victimized.

Dr. Joe Sullivan, a forensic psychologist from Ireland, is currently spending two weeks in Winnipeg leading workshops with more than 150 police officers, social workers, border guards and justice officials.

It's the first project of its kind in Canada and one all parties agree will better protect the most vulnerable of society.

"I don't believe there is a cure for being sexually interested in children," Sullivan told a news conference Tuesday during a break from one of the training sessions.

And it's because of that -- combined with the fact virtually all offenders will eventually be released -- that Sullivan stresses the importance of education and awareness. He relies on data collected from 350 pedophiles he's studied closely over the years, sharing that knowledge in hopes of getting a better read on how to prevent and detect sex crimes.

'It's long-term, preventative, proactive," said Insp. Gord Perrier of the Winnipeg police major crimes unit.

Sullivan's workshops examine risk assessment, management in the community and offender use of technology, which is a rapidly emerging area of both targeting and enforcement.

"Offenders aren't all the same," said Sullivan, who began his career as a probation officer before taking his masters in criminology and psychology.

One of the areas he focuses on is "progressive interview techniques," which he's learned can be the key to preventing future offending, finding victims and ensuring prosecutions.

Sullivan has consulted on notorious cases around the world, including the Madeleine McCann mystery. She was just three years old when she vanished from a Portuguese holiday resort in 2007.

The case remains open and police recently said she may still be alive.

Sullivan said Tuesday he was impressed with how Winnipeg police wanted to "draw in their partner organizations" to the workshops, realizing the benefit of such a move.

"Not always do we find police services thinking ahead," he said.

Perrier said the feedback from officers has been tremendous.

"They're saying, 'I'm finally walking out of this with real tools in my hand,' " he said. "I hope Winnipeg becomes a hub for this type of training."

Sandie Stoker, executive director of the Child and Family All Nations Coordinated Response Network, said Sullivan's knowledge is especially important, considering her workers frequently come in contact with children being abused and exploited.

"We're all invested in the protection of children. This is a tremendous opportunity for our investigators," she said.

www.mikeoncrime.com

Republished from the Winnipeg Free Press print edition August 28, 2013 A3
Savile researcher at abuse conference in Belfast, 09 September 2013
Savile researcher at abuse conference in Belfast
BBC News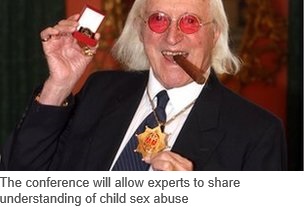 9 September 2013 Last updated at 06:28

The man who unmasked Jimmy Savile as one of the UK's worst paedophiles will be among the speakers at a conference on child abuse being held in Belfast.

Former detective Mark Williams-Thomas is a child protection expert, criminologist, and TV presenter.

Mr Thomas researched and presented the ITV documentary which exposed Savile's history of sexual abuse.

The conference will allow experts to share their professional understanding of the problem of child sex abuse.

Also speaking will be Peter Spindler, the former lead officer on operation Yew Tree, the police investigation sparked by the Savile revelations.

Speakers will address issues such as the motivations, influences and deterrents to offending. Other talks will look at how paedophiles infiltrate schools, charities and sporting bodies to gain opportunity and access to children.

Also attending will be CEOP's (Child Exploitation and Online Protection Centre) former principal forensic physiologist Dr Joe Sullivan and Former Chief Executive of CEOP Jim Gamble.

Dr Sullivan has worked as an advisor on major police enquiries including the Madeline McCann and April Jones investigations.

Mr Gamble is an expert in child protection, and works as an advisor and commentator to many media outlets.