Your sis Maddie is missing
The Sun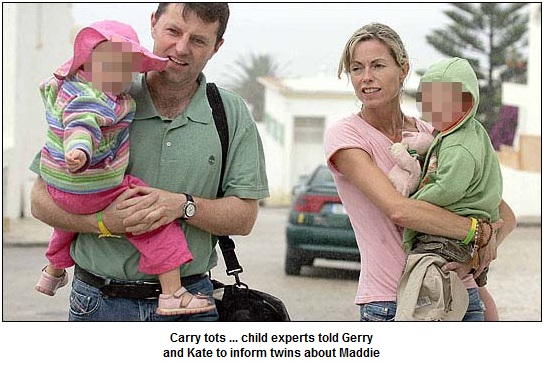 By JULIE MOULT in Praia da Luz, Portugal
Published: 18 Aug 2007

THE parents of Madeleine McCann have told their twins for the first time their big sister is missing.

Kate and Gerry had been telling the inquisitive two-year-olds that Maddie was on a holiday.

But on the advice of top child psychologists they broke it to Sean and Amelie their big sister has disappeared and "Mummy and Daddy are looking for her".

A family friend said: "Kate and Gerry have been advised to be very open and to answer the twins' questions very truthfully.

"The twins understand the concept of missing in the same way they would miss a favourite toy.

"Madeleine is spoken about a lot and the twins do say they miss her. They adored her and had a very touching relationship.

Kate and Gerry are very mindful and careful not to upset them, and that is why they have taken advice on how to approach such a delicate and traumatic issue."

Doctors Kate and Gerry, both 39, have been in touch with British child experts since Maddie, four, vanished from an apartment while on holiday in Praia da Luz, Portugal, on May 3.

They have even been visited by psychologists who have spent time with Sean and Amelie. Gerry said: "We've been advised that keeping a routine for them is very important for their coping. They are happy but know Madeleine is not here."

But that routine was disrupted last week when the twins had to be pulled out of a crèche for several days after it was besieged by the Portuguese media.

A friend said: "Kate was pretty shaken by it and the twins confused. It wasn't pleasant.

"Kate and Gerry take their parenting responsibilities very seriously and the top priority is that the twins have a normal life. They are very keen to protect their children. As long as they can do that they are happy to stay in Portugal."

The McCanns have been considering returning to the UK. But yesterday it emerged they had extended the lease on their villa in the resort for another month.

Meanwhile Portuguese cops were again under fire. The woman living in the apartment above the McCanns claimed she had not been spoken to by police until the British team arrived two weeks ago.

Expat Pamela Fenn, 73, told them she disturbed a burglar at her apartment about three weeks before Maddie vanished. She is now to give a formal statement to Portuguese officers.

A friend said: "She was surprised that neither the police nor the McCanns had approached her before."

Pamela also said her niece, who stayed with her the week Maddie disappeared, spotted somebody fitting the description of a man seen carrying a child away under a blanket. The pal added: "He was acting suspiciously."

The niece has given a statement to police in Britain.
HOW PARENTS TOLD TWINS: 'Madeleine has gone missing. Mummy and Daddy are looking for her...' Daily Mirror
(paper version reproduced here)
By Martin Fricker in Praia da Luz
Aug 18, 2007
KATE and Gerry McCann have told their two-year-old twins for the first time that big sister Madeleine has vanished.
Taking little Sean and Amelie aside, Kate gently broke the news: "Madeleine has gone missing. Mummy and daddy are looking for her."
The children, who for weeks have been fed the story that Madeleine is away on a "trip", now understand she is lost and that mum and dad are desperately worried.
But in their innocence they still play happily as their parents try to make home life as normal as possible.
As the hunt for Madeleine entered its 106th day, friends disclosed yesterday that Kate and Gerry thought "long and hard" before deciding to come clean.
One said: "They took advice from child and trauma experts on how to approach such a delicate issue and what to say.
"At the start, they told the children that Madeleine was on a little holiday.
"But, as time has gone on, they've changed the language they use. It wasn't an easy thing. The last thing they want is to upset them.
"It's very difficult trying to explain to a two-year-old what has happened, especially when it's your big sister who's missing.
"The twins understand it's more serious than a missing toy. They realise their sister has disappeared and they miss her."
Sean and Amelie hero-worshipped four-year-old Madeleine who, in turn, "absolutely adored" them. The friend added: "They had a really good relationship.
"The twins were so excited when they came on the holiday because they were sleeping in the same room as Madeleine. Every night they were thrilled about going to bed."
Since telling Sean and Amelie the truth, Kate and Gerry have strived to make life as routine as possible for them.
Heart specialist Gerry, 39, of Rothley, Leics, said: "Child psychologists say it's very important for their coping. They're happy but they know that Madeleine isn't here."
Kate said: "The kids are very happy. The two of them play together all the time.
"But when we all wake in the morning it's another reminder that Madeleine isn't there. Sean and Amelie may have crept into the bed next to us. I say a quick prayer."
In a new development, a British expat has come forward with dramatic new evidence.
Pamela Fenn said a man broke into her flat above the McCanns' holiday apartment in Praia da Luz, on the Algarve, just weeks before Madeleine disappeared.
There was no sign of a break-in and it is thought the intruder may have had a key.
Mrs Fenn, who is in her 70s, found the man scrambling out of the window and tried to grab his ankle. But he escaped.
She reported the incident to Portuguese police but they did not question her again.
The information only resurfaced after British police reviewed the case two weeks ago. Mrs Fenn will now be formally interviewed for the first time on Monday.
Mrs Fenn's niece has said she spotted a suspicious man near the McCanns' apartment around the time Madeleine disappeared.
She said he matched the description of a suspect seen by one of the McCanns' friends.
Evidence taken from the McCanns' hire car is reportedly being analysed in the UK.
The couple only rented the car five weeks after Madeleine vanished. Police said they have "never, ever" been suspects.
Widow with vital clues was never questioned Daily Express (no longer available online)

BRAVERY: Mrs Fenn challenged intruder

By David Pilditch in Praia da Luz
Saturday August 18,2007

A British widow has come forward with new information which could help Portuguese detectives solve the mystery of Madeleine McCann's disappearance, the Daily Express can reveal.

Ex-pat Pamela Fenn, who is in her 70's, has told police she has three "bombshell" clues she believes could be vital to the inquiry.

In the weeks before Madeleine disappeared Mrs Fenn scared off an intruder who had apparently let himself into her apartment with a key.

It was one of a series of similar crimes reported to Portuguese police.

In a second development Mrs Fenn's niece reported seeing a man who matched the description of a suspect peering into the McCanns holiday apartment around the time Madeleine went missing.

And she revealed vital details of the movements of Madeleine's parents, Kate and Gerry, and their holiday friends in the run up to the night of May 3 - when Madeleine vanished.

Even though she lives in the apartment directly upstairs the police had never tried to get in touch with her.

Incredibly Mrs Fenn, who lives in the apartment directly above the flat the McCanns were staying in, was never interviewed by Portuguese police, it was claimed yesterday.

It was only when a team of British officers were called in to help carry out a major review of the case that the information was acted on.

Now Mrs Fenn will be formally interviewed for the first time by Portuguese detectives at police headquarters in Portimao on Monday morning.

Her niece, who has not been named, will also give a sworn testimony next week, after she was asked to fly to Portugal from Britain.

The Daily Express can reveal they are among a series of witnesses will be called in to give statements in the light of new evidence which has emerged.

Detectives are preparing to swoop on new suspects after a breakthrough in a major new line of inquiry.

Investigators are now working on the theory Madeleine, four, died inside the holiday apartment where her family were staying.

A police source told The Daily Express: "Next week we will be taking statements from several witnesses.

"We want to clarify details which may be relevant to the new line of inquiry in the light of the facts we have found."

Mrs Fenn has told police how she scared off an intruder she found in her apartment in the Ocean Club complex in Praia da Luz in the weeks leading up to Madeleine's disappearance.

There was no sign of a break-in and police believe he may have used a key to get in through the front door.

The terrified mother was watching TV in the evening and went to investigate a noise coming from her bedroom.

Mrs Fenn, who has lived in Praia da Luz for a number of years, discovered a man scrambling out of the window.

She tried to grab his ankle but he escaped. She reported the incident to police but did not believe anything was taken.

Mrs Fenn told how she had a niece from Britain staying with her in the week the McCanns were on holiday there.

Her niece, who has now been interviewed by detectives in Britain, spotted a suspicious looking man hanging around the McCanns' apartment around the time Madeleine disappeared.

She told the officer the man matched the description of a suspect seen by Jane Tanner one of the McCanns' holiday friends.

Miss Tanner reported seeing the man rushing away from the apartment with a child wrapped in a blanket under his arm.

A second witness spotted the man minutes later rushing past the church in the resort and heading to the sea front.

The dark-haired man was wearing white trousers and a dark jacket.

Mrs Fenn also told police that two nights before Madeleine disappeared she heard a child crying in the McCanns' apartment.

Her screams carried on from around 10.30pm to 11.45pm until family members returned from a night out.

A friend of Mrs Fenn told The Daily Express last night: "She is an elderly lady who is quite nervous and was very shaken up after the break-in.

"She was surprised that neither the police nor the McCanns had approached her for information before.

"Even though she lives in the apartment directly upstairs the police had never tried to get in touch with her to ask her if she saw or heard anything the night Madeleine disappeared.

"The first time a police officer spoke to her was when the British officers with sniffer dogs knocked on her door and searched her apartment.

"She told an officer what she knew and now she has been asked to make a formal statement.

"Portuguese officers have told her they will pick her up at 10am on Monday and drive her to police headquarters in Portimao.

"On the night she found an intruder she was sitting at home watching TV when she heard a noise in her bedroom.

"She went to investigate. The man must have heard her coming and was scrambling out of the window. She just saw the back of his head and arm and she tried to push him out of the window.

"She was shaking with fear and called the police. There was no sign of a break in and she thought he must have somehow come in through the front door.

"She now thinks the information may prove significant in the investigation.

"Her niece who lives in England was staying with her when the McCanns were on holiday.

"When details of a suspect were released a few weeks later the niece remembered she had seen a man fitting the description hanging around in the street outside the McCanns' apartment.

"He was acting suspiciously and appeared to be looking into the window of the apartment. She has given a statement to police in Britain.

"Mrs Fenn says that two nights before Madeleine disappeared one of the children in the apartment was constantly screaming from around 10.30pm to 11.45pm.

"She was crying out for her dad and nobody answered until somebody returned.

"She remembers the times because she was talking to a friend back home on the phone and she was watching the news at 10.30pm.

"On the night Madeleine disappeared the first she knew of it was when there was a commotion downstairs.

"She looked over the balcony and saw the child's mother. She was in a state of panic. She was repeatedly saying 'We've let her down. We've let her down.'

"All the people in their group were running in and out of the apartment. She asked someone if she should call the police and was told it had already been done."

Last night Mrs Fenn refused to reveal details of her evidence.

Under Portugal's strict secrecy laws witnesses are banned from speaking publicly about details of an on-going investigation.

But when she answered the door at her apartment yesterday she said: "I will speak to the police on Monday."

Last night a Portuguese police source claimed officers had already been given statements by Mrs Fenn and her neice.

A police source said: "We have already spoken to them but they will be re-interviewed because of the new evidence we have.

"They are among a number of witnesses who we will talk to next week. They include employees from the Ocean Club."

Police in Portugal are still awaiting the results of forensic tests carried out on two samples of blood found in the McCanns' holiday apartment.

The source said friends of Madeleine's parents who were on holiday with them when their daughter disappeared could also be questioned.

The source said: "It is possible the McCanns friends will be brought in again but not will not happen before we have received the results of the forensic tests.

"The results of the blood tests are important but the investigation does not hinge solely on them.

"The blood is just another clue that could help us in the investigation. If there are four or five major clues that is stronger than just two or three."

Asked why the police had not carried out their weekly update meeting with the McCanns.

The couple reportedly asked for urgent showdown talks after reports were leaked to newspapers that police now believe Madeleine is dead.

Senior police chiefs later confirmed they are now working on that theory.

The source said: "It is not the McCanns who decide when we meet.

"We do that only when there is relevant information to tell them."

A second holidaymaker told police an intruder used a key to enter her Ocean Club apartment just three weeks before Madeleine went missing.

The Scottish woman said that on the first night of her stay in Portugal,she and a friend returned to the flat to find their belongings and £500 worth of foreign money had been taken.

The woman said: "It was in the same block as the one where the little girl was taken from.

"The police were called that night. They told us that someone with a key had got into the flat. There's no proof of that, but that was their opinion as there was nothing else disturbed. No broken windows, no forced entry."
Madeleine: Portuguese police to re-examine burglaries at resort, 19 August 2007
Madeleine: Portuguese police to re-examine burglaries at resort Daily Mail

By FIONA BARTON
Last updated at 11:48 19 August 2007

GMB LINK
New suspect in Madeleine McCann case, 20 August 2007
New suspect in Madeleine McCann case The Telegraph
By Richard Edwards in Praia da Luz
Published: 12:01AM BST 20 Aug 2007
GMB LINK
Witness statement of Pamela Fenn, 20 August 2007
Witness statement of Pamela Fenn PJ Files
Burglar was on loose at Maddy resort Evening Standard (no longer available online)

By ANNA DAVIS and CHRIS MILLAR
21 August 2007

A BRITISH resident at Madeleine McCann's holiday complex told today of a series of burglaries in the weeks before the girl went missing.

Ian Robertson, 64, said his apartment in the Ocean Club resort in Praia da Luz, just 100 yards from the McCanns' flat, was broken into in February and he knew of at least three other residents who had been victims.

The revelation, which comes as reports in Portugal said the investigation was entering a "decisive stage", will add weight to the police theory that Madeleine was the victim of a burglary which went wrong or she was snatched to order.

Mr Robertson, a welder from Neyland in Pembrokeshire, said he and other residents had asked Ocean Club owner Mark Warner Holidays to provide extra security.

He said: "It was knocked back on expense."

Madeleine was six days short of her fourth birthday when she disappeared from the family's apartment on 3 May while her parents Kate and Gerry dined with friends nearby.

Mr Robertson said: "When I heard about what happened to Madeleine I thought it could be linked. It is just what I have said from the start. Everyone, including Ocean Club and our estate agent, said nothing like that happens here, but it happened to me and all of a sudden it happens to other people."

Police in Portugal are preparing to interview Briton Pamela Fenn, 70, who says a prowler entered her flat, directly above the McCanns', shortly before Madeleine went missing.

While she did not hear or see any suspicious activityon the night of 3 May, police are keen to question her about details of that day, specifically a short conversation she had with Kate McCann following her daughter's disappearance.
Deposition: Child cried for her father Correio da Manhã
(no longer available online)
Maddie yelled for her father
Wednesday 22 August 2007
With thanks to
Astro
for translation
The McCanns' neighbour in the Ocean Club apartment was heard on Monday by Policia Judiciaria and confirmed she heard Maddie crying for her father the day before she disappeared. Pamela Fenn, 70, had been questioned at the beginning of the investigation, but the day before yesterday she made a more precise deposition about the details of what she heard and the conversation she held with the girl's mother on the night that she vanished.
In the deposition that was made to the PJ in Portimao, which has been functioning as the headquarters of the investigation, Pamela Fenn confirmed she had made herself available to contact police authorities, although Kate McCann dismissed that offer saying the alert had already been made. The checking of the time at which this conversation took place with the record of the alert to the GNR is one of the important elements for the reconstruction of what happened during those moments.
The date for the deposition was scheduled with the witness in order to avoid pressure from the media. The interrogation was scheduled for yesterday, but was then anticipated in the last few days and kept secret. Even yesterday, Olegario Sousa, the PJ's spokesman, assured he could not confirm the diligence, while a few days earlier he had denied it completely.
The PJ now continues to work on the collection of all the information that will allow them to reconstruct the facts and to validate them with the versions that were given by the McCanns and their entire group of friends.
The reconstruction of what happened on the day of May 3 in the Ocean Club, within that group of English citizens, is the most important line, but the PJ is also investigating the past of all of them, with the objective of tracing their profiles, and to manage to get closer to the crime's motive.
For that, they have been counting on collaboration from the English police, but there are still details that the PJ would rather investigate by their own means. The professional and personal past of all of them is still being checked intensely, but has failed to produce significant results until now, even more because distance and language differences don't help the complete collection of information.
At this stage, the investigation continues to be centered on the results from biological samples that were collected in the apartment and in the cars that were used by the English family's friends.
The deadline that was given by forensic specialists in Birmingham to Policia Judiciaria, to conclude the tests, was of 6 to 14 days, but yesterday the fifteenth day passed and no communication was made from London to Lisbon. These results are decisive to determine the course of an investigation in which all scenarios are still open, but the line that is being followed more intensely is the possibility that the girl was killed on the evening of May 3, inside the apartment that she shared with her parents and her two-year-old twin siblings, as the English dogs have indicated.
(the rest of the article is about PJ denying there is a British suspect, about Russell O'Brien defending his reputation, that the results from Birmingham are late, and that the McCanns were visited by the brother of Ken Bigley)
SIC news item
22 August 2007
With thanks to
Textusa
for transcript/translation
Presenter:
The PJ has heard again, this week, the British octogenarian who lives above the apartment from where Maddie disappeared, but Pamela Fenn, botherered by the journalists' attention, denied having spoken with the police and said she didn't have any information about the case.
At the age 81 the quietness of this retired British woman seems to have been seriously shaken, after an outburst at the hairdresser, the news that she was a witness in Maddie's process quickly reached the journalists' ears. Pamela Fenn lives on the floor above apartment 5A from where the girl disappeared. According to what she might have told the police, on the day before Madeleine disappeared, that night, she heard the child crying and calling for her father for long minutes.
That, and the fact that she spends most time on the veranda with a view to the Tapas restaurant, made the police return to the Ocean Club on Monday morning. For about four hours the investigators were particularly interested to see if she had seen someone from the McCann group leave the restaurant to go check on the children, and on the content of the brief conversation that Pamela had with Maddie's mother on the night the girl disappeared.
Bothered to be under the journalists' sights, the English elderly denies being a witness in the process and ensures that what the press says is pure speculation.
Mrs Fenn:
Honestly, I have... I know nothing. I have been here three months, until all this happened. I've never spoken to a journalist, they've written rubbish in newspapers, I've never even uttered a word! I've never (sighs)... it's all rubbish! Please, please, just forget it.
Presenter:
As for the McCann couple they've a rented house in Praia da Luz until the second week of September. Despite having left attending the Ocean Club, Kate and Gerry continue to shop at the nearby supermarket. This Wednesday the car was parked a few meters from Robert Murat's door, the English businessman who still remains as the sole "arguido" in the process.
We've let Madeleine down, 23 August 2007
We've let Madeleine down Daily Express
(no longer available online)
By Martin Evans in Praia de Luz
Thursday August 23,2007
GMB LINK
'Maddie blood' found in car Daily Star

- Extract -
But when the children's mother checked on them at 10pm she discovered Madeleine was missing and ran from the apartment screaming her daughter's name.
But police say they are not certain what happened between 6pm and 9pm. Pamela Fenn, 81, who owns the apartment above the McCanns', has given a sworn statement to police which apparently contradicts the couple's account of events.
She questioned the number of apparent checks and recalled how, during the initial panic, she offered to call the police.
She claims she was told by Kate they had already been contacted – but it later turned out the call was not made for another 40 minutes.
Mrs Fenn also told detectives two days before Madeleine disappeared that the youngster had kept neighbours awake desperately screaming for her father until nearly midnight.
She heard the youngster shouting "Dad" from 10.30pm until 11.45pm and added she was shocked such a young child had been left apparently alone for so long late at night.
'Gerry is not Madeleine's real father': The Portuguese media's latest attack on the McCanns
Daily Mail
Last updated at 01:03 12 September 2007
In the latest of a series of increasingly personal smears against the McCanns, a Portuguese newspaper has claimed that Gerry McCann is not Madeleine's real father.
Sensationalist tabloid '24 horas' claimed that Portuguese police suspected the heart surgeon was not Madeleine's natural father.
With the front page headline, 'Police suspect Gerry is not Maddie's dad', the paper reported detectives were intending to use DNA samples to confirm their suspicions he was not the sperm donor behind the successful IVF treatment that led to her birth.
The allegation is the latest episode in an astonishing smear campaign launched by both Portuguese detectives and the country's media.
Detectives trying to prove that Kate McCann killed her daughter have painted the 39-year-old doctor as a violent mother prone to "hysterical reactions" and losing control.
The allegations were leaked to Portuguese newspapers hours after Mrs McCann and her husband Gerry left the country under a cloud of suspicion about the disappearance of four-year-old Madeleine.
Quoting police sources, the papers alleged that Mrs McCann became "visibly out of control" under questioning by police, and that witnesses had described her as "violent" and "aggressive" towards her children.
It was claimed that she routinely put Madeleine and the two-year-old twins to bed in the family's holiday apartment "while Gerry played tennis and lay by the pool".
The reports also quoted witnesses who have given statements to police.
Pamela Fenn, who was in an apartment above the family on May 3 - the night Madeleine disappeared - is quoted as saying she believed Mrs McCann sometimes became violent and "out of control" in the room below.
She claimed that "the little girl's screams calling for her daddy were very audible".
Another witness is quoted as saying that Mrs McCann "seemed to have moments of aggressiveness towards her children" and that her husband, "though more absent, had more emotional control".
Mrs McCann is said to have strongly denied both these allegations in police interviews.
The damaging picture painted by Portuguese newspapers emerged as police sought to convince the public prosecutor that they have a strong enough case to charge Mrs McCann over the murder or accidental death of her daughter.
The McCanns have repeatedly insisted they are loving parents who had nothing to do with Madeleine's disappearance. They are convinced police are trying to frame them.
But the allegations, strongly denied by the family, risk poisoning public support for the couple and stopping donations to the "Find Madeleine" campaign they set up.
Portugal's secrecy laws prevent police from talking about the investigation, but the leaked material appears to contain specific information about interviews conducted with the McCanns last week.
It was claimed that Mrs McCann became "hysterical" at times during her 13 hours of interrogation and refused to reply to some of the questions.
It was alleged that she offered no explanation for why Madeleine's DNA appeared to have been found in a car the couple hired 25 days after she vanished.
Nor is she said to have given any satisfactory answer to whether she had slapped her daughter, or whether she sedated the children.
The Portuguese police are reported in the newspapers as having concluded that Madeleine was killed by accident.
They believe that her parents then hid her body in their car boot in the compartment for the spare wheel.
The four-year-old's blood was found under the carpet of their hired Renault Scenic in the place of the wheel, the daily Correi da Manha reported.
Tot's screams 'a myth' Sunday Mirror


THE SEARCH FOR MADELEINE DAY 143
By Grant Hodgson
23/09/2007
A key witness in the Madeleine McCann case yesterday DENIED telling cops that she heard the family screaming and arguing.
Pamela Fenn, 81, who lives above the Praia da Luz apartment Madeleine vanished from, supposedly said she heard the four-year-old "scream for four hours" the night before. The reports fuelled police theories that mum Kate sedated Madeleine. But widow Mrs Fenn, interviewed by police two days after Madeleine disappeared, said: "I never heard her screaming or Kate and Gerry arguing.
"I didn't realise anything was wrong until I heard all sorts of commotion outside."
---
Comment:
This short report has been presented in such a way as to make it appear that Mrs Fenn is denying that she had ever heard Madeleine crying.
In actual fact, it is clear from this report that Mrs Fenn is referring solely to the fact that she didn't hear any screaming or arguing
on that particular night,
03 May 2007, in the moments before, and after, Kate raised the alarm.
It is not a denial of hearing screaming on a previous night, which, as we know, was reported in her witness statement of 20 August 2007.
Witness statement of Carole Tranmer, 22 April 2008
http://www.mccannpjfiles.co.uk/PJ/CAROL_TRANMER.htm
Anger at sick Maddie tourists Daily Record (no longer available online)

May 1, 2008

THE holiday flat Madeleine McCann disappeared from has become a macabre tourist attraction.

Coachloads of ghoulish sightseers have been spotted in Praia da Luz as the anniversary of her disappearance approaches.

The visitors - mostly Spanish and Portuguese - pose for photographs outside the Ocean Club apartment.

They also visit the church Kate and Gerry McCann attended at the height of the search for Madeleine.

Tourists have even been seen posing outside the home of British suspect Robert Murat.

Some locals claim the sightseers are part of organised "Maddy tours".

Pensioner Pamela Fenn, who lives above the McCanns' holiday apartment, said: "You get loads of them. There was a group of about 20 here just last Saturday.

"It's sick, You can't believe it. Can you imagine wanting to come and do that?

"They stand outside the apartment and then have photographs taken in front of the window with their children."

An Ocean Club employee confirmed she had seen coachloads of tourists stop to take pictures.

The woman said: "After looking at the apartment they go to the main road where there is a clear view over the pool.

"The bus comes and parks outside the church."

Ricardo Silva, 32, who runs a coffee shop close to the church, said: "They all ask 'Where is Madeleine's house?' It seems very strange to me."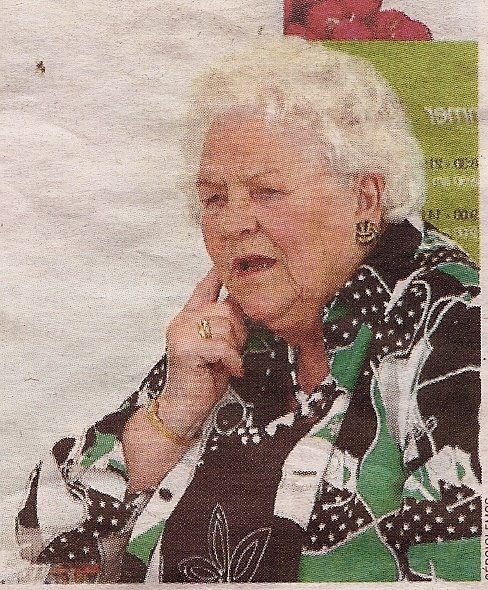 Pamela Fenn remembers hearing the child crying uncontrollably


Translation by Joana Morais
Madeleine parents never contradicted that it was already a habit for their three children to be all alone inside the Praia da Luz apartment while they dined; a fact corroborated by several witness statements - the Oceans Club employees. Although the parents defended themselves by stating that they visited the children every half an hour, every night, the witness statement of neighbour Pamela Fenn crumbled the McCann couple's version, when she guaranteed to the PJ that she had heard Maddie crying out loud for one hour and fifteen minutes, two nights before the crime. The British woman lives at the first floor, just above the apartment rented by the McCanns and she told to the inspectors, that on the night of the 1st of May, at 22:30, she heard a child crying, and by the sound it was Madeleine.
She guaranteed to the Judiciary Police that the child was uncontrollably crying for one hour and fifteen minutes, until the parents arrived. The neighbour heard the noise of the door at 23:45, when Kate and Gerry ended their usual gathering with their friends at the Tapas Bar – the Oceans Club restaurant at the pool side, where they had dinner daily. This testimony contradicts the daily routine of visits that the couple declared to have with their children – and the McCanns are not free from criticism by another British woman. Yvone Martin, a British Social Care worker at holidays in Luz, who also blamed the McCanns negligent behaviour.
Muddied Waters Notes from a Potting Shedder


Monday, 16 May 2011
Many have said there were and still are deliberate attempts to muddy the waters surrounding Mrs Fenn's statement.
For those of you who don't know, Mrs Pamela Fenn lived in the apartment above 5A and claimed that on the night of 1st May 2007, she heard a child cry alone, for over an hour.
"She refers to the day of the 1st May 2007, when she was at home alone, at approximately 22.30 she heard a child cry, and that due the tone of the crying seemed to be a young child and not a baby of two years of age or younger. Apart from the crying that continued for approximately one hour and fifteen minutes, and which got louder and more expressive, the child shouted "Daddy, Daddy", the witness had no doubt that the noise came from the floor below.

At about 23.45, an hour and fifteen minutes after the crying began, she heard the parents arrive, she did not see them, but she heard the patio doors open, she was quite worried as the crying had gone on for more than an hour and had gradually got worse. When questioned, she said that she did not know the cause of the crying, perhaps a nightmare or another destabilising factor. As soon as the parents entered the child stopped crying.

That night she contacted a friend called E*** G***, who also lives in Praia da Luz, after 23.00, telling her about the situation, who was not surprised at the child's crying."
The waters were muddied when news broke of Madeleine questioning her parents as to why he/she/they didn't come when her and Sean were crying. I say muddied, because the McCanns claim this crying episode took place on the 2nd of May, contrary to what Mrs Fenn claimed. Could she have been mistaken and confused the dates?
Well as it happens, Mrs Fenn did recount the day and date quite correctly. For, four years later on the Late Late Show we hear from Mr McCann himself that on the night of 1st May, it was
Amelie
who had woken up.
"The next morning, she (Madeleine) said "Mummy", can't remember if it was Mummy or Daddy now... "why didn't you come when Sean and I were crying last night?" And we both looked at each other and thought "that's odd... crying?" We didn't hear anything and we had been back checking and so we asked "When did you cry?" You know sometimes when we first put them to bed, they cry and she just dropped it and as we were saying, Madeleine is very articulate and we kind of looked at each other and thought, did they wake up or was it the night before when Amelie had woken up?"
So by the McCanns' own admission, the children had woken on the 1st and 2nd of May, but dismiss any suggestion that Madeleine could have woke and wandered on that fateful night. By stark contrast, none of the children woke on the 3rd May despite the hullaballoo happening in and around the apartment and being physically moved and carried by strangers to another apartment.
Recollections of the night of 3rd May also differ...
"During the day nothing unusual happened, until almost 22.30 when, being alone again, she heard the hysterical shouts from a female person, calling out "we have let her down" which she repeated several times, quite upset. Mrs Fenn then saw that it was the mother of little Madeleine who was shouting furiously.

Upon leaning over the terrace, after having seen the mother, Mrs Fenn asked the father, Gerry, what was happening to which he replied that a small girl had been abducted. When asked, she replied that she did not leave her apartment, just spoke to Gerry from her balcony, which had a view over the terrace of the floor below. She found it strange that Gerry when said that a girl had been abducted, he did not mention that it was his daughter and that he did not mention any other scenarios.

At that moment she offered Gerry help, saying that he could use her phone to contact the authorities, to which he replied that this had already been done. It was just after 22.30. She said that after the mother's shouts, she had seen many people in the streets looking for the girl."
In her own 'version of the truth', Kate McCann gives an altogether different account of the neighbourly encounter...
"At about 11pm, a woman appeared on a nearby balcony and inquired of Kate: "Can someone tell me what all the noise is about?" Kate told the woman that her daughter had been stolen from her bed to which the woman responded: "Oh I see" as though, Kate writes, she had been told a can of beans had fallen off a kitchen shelf."
Could these two differing accounts describe the same moment? Sadly Mrs Fenn has passed away, her statement in effect is etched in stone. I would hate to think that Kate McCann has taken liberties when the lady in question is unable to defend herself.
Muddied waters? I think with the publishing of Kate McCann's 'version of the truth', a lot of things are suddenly becoming clearer.