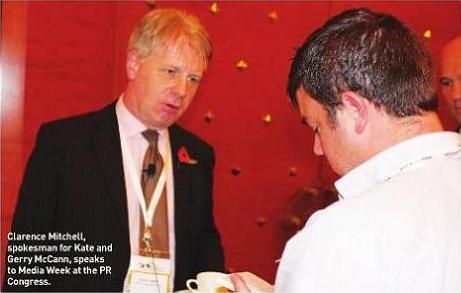 Clarence Mitchell appears at the IIR Middle East's annual PR Congress in Dubai, on 09 November 2009, in his capacity as official spokesperson for Kate and Gerry McCann.

This page includes the complete Powerpoint presentation.
Kate And Gerry Mccann's Spokeperson Coming To Dubai, 10 June 2009
Kate And Gerry Mccann's Spokeperson Coming To Dubai
IIR Middle East
10 June 2009
The brains behind the high profile Find Madeleine campaign, Clarence Mitchell, will be sharing his experiences first hand at IIR Middle East's annual PR Congress this November. Mitchell, who is spokesperson for Madeleine's parents, Kate and Gerry McCann, has worked on a number of high profile murder and missing person cases including working for the families of missing teenager Scarlett MacKeown who was murdered in Goa, and Jimmy Mizen who was stabbed to death in London.
Mitchell, a former BBC journalist and head of media monitoring for the Cabinet Office resigned from the civil service in September 2007 to handle the intense international press interest in the case of Madeleine, who vanished while on holiday with her family in Portugal.
"Mitchell's work on these cases offers important lessons for all PR professionals," says Kosta Petrov, Conference Director at IIR Middle East. "He will show how these kinds of events attract the attention of the world's media, and when handled correctly, this attention can be harnessed to help the families solve the mysteries surrounding the disappearances and deaths."
Other high profile presenters at the event include Colleen Harris, Former Press Advisor to HRH Prince Of Wales and Kay Luo, Senior Director Communications at Linkedin in USA.
The IIR PR Congress 2009 is now in its 5th year and will be held from 8 – 12 November 2009 at The Monarch Hotel in Dubai, UAE.
Log on to
http://www.prcongress.com/
for more info.
For Media Enquiries Please Contact
Kosta Petrov

CONFERENCE DIRECTOR
PR CONGRESS 2009
---
'Find Madeleine' PR guru to visit Dubai
Campaign Middle East
10 June 2009
The self-proclaimed PR guru who represented the parents of missing British girl Madeleine McCann during the investigation into her disappearance is visiting Dubai to give a talk on crisis management.
Clarence Mitchell appeared frequently in the international media during 2007 and 2008, after being hired to handle the intense interest in the high-profile case of the girl, who went missing from a holiday villa in Portugal.
Mitchell, a former BBC journalist and head of media monitoring at the British government's cabinet office, acted as spokesman for Kate and Gerry McCann, and went on to assist several families involved in missing person and murder cases.
He will speak to delegates at the 5th IIR PR Congress in November, which also presents Kay Luo, senior director of communications at the USA's Linkedin and Colleen Harris, former press adviser to the Prince of Wales.
The conference takes place at the Monarch Hotel in Dubai from 8 to 12 November. For more details, click
here
The complete Powerpoint presentation, 09 November 2009
* Images can be enlarged by clicking on them. Source: IIR Presentations (PDF)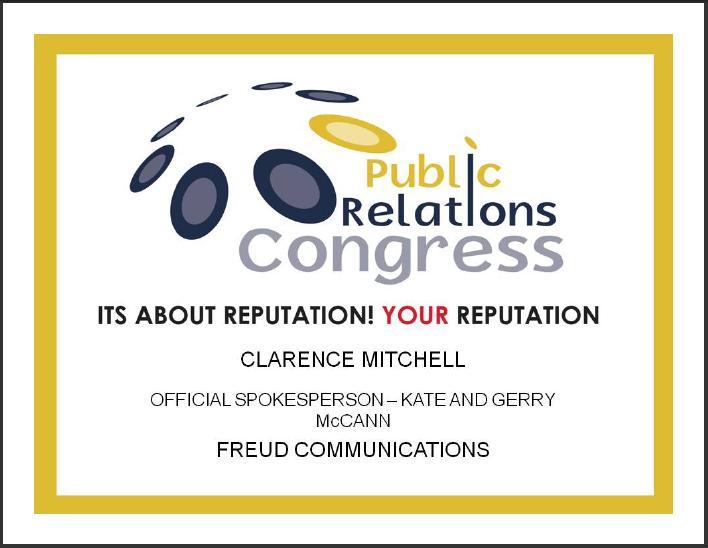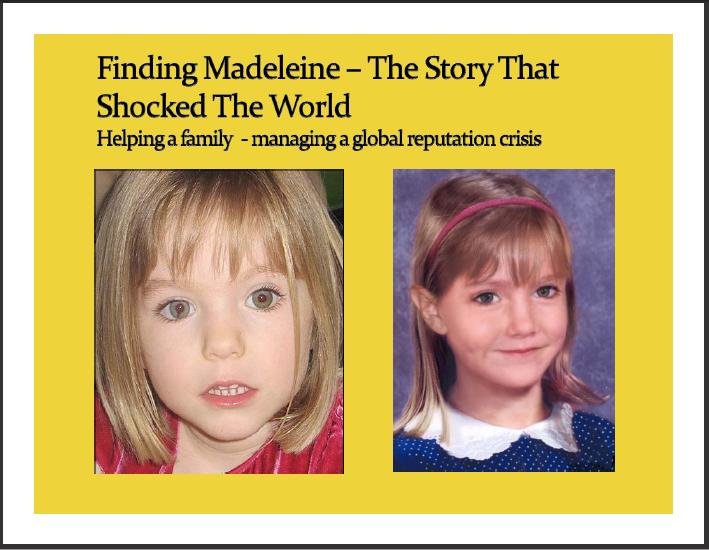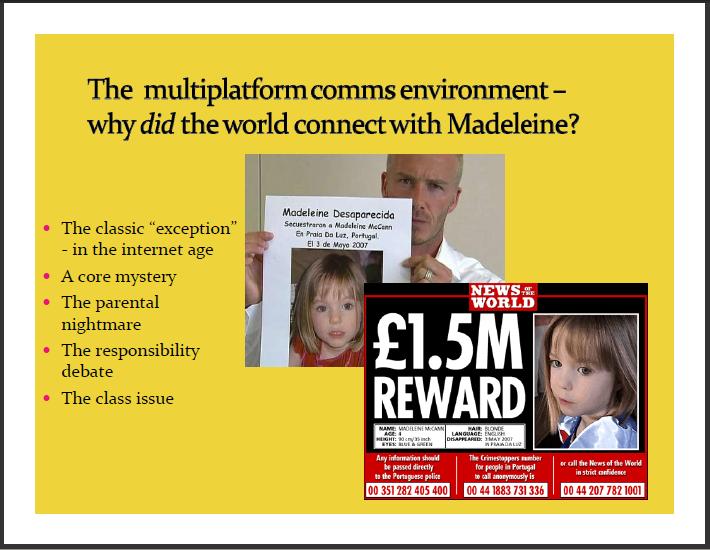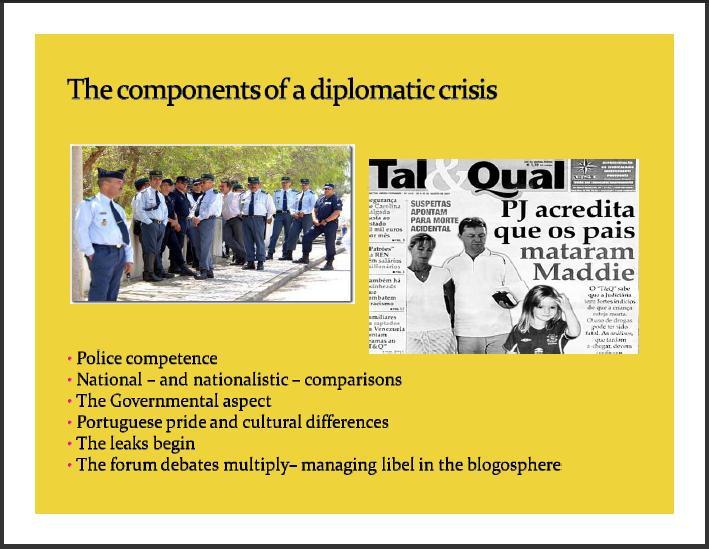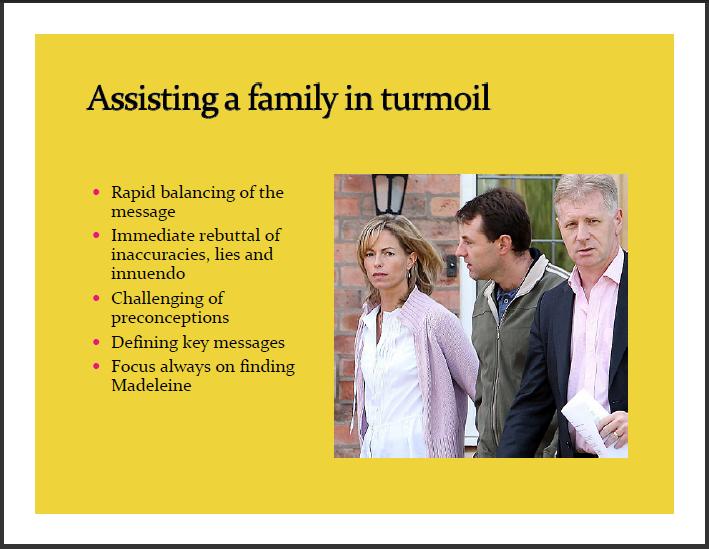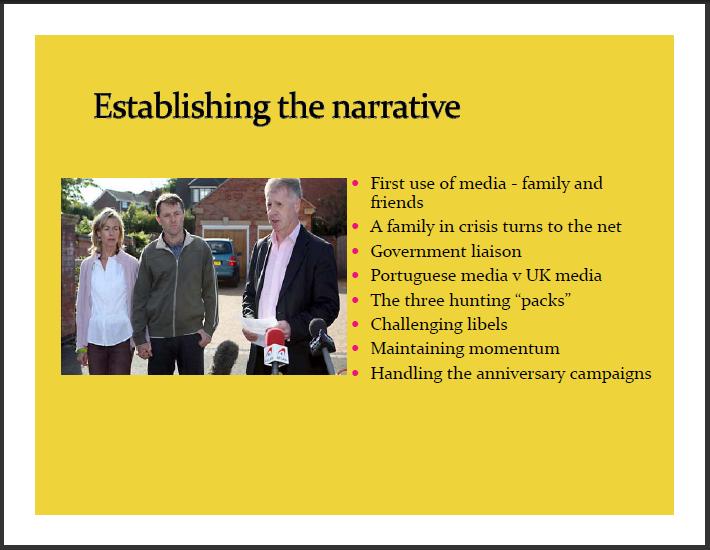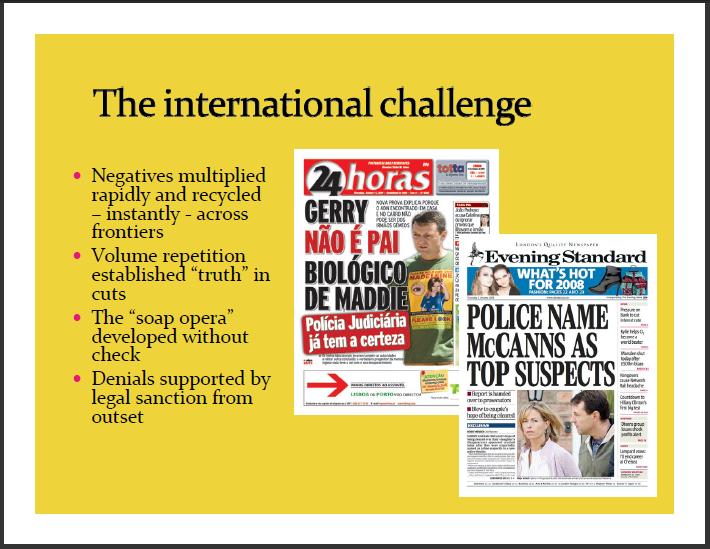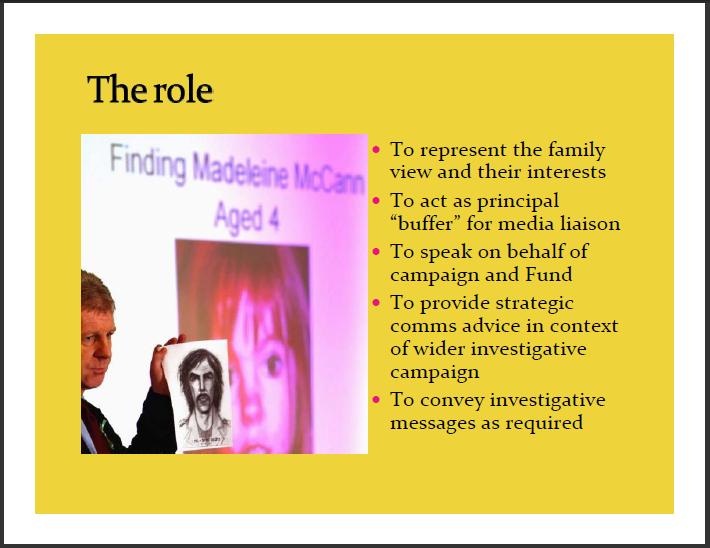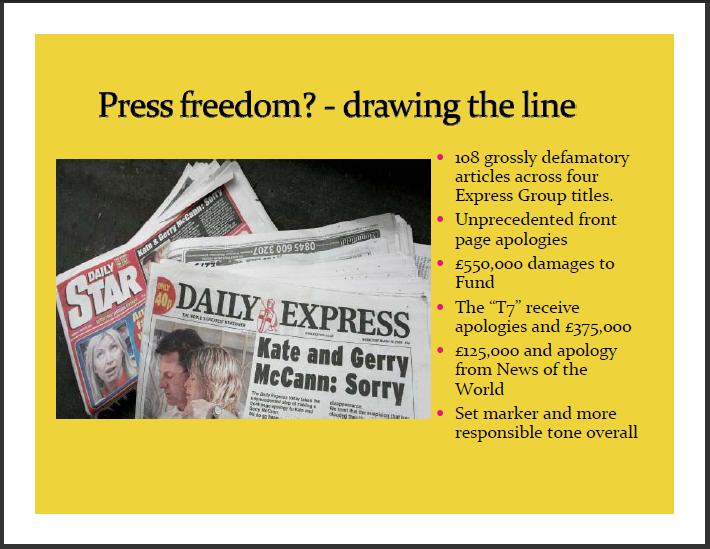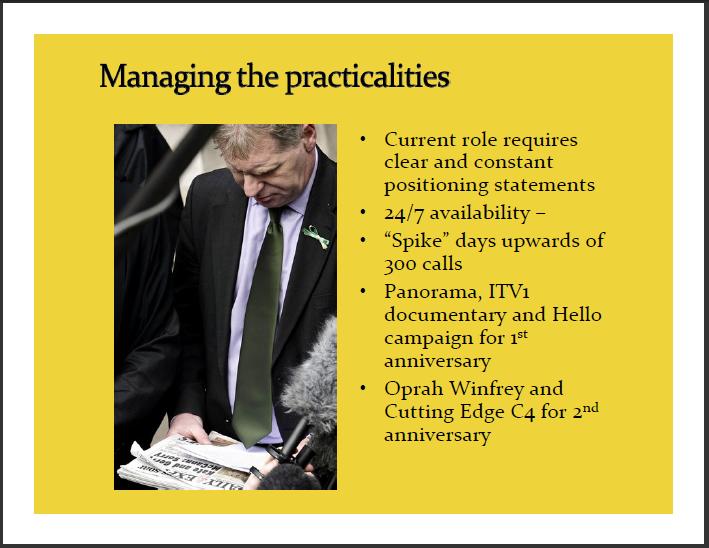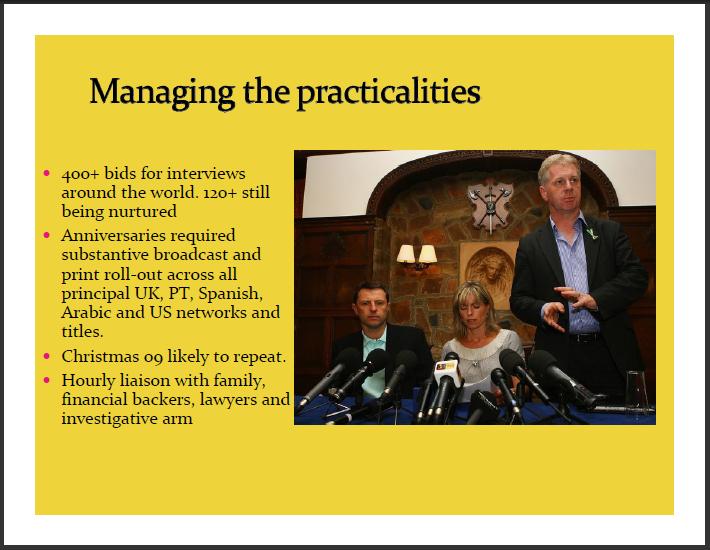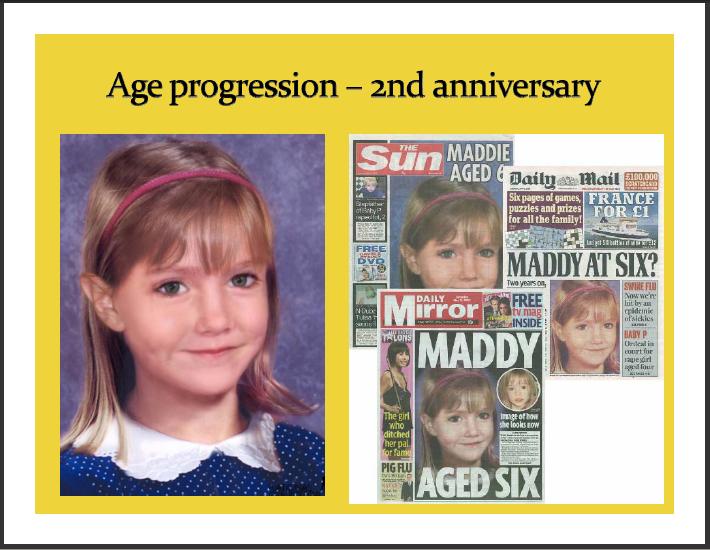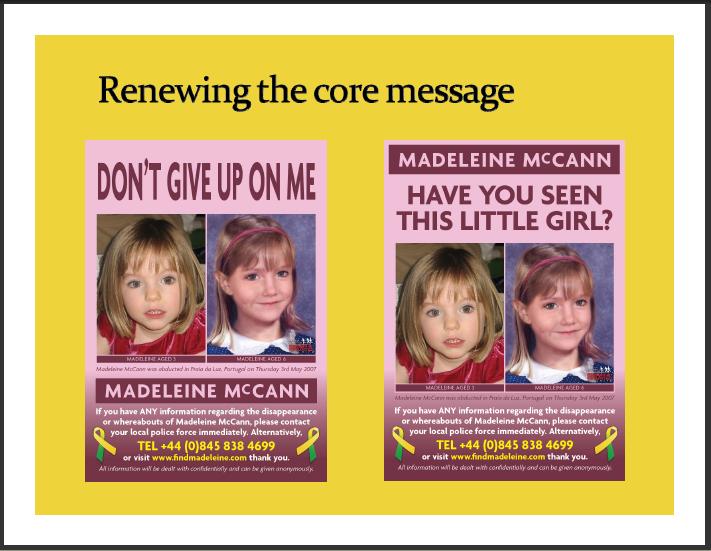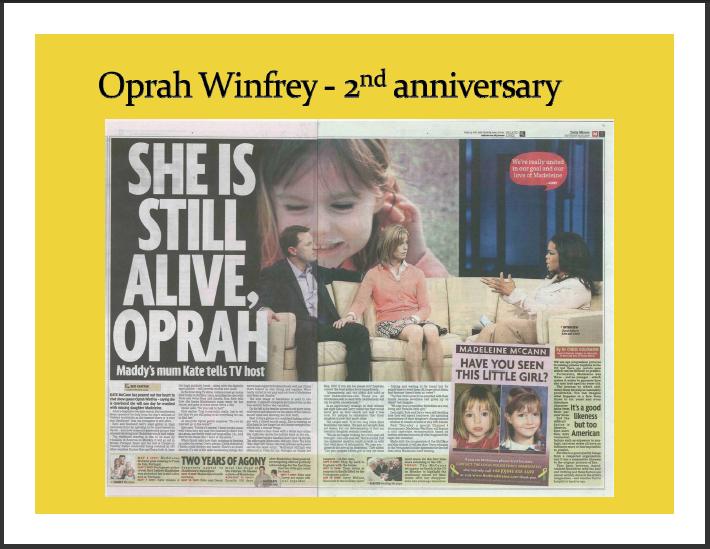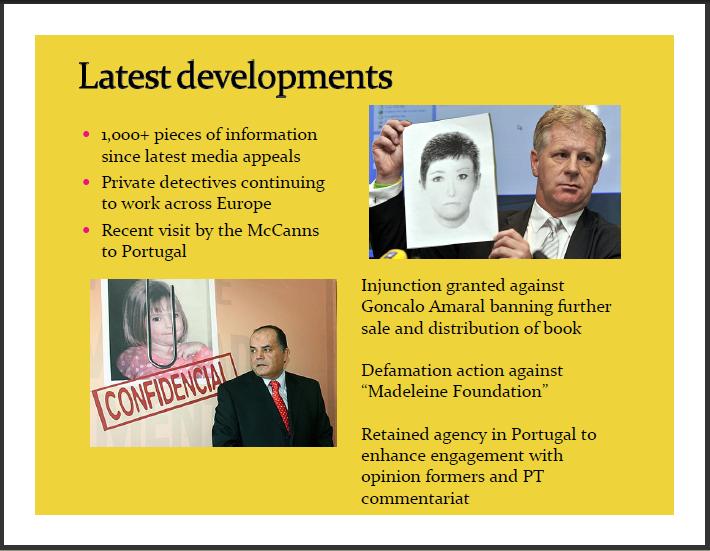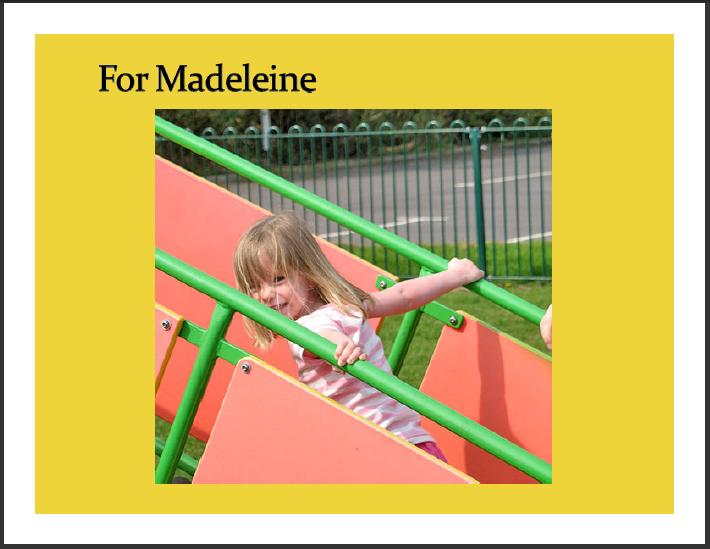 Madeleine PR appearance ignites angry minority, 15 November 2009
Madeleine PR appearance ignites angry minority
Media Week Middle East
15 November 2009
DUBAI
Late-night phone calls, aggressive emails and even legal threats were received by organisers of the recent PR Congress in Dubai, prior to Clarence Mitchell appearing as a guest speaker.
Mitchell, the PR guru representing the family of missing toddler Madeleine McCann, was in Dubai last week talking about the PR aspects of the case. Conference director Kosta Petrov says over the past two months he has been regularly contacted by individuals, and even a PR agency, opposed to the McCann family. Some who question the McCanns' role in the Maddie case told Petrov that Mitchell should not have been invited.
Petrov says he told the vocal groups Mitchell's appearance was only so he could discuss media aspects of the case.
Mitchell said the protests were not unusual and warned Petrov about them.
(see PR week, p. 19 for full interview with Mitchell)
---
In Depth: The media hunt for Maddie
Media Week Middle East
(page 19)
Clarence Mitchell, official spokesman for Kate and Gerry McCann, tells a Dubai audience how he used PR to battle with the press during the search for their missing daughter.

by PAUL McCLENNAN
15 November 2009

EVEN BY Clarence Mitchell's own admission, there has never been a search quite like the one launched two-and-a-half years ago for Madeleine McCann. "It was a story that shocked the world," said Clarence Mitchell, as an opening remark to a presentation he gave last week at the PR Congress in Dubai.

Mitchell, a former BBC journalist of 20 years, quit his role as director of media monitoring at the British government's Central Office of Information in September 2007, to handle the McCanns' PR full time.

He was quick to point out to delegates that, "There is no evidence to suggest Madeleine is dead, and until the family know that for sure then we will continue to look for her". Only last week, the McCann's issued new pictures of Maddie to the media, illustrating how her appearance would have changed since she went missing on 3 May 2007 in Portugal.

Mitchell believes Maddie, aged four at the time, is still widely talked about due to the fact her disappearance occurred during the digital age. "Madeleine is the first, and most high-profile, missing child case in the internet era," he said.

Recalling the early days of the Maddie case, Mitchell said, "The Portuguese police thought it suspicious that a government advisor should turn up, but it was only because of all the media attention [that I was appointed]. I remember standing on the balcony counting 42 TV crews from around the world. It was a phenomenal situation which no family could have coped with."

Mitchell said the McCann family then had to endure leaks and rumours which emerged from Portugal, due to a "lack of evidence", surrounding Maddie's disappearance. "Stories were picked up by the British media and were mistranslated. So we had a distortion of the original distortion - it was a complete cycle of lunacy. There were soon debates for and against the McCanns and that needed to be monitored. Where it strayed into libel we took action because it was imperative to set down a marker."

It wasn't long before Mitchell had to call upon his PR skills to help shape the stories that were published about Maddie. "A few months later I needed to get positive messages out into the media and rebuff the lies. We had to challenge the preconceptions - this was done privately with editors. We had to establish our own narrative and key messages," he said.

"Journalists were hounding everyone who knew the McCanns," said Mitchell. "Reporters came to the door every day. For six months there were photographers at the end of the driveway, photographers crawling through hedges looking for them. Journalists wanted material for the 20-day and 50-day anniversaries - it was ridiculous."

"British newspapers did step out of line and we had 108 grossly defamatory headlines from the Express Newspaper's four titles, based on misinformation coming out of Portugal. We recived front page apologies and £500,000 damages which went to the search fund. We also had apologies News of the World for printing parts of Kate's diary."

Mitchell and the McCanns still have to be prepared for factually incorrect stories, such as false sightings, appearing in the papers. "We always have to act swiftly against rubbish being disseminated in the media. But if you respect the media they will respect you back. The age of 'no comment' has gone - you have to engage," said Mitchell, who sometimes fields 300 calls a day from journalists around the world writing about the case.

Another challenge he is faced with is releasing fresh information to the media at the right time: "For the first anniversay we had to offer the press something decent to keep the interest going so we did Panorama and Hello!. For the second anniversary Oprah had been chasing us for some time so we worked with her. [The broadcast was televised in 144 countries.] I have 120 interview bids on the table for Kate and Gerry, from their local paper in Leicestershire to Larry King. We have also worked with Al Jazeera because we feel there's a chance Madeleine could be in the north of Africa."

TV appearances were not easy for the McCanns, who were closely scrutinised every time they appeared in front of the television cameras. "The police told them from the outset not to show emotion in interviews because there are cases when kidnappers get satisfaction from seeing the distress they've caused," explained Mitchell. "So Kate and Gerry did this but were then vilified across Portuguese media for being too cold and suspicious. Then when Kate did break down and cry people said she was just crying crocodile tears."

When asked by Media Week how the public viewed PR following Maddie's disappearance, Mitchell said, "I think the public, for various reasons, can be suspicious about PR - they don't see it as necessary and that it's there to hide and confuse. But that is categorically not the case in this instance." He also said that Arabic coverage of the case tended to be neutral.

Mitchell wrapped up the talk by saying he hoped media interest in Maddie would continue. He said, "Any story will have a gradual decline as time goes by but the media is still devoted to covering it [the Maddie case.] We will do what we can to keep it out there and I will continue for as long as Kate and Gerry want me to. But let's hope it all ends tomorrow with a phone call."