A collection of interesting press reports from June-September 2007
Neverending story, 02 June 2007
The abduction of Madeleine McCann has sparked an unprecedented global campaign. Esther Addley reports on the family's desperate efforts to keep her in the headlines
By Esther Addley
Saturday June 2, 2007
On Wednesday, it was the Vatican. Yesterday it was Madrid, next will be Berlin, then Amsterdam, then most likely Morocco. Tomorrow will mark a month since Madeleine McCann, nine days shy of her fourth birthday, vanished from a holiday apartment in southern Portugal, and this week her parents, still clasping treasured photographs and her increasingly dog-eared cuddly toy, have taken the search to the rest of Europe and beyond. After their audience with the Pope, they spent yesterday meeting the Spanish interior minister and local journalists, before appearing on the country's version of Crimewatch to make another emotional appeal to whoever is holding their daughter. Further ministerial meetings and press appearances are planned. After that, according to those close to the couple, the schedule has not been finalised; what is certain is that it will be far from quiet.
Until the evening of Thursday May 3, Kate and Gerry McCann were an anonymous couple from a small East Midlands town. Today they are at the centre of what has become an international publicity hurricane of quite unprecedented scale. Their daughter's face, screened at the FA Cup final, was seen by an estimated 500 million people; a short video about the toddler was also shown at the Uefa and Heineken cup finals, while Liverpool players posed before their unsuccessful Champion's League bid behind a banner that read: Bring Maddie Home. Gordon Brown, while campaigning to become Labour leader, has worn a yellow ribbon to show solidarity with the McCanns; many of his colleagues did the same, along with David Beckham, countless premiership and SPL football teams and the England cricket team.
JK Rowling, Sir Richard Branson, the theatre impresario Bill Kenwright, the philanthropist Sir Tom Hunter and Jacqueline Gold of the Ann Summers sex shop chain, have each pledged hundreds of thousands of pounds for information leading to Madeleine's safe return; one Scottish businessman offered a million. Sir Philip Green loaned his private jet, which took the couple to the Vatican and brought them back in time to tuck Madeleine's twin siblings into bed. BP, Exxon, McDonald's, Carrefour, the French bank Crédit Agricole and the Spanish Banco Santander are displaying her poster around Europe; Vodafone, O2 and the Spanish Telefonica network have sent text messages to their subscribers. In the US, Madeleine's face has appeared on the cover of People magazine, and Oprah Winfrey has invited the family on to her talk show.
A month on, this much we know about the disappearance of Madeleine McCann. At about 9.30pm on the second to last evening of the family's holiday, she was asleep in their rented apartment alongside the twins, Sean and Amelie. At 10pm, when Kate McCann went to check on her children, she was not. Nothing else is certain. The police search of the area surrounding Praia da Luz, the resort from which she vanished, was wound up after a week having yielded "zero results", police said, and despite the designation of a British man in the town as an official "suspect", he has not been arrested. The only piece of information that is known came from a friend of the McCanns who was rushing to meet the couple for dinner at about 9.30pm on the night of Madeleine's disappearance when she saw a man carrying away a child in pink pyjamas.
A beautiful child, snatched from her bed while two babies slept alongside, will always be headline news. Yet rarely has the world's media had so much to say - daily, inexhaustible, blanket coverage - about so very little hard information. The McCanns themselves, say friends, have been bewildered at the scale of the coverage, while at the same time feeling a compulsion to ramp it up, convinced that someone will be stung into coming forward. They can scarcely have imagined that, a month on, the perfect media storm would appear very far from blowing itself out.
The McCanns were immediately certain that their daughter had been kidnapped and determined to publicise her disappearance as widely as possible, ensuring that, from the very first moments, the hunt for Madeleine was as much about the media coverage as it was the police investigation. Jill Renwick has known the couple since they all worked together at a Glasgow hospital more than a decade ago. She spoke to Kate at 7am on the morning after Madeleine vanished: "She just said, 'Help me, please help me'. She said, 'We've been searching all night until 4.30am, and then everybody left us'. At that stage there was only one police officer at the door. They didn't know what to do. So I phoned GMTV."
She also phoned the McCanns' wider circle of friends, who mobilised to phone anyone they could think of to beg for help. Renwick's sister called someone she knew in CID, someone had a connection with Des Browne, the defence secretary. One friend lives close to the Newsnight presenter Kirsty Wark, said Renwick: "She knocked on her door and said, 'I know you must think I'm mad but my friend's wee girl is missing, can you do anything to help?' Though they are not friends, Gordon Brown's brother John lives in the same street as Renwick: "I stopped him in the street the day afterwards and said, 'These are my friends. Do you think you could speak to Gordon about it?' And he said of course. I don't know if anything came about that way."
In Praia da Luz, meanwhile, the couple rapidly found themselves the beneficiaries of high-level media advice. The holiday firm Mark Warner reacted with admirable speed to the kidnap. By Saturday morning its managing director and UK operations director were in the resort, along with two trauma counsellors and Alex Woolfall, a PR specialist contracted by the firm. Woolfall, head of crisis management at leading PR agency Bell Pottinger, who advised Monsanto during the storm over GM food, would become for a fortnight the family's adviser and press go-between. He is probably one of the people in Britain best placed to manage such a situation, and it showed. Very swiftly, the storm of TV and print journalists camped outside the family's apartment had established a number of informal rules of engagement: Kate and Gerry would be left largely alone to take their twins to playgroup, for instance; TV cameras would remain fixed. It was made known to reporters that the family wanted their daughter to be referred to as Madeleine rather than the tabloid-coined Maddy.
"We were aware from the outset that there was a huge amount of media interest," said Woolfall, "and they in all the conversations I had with them were very keen to see the media as a partner."
Thus began a carefully scheduled round of interviews, photo-opportunities and press conferences. Helped by the wider family at home, additional photographs were released of Madeleine: a picture of the toddler in an Everton top mobilised the club and Kenwright, its chairman, to their own gestures of support. A holiday snap of the family in Donegal was splashed across the Irish papers. Vigils in Scotland and Leicestershire ensured the presence of their local media in Praia da Luz.
Back in the UK, relatives launched a website and fund to handle some of the many thousands of offers of support they had received; in the first 48 hours the site had received 75m hits, becoming the fastest-growing website on the internet. But however much access the family offer, they cannot hope to meet a demand that remains, a month on, apparently insatiable. Some 62% of all traffic on the Google news website last week consisted of searches about Madeleine.
Woolfall said that, despite their determination to appear before the press as much as possible, the couple have been amazed at the interest in their story. "This couple don't suddenly see themselves as celebrities. If you had actually met them, sat in their apartment and seen them with the twins, they are just like any other couple. But they find themselves having to ask themselves: what can we possibly do that means we will be able to sleep tonight, knowing that we have done everything today that we could have done?"
Brian Kennedy, Kate McCann's uncle, is also chair of the Find Madeleine fund. "There have been a number of sizeable donations but there have also been a huge number of very small ones. It's been very moving. We're incredibly grateful." Part of the money raised - £581,000 by yesterday afternoon - will be used to support the wider family in their campaigning, he said.
Woolfall left Praia da Luz after a fortnight; the McCanns are now being advised on behalf of the Foreign Office by Clarence Mitchell, a former BBC reporter. He organised, in association with British embassies around Europe, the current publicity tour. If anything, say members of the still sizeable press pack accompanying the McCanns, the media operation has become even more professional.
Despite the couple's remarkable drive, Renwick said the tour was taking its toll on her friend. "I think she finds the nights the hardest," she said. "They are busy during the day, they have quite a lot going on, but once the twins have gone to bed and its just the pair of them ... of course it will hit you then."
They are also terribly nervous of overkill. "Although it seems as though Kate and I are in the media all the time, that is not the case," Gerry McCann said yesterday in Madrid. "I can assure you that Kate and I are getting a lot of quality time with Sean and Amelie. Spending time with them helps us cope with the fact that Madeleine is missing."
Team McCann, as the family campaign calls itself, shows little sign of running out of ideas. Assuming Madeleine has not been found, they plan to target the Tour de France, golf tournaments, Grand Prix events, the Isle of Man TT, perhaps even the publishers of the new Harry Potter novel. Leicester hospital has planned a summer ball in aid of the fund; Squirrel Hayes first school in Biddulph, Staffordshire, will be doing their bit on Wednesday with a fashion show.
Meanwhile back in Portugal the investigation continues. Earlier this week it was revealed that the police's latest approach is to check through hundreds of messages from clairvoyants claiming to have information about Madeleine.
Madeleine's parents hoping to receive a ransom demand, 04 June 2007
Madeleine's parents hoping to receive a ransom demand
Timesonline
David Brown in Praia da Luz
June 4, 2007
The parents of Madeleine McCann still hope to receive a ransom demand for the return of their abducted daughter as they prepare to continue spreading their appeal for her return across Europe.
Detectives believe that the person who took Madeleine from the bedroom of a holiday apartment in the Algarve 32 days ago could have been deterred from demanding a ransom because of the enormous publicity surrounding her disappearance.
Kate and Gerry McCann are clinging to the hope that a demand will be included among the hundreds of letters they receive every day in Portugal and Britain.
The torment of spending the past four weeks searching for their daughter caught up with Mrs McCann yesterday when she broke down in tears during an emotional church service in Praia da Luz.
The locum GP cried after a young Portuguese girl kissed her when the congregation at the Igreja Nossa Senhora da Luz were asked to exchange a sign of peace. Clutching Madeleine's favourite toy Cuddle Cat and a copy of her favourite book, We're Going on a Bear Hunt, Mrs McCann struggled to compose herself.
The couple, from Rothley, Leicestershire, later issued a statement to mark a calendar month since their four-year-old daughter was snatched from the bedroom where she was sleeping with her two-year-old twin brother and sister, Sean and Amelie.
"It is incredibly difficult not having Madeleine here," they said. "As every day, every week, becomes a month, we still believe she is out there and alive and we remain positive and determined that we will find her soon with everyone's help. We do realise it is just a phone call that we need."
Mr McCann, a consultant cardiologist, has said that he is prepared to sell the family's home in Rothley to pay for his daughter to be returned. He said: "If we thought it would secure her safe return, we would sell our house. We would do anything to get our daughter back."
Chief Inspector Olegario Sousa, of the Policia Judiciaria, said that the worldwide media interest that started within hours of Madeleine's disappearance could have meant that a kidnapper has felt too vulnerable to make a ransom demand.
"Whoever took the child could have the objective of ransom but did not ask for it because they panicked because of the media attention in the case," Mr Sousa said. "But who would ask for money for the girl when her image is running around the world? A kidnapper could have the child well hidden and could be close by."
Portuguese and British police are also monitoring new discoveries of paedophile movies and websites, but admit it is unlikely that Madeleine will feature because of her fame.
Mr and Mrs McCann, both 38, are determined to keep their daughter's abduction in the public eye in the hope that someone might hold the key to her whereabouts.
They will travel to Berlin and Amsterdam this week and will visit Morocco after reports that a girl resembling Madeleine had been seen in Marrakesh.
J. K. Rowling is considering putting bookmarks bearing Madeleine's face in Harry Potter and the Deathly Hallows, which is due out on July 21.
British telecommunications experts have been in Praia da Luz attempting to locate the position of mobile telephones in the area at the time Madeleine disappeared.
It was also claimed yesterday that the Government Communications Headquarters was monitoring telephone calls for intelligence on Madeleine's whereabouts.
'Hope, strength, courage', 16 June 2007
Elena Curti
16 June 2007
The parents of missing Madeleine McCann tell The Tablet how these three words, spoken to them by a Portuguese priest, have become a mantra as they continue the search for their daughter, sustained by the power of their Catholic faith
When Kate and Gerry McCann are at a low ebb they quietly murmur three words to themselves in Portuguese: esperança, força, coragem. The words mean hope, strength and courage and they were first addressed to them by a priest during the first Sunday Mass after their daughter Madeleine was abducted from their holiday apartment in Portugal.
The words were repeated to them by parishioners after the service and now are something of a mantra for the couple, evidence of the strength of their Catholic faith. That faith has been apparent in much of what the couple have said and done since four-year-old Madeleine disappeared on 3 May.
The couple agreed to talk to The Tablet, welcoming the opportunity to describe how their beliefs have sustained them. They arranged to meet me in Amsterdam, where they were spending a night before another round of interviews and meetings with officials connected with the campaign to find their daughter.
The pair are noticeably close, sitting together on the sofa unselfconsciously holding hands. Mrs McCann looks tanned after more than a month on the Algarve but is terribly thin. As always, she is holding Madeleine's favourite soft toy - a now rather bedraggled pink cat. She has taken out the green and yellow ribbons she usually wears in her hair but there are ribbons on the toy cat and she and her husband wear green and yellow plastic armbands, the colours that denote hope for the missing.
They begin by telling me their faith background. Both are cradle Catholics of Irish extraction. He is the youngest of five and was brought up in Glasgow. She is an only child from Liverpool. They were medical students at Glasgow University when they started going out and only later discovered that they came from similar backgrounds. He jokes that her Catholicism softened the blow when he told his mother he was going to marry an English girl.
Mr McCann says there were periods when he lapsed, and both concede that religion was not foremost in their minds in their teens and twenties. They nod in agreement when I suggest that their faith began to mean much more to them after their had children. As well as Madeleine they have two-year-old twins, Sean and Amelie.
Two years ago, after spending a year living in Amsterdam, the family moved to Rothley in Leicestershire. Mrs McCann works there as a part-time GP and her husband is a cardiologist at Glenfield General Hospital in Leicester. They particularly liked attending the Catholic church in Rothley where Mrs McCann's aunt is a eucharistic minister and her uncle plays the organ. On Sundays, Mr McCann would stay at home caring for the twins while his wife would take Madeleine to Mass. At the age of three she had just started going to the children's liturgy.
Then came the week's holiday in a complex at Praia da Luz on the Portuguese Algarve coast. Madeleine was taken as she slept in the family's apartment with the twins while her parents dined in a restaurant close by.
In low tones Mrs McCann explains their first reaction: "There was a period of absolute fear and panic. We were both quite hysterical."
After calling their family in Britain, they spoke to Fr Paul Seddon, the priest who married them and baptised Madeleine.
"At one point I would say the only thing we had was prayer and at one point I remember just slumping in the bedroom. I phoned Paul and he asked, 'What can I do?' And I said, 'Just pray, please pray,'" said Mr McCann.
At first there was the fear that Madeleine was dead. Two things changed that. The first was a meeting with a psychologist sent from Britain to see them.
As Mr McCann explained: "We couldn't get out of heads that she was likely to be dead and we were truly, truly grieving. But then the psychologist said, 'Is there any other possibility?' And then he started channelling negatives and saying, 'Of course there are other possibilities.' And we started to see that."
The second was meeting the local parish priest, Fr José Manuel Pacheco. Fr Zé, as he is popularly known, is a great favourite with the McCanns: warm, genial and inspiring. He speaks fluent English and Mr McCann said he had worked hard to bring together the British expatriate community and Portuguese Catholics.
It was Fr Zé at that first Sunday Mass who exhorted them to have hope, strength and courage. That evening he came to say the rosary with them at their apartment and invited his parishioners as well. Was it all a bit much?
"Not at all, it was lovely. There were about 50 women and they brought the children. It was a huge comfort," she says.
The parish priest also gave the McCanns the keys to the church so that they could pray there alone in the evenings. It was while they were doing this early in the first week that Mr McCann had an extraordinary experience.
"When I was praying I started thinking of all the things that were happening. There were lots and lots of ideas in my head and how we could make things better and I was really feeling very down and not sure which way to proceed. I had this mental image of being in a tunnel and instead of the light at the end of the tunnel being extremely narrow and a distant spot, the light opened up and the tunnel got wider and wider and went in many different directions. I talked to you [Kate] about it and said, 'I am not prepared to pursue one path. We are going to do everything in our power to influence things.'
"It was almost like something - I am not saying it was the Holy Spirit - came into me and gave me that image. That is when I really felt I had a clear path."
Was it a religious experience?
"I can't say it was a vision because I am not clear what a vision is but I had a mental image and it certainly helped me decide. I became a man possessed that night. The next day I was up at dawn, making phone calls."
A few days later the McCanns attended an evening vigil for Madeleine at Fr Zé's church organised by the local scouts. The service, in a church lit by candles, was, they say, the most uplifting they had ever been to. There came a point where the congregation was asked to unravel a large ball of green wool passing it from one person to another until it encompassed the entire gathering. The very memory of this service seems to give the McCanns a lift and they complete each other's sentences as they remember it.
"We sang a song, and we just kept singing the same verse, 'Nothing will separate us', over and over again and the church was completely overflowing. The wool finally got all the way round and the message was 'nothing will separate us and we are all united'. We were joined in this. As we were leaving the people just kept giving us flowers."
The McCanns' campaign has involved every possible avenue being used to raise the profile of Madeleine. There has been a certain resentment about it but Kate McCann says they have been careful to stress they are not the only parents who have suffered in this way.
"Madeleine is incredibly precious to us. Since this happened we have been made more aware of how many missing children there are. It is awful that we didn't know the scale of it before. Madeleine is as special to us as other children are to their parents."
Criticism of the McCanns' high-profile strategy followed their trips to Fatima, Rome and elsewhere. The couple were astonished that their request to meet the Pope was granted immediately after they contacted Cardinal Cormac Murphy-O'Connor. The cardinal told them he would do the same for anyone in their situation.
"These comments from people like the cardinal really helped sustain us. We know the criticism is small but when you are clinging to positives and hope and prayer, criticism does hit home quite hard when you would normally shrug it off."
The visit to Rome involved the use of a private jet supplied by the retail multimillionaire Sir Philip Green. While the McCanns realised that using the plane could generate negative reactions they felt they had to be consistent in accepting every genuine offer of help, no matter how large or small. Private jets, they pointed out, shorten considerably the time they have to spend away from the twins.
The hardest thing to ask these parents who have prayed so fervently for their daughter is how they will feel about their faith if she is not returned. Mr McCann was first to respond. "If we don't get Madeleine back alive and well, I am sure our faith will be severely tested. At the end of it, we will still have our faith and we will also have comfort that Madeleine will be looked after. We haven't dwelt on that but I think that is what we will be left with. Our friends, our family, the Church have really rallied round. I think that's the key thing for me."
Then his wife spoke: "I have considered that as well and I have felt guilty asking, 'Will this make or break my faith?' And yet at the same time you could argue that what's happened in the first place could make or break your faith and it hasn't. It's done the opposite. It has given us hope and strength."
Madeleine's family plan global event for 50th day of disappearance, 17 June 2007
Madeleine's family plan global event for 50th day of disappearance
Sunday Herald
Worldwide balloon release to raise awareness as family attempt to widen scope of campaign
By John Bynorth
17 June 2007
THE FAMILY of missing Madeleine McCann will release 2500 balloons in 50 towns and cities around the globe to mark the 50th day since her abduction this week.
The relatives are planning the publicity stunt to raise awareness of their campaign unless the four-year-old who vanished from her parents' Portuguese holiday apartment is found before the anniversary, on Friday.
Her uncle, John McCann, is emailing supporters and relatives of father Gerry, a consultant cardiologist, and mother Kate, a part-time GP, to attach yellow balloons to credit-card-sized messages bearing the "Look for Madeleine" logo along with Crimestopper's international phone number.
Among those planning to take part is Madeline's aunt, Philomena, who livesin Ullapool, Wester Ross. Gerry and Kate, both 38, will take part in the event in Praia da Luz on the Algarve, where their daughter was snatched as they ate in a restaurant nearby on May 3.
John, a pharmaceutical sales rep, told the Sunday Herald: "We are going to have a Madeleine Day on Friday, the 50th day since she disappeared, when we are going to release 50 balloons in 50 world centres.
"It is one of the few ideas I have come up with. It is not going to help find Madeleine, but it will make people the world over think again.
"We have relatives in Vancouver, Washington DC, Edmonton, Belfast, Dublin and Donegal. We are looking at European cities and Africa, including Johannesburg where we know people. We also have people willing to do it in Auckland where Kate and Gerry worked.
"Fifty days is a long time for a wee four-year-old girl to be taken away." He added that one of the issues the family would raise on the day would be "what level of mental abuse, if nothing else, has that child undergone".
"People focus on the physical and sexual abuse, but sometimes the psychological trauma is terrible. What sort of things are they the abductor saying to her about what happened to her family. It is a dark road we don't like to go down."
McCann revealed the family could finalise an arrangement with a major internet search engine to advertise the campaign by Friday. He refused to name the firm, or discuss rumours which last week suggested Google could promote Madeleine's distinctive right eye within its home page logo.
However, perhaps wary over criticism of Sir Philip Green for loaning the McCanns his private jet, he added: "We are taking their advice on how to have the best impact, but I can't even tell you their name as they don't want their profile to detract from the overall message."
And he said the family want to widen the campaign to create better links among Europe, Africa and Asia to prevent child abduction.
McCann said the family had decided to distance themselves from unsubstantiated rumours about Madeleine's whereabouts until the Portuguese or British police produced concrete leads. To date, he said the best sighting had been one of a girl with a man near Marrakesh, prompting the parents to visit Morocco last week.
He described the anonymous letter to a Dutch newspaper which sparked a flurry of speculation that she was buried on Algarve farmland as "bollocks".
McCann's high profile has made him recognisable with shoppers coming up to him in the supermarket, letters arriving addressed simply "Madeleine's uncle, Glasgow" and kindness, particularly when he broke down crying as the toll became unbearable while out cycling with his wife Diane last week.
Although he has returned to work three days a week, McCann likened the campaign to a football match where the family take turns to "play in goal".
He added: "Most of the time we are working in a semi-detached way. Last Saturday I couldn't do anything. I was crying all day long. I was so depressed, I went out for a cycle, but cried nearly the whole journey. A woman came up to me, could see I was depressed and said I know you'. She saw how upset I was"
The entire family have been counselled on how to cope with their worst fears about Madeleine coming true. Glasgow-born Gerry told the Catholic newspaper, The Tablet, her death would "severely test" their faith, but Kate is "adamant" she wants to stay in the Algarve rather than return home to Rothley, Leicestershire.
John McCann added that the idea of Madeleine being dead "horrifies us". He added: The good news is we have no real evidence she is dead. Even if she is harmed, she is retrievable. The most hopeful possibility is somebody has got her, the publicity has kept them underground and somebody will give us the information to get her back."
The McCanns are planning to consult a child psychologist about how to talk to their twins Sean and Amelie, two, about their sister's disappearance after revealing they still haven't asked where she is. Kate and Gerry are planning to appoint a campaigns and media adviser by next weekend. The couple said: "They the twins recognise themselves on TV now and still say mummy, daddy, Madeleine, Sean and Amelie', but they haven't asked where she is."
Missing Maddy loved her Guernsey holiday, 20 June 2007
MISSING Madeleine McCann has been to Guernsey.
This article posted on June 20, 2007 at 12:00 am
Her parents, Gerry and Kate, are close friends with islanders Steve and Lottie Evans, who today broke their silence to help support the international search. Until now the couple, who have known the McCanns for 12 years, have kept a low profile to shield their own children - Joel, 7, and Noah, 3.
The boys are good friends with Madeleine and her family, who stayed with them during a half-term visit to the island only last October.
Six months later, on another family holiday in Portugal, Maddy was snatched from their villa in Praia da Luz, sparking a worldwide hunt for her abductors.
'We are devastated at what has happened to Madeleine, but we were torn as we wanted to protect our own children from the story as much as we could,' explained Mrs Evans.
'Joel has an idea of what is going on. He thinks Maddy got up out of bed and is lost. Now someone else loves her so much they want to keep her.
'Noah is not as aware. He keeps seeing her picture on the Town Church and asking why Madeleine's photo is there. Then he asks when is she is going to come back to Guernsey to bake cakes with him.'
The couple have been in regular contact with Kate and Gerry since the story broke on 3 May.
Steve, a consultant at the Medical Specialist Group, and Gerry, also a doctor, have been friends since they first worked together in Napier, New Zealand.
Lottie, who is a nurse, had gone there with her husband and when Kate went over to work there as a doctor and met Gerry, the four became firm friends.
After their return, they kept in touch with the McCanns and their children, including twins Sean and Amelie, who first came to Guernsey when they were four months old in 2005. Madeleine is said to have particularly loved the beach at Vazon.
'Today, Gerry and Kate are never far from our minds,' said Mrs Evans.
'We have texted them lots and called them. I think both Steve and I try not to think too much about Madeleine because it doesn't bear thinking about. We are trying to think about Gerry and Kate instead.'
Madeleine's Parents In For The Long Haul, 12 July 2007
Madeleine's Parents In For The Long Haul
Sky News
9:02am UK, Thursday July 12, 2007
Madeleine McCann's parents are learning Portuguese as they make plans for an indefinite stay in the country to continue the search for their daughter.
Gerry and Kate McCann, who recently moved out of their holiday complex into a more permanent flat, know they will be in Praia de Luz for the foreseeable future and think it is time to learn the language.
They do not want formal lessons and are learning from locals with whom they have become friendly while attending church.
The couple feel a knowledge of Portuguese would help their dealings with the police team hunting for Madeleine - as well as in their day-to-day living as they integrate more with the local community.
So far, they have learned a handful of everyday phrases but have also mastered "força" (meaning strength or power), "fé" (faith, belief) and "esperança" (hope, expectation).
The McCanns, from Rothley in Leicestershire, have based themselves in Praia de Luz in the Algarve since Madeleine went missing from their holiday apartment on May 3.
They said they had no plans to return to their jobs as doctors in the UK until the Madeleine inquiry is resolved.
A campaign fund, called Madeleine's Fund: Leaving No Stone Unturned, has already raised almost £1m.
Meanwhile, close friends of the McCanns have pledged to do "anything" they can to help find her after they were called back in for interview by police in Portugal.
Three members of the party who were on holiday with the family when Madeleine was snatched returned to a police station in the Algarve as detectives carried out a major review of evidence in the case.
After three long months without their daughter, what now for the McCanns?, 28 July 2007
After three long months without their daughter, what now for the McCanns?
Daily Mail
By David Jones
Last updated at 09:10 28 July 2007
It's three months since Maddy vanished and her parents are grieving in very different ways. He's thinking about moving back to Britain and starting to rebuild their lives. She's still lost in despair and cannot bear to leave Portugal
On Wednesday evening, Gerry McCann flew back to Portugal after a hectic three day trip to Washington DC - the latest and farthest-flung staging post on his mission to champion the cause of abducted children and maximise publicity for his missing daughter, Madeleine.
Settling into his sleeper bed in Virgin Upper Class (mindful of the sniping about the £946,000 fund for Madeleine, of which £67,000 has been spent, he bought an economy ticket, but was given a complimentary upgrade), the 39-year-old heart consultant was exhausted.
But onlookers remarked that he appeared buoyant for the first time in the three months since his four-year-old daughter was taken.
Ultimately, of course, the McCanns will measure success and failure solely on whether Madeleine is returned safely.
However, according to Justine McGuinness, a Liberal Democrat parliamentary candidate who was recently appointed the Find Madeleine campaign manager, Mr McCann felt the venture had gone "extremely well".
This is despite the fact Mr McCann had encountered some unexpectedly hostile questions, notably from Chris Cuomo, the Good Morning America breakfast show anchor.
"Your story is pretty puzzling - it's tough to understand why you and your wife came to leave your children to go to dinner," Cuomo asserted, remarking that no American parent would "leave their kids in that way".
And yet, besides highlighting Madeleine's abduction on all four networked TV channels (ABC prefaced its coverage with clips of Britsofthe-moment J. K. Rowling and David Beckham making appeals for information, there were many other pluses.
Mr McCann visited a world-renowned centre for missing children, where he received advice and consoled himself with uplifting stories about abductions which ended fortuitously.
He lobbied senior statesmen on Capitol Hill, including U.S. Attorney General Alberto Gonzalez, who pledged to do all he could. He even met close aides to First Lady Laura Bush.
"Just about to go into the White House!" he texted his older sister, Philomena, 43.
Later, he told relatives how he received a sloppy, wet "kiss" from Mrs Bush's Scottish terrier, Miss Beazley.
"She must have known I was a fellow Scot," he joked.
For those who have followed the relentlessly miserable story of Madeleine's disappearance, Gerry McCann's lightening of mood this week - though probably brief - was heartening.
That said, however, watching him assume his unwanted ambassadorial role with such purpose and vigour, it was impossible to avoid contrasting his demeanour with that of his wife, Kate, who waited - forlorn, as ever - in the blisteringly hot Algarve.
For Madeleine's mother, the only white house that matters is the secluded villa in Praia da Luz, which has become the family's refuge since they escaped from Apartment 5A at the Ocean Club resort complex, a place of dark memories now occupied by other British holidaymakers.
Each morning, Kate returns to the scene of Madeleine's abduction to drop off her two-year-old twins, Shaun and Amelie, at the creche.
On Thursday, after she had settled them in, I happened upon her, walking down to the shore.
There she sat alone on the rocks, clutching Madeleine's pink Cuddle Cat toy as always, and gazing out at the Atlantic.
Later, she stopped briefly to pray at St Vincent's church, where the yellow ribbons tied to the door are fading.
Then she wandered back up the hill to the villa, a wraith among the throngs of cheerful tourists.
If her husband had manufactured a veneer of durability for the U.S. TV cameras, Mrs McCann's emotions were laid bare.
Thinner than ever, she has developed a stoop, as though the emotional burden she carries is strapped across her shoulders.
How was she bearing up, I asked tentatively, shaking her limp hand and wishing her well.
She forced a faint smile. "Yeah...well...thanks," were the only words she could summon.
Mr McCann's mother, Eileen, confirms the impression that 86 days after this highly publicised child abduction, Madeleine's parents are reacting in markedly different ways to their loss.
"Kate is really down; not one bit better than she was (when Madeleine was taken).
"I think she's actually going backwards," the 67-year-old widow told me from her home in Glasgow, where she has just returned after a fortnight at the Portuguese villa.
"All she keeps saying is: 'I need Madeleine back'."
"But Gerry is a lot better. He's thinking in terms of missing children.
"Madeleine is a missing child and so that's what he's focusing on. Everything he can do now is to help missing children, especially Madeleine."
When Mr McCann flew to Washington via London last Sunday night, his wife hugged him so tightly at the airport that it seemed she couldn't bear to let him go.
Reportedly, he phoned constantly from the U.S. to reassure her.
"She's a wee bit lost," said Eileen.
"I know Gerry misses Madeleine terribly and he would be over the moon if he got her back.
"But Kate, very much so. I just think it's a mother's instinct, isn't it? I just feel she needs a wee bit longer."
Eileen revealed that the couple suffered periodic feelings of guilt over the circumstances leading to Madeleine being snatched, but do not blame each other.
"How many people have stayed in their back gardens and put their children to bed?" she said.
"I think Kate is thinking along the same lines as me: that the person planned it carefully and watched what went on.
"They were just the unfortunate ones - Madeleine was picked out. All the family think that."
The McCanns believes the chief suspect, Robert Murat, still has a lot of questions to answer.
According to a Portuguese magazine yesterday, he has changed his alibi for the night Madeleine disappeared.
When first questioned, he is said to have told the police he was with his German girlfriend, but later said he'd spent the night at his mother's house.
While the investigation continues, the McCanns are in limbo.
Gerry, who is on unpaid leave from Glenfield Hospital, Leicester, has spoken about returning to Britain.
But his 39-year-old wife, who is on leave from the GP practice where she worked two days a week, refuses even to countenance leaving Praia da Luz.
Whenever the subject is broached, her response is always the same. "I'm not going home without Madeleine."
According to Philomena McCann, neither her brother nor sister-in-law enjoys being in the public eye.
But Kate feels particularly uneasy and will put herself forward only if she believes it is essential to further her cause.
However, as Gerry is accustomed to addressing audiences at medical conferences, he is far more comfortable in the spotlight.
He has become the public face of the campaign (including receiving calls of support from Gordon Brown) while his wife remains in the background.
"I'm incredibly proud of my brother when I see how he's handling this. But what people see is Gerry being really strong in front of the cameras," said Philomena.
"They don't see the really awful times, and nobody is going to let them see that."
For 12 weeks, Kate has been supported by a rota of visiting relatives.
Her sister-in-law Tricia Cameron, a redoubtable nurse who cooks wholesome meals and raises her spirits, has left her only once for a brief visit to Cambridge to see her son, Paul, graduate in medicine.
Any day now, though, even Mrs Cameron and her teacher husband, Sandy, must say goodbye. But Kate has arranged for replacements to fly in.
Should anyone suggest gently that she could be more easily supported at home in Leicestershire, she explains that she "must be at the scene of the police investigation the very second news breaks".
"I suppose any mother would feel like that," says her mother-in-law.
"But she's got to go home some time. We are hoping that over the next few weeks, Kate will start thinking about it in the longer term.
"But I know for definite that she won't come back at the moment."
So, this could turn out to be a watershed week for the McCanns, with Gerry making strides towards a deliverance of sorts through campaigning work, while Kate retreats further into the depths of her anguish.
Perhaps not entirely coincidentally, this shift comes at the time when, in some quarters at least, the tide of goodwill for the couple is beginning to take a disquieting turn.
From the moment Madeleine went missing, a small section of the public criticised the McCanns for dining in a tapas bar 50 yards from the room where their children slept.
They checked up on them every half-hour rather than make use of the Ocean Club's baby-sitting service.
This week, however, what began as reproach became open hostility.
It appears to have been whipped up by a series of dubious 'investigative' articles in the new Portuguese weekly newspaper Sol, which have found their way on to the internet.
Cruelly, and with scant substantiation, the paper portrays the McCann holiday party as more interested in playing tennis, and wining and dining, than looking after their children.
It also accuses the group of maintaining a pact of silence about the events on the evening of May 3, and purports to have uncovered a link between Robert Murat and one of the couples holidaying with the McCanns - they come from Exeter, where Murat had visited his sister a few days before the abduction.
As the Portuguese police investigation has been widely criticised, these salacious articles may have been motivated by misplaced nationalistic revenge.
But it seems someone at the heart of the inquiry was involved - they contain names and details not previously published.
Whatever the truth, understandably the McCanns are wounded, particularly Kate, whose mistrust of the media has been bitterly confirmed.
They have been stung, too, by other accusations which are so callous that their local paper, the Leicester Mercury, was compelled on Wednesday to block its on-line message facility for the couple.
There have been calls for them to be prosecuted for neglect.
Madeleine's case is also said to have been given unwarranted attention because her parents are middle class and have run a slick PR campaign.
Some even suggest they stand to gain from the money donated by the public.
All of these slurs are as preposterous as they are disgraceful.
This week, however, when I spoke to Philomena, she felt compelled to defend her brother and sister-in-law.
"People talk about Team McCann - they think it's orchestrated. That's nonsense. It's bits and pieces, and pals pulling together," she said.
"There hasn't been any kind of cynical campaign. It's just an amazing coming together. We've winged it and learned as we've gone along."
She cited the Find Madeleine website, with its haunting footage, Gerry's daily blog, an on-line store selling yellow bracelets for a £2 donation and a diary of forthcoming events, all set to the Bryan Adams song (Everything I Do) I Do It For You.
Remarkably professional looking, it was created by 19-year-old Callum McCrae, one of Philomena's former pupils.
Then there was the Look Into My Eyes poster, inviting people to memorise the distinctive 'flash' in Madeleine's right eye.
That was devised by Jon Corner, a friend who runs a media company in Liverpool.
Another friend, Michael Wright, a businessman from Skipton, uses his network of contacts to get funding, and Gerry's brother, pharmaceutical company rep John McCann, helps with strategy.
Madeleine's face is instantly recognisable in dozens of countries, and the reward for information leading to her return stands at £3.2 million.
"It needs only one greedy, unscrupulous character to come forward," said Philomena McCann.
"So the campaign will go on, whatever anyone says. Those who say we just want to appear on telly should get a life. Can you imagine stopping looking for your daughter?"
Already plans are in place for the next big showpiece event, to mark the 100th day of Madeleine's disappearance on August 11.
Assuming she has not been found by then, 100 Scottish pipers will play a tune penned for her at the world pipeband championship in Glasgow.
Well-intended as such efforts are, of course, one danger is that compassion fatigue will set in.
Indeed, judging by the turn of events this week, that may already have happened.
Alex Woolfall, a public relations expert who represents Ocean Club's owners, Mark Warner, and maintains contact with the McCanns, says he warned them about this from the beginning, but adds: "Who are we to judge? We haven't been in their position."
However, according to Ray Wyre, an expert on paedophilia who advised detectives on the Fred and Rose West murder investigation, the decision to keep Madeleine at the top of the news agenda could have serious ramifications.
"There are two potential scenarios," he told me. "If you are Madeleine's parents, it is understandable to want publicity because it might bring information.
"And it means you are not dealing with bereavement; you are dealing with a lost child.
"On the other hand, if Madeleine is in captivity, a high-profile campaign could make her position even worse.
"Her captor may feel it necessary to shut her away for longer periods to avoid her being recognised.
"There's also the possibility that the abductor - or killer - may be watching the McCanns and getting kicks out of what they are doing.
"If you are dealing with a sadist, publicity can become part of the problem. As awful as these possibilities are, they should be assessed carefully."
Since the McCanns are receiving psychological help, these risks must have been taken into account.
Mr Wyre also expressed a concern that, as in so many cases of family trauma, the strain of losing Madeleine might adversely affect the twins and cause cracks in the McCanns' relationship.
Happily, in this regard at least, Gerry McCann's mother has no fears.
"I know a lot of people split up in situations like theirs, but no way," she said.
"Gerry adores Kate, and she adores him. They were very much in love before, and they still are. I can see in their manner towards each other that it's still there.
"They are saying that all that matters is the twins until they get Madeleine back.
"They spend more time with them than ever. Kate is there at bath-time, lunch-time, dinner-time and bed-time. At the beginning, she wasn't able to do that."
Though the family are careful to avoid saying anything distressing relating to Madeleine, she is discussed as normally as possible in front of Shaun and Amelie.
"Every night, before going to sleep, they always say the same thing: 'Good night, Shaun. Good night, Amelie - and good night, Madeleine,'" said Eileen.
This touching family ritual is something the hate campaigners would do well to remember as they turn on Gerry and Kate McCann - a devoted father and mother, each struggling to survive through every parent's worst nightmare in their own, very individual way.
Code Madeleine Action Plan To Keep Kids Safe, 04 August 2007
Code Madeleine Action Plan To Keep Kids Safe
Sky News
8:51pm UK, Saturday August 04, 2007
The parents of missing Madeleine McCann have backed a new initiative to help keep children safe on holiday.
The six-point plan - called Code Madeleine - outlines what parents should do if their child goes missing.
The code is similar to the Code Adam scheme in the US - named after abducted six-year-old Adam Walsh.
Code Madeleine was developed by the Federation of Tour Operators, the Association of British Travel Agents, and the News of the World.
Its objective is to trigger a system of securing premises and systematically searching for a missing child in the critical hours immediately after they are reported missing.
The scheme was launched as Madeleine's parents Gerry and Kate McCann awaited news of a police search of chief suspect Robert Murat's home in Portugal.
"Kate and I fully endorse the Code Madeleine scheme," said Mr McCann.
"We would like to thank everyone in the British travel industry and the News of the World for taking the initiative to set up this scheme.
"Kate and I hope that this new code will help protect British families when they are on holiday."
Holiday firms are being asked to sign up to the code and train staff on what to do if a child goes missing.
Andy Cooper, director general of the Federation of Tour Operators, said: "All of our major members have agreed to support Code Madeleine and adopt the six-point plan to help make children safer while on holiday."
The six points are:
:: Hotel management or holiday company staff to immediately obtain a photograph and detailed description of the missing child, and to assist parents in liaising with the police.
We recommend that parents be asked to bring with them an up-to-date photograph of their child.
:: Designated employee to page Code Madeleine via nearest in-house telephone - implementing the procedure of circulating the photograph and communicating a detailed description of the missing child throughout the hotel.
:: Hotel staff, supported by holiday company representatives on the premises, to assist in search of public areas and to monitor entrances exits from the premises.
:: If the missing child is not found within 10 minutes of initial search of public areas, parent to take decision to notify local police. Hotel management or holiday company staff to assist.
:: Hotel management or holiday company staff to use best endeavours to ensure any suspected crime scene area is isolated and kept free of contamination until police arrive.
:: If the child is found accompanied by someone other than a parent or legal guardian, reasonable efforts to delay their departure will be used without putting the child, staff, or visitors at risk.
Police will be notified and given details about the person accompanying the child.
PJ searches Maddie's jeep thoroughly, 07 August 2007
Madeleine McCann Case
Henrique Machado / Paulo Marcelino / Tânia Laranjo
07 August 2007 - 13h01
Thanks to
Astro
for translation
There are at least three hours that are blank in the day of the crime: between 6 and 9 p.m., "nobody saw Madeleine alive except for her parents". The last step the Policia Judiciaria made, yesterday afternoon, was to collect residues from the jeep that the McCann couple used to travel in the Algarve, and send them to the Scientific Police Lab, a source with the investigation told CM.
The successive depositions made by Kate, Gerry and their friends at PJ in Portimao, during the first few weeks, started losing credibility by the "enourmous lack of accuracy" about the visiting times into the apartments where the children were sleeping. "There are contradictions among the friends' group, who would be taking turns to check if all was well" with the eight children.
"A lot of things there don't add up, so we could never establish the exact time that the disappearance happened", another source with PJ says. But, between 6 and 9 p.m., "there are three blank hours and only the parents saw the child" – all possibilities lie open for the inspectors.
Investigations into the "context of family and proximity to the child" were never set aside and have increased over the last few weeks, as CM said in yesterday's edition, and the use of dogs that came from England just helped confirm the worst suspicions from the PJ: Maddie actually was killed inside the apartment.
One of the dogs marked the child's death on location, while the other one, who has different smelling abilities, "detected a blood stain, but the residue is too faint to allow for a DNA collection", according to the same sources. "At the moment, there are no portuguese suspects", contrary to what the English press has been circulating, and even Robert Murat is set apart from the crime: he only saw the cars of this relatives and friends being searched for a "final dismissal".
The english police agents accompanied the PJ into level -4 of the parking garage in Portimao, away from photographers, and watched the collection of residues in the blue jeep that was used by the McCann couple, the vehicle that was rented by Madeleine's family for their Algarve vacation.
The pressure from English authorities "intensified" after the suspicions on the "British context" were assumed, but "now there is no going back", an inspector admitted to CM. It was important for PJ to carefully analyse the crossing of phone calls in Praia da Luz, before and after the crime, and "to avoid an international conflict" it was just two weeks ago that the decision was made to ask for help from English dogs that are able to detect the smell of corpses.
The detection of death inside the apartment, done by the dogs, allowed the PJ to assume their suspicions, and again, in the presence of English police, Robert Murat's house was thoroughly searched, over the weekend. Again nothing was found. "Only the fact that he is an arguido before the law maintains him as a suspect".
The next 15 days are crucial to the investigation, even because of the results of forensics tests that were performed on the McCanns' jeep, which should arrive at PJ from labs in Lisbon. The abduction theory has been definitely abandoned and PJ is close to the key to this crime.
(the next part of the article is detailed info about the cars being searched)
English reveal suspect
English press advanced yesterday the thesis there is a second suspect in the disappearance of Madeleine McCann, who is being watched for weeks by police because of his relation with Robert Murat. This report is in 'The Sun', the 'Daily Express' and the 'Daily Mirror'. The suspect would be an alleged accomplice of the kidnapper and matches the description of a man who was seen in Praia da Luz carrying a girl wrapped up in a blanket, on the night that Maddie disappeared. Suspicions are referred that are due to facts in his past, and to movements of the man at the time of the disappearance. The 'Daily Mirror' underlines that the suspect may not be involved in the kidnapping, but he may know who was.
Group in regular contact
PJ was never satisfied with the depositions of the parents and the three couples of friends – and Rachel Oldfield, Fiona Payne and Russell O'Brien were called into Portimao for the last time on July 11. "We are very satisfied to help the police investigation and all of us want to do all that we can to help find Madeleine, so she can return to her parents", Rachel said upon leaving, while she was speaking on everyone's behalf. CM knows the group was always united and kept regular contacts.
The 22 questions from Moita Flores
- Who was the last person to see Madeleine alive, except the couple?
- Was the girl asleep or awake when they left home for dinner?
- Were the other children asleep?
- How were the round to check the children organised?
- Who was the first adult to make a round?
- And who was second?
- What was the time lapse?
- How many of the children of the other couples were asleep at the same time?
- What was the checking order?
- How much time passed between the last person outside of the couple seeing the girl alive, and the alert to the disappearance?
- How much time passed between the knowledge of the disappearance, and the communication to authorities?
- Who called the police?
- Who participated in the first searches?
- Where did they touch?
- Where did they search?
- Did they have bleach or acid in the house? (acido muriatico)
- Where did they shop?
- When did they buy these hygiene artciles?
- Who knew where they were kept?
- Did any of the friends change his clothes that night?
- Was any of them absent for an hour or more?
- Do they allow their children to talk to a paedo-psychiatrist so they can tell what they saw?
Drogheda family hit out over Madeleine case clue coverage, 08 August 2007
Wednesday 08 August 2007
A DROGHEDA family who may hold vital clues as to the disappearance of Madeleine McCann have hit out at media distortion of evidence that they have given to Portuguese police.
Maple Drive man Martin Smith, his wife and his children had just left the Kelly bar, which is located approximately 400 metres from the McCanns? apartment at the Ocean Club between 9.50-10pm on the night Madeleine disappeared.
They returned to Ireland the next day, and because the reported abduction times didn?t originally match, they never had cause to examine their journey that night.
As it emerged that Madeleine was abducted around the same time, one of the family members had a flashback of the moment some time later and encouraged the others to jog their memory.
They remembered passing a man walking towards the beach with a child in his arms.
Other than his approximate height and the fact that he was wearing beige clothes they cannot be more specific than that.We are annoyed at how vague our description is,? said the family member.
The family contacted the Portuguese police and flew back over to give evidence.
However, contrary to media reports, Mr Smith had not seen chief suspect Robert Murat in a bar the evening that Madeleine was abducted.He definitely didn?t see him on the night in question,? said a family member.
The family are also mystified at reports that he knows Mr Murat. They met once in a bar about two years ago. My dad would only know Mr Murat by sight,? said the family member. However, from what he knows, he can say that the man who was carrying the child was not Robert Murat.?
Intercepted e-mails/phone calls, 09 August 2007
Mystery of Madeleine parents' secret emails 'intercepted by police' Daily Mail
Friends hit back over whispering campaign against Maddy's parents
By Fiona Barton
Last Updated at 11:12am on 9th August 2007
The friends who were with Madeleine McCann's parents on the night she disappeared have tried to shake off a growing whispering campaign against them.
They have spoken out after a Portuguese newspaper claimed police had 'intercepted' emails and phone calls between Kate and Gerry McCann and their friends.
These, the newspaper reported, provided 'decisive proof' that Madeleine was not kidnapped, but died in the family's holiday apartment in Portugal.
Diario de Noticias, a respected national daily, said 'police sources' insisted the intercepted 'messages' were key evidence.
Other newspapers have already made a series of lurid and unsubstantiated claims about the McCanns.
Yesterday, stung by such claims, their friend Rachael Oldfield, a 36-year- old London recruitment consultant, suggested the police could be 'leaking' confidential information to the Press.
"I think there are some leaks coming from the police, but a lot of what I have read recently has been completely untrue," she said.
"Whether a journalist has had a bit of information and made the rest up, or the police are feeding some truth or untruths I just don't know."
Another of the party, Dr Fiona Payne, said: "You cannot attach any significance to what is being reported (in the Portuguese press)."
Mrs Oldfield, who is married to doctor Matthew Oldfield and has a one-year-old daughter, said: "It is very hurtful and it is all rather ludicrous. But it is difficult to defend because the investigation and everything in it is confidential. We don't want to jeopardise the investigation in any way or Madeleine's life. We are a bit stuck, really."
The Oldfields were at dinner with the McCanns and the rest of their party, Jane Tanner and Russell O'Brien from Exeter, Fiona and David Payne from Leicester and an unnamed woman, when Madeleine vanished from her bed in the holiday apartments in Praia da Luz on May 3.
The adults told police they had taken it in turns to check on their sleeping children, including Madeleine and her twoyearold twin brother and sister, in nearby apartments.
In statements to the Policia Judiciaria investigators, which were leaked to Sol magazine, Mr McCann said he first checked his three children at 9.05pm and thought it 'strange' that the bedroom door was ajar. He checked the window and shutters, which were both closed, and left.
Jane Tanner said she took her turn ten minutes later and saw a darkhaired man carrying a child in his arms as she came back.
Minutes after her return, according to police statements, Matthew Oldfield checked the children and noticed nothing unusual.
Mrs McCann went at 10pm and said she found the apartment window open, heavy metal shutters raised and her daughter missing.
Police say there are discrepancies between the timings given by the McCann party and staff and other diners in the restaurant that night.
One Portuguese newspaper yesterday, which quoted 'police sources', said: "If everything happened as the English holiday makers say, in terms of their checking the children, it would be almost impossible for a kidnap to have taken place."
Mrs Oldfield said: "There would only be a small window for somebody to do it (abduct Madeleine), but presumably if somebody had been watching our movements then it would have been possible."
The McCanns, who on Tuesday denied stories in the Portuguese press that implied they had 'accidentally' killed their daughter, spent an hour with detectives yesterday afternoon.
They learned that a possible sighting of Madeleine in a Belgian cafe had been largely discounted after tests on a drinking straw used by the little girl spotted showed the DNA of an adult male.
'You have to blank out the dark thoughts', 10 August 2007
'You have to blank out the dark thoughts'
Guardian
Tomorrow Madeleine McCann will have been missing for 100 days. Here her parents Kate and Gerry talk to Steve Boggan about their new website for missing children, and how they're coping - not only with the loss of their four-year-old daughter, but also with the barrage of speculation they've been subjected to over the past week
Steve Boggan
Friday 10 August 2007
It had been another Groundhog Day for Kate McCann, and it showed on her face. A potential sighting of her daughter Madeleine, this time on the Belgian-Dutch border, had come to nothing, so her day was just like the day before, and the day before that. "We can't afford to get our hopes up every time there is a sighting," said Kate. Tomorrow Madeleine will have been missing for 100 days.
In the apartment in Praia da Luz where Kate and her husband Gerry now spend their days, reminders of four-year-old Madeleine are everywhere. Yellow rubber wristbands with Look for Madeleine printed on them are tangled up in a plastic bag on the sideboard. On a coffee table, harried by the wind blowing from their sea-view balcony, are flyers that bear the girl's image, focused intently on that right eye with its unusual iris. For the McCanns, Madeleine is everywhere and nowhere.
This week, the largely positive media circus surrounding the couple, and their campaign to get their daughter back, turned sour. Fuelled by what appear to be off-the-record briefings from local police sources, the Portuguese media began publishing increasingly hostile stories. With the discovery by British sniffer dogs of specks of blood in Madeleine's bedroom, parts of the press began suggesting that the McCanns were now the focus of the police investigation; friends of the McCanns felt it necessary to publicly dismiss such speculation. And yesterday things got worse when the McCanns were obliged to take their two-year-old twins out of a local playgroup because other parents had complained of the press attention they were attracting.
"The thing is that this is all speculation," Kate said on the phone yesterday. "We went through all this similar speculation right at the beginning and it doesn't help really. Until people know the facts, it doesn't help."
"It doesn't help [Madeleine], that's for sure," Gerry said. "The hardest thing is that we can't comment on the investigation in any detail because we are witnesses and so much of what has been written is pretty hard to see. Some terrible things have been written."
In the past week I have twice met the couple in their seaview apartment. When we first talked last Friday - two days before this latest storm of publicity blew up over the specks of blood - the couple went through the story of how their daughter went missing. Madeleine disappeared from apartment 5a of the Ocean Club in Praia da Luz on the evening of May 3. Kate and Gerry, both 39-year-old doctors - she is a GP, he a consultant cardiologist - were dining with friends near the apartment, but had been popping back regularly to check on both Madeleine and her twin brother and sister, Sean and Amelie.
"We were checking on the children several times an hour," said Kate. "At one point I went back to check. It was quiet and I went into their bedroom and Madeleine wasn't there. I kept looking and thinking to myself, 'She must be here.' I thought she must be in her bed, but she wasn't.
"Then there was this horrible panic and fear. There was no shadow of doubt that Madeleine had been taken and that is why the panic was so immediate and so real. It was awful. I guess I just felt I had let her down and I was desperately sorry that we weren't there." She and Gerry, from Rothley in Leicestershire, constantly held hands and comforted one another as they talked, she in her light Liverpool accent, he in his Glaswegian.
The reason they had agreed to talk to the Guardian was to publicise Don't You Forget About Me, a new internet site where parents will be able to post videos, images and information about their missing children. The couple have formed a partnership with Google, YouTube and the International Centre for Missing and Exploited Children (ICMEC) in the US to set up what they believe will become a global central database of missing children. If it works,
youtube.com/dontyouforgetaboutme
, which launches today, could become the focus of hope for thousands of families.
The two-bedroom apartment where they're living, and planning this new website, has been lent to them by friends. This is the spot from which an unprecedented missing person campaign has been conducted, but it isn't full of slick PR people on their mobile phones. There is a laptop owned by their campaign manager, former Lib Dem parliamentary candidate Justine McGuinness (paid for by donations), a fax machine and a kettle that barely gets time to cool. And that's about it.
Kate sat and clutched Cuddles the cat, Madeleine's favourite toy, while we talked. It is the same toy she is always holding in pictures; she hardly ever puts it down. She seemed thin and fragile, and at one point, trying to explain that one of the yellow bands on her wrist was made by the school Madeleine was due to go to in three weeks' time, she burst into tears.
Since Madeleine went missing, the two have learned a great deal about missing children around the world. "Because of what has happened to Madeleine we have become aware of so many other children that have gone missing, and also a lot about how many children are abducted, and the extent of child sexual exploitation," said Kate. "It's horrific. We are reasonably worldly people but I just couldn't believe it when we were told about the scale of the problem.
"In England and Wales alone - this is going back to 2003 - there were more than 1,000 attempted stranger abductions; 100 of those were actual abductions that led to the child being taken away by a stranger, not a parental abduction, and in more than one-third of these the child was not retrieved within 24 hours."
About six weeks ago, one of their close-knit circle of family and friends had the idea of using YouTube as a vehicle for finding children. What if the site could be administered by the world's largest organisation dedicated to finding them, ICMEC in the US?
"My first approach to ICMEC was to see if they would take on the roles of administering and regulating the channel," said Gerry. "Technically, we could have had it ready in no time with Google's help [Google owns YouTube], but the key thing for us was the regulation ... of the channel. First of all we have to verify that the child on any video is actually missing. The second thing is to check that the authorities have been notified that the child is missing. And the third thing is that the images themselves are not exploitative." The McCanns have high hopes for the project, predicting that it could revolutionise the way law enforcement agencies around the world look for children.
"There is no good data out there but the latest figures for missing children and runaways in the United States is 800,000 each year," said Ernest Allen, chief executive of ICMEC. "In the UK the figure is 105,000; Austria, 1,600; France, 39,000; Germany, 50,000; Greece, 500; Ireland, 1,250; Italy, 1,100; Portugal, 725; and Spain, 8,400.
"There is no international uniformity in gathering information or reporting it. I mean, the fact that there were 50,000 missing children in Germany and only 500 in Greece tells you something about the way each country deals with the problem. Some people aren't counting."
For more than 25 years, ICMEC has been forging partnerships with missing children agencies around the world. "We had set up missing children websites in 14 countries," says Allen. "And then Gerry came along with this idea. We hadn't thought of using YouTube. Now it will allow us to have one worldwide clearing house for all the information on missing children. There is no doubt in my mind, this will help to reunite abducted and missing children with their parents. It is completely revolutionary."
There has been criticism in some quarters that the couple's media campaign has been too slick, but the McCanns point out that less than £70,000 has been spent so far on staff, accommodation, transport and communications. McGuinness is being paid. So too are two others fielding thousands of media calls in the UK.
"The campaign really evolved by itself and just involved family and friends coming up with ideas and putting them into action," said Gerry. A stranger in France bought the domain name findmadeleine.com and donated it to the family. A former student of Gerry's sister set up the campaign website. Back home in Rothley, Kate's uncle, Brian Kennedy, became the chair of the fighting fund, which has raised £1m so far. One of Madeleine's godparents produced pictures and a DVD of Madeleine and distributed them to the media. The husband of one of Kate's cousins approached large corporations to help with funding and the distribution of information. A second cousin of Gerry's produced 50,000 cards with information about Madeleine and circulated them at the Uefa Cup final in Glasgow. And so on.
"We have had politicians and famous people making appeals for us, but not, as it might have seemed, because we are well connected," said Gerry. "People just did these things off their own bat. For example, before I became a cardiologist full time, I used to do a bit of sports medicine. My old boss knew Alex Ferguson and asked if he could help. Before we knew it, there was David Beckham making an appeal for Madeleine. A lot of people who have helped have done it simply because they are good individuals with children of their own."
When Madeleine first went missing, reaction to the fact that her parents were not in the apartment that night was muted. It was perhaps felt that it would be in bad taste to criticise parents at such an awful time. As time has passed, however, such reticence has evaporated. How have they coped with that? "The criticism is very hard and very hurtful," said Kate. "Considering what we are going through already, it seems very cruel. I know this is a small group of people. Most have been very supportive. We have had thousands and thousands of letters from people and every line of every letter they have written has helped us get through another day.
"I have had hundreds of people get in touch and say, 'We do exactly what you have done. Don't ever blame yourself; you have to remember here who has committed the crime. It was someone who broke in and took Madeleine from the bed.'" "For us it just felt like we were dining in the garden," said Gerry.
You wonder what they feel in their darkest moments, and I saved the hardest question for last. Would it be easier if they had some kind of closure? "In the first few days all we thought about was the worst and it was just the worst experience ever," said Kate. "Now we have more hope than we did in those first few days. Don't get me wrong - we are not blinkered. Obviously we still have those dark thoughts but they are not helpful. Sometimes you just have to blank them out."
The couple said they had no plans to return to England as yet. "I know it might seem illogical, but I feel closer to Madeleine here," said Kate. "Yes, there are probably things we could do even better from the UK, but just right now it wouldn't feel right to leave."
As I left the apartment after our second interview last Saturday, the police were about to begin a fresh search of the garden of Robert Murat, the only official suspect, less than 100 metres away. That seems to have come to nothing; it is too soon to say yet what those specks of blood in the apartment might mean, if anything. Meanwhile the couple keep going, with sensational stories, apparently based on not very much at all, swirling around them. When I rang to see how they were doing yesterday, Gerry said: "It has been 14 weeks now and it is pretty apparent that there has been a shift in the investigation. We are not privy to why that is." And then with typical understatement, he added: "The last few days have been difficult."
Madeleine and the missing hour: how often did the McCanns check on their children?, 11 August 2007 (contains the claim that Madeleine had previously run away at bedtime and hidden outside for half an hour)
Madeleine and the missing hour: how often did the McCanns check on their children?
Daily Mail
By SUE REID
Last updated at 16:31 11 August 2007
Sitting beside a swimming pool in the Algarve on that May evening Gerry and Kate McCann were enjoying themselves. The tapas bar of the Mark Warner holiday resort in Praia da Luz was buzzing with holidaymakers and it was quiz night.
The McCanns were favourites to win the contest organised by the resort's aerobics teacher Najova Chekaya. After all, the two doctors had brains on their side. Around their table were seven friends from England, three of them also doctors and one a top medical research fellow.
The group of nine were holidaying in Portugal and wanted to have a good time. As one of the doctors, Matthew Oldfield, was to recall: "We drank. So what! We were on holiday."
But 50 yards away on the other side of the swimming pool, the group's children were sleeping alone. In the bedroom of one ground floor apartment was Madeleine, the McCanns' three-year-old daughter.
Her twin brother and sister, Sean and Amelie, two, lay in cots either side of her. They had been tucked up at 7pm. Half an hour later the McCanns had joined their friends for dinner at the tapas bar.
What happened next has mystified the world.
At 10pm Kate McCann got up from the table to check on her children. She slipped in through the patio windows to find the twins safely asleep - and her daughter's bed empty.
In tears and calling out Madeleine's name, she ran back to her friends to tell them: "They've taken her, they've taken her."
Madeleine has not been seen in the 100 days since May 3. Last night Portuguese police said they were concentrating on what they call the "missing hour" before Mrs McCann found her daughter gone. They say it is possible that she was kidnapped after her father last checked her at 9.05pm and her mother's terrible discovery.
Meanwhile the campaign to keep the public aware of Madeleine's name goes on. It has involved her Roman Catholic parents visiting the Pope.
And, on the instructions of JK Rowling, posters of Madeleine were distributed at British bookshops as they opened for the sale of the new Harry Potter book.
This week the donations from the public to a Madeleine fund, financing the PR campaign and global search for the little girl from Rothley in Leicestershire, was nudging £1 million.
More than 50 million people visited the Find Madeleine website in the 48 hours after its launch.
Nothing like this has ever been seen before, and probably never will again.
The campaign has been organised by the McCanns, both 38. Today they believe their daughter is still alive and was abducted by a stranger. Whether the motive was paedophilia, the sale of Madeleine for adoption or even the trade of her organs, they have no idea. Nor do they speculate.
As Mr McCann wrote on his website the other day: "The Portuguese police have assured us on numerous occasions that they are looking for Madeleine and not a corpse."
Yet this week attitudes towards the McCanns underwent a seismic shift, the questions growing more aggressive by the day. The scenario of a small girl being kidnapped without warning on a spring holiday in a family friendly resort is now the subject of lurid debate - particularly in Portugal.
Disturbing questions are being asked about the behaviour of the McCanns and their friends.
The catalyst was the discovery this week, by British police with sniffer dogs, of specks of blood on a wall in the family's apartment.
The blood is now being analysed in this country, raising unpalatable speculation that Madeleine was killed where she slept and was then carried off to the beach or bundled into a car boot.
The reluctance of Gerry and Kate McCann or their friends to speak publicly, or in any detail, about the minutiae of the evening has fuelled the controversy, although they insist it is illegal in Portugal to comment on any police investigation.
In another uncomfortable development the Portuguese press, including the respected newspaper Dairio de Noticias, has claimed that interviews given by the McCann group to police contain discrepancies. Their stories and the timings of their movements on the night do not tally.
Furthermore, emails and phone messages sent between the group - and intercepted by the PolÌcia Judiciaria and British detectives helping the inquiry - are reported to contain conversations that contradict earlier statements.
But the spotlight is equally falling on the seemingly woeful response of the Policia Judiciaria. They only arrived two hours after the alarm was raised. A British expert on child abduction who visited the resort a few days later said it the worst preserved crime scene he had ever witnessed.
Twenty people - including resort workers and other holidaymakers - are believed to have entered the McCanns' apartment after the disappearance. The patio windows at the rear, and the closest point to the tapas bar, were touched by searchers.
The patio had been left open by the McCanns in case of fire and, it appears, so that they could easily check the children.
But what of Madeleine's bedroom? It was situated next to the apartment's front door which is around the corner and a further 30 yards on, next to a road into the resort and a busy carpark.
Notably the bedroom, completely out of the sight of the tapas bar, had heavy, metal window shutters. These were also contaminated in the search.
Even her bedtime toy Cuddle Cat - which is now carried by Mrs McCann - was not isolated for forensic analysis.
Local newspapers and television have criticised the McCann group, who left their children alone for two and a half hours as they wined and dined.
One question being asked is why didn't the parents put their children in the evening creche which is open until 11.30pm? Why didn't they hire a babysitter, bookable at the Mark Warner reception desk?
In a further twist, locals now claim that Madeleine did not always settle well. One evening they allege she ran away into the paths between the apartments, hiding for half an hour when it was time for bed.
Whatever the truth, to begin to unravel the mystery one has to go back to the seemingly carefree days at the start of the holiday.
Gerry and Kate McCann and their friends are like-minded people, with children of similar ages. And they knew each other in the Midlands. Mr McCann is a consultant cardiologist at a Leicester's Glenfield Hospital and his wife is a GP.
Until recently Dr Oldfield worked at Leicester general hospital. David Payne is a senior research fellow in cardiovascular sciences at Leicester University and his wife, Fiona, is a doctor. Another of the holidaymakers, Dr Russell O'Brien, also worked at Leicester University before moving this summer.
Recently they all went to Mark Warner's in Greece where they had devised a plan of leaving their children to sleep while they had dinner nearby.
As Mr McCann explained: "The distance is so small, it was so close it was almost like having dinner in your garden. What we were doing was rigorous with multiple people checking at regular intervals."
When asked if Madeleine might have wandered out through the unlocked patio windows towards the swimming pool, or beyond to the beach, the McCanns dismiss it out of hand.
"We're absolutely certain. We double and treble-checked and have no doubt she was taken," said Mr McCann. Yet another scenario is now emerging in the local press. It is built on the recollections of other guests and workers at the resort.
The official story from the McCanns is this. Mr McCann said he checked on his three children at 9.05pm. He noticed that a door in the apartment which had been left shut was ajar.
He thought nothing of it but it may have indicated that a kidnapper was already there. But his daughter was fast asleep so he went back to the tapas bar.
Another of the group, Jane Tanner, says she took her turn 10 minutes later. She claimed later to police that she saw a dark-haired man of about 35 carrying a child as she walked back to the bar afterwards but thought nothing of it.
Soon after her return - at 9.45pm - Dr Oldfield did his round of the bedrooms. In a first statement to police, it is unclear if he actually went inside the McCann flat.
Indeed, one scenario is that many of the checks of the children were not visible, but involved listening at doors or even from outside the apartments.
However, in a second statement Dr Oldfield insists he did look in Madeleine's bedroom, believes he saw her there, and that there was light coming in through the windows as though the heavy shutters had been opened.
Again, he thought little of it until afterwards. Then, of course, it was Mrs McCann's turn. She found Madeleine gone.
Madeleine's aunt Trish Cameron recalled that she received a call later that night from her younger brother, Mr McCann, who told her: "I went back to check the children at nine o'clock. They were all sound asleep, windows shut, shutters shut."
Mrs Cameron related that when Mrs McCann went to the two apartment a little under an hour later: "The shutters had been jemmied open. They think someone must have come in the window and gone out of the front door with Madeleine."
But what is now perturbing Portuguese police is how could she be abducted when the McCann group were checking so often? Or have reports inadvertently exaggerated how vigilant the parents really were?
A worker at the tapas bar says that only a tall man, believed to be Russell O'Brien, got up from the table during the entire evening. Of course, this witness might be wrong. A busy barman could not have eyes on the McCann party for two and a half hours.
And what of Najova Chekaya, the aerobics teacher running the quiz? She was invited over to the McCann table by Mr McCann himself when the game ended at 9.30. She stayed for half an hour. She later claimed to friends that nobody left the table.
There is another conundrum too. It concerns the sighting by Jane Tanner of the man carrying a child. He was wearing beige trousers and smart black shoes. Her report is taken seriously by police.
Yet a British holidaymaker, Jeremy Wilkins, has given a deposition that does not support her evidence. He knew Mr McCann because he played tennis with him, and was walking his eight-month-old son in the night air when the drama unfolded.
He says that he met Mr McCann, who had come out of his apartment at 9.05pm, and had a word with him. Soon after that Jane Tanner would have crossed paths with Mr Wilkins and his baby.
Mr Wilkins says he saw no man carrying a child or Jane Tanner herself. "It was a very narrow path and I think it would have been almost impossible for anyone to walk by without me noticing," he said.
So today the questions remain. Was Madeleine kidnapped or killed? Or unwatched, did she simply walk out and get lost? How could there be a break in with a jemmy through metal shutters without waking the twins or alerting a passerby?
Someone, somewhere must know the answers.
Maddy was alive when taken; MADELEINE: 100 DAYS OF HELL, 12 August 2007
Maddy was alive when taken
Sunday Mirror
Lori Campbell in Praia da Luz
12 August 2007

MADELEINE: 100 DAYS OF HELL

Missing Madeleine McCann's favourite pink Cuddle Cat toy was taken from her arms as she slept and placed beyond her reach by her kidnapper. That is why police are certain Madeleine was snatched while she was asleep - and was NOT killed or injured in the holiday apartment.
When her mum Kate, 38, tucked Madeleine into bed, the four-year-old was cuddling the toy - but it was later found placed on a ledge that Madeleine could not have reached.
There is also further "concrete evidence" that Madeleine was still ALIVE when she left the holiday apartment. Her kidnapper had a window of just five minutes to strike - from when dad Gerry last checked on the children until family friend Jane Tanner saw a man carrying away a child she is sure was Madeleine wrapped in a blanket. The new revelations rubbish reports in Portuguese newspapers this week that she was murdered or died in an accident inside the villa. And they come as local police Chief Inspector Olegario Sousa ruled Gerry and Kate out of the inquiry - and admitted for the first time Madeleine could be dead.
Now, the Sunday Mirror can give a true picture of what happened when Kate found her daughter missing. We can reveal:
Police have specific evidence from the apartment that she was still alive
Madeleine was kidnapped as the toy she had fallen asleep with was left on a ledge placed too high for a child to reach
There was a window of less than five minutes for a kidnapper to pounce - not enough time to kill her and clean up
Police do not believe blood found in the apartment was Madeleine's as it was not consistent with signs of a struggle
The patio doors were unlocked but the intruder used the window to escape with Madeleine as the shutters were forced up.
We can also reveal that devastated Kate was reduced to tears several times by the aggressive questioning of Portuguese police this week. And yesterday the parents were hit by further cruel claims in Portuguese papers linking them to Madeleine's disappearance on May 3.
But our dramatic information confirms Madeleine was most likely to have been abducted by a stranger who had watched the family's routine for up to four days.
And it shows Portuguese police from the beginning have had firm evidence Madeleine was still alive when she was taken from the ground-floor apartment.
The McCanns were told in a secret meeting with police within days of Madeleine going missing what this evidence is. They have been unable to discuss it publicly in case it jeopardises the investigation - and have even been banned from telling close friends or family.
Kate has refused to say where she found the Cuddle Cat toy when she returned to the villa in Praia da Luz at about 10pm to find her daughter's bed empty.
But she has hinted the bedroom was left in such a way that she knew almost instantly Madeleine had been kidnapped.
Our police source said: "When Kate tucked Madeleine up in bed earlier in the evening, she had toy tightly in her arms as she did every night. So Kate was terrified when she spotted it had been left in a place too high for her to reach. Kate also noticed the window was wide opened and the shutters jammed up. It was because of these things that she had no doubt Madeleine had been kidnapped and she ran out to scream for help."
The Sunday Mirror has been told there was a window of opportunity of less than five minutes from the last time Gerry checked on their child to the reported sighting by family friend Jane of her being carried away by a man. Our source said:
"Although there has been much speculation about a 'lost hour' in which Madeleine could have been taken, it was actually less than five minutes. The kidnapping must have been meticulously planned. Police found no fingerprints or DNA on the Cuddle Cat or in the room, indicating the intruder wore gloves.
There was so little time that whoever took Madeleine must have been watching the family closely for several days so they knew exactly when to strike.
"Kate and Gerry left Madeleine and the twins Sean and Amelie alone every evening of their week-long holiday to eat dinner 50 yards away and followed the same routine of checking on them. The kidnapper would have known this."
The patio doors at the back of the apartment were left unlocked so Kate and Gerry could check on the children easily. But police are unsure if the intruder used them to slip in or if the shutters to the front window were forced open from outside. Our source added: "Whichever way the kidnapper entered, they left by the window because it was left wide open and the shutters were forced up."
Sniffer dogs flown over to Portugal last week by British police were taken into the apartment and found specks of blood missed in an initial search.
The results of DNA tests are expected this week but detectives are convinced it does not belong to Madeleine because if it was fresh, it would have been spotted when they first scoured the apartment.
But that has not stopped the Portuguese media leading a hurtful smear campaign against Kate and Gerry which reached a new low with the suggestion Madeleine was killed inside the apartment and that Kate was somehow involved.
The spiteful rumours forced Kate and Gerry to insist they would not be bullied out of Portugal. But yesterday there were more cruel accusations as they marked 100 days since Madeleine disappeared.
Portuguese newspaper Sol alleged the toddler died in the apartment before her parents went to dinner. It says British sniffer dogs picked up traces of her corpse and signs she was moved.
An "unnamed specialist" told the newspaper: "For the dogs to detect a body, it would have to stay in place where it died for a minimum of two hours."
The report also alleged the McCanns' silver Renault Scenic hire car may have been used to get rid of Madeleine's body.
A McCann spokesman yesterday dismissed the allegations as "complete nonsense".
---
Kate's plea: Please stay with us now Sunday Mirror
(paper edition)
By LORI CAMPBELL
12 August 2007
KATE and Gerry McCann yesterday attended a poignant service of prayers for Madeleine to mark 100 days since she went missing.
The couple, who arrived holding hands for the sombre service at the tiny church in Praia da Luz, both wore the Portuguese colours of hope - yellow and green - and "Look for Madeleine" wristbands.
Scores of wellwishers gathered at the whitewashed Nossa Senhora da Luz church as the McCanns closed one of the most difficult weeks since Madeleine went missing.
Some locals stirred up by Portuguese press reports have begun to criticise their constant presence in the resort and a car parked opposite the church had a message in the window saying "Circus go home".
During the hour-long service, Kate thanked local people for their support and asked them to stay with her and her husband as they continued their "journey of hope" for their "precious" daughter.
The service - themed as "100 Days of Hope" - included prayers for Madeleine and other missing children as well as short addresses by both the McCanns.
Her voice breaking with emotion and still clutching Madeleine's favourite Cuddle Cat toy, Kate McCann said: "I would like to welcome you all here today to join us in some special prayers for Madeleine and all children who suffer around the world at this moment.
"As you are aware, it is 100 days now since our little girl was taken from us. Every day feels so hard without Madeleine. I could talk all day about how wonderful, how precious Madeleine is, but suffice to say we all miss her so much and our lives aren't complete without Madeleine.
"Please stay with us as we continue our journey of hope and please keep Madeleine in your thoughts and prayers."
Her husband struggled to hold back tears as he thanked the local community for its "overwhelming support". He said: "We have not given up hope that we will be reunited with her. We will not stop looking for her until she is found." Many families with youngsters attended the service, which was drawn up with children in mind and included the hymn Away In A Manger. Members of the congregation lit candles and placed them on the altar.
In the McCanns's hometown of Rothley, Leicestershire, relatives and friends marked yesterday's grim milestone with a quiet vigil at the local Catholic church.
Meanwhile, Madeleine's grandmother Eileen McCann said rumours of her daughter's involvement in her disappearance were "obscene". She said anyone who knew the couple would be horrified. "The idea of Kate or Gerry being involved is ridiculous," she said. "They love those children more than they love themselves."
Stars from the worlds of rugby, football and horse racing yesterday urged people at major sporting events around the UK to continue looking for Madeleine.
In one of many shows of solidarity, Robbie Keane led out the entire Spurs team wearing Madeleine t-shirts for their game at Sunderland.
---
VOICE OF THE SUNDAY MIRROR Sunday Mirror
(paper edition)
A criminal way to treat McCanns
TO have a beloved child snatched away is just about the worst thing it is possible to imagine happening to parents.
But in the run-up to the 100-day milestone since their daughter Madeleine disappeared, Kate and Gerry McCann have suffered even more than that. They have been subjected to a vile campaign by the Portuguese media, which has insinuated that they could have been responsible.
Today the Sunday Mirror reveals evidence which the police had from the very earliest days of the hunt for Madeleine which proves beyond doubt that she was abducted and not killed in her bedroom.
It includes her Cuddle Cat being placed on a shelf which only an adult could reach and a man seen carrying a child in a blanket away from the McCanns' holiday apartment.
It is impossible to escape the conclusion that the disgraceful media campaign against parents already suffering agonies was inspired by the Portuguese police. And that they did it to create a smokescreen to obscure their hopelessly inadequate performance in tracking down the kidnapper.
The Sunday Mirror has also discovered that Kate was reduced to tears by aggressive police questioning. That confirms how little compassion and understanding the Portuguese force has.
The McCanns deserve support and respect, not to be treated as criminals and smeared to cover up police inadequacies.
We must continue to pray for them and hope that Madeleine will return to make their family complete again.
MADDIE COPS: We're looking for her body, 12 August 2007
MADDIE COPS: We're looking for her body News of the World (no longer available online)
Exclusive: New clues on 100th day of search
By Ross Hall
Sunday August 12, 2007
POLICE hunting for Madeleine McCann last night admitted she could be dead as the News of the World uncovered a vital new clue that proves a kidnapper WAS in her room.
A hundred days after the four-year-old's disappearance a detective leading the investigation claimed there was now an "intensity" to the possibility that she had been killed.
Chief Inspector Olegario Sousa admitted new searches using British sniffer dogs could point to Madeleine's death. But we can reveal that:
CUDDLE CAT—the toy Maddie's mum Kate carried yesterday to a church service on the 100-day anniversary of her daughter's disappearance—is a key clue in the hunt.
THERE was NO "missing hour" in which Madeleine went unchecked as she slept with her twin brother and sister while Kate and dad Gerry ate with friends at a nearby restaurant.
MADDIE was NOT killed in the room—despite the presence of blood specks on the walls now being tested.
High
A source close to the investigation last night told us Maddie's toy cat was found HIGH UP in the bedroom—well out of reach of the youngster who went to sleep cuddling it.
Police believe the kidnapper put it there because it would have been used to help identify Madeleine when appeals to find her were launched.
Our source said: "A lot of people have always asked how Kate was so sure so quickly Madeleine had been snatched.
"It's because when she put her down to sleep her favourite toy was tucked up with her. When Kate found Madeleine missing the next thing she noticed was Cuddle Cat had been put high up out of the way—obviously by an adult."
Unreleased evidence also proves Madeleine was checked REGULARLY during the crucial hour between 9pm and 10pm—and that she was taken in a 'kidnap window' of under 10 minutes when a "RUNNING MAN" was spotted dashing from the apartment.
Dad Gerry checked on the children at 9pm and passed pal Jane Tanner—on her way to check her own children—as he returned to the restaurant. She returned before 9.25pm after seeing a man running with a child. Ten minutes later a male pal at dinner walked up to the McCanns apartment and listened at the door. Believing the children were asleep he returned to the table. It was only 20 minutes before Kate found Maddie gone.
Our source said: "When we're talking less than 10 minutes to grab a child, without leaving evidence, it is not just chance their parents were out. It proves whoever took her had watched the family for days."
A family friend said Jane Tanner (pictured left) was "devastated" she could have witnessed the abduction and did not stop it. It also emerged police do not think the blood found is Maddie's— because the pattern does not indicate a struggle. Our source said: "Police have concrete evidence she was alive when she was taken."
Yesterday the McCanns—whose continued presence in Portugal was criticised by some locals— were close to tears as they prayed at the anniversary service in a packed church at Praia da Luz.
Kate asked people to support their "journey of hope" for Maddie.
THIS is the 10-minute kidnap window in the crucial so-called "missing hour" when police believe Maddie's kidnapper struck.
9.10PM: After checking on the children, Gerry McCann heads back to the restaurant. He now passes his friend Jane Tanner as she walks to her own apartment near the McCanns' to check on her children who had been feeling ill during the day.
9.20PM: Jane is now returning to the restaurant after spending a few minutes with the children. She sees a man running with a child. At that time she has no reason to think it could be anything sinister.
BY SARA PAYNE
Few can imagine the pain that Gerry and Kate are going through. I know. I've been there. The guilt, the anguish, the wondering - the indescribable hurting that never goes away.
Yet, this couple are now also having to face a public and humiliating mauling by the Portuguese press and elsewhere.
Victims of a disgraceful smear campaign. Persecuted and bullied for doing what any loving parent would do in their dreadful situation – continuing the search for their missing daughter.
Three months on, I hear hostile questions being asked, insinuations levelled and the finger of blame pointed.
I'm shocked and appalled but most of all I am ashamed.
The McCanns are victims too. Their only crime was to make the wrong decision. A decision with dire consequences that nobody could have foreseen.
I often ask myself, were we wrong to let our daughter Sarah go out to play? Possibly, but as parents we made a decision that at the time seemed right. A decision I have to live with for the rest of my life.
Now is not the time for accusations and criticism.
Madeleine is out there somewhere. Her family desperately need her back.
Until that day happens, I beg you from the bottom of my heart to continue your support for them.
The Clue That Gives Kate Hope, 13 August 2007
The Clue That Gives Kate Hope Daily Express (no longer available online)
Monday August 13, 2007
NEW evidence emerged yesterday to support Kate and Gerry McCann's theory that Madeleine was abducted and not killed in her room, as suggested by Portuguese police.
Her Cuddle Cat – her favourite comfort toy – was taken while she slept and placed on a shelf in the room, which only an adult would have been able to reach.
Madeleine's mother, Kate McCann, has regularly been photographed clutching the soft pink toy since her four-year-old daughter disappeared.
Mrs McCann has refused to say publicly where she found the toy when she returned to the villa in Praia da Luz at 10pm on May 3 to find her daughter's bed empty.
However, she has indicated that the room was left in such a way that she knew almost instantly that Madeleine had been abducted.
A police source said yesterday: "When Kate tucked Madeleine up in bed earlier in the evening, she had the toy tightly in her arms, as she did every night.
"So Kate was terrified when she spotted it had been left in a place too high for her to reach."
Police have found no fingerprints or DNA on the stuffed toy, which suggests that the intruder wore gloves.
The toy has helped Mrs McCann feel close to her missing daughter, though she recently revealed that she can no longer smell her daughter's scent on it.
In an interview with Woman's Own magazine, Mrs McCann said of the Cuddle Cat: "
In a way I wish they'd taken this with her. It would be a comfort to know Madeleine had something she loved, wherever she is.
"
James Gorrod, Daily Express 14 August 2007
Madeleine: New British 'Suspect' Insists He's Innocent Daily Express (Express Group have removed all online links)
Tuesday August 14, 2007
David Pilditch
A BRITON told yesterday how he became caught up in the investigation into missing Madeleine McCann after suspicious staff at a hire car firm tipped off police.
Lawyer James Gorrod, 34, rented a blue Opel Corsa in Portugal five days before the four-year-old vanished.

Staff at rental firm Sixt, based at Faro airport, raised the alarm when he returned the vehicle on May 6 – because it was fitted with a child seat and they believed he was travelling alone.

Mr Gorrod was later contacted by British police after it was discovered he had close links with friends who had been on holiday with Madeleine's parents, Kate and Gerry.

In a statement, Mr Gorrod said last night: "A British police officer directly liaising with the Portuguese investigation team recently contacted me to eliminate the vehicle I hired for a holiday with my wife and two-year-son in Praia da Luz at the time Madeleine McCann disappeared.

"The ­vehicle has been identified and I have been told by the British police officer that he has no plans to interview me or my family, and he does not expect me or my family to have any further involvement in the investigation. We are, of course, deeply saddened by Madeleine's disappearance and hope for her safe return."

Mr Gorrod's wife, Charlotte, yesterday said it was "absolutely ridiculous" to suggest the couple were in any way linked to Madeleine's ­disappearance.

She said: "Horrible things have been said about us and our friends but none of them are true.''

The Gorrods live in Exeter, Devon, just two minutes from their friends, hospital consultant Dr Russell O'Brien and Jane Tanner, who are both key witnesses in the investigation.

The two couples met up during their week-long holiday in Portugal and it is believed Mr Gorrod and his family were staying at the same resort in Praia da Luz as the McCanns and their seven friends.

Coincidentally, chief suspect Robert Murat, 33, was in Exeter for 10 days shortly before Madeleine vanished on May 3.

The British expat arrived back in the Algarve just 48 hours earlier on May 1. He has since been questioned several times by police but has always protested his innocence.

Mr Gorrod, his wife, and their two-year-old son William flew out to Portugal on April 28 – the same day as the McCanns and their friends began their ill-fated holiday.

Police were alerted after Mr Gorrod returned the car eight days later. The vehicle was never examined by Portuguese police and was leased out five more times.

Three months into the investigation British police carried out a major review of the case and car hire bosses were ordered to take it off the road last Monday.

The vehicle was traced to Lisbon and has now been placed in a compound awaiting examination.

Yesterday Mrs Gorrod, 32, said how hurtful speculation about the couple's involvement in the case had been.

She said: "This is all absolutely ridiculous. We know Dr O'Brien and Jane Tanner because we both have children of about the same age and we were staying in the same resort. At the time, the Portuguese police asked the O'Briens if they knew anybody who had access to a car and they gave our names.

"We were happy to talk to the police but they did not approach us.

"We know what is being said now and it is ridiculous. The car has been checked out and there is no problem. It is surprising it has come up now and very upsetting for me because I have just come out of hospital after giving birth to my second child.

"We have been told that the family and friends of the McCanns are not under suspicion. My husband has spoken to the police and given them all the details of the car. We just want to help really and we could do without all this hassle.
"My husband was on holiday with myself and our son who is aged two. And that is why we needed a baby seat. It was our last chance to have a holiday before I got too pregnant to fly."

Dr O'Brien, 36, has told police he saw Murat outside the McCanns' apartment around the time of the abduction.

He was among three members of the McCanns' party who insist they saw Murat close to the apartment that night.

Miss Tanner claims she saw a man rushing away from the complex with a child wrapped in a blanket at around 9.10pm, 50 minutes before the alarm was raised.

Portuguese police were last night still awaiting the results of DNA tests being carried out in Britain on specks of blood found in the McCanns' holiday apartment.

Yesterday, the respected Portuguese newspaper Diario de Noticias reported that British sniffer dogs had carried out searches along the coastline close to Praia da Luz.

The newspaper claims police are working on the theory that Madeleine's body was thrown into the sea.

It is possible her corpse was placed in a rubbish bag weighed down by rocks.

It is also claimed that police believe Madeleine died in the family's holiday apartment – either by accident or murder.

But, despite the speculation, the McCanns insist they will carry on believing Madeleine is alive until they are shown evidence to the contrary.
Madeleine McCann's anguished parents on their way back home, 19 August 2007
Madeleine McCann's anguished parents on their way back home News of the World (no longer available online)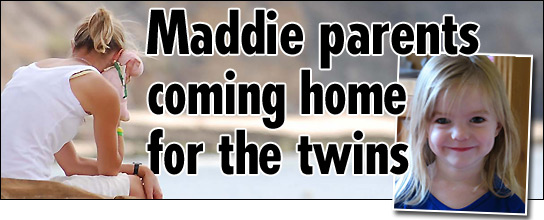 By Ross Hall
Sunday August 19, 2007
MISSING tot Madeleine McCann's anguished parents are finally about to make the heartbreaking move home.
With still no clues to the four-year-old's disappearance 108 days ago, Kate and Gerry McCann have decided to return to Britain — for the sake of their two-year-old twins.
For more than three months they have stayed in Praia da Luz, the resort where Maddie was snatched from their holiday apartment, driving on the desperate hunt for her.
Dad Gerry has always said it would be easier to run things from the UK. But distraught mum Kate stood firm, saying she felt close to her lost daughter in Portugal.
Now friends say the couple are making arrangements to tear themselves away — and return home to Rothley, Leicestershire, next month.
The family are renting a villa close to where Madeleine was taken. But its lease runs out in mid-September.
They have been reluctant to use any of the £1 million donated to the Find Madeleine fund and have had to use their savings to pay rent and mortgage.
Shattered Kate, 39, has told close pals she fears she will never be able to return to her work as a GP.
And with Gerry on unpaid leave from his post as a heart consultant, they are finding it hard to cope financially.
A family friend said: "Gerry and Kate are coming to terms with the fact they can't keep twins Sean and Amelie here forever. It seems like the right time to go.
"They are slowly realising going home doesn't mean they're giving up on Maddie."
Earlier this week Kate said: "We know we'll be going back and I guess one day we'll wake up and it will be right. We never thought we'd go before Madeleine came back."
The family's decision comes after Portuguese police admitted they have no idea what happened on the night Maddie disappeared.
Meanwhile, Code Madeleine, our ground-breaking initiative to find children abducted on holiday, continues to win worldwide approval.
The six-point plan ensures rapid action in the vital first hours after a child disappears. It is backed by British travel industry chiefs — and now top timeshare firms have adopted it, too.
'We've let Madeleine down', Daily Express 23 August 2007
'We've let Madeleine down' Daily Express (Express Group have removed all online links)
Thursday August 23,2007
By Martin Evans in Praia de Luz
THE agonising moment when Madeleine McCann's parents realised she was missing was revealed last night by a fresh witness.
Detectives were told Kate McCann cried hysterically after discovering that her daughter had vanished.
She sobbed "We've let her down, we've let her down" as she and her husband Gerry frantically searched for the little girl. The extraordinary details of the panic and confusion were given by a neighbour of the McCanns at the apartment block in Praia da Luz from where four-year-old Madeleine went missing 112 days ago.
Expatriate Pamela Fenn, 81, who lives in the flat above where the McCanns were staying, was re-interviewed by detectives on Monday after it emerged that she might have fresh clues.
Widow Mrs Fenn told police that two nights before Madeleine went missing she heard a little girl in the apartment crying for over an hour.
She heard the woman who she now knows to be Kate crying 'We have let her down, we have let her down'
She said the toddler, who is believed to have been Madeleine, was crying "Daddy, daddy" constantly between 10.30 and 11.45pm.
The crying had stopped when the parents returned to the apartment.
On the night Madeleine disappeared, Mrs Fenn also heard a child crying, but it was when Kate returned from a nearby restaurant to check on her daughter that she was first aware something was wrong.
A source close to Mrs Fenn said: "She often sits on the balcony at night and heard a commotion downstairs.
"She heard the woman who she now knows to be Kate crying 'We have let her down, we have let her down'."
The source added: "She did not understand what was meant by this, but she asked if they wanted her to call the police. She was told it had already been done."
Madeleine McCann's parents may sue TV star, 24 August 2007
Madeleine McCann's parents may sue TV star
Telegraph
(online article now removed)
By Richard Edwards in Praia da Luz
Last Updated: 3:13am BST 24/08/2007
The parents of Madeleine McCann are considering taking legal action over a tide of slurs in the Portuguese media.
Kate and Gerry McCann are said to be considering suing one of Portugal's most famous TV reporters, Sandra Felgueiras, in a further sign of the couple's growing frustration over some of the coverage of their daughter's disappearance.
The couple are understood to be upset by remarks made by the 30-year-old presenter, who works for station RTP, about Kate McCann in one live broadcast.
The development comes as Mr McCann prepares to talk for the first time about how becoming "household names" has taken its toll on his family since the ordeal of losing his daughter.
Speaking at the Edinburgh International Television Festival tomorrow, he is expected to discuss how launching such a wide public appeal to find the four-year-old has been a "double-edged sword".
The worldwide campaign, now in its 16th week, has failed to achieve a breakthrough, and the spotlight has turned on the parents, who have been increasingly upset by the "aggressive and intrusive" Portuguese paparrazi.
A friend of the couple said they are considering taking libel action against Miss Felgueiras under Portuguese human rights laws protecting the right to a "good name".
The friend said: "This is about trying to stop lurid accusations being aired".
It is unclear how the McCanns first became aware of the live broadcast, in Portuguese, but they are said to want transcripts of coverage a fortnight ago.
Miss Felgueiras last night denied any wrongdoing.
She said: "I never said that and I never insinuated anything like that. I never in my life put anyone under suspicion but just told viewers that police are investigating the possibility that Madeleine has died and that it is murder or an accident.
"I'm absolutely sure that everything I said was only what the police were telling us concerning this new lead of the investigation.
"If the McCanns presume that this is an accusation against them, then that is their assumption, not mine. My conscience is completely clear."
A friend of the reporter added: "It is the Portuguese newspapers that have been outrageous, If they are going to sue anybody it should be them."
Mr McCann also hit back yesterday at police claims that their main theory is that his daughter was killed inside her apartment, possibly in an accident.
He said that nothing has changed his belief that the four-year-old was abducted on the night she disappeared.
"I am not even close, I am a million miles away, from changing my mind about what happened that night," he said.
McCanns furious with reports they killed Madeleine with sedatives, 25 August 2007
McCanns are furious after reports they killed Madeleine with sedatives Daily Mail
By Sam Greenhill
Last updated at 17:15pm on 25th August 2007
The family of Madeleine McCann were furious after a Portuguese newspaper claimed on its front page that police think she was killed by her parents.
The missing girl's normally mild-mannered father Gerry could barely contain his anger at the smear, which accused him and his wife Kate of accidentally killing their daughter with an overdose of sedatives.
He also hit out at anonymous police sources behind the whispering campaign being waged against the couple, signalling that their relations with detectives have sunk to a new low.
In a wide-ranging interview with British newspapers including the Daily Mail, Mr McCann also said he is considering going back to his job as a consultant cardiologist but his wife could not yet face returning to her GP work.
The couple, from Rothley, Leicestershire, do not rule out having another child but Mr McCann said they had not considered doing so and stressed that nothing could replace Madeleine.
It is 114 days since she vanished from her bed in the McCanns' holiday apartment in Praia da Luz while her parents ate tapas with friends in a nearby restaurant.
The McCanns, both 39, have remained in the Algarve with their two- year-old twins Sean and Amelie, clinging to the hope that Madeleine will be found alive.
But in the past three weeks there has been a noticeable shift in the police investigation, with detectives saying they think Madeleine is probably dead. It has led to a tide of wild speculation in the Portuguese media about her fate, and the McCanns have had to endure innuendo implying that they or their friends were somehow involved in her disappearance.
Yesterday, Portuguese newspaper Tal & Qual went one astonishing step further. The weekly tabloid ran a front page picture of Mr and Mrs McCann alongside the headline: "Police believe parents killed Maddie".
Inside, the paper alleged Madeleine died as a result of an overdose of sedatives given to help her sleep. The McCanns, both doctors, have consistently denied giving their children any such medication.
Tal & Qual - which translates as "The way it is" - claimed Portuguese detectives "are almost absolutely certain that Madeleine was killed by accident by her parents".
The paper attributed its scoop to an anonymous source close to the investigation and even went on to speculate about the sort of prison sentences someone might get for the crimes of homicide by negligence, and hiding a body.
After learning of the story, Mr McCann was initially speechless, then said: "It's incredibly hurtful and incredibly untrue.
"Even if somebody could think that, there is just absolutely no evidence pointing in that direction.
"Without anything else, what that implies is that we somehow did it, we did it together, managed to dispose of Madeleine without a car, without anything, that the whole group was involved, that there must have been other people involved ... It is just so absurd, it is just not credible.
"But we will come through it. We will not stop and it will move on. My opinion of what has happened has not changed in 16 weeks.
"We know our facts, we know what we did. It does not bear any resemblance to this wild speculation."
Mr McCann made a blistering attack on anonymous police sources who have been feeding allegations to the Portuguese press, apparently in breach of the country's strict "secrecy of justice" laws preventing details of investigations being aired publicly.
He said: "I am disappointed that so much information is in the public domain in a country that supposedly has judicial secrecy.
"There have been whispers. There's either judicial secrecy or there's not.
"I would be perfectly happy if they said, 'Right, there is going to be nothing coming out anywhere', but that hasn't happened.
"You can't have it both ways. For Kate and I, it's an ongoing trauma and that in itself is incredibly hard.
"The wild speculation we have seen recently is detrimental. Ultimately there is an innocent four-year-old girl missing here. Some people do forget that is what this is about."
Until now, the McCanns have voiced strong support for the investigation, despite private concerns, but have been dismayed at the new direction the police investigation is taking.
The couple have several reasons for believing Madeleine was abducted, including that her favourite Cuddle Cat toy was placed by someone on a high ledge out of her reach and that one of their friends saw a man walking away from the apartment with what looked like a child in his arms.
Tal & Qual stood by its story.
The journalist who wrote it, Catarina Vaz Guerreiro, said: "I can't reveal my source but I have complete trust in them. I strongly believe the person that told us this information is telling us the truth."
But Portuguese media commentators said Tal & Qual was a "very bad sensational tabloid" not known for having good police sources.
The story was also dismissed by Portuguese police, who said it had "no authority".
Today, Mr McCann is due to be a guest speaker at the Edinburgh International Television Festival.
Detectives' hunt for Madeleine was 'illegal', 25 August 2007
Detectives' hunt for Madeleine was 'illegal' Timesonline
Portuguese press claims scent of corpse found on McCanns' hire car keys, 27 August 2007
Madeleine: Now Portuguese press claims scent of corpse was found on McCann's keys Daily Mail
Last updated at 00:42am on 27th August 2007
The parents of Madeleine McCann faced further lurid claims from the Portuguese media with accusations that the scent of a corpse has been discovered on the key of a car they hired weeks after their daughter's disappearance.
A daily newspaper alleged a specialist sniffer dog brought in by British police to aid the Policia Judiciaria detected traces of a body on the key to the Renault Scenic hired by Kate and Gerry McCann five weeks after Madeleine, four, was abducted from their holiday apartment in the resort of Praia da Luz.
In a story on page seven, Jornal de Noticias carried the headline: "Dogs detected scent of a corpse on the car key of Madeleine's parents."
The following sub-headline read: "Policia Judiciaira suspects transportation of a corpse."
The article - which is not attributed to anyone, not even unnamed police sources - added: "English dogs helping the Policia Judiciaria in the investigation of the McCann case detected a strong scent of a corpse on the key of the McCann couple.
"The animals also detected a sample of blood in the boot of the Renault Scenic which was examined along with other cars belonging to the McCanns' friends."
The paper went on to claim that the person who hired the car the McCanns is also being investigated before speculating that the corpse scent on the key could have come from contimination with another item which had been in contact with a dead body.
It also reported that another British police dog scented blood in the car's boot, which 'precisely indicates that a corpse could have been in that boot'.
In a further sign that the Portuguese media are not letting up in their attacks on the McCanns, Diario de Noticias carried an article by a former director of the Policia Judiciaria, Francisco Moita Flores, alleging that British police have been 'manipulating' the Portuguese investigation and that there had been political and diplomatic interference from the UK authorities to protect the McCanns.
The latest outragous claims in Portugal come after Mr McCann was forced to respond to claims that he and his wife accidentally killed Madeleine with an overdose of sedatives.
A spokeswoman for the couple said last night: "This is just another example of the wild, unfounded speculation in the media which Kate and Gerry find very unhelpful."
Police spokesman Olegario Sousa was unavailable to comment on the latest allegations.
Meanwhile, Mr and Mrs McCann are becoming increasingly frustrated at the way the Find Madeleine Fund is being administered.
During their 16-week stay in Portugal, the couple have been paying much of the cost of maintaining awareness of their missing daughter from their own pockets, with cash from the £1million fund being released to them on a piecemeal basis.
A friend of the family said: 'They're remarkably patient and know people are trying to protect their interests but it's very different when you're in Portugal from when you're in the UK.
"The people operating the fund clearly think they have to protect the fund because they don't know how long it's going to last but Gerry thinks now is the time to be spending money because this is the time when it's going to be most effective."
Although the fund is mostly run by friends and family of the couple, they are keeping a tight rein on how the money is spent and have released just £70,000 from the £1,005,000 donated.
This has gone towards setting up a Find Madeleine website, producing wristbands, posters and T-shirts bearing the 'Look for Madeleine' motto, the cost of a campaign manager as well as legal fees.
They are finding it increasingly difficult to cover the cost of staying in Portugal while paying the mortgage and bills on their home in Rothley, Leics, while effectively being out of work. This is thought to have prompted Mr McCann to declare last week that he will soon be returning to work.
The fund, which was set up with four specific objectives - one of which is to 'provide support, including financial assistance, to Madeleine's family' - has been established as a limited company rather than a registered charity because it does not have any public benefit. It is run by six directors.
Former GMTV presenter Esther McVey, who runs her own PR consultancy and is the Conservative prospective parliamentary candidate for Wirral West, is among the directors as is Mr McCann's brother, 48-year-old pharmaceutical sales rep John McCann, and Mrs McCann's uncle Brian Kennedy, 68, a retired headteacher.
Retired hospital consultant Peter Hubner, 64, hospital director Douglas Skehan, 54, and former Leicestershire coroner Philip Tomlinson, 76, are the other directors of the fund, set up within two weeks of Madeleine's disappearance on May 3.
Ms McVey said: "The McCanns very much know and are aware of how the money had come together. They know it's from pensioners and kids in schools and they want it spent as carefully as possible. Because we're a not-for-profit limited company they are very much aware that we abide by the best practice charity laws."
Madeleine: New slurs over 'corpse', 27 August 2007
Madeleine: New slurs over 'corpse' Daily Express (online link no longer available)
By Martin Evans in Praia da Luz
Monday August 27,2007
THE campaign of slurs against Kate and Gerry McCann continued last night after it was claimed the scent of a corpse had been detected on their car keys.
The allegations, in a Portuguese newspaper, are the latest in a long line of lurid and hurtful stories hinting that the couple were somehow to blame for their daughter's disappearance.
According to the Diario de Noticias publication, highly trained sniffer dogs, used by a team of British detectives working in Portugal, found a strong scent of a corpse on the keys to the couple's hire car.
The paper also claimed the dogs had detected a sample of blood in the boot of the silver Renault Scenic, which was one of 10 vehicles closely examined by detectives.
However the car was not hired by the couple until five weeks after Madeleine went missing, exploding the theory that it could have been used to move her body.
According to Portuguese sources, detectives have been looking at the possibility that the car keys were contaminated after coming into contact with something else which had been in close proximity to a corpse.
But another source suggested the police were interested in speaking to the person who hired the vehicle before the McCanns.
A friend of the McCanns said last night that the allegations were "beyond ludicrous".
The friend said: "To say this sort of thing is just intended to cause pain to people, whose only interest is finding their daughter. It is nasty, vindictive and beyond ludicrous."
The McCanns' car was one of 10, which were stripped and examined by detectives as part of a fresh round of searches carried out three weeks ago.
Officers spent days examining the cars, which belonged to various people, including the McCanns' group of friends and expat Robert Murat, still the only official suspect in the case.
While Portugal's strict secrecy laws mean the police cannot confirm any of their findings, it has been reported that six crucial pieces of evidence were uncovered in the search. These were sent for analysis at Europe's most sophisticated forensic laboratory in Birmingham, along with two tiny specks of blood, found in the McCanns' apartment.
Detectives in Portugal are still waiting for the results of those tests to be released.
But it is believed they could provide the vital breakthrough needed by police.
As the hunt for Madeleine enters its 116th day, the campaign against the McCanns continues to gather pace on the Algarve. Last week the Daily Express revealed how one newspaper had directly accused Kate and Gerry of killing their four-year-old daughter, who went missing from the family's holiday apartment in Praia da Luz on May 3.
Tal & Qual alleged that the police were now convinced that the couple, both doctors, had accidentally killed the youngster by giving her an overdose of sedatives to help her sleep.
The paper, regarded as one of Portugal's least reputable, said police had arrived at this theory because the couple's two-year-old twins, Sean and Amelie, failed to wake up in the chaos that followed the discovery of Madeleine's disappearance.
Gerry, 39, reacted with incredulity and horror to the allegations.
He said: "It is just so absurd, it is just not credible. It's incredibly hurtful and incredibly untrue. It comes down to, is it papers writing that or is it actually rumours which have been said?
"Without anything else, what that implies is that we somehow did it, we did it together, managed to dispose of Madeleine without a car, without anything, the whole group was involved, there must have been other people involved.
"Even if somebody could think that, there is just absolutely no evidence pointing in that direction."
Last week the couple threatened to sue Portuguese TV reporter Sandra Felgueiras after it was alleged she had accused Kate of involvement in her daughter's death.
But despite the vicious nature of the rumours, the McCanns have remained dignified throughout. The couple from Rothley, Leics, refused to allow the allegations to deflect them from their focus on finding their daughter.
McCanns rocked by stream of vicious smears, 29 August 2007
McCanns rocked by stream of vicious smears Daily Express (no online link)
By Padraic Flanagan in Praia da Luz
Tuesday August 28, 2007
KATE and Gerry McCann are the subjects of a vile whispering campaign, which has led to them suffering a daily torrent of smears.

As they still try to come to terms with the loss of four-year-old Madeleine they continually face new accusations, including that they were responsible for her death.

And despite the couple's swift, strenuous and increasingly exasperated denials to every one of the allegations, they have failed to dampen the appetite of the Portuguese media for new smears. The lies include:

Kate's guilt
Portuguese TV reporter Sandra Felguiras is said to have implied during one live broadcast recently that Mrs McCann could have murdered her daughter. A source close to the couple's family described the comments as "outrageous".

Drugging their children
The McCanns, both doctors, have been accused of "drugging" their children to make them sleep so they could go out. The claim came from unnamed police sources who doubted Madeleine's two-year-old twin brother and sister could have slept through her abduction. Last week magazine Tal&Qual suggested they accidentally killed her with an overdose. The couple say they have never used sedatives on their children and never would.

Wife-swapping holidays
A retired detective claimed, without foundation on a TV programme, that Kate and Gerry were "swingers" who enjoyed wife-swapping with the friends who were their dinner party companions. Despite a lack of evidence, the claim was picked up by local newspapers.

Excessive drinking
Rumours that the couple and their friends were drunk when they should have been looking after their children began among holidaymakers in Praia da Luz and were picked up by local journalists. The McCanns deny they drank on May 3, when Madeleine went missing.

Children left to cry
Neighbours at the Ocean Club are said to have told of the McCanns leaving their children while they went out to enjoy themselves, including once in a town 15 minutes' drive away. Kate and Gerry insist they ate every night at a restaurant less than a minute from the flat.

Killed in the apartment
Various newspapers and television stations have discounted the abduction theory, and claim Madeleine died in the apartment, through the negligence of her parents or murder. Journalists who made the claim cannot explain why detectives might think this.

A body in the hire car
Other newspapers have reported the existence of forensic evidence that Madeleine's body had been in the family's rental car. This claim re-emerged at the weekend with reports that the scent of a corpse had been discovered by a sniffer dog on the hire car's key. The couple rented the car five weeks after their daughter disappeared.

Emergency call delay
Portuguese newspaper Diario de Noticias cited an unnamed holiday resort worker who falsely claimed the McCanns opted to contact the media and a priest before police. The McCanns issued a denial to a baseless story.

Intercepted phone calls and emails
Diario de Noticias also said police had "intercepted" communications between the McCanns and their friends which were said to provide "decisive proof" that Madeleine was not kidnapped. The McCanns handed police all their phone and computer records soon after the crime.

Friends under suspicion
The newspaper 24 Horas claimed members of the holiday party were "under surveillance" in Britain as part of the investigation. This is strenuously denied by British and Portuguese police.

Forged birth certificate
Local media has even claimed Gerry was not Madeleine's real father and had used his position as a doctor to alter details on her birth certificate illegally. This is said to have caused the couple particular hurt because all three of their children were conceived by IVF
'Syringe found in Madeleine's apartment', 30 August 2007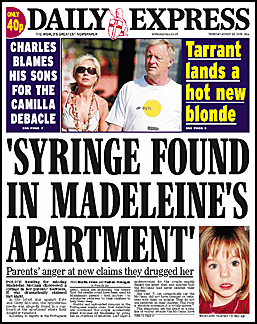 'Syringe found in Madeleine's apartment' Daily Express (No online link)
Parents' anger at new claims they drugged her
By Martin Evans and Padraic Flanagan in Praia da Luz
Thursday August 30, 2007
POLICE hunting for missing Madeleine McCann discovered a syringe in her parents' bedroom, it was dramatically claimed last night.
In the latest slur against Kate and Gerry McCann, the hypodermic needle was allegedly found in a cupboard at the apartment where their daughter vanished.
According to reports in the Portuguese press, police are examining the theory that the needle could have been used by Madeleine's parents – both doctors – to administer sedatives to their children to help them sleep.
Hurtful and unfounded rumours in the Portuguese media claim that detectives are convinced the couple accidentally killed four-year-old Madeleine by giving her an overdose of sedatives.
Last night a spokeswoman for the couple angrily denied the latest slurs and insisted that the McCanns had never sedated their children.
She said: "I can categorically say the McCanns did not have syringes or sedatives with them on holiday. They do not use sedatives on their children. This story is absolute nonsense, it is totally untrue."
The allegations are the latest in a long line of vicious attacks the McCanns have been forced to endure while desperately waiting for news of their daughter.
But there has been a significant shift in the tone of the attacks in recent days, with a number of Portuguese papers now accusing the McCanns outright of killing their daughter.
The respected Correio da Manha paper wrote yesterday: "Madeleine's parents kept a tranquiliser kit in the cupboard of the Ocean Club bedroom."
The paper went on to claim that weight was being given to the theory of an accidental overdose because the McCanns' other children, two-year-old twins Sean and Amelie, had not woken up on the night Madeleine vanished 119 days ago, despite the noise and confusion around them.
The paper also quoted Gerry McCann insisting that the twins were very sound sleepers and tired after an exhausting day playing in the pool.
The allegations were attributed to a source close to the investigation, but Portuguese police last night refused to comment.
The police, who are not allowed to speak about the investigation because of Portugal's strict secrecy laws, have always maintained that the McCanns are not and never have been suspects.
The allegations also clash with evidence provided by British ex-pat Pamela Fenn, who lives in the apartment above the one from which Madeleine disappeared.
Mrs Fenn, 81, told the police that two nights before the incident she heard a little girl loudly crying, "Daddy, daddy" in the apartment.
She said the crying had lasted for some time, but stopped when the McCanns returned to the apartment after dinner.
This would suggest the children were not being regularly sedated and were, in fact, wide awake after being put to bed.
Gerry and Kate, both 39, have always borne the attacks with dignity and good grace, but last week in an interview with British journalists Gerry finally snapped and responded to the accusations.
He said: "It is just so absurd, it is just not credible. It's incredibly hurtful and incredibly untrue."
"Even if somebody could think that, there is absolutely no evidence pointing in that direction."
Gerry also stormed out of a television interview after a Spanish reporter questioned him about claims that blood had been found in their apartment.
The outbursts are being seen as a sign of his growing frustration with the lack of progress in the investigation and his determination to protect his family from vindictive slurs.
Meanwhile, detectives continue to await the results of forensic tests being carried out on a number of pieces of evidence discovered in and around Praia da Luz.
It is believed that the DNA tests could provide a crucial breakthrough.
Portuguese police have a team of officers on stand-by ready to move in on a suspect as soon as the tests are confirmed.
Madeleine's Parents To Sue Paper For Libel, 31 August 2007
McCanns Sue Over 'Hurtful' Allegations
Aug 31, 2007
Transcript of statement read by Justine McGuinness:
By Nigel Moore
Justine McGuinness: 'The legal action follows the publication on the 24th of August 2007 of a front page story that we found deeply hurtful and believe to be completely untrue. The paper claimed we killed our lovely daughter Madeleine. This is without evidence or truth.'
(00:02:20)
Madeleine's Parents To Sue Paper For Libel Sky News
Updated: 16:03, Friday August 31, 2007
The parents of missing Madeleine McCann have confirmed they are suing a Portuguese newspaper that claimed they killed their daughter.

Lawyers for Gerry and Kate McCann have filed a libel suit against the Tal & Qual, claiming the article was defamatory, completely untrue and caused the couple suffering.

A statement said: "Kate and I have been deeply hurt by the report in Tal & Qual.

"We firmly believe that the report was speculative, defamatory and published despite official statements to the contrary, which is why we have instructed lawyers.

"We hope that this action will encourage responsible reporting in the future."

Last week the Tal & Qual paper carried a front-page headline that said "The police believe the parents killed Maddie".

It reported that the Policia Judiciaria thought Kate and Gerry McCann caused Madeleine's death, either in an accident or with a fatal dose of a drug.

Chief Inspector Olegario Sousa, the investigating officer, told Sky News: "We have said several times and I will reaffirm the McCanns are not suspects.

"They are victims and witnesses. I don't know where the paper got this information. It's not true.

"Newspapers always quote police sources. I have been quoted before when I have not said anything."

Four-year-old Madeleine was snatched from her bed in her family's rented holiday apartment in the village of Praia Da Luz.

Her parents were having dinner with friends in a nearby restaurant but say they made regular checks on her.

The McCanns, from Rothley, Leicestershire, have stayed on in Portugal ever since, desperate for news of her whereabouts.

Madeleine was due to have spent her first day at school yesterday.
McCann's Lawyer Attacks 'Inhumane' Slurs, 31 August 2007
McCann's Lawyer Attacks 'Inhumane' Slurs
Sky News
4:18pm UK, Friday August 31, 2007
Kate and Gerry McCann's lawyer has attacked sections of the media for levelling 'inhumane' slurs against the couple.Carlos Pinto de Abreu spoke after the pair confirmed they are suing a Portuguese newspaper which claimed they killed Madeleine.
The statement said: "To be deprived of a daughter and to not know what has happened to her, or where and in what condition she might be, to not know if she might be suffering or if she is being hurt is probably the most terrible trial that could happen to anyone.
"Obviously, this is not something that often happens, but it did happen to Kate Healy and Gerry McCann.
"In addition to the police investigations already underway, institutions in particular and society in general should, not only raise their voices against kidnappings and disappearances, but should also show solidarity with the victims and their families.
"The press has engaged in a horrific exercise in scandal mongering, replete with rumours and lurid commentaries which are all aimed at one thing: to sell more TV time and newspaper space to advertisers.
"Fortunately so far only a few character assassinating, tabloid-style outlets have gone beyond the limits of decency. Enough!
"It is people's dignity which is being questioned, and it is their image which is being dragged through the dirt.
"What has been happening is not legitimate and, above all, is inhumane."
The report which prompted the libel action was published in Tal & Qual, which published a headline saying "The police believe the parents killed Maddie".
It reported that the Policia Judiciaria thought the couple caused the four-year-old's death, either in an accident or with a fatal dose of a drug.
Police insist they are not suspects.
Madeleine vanished from the family's holiday apartment in Portugal on May 3.
Madeleine: one fact, many lies, endless grief, 04 September 2007
Madeleine: one fact, many lies, endless grief
Timesonline
It's now 124 days since Madeleine McCann disappeared. Our correspondent charts a story that became global, lurid and often invented – and hears how the McCanns learnt to think positively after imagining the darkest scenarios and suffering uncontrollable grief
Penny Wark
September 4, 2007
This is the story that has preoccupied at least two nations and elicited sympathy around the world. It is now 124 days old and has been told thousands of times in millions of words. Yet the story has only one fact: on the evening of May 3, a three-year-old child, Madeleine McCann, disappeared from the bedroom where she slept. We may think we know more than that, but we don't, and no matter how often the story is repeated and the sole fact is spun, all we are reading is speculation. Or slurs and lies. There have been plenty of those, too, because when the media run out of facts and speculation, their more unscrupulous exponents resort to invention.
It's not pretty. A story that was always tragic and has yet to have any kind of resolution, let alone a happy ending, is being treated with the abandon more normally meted out to soap opera characters or to those who elect to engage with the manufactured world of reality TV. The difference is that Madeleine is neither fictional nor a wannabe star, and neither are her parents, Gerry and Kate, who, you will note, don't need a surname any more. We know them that well, or we think we do. Note, too, that referring to them as Gerry and Kate breaks the convention of referring to them as Kate and Gerry: when feeding the masses a tale of heartbreak the distraught mother is a more emotive presence than an anguished father.
There is no doubt that Madeleine's disappearance – and what has happened since – raises important questions about how we can best protect our children from those who wish them harm, about the obligations of the media, and about our responses to the pain of people we don't know. During the past three weeks I've examined these questions in Praia da Luz, the sunny whitewashed family idyll on the Algarve where I met the McCanns, and elsewhere.
As everyone is acutely aware, the reason we know so little about Madeleine's disappearance is because she was abducted in Portugal, where the segredo de justiça law prevents the police from putting information about a criminal investigation in the public domain. Had Madeleine disappeared in Britain or the US, this would not have happened. Given that the Portuguese police admit that after four months they still have no idea where she is, or whether she is alive or dead, the first question has to be whether the lack of information is merely frustrating, and especially so for her parents, or whether it has impeded her safe recovery.
Neil Thompson has 30 years of police experience, latterly as a detective superintendent in charge of operations for the UK's National Crime Squad. Now the director of security at red24, a private security company, he does not support the Portuguese tactic. "If a child is abducted for sexual exploitation or murder, no information is unhelpful," he says bleakly. "In the UK you would release information to the media and the public that could help the situation, and keep back anything that might compromise the investigation, or frighten the perpetrator into harming the child. It's a balancing act. Your priority is to get the victim back alive, arresting the perpetrator is lower down the scale. A no-information rule means that you're working in the dark.
"The first two to three hours are vital. The first officer at the scene secures it and calls in detectives. A good officer has a nose for these things, and you have a process that tells you when a child has not wandered off. You set up road blocks, you check ports, you check intelligence – has anyone tried to snatch a child in the area? Can anyone describe a car? All that is fed into an incident room and analysed and the senior information officer decides what to release to the public. In the UK police can get a newsflash out straight away to TV and radio so you've got thousands of eyes and ears right at the beginning and you tell the public what you want them to look for. If you do that 24 or 48 hours later it loses impact."
We don't know exactly when Madeline was reported missing, and I am told that none of the published timelines relating to May 3 are accurate. I have also learned that the Portuguese response system is slow and unwieldy. The McCanns' call to the police was received in Portimão, a 30-minute drive away, and the practice is for a local officer to attend the scene to assess whether a crime has been committed and whether to call for help. Police officers drove to apartment 5A at the Ocean Club where the McCanns were staying, then referred the case to the Policia Judiciaria in Portimão. Thus vital time was lost immediately after Madeleine's disappearance – when it was imperative that the investigation should become active.
"You're only as good as your expertise," Thompson says. "If you're in a country that hasn't got a lot of serious crime and the training hasn't gone into major investigations, you make mistakes and lose evidence." Abductions are rare but not random, he adds. "Most child abductions are planned; it's not a burglar who finds a child and takes it. Paedophiles go to places where there are children, such as Disney World. Whatever this abductor's motive, he has been in the vicinity, he knows that there are children in this complex and that when people are on holiday they're relaxed, and don't think about risk. He will know the area and will have planned what he is going to do with the child. If he's going to keep the child in a secure room, he will have been careful not to alert shopkeepers by buying food he wouldn't normally buy. If a child is going to be sold for exploitation, in this case the unprecedented scale of the publicity has given the abductor a problem because he has an item that is readily identifiable all over the world and can't be passed on."
Those who specialise in tracing missing children acknowledge that publicity can unnerve a perpetrator, but insist that it is key and does save lives. "We know the public helps us to find missing children and it's up to law enforcement officers on each case to make the call as to what they tell the public," says Nancy McBride, the national safety director at the US National Center for Missing and Exploited Children, which has recovered 110,276 (just over 86 per cent) of the 127,737 children reported missing to it since 1984. "There's always a risk, but it's worth it. We never give up, we never close a case until we know what's happened to a child."
In seeking publicity, the McCanns had the clear objective of finding their daughter. What they did not envisage was that interest would spread, as Gerry puts it, like a forest fire, and that 150 journalists would suddenly descend on Praia da Luz, excited by the prospect of a story of a pretty child with attractive parents who are also middle class and intelligent – and far away from the stereotypical image of an inadequate single mother who might carelessly mislay a child and who certainly couldn't afford to visit this aspirational resort. Add to that the parents' status as doctors, people who save lives, yet who leave their children, Madeleine and her two-year-old twin siblings, without adult supervision in an apartment while they eat at a tapas bar a 52-second walk away, and the chattering classes are simultaneously full of sympathy and hooked.
When you first see apartment 5A you are struck by its exposed location. On the ground floor of a five-storey block, it is on a street corner and, like most of the Ocean Club apartments, not part of the gated section that houses the tapas bar and crèche. It would be easy to observe from different viewpoints, and perhaps to notice that this family had a regular pattern of behaviour in the evening, putting their children to bed, slipping across to the tapas bar and checking on them regularly.
But these are observations made with the benefit of bitter hindsight. Before Madeleine became a household name, no one thought like that on holiday, especially in an English-speaking resort so sedate that it doesn't even have facilities for teenagers. In late April the weather is pleasant, the beach is a five-minute walk away and you're there to relax and have fun. "It's a quiet, safe resort," says Gerry when we meet in a borrowed flat. "The distance from the apartment to the restaurant was 50 yards. We dined in the open-air bit and you can actually see the veranda of the apartment. It's difficult because if you are [at home] cutting grass in the back with the mower, and that takes me about half an hour, and the children are upstairs in a bedroom, you'd never bat an eyelid. That's similar to how we felt. We've been unfortunately proved wrong, out of the blue. It's shattered everything."
"Everyone I know who had been to Portugal with their children said it was very family friendly, and it did feel like that," says Kate. "If I'd had to think for one second about it, it wouldn't have happened. I never even had to think like that, to make the decision. It felt so safe that I didn't even have to – I mean, I don't think we took a risk. If I put the children in the car the chances of having an accident would be greater than somebody coming in, breaking into your apartment and lifting a child out of her bed. But you never think, I shouldn't put the children in the car."
This is the first time that the McCanns have confirmed that the apartment was broken into. This information does not compromise Madeleine's safety, and rules out one of the numerous red herring theories that the police have explored, that Madeleine wandered away on her own. There is no logic in withholding it from the public.
"I have no doubt in my mind that she was taken by somebody from the room," says Kate. "We don't know if it was one person, two, or if it was a group of people, but I know she was taken."
"There's still hope because we don't know who's taken her, we don't know where they've taken her and we certainly don't know where she is," says Gerry. "The first time I spoke to Ernie Allen, the chief executive of the National Centre for Missing and Exploited Children in the States, he said what I wanted to hear, and they've got enough experience of getting children back after long periods of time still to remain hopeful, and their own experience is that the younger the child, the less likelihood of serious harm. Don't get me wrong, we're not blinkered. The scenario that everyone thinks about is that a paedophile took her to abuse her and if that is the situation then statistically the chances are they would kill her. But we don't know that and that's the difficulty we're dealing with. There are a range of scenarios and we want every single avenue explored because they're all pretty rare. That doesn't mean they should be represented in front page headlines as if all of them are likely, because they're not."
Does the Portuguese insistence that no information can be given about the investigation have any advantages? "For us, not having any information is very difficult," Kate replies. "For us as parents it's beneficial having information. We know that from our own jobs – the main complaint from patients' families is lack of communication and not being informed. It's detrimental."
Of course the McCanns' bid for information from the public, unsupported by details of the abduction, had already been hamstrung by the investigation's slow start. There was also a language barrier. They now have phone access to a police officer who speaks English, but contact is variable, they say. You sense that they are often in situations where they would like to be forthright, but are obliged to keep their thoughts to themselves. "It is frustrating," says Kate. "The whole situation makes you angry, that's part of the whole grief that something like this has happened to Madeleine and to us. They're all normal emotions and sometimes you do just want to explode."
The McCanns sit on a sofa, Kate bone-thin – although I am told that she is very fit – extremely shy and modest, Gerry composed and easier to read. At the beginning of our interview Kate holds Madeleine's pink toy cat in one hand and clutches her husband's with the other. Kate's face looks so tense and agonised that you might think that she was about to be tortured, and she seems to shrink into herself.
But as the hour passes she relaxes, takes her hand out of her husband's and even laughs at some of the absurdities of their situation, recalling a day on the beach when she was on the phone to a friend and suddenly found herself being covered in kisses by a group of Portuguese matrons. Were this couple not wrapped up in this extraordinary event they would be unremarkable, the husband an assured man who likes to be in control, the wife a family-orientated mother who enjoys her job and still has friends from when she was 4.
Both are from working-class backgrounds: Gerry is the youngest of five children of an Irish matriarch and her joiner husband who brought up their family in Dumbarton, near Glasgow; Kate the only child of a Liverpool joiner and a civil servant. They met as junior doctors in Glasgow 12 years ago, got together as they travelled in New Zealand and she trained as an anaesthetist before retraining as a GP because, as two hospital doctors, they rarely saw each other.
In the immediate aftermath of Madeleine's disappearance the McCanns found solace in their Catholic faith and were grateful for the warmth and care that greeted them at the Nossa Senhora da Luz church, a tiny, beautiful and peaceful sanctuary that forms a focal point for the community. "I felt cosseted," Gerry says. "We felt so fragile and vulnerable. People kept saying 'you'll get her back'. It was what we needed to hear because we just had the blackest and darkest thoughts in the first 24, 36 hours, as if Madeleine had died. It was almost uncontrollable grief.
"The psychologist who came out to help us [Alan Pike from the Centre for Crisis Psychology in Skipton] was very good at turning our thought processes away from speculation. OK, there's probabilities, but you don't know that and he was very good at challenging the negatives. He was very much, 'You will feel better after each thing that you take control of, even simple things'. We were surrounded by the Ambassador, the consul, PR crisis management, police, and he was saying 'The decisions are yours'."
"All these people we were meeting had to be there, and I felt so out of control and I found it quite scary," says Kate. "I felt as if I'd been pushed into another world. Alan was saying, 'There are little things you can take control of'."
"For example," says Gerry, "if you are asked 'Do you want a cup of tea?,' instead of saying 'Mmm', make a positive decision. Decide what you want. That combination of the Church, the community and the psychology helped very quickly. We agreed to interact because we thought it would probably help the search and it would be easier than hiding. Stay in the dark and you're an enigma. There wasn't anything to hide and in the first few weeks we were shown a lot of respect."
The launch of the Find Madeleine campaign brought them more respect for their organisational skills. Friends and family rallied, a strategy was worked out, the media were fed pictures and quotes, and big businesses, the Chancellor of the Exchequer, David Beckham and numerous unknown individuals responded with support and donations. This money – the fund now stands at more than £1 million – enabled them to appoint a campaign manager and to publicise Madeleine's disappearance by visiting other countries. With the possible exception of their blessing by the Pope at the Vatican, which was the brainwave of a tabloid newspaper and seemed to contradict the McCanns' status as ordinary people, they were beyond reproach as campaigners, particularly as they began to engage with agencies that have expertise in recovering missing children. The story rolled along nicely, filling more front pages than any other event since the death of Diana, Princess of Wales, though not because the McCanns were managing the media, but because there was increasing evidence that Madeleine sells papers.
Then things started to go wrong. By the end of the second week of August, when the McCanns marked the 100th day since Madeleine's disappearance by launching a YouTube initiative to help to find missing children, the Portuguese media had suggested that the McCanns could have killed their daughter, and the British press was not shy about repeating and even revelling in the "monstrous slurs". Coincidentally that was the week I first visited Praia da Luz: there were nine television satellite trucks, each with a noisy generator, on the road outside apartment 5A, and the Portuguese crews were threatening to move outside the McCanns' rented villa and had to be pacified with an interview. The Ocean Club asked the McCanns to stop bringing the twins to the kids' club because other guests had complained about the media presence, and a couple of chain-smoking security men appeared outside reception. Praia da Luz, once a sardine-fishing community, now a manufactured resort with a reputation for guaranteeing uneventful and sunny family holidays, was becoming ugly.
The solicitor of Robert Murat, the only person to have been named by police as a suspect in the Madeleine investigation, didn't help matters when he announced that business in Praia da Luz was suffering and that people there wanted "those bloody McCanns to go home". However strong a news line this was, it wasn't entirely true. Some shopkeepers continued to display posters appealing for information about Madeleine, others spoke tactfully about their sympathy for the McCanns. "It's not that we want the McCanns to go home, it's just that we want the bad feeling to go away," said one café owner, who declined to be named. "Last year you had to book three weeks ahead to get in here in the evening, now you don't need to book. Praia da Luz has become the place where you lose your children. It's terribly sad, and it's terrible for the McCanns."
Something else was happening, too, that wasn't entirely edifying. At the church a steady stream of Portuguese worshippers and tourists approached the shrine to Madeleine to the left of the altar, and many were devout and respectful. Others nipped in to take a quick picture of the shrine and left without a bow of the head; after all, it's not every year that you go on holiday and find yourself in the presence of a moment so big that it is being recorded by television cameras.
Outside Robert Murat's home, which could not be seen from the road because of a deep and dense hedge, a Portuguese tourist checked with me that she had the right house, then stuffed herself into the hedge to get a proper look. (She was obviously not the first to do so, as sections of the hedge are now dying.) A hundred yards away sight-seers posed for photographs alongside the television crews positioned with 5A in the background.
On a seat overlooking the beach, Martin Payne, a well-meaning hairdresser from Stratford-upon-Avon, displayed an intriguing mixture of sympathy and fascination. He had just spotted Gerry in his Renault Scenic (which was more than I had at this stage; the McCanns are impossible to get near unless their campaign manager vets and approves you) and was happy to volunteer every known fact about the McCanns, and to speculate, in detail, on what might have happened to Madeleine.
"You've been reading too many books, Martin," said his wife. "I feel the same way that I felt when Princes Diana was killed," Martin said. "Such a loss to a lovely family. We want to have a conclusion to this."
When I suggest to the McCanns that some of the interest in them borders on the prurient, they seem to be unaware of it. At church they register the crowd outside as kindly support, and don't notice those on the fringes who are there just to spot them. In other contexts their unsought fame appals them. "We feel totally exposed, as though we have been stripped bare," says Kate.
They tend not to pick up the more sickly nuances within the press, because they don't read it; instead the campaign team (which consists of the full-time lobbyist the McCanns hired after the fund was set up, plus two other part-timers who ensure seven-day-a-week cover to field the innumerable media inquiries) shows them what they need to see, including translations of Portuguese coverage. And as they demonstrated last week with the announcement that they are to take legal action against the Portuguese newspaper Tal e Qual, for its allegation that they killed Madeleine with an overdose of sedatives, they will no longer tolerate lurid claims that defame them.
"We had no illusions that we could control the media," says Gerry. "The way that information has got out has been handled incredibly badly, without a doubt. It's almost as though some people are thinking out loud. It's all very well to have a potential scenario but that shouldn't necessarily be written up as if there is evidence to support it. I think this has been handled very irresponsibly by a number of people. We don't believe there is any evidence to support any of the deluded headlines, and the police have made that clear."
"There are times when you just want to shout out 'That's wrong', because I think we've been done injustice in a lot of ways," says Kate.
"There's a blacker picture painted than what is true," says Gerry, "whether it is how much we were drinking, which was a gross exaggeration, or how often we were checking. We know what we did and we are very responsible. It's bad enough for us to have to deal with the fact that someone saw an opportunity – to then have elements sneering at your behaviour and making it look much worse than it was. It's difficult because a lot of untruths, half truths and blatant lies have been published. It was published that we had 14 bottles of wine."
"In an hour between us," interjects Kate. "I'd have been impressed with that in my student days. Not only that, they qualify it by saying eight bottles of red and six of white, as though it gives it more credibility. You just want to scream."
Where do the Portuguese media get their information? Brendan de Beer, the editor of the English language Portugal News, is the only journalist to have spoken at length to Chief Inspector Olegário Sousa, the spokesman for the PolÍcia Judiciária on the Madeleine investigation. Sousa, who has 20 years' service and has previously focused on crimes relating to works of art, armed robberies and car-jacking, suggested that some information is being inadvertently leaked by officers at informal lunches with friends. De Beer is more specific and suggests that some of the more incongruous claims are no more than gossip.
Some of the police detectives involved in the case have spoken off the record, he says, and journalists have contacts within the police just as they do in Britain. "I've spoken to a couple of them [police officers], but never to an extent where they told me a syringe had been found in the room or there was blood on the keys of the hire car. That kind of information seems to come from police constables. You get someone who tells something to their wife, they tell their hairdresser, who tells a journalist.
"I think that there's a lot of invention. A journalist might say to a detective, 'Do you think Madeleine fell and died and Kate and Gerry got rid of the body?' Off the record the detective might say 'It's possible', and they write a story based on 'sources close to the investigation.' I'd be very surprised if there was any bribery, though a constable does earn only about €600 or €700 a month, so it could happen. The suggestion that the police were closing in on the McCanns . . . I've been disappointed by some of the reporting."
Not that British reporting has been irreproachable. The slurs have been widely dissected, a suspect has been invented by one needy tabloid, and when I rang Paolo Marcilemo, the editor of the Correio da Manhã, which has a reputation for scurrilous reporting, he said that he was no longer giving interviews because the British press has misquoted him.
For the McCanns there is no respite, though they are slowly becoming accustomed to their grief. "They're not gone, the feelings," Gerry says. "When we enjoyed ourselves with the kids we had guilt – how could we enjoy ourselves when Madeleine was missing? But it's so important for the kids that it's unbridled love and attention for them. I'm definitely much better at doing that now, almost carefree for a lot of the time. Not 100 per cent."
They will return to their home in Rothley, in the East Midlands, they confirm, and the timing will depend on the police investigation, which is currently in a state of hiatus as the PolÍcia Judiciária waits for the results of British tests on samples taken from the apartment.
Gerry has been home twice, he says, and has been inside the house. "I was pretty anxious about it, but it's now a comfort. We'll go back when we've done as much as we possibly can for Madeleine. We're at a point where staying here is not necessarily adding anything to the campaign to find her."
He has also discussed returning to work with his line manager; he elected to take unpaid leave rather than compassionate leave shortly after Madeleine's disappearance. As a cardiologist who deals with very sick patients he doesn't want to return immediately to a full-time schedule of patient care, but plans to focus initially on MRI scans, administration and academic work. "When you're seeing 12 or 15 patients a day you have to be focused on them and can't be thinking about what you want to do for missing children in Europe. When I'm occupied and applied it helps, and work eventually will take some of that focus. The fund enables us to make decisions for us and for Madeleine, and not for financial necessity. It's not paying for any of our accommodation here, but it has covered a lot of expenses for us, and trips, and it helps to provide support for people to come out to help us, flights and things."
As a part-time GP, Kate's job is patient-centred, and she has yet to decide whether she will return to it. What they are certain of is that they will continue to campaign for systems to be established to help to recover missing children. Portugal, like Spain and many other European countries, does not have a sex offenders' register, and as for the UK, although a Child Rescue alert system was launched here last year, relying primarily on speedy contact with the media, it has yet to be tested. Neither does Britain have any reliable statistics on missing children, and this means that the scale of the problem is unknown.
Fortunately, the National Center for Missing and Exploited Children has a system that works, and can be copied. It is based in Virginia, employs 300 people and its success relies on instant media alerts and distribution of fliers, and a high level of training for the professionals involved. Its agenda has always been to make its methods operate globally, and now it has Gerry and Kate McCann on its side. Their determination to be involved in this task is the first sign that something positive, tangible and enduring could come from what has so far been the bewildering and tragic story of Madeleine McCann.