Transcripts and reports on the following TV appeals and interviews by the McCanns:
BBC Crimewatch Appeal, 05 June 2007,
Amanda Walker Interview, 09 August 2007,
Paris Match Interview, 04 September 2007,
Leicester Mercury Interview, 04 October 2007.
McCanns speak to press, 30 May 2007
Kate and Gerry: We get strength from each other, 31 May 2007
Kate and Gerry: We get strength from each other Daily Express (no longer available online)

By David Piditch and Matt Drake in Praia da Luz
Thursday May 31, 2007

The McCanns have given a touching insight into how they have kept going during the nightmare of Madeleine's abduction by drawing on each other's strengths and the support of friends and family.

Yesterday, Kate McCann said: "The first 72 hours really were the worst time for both of us. It was hard to get away from the dark places.

"But the support we have had and the prayers really do give us strength and hope. We are stronger and more positive."

Mr McCann said: "We are helping each other through this. We complement each other well, we remain strong.

"And we have focused on how we can do positive things, to campaign."

Asked if they could ever forgive Madeleine's abductor Mr McCann said: "When we have got Madeleine back we will think about who took her and what happened."

He added: "When Madeleine went missing it started off with us thinking in terms of minutes until we found her. Then minutes became hours, days and now weeks.

"The first 48 hours was akin to having a bereavement.

"It was anguish, despair, guilt, helplessness all falling into one. But it is different from a death, where you grieve and try to move on.

"Madeleine is not dead. We have been thrown into an ongoing crisis of the unknown."

He said that last Saturday was the first time both he and his wife were overcome with emotional exhaustion.

"There was a lull in what we were doing and I had a low - probably the first time we have both had one at the same time," he said.

Kate admitted: "It's fair to say I find it harder to lock away the emotions. I feel guilty not thinking about her."

Quietly, her husband added: "But during the lows, as soon as you go there, you can go into the darkest chasms.

"We want Madeleine to be found ... yesterday."
'We want Maddy to be found... yesterday', 31 May 2007
'We want Maddy to be found... yesterday'
Telegraph
By Richard Edwards in Rome
Last Updated: 2:11AM BST 02 Jun 2007
It is four weeks since Kate and Gerry McCann last saw their daughter Madeleine. Twenty-eight days of moving between despair and hope - and they still do not know whether they are at the end of their ordeal or still just at the beginning.
The couple's physical journey took them yesterday to Rome to meet the Pope, and they will move onwards to Madrid, Berlin and Amsterdam. But it is scars from their emotional journey that are ever-present.
Mrs McCann summed it up in six devastatingly simple words: "I miss life as it was."
"We're still in the middle of a race but we do not know how long it is going to be," Mr McCann added: "I do not know how we will have changed. But it is fair to say we will never be the same again."
The hardest part, they admit, is the unknown. "Every day is one day too long without Madeleine," said Mr McCann.
"We have got to get a resolution.
"It is hugely difficult. The first 48 hours was akin to having a bereavement. It was as though Madeleine had died. It was anguish, despair, guilt, helplessness all falling into one.
"But it is different to a death, where you grieve and try to move on. Madeleine is not dead. We have been thrown into an ongoing trauma, an ongoing crisis of the unknown.
"There are different emotions at different times and we are helping each other through this. We complement each other well, we remain strong."
He added: "We have focused into how we can do positive things, to campaign. We are totally preoccupied as how to get Madeleine back."
With the visit to see the Pope, the global campaign has reached, in Mr McCann's terms, stratospheric levels.
They flew to Rome in the private jet of Sir Philip Green, one of Britain's richest men, who had offered it for free to help their cause. Prime Minister in waiting Gordon Brown is in mobile phone contact. They are lining up Government ministers to visit across Europe. David Beckham and world footballers have appealed for help in finding their daughter and they have received chat shows requests from Oprah Winfrey an Larry King in the US.
Wherever they go they are treated like royalty, followed by pilgrims, well-wishers and TV cameras. But the attention does not sit easily with them, especially Mrs McCann. The couple are desperate for Madeleine's plight to be known worldwide but they are wary of going too far, of being seen as a celebrity couple courting the publicity.
"It is all about Madeleine," said Mr McCann. Mrs McCann, in particular, struggles to hold in her emotions in front of TV cameras. She wants to remain private, but she also wants to do the best for Madeleine by appearing in public.
"I do not like talking about this publicly but you've got to put your own feelings aside," she said.
"If we can be strong, strong for Madeleine, that will help get her back."
On Tuesday morning Mr and Mrs McCann had to go shopping for a suit. They had to look smart for the Pope. He and his wife spent hours trying to find something appropriate in Algarve resorts dominated by T-shirts and shorts.
When they did, the hems on the trousers were too long and a tailor had to make adjustments. Ordinarily it could have been a welcome distraction, but they found it strange to be fussing over such minor details.
"It was the last thing we needed really," said Mrs McCann.
It re-emphasised the truth: they are a very normal couple thrown into something extraordinary.
Mr McCann admitted that Saturday was his lowest day since the early days - the first time that both he and his wife have had a "bad one" together.
He said: "You have lows. It's one of the things people do not realize. When negatives come in and affect you, you lose some control, you've not got that outlet of emotion. But you know that it's detrimental to what you're trying to do today. So you try to lock out the negative."
Mrs McCann admits she is more fragile. She said: "It's fair to say I find it harder to lock away the emotions."
They continue to plan, throwing themselves into it; but every moment they hope their plans are scrapped because they receive some genuine news … the news they are waiting for, that Madeleine has been found.
Mr McCann said: "We want Madeleine to be found … yesterday."
Searching for Madeleine: Madeleine's parents take search across Europe, 01 June 2007
Searching for Madeleine: Madeleine's parents take search across Europe Fox News Channel
This video is undated but judging by the nature of the news, the presenters words and the McCanns' clothes, it was almost certainly recorded on 01 June 2007, whilst the McCanns were in Madrid.

It contains a very brief interview with the McCanns.

Transcript

By Nigel Moore

Kate McCann: We were in a bigger party; you've probably heard that, you know, quite a lot of children in our party and they were all just having a great time, you know...

Gerry McCann: She... she did so many activities in those six days, errr... they'd been to the beach, they'd been out sailing, they went indoor swimming, there... they had tennis, errr... sh... there was a play area where we went with all the kids every night; all within the resort, I have to say. So, errr... you know, she was everywhere but as soon as she was, errm... reported missing - and Kate and I are absolutely certain, errr... I think as are the police, that this is an abduction - errm... that there was an immediate search, errr... organised by the Mark Warner staff, who are the tour operators, and they responded really, really well, errm... so, you know, I'd... I'd just like to reiterate that this isn't a four-year-old girl, errm... walking off somewhere during the day or in the evening, you know, she was tucked up in bed, errm... and there's no way she... she could have got out on her own.
German TV and newspaper interview, 02 June 2007
Gerry's blog, 02 June 2007
Gerry's blog, 02 June 2007

- Extract -

We did do a German TV and newspaper interview which wiil be released tomorrow to incraese awareness ahead of our planned visit to Berlin later this week. Most of the Sunday newspapers will carry some of the interview as a British reporter sat in and asked a few more quetions related to the campaign strategy.
Parents have considered Maddy may be dead, 03 June 2007
Parents have considered Maddy may be dead
Telegraph
By Fiona Govan in Praia da Luz, and Olga Craig
Published: 12:01AM BST 03 Jun 2007
The parents of the missing four-year-old Madeleine McCann have revealed for the first time that they have been forced to face the fear that their daughter may be dead.
"It would be incredible not to consider the worst scenario: that she is dead," her father Gerry said. "Of course we have considered that, but we believe she is alive. If you give up hope you are basically saying she is dead. No parent would do that."
The McCanns, whose daughter disappeared a month ago, also disclosed how they are drawing up a long-term strategy to keep Madeleine's plight in the public eye. They are hoping JK Rowling, the author, will consent to a bookmark bearing Madeleine's photograph being inserted into the final instalment of the Harry Potter series, due to be published next month. They are also planning a "Madeleine Day" as well as a series of concerts, sports and arts events.
"We want a big event to raise awareness that she is still missing," Mr McCann, 38, said. "It will be some sort of focus around an anniversary. We might have a sporting event, something arts, something music. We have also had backing from certain musical celebrities such as Elton John."
It is now a month since Madeleine was abducted from the family's apartment in Praia da Luz in the Algarve. Her parents were eating supper in a nearby tapas bar when she was snatched while she slept on the evening of May 3.
Madeleine and her siblings, two-year-old twins Amelie and Sean, had been left alone, although their parents were checking on their children every 30 minutes.
From their base in Praia da Luz, the couple, both doctors, also spoke yesterday of their guilt but said they refused to blame each other for their daughter's disappearance a month ago.
"We are in this together and, of course we feel guilty, we feel that we've let her down, we were not there at the moment she was abducted," Mr McCann said. "But we have never subconsciously or consciously thought it was Kate's fault or my fault - we're a couple in this, we're responsible parents."
The plans for a series of worldwide events come after a month-long campaign by the McCanns to keep their daughter's image in the media.
In a series of carefully orchestrated trips and interviews, they have worked tirelessly to help publicise the plight of their daughter who was abducted just nine days before her fourth birthday.
This week they will travel to Berlin, Amsterdam and possibly Morocco. Last week they flew to Rome on a private jet owned by Sir Philip Green, the British businessman, to meet the Pope and afterwards, still clutching Madeleine's increasingly tatty soft toy Cuddle Cat, they met Spanish interior ministers. They also did a series of television interviews. The publicity they have generated has been unprecedented.
Madeleine's picture was screened during the FA Cup final to an estimated 500 million audience. Gordon Brown, the Chancellor, has worn a yellow ribbon to demonstrate his solidarity and intervened to ensure Portuguese police released vital witness evidence. A host of celebrities have also pledged thousands of pounds to the "Find Madeleine" fund, which has topped half a million. And Madeleine has been the cover story on scores of publications, including People magazine in the US, where Oprah Winfrey has invited the McCanns to appear on her talk show.
For Kerry Gist, mother of Ben Needham, who has been missing for 16 years, the international publicity the McCanns have received has been a bittersweet reminder of the paucity of help she was given from the authorities when her son vanished from a farmyard in the Greek island of Kos. Mrs Gist now intends to write to Tony Blair seeking a renewed campaign to find Ben who was just 21-months-old when he disappeared.
"My heart goes out to the McCann family," she said last night. "I wish them all the luck in the world but we are angry and frustrated that the resources are out there and we did not get them. Now is the time for somebody to stand up for our family and find Ben."
Last night, Portuguese police were still investigating an unidentified DNA sample found in the apartment from which Madeleine was snatched. It did not match any of the family or Robert Murat, to date the only named suspect in the case.
Gerry's blog, 03 June 2007
Gerry's blog, 03 June 2007

- Extract -

Sunday papers have reported our interviews virtually verbatim but vey disappointed that the blog was lifted almost in entirety by one newspaper yesterday after expressly forbidding such an approach! The blog is to keep people visiting the website up to date with our progress in the campaign to find Madeleine.
BBC Crimewatch appeal, televised 05 June 2007
New Madeleine TV appeal, 05 June 2007
BBC Crimewatch
Recorded in Praia da Luz: 04 June 2007, Televised: 05 June 2007
Transcript by Nigel Moore
Fiona Bruce: (to camera) "It's 33 days since little Madeleine McCann disappeared from Praia da Luz in Portugal. Tonight, in a special appeal, her parents Gerry and Kate plead for your help in the hunt for their daughter."
Gerry McCann: "For the Crimewatch viewers at home I think this would be a good time now to review all the information."
Kate McCann: "These are virtually identical to the pyjamas that Madeleine was wearing when she was taken. As you can see it's a pink top, errm... with gathered short sleeves and it has a picture of Eeyore on the front. Errr, the bottoms are white with a... a floral design and have an Eeyore, errm... on the bottom of the right leg."
Gerry McCann: "Around, errr... the time that Madeleine, errr... was found to be missing, shortly before that, there was a suspect, errr... seen walking away from the apartment, errr... with, errm... probably carrying a child.
"He is approximately 35 years of age, round about 5ft 8, 5ft 9. He had dark hair parted, errr... to one side, he was wearing, errr... dark jacket, errr... slightly longer than a suit jacket, light coloured trousers, which may have been beige or mustard coloured, and dark shoes. Errr... You know it could have been someone innocent, we would certainly be keen that that person comes forward to be eliminated but, you know, we are certainly suspicious of the timing.
"We certainly know that it... it could only take one... one phone call. Errm, someone has a key bit of information and it may be someone close to whoever has Madeleine. It might be the person themselves. They can phone, tell the police where Madeleine is."
Kate McCann: "The majority of people, you know, are really good people and, I think that's been demonstrated by all... all the fantastic support we've had, it's been amazing. Errm, there are a few bad people in the world but also there are a few sad people and I guess I'm hoping that it's someone sad who's just wanted our daughter."
Gerry McCann: "It... it's not too late to hand her over."
Fiona Bruce: (to camera) "It certainly isn't. We so much want to find her, don't we? British police also want anyone who was on holiday at the Ocean Club Resort, Praia da Luz, or the surrounding areas, between the 19th April and the 3rd of May to have a look at their holiday photos and if any members of the public are in the background the police are keen to see them. They have sophisticated equipment which can spot if the same person appears in different photos.
"You can upload your photos to
www.madeleine.ceopupload.com
and if you have any information that will help the McCanns' appeal please call this dedicated British police number on 0800 0961233 or 0207 1580197, if you're calling from abroad. And police would like to stress this appeal is aimed at anyone who hasn't already contacted them. And if you've seen Madeleine you should inform local police immediately, please don't wait until you get home."
McCanns in Crimewatch appeal, 05 June 2007
05 June 2007
Transcript by Nigel Moore
Quentin Rayner: (voice-over) "It's now just over a month since the four-year-old from Leicestershire was abducted from the family's holiday apartment in the Algarve. It's thought she was snatched while her parents were at a nearby restaurant. On Crimewatch, Gerry and Kate McCann remind people of the suspect seen carrying what was thought to be a child on the night Madeleine disappeared. They also reveal why they will soon be flying to Germany and Holland."
Kate McCann: "Probably about 60% of tourists who... to this area are British, errm... but following that, errm... are... are the... errrm... the Germans and then the... then the Dutch, actually. So, it's important obviously for us to, errm... go and make people in those countries aware, really or... anybody who has travelled, errm... to the area who may potentially be able to give some information."
Quentin Rayner: (voice-over) "During the interview Gerry McCann urges people to keep sending in photos to a specially set-up website. To date, a thousand photos, from holidaymakers in the area at the time, have been uploaded for the police to analyse but it's certain photos they're after."
Gerry McCann: "Particularly if you've got photographs, errm... which had people in the background, people you didn't recognise and errr... they've given us an address for these to be uploaded. Errm, and it's 'www . madeleine . ceopupload . com'."
Quentin Rayner: (voice-over) "The couple give no indication when they might return to their home village of Rothley. Their priority remains doing everything possible to find their daughter. Quentin Rayner. East Midlands Today."
Madeleine: Exhausted McCanns in Crimewatch TV appeal, 05 June 2007
Madeleine: Exhausted McCanns in Crimewatch TV appeal
Daily Mail
Last updated at 00:32 05 June 2007
Holding up a small pair of pink and flowery pyjamas, Kate McCann described exactly what her eldest daughter was wearing when she was snatched on May 3.
The poignant description was given as part of BBC1's Crimewatch appeal to help the couple find their little girl.
Looking exhausted, she spoke in detail about the light pink top with capped sleeves and a picture of the cartoon character Eeyore curled up - the words "Sleepy Eeyore" written underneath.
Next she produced white cotton pyjama bottoms, covered with small flowers and another Eeyore motif on the right leg.
But, of course, the pyjamas she was holding so carefully in her lap were not Madeleine's, but those of Madeleine's younger sister, two-year-old Amelie.
Gerry McCann then spoke in detail about the suspect seen carrying what was thought to be a child on the night Madeleine disappeared.
He said the man was approximately 35 years old, around 5ft8ins or 5ft9ins, dark hair parted at the side and slightly longer at the back, a dark jacket slightly longer than a suit, beige trousers and dark shoes.
Asked if he thought the suspect was the man who kidnapped his daughter, he said: "Potentially this could have been someone who could have been picking up a child from a creche or coming back from dinner.
"But we are certainly suspicious of the timing and that person needs to be eliminated from the investigation.
"The description has been out for 10 days and as far as we know, no one of that description has come forward so that definitely gives it more weight."
Mr McCann urged anyone who had seen such a person in the area around Praia da Luz in the weeks leading up to Madeleine's abduction to come forward.
"They might be able to give a much better facial description than the police have at the minute," he said.
He also urged people to hand in any pictures with strangers in the background, as they might provide a vital clue to finding their daughter.
He said more than 1,000 pictures had already been handed in and were being closely scrutinised. Mrs McCann said the Crimewatch appeal was being made to try and assimilate all the information gathered over the last four weeks.
"Anyone who was in the area around that time, even a few weeks before who hasn't come forward, please do," she said. "Anyone who has photographs, please upload them onto the website.
"If by any chance somebody knows where Madeleine is, we would obviously urge them to come forward."
Mr McCann added: "We certainly know that it could only take one phone call.
"They could tell the police where Madeleine is and that information will be acted upon." mfl Mrs McCann said 60 per cent of the people who visit the Algarve area are British, followed by Germans and the Dutch.
"It is important for us to make people in these countries aware really as many will travel to this area."
She said she thought the sighting of the suspect was significant: "I think given the situation occurred around the same time that Madeleine was discovered to be missing. I think it has to be considered to be significant or potentially significant."
Near the couple as they spoke was a large pile of post - letters, cards, posters and presents.
Many were from well-wishers, some were from psychics claiming to know where Madeleine is, but all were being treated as potential evidence.
Mr McCann said the last appeal directly to the British public was made two weeks ago, before Portuguese police released the description of the suspect.
"We want to make sure that every single possible bit of information is brought to the police's attention.
"It may be the kind of information which will help us solve this."
Smiling wanly, Mrs McCann looked down at the pyjamas in her lap and added:
"These are virtually identical, but these are little bit smaller because they are Amelie's."
RTE Interview, 09 June 2007
RTE interview with the McCanns, 09 June 2007
RTE interview with the McCanns RTE
Interview recorded: 09 June 2007
Interview aired on RTE in Ireland: 19 June 2007
Gerry's blog entry for 09 June 2007:
Kate and I had a slightly busier day on the media front than expected. We did a short press interview for the Irish Sunday papers, mainly to thank the Irish for their fantastic level of support. We followed that with one for the British Sundays which is likely to be the last one we do for a while. We talked about our pain of not having having Madeleine for such a long time and for our need to grieve, which occurs mainly in private. We also talked about how after Morocco we will have to spend some time reflecting both emotionally, and also how best the campaign can be taken forward. What we want to ensure is that the campaign has a psoitive effect on finding Madeleine.
After this we headed down to Sagres which is the very most southwestern tip of Portugal. There is a very nice beach and we had lunch with the family.
After returning from the beach we did the Irish version of Crimewatch-'Crimecall'. There are a lot of Irish tourists in and around Praia da Luz and although the awareness of Madeleine's disappearance in Ireland is extremely high, we want to ensure that everyone is aware of the appeal and we want the Irish public to come forward with photographs of people who they do not know who were in and around Praia da Luz in the 2 weeks leading up to the 3rd May. The address to upload photographs is: to
www.madeleine.ceopupload.com.
We have also asked for people to contact their local police if they have seen a man matching the description of the suspect carrying a child seen around the time of Madeleine's abduction. He is 30-40 years, 1.70-1.80m (5'7"-11"), caucasian and was wearing a dark jacket, beige or mustard coloured trousers with dark shoes. No major news on the investigation front- we still believe it is just a single phone call away.
---
Transcript
By Nigel Moore
RTE
(to camera):
Well, the sad and tragic abduction of four-year-old Madeleine McCann in Portugal has focused international attention on the issue of missing children and the abduction of children. On Crime Call we don't normally focus on crimes that happened outside Ireland but given the extraordinary interest in the case in this country and the fact that the McCanns have family links with Ireland, it does seem timely that we consider the case, particularly when many Irish families are now planning their summer holidays. Well, in a moment, we'll be looking further at the abduction of young Madeleine but first to the family themselves. Kate and Gerry McCann took time to talk to Crime Call about their daughter, the support they have received from this country and their future plans.
RTE (voice over):
Forty seven days have now passed since the abduction of Madeleine McCann at a resort in Portugal's Algarve. It's a holiday spot favoured by many Irish families; perhaps one reason why this case has struck a chord with so many Irish people.
RTE:
(to Kate McCann) Thank you, very much.
Gerry McCann:
(to RTE) Hi.
RTE:
There's a strong connection between the McCann family and Ireland. Can you tell us a little bit about that?
GM:
Yeah, I mean, most of my family are from Donegal and, errr... in fact, my brother and three sisters were all born there and I'm the only one born in Glasgow. And, errr... we had all the extended family, went over to Donegal at Easter, errr... for five days and it was the first time Kate had been in Donegal with us, although her, errr... grandparents are Irish, as well, from Dublin. Madeleine, in particular, had a ball, with all of us as a family. It was a fantastic... fantastic holiday.
Kate McCann:
Twenty seven of us.
RTE:
And what has been the Irish response to the campaign so far?
KM:
We've had so much support from Ireland, I mean, overwhelming, I'd say. And we say we reckon like half the letters that we've had are... are from the Irish, you know. It's been...
GM:
The amount of people that we've met here in Praia da Luz who say to us, 'All of Ireland is praying for you'. And we know that, you know. The support has been tremendous and, errr... you know, literally thousands of letters, and other messages of support, just from Ireland alone.
RTE:
Tell us, what kind of girl is Madeleine?
GM:
She is, errm... well, she's incredible to us, errr... obviously and, errr... but she is very bright, errr... outgoing, errm... lively, quite extroverted character, I would say, full of energy.
KM:
I mean, maybe every parent says this, but we actually think we've got a very special relationship with Madeleine.
RTE:
Have you been hurt by the criticism that's been directed at you, surrounding the events of Madeleine's abduction?
GM:
I don't think anyone can hurt us more than the hurt we're feeling already and, errr... if you know yourself, errm... anyone who's a parent then I think you're the hardest on yourself and there's no doubt we feel guilty because we were not there at that moment, errm... although, you know, Kate has emphasised we are ex... very responsible parents and I don't think what we were actually doing was in any way irresponsible.
RTE:
And why do you think it's important to stay here in Portugal?
KM:
Well, I mean, I feel closer to Madeleine here, which, I mean, might be wrong; she might be closer to the UK than... than here but I do feel close to Madeleine here. We're also close to the investigation here and, errr... to be honest, I can't really think about going home, to our home, without Madeleine.
EXCLUSIVE: McCanns are 'amazed' at Irish support, 10 June 2007
EXCLUSIVE: McCanns are 'amazed' at Irish support
Irish Independent

By GERALDINE NILAND in PRAIA da LUZ
Sunday June 10 2007
THE parents of Madeleine McCann, the four-year-old who was abducted as she slept in the family villa at Praia da Luz in Portugal on May 3, told the Sunday Independent yesterday that they have been overwhelmed by the support they have received from Ireland.
Kate and Gerry McCann told the Sunday Independent that they have been amazed by all the good wishes and cards they have received from Ireland.
In an exclusive interview, the couple said that over 50 per cent of the cards they had received since their daughter was abducted 39 days ago have been from Irish well-wishers.
"For such a small country the amount of support we have received has been incredible," Kate McCann said as she broke down. "So many Irish people have come up to us here and have told us that the whole of Ireland is praying for us. We would like to send them a huge thanks," she said.
Kate and Gerry McCann happily talked about their first family holiday in Ireland at Easter where they spent five blissful days with Madeleine and her two-year-old twin sister and brother, Amelie and Sean.
"It was the first time we had been back to Donegal as a family and the first time Kate was there," Gerry said as the couple seemed lost for a moment in an idyllic place and time.
"It was a real big family get-together with all of my extended family and close friends. It was a fantastic holiday and the kids had a ball. There were 27 of us in all and we took three cottages in Dunloe. We spent the first two days on the beach. The weather was gorgeous and Madeleine and the kids just ran up and down the sand dunes," Gerry McCann said, adding that it reminded him of so many of his childhood summers there.
As the McCanns moved into the sixth week without Madeleine and the focus shifts back to Praia da Luz, the couple are concentrating on the prime locations which could unlock the whereabouts of their daughter.
"It's a long time to be without Madeleine. We have come through whole phases of emotions and, certainly in the early days, we could not have done these trips," Gerry McCann explained. "Madeleine is not dead, and we need to do everything possible to effect a positive outcome. We don't want to regret that if we had done something it might have helped."
The couple revealed that they have had counselling since Madeleine's disappearance and it helped them move through the days without her.
"I think people see us doing these press conferences and interviews and wonder how we can do this. And I know when I have seen other stories about children who have disappeared with unhappy outcomes I have wondered how can people cope.
"We have very low moments. You are taking a shower or having a meal and you sit and feel guilty and say how can I do this," Kate McCann explained. "It is not possible to grieve 24 hours a day like this, our counsellor says. And then something kicks in and, by doing what we are doing now, it takes your mind off speculation and we feel that it is possible that what we are doing will help."
Commenting about the question the couple was asked in Berlin last week about whether Gerry McCann was involved in the disappearance of his daughter, he said that they were both taken aback by the question, coming as it did at this stage.
"I just hope that we have answered it with honesty and integrity and to the best of our abilities," he said. It is a question the couple would have expected in the early days of Madeleine's disappearance.
"Early on I had said to Kate I wonder how long it will be before someone says 'I wonder if he had anything to do with this'. The circumstances are such that physically it is impossible that I was involved," he said.
"Nobody can hurt us the way we are hurting," Kate McCann said.
Today, the couple move on to Rabat in Morocco as they follow up a claimed sighting of their daughter by a Dutch tourist some weeks ago. So far, it is understood that the Moroccan police have not yet forwarded CCTV footage of the alleged sighting at a petrol station to the Portuguese police.
When the couple return to Praia da Luz tomorrow evening they will take a few days to consider what they will do next.
"We are fairly certain we will not be going back home in a hurry.
"We will reflect on where we need to focus and there will be a period of consideration about what will be best for all of us. It is likely that what we do next will not be as high profile and so it will be here in Portugal, but I think it is fair to say we will not be rushing to a decision."
Mr McCann said that were he to be back in the UK he would find it very hard even going to the family home in Rothley, Leicestershire. "It will be very, very hard; the last time I was back, I couldn't even go into the house. I found it hard enough going to Rothley.'
For investigative reasons, the couple cannot disclose details about Madeleine which fill her out from the images we're all familiar with.
"We cannot detail Madeleine's favourite things for investigative reasons, but we can say that Madeleine is a character who loves singing, dancing, running and chasing. She's a bright four-year-old full of life who is a leader. She adored Kids Camp." As they etch images of a dynamic little girl holding court with her school nursery friends back in England, or at the poolside having high tea with her little friends, Kate and Gerry McCann continue to hold a strong conviction that their daughter is still alive.
And they make one last appeal to anyone who might know where Madeleine is or what happened to her: "If you are a parent, a brother or a sister then you will know our pain. Madeleine is best with us. We shed a lot of tears for the situation she might be in," Gerry McCann said.
Gerry McCann interview: BBC World Service, 19 June 2007
Gerry McCann interviewed for BBC World Service, 19 June 2007
Interview recorded: 19 June 2007
Interview broadcast: 22 June 2007 (50 day anniversary)

This interview was recorded on 19 June 2007, on Gerry's second trip home to the UK.

The short visit was to attend a 'series of meetings' and to conduct interviews for a campaign manager; 'regarding sustaining the search for Madeleine long term', according to Gerry in his blog of that day.

The release of balloons on the 50th day of Madeleine's disappearance marked the McCanns intention to move their campaign away from personal appearances - such as those seen on their European trips - into 'event driven media exposure'.

(00:09:52)


---

Transcript

By Nigel Moore

Jenni Murray: It's 50 days since 4-year-old Madeleine McCann disappeared from the holiday villa, in Portugal, rented by her parents. Since then nothing's been heard of the little girl despite a remarkable campaign to keep the case in the public eye. Posters of her have been put up across Europe and North Africa. Her parents, Gerry and Kate, have made visits to European capitals and they've even been to see The Pope. But, so far, nothing. Gerry McCann has just returned to Portugal from a brief trip to Britain to appoint a campaign manager to coordinate their efforts to publicise the case; only the second time he's left Portugal since Madeleine's disappearance. But I spoke to him, while he was here, and asked him what stage the investigations were at now.

Gerry McCann: The actual specifics of what happened and I think the key things here about, errm... who actually has taken Madeleine, errr... why they've taken her and where she is, errr... I don't think we're any the wiser. That's very much why we're having to continue our campaign on an international front to make sure that Madeleine's image and, errr... details of her disappearance are as widely spread as possible.

JM: Are there any leads at all? I mean, is there anything that the police are now following up, for example?

GM: There's a lot of, errr... information still coming into the inquiry and, errm... you know, there's a lot of hard detective work going on. We have to realise that if they were hard leads we wouldn't be telling, errr... the public because, errr... they would be handled in a very quiet, errr... fashion and, errr... investigated. The important thing, at this time, is that we don't have Madeleine and, errr... that's the only, errr... result that'll clearly make Kate and I happy, and the rest of the family.

JM: How do you think Madeleine herself would be coping?

GM: You know, that's somewhere where we, errr... we can't really go because, errm... it's back to speculation and we've absolutely no idea who's taken her and where she is and, errm... you know, what sort of surroundings she's in, so there's just too many in... errr... errr... probabilities there to really consider it.

JM: Is she a tough-minded little girl, though?

GM: I think it might be fair to say that... that she's got a lot of her, errr... mum and dad's characteristics

JM: Mmm... How about the rest of the family; you and... you and Kate especially? I mean, how are you coping really?

GM: Every parent can empathise, errr... with what we're going through, errm... and we've had our fair share of emotions but, errr... you know, we're... we're trying to stay focused and looking forward and very much, errm... putting our energies into helping, errr... the search for Madeleine. That does help us to cope, errm... I think it's very important also to emphasise that we have had, errr... tremendous support, errr... both from our family and close friends, errr... we've had tremendous support from the local community, particularly through the church here, errr... which really lifted us, errr... particularly in those, errr... very few first days where, errm... you know, it... it was not, you know... it was just awful really.

JM: You're talking to me now but how difficult is it to be... to be brave in public; to deal with the... the media; to be in the public eye all the time?

GM: It hasn't been nearly, errm... as intrusive as one might expected it to have been and they have largely respected our privacy, with one or two, quite minor, exceptions. The phase of the campaign now is very different to that which we, errr... have undertaken in the last few weeks with Kate and I, you know, travelling to different areas, errm... either to raise awareness in countries in close proximity to Portugal, such as Spain and Morocco, and also going directly to countries, errr... The Netherlands and Berlin to appeal for information. The campaign really started, errr... within electronic media and, errr... my sister, Phil, took the first campaign-type action, errr... and that was to start a... a chain email, errr... with a poster of Madeleine's image and asked people to distribute it and then we decided to set up a website dedicated to finding Madeleine, the www.findmadeleine.com. So, there's huge amounts of information there and the message that we're sending out... you know, the overriding message, is clearly: 'Madeleine is still missing and, as long as she's missing, we will continue searching for her'.

JM: I've, errm... recently come back from... from southern France. I saw posters in... in several places there, errm... about Madeleine. But what do you... you've obviously been talking to experts on missing children. What do they tell you might have happened to Madeleine that posters such as that, and your... your trips to Morocco, Spain, the other countries, might help to solve?

GM: The general viewpoint from, errm... experts is that raised public awareness is a good thing, when a child is missing, and that's been the main focus of the campaign, errm... Now, you know, we think that that has got a good chance of helping but we know there's no guarantees.

JM: Has the campaign helped you and Kate to cope, in that, at least you feel you're doing something?

GM: It has helped us and it helped us stay positive, errr... perhaps when our, errr... we were feeling very negative. Yes, there's no doubt having a focus and diverting your energy, errr... into the campaign, it certainly does help us but, at the same time, when you don't achieve the... the end goal of getting Madeleine back, it... it's still, you know, very difficult as time goes on. We are determined and, errr... we certainly will not give up and I think, you know, parents would know that; they would do anything to find their child.

JM: You've had help from trauma counsellors. Has... has that actually helped you?

GM: Without a doubt, errr... and I think what, errm... the psychologists, errm... did was give us the tools, errm... to help us cope at the beginning. We could only imagine the worst scenarios and, errm... he helped us to consider other possibilities and that, you know, there's reasonably good possibilities, errr... that Madeleine, errm... has not been seriously harmed and that has helped drive us. We have tremendous hurt that Madeleine is not here and we've had to have, you know, 50 days now, errr... without her and, of course, when you think about Madeleine not being with her family, errr... it's very distressing.

JM: So, for you and... and for Kate, what actually keeps the hope alive? I mean, when... when you're together, can you actually bolster up each other? Is it... or do you simply find that when you're together you feel very depressed about it?

GM: Despite, you know, a huge investigation, there is no evidence, to date, that Madeleine has been, errm... harmed, errr... physically, errm... and that, errr... means that we will always have hope and, errm... the hope is what drives us on in our determination to be reunited with our daughter. So, errr... of course, there are... we have blips and, errr... moments where, errm... we're not quite as positive and that is difficult to deal with but we support each other; we get family support and the huge amount of goodwill.

JM: Are there other international cases you know about which give you hope; where the children were... were eventually found?

GM: There's been a number ofcases, errm... where children have been found, after a long time, errm... that, when you think about these, you know, is a double-edged sword. Errr... You know about the case of the Austrian girl who was found after, I think, eight years, errr... and you think: 'Goodness me,'you never want to be separated, errm... that long and, in fact, every day is too long for us and there's been another case earlier this year where a boy, errr... was found in America after four... four years; well. Errm... So, yes, you know, there are clearly, errr... cases where people are returned.

JM: So, if anyone is listening to this and they... they feel they've got information that could help, what should they do?

GM: Well, there's two ways really, errr... to go about it, errm... all of the police forces in certainly Europe and, errr... North Africa are alerted, errm... to the fact that Madeleine's missing and so they can report information, errr... directly to local, errr... police force and they will act on that and feed it back into Portuguese inquiry.

JM: There's something else that's happening in the campaign today involving balloons. Now, tell me about that.

GM: To mark the 50th day that Madeleine's been missing we have, errr... are going to be releasing 50 balloons, errr... with helium in them. These will be green and yellow to signify the British and, errr... Portuguese colours of hope and on each balloon there'll be a card with Madeleine's image and, errm... the details of the numbers to call if anyone has information and we've had tremendous support. There's going to be at least a hundred locations round the world, from places far afield as Argentina, Philippines, Poland, Slovenia, Romania, errr... South Africa, Ventura in California and, errm... it really is becoming a global campaign.

JM: Gerry McCann, father of Madeleine - who has been missing now for 50 days. You can find more details about the campaign to find her online at bbcworldservice.com/outlook
Small group of invited journalists, 03 July 2007
'Every day is incredibly hard without Madeleine', 03 July 2007
IN THEIR first press interview for some time, Gerry and Kate McCann spoke with a small group of invited journalists on Tuesday. Answers to the questions below are predominantly Gerry's, with Kate's comments marked as such.
How would you summarise the past 60 days?
Every day is incredibly hard without Madeleine, but there have been a number of plusses as well. Everyday without Madeleine is incredibly difficult.
What is your daily routine?
It starts off normally. We get the kids up and ready. We check telephone calls and have a look at emails etc. We have a few meetings during the day and, in the evenings, things return to normal and are spent as a family. We have frequent meetings and our family have been very supportive in helping us find Madeleine. That's been very important to us.
What kind of campaigns do you have planned for the future?
Can't give too many specifics on the future, but it will be very much event-driven. The important thing is to make as many people as possible aware of Madeleine. The response to the campaign has been incredible. We want to remind people from time to time that we are still looking and Madeleine still has not been found.
Kate: To keep them looking.
Will you spend Christmas in Portugal if Madeleine is not found?
Kate: I think at the moment we are just taking one day at a time. We are not looking that far ahead.
Gerry: We are committed to staying and we feel closer to Madeleine here. Also, as it has been such an active investigation, with so much information coming through, for the time being, we would like to stay here. It is more practical.
What about your jobs?
Right now, we are not capable of working as doctors. We still feel a lot can be done by ourselves. What we don't want is to look back in another three or four months and say we wish had done this. At the minute, the decision is we will stay in Portugal, though we are regularly reviewing our situation.
Kate: Our main job and our main priority is to find Madeleine.
Do you believe she might still be here in Portugal?
Kate: There is a possibility, but we just don't know where she is. We have to say that we don't know. But I do feel closer to Madeleine.
Gerry: We definitely don't want to set a certain focus with the trips that we've made. We went to Spain because of its close proximity. We want people to come forward with information, but we are not sure enough that she was taken from here. She could be in this region and we don't want to dismiss that.
What did you tell Sean and Amelie when they ask about their older sister?
We have taken professional advice to know how to deal with the twins, and I think that how we deal emphasises on how we tell them about it, but it is paramount that Sean and Amelie are fine now.
Why do you think your ordeal has attracted more attention than possibly any other child abduction in history?
It is an interesting question. There are a number of circumstances and I think that the fact that the abduction was of foreign children in a foreign country played a part. Another aspect of this is that we and our family and friends have decided to campaign to maximise the media exposure, and electronic media which started a chain, and that had a huge impact over the first 24 hours.
There is no doubt that the media has done a huge amount and want us to find Madeleine.
How do you view the support you have been receiving from the Portuguese people?
I could not have imagined that we would get so much support and so quickly. It has been a great help really and that has comforted us. It has been like being at home. The first few days the Portuguese people gave us a lot of strength when we were down.
What should people tell police about?
Kate: Lots of things. I am totally reassured that the Portuguese police are 100 per cent committed to finding Madeleine.
Gerry: I think you have seen it yourself that in the last two months a lot has changed and the flood of information between us and police has improved and we thank the Portuguese police. We have a very good working relationship with them. Our determination to find Madeleine is matched by theirs.
How do you perceive latest developments in Spain linking Madeleine's disappearance to an illegal child abduction network?
I haven't gone into that too much in detail and I know the Spanish have a secrecy order, so I cannot tell you if there has been an extortion attempt but the Portuguese Police are keeping us informed.
What has been your hardest moment since Madeleine's abduction?
Every day is hard, very, very difficult. We have positive days as well when we have done big events or some sort of coverage, campaigning. The only important thing for us is getting Madeleine back, and we hope that what we are doing increases the chances of that.
Planning any other visits to other countries?
We haven't got any specific plans but we are looking to have international dimension and we are working with different organisations to help that. But right at this minute we haven't got any planned. From time to time I will go back to England to sort out some personal stuff.
What message do you have for Madeleine's abductors?
Kate: It is not too late to give her back.
Kate and Gerry concluded the interview by repeatedly saying thank you to the Portuguese people, expressing gratitude for their support and patience.
*
Gerry McCanns blog, 03 July 2007
We did a single interview today for the Portuguese media with a British journalist sitting in. The interview marked the fact that it is two months to the day since Madeleine was abducted. We took the opportunity to emphasise that we would be staying in Portugal for the immediate future and continuing the campaign to help find Madeleine. We also want to work closely with the media here in Portugal and engage closely with the Portuguese people who have been so supportive.
We were asked what was the hardest day since Madeleine disappeared and replied that every day has been hard without Madeleine. We also stated that our determination to find Madeleine is matched by the Portuguese police and that we have a good working relationship with them. Our frequent meetings with the police help us stay informed, allow us to feed information into the investigation and let clarify information with senior officers conducting the investigation.
Gerry McCanns blog, 04 July 2007
The England rugby team wore Look for Madeleine T-shirts at their open training session in the
Algarve
today. I am looking forward to seeing the pictures tomorrow! We had a brief, private meeting with the RFU management team last night to thank them for this unprompted show of support which helps keep
Madeleines
disappearance high profile here in
Portugal
and at home.
(...)
(see photograph above of the McCanns with Brian Ashton, England RFU Head Coach, taken 03 July 2007)
Harry Potter book interview, 16 July 2007
Harry Potter book launch to back Madeleine campaign, 16 July 2007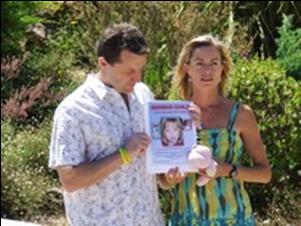 The McCanns at this afternoon's press interview.
By CECÍLIA PIRES
Updated 16-Jul-2007

AUTHOR JK Rowling has agreed to use the official launch of the last Harry Potter book on Saturday (July 21) to support the Find Madeleine campaign.

In an interview in Praia da Luz in the Algarve this afternoon (Monday, July 16), Gerry McCann said the news was fantastic, adding: "We have said many, many times that we have had lots of help and now we have this new support."

In what's known as a pooled interview, Kate and Gerry McCann spoke with a group of just three journalists, one from Portuguese state-owned television station RTP, one from the UK's Daily Telegraph and a reporter from Portugal's The Resident.

Asked how they had managed to secure the involvement of the author, Gerry said one of their friends had approached her to see if she could do something to help raise the awareness of Madeleine's disappearance.

To their delight, a positive response came back via her agent, followed by a personal letter directly to the McCanns.

When launching the new Harry Potter book at the weekend, bookstores and retailers in the English speaking world will display a poster with Madeleine's picture and contact details for information on her whereabouts.

"JK has asked that this poster is displayed in all the bookshops selling the book", said Gerry. "We hope very much that this will help us find Madeleine and also raise awareness of other missing children."

Asked if she liked the Harry Potter books, Kate said that she had read the first three.

"But since the children came along I have not had much time for reading," she said. "I did get Madeleine a DVD and, like most children, she is a fan."

When asked how it was on a recent family trip back to the UK without Madeleine, Kate said it was very difficult.

"The hardest part was being with the family and Madeleine not to be with us. She is a huge part of our family and she is very special."

During the trip, the McCanns took the opportunity to have meetings with different agencies involved in campaigning against child abduction.

As a result, they say, they are now more aware of the issue. "Both of us knew these things happen and that what happened to us is exceptionally rare," said Gerry. "I don't think we were overly naïve about it, and we probably knew as much as anyone."

Kate said it was the scale of the problem that they were not aware of: "It's something that definitely needs publicising."

Commenting on the secrecy of justice laws in Portugal, the McCanns said there main concern was simple: "We just want to make sure that when that key piece of information comes in, it is acted on immediately."

António Toscano, the Spanish reporter alleged to have a secure line of investigation on who he claims is Madeleine's abductor, has asked to meet the McCanns but they have turned down his request.

"We are not police investigators. We can't act on the information as they do. What we ask people with information to do is to contact the police", said Gerry.

The couple said their recent lower profile was not about being secretive, just that they felt it was better not to talk about the investigation.

Kate added that talking about the ongoing investigation could "potentially jeopardise the investigation and potentially our daughter."

In concluding the interview, Kate said: "Madeleine is the most important thing and we have to remember that.

"We will not be happy until Madeleine is back with the family."
Pooled interview, 07 August 2007
Short clip from interview with the McCanns, 07 August 2007
Short clip from interview with the McCanns

Note: This was a short pooled interview which the McCanns undertook on 07 August 2007, as referenced in Gerry's blog for that day (see below, under transcript).

The McCanns were already planning to undertake interviews with the British and Portuguese media on 09/10 August, to mark 100 days of Madeleine's disappearance, but presumably felt an urgent need to counter the adverse headlines that had been appearing in the Portuguese press that week; following the indications of the sniffer dogs, Eddie and Keela.

The short-version video below has been edited (and titled) to imply that Gerry McCann has instinctively talked of 'murder', when, in fact, Gerry was responding to a question which had specifically mentioned that word. The full-version video, and transcript, is available on the Sky News link below.
Madeleine Latest As 100th Day Approaches
Sky News video
Aug 7, 2007
Kate and Gerry McCann have spoken after reports that traces of blood were found at the apartment where they had been staying in the Algarve. Sky also spoke to Mark Williams-Thomas, a former child protection expert who has been following the case.
(00:08:35)
---
Note:
Sky News have disabled embedding of this particular video. To view, click on 'Sky News video' link above and enter 'Madeleine Latest As 100th Day Approaches' into the search box.
---
Transcript of complete interview
By Nigel Moore
Richard Bilton:
Over the past couple of days we've seen, errr... sort of, the inquiry seem to shift... the focus, errr... in some ways, seems to have shift... the areas the police are looking at has changed. How has that been for you?
Gerry McCann:
I think it's an encouraging sign that, errm... you know, they're... they're looking at all possibilities and being very thorough and, errr... it's an excellent example of collaboration between both the British and the Portuguese, errr... police working together, ultimately to try and solve the case of Madeleine and what's happened to her.
RB:
Now, yesterday you... you met the... the Portuguese police, didn't you? Errm... There is an awful lot of information in... in the local media that seems to, errr... errr... talk about the... the... quite detailed bits if the inquiry. Are you happy with the flow of information you are getting from the Portuguese police?
Kate McCann:
We are, I mean, we've got an... we've got an excellent relationship with the Portuguese police and we meet frequently, errm... and the flow of information's been... been great actually. It's been very reassuring.
GM:
They... they very much know that, you know, we like frank information and it's much easier for us to deal with when we do that and, errr... you know, we were well aware that, errr... these developments were going to happen; we were invormed... informed in advance, so, errm... But naturally, you know, this length of time, errr... we're desperate to find Madeleine. That's the key thing.
RB:
Did you, for example, know then, this, errr... discovery of what's thought to be blood in the apartment? Were you told of that?
GM:
Can't comment on any specifics, errr... in forensics and we wouldn't do that. We would never, never, ever jeopardise the investigation and I think it's critical for people to realise that, that we do, errr... you know, have some information, but one, we're not allowed to... to tell it and two, we would never, ever put, errr... anything, errr... into the public domain that might put the investigation or Madeleine at risk.
RB:
And what about, errm... some of the broader points then in this investigation that are being released to... to the media, or certainly being reported by the media, the idea that part of this inquiry is now shifting from a possible abduction to, errr... an investigation that might involve, errr.. death or murder?

GM:
We're not naive, errr... but on numerous occasions the Portuguese police, errr... have assured us that they were looking for Madeleine alive and not, errr... you know, Madeleine being murdered and I don't know of any information that's changed that. Of course, errr... the information and the way the investigation's going is... is about thoroughness and ab... and making sure that everyone is as confident as possible that that is the case. Errm... Kate and I strongly believe that Madeleine was alive, errr... when she was taken from the apartment. Obviously what we don't know is what happened to her afterwards, who's taken her and what a motive is, and we're desperate to find that out.

KM:
And, as Gerry's just said there, e... even last week when we met with the police they said: 'we are looking for a living child' and they've said that a lot, so...

GM:
Yeah.
RB:
Now, the nature of these searches have actually involved yourself; your car, I believe, is actually still being... being looked at by detectives. How has that been?
GM:
Well, of course, errm... it... it's difficult but we expect the same thoroughness and to be treated the same way as anyone else who has been in and around this and we wouldn't expect it any other way. The same high levels will be applied to us as will be applied to anyone else and that's only right and proper. And, of course, we are more than happy to cooperate with the police and we have done, errr... at every opportunity from the minute we discovered Madeleine missing and the police were called very early on, errm... errr...we alerted them al.. you know, almost immediately, errr... and we will work with them and continue to work with them to try and get the breakthrough which we hope and pray for every single day; that today will be the day that Madeleine will be found.
---
Gerry's blog: 07 August 2007

Kate and I managed an early morning run today. It was pleasantly cooler, with a refreshing breeze, which made a nice change. The media presence in Praia da Luz is at its greatest since the first couple of weeks, as is the amount of speculation and rumour regarding the investigation.
This morning we agreed to do a short, pooled interview that was made available to all broadcasters worldwide. We wanted to make it clear, that as far as we know, there is still absolutely no evidence that Madeleine has been seriously harmed and Kate and I have to believe she is still alive. The Portuguese police have assured us on numerous occasions that they are looking for Madeleine and not a corpse. Of course all possibilities are being considered and the police have to be certain before eliminating any of the scenarios. It is absolutely right that we are subject to the same high standards of investigation as anyone else. Kate and I have, and will continue to assist the police in every possible way.
We hope there is a breakthrough in the investigation very soon. In the meantime the campaign to keep the public involved in the search for Madeleine continues. We are always trying to think of ideas that will reach people who may not have heard of Madeleines disappearance. I spent a couple of hours this afternoon working on forthcoming events but did manage to squeeze in a much-needed haircut!
Amanda Walker interview, Sky News, 09 August 2007
Amanda Walker interviews the McCanns, 09 August 2007
Amanda Walker interviews the McCanns
Sky News
Note: This interview was published online 10 August 2007 but actually took place the day before, 09 August 2007, as part of a series of pooled interviews for the UK media only. The Portuguese media were made to to wait another day.
Gerry And Kate McCann: The Full Interview
Aug 10, 2007
Sky's Amanda Walker spoke to Gerry and Kate McCann as the 100th day since their daughter vanished looms. To mark it, Madeleine's parents are launching a dedicated channel on You Tube to draw attention to missing children across the world.
(00:10:06)
*
Transcript
By Nigel Moore
Amanda Walker: Kate and Gerry, thank you for joining us on Sky News. Over the past hundred days you've conducted a phen... phenomenal awareness campaign which has led to various possible sightings, which have later been dismissed. Just take us through the emotional experience you go through from the moment someone says 'I'm definite that I've seen Madeleine' to when it's discounted.
Kate McCann: I mean, the main thing for us is knowing if the sighting is credible or not, really. Errm... to be honest we don't go through that, errm... emotional rollercoaster with regards to the sightings, errm... you know, the only thing that we'll be happy for is when we know it's definitely Madeleine but we... we don't go through the... the ups and downs of that. I mean, the reassuring thing for us is that it implies that people are still looking for Madeleine and that's... that's really important and encouraging.
Gerry McCann: I think it's a protection really, that, errr... if you were up and down like that all the time you... you just wouldn't be able to function, so it comes back, as Kate says, to the credibility.
AW: Now, it's been a tough week for you. The Portuguese press, in particular, seem to be conducting what could be described as a 'smear campaign' against you and attempting to put the blame of Madeleine's disappearance on you. Where are they getting this information from and how do you react to it?
GM: Ehhh... we don't read Portuguese, so, I think that's the first thing to say that, errr... we haven't read the, errr... accounts first hand, errr... there does seem to be, errr... a consistency this week - and claims from police sources - but to be perfectly frank we don't know how much of that is true and how much of it's speculation. What we do know is that speculation certainly doesn't help us. We know a number of the facts and, errm... I have not seen any evidence, or know of any direct evidence, to have changed our... our viewpoint to what we have held for the last hundred days and, you know, we've said all along and... everything we have done, during the last hundred days, is focussed on, errr... the belief that Madeleine was alive when she was abducted and, errm... certainly, errr... we were encouraged in that respect and, errr... everything we have done is to increase the chances of her being returned.
KM: You know, Amanada, I mean, we've been through - and are going through - that much pain with not having Madeleine with us that anything that's written or said, really, is just a minor hurdle in comparison and, errm... we'll ride through it. We still strongly want to do what we believe's the right thing to do; what's the right thing for Madeleine; what's the right thing for us and at the minute that is to stay and we're not going to be bullied into... to going home, you know.
AW: We've witnessed the support that you've had in Luz but there is, out there, criticism, not least from your home town; the website for the... the local newspaper; the comments page; a barrage of, errr... comments that were described as spiteful, of defamatory. Were you surprised by that and how did you feel about it?
GM: I think again, I... I haven't actually read the comments and I have no idea who's written them, errm... we've used the Internet to try and raise Madeleine's awareness, errr... I don't know who the people are, or what they have specifically written, other than the broad terms that you've got.
KM: Or what the motives are because anything written like that is really unhelpful, you know.
GM: At the end, you know, whatever anyone thinks of, errm... our actions, errm... ultimately in our only focus is trying to find Madeleine and, you know, there's an innocent child missing. That's, you know - what anyone thinks - that's the key thing; Madeleine is missing and we're just doing our absolute best to maximise the chances of her being found.
KM: And anything negative that... that's written, we've had thousands to counteract that, Amanda, I mean, I can't... I mean, you've probably heard but we've had that much support from people, errm... I don't think we can say 'thank you' enough, really, I mean that's been so important and.. and that is the main thing, really, that's... that far outweighs anything negative.
AW: Luz, itself, is a very relaxed, safe-feeling resort and obviously you felt relaxed and safe enough to leave the children to sleep while you went and ate within the complex. Is that something that you'd done on other nights? Is it something you were getting a feeling that other holidaymakers were doing?
GM: I can't really comment about... you know, it's well known that we were dining at the Tapas Bar, fifty yards away, and, errr... can't comment too much, errr... in terms of our patterns and our routines given the fact that that's subject of investigation but, it... it was...
KM: I mean, I... as I said before, I mean, we have both said, if we'd had to think for one second that this was taking a risk, it wouldn't have happened. I mean, that... I think that says how safe we felt, you know.
GM: I mean, it was incredibly quiet, errm... family orientated, errr... incredibly close and, errr... you know, we did feel incredibly safe here.
KM: And I don't... I mean, judging on the letters that I've had, I mean, I've had so many supportive letters from families; from other mothers and they've said: 'Kate, you know, we've done that; we do that, you know. Who'd have ever thought that something as horrible as that would happen, you know'.
GM: It is incredibly rare what's happened to us but, errr... I think, you know, way... the way that we've talked about it before it felt very similar to dining in your garden and I know that, you know... have you ever left a child li... unattended for any length of time, whether it be you're downstairs or the child's upstairs or you went to the garage? You know, errm... if we could turn back the clock, you know, and... and rewind, of course, we would.
KM: We're just sorry we weren't there at that minute.
AW: In terms of staying in Portugal, you've both said from the start that you're not going home until Madeleine is safely back with you. Are you both equally as adamant about that because there have been some suggestions that Kate, you're the one that really wants to stay, and Gerry, perhaps not so much? What do you see as the benefits of staying and is it true that, perhaps, you want to stay more?
GM: I think we both want to find Madeleine and we want to do everything possible to... to help and we felt staying close to the investigation and trying to move that on, errm... and cooperate, errm... was a good thing and that's, you know... this week and the week before highlights how important that is. It would have been a lot more difficult to progress things if we'd been back in the UK. I think from some practical aspects, errm... in terms of efficiency, I could see benefits of going home but emotionally until we've done everything and we need to know what's happened.
AW: Is it difficult for you seeing... because now, you know, Luz itself is a very... it's in full swing for holiday season. Is it hard to be in your situation surrounded by people on holiday?
KM: I just think everyday's hard, to be honest. I don't... I don't think that's really made it any harder for me, I don't think. Everyday without Madeleine is, errr... is very hard.
GM: I... I think earlier on I was very conscious that, you know, perhaps our grief, misery was... may have been affecting other people and I was not trying to force that on them; was conscious of that, errr... but, you know, the... our own kids help us, errr... keep our feet on the ground and they give us a lot of joy and we have to give them love and attention that they deserve as well, so... and, I... you know, I... I'm not... seeing other people enjoying themselves, I don't... you know, that's the way it should be.
AW: Now, your campaign has been unprecedented. What's next?
GM: Well, to mark the hundred days, errr... we'll be launching the YouTube channel, errr... called 'Don't You Forget About Me', errr... which is a channel for missing children and, errr... it's been a lot of work going on behind the scenes on that and I think it's a fantastic idea and we're launching it in collaboration, obviously, with Intenational Center for Missing and Exploited Children and Google themselves, who will be hosting it via YouTube, and, errr...
KM: And both of whom have been incredibly supportive and just welcome the idea, so...
AW: Is this an indication, going on at a wider scale like this, that, perhaps, you... your hopes are fading for Madeleine, in any way, in that you're giving it... you know, putting it on a much wider scale rather than this just being about finding Madeleine; it's about finding other missing children?
KM: Naah... I mean, I... I think, you know, from quite early on we've obviously wanted to know a little bit more about the scale of the problem and, errm... I mean, it's massive, actually, I mean... I didn't realise how little I knew, really, and I think knowing that it's very hard to turn a blind eye to it, you know, errr... and we just felt if there was anything, obviously... you know, obviously at the minute our priority's Madeleine but we just felt if there was anything we could do that might help other children; that might make the world that little bit... you know, just a tiny bit safer for children then something good has come out of it.
GM: I think it's a real... something tangible that could benefit other people and give renewed interest to other missing kids as well in a medium that younger people use, errr.... very use... you know, tens of millions of people use YouTube. There were over two hundred and twenty nine videos of Madeleine, errr... on it already.
KM: About six weeks ago.
GM: You know, so it's incredible.
AW: And Kate, finally, if Madeleine could hear you now, what would you say to her?
KM: (laughs) Huhh... I mean, 'I love you'; she knows that. She knows, how much 'I love you'... how much we both love her.
GM: And we're still looking for her.
The Pain Shows - Sky Interviews McCanns, 10 August 2007
The Pain Shows - Sky Interviews McCanns Sky News (no longer available online)
By Amanda Walker
Updated: 09:39, Friday August 10, 2007
Kate and Gerry McCann are becoming used to giving interviews.
Since Madeleine's disappearance they've been fully aware that in speaking to the press her profile will remain high. Though inviting reporters into their private lives is clearly not something they relish.
A round of television interviews was arranged to mark the 100 days since Madeleine disappeared.
The fact that these interviews are for the British media has angered Portuguese journalists. Mid-interview, one reporter rings the door bell questioning why they too can't speak to the McCanns.
The Portuguese press appear to have launched what can only be described as a smear campaign against the family.
They're pinning the blame for Madeleine's disappearance on them and their reaction to this is a question they know they'll face again.
With the cameras set up, the McCanns enter the room. Kate is clutching the ever present cuddle cat toy that belongs to her missing daughter.
Both smile and say hello. As they sit down and clutch each others hands there's a sense that whatever this interview throws at them, they'll battle through together.
I ask them how they feel about being accused by the Portuguese media and where they think information about their involvement is coming from.
Gerry told me there's no evidence they're aware of that would suggest Madeleine wasn't abducted.
The most recent possible sighting came from Belgium where DNA tests to find out if the little girl was Madeleine proved inconclusive.
The McCanns told me they've learnt not to raise their hopes too high.
Kate said: "To be honest we don't go through that emotional rollercoaster with regards to the sightings."
In the past week, the couple have had a tough time at the hands of Portuguese journalists, but no accusation levelled at them hurts as much as being without their daughter.
"We've been through that much pain by not having Madeleine with us that anything that's written or said is just a minor hurdle in comparison and we'll ride through it.
"We still want to do what we feel is the right thing to do, the right thing for Madeleine and the right thing for us and that's to stay and we're not going to be bullied into going home, no."
The interview concludes and they're ready for the next one.
The attitude is tireless but it's obviously the last place they want to be - in a room with journalists and cameras. All they want is Madeleine and they're not giving up hope.
Jane Hill interview, BBC News, 09 August 2007
Madeleine's parents say they still have hope, 09 August 2007
Madeleine's parents say they still have hope
BBC News video
Interview date: 09 August 2007
The parents of missing Madeleine McCann say they still have hope that she will be found alive.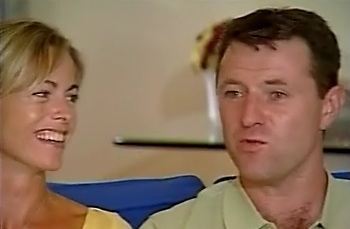 Transcript

By Nigel Moore

Jane Hill: Gerry and Kate, thank you so much for talking to us again. I think anyone watching this interview probably has read, has heard you say, that you try to live life as... as normally as possible and I wonder: What is normal for you now?

Gerry McCann: I think it... it... you know, the daily routine does vary but, errr... the kids, errr... keep our feet on the ground and, errm... we've had a good routine with them and they've been fairly settled and obviously we've been doing an awful lot of work in the background to try and help find Madeleine, errm...

JH: Are they aware that they're in a... a different place still? That they're in this hot, sunny climate that's clearly not Britain. Do they... are they even old enough to question that sort of thing?

GM: They did, errr... talk about it a bit when it rained, errr... you know, it was a few specks and they're going: 'rain! rain!' But, it has been good, errr... I mean, one of the good aspects of this, if there is one, is that, I suppose, rather th... I have managed to spend a bit more time with them than I would ordinarily do, working full-time and some weekends, but, errr... yeah, I mean, they... they're doing okay but it's still... it's very difficult for us obviously.

JH: In terms of the investigation, and I appreciate there's an awful lot you're legally not allowed to say, I'm just curious whether the involvement of British officers has... has made any difference to how its gone; to the flow of information that you receive. Has it impacted on it?

GM: Aaah, there's been British officers involved, errr... since Day Two when the family liaison officers, errr... came and then there were officers from CEOP and, errr... there was an analyst, errr... so there's behaviour; so there's been British officers here throughout. Clearly there... there was a shift in the investigation which has led to the recent activity, errm... and that's been, you know, the... the... one of the good things has been the collaboration between the Portuguese and British. This is the first time, errm... errr... a foreign police force has been allowed into Portugal, errr... to work alongside the, errr... Portuguese police. So that's been a good aspect of it.

JH: Some of that activity, this week in particular though, has resulted in some pretty grim headlines and some pretty salacious reporting; particularly, I think, in the Portuguese press. Does that... how does it... how does that resonate with you? What... how... how do you deal with that?

GM: Very, very difficult but, you know, there has been a shift in the investigation and the line of, errr... you know, the way it was proceeding previously. You know, it was frustrating for us the fact we... it hasn't resulted in finding Madeleine. Now if that means we're starting with a clean slate... they've always said all scenarios are possible and we have always done everything to cooperate; we have stayed here; we have worked with the investigation and everything that we have done in the last, errr... hundred days has been, errr... with the belief that, errr... Madeleine was taken alive and I haven't seen any concrete evidence, errm... to the contrary. So although these headlines are there, I.. I think a lot of them are speculation.

Kate McCann: All we... all we want is Madeleine back and the truth to be out and anything else, you know, we'll stay strong on; we'll get through.

JH: I just wonder if people watching will wonder how on earth you have managed to stay strong, frankly, over the last week when you, as a couple, some of the friends that you were on holiday with, whether they're in this country or back in Britain, errr... have been forced to... to keep saying things, over and over, have been forced to come to your defence, if you like, and to their defence.

GM: It's incredibly difficult when people are implying that your daughter's dead and that you may have been involved in it. I mean, that is just unbelievable, to try to cope with both of these things, but events of the this week haven't changed our belief. Now, we're not naive, we have always considered it. We have always said, of course, we don't know who took her, what their motives were and what's happened to her, so, of course, we've considered it, but I will not accept Madeleine's dead until we get evidence of that.

JH: So from here on in, as a final thought, how do you, as a couple, remain focused and remain positive, as you always say you want to remain, Kate?

KM: I mean, for us, Jane, that hope is still there, you know, and it's so important that we don't lose sight, that we hang onto that. You know, until somebody tells us definitely something different that hope is still there and we've gotta... we've just gotta keep going for Madeleine, you know, even through these difficult stages we just have to keep going for her.
BBC Radio 4 Today Programme, 10 August 2007
'If there is evidence, then we need to know about it', 10 August 2007
'If there is evidence, then we need to know about it'
BBC Radio 4 - Today Programme
0730 - 0800
(listen here)

0730.
It will be 100 days tomorrow since Madeleine McCann was last seen in Portugal. But this week there's been an astonishing turnaround of reports.
---
Note:
Although this report was broadcast on 10 August 2007, the interview section with the McCanns was almost certainly recorded on 09 August 2007, along with all the other interviews for the British media.
---

Transcript

By Nigel Moore

R4 Presenter:
It's coming up to 25 minutes to 8. Well, a hundred days have almost passed since Madeleine McCann was last seen in the holiday town of Praia da Luz on the Algarve. Now, the story, of course, been told around the world. Her parents, Kate and Gerry McCann, have received a great deal of support - as they've been pointing out in the last day or two - from tens of thousands of people. But, as we all know, this week there's been an astonishing turnaround, really, with reports surfacing in Portugal that the child may not have been abducted. The McCanns have been forced to deny that they had any role in their daughter's disappearance. The headline in the Daily Express this morning is typical: 'Madeleine: Why don't these bloody McCanns go home - lawyer's astonishing attack'. And that comes from the lawyer representing the one man who's been named as a suspect, Robert Murat. It is an extraordinary business. From Portugal, Steve Kingstone reports.

Steve Kingstone:
(sound of people in noisy pub/club) High spirits, during high season, in Praia da Luz. Last night the bars were packed and by day sunworshippers lined the beach but more than ever this modest seaside town feels the shadow of the Madeleine McCann case.

Kate McCann:
Okay, this is the Don't You Forget About Me, errr... YouTube channel which we're doing in conjunction with ICMEC, which is the International Centre for Missing and Exploited Children.

SK:
Kate and Gerry McCann had hoped to focus today on the launch of a new website, raising awareness of missing children around the world. Instead there are signs of friction with the police and the couple are literally being pursued by an ever more hostile Portuguese media.

KM:
It is very intrusive and obviously we'd prefer it wasn't happening. Certainly, Gerry and I can cope with it and that's fine. It's a little bit more inconsiderate, I think, errr... with regards to the children.

SK:
The police inquiry is shifting direction. In Britain, forensic tests are being carried out on suspected traces of blood found last week in the families holiday apartment. In Portugal, British officers with sniffer dogs who specialise in finding murder victims have searched various locations. A police spokesman has told the BBC there are indications to contradict the long-held view that Madeleine was abducted; while Portuguese newspapers quote unnamed police sources as saying the girl might have died
inside
the apartment. Gerry McCann recognises the change of tone from detectives but says he and his wife are not being given enough information.

Gerry McCann:
There's definitely been a shift. They haven't said that she's dead. On multiple occasions they believed they were looking for a missing child but there's been a shift. Errr... I want to see the evidence which has, errm... you know, caused their shift because it's so important to us. As parents, if there is evidence, then we need to know about it.

SK:
(sound of generators humming) Well, you really don't have to look far to see where the focus is now in this case. There's a long line of satellite trucks and generators here, right outside the Ocean Club holiday complex, where Madeleine was last seen. Her family are now living elsewhere; Kate and Gerry McCann have stopped bringing their twins to the creche here because it was causing problems for holidaymakers. And what's really quite remarkable is if you turn around and walk a hundred metres up to the other end of the same road, you'll find no satellite trucks, no journalists, outside the home of the only official suspect in this case, Robert Murat.

Sally Eveleigh:
He has a daughter of a similar age to Madeleine. She, at the moment, is in a terrible state because she's dying to see daddy. She keeps looking at photographs of Madeleine and saying 'Please, mummy, when are they going to find this little girl so I can have my daddy back?'

SK:
Sally Eveleigh is a cousin of Robert Murat whose home and two vehicles have been searched over the past week without, as yet, yielding fresh evidence. Mr Murat is still formally under suspicion and there are outstanding questions about his alibi. He's told the police that on the night of Madeleine's disappearance he was at home all night with his mother but three witnesses - all friends of the McCanns - have given evidence that they saw him on the streets helping to search for the missing girl. Sally Eveleigh says her cousin is prepared to take extreme measures to prove his innocence.

SE:
He just looked at me and said 'Sally, I was not there, i... it's not true, I was not there'. It was quite a simple answer. He has told me he will take a lie detector test anytime. It's no problem at all for him. If somebody approached him and said he was there on that night he is quite happy to take a lie detector test.

SK:
That won't happen as polygraph tests are inadmissable in the Portuguese courts but last month the police did bring together the McCanns' friends and Robert Murat in the same room to compare their differing accounts. Now, on the eve of the one hundredth day without their daughter, Kate and Gerry McCann are being confronted, through the press, with a previously unthinkable suggestion.

SK:
(addressing Gerry and Kate McCann) You can see the way that the reports here are going; they are suggesting - again attributed to unnamed police sources - that the centre of gravity is shifting to your circle of people who were here with you during this holiday. To people back home who have supported you, felt for you, donated to the campaign and are reading this stuff - because it is filtering back to Britain - what do you say?

GM:
We know we're absolutely innocent and we've had absolutely amazing support. What I would say is that if the focus in the investigation changing leads to finding out what's happened to Madeleine, or recovering her, that's all we're interested in and I would ask people to continue to believe in us and support us.

SK:
Kate, what do you say to people listening to this?

KM:
We've been through that much in the last hundred days, you know, no pain is ever gonna be as great as this. You know, I don't spend too much time reading the papers at all and anything that's written, if it's negative, errr... or derogotary. My main mission is... is to help find Madeleine and that's the only thing... that's the only thing I'm concerned about.

R4 Presenter:
That report from Steve Kingstone. Time's: 20 to 8...
Sandra Felgueiras interview, RTP, 10 August 2007
The McCanns interviewed by Sandra Felgueiras, 10 August 2007
The McCanns interviewed by Sandra Felgueiras RTP Channel
Transcript
By Nigel Moore
Sandra Felgueiras:
Concerning this blood trace that was found inside the apartment; there is any possibility of that belonging to Madeleine? Did her, errr... did anytime she had any accident inside the apartment that time, errr... to make it happen?
Kate McCann:
First of all we don't actually know there was blood inside the apartment, you know, and I think at the minute there's a lot of speculation going on and, I mean, I think speculation is quite damaging; we realised that early on, and I think until somebody comes up to us and says there's definite evidence that Madeleine has been seriously harmed, you know, we're just gonna ignore the speculation and we'll just hold onto that hope, that's all we can do.
SF:
But nothing happened to Madeleine during those days you were in the Ocean Club?
GM:
You know, as parents if there is... if... as parents, if there is evidence that Madeleine has seriously been harmed, we need to know about it because we are s... you know, we have got eternal hope until we know evidence to the contrary.
SF:
You feel you are being treated as a suspect, Kate?
GM:
It's not that they've...
KM:
I haven't been made to feel like that, no, but it's not that... you know, it's not... we know that everybody has to be looked at; I mean, that's part of any investigation and, you know, if... if... if it means that, you know... we've... we've... all along we've cooperated and I think, you know, the police have to do their job properly.
---
Gerry McCanns' statement 07 September 2007 PJ Files

A possible injury to Madeleine?

When asked if on any occasion Madeleine was injured, he says that he has no comments.

(...)

Further comments

When asked if he has anything to add he says that he has not seen any proof that his daughter Madeleine is dead, and therefore he will continue to search for her in the hope that she is alive. He knows nothing more than what has been said.

The lawyer for the defence says he wishes Gerry to be asked again if Madeleine bled. To which he said it was common for Madeleine to have nosebleeds. He says that he doesn't know if in fact his daughter bled while on holiday in Portugal because he does not want to be influenced by the news in the Press, regarding the detection of human blood in the apartment where his daughter disappeared.


---
Transcript

By Nigel Moore

Sandra Felgueiras: In that evening, did you give to your kids something like Calpol to help them sleep?

Gerry McCann: You know, we're not going to comment on anything but, you know, there is absolutely no way we used any sedative drugs or anything like that and, you know, we'll... we have cooperated fully with the police, we'll answer any queries, errm... any tests that they want to do, at any... (video cuts)


---
Gerry McCanns' statement, 07 September 2007

Medication for the children

When questioned, he states that none of his children takes any kind of medication regularly in England.

When they travelled on holiday to Portugal they brought several medicines, namely Calpol, Nurofen, for fevers and pains, both for adults and children, Losec for gastric problems that he occasionally suffers from, and an anti-histamine called Terfenadine for hay fever. He did not give any of these medicines or any others to the children while on holiday in Portugal.
The Times Interview, 29 August 2007
Gerry's blog, 29 August 2007
Gerry's blog, 29 August 2007
- Extract -

Relatively
quiet day. Kate and I did one interview in the morning for a newspaper- that I managed to finish, probably because the journalist stuck to questions that I am allowed to give answers to!
Madeleine: one fact, many lies, endless grief, 04 September 2007
Madeleine: one fact, many lies, endless grief
Timesonline
It's now 124 days since Madeleine McCann disappeared. Our correspondent charts a story that became global, lurid and often invented – and hears how the McCanns learnt to think positively after imagining the darkest scenarios and suffering uncontrollable grief
Penny Wark
September 4, 2007
This is the story that has preoccupied at least two nations and elicited sympathy around the world. It is now 124 days old and has been told thousands of times in millions of words. Yet the story has only one fact: on the evening of May 3, a three-year-old child, Madeleine McCann, disappeared from the bedroom where she slept. We may think we know more than that, but we don't, and no matter how often the story is repeated and the sole fact is spun, all we are reading is speculation. Or slurs and lies. There have been plenty of those, too, because when the media run out of facts and speculation, their more unscrupulous exponents resort to invention.
It's not pretty. A story that was always tragic and has yet to have any kind of resolution, let alone a happy ending, is being treated with the abandon more normally meted out to soap opera characters or to those who elect to engage with the manufactured world of reality TV. The difference is that Madeleine is neither fictional nor a wannabe star, and neither are her parents, Gerry and Kate, who, you will note, don't need a surname any more. We know them that well, or we think we do. Note, too, that referring to them as Gerry and Kate breaks the convention of referring to them as Kate and Gerry: when feeding the masses a tale of heartbreak the distraught mother is a more emotive presence than an anguished father.
There is no doubt that Madeleine's disappearance – and what has happened since – raises important questions about how we can best protect our children from those who wish them harm, about the obligations of the media, and about our responses to the pain of people we don't know. During the past three weeks I've examined these questions in Praia da Luz, the sunny whitewashed family idyll on the Algarve where I met the McCanns, and elsewhere.
As everyone is acutely aware, the reason we know so little about Madeleine's disappearance is because she was abducted in Portugal, where the segredo de justiça law prevents the police from putting information about a criminal investigation in the public domain. Had Madeleine disappeared in Britain or the US, this would not have happened. Given that the Portuguese police admit that after four months they still have no idea where she is, or whether she is alive or dead, the first question has to be whether the lack of information is merely frustrating, and especially so for her parents, or whether it has impeded her safe recovery.
Neil Thompson has 30 years of police experience, latterly as a detective superintendent in charge of operations for the UK's National Crime Squad. Now the director of security at red24, a private security company, he does not support the Portuguese tactic. "If a child is abducted for sexual exploitation or murder, no information is unhelpful," he says bleakly. "In the UK you would release information to the media and the public that could help the situation, and keep back anything that might compromise the investigation, or frighten the perpetrator into harming the child. It's a balancing act. Your priority is to get the victim back alive, arresting the perpetrator is lower down the scale. A no-information rule means that you're working in the dark.
"The first two to three hours are vital. The first officer at the scene secures it and calls in detectives. A good officer has a nose for these things, and you have a process that tells you when a child has not wandered off. You set up road blocks, you check ports, you check intelligence – has anyone tried to snatch a child in the area? Can anyone describe a car? All that is fed into an incident room and analysed and the senior information officer decides what to release to the public. In the UK police can get a newsflash out straight away to TV and radio so you've got thousands of eyes and ears right at the beginning and you tell the public what you want them to look for. If you do that 24 or 48 hours later it loses impact."
We don't know exactly when Madeline was reported missing, and I am told that none of the published timelines relating to May 3 are accurate. I have also learned that the Portuguese response system is slow and unwieldy. The McCanns' call to the police was received in Portimão, a 30-minute drive away, and the practice is for a local officer to attend the scene to assess whether a crime has been committed and whether to call for help. Police officers drove to apartment 5A at the Ocean Club where the McCanns were staying, then referred the case to the Policia Judiciaria in Portimão. Thus vital time was lost immediately after Madeleine's disappearance – when it was imperative that the investigation should become active.
"You're only as good as your expertise," Thompson says. "If you're in a country that hasn't got a lot of serious crime and the training hasn't gone into major investigations, you make mistakes and lose evidence." Abductions are rare but not random, he adds. "Most child abductions are planned; it's not a burglar who finds a child and takes it. Paedophiles go to places where there are children, such as Disney World. Whatever this abductor's motive, he has been in the vicinity, he knows that there are children in this complex and that when people are on holiday they're relaxed, and don't think about risk. He will know the area and will have planned what he is going to do with the child. If he's going to keep the child in a secure room, he will have been careful not to alert shopkeepers by buying food he wouldn't normally buy. If a child is going to be sold for exploitation, in this case the unprecedented scale of the publicity has given the abductor a problem because he has an item that is readily identifiable all over the world and can't be passed on."
Those who specialise in tracing missing children acknowledge that publicity can unnerve a perpetrator, but insist that it is key and does save lives. "We know the public helps us to find missing children and it's up to law enforcement officers on each case to make the call as to what they tell the public," says Nancy McBride, the national safety director at the US National Center for Missing and Exploited Children, which has recovered 110,276 (just over 86 per cent) of the 127,737 children reported missing to it since 1984. "There's always a risk, but it's worth it. We never give up, we never close a case until we know what's happened to a child."
In seeking publicity, the McCanns had the clear objective of finding their daughter. What they did not envisage was that interest would spread, as Gerry puts it, like a forest fire, and that 150 journalists would suddenly descend on Praia da Luz, excited by the prospect of a story of a pretty child with attractive parents who are also middle class and intelligent – and far away from the stereotypical image of an inadequate single mother who might carelessly mislay a child and who certainly couldn't afford to visit this aspirational resort. Add to that the parents' status as doctors, people who save lives, yet who leave their children, Madeleine and her two-year-old twin siblings, without adult supervision in an apartment while they eat at a tapas bar a 52-second walk away, and the chattering classes are simultaneously full of sympathy and hooked.
When you first see apartment 5A you are struck by its exposed location. On the ground floor of a five-storey block, it is on a street corner and, like most of the Ocean Club apartments, not part of the gated section that houses the tapas bar and crèche. It would be easy to observe from different viewpoints, and perhaps to notice that this family had a regular pattern of behaviour in the evening, putting their children to bed, slipping across to the tapas bar and checking on them regularly.
But these are observations made with the benefit of bitter hindsight. Before Madeleine became a household name, no one thought like that on holiday, especially in an English-speaking resort so sedate that it doesn't even have facilities for teenagers. In late April the weather is pleasant, the beach is a five-minute walk away and you're there to relax and have fun. "It's a quiet, safe resort," says Gerry when we meet in a borrowed flat. "The distance from the apartment to the restaurant was 50 yards. We dined in the open-air bit and you can actually see the veranda of the apartment. It's difficult because if you are [at home] cutting grass in the back with the mower, and that takes me about half an hour, and the children are upstairs in a bedroom, you'd never bat an eyelid. That's similar to how we felt. We've been unfortunately proved wrong, out of the blue. It's shattered everything."
"Everyone I know who had been to Portugal with their children said it was very family friendly, and it did feel like that," says Kate. "If I'd had to think for one second about it, it wouldn't have happened. I never even had to think like that, to make the decision. It felt so safe that I didn't even have to – I mean, I don't think we took a risk. If I put the children in the car the chances of having an accident would be greater than somebody coming in, breaking into your apartment and lifting a child out of her bed. But you never think, I shouldn't put the children in the car."
This is the first time that the McCanns have confirmed that the apartment was broken into. This information does not compromise Madeleine's safety, and rules out one of the numerous red herring theories that the police have explored, that Madeleine wandered away on her own. There is no logic in withholding it from the public.
"I have no doubt in my mind that she was taken by somebody from the room," says Kate. "We don't know if it was one person, two, or if it was a group of people, but I know she was taken."
"There's still hope because we don't know who's taken her, we don't know where they've taken her and we certainly don't know where she is," says Gerry. "The first time I spoke to Ernie Allen, the chief executive of the National Centre for Missing and Exploited Children in the States, he said what I wanted to hear, and they've got enough experience of getting children back after long periods of time still to remain hopeful, and their own experience is that the younger the child, the less likelihood of serious harm. Don't get me wrong, we're not blinkered. The scenario that everyone thinks about is that a paedophile took her to abuse her and if that is the situation then statistically the chances are they would kill her. But we don't know that and that's the difficulty we're dealing with. There are a range of scenarios and we want every single avenue explored because they're all pretty rare. That doesn't mean they should be represented in front page headlines as if all of them are likely, because they're not."
Does the Portuguese insistence that no information can be given about the investigation have any advantages? "For us, not having any information is very difficult," Kate replies. "For us as parents it's beneficial having information. We know that from our own jobs – the main complaint from patients' families is lack of communication and not being informed. It's detrimental."
Of course the McCanns' bid for information from the public, unsupported by details of the abduction, had already been hamstrung by the investigation's slow start. There was also a language barrier. They now have phone access to a police officer who speaks English, but contact is variable, they say. You sense that they are often in situations where they would like to be forthright, but are obliged to keep their thoughts to themselves. "It is frustrating," says Kate. "The whole situation makes you angry, that's part of the whole grief that something like this has happened to Madeleine and to us. They're all normal emotions and sometimes you do just want to explode."
The McCanns sit on a sofa, Kate bone-thin – although I am told that she is very fit – extremely shy and modest, Gerry composed and easier to read. At the beginning of our interview Kate holds Madeleine's pink toy cat in one hand and clutches her husband's with the other. Kate's face looks so tense and agonised that you might think that she was about to be tortured, and she seems to shrink into herself.
But as the hour passes she relaxes, takes her hand out of her husband's and even laughs at some of the absurdities of their situation, recalling a day on the beach when she was on the phone to a friend and suddenly found herself being covered in kisses by a group of Portuguese matrons. Were this couple not wrapped up in this extraordinary event they would be unremarkable, the husband an assured man who likes to be in control, the wife a family-orientated mother who enjoys her job and still has friends from when she was 4.
Both are from working-class backgrounds: Gerry is the youngest of five children of an Irish matriarch and her joiner husband who brought up their family in Dumbarton, near Glasgow; Kate the only child of a Liverpool joiner and a civil servant. They met as junior doctors in Glasgow 12 years ago, got together as they travelled in New Zealand and she trained as an anaesthetist before retraining as a GP because, as two hospital doctors, they rarely saw each other.
In the immediate aftermath of Madeleine's disappearance the McCanns found solace in their Catholic faith and were grateful for the warmth and care that greeted them at the Nossa Senhora da Luz church, a tiny, beautiful and peaceful sanctuary that forms a focal point for the community. "I felt cosseted," Gerry says. "We felt so fragile and vulnerable. People kept saying 'you'll get her back'. It was what we needed to hear because we just had the blackest and darkest thoughts in the first 24, 36 hours, as if Madeleine had died. It was almost uncontrollable grief.
"The psychologist who came out to help us [Alan Pike from the Centre for Crisis Psychology in Skipton] was very good at turning our thought processes away from speculation. OK, there's probabilities, but you don't know that and he was very good at challenging the negatives. He was very much, 'You will feel better after each thing that you take control of, even simple things'. We were surrounded by the Ambassador, the consul, PR crisis management, police, and he was saying 'The decisions are yours'."
"All these people we were meeting had to be there, and I felt so out of control and I found it quite scary," says Kate. "I felt as if I'd been pushed into another world. Alan was saying, 'There are little things you can take control of'."
"For example," says Gerry, "if you are asked 'Do you want a cup of tea?,' instead of saying 'Mmm', make a positive decision. Decide what you want. That combination of the Church, the community and the psychology helped very quickly. We agreed to interact because we thought it would probably help the search and it would be easier than hiding. Stay in the dark and you're an enigma. There wasn't anything to hide and in the first few weeks we were shown a lot of respect."
The launch of the Find Madeleine campaign brought them more respect for their organisational skills. Friends and family rallied, a strategy was worked out, the media were fed pictures and quotes, and big businesses, the Chancellor of the Exchequer, David Beckham and numerous unknown individuals responded with support and donations. This money – the fund now stands at more than £1 million – enabled them to appoint a campaign manager and to publicise Madeleine's disappearance by visiting other countries. With the possible exception of their blessing by the Pope at the Vatican, which was the brainwave of a tabloid newspaper and seemed to contradict the McCanns' status as ordinary people, they were beyond reproach as campaigners, particularly as they began to engage with agencies that have expertise in recovering missing children. The story rolled along nicely, filling more front pages than any other event since the death of Diana, Princess of Wales, though not because the McCanns were managing the media, but because there was increasing evidence that Madeleine sells papers.
Then things started to go wrong. By the end of the second week of August, when the McCanns marked the 100th day since Madeleine's disappearance by launching a YouTube initiative to help to find missing children, the Portuguese media had suggested that the McCanns could have killed their daughter, and the British press was not shy about repeating and even revelling in the "monstrous slurs". Coincidentally that was the week I first visited Praia da Luz: there were nine television satellite trucks, each with a noisy generator, on the road outside apartment 5A, and the Portuguese crews were threatening to move outside the McCanns' rented villa and had to be pacified with an interview. The Ocean Club asked the McCanns to stop bringing the twins to the kids' club because other guests had complained about the media presence, and a couple of chain-smoking security men appeared outside reception. Praia da Luz, once a sardine-fishing community, now a manufactured resort with a reputation for guaranteeing uneventful and sunny family holidays, was becoming ugly.
The solicitor of Robert Murat, the only person to have been named by police as a suspect in the Madeleine investigation, didn't help matters when he announced that business in Praia da Luz was suffering and that people there wanted "those bloody McCanns to go home". However strong a news line this was, it wasn't entirely true. Some shopkeepers continued to display posters appealing for information about Madeleine, others spoke tactfully about their sympathy for the McCanns. "It's not that we want the McCanns to go home, it's just that we want the bad feeling to go away," said one café owner, who declined to be named. "Last year you had to book three weeks ahead to get in here in the evening, now you don't need to book. Praia da Luz has become the place where you lose your children. It's terribly sad, and it's terrible for the McCanns."
Something else was happening, too, that wasn't entirely edifying. At the church a steady stream of Portuguese worshippers and tourists approached the shrine to Madeleine to the left of the altar, and many were devout and respectful. Others nipped in to take a quick picture of the shrine and left without a bow of the head; after all, it's not every year that you go on holiday and find yourself in the presence of a moment so big that it is being recorded by television cameras.
Outside Robert Murat's home, which could not be seen from the road because of a deep and dense hedge, a Portuguese tourist checked with me that she had the right house, then stuffed herself into the hedge to get a proper look. (She was obviously not the first to do so, as sections of the hedge are now dying.) A hundred yards away sight-seers posed for photographs alongside the television crews positioned with 5A in the background.
On a seat overlooking the beach, Martin Payne, a well-meaning hairdresser from Stratford-upon-Avon, displayed an intriguing mixture of sympathy and fascination. He had just spotted Gerry in his Renault Scenic (which was more than I had at this stage; the McCanns are impossible to get near unless their campaign manager vets and approves you) and was happy to volunteer every known fact about the McCanns, and to speculate, in detail, on what might have happened to Madeleine.
"You've been reading too many books, Martin," said his wife. "I feel the same way that I felt when Princes Diana was killed," Martin said. "Such a loss to a lovely family. We want to have a conclusion to this."
When I suggest to the McCanns that some of the interest in them borders on the prurient, they seem to be unaware of it. At church they register the crowd outside as kindly support, and don't notice those on the fringes who are there just to spot them. In other contexts their unsought fame appals them. "We feel totally exposed, as though we have been stripped bare," says Kate.
They tend not to pick up the more sickly nuances within the press, because they don't read it; instead the campaign team (which consists of the full-time lobbyist the McCanns hired after the fund was set up, plus two other part-timers who ensure seven-day-a-week cover to field the innumerable media inquiries) shows them what they need to see, including translations of Portuguese coverage. And as they demonstrated last week with the announcement that they are to take legal action against the Portuguese newspaper Tal e Qual, for its allegation that they killed Madeleine with an overdose of sedatives, they will no longer tolerate lurid claims that defame them.
"We had no illusions that we could control the media," says Gerry. "The way that information has got out has been handled incredibly badly, without a doubt. It's almost as though some people are thinking out loud. It's all very well to have a potential scenario but that shouldn't necessarily be written up as if there is evidence to support it. I think this has been handled very irresponsibly by a number of people. We don't believe there is any evidence to support any of the deluded headlines, and the police have made that clear."
"There are times when you just want to shout out 'That's wrong', because I think we've been done injustice in a lot of ways," says Kate.
"There's a blacker picture painted than what is true," says Gerry, "whether it is how much we were drinking, which was a gross exaggeration, or how often we were checking. We know what we did and we are very responsible. It's bad enough for us to have to deal with the fact that someone saw an opportunity – to then have elements sneering at your behaviour and making it look much worse than it was. It's difficult because a lot of untruths, half truths and blatant lies have been published. It was published that we had 14 bottles of wine."
"In an hour between us," interjects Kate. "I'd have been impressed with that in my student days. Not only that, they qualify it by saying eight bottles of red and six of white, as though it gives it more credibility. You just want to scream."
Where do the Portuguese media get their information? Brendan de Beer, the editor of the English language Portugal News, is the only journalist to have spoken at length to Chief Inspector Olegário Sousa, the spokesman for the PolÍcia Judiciária on the Madeleine investigation. Sousa, who has 20 years' service and has previously focused on crimes relating to works of art, armed robberies and car-jacking, suggested that some information is being inadvertently leaked by officers at informal lunches with friends. De Beer is more specific and suggests that some of the more incongruous claims are no more than gossip.
Some of the police detectives involved in the case have spoken off the record, he says, and journalists have contacts within the police just as they do in Britain. "I've spoken to a couple of them [police officers], but never to an extent where they told me a syringe had been found in the room or there was blood on the keys of the hire car. That kind of information seems to come from police constables. You get someone who tells something to their wife, they tell their hairdresser, who tells a journalist.
"I think that there's a lot of invention. A journalist might say to a detective, 'Do you think Madeleine fell and died and Kate and Gerry got rid of the body?' Off the record the detective might say 'It's possible', and they write a story based on 'sources close to the investigation.' I'd be very surprised if there was any bribery, though a constable does earn only about €600 or €700 a month, so it could happen. The suggestion that the police were closing in on the McCanns . . . I've been disappointed by some of the reporting."
Not that British reporting has been irreproachable. The slurs have been widely dissected, a suspect has been invented by one needy tabloid, and when I rang Paolo Marcilemo, the editor of the Correio da Manhã, which has a reputation for scurrilous reporting, he said that he was no longer giving interviews because the British press has misquoted him.
For the McCanns there is no respite, though they are slowly becoming accustomed to their grief. "They're not gone, the feelings," Gerry says. "When we enjoyed ourselves with the kids we had guilt – how could we enjoy ourselves when Madeleine was missing? But it's so important for the kids that it's unbridled love and attention for them. I'm definitely much better at doing that now, almost carefree for a lot of the time. Not 100 per cent."
They will return to their home in Rothley, in the East Midlands, they confirm, and the timing will depend on the police investigation, which is currently in a state of hiatus as the PolÍcia Judiciária waits for the results of British tests on samples taken from the apartment.
Gerry has been home twice, he says, and has been inside the house. "I was pretty anxious about it, but it's now a comfort. We'll go back when we've done as much as we possibly can for Madeleine. We're at a point where staying here is not necessarily adding anything to the campaign to find her."
He has also discussed returning to work with his line manager; he elected to take unpaid leave rather than compassionate leave shortly after Madeleine's disappearance. As a cardiologist who deals with very sick patients he doesn't want to return immediately to a full-time schedule of patient care, but plans to focus initially on MRI scans, administration and academic work. "When you're seeing 12 or 15 patients a day you have to be focused on them and can't be thinking about what you want to do for missing children in Europe. When I'm occupied and applied it helps, and work eventually will take some of that focus. The fund enables us to make decisions for us and for Madeleine, and not for financial necessity. It's not paying for any of our accommodation here, but it has covered a lot of expenses for us, and trips, and it helps to provide support for people to come out to help us, flights and things."
As a part-time GP, Kate's job is patient-centred, and she has yet to decide whether she will return to it. What they are certain of is that they will continue to campaign for systems to be established to help to recover missing children. Portugal, like Spain and many other European countries, does not have a sex offenders' register, and as for the UK, although a Child Rescue alert system was launched here last year, relying primarily on speedy contact with the media, it has yet to be tested. Neither does Britain have any reliable statistics on missing children, and this means that the scale of the problem is unknown.
Fortunately, the National Center for Missing and Exploited Children has a system that works, and can be copied. It is based in Virginia, employs 300 people and its success relies on instant media alerts and distribution of fliers, and a high level of training for the professionals involved. Its agenda has always been to make its methods operate globally, and now it has Gerry and Kate McCann on its side. Their determination to be involved in this task is the first sign that something positive, tangible and enduring could come from what has so far been the bewildering and tragic story of Madeleine McCann.
Paris Match, 04 September 2007
Gerry's blog, 04 September 2007

Kate and I did our first interview for a French Publication today. Any interviews we do now, of which we only accept a small percentage of bids, focus on the issues that we have faced since Madeleine's abduction. The French have recently adopted a child alert system with some early success stories. With increasing travel and movement of workers in the European Union, it is also important we standardise the way serious crimes are tackled.

This evening we were invited to a friend's house with the children for dinner. The twins had a good time with the other kids in the paddling pool and especially enjoyed the banana splits with extra child friendly toppings!
Interview with Paris Match, 04 September 2007
PARIS MATCH: EXCLUSIVE INTERVIEW WITH THE McCANNS
04 September 2007
By our special reporter in Portugal: Arnaud Bizot.
(Thanks to 'FrenchEuropean' and 'Amandine' for translation)

They hesitated, they finally accepted this interview that we had suggested to them since August, 100 days after the disappearance of Maddie.
They had never spoken to a French magazine.
At the beginning of August, the traces of blood found in the bedroom and their hire car gave fresh impetus to the enquiry and [gave rise to] various questions.

How could they live with the suspicion?

As planned, on Monday 3rd September at 5 O'clock in our hotel in Praia da Luz, Gerry McCann came alone.

"My wife was distressed," he told us, after her visit that afternoon to the psychologist who followed them to Portugal.

He had brought up the subject of their upcoming return to England and that had upset Kate.

To leave Portugal without her daughter, go back to the house, face up to the empty bedroom brought her close to the idea of death.
The following morning, Kate was feeling better and they both came, with Justine McGuinness, their PR adviser provided by the English government.

We spoke for an hour and a half, then we went out into the garden to take some photos.

We suggested to them writing something that would be like a letter to Maddie.

They replied that they would consider this.
We had to meet up again to check two or three points in the interview, after the decoding of the video tape.

But three days later, they were interviewed by the police and, on Sunday, they left Portugal.
Can anyone give an opinion after so little time and with no other information from the dossier, with the Portuguese police not saying anything?

To do this, it would be interpreting a word, a glance, a silence or even a laugh.

A relaxed posture for the cameras.

Difficult to tell if they are speaking from their heart or if they are playing a part.
And if they were hiding their emotions by that self-possession, that calmness, and their apparent coldness?

A criminal dossier does not contain the secrets of the soul; it only contains [formal witness] statements.

The police are searching for evidence and are expecting confessions.

What is it that points to the McCanns?

The conviction of a handful of investigators tenaciously digging into the mystery of this couple.
Interview
PM – The return to England must be very difficult?

KM – Of course it will be very hard to return without Madeleine. We have so many happy memories. I am enormously apprehensive about the return. It's extremely painful not to have her with me, not to play with her. Where is she, where can she be found? I am her mother and wherever she is, I should be there.

GM – There are advantages, however, of returning to England. For the twins, it is better. In an extremely stressful situation, if you are in a location which you know very well, you feel more secure. And we would like to take our twins to where we want them to grow up.

KM – Just one thing – we are not abandoning… We are just going home but we will return often to Portugal.

PM – These past few weeks, have you felt an increase in suspicion [towards you]? The way people look at you, has that changed?

KM – These past four weeks, the media has speculated a great deal. But many people have come to see me to assure me of their support. Others have told me that they are praying for us and advise me 'not to believe what is written in certain newspapers'.

GM – For us, all these rumours make the enquiry more difficult … They are only rumours. There is no proof.

KM – We don't read the press all that much. But my parents are at home and their lives at the moment are hell because of the newspapers.

GM – I think that it is truly worrying that forensic information had been revealed. When witnesses are interviewed, they should not know beforehand what the police have found.
PM – Did you imagine that you would be suspected some day?

GM – We were witnesses and we knew that we were going to be put under the microscope. We have co-operated fully and tried to influence the enquiry in a positive way, bringing in…

KM – In doing that, it was the best way to find Madeleine. We have to try everything, not regret anything. We have to keep pressing onward.
PM – The police must equally have suspected your friends and delved into your backgrounds?

GM – We have replied to all the questions that have been put to us and we will continue to do so, whatever the new information might be. Of course, we shall be completely honest.

KM – We have said everything we know and responded to everything that we have been asked.

GM – I have always known that, in this type of affair, all scenarios were possible. We have lived with this since it started. It is sometimes very difficult, what the media are reporting. For example, one day, somebody suggested that our daughter was dead, without offering any evidence of this. At the same time it has been said that we could be implicated, which is completely false, unbelievably awful.
PM – Have you had any doubts about your friends who were with you at the hotel?

GM – We have already been asked that question. We don't believe that, really we don't. Of course, the police must look at everything objectively. To see what evidence is there to support what possibility. It's the same thing in medicine. People come to see me because they have chest pain; I need to know why. I ask lots of questions, I examine them, and then I arrange tests for them in order to tell them finally what's wrong. Police procedure is the same. It's a building up of hypotheses. You gather together the information which helps you to decide which one is best, and what work you are going to do to confirm it. And sometimes you are going to take a hypothesis as far as you can but you realise that it doesn't work and you need to step back again.
PM – Media pressure was immediately very noticeable.

GM – Yes, from the first day, it was massive. Journalists came from all over the world. I believe we did not have a choice, we had to make a decision immediately. You communicate or you go and hide yourselves away. And if we had hidden ourselves, I am sure there would have been just as much of a row. People would have thought: 'Why are they hiding away?'. We chose to communicate to push people into searching for Madeleine. It's the culture we have in the United Kingdom.
PM – How did you meet each other?

GM – (making a joke of it) I saw Kate on the other side of a river and I crossed it. We didn't meet in the street, but at work. She saw to it that I pursued her. I had to woo her for a long time. You don't know my romantic side.

KM – We met in Glasgow during our studies. Afterwards, we were in the same hospital but we were doing different jobs.

GM – At the time, I was working as a resident. Today, I am a cardiologist. We were both in our first year. Kate specialised, especially in obstetrics.

KM – And afterwards in anaesthesia before doing general medicine.

GM – We then worked together, both of us, in New Zealand and it was only at that point that we were going out with each other. In 1998, we were married. Madeleine was born in 2003, following IVF treatment.
PM – Would you like to talk about that ?

GM – Yes. It was unbelievably special, Madeleine's birth, for we had been trying for a long time. People were thinking that we were getting old and that maybe we could no longer have our own children. Madeleine is almost the perfect child. I know that all parents think this but Madeleine really was just that.
PM – You seem very close. This time of trial, has it brought you closer?

KM – To each other , do you mean? We have always had a strong relationship. If we come through this difficult time, I think that we will be able to get through anything. We have always communicated a lot, and very well, spoken a lot, I think that helps. And obviously, since the disappearance of Madeleine, we have done this more than we usually would, to support each other.

GM – We have already gone through traumatic experiences along the way, but nothing, nothing that could be compared to this.

KM – The pregnancy with the twins was also very complicated.

GM – That pales into insignificance now, but I am sure that this is helping us now, and keeping us strong. At one point, we thought we were going to lose the twins very early, it was very hard. You draw upon all your strength in all of that.
PM – How did that week's holiday go, for the five of you?

KM – We had a great week. We came with a group of friends who also had children. Ours had more little friends . There was that childrens' club with lots of activities. They had great fun.

GM – Madeleine, in particular, enjoyed herself a lot. One day, she even went sailing with the club.
KM – She played tennis.

GM – In the evening, the adults stayed together and the children played on their side.
PM – How was Madeleine during the holidays?

KM – She is very intelligent, very sociable and engaging. She loves to chatter, she is funny, she has a lot of energy.

GM – She is always very active, she loves to organise everything, she is very good at role-playing games. In the hotel creche, she liked to organise things. For her age, her vocabulary is very good, better than mine! She understands lots of things, she picks things up quickly, she is very insightful.
PM – What have you said to the twins for the past four months?

KM – We haven't had to say much. They are so young that they have no notion of time. They know that she is not there but they haven't asked many questions.

GM – The psychologist told us that we mustn't say very much to them. We were afraid to say anything which could make problems for them later. The psychologist explained to us that they must not be told things which are not correct, like telling them for example that she was at the house of her grandmother Glanis. They know she is not there. We are waiting for them to ask where she is but the question has not yet been asked. They are not affected by her absence. They are only 2 and a half years old. How could they understand that someone could take away a child for malicious reasons? However, they have spoken about her recently.

KM – Maybe because they're growing. They express themselves better. When they see Madeleine's cat, they say 'Maddie'. When they see her bag, as well.

GM – Sometimes, they say: 'We love Madeleine', and we reply 'We love Madeleine'. At the worst, when they get round to asking where she is, we will say that she has disappeared or that she has been lost. It is the idea that we have to put to them. We will do it when they are ready. For example, when they see Madeleine on the television, they don't understand. Besides, we don't switch on any more.

PM - How do you speak between yourselves about the disappearance of Maddie?

GM - We speak to each other a great deal, Kate and I. It is very rare that we are both 'down' at the same time. One supports the other. As time passes, we don't see things the same way, we don't feel the same emotions. To begin with, there was nothing but pain, terrible thoughts. We still have them but less than before. Hope does not go away. Look at Austria, Natascha Kampusch has been found after eight years. Today we think that if Maddie had been taken or killed quickly, there would have been evidence [of this]. And it is there that we think about the importance of the first few minutes, at the borders, at the ports, at the airports. It only needs an hour and a half by car to reach Spain.

KM - We have thought that a paedophile had taken her and done dreadful things to her. That is very difficult. But, little by little, we have thought of other possibilities, not so awful.

GM – The psychologist helped us a lot in the first few days, because the worst hypotheses were the ones that came to mind. I asked him if we should prepare ourselves [in case] Madeleine was dead. He told us that, not knowing what had happened, we would have to deal with it when it comes. He asked us to imagine 'somebody arriving with Madeleine in their arms'. It was too difficult for us, at that stage, to visualise. And the psychologist said 'Is such a thing possible? Think what you would feel if it happened.' It was a way to challenge us, to show us that we were being negative. He wanted to help us think positively. We realised very quickly that only thinking about the worst case possibilities prevented us from functioning on a normal level. When you are overwhelmed with pain, you can do nothing. We realised that if we were in that emotional state, we could change nothing. When we decided to think more positively and to take action to influence events, in spreading out the search as widely as possible, it was better. From that moment on, we set ourselves targets. The only thing that matters is to find Madeleine again.
PM – Did you notice anything strange during your stay in the hotel ?

GM – Absolutely not, we had a very relaxing week. We were in a group of friends, we did plenty of things together, and at such times we don't pay attention to what is happening around us. We didn't see anything suspicious that week.
PM – Do you feel any guilt for having left your children alone on the evening of 3rd May?

KM – Of course we feel ourselves to blame for being at the restaurant when she disappeared. That will always be there, but the person who broke in and who took Madeleine is the most blameworthy, I think.

GM – We have no doubt, she was targeted.

KM – If we'd had to ask ourselves 'Are they safe?', we would never have left them. We never thought there was a risk. We thought we were being trustworthy and responsible. I did not think of the possibility of anybody breaking in. You never expect someone to come into where you are staying and take your child from her bed. The only reason for our comings and goings, it was in case they woke up.

PM – Have you gone back inside Madeleine's bedroom?

GM – Yes, I had to go back to get some clothes. I was able to pack our bags when the police allowed us to come and look for them. We have passed by that apartment every day for four months. It is not the fault of the apartment, or the Portuguese, or Portugal, they did not take her. It is the fault of the person who carried her away, but we do not know who took her.
Gerry's blog: Day 124, 04 September 2007
Gerry's blog, 04 September 2007, Day 124
Kate and I did our first interview for a French Publication today. Any interviews we do now, of which we only accept a small percentage of bids, focus on the issues that we have faced since Madeleine's abduction. The French have recently adopted a child alert system with some early success stories. With increasing travel and movement of workers in the European Union, it is also important we standardise the way serious crimes are tackled.
Leicester Mercury, 04 October 2007
Interview with Leicester Mercury, published 04 October 2007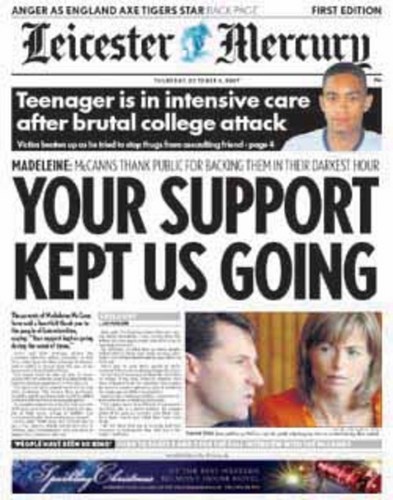 by holdthefrontpage staff
Regional press news - this story published 05 October 2007
Kate and Gerry McCann have given an exclusive in-depth interview to the Leicester Mercury - their first since being made official suspects in the disappearance of their daughter.
The Leicestershire couple chose to speak to the regional newspaper title ahead of the national media, and extracts have now been put out through the Press Association.
Kate and Gerry visited the Mercury's St George Street offices earlier this week and gave a sombre interview to feature writer Lee Marlow.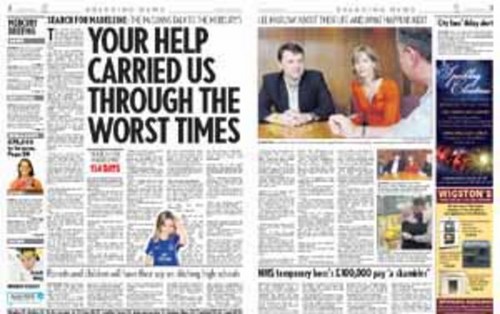 Kate told the paper how the most trivial of things can bring her crashing down, but nothing had been as bad as that first night when their daughter Madeleine disappeared.
The couple, who live in Rothley in Leicestershire, thanked Mercury readers for their support, and said the letters and messages they had received had kept them going through the worst times.
They were also presented with a cheque for £57,000 - raised from the sale of green and yellow Bands of Hope launched by the Mercury.
The bands were launched to raise money for the McCann family's Find Madeleine Fund after Mercury deputy news editor Sian Brewis came up with the idea, and more than 50,000 were sold in an operation run by sales development manager Justine Walton.
Kate and Gerry promised the proceeds would be put to good use and would be added to the fund to find their missing daughter.
Mercury deputy editor Richard Bettsworth told holdthefrontpage: "Gerry and Kate visited the Mercury to collect the cheque, which I believe is one of the largest donations so far.
"They very kindly agreed to an interview with one of our feature writers, Lee Marlow, while they were here.
"We organised it through their spokesman, Clarence Mitchell, who was very helpful. The McCanns have been aware of our campaign and I know they were very pleased to be able to come in and meet us and talk to us."
He added: "It is unfortunate that the Portuguese police investigation has shifted to name Gerry and Kate as suspects and we believe that is wrong.
"The McCanns say the focus should be on finding Madeleine and we wholeheartedly support them in that cause."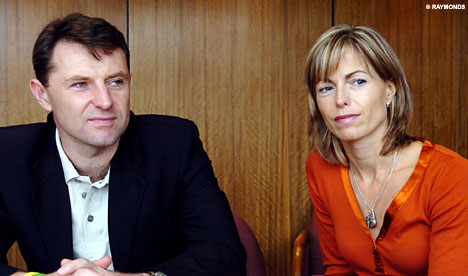 Your help carried us through the worst times Leicester Mercury (no online link)
Lee Marlow
Thursday 04 October 2007
They arrived at 2pm - through the back door, through the Mercury garage, past the staring faces of the delivery drivers and ushered through the reception and straight into the boardroom.
It's day 153 since Madeleine McCann went missing. In that time, our newspapers and TV news bulletins have turned Kate and Gerry McCann into the best-known faces in Europe. Madeleine, meanwhile, has still not been found.
Yesterday, on the day the final photographer decamped from outside their house in Rothley, the McCanns left their home to do something they've wanted to do for a long time.
They came to the Mercury to say thank you. To their family, friends and neighbours. To their work colleagues. To the churchgoers who have prayed for Madeleine every night.
And to the Leicester Mercury readers who bought more than 50,000 green and yellow Madeleine bands, raising £57,000 for their fund.
There could be no questions about the investigation or the legal side of their case, said their spokesman, former BBC correspondent Clarence Mitchell.
But Kate and Gerry McCann spoke warmly of the help and support they had received - and how your help carried them through the lowest, loneliest periods.
Thanks for coming in and agreeing to speak to us today.

Gerry: "We just want to say thank you. That's the reason we are here. This cheque - I haven't opened it yet, but £57,000 - it's a huge amount. Both Kate and I would like to say a big, sincere thank you to everyone in Rothley and Leicestershire who has been so supportive. It means a lot to us."

How will the money be used - do you know yet?

Gerry: "We're in the process of looking into which specific areas we need to use this fund.

"We are about to start a widespread campaign so I can assure you it will be put to very good use.

"We want to increase awareness, get back to basics if you like. Target specific areas with pictures and billboards and messages. We want to refocus the coverage."

Kate: "The coverage has been on us. The coverage should be on Madeleine, no-one else."

Gerry: "But it's important for us to do this: to say a big thank you to the people who have backed us. Their support has been tremendous.

"It's more than just family, friends and neighbours. Today, I received a letter from the chaplain at Glenfield Hospital.

"Every Friday they have a vigil at the hospital. It started during the first week of Madeleine's disappearance and they are still holding them now, every Friday lunchtime.

"I've not been anywhere near Glenfield Hospital - but they're still there, still praying for us. That touches me. It keeps me going.

"Despite everything that has been written, we're still receiving many messages of support. All the letters we have received have been positive."

How much mail have you received?

Gerry: "We've been getting three big crates of mail every day. It's so much we have to collect it from the post office. We didn't think it was fair on our post lady.

"It's tailed off slightly, but we're still receiving a big box of letters every day. It's incredible."

Kate: "And the flowers, so many flowers. People have been so kind - it has made coming home a lot easier."

What has been your lowest point during all of this?

Kate: "I don't think there has been one, particular low moment. Obviously, nothing can compare with the night Madeleine went missing.

"A lot has happened since then. Sometimes, the most trivial of things can bring you crashing down."

Gerry: "I think when we were made suspects in our own daughter's disappearance; when the inference was that Madeleine was dead and that, somehow, we were involved... But, no, it can't get worse than that first night."

Kate: "Nothing has been worse than that."

Gerry: "Everything that has happened, everything we do and feel, it is all put into perspective by how we felt on that first night."

How do you keep going?

Kate: "Something carries you through. We have Sean and Amelie of course. We are there for them.

"And we still have hope. The messages of support; friends and family rallying round. You just can't overestimate what those messages of support have meant for us. They have kept us going on low days, kept us strong during the worst times.

"I've had days when if I wasn't crying about Madeleine, I was crying from the letters and messages people have sent to us. It has helped so much."

How are Sean and Amelie?

Kate: "It didn't take them long to settle back. It's familiar for them at home, they have their toys, they know where things are. They're back in nursery, they play so well together. They miss their big sister."

Do they ask about Madeleine?

Gerry: "They do."

What do you tell them?

Kate: "We tell them that she is missing and that everyone is looking for her. And that's the truth."

Gerry: "They don't dwell on it. They miss her - but they are not tormented by it. Time means nothing to them at their age. They have no comprehension of when things have happened. They're happy with themselves."

Going back to the night Madeleine disappeared, how and when did you decide that you needed to involve the media?

Gerry: "We didn't. On that Friday night, we came out of the police station and there were 150 reporters there.

"We had a quick decision to make. What do we do here? Do we ask the media for help or do we hide?"

Were you receiving professional advice at that time?

Gerry: "We had the media liaison officer from the Mark Warner resort. He helped us a lot."

How did you feel about the publicity which quickly surrounded you?

Kate: "The publicity was secondary, it really was. At first, I don't think it touched us.

There can't be many people left in Leicestershire - or anywhere else for that matter - who don't know who you are. How does that feel for you?

Gerry: "It's weird, very strange. We have had to rely on our friends and family. Our neighbours have been so good.

"They've been incredibly understanding. They have been there for us, in very testing times. There has been a huge media presence in Rothley."

Gerry says that yesterday, Wednesday, was the first day that they could look out of their windows and not be greeted by a crowd of photographers.

The last photographer left on Tuesday night. He says he'd prefer not to answer questions about the media.

What are you doing now? What do you plan to do?

Gerry: "We want to get back to basics. Timing is the issue. We are looking now at what is the most effective thing we can do in our search for Madeleine.

"The legal side has taken priority. We want to change that and refocus the attention on to finding Madeleine."

When were you aware of the green and yellow Madeleine bands?

Gerry: "It must have been quite early on. When did they start? I don't know."

Kate: "Time passed by so surreally. It was the first few hours, then eight hours, then 24 hours, 48 hours, then 72 hours... I don't remember. Each day felt like a week."

What can you say about the legal side? It's been widely reported that Portuguese Inspector Goncalo Amaral has been relieved of his duties...

Gerry: "We can't comment on that. We want to emphasise enough our thanks, to the people of Leicestershire who helped to raise this money and for the support we have received.

"It's just so uplifting. A few nights ago, we had a curry with some friends."

Kate: "It was just a takeaway, we weren't out having a meal."

Gerry: "And the waiters in the restaurant, the staff - they were so good.

"I went to the dump to throw some things away. Even there, people came up and said: 'I hope everything works out all right for you'

"These were just ordinary, everyday people - people I didn't know, people going about their business - taking time out to pass on their best wishes."

Kate: "We can be out in the car and people will put their thumbs up. It's a simple thing, but we take great comfort from that."

Have any of your patients been in touch?

Kate: "Yes, lots of them. That means a lot."

When do you plan to return to work?

Gerry: "I did think about going back to work in some capacity - but that all changed when we were declared arguidos (suspects). That has put things back a bit. I won't be changing careers, let's say. The hospital has been incredibly supportive."

Kate: "There are so many people to thank - the primary schools, Bishop Ellis Primary School in Thurmaston; Rothley Primary School; the local police - they have been excellent, so pleasant.

"Our local church. It's a five-minute walk from our house. They have been saying prayers continually. In fact, people from all faiths have been praying. We have had support from the Anglican church; from the Baptist church.

"They were planning to come together, I have heard - but I think that maybe this forced them to do it a bit quicker than they planned."

When do you expect life to return to any kind of normality?

Gerry: "Well, today is the first day there are no photographers outside our house."

Kate: "There is a semblance of normality returning. It's more normal than it was three weeks ago, Amelie and Sean see to that. But really how can it be normal? How can it be normal without Madeleine?"

Gerry: "None of this has been normal has it, really?"