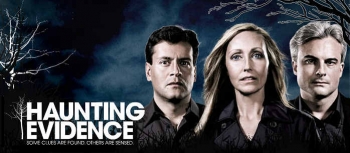 Three American clairvoyants from hit US show 'Haunting Evidence' travelled to the Algarve, in January 2008, in an attempt to find Madeleine. The trio use their "powers" to visit the scenes of crimes and speak to people "from beyond the grave".
Gerry and Kate McCann decided not to take up an offer to co-operate with the show - which has been described as a 'sick TV stunt'.
The programme was first screened in the US in October 2008.
Madeleine McCann: Haunting Evidence
Part 1 (09:15)
Part 2 (09:45)
Part 3 (09:16)
Part 4 (07:06)
Part 5 (08:29)
Psychic investigators from hit US TV show head to Portugal to find Madeleine, 10 January 2008
Psychic investigators from hit US TV show head to Portugal to find Madeleine
Daily Mail
Last updated at 09:44 10 January 2008
Psychic investigators from a hit US show will attempt to solve the Madeleine McCann mystery, it was revealed today.
Three American clairvoyants from Haunting Evidence will travel to the Algarve in an attempt to find the missing four-year-old. Producers from the show have been in the resort of Praia da Luz this week making plans for the documentary.
Producer Gregory Palmer told Portuguese daily 24 Horas: "The idea is to make a documentary, speak to witnesses and put our investigators in the field."
Programme makers claim to have previously made a breakthrough in an unsolved murder case in the US.
The investigators are Carla Brown, a clairvoyant specialist in profiling, John J Oliver, a medium, and Patrick Burns, a paranormal investigator and presenter of the show.
They have approached Gerry and Kate McCann through their spokesman Clarence Mitchell hoping for their co-operation, but have not yet received a response, the newspaper reported.
The trio use their "powers" to visit the scenes of crimes and speak to people "from beyond the grave".
They hope to gain access to Madeleine's favourite toy Cuddle Cat in their attempt to locate the youngster. Mr Palmer said: "It would be important for Carla and Oliver to be able to touch Cuddle Cat."
Critics of the show, which goes out in the US on Court TV, point out they have never solved a case.
But Mr Palmer said: "We investigated the case of Amanda, a young girl of 20 who disappeared one night during a storm.
'Haunting Evidence' will be travelling to Praia da Luz in the western Algarve to find the missing toddler.
"She was driving alone on the motorway in Arkansas. Her car was found with the keys in the ignition. Police could find no clues."
Four days her body was found in an irrigation ditch.
"She had been carried out of the car and her killer drowned her," Mr Palmer said.
The show's three clairvoyants were put into action. They followed a series of clues and provided police with an e-fit of a suspect.
The case was re-opened and police have identified the suspect, the producer said.
Last June Portuguese detectives admitted they were following up tips from psychics as part of their probe.
They amassed a pile of "leads" provided by mystics and investigated each one.
Detectives also followed up a letter received by Dutch newspaper which included a map showing the "probable finding place" of Madeleine.
Searches in a deserted scrubland area nine miles from Praia da Luz, where Madeleine went missing last May 3, proved fruitless.
Last October the McCanns were said to be consulting a TV mystic dubbed The Psychic Barber.
Clairvoyant Gordon Smith, a host on Living TV's Most Haunted show, was contacted by a member of the McCann family.
He claimed he might be able to tell if Madeleine was alive or dead.
At the time a source close to the McCanns admitted 150 leads provided by mystics had already been followed up by investigators. They represent 15 per cent of 1,000 pieces of information offered to the couple by psychics and mediums across the world.
One "saw" Madeleine at a farm in Spain and detailed part of a car's number plate. A second "revealed" the flight number of a plane carrying the four-year-old and pinpointed her seat.
None of the tips proved useful, but a McCann family source at the time said: "They will pursue any lead which gives them even the slightest chance of getting their daughter back."
Carla Baron & John J Oliver The Latest Psychics To 'Find' Madeleine McCann, 10 January 2008
Carla Baron & John J Oliver The Latest Psychics To 'Find' Madeleine McCann
Bad Psychics
Poor Madeleine McCann is still missing, 8 months on, psychics are still coming out of the woodwork claiming they will find her.

Well the latest publicity stunt is by the guys from Haunting Evidence, and specifically Carla Baron and John J Oliver, two of the shows so called psychics.

It seems that these disturbed people will sink to any low to further their own careers, even at the expense of a innocent missing child.

An article in www.dailymail.co.uk tells us that these two psychics are gonna do what no one else has been able to do in 8 months and that is to solve the Madeleine McCann mystery.

My question is why they have waited 8 months, and why they have to contact newspapers and media outlets to do so. Why is it that we live in a world of press releases and self promotion regardless of who it may effect.

Producers of Haunting Evidence are already in Portugal at the Praia da Luz resort planning their sick TV stunt.

Haunting Evidence Producer Gregory Palmer has told Portuguese daily 24 Horas: "The idea is to make a documentary, speak to witnesses and put our investigators in the field."

When has Haunting Evidence ever been a documentary?

The show is pure fiction. These so called experts have NEVER SOLVED A SINGLE CASE.

Hell their record is worse than the UK's own Psychic Private Eyes, which is widely regarding as the worst show of its kind in the country.

According to the Daily the psychics have contacted the spokesman of Gerry and Kate McCann, a Mr Clarence Mitchell, but have yet to receive a response.

If he has any sense he will tell them to stay away.

Producer Greg Palmer has even said: "It would be important for Carla and Oliver to be able to touch Cuddle Cat."

The cuddle cat being Madeleines favourite toy, I bet that would make great television don't you think Greg, you will probably be expecting some tears from Carla as well, we all know how she practises turning on the waterworks dont we.

Back in June 2007 Portuguese detectives revealed that for some strange reason they had been following up on tips from psychics, back then it was claimed that over 150 leads from psychics had been followed up, yet still no Madeleine, what does that tell you?

I will tell you what it says, it says that the Portugese police are idiots, wasting their time following up on fruitless claims from the mentally disturbed, and the out and out publicity hungry frauds of the world.

And what happened to Gordon Smith? Last October he was apparently going to help find Madeleine too, and what came of that? NOTHING. He failed just like every other psychic.

The only way a psychic will ever find Madeleine is if they were the one who took her.

Of course if Madeleine is ever found, every psychic under the sun will come out and claim they predicted it. I ask WHERE ARE YOU NOW?

So I wonder how well the likes of Carla Baron will do? Well if you look at her history of solving cases she will fail, like she has EVERY other time.

In fact Carla and her lies were exposed long ago by the IIG West.
This is one of the most indepth examinations of a psychic and their claims ever done, and is proof positive that Carla is NOT psychic.

My advice is simple, stop wasting time listening to psychics, they have NEVER solved a single case EVER.
IIG Special Investigation - Carla Baron, Psychic Detective (?), Undated
IIG Special Investigation - Carla Baron, Psychic Detective (?)
IIGWest
The Independent Investigations Group has been examining the public claims of Carla Baron – a self-proclaimed "psychic detective" who has solved fifty cases in the past twenty years, or has solved no cases in the past three years, depending on whether you believe her or us.
According to her official website, "Ms. Baron tirelessly dedicates herself to 'honing' her skills in order to provide assistance to those individuals and organizations who seek 'the truth'." Please note that the quotes around 'the truth' are exactly as they appear on Carla's site.
Baron claims to have worked on numerous cases, most of which involve either missing persons or homicides with no suspect. Most of the cases involve a victim who is young and female, and typically Baron is working directly with the family. We tracked every claim Baron has made publicly that we are aware of and contacted the official police investigator assigned to the case whenever possible. We have contacted media professionals who have done work with or about Baron and researched articles that refer to her. In some cases, we have also contacted friends and families of the victims.
We have also observed her techniques up close by attending two live seminars in which Baron appeared, on December 6, 2003, and March 20, 2004. At the first event, some IIG members received personalized readings from Baron, and based on this interaction we can confidently state that Baron is using "cold reading" -- a conjurer's trick of simply making stuff up, but making it appear that you are producing specialized knowledge by supernatural means. All her predictions were broad and vague, and gave us no reason to believe that she had any paranormal abilities. In fact, one of our investigators was told that he would get a new job at which he will produce "a service or some kind of product."
While we were unable to get information on some of her claims, every case we investigated was either solved without Baron's involvement or remains unsolved. Either way, her claims of being a "psychic detective" are completely unsubstantiated.
Baron herself has characterized the role of a psychic in criminal investigations:
"Psychics don't solve cases. They assist in providing the unknown, the missing piece of the puzzle."
"[P]sychic flashbacks don't solve the cases, but they certainly add new layers of insight and information."
"[P]sychics are not meant to solve cases. They're meant to 'help connect the dots.'"
"I don't think it's about the accuracy. I think it's about the assistance that I give."
But how can you assist people with inaccurate information? Doesn't providing the missing piece of the puzzle, or insight and information, or connecting the dots usually lead to a solution? Implicit in the claim of being a "psychic detective" is the claim that you provide accurate information that leads to the successful resolution of a mystery. Imagine if a police detective said, "police detectives don't actually solve the case, they just come up with ideas and hope for the best." Such a statement would not generate much confidence in police procedure, and rightly so.
(There follows details on fourteen cases with which Baron has claimed some kind of involvement.)
US TV psychics join hunt for Madeleine McCann, 11 January 2008
US TV psychics join hunt for Madeleine McCann
Telegraph
Last Updated: 2:30AM GMT 11 Jan 2008
Psychic investigators from a popular American television programme are flying out to Portugal in an attempt to solve the mystery of missing Madeleine McCann.
Three clairvoyants from the hit show Haunting Evidence will travel to Praia da Luz in a bid to find the missing four-year-old.
The programme's makers claim to have previously made a breakthrough in an unsolved murder case in the US.
However, a spokesman for Gerry and Kate McCann said they had decided not to take up an offer from the show to co-operate with it.
Clarence Mitchell said: "We did receive an offer and chose on this occasion not to respond. We are grateful for any assistance they bring to bear in the hunt for finding Madeleine."
So far the McCanns have received 1,500 offers from psychics hoping to find Madeleine.
Mr Mitchell said: "We thank them for their concern and any demonstrably checkable fact is passed on to the police or the private detective agency."
However, the agency employed by the McCanns, Metodo 3, may not have its contract renewed next month following a series of outspoken comments and unfulfilled promises by its boss Francisco Marco.
Costing £50,000 a month, they are nearing the end of their six month contract.
The Find Madeleine Fund, which is paying them from public donations but which is beginning to run short of money, will announce next month whether the contract is being renewed.
Much will rest on the thoughts of Brian Kennedy, the double glazing magnate who is funding the McCann's attempts to clear their name, who holds the contract with Metodo 3.
He is understood to have been annoyed by comments prior to Christmas from Mr Marco that they knew who had kidnapped Madeleine and even promised to have her home for Christmas.
A source close to the McCanns said: "Operationally the Fund is happy that Metodo 3 is searching for Madeleine but there are people who are none too impressed by Francisco shooting his mouth off."
At a meeting on Thursday, the Fund agreed to raise money for the fund, which currently sits at £600,000 but which faces running dry by late summer unless it receives a cash injection, by exploiting more media opportunities.
It has drafted in Jon Corner, a film producer and friend of the McCann's, to help Mr Mitchell look at offers they have received, such as making a docudrama or writing a book.
FBI Psychics turn up new Maddy suspect, 19 October 2008
FBI Psychics turn up new Maddy suspect Sunday Express (appears in paper edition only)
EXCLUSIVE From Mike Parker in Los Angeles
Psychics have given police a picture of a man they say could have kidnapped Madeleine McCann. They have also given officers an address where they say Madeleine was held by a kidnapper.
The two investigators work closely with the FBI in America. A US TV show arranged for them to spend a week in the Portuguese resort of Praia da Luz, where Madeleine disappeared last year.
Madeleine's parents say they want a copy of the drawing for their own team of private detectives.
FULL STORY: PAGES 4 & 5
Online edition headline:
Paper edition, pages 4 & 5 (same report as online version):
FBI mediums and the face of Maddy 'killer'
From Mike Parker in Los Angeles
A DRAWING of a man two FBI psychics say snatched Madeleine McCann has been produced by an American TV programme.
Now investigators working for Kate and Gerry McCann say they want to see the so-called evidence revealed in the programme, which was screened last week in the US.
The drawing is of a man aged between 36 and 42 with thick dark brown or black hair and stubble. It has now been handed over to police in Portugal.
It was produced by two psychic criminal protilers who work closely with the FBI in America.
A spokesman for the McCanns said that although they were deeply sceptical of information from psychics, they want their private investigators to examine the information which was broadcast.
"If they have given their files to the police in Portugal they should also pass them on to our investigators," said Clarence Mitchell, the McCanns spokesman, who gave a brief interview to the programme makers.
The programme says the man has a pronounced accent and looks and sounds Middle Eastern, possibly Egyptian, and drives a mid-sized dark silver car with a parking permit or some other identifying sticker inside the windscreen on the driver's side.
He 'may have been wearing a blue, button-up shirt and working as a transient labourer close to the apartment in Praia cia Luz on the Algarve where Madeleine was staying with her family before vanishing on May 3.
The report given to Portuguese police says the man is known as Steve or Stay and took the child to a summer rental apartment in the nearby village of Lagos.
The team, clairvoyant Carla Baron, psychic John J Oliver and paranormal investigator Patrick Burns spent a week in Portugal, starting their inqµiries at the Ocean club resort where the McCanns had been staying.
Ms Baron said she immediately picked up on the vision of "Steve" or "Stav" stalking the family and photographing Madeleine at the beach before snatching her several days later.
Ms Baron said: "He snapped off a cell phone photo while looking like he was making a call.
"I also see him taking notes on a small notepad as he watched the comings and goings of the McCann family to see what their routine was."
When he finally pounced at night, while Madeleine's parents were in a nearby restaurant, Ms Baron and Mr Oliver said the little girl did not even wake up as he crept into the children's bedroom and picked her up.
Mr Oliver: "He took her to his car. There were people walking who saw him but he just looked as if he was a father carrying a sleeping child and they didn't take any notice."
They say the abductor placed Madeleine in the front passenger seat of his dark silver car, which may have had even darker or black trim.
Mr Oliver said he believes that the abductor may have stopped briefly at a deserted farmhouse east of the town before driving to his eventual destination - a furnished room rented out during the summer in nearby Lagos.
Executives at Tru Tv, part of media tycoon Ted Turner's CNN network, which makes the Haunting Evidence programme, passed the apartment address to police but withheld it from transmission.
The psychics say she was murdered there by being smothered by a pillow several days after her abduction because the man feared he would be caught.
Ms Baron believes the man then bundled her into the boot of his car and drove to a remote area, close to a landfill and manmade dam, where he buried her. This location has also been passed to police.
The FBI takes psychic evidence seriously and all three members of the Haunting Evidence team have been used in major criminal investigations.
OPINION: PAGE 26
*
Page 26:
Sunday Express Opinion
Searching Maddy questions
DEVELOPMENTS in the search for Madeleine McCann, who vanished in Portugal last year, are to be welcomed. However, the fact the latest information comes from a team of psychics and has just been screened on an American television programme does give pause for thought. What must never be forgotten is that a little girl vanished that night and no trace has ever been found. The search for Maddy must go on.
Add your content here
Mysterious Ways: Madeleine McCann, 19 October 2008
Mysterious Ways: Madeleine McCann
Tru TV
A car belonging to Russian computer expert Sergei Malinka, who has been questioned by police as part of the Madeleine McCann investigation, was destroyed in an explosion in the early hours of March 20, with the word "Fala" ("talk" in Portuguese) written next to it.
"Harry Potter" author J.K. Rowling requested that booksellers display Madeleine's picture next to her latest novel.
Since her disappearance, there have been numerous Madeleine "sightings" across the world, including ones in Belgium, Portugal, Malta, France, Amsterdam and Morocco. Investigators have discounted most of these.
As Kate McCann became increasingly desperate for ideas to find her daughter, British authorities gave her a police manual which provided step-by-step instructions on solving crimes.
The McCanns and the group of friends with whom they dined while Madeleine was kidnapped have been dubbed "The Tapas Nine" by British tabloids.
Missing: Madeleine McCann
Tru TV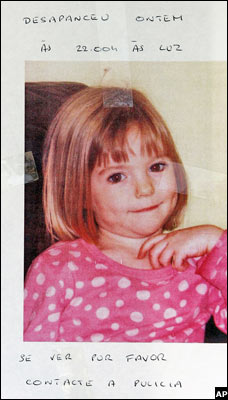 Madeleine McCann, 3, disappeared from the resort in Praia da Luz, Portugal, where her parents were vacationing on May 3, 2007. This missing-person poster, stuck to a board at a bus stop near the resort, reads, "Disappeared yesterday, if you see her contact the police."