The McCanns' trip to Huelva on 03 August 2007


The Huelva trip timeline
The Sun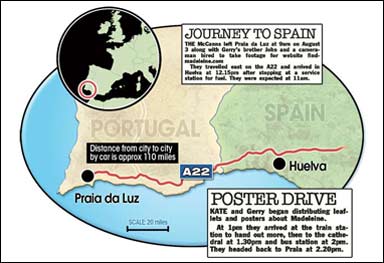 Diagram text:

Distance from city to city by car is approx. 110 miles

JOURNEY TO SPAIN

The McCanns left Praia da Luz at 9am on August 3 along with Gerry's brother John and a cameraman hired to take footage for website findmadeleine.com

They travelled east on the A22 and arrived in Huelva at 12.15pm after stopping at a service station for fuel. They were expected at 11am.

POSTER DRIVE

Kate and Gerry began distributing leaflets and posters about Madeleine.

At 1pm they arrived at the train station to hand out more, then to the cathedral at 1.30pm and bus station at 2pm. They headed back to Praia da Luz at 2.20pm.


---

Note: It was Jon Corner who accompanied the McCanns to Huelva, as seen in the Panorama footage and the photograph reproduced further down this page. There is no evidence to suggest that John McCann was in Portugal at that time.

The claim that the McCanns arrived in Huelva at 12.15pm is contradicted by a witness, in the PJ files, who claims to have seen the McCanns in the centre of Huelva, in their Renault Scenic hire car, at 11.20am.
The Huelva trip - In context of other events at the time

Eddie and Keela start work at Apartment 5A

In the evening, Portuguese and UK investigators begin their search of apartment 5A with Eddie and Keela.

Cadaver odour is indicated in the McCanns bedroom by the wardrobe, in the living room behind a sofa and a light scent indicated outside on the veranda and in a flowerbed. A blood indication is made behind the sofa.

Gerry's blog: Relatively quiet day apart from phone calls and campaign related e-mails. We have Busy couple of days coming up so off to bed relatively early (before midnight)!

Jon Corner and Kate's parents arrive

Jon Corner arrives to film promotional material for the official 'Find Madeleine' site. Kate's parents also arrive.

Gerry's blog:

Another trip to the airport this morning to pick up our campaign manager. Kate did a series of interviews for

womens

magazines and the Sunday newspapers which took most of the afternoon.

Kates

parents, who we visit regularly at home, also arrived and the twins were very happy to see them. They will be staying with us for a week.

We have had some new posters designed of Madeleine, in Portuguese and Spanish, which I have been printing out to distribute locally. I also did some filming to camera which we might use on the website and for future events.

Trip to Huelva cancelled

Gerry McCann cancels trip to Huelva due to 'viral illness'.

PJ arrive at the McCanns' villa with Eddie and Keela

Around 18:00pm, the Inspectors knock on the door of the McCanns villa. Jon Corner states in the Panorama documentary that the McCanns were forewarned of this forensic visit and that there were clothes in the washing machine when the Inspectors arrived.

Cadaver odour is indicated on two pieces of Kate's clothing (trousers and blouse), on a red T-shirt believed to belong to Madeleine and on the soft toy known as 'Cuddle Cat'.

Gerry's blog: Today was a bit of a write off for me as I was laid low with a probable viral illness which meant I could not stray too far from the house! I did manage to get through some e-mails, telephone calls and some paperwork. Feeling a bit better tonight so hopefully be back to normal tomorrow.

Kate did manage to put up some of the new Madeleine posters in shops around Praia da Luz.. It is noticably busier, now that we are in August, with lots of tourists many of whom are from Portugal. The figures from the National Center for Missing and Exploited Children show that one in six kids are recovered after being recognised from a poster. Such statistics do encourage us that relatively simple measures may be effective in helping us find Madeleine.



---


[From 'Madeleine' by Kate McCann: "We'd never lied about anything – not to the police, not to the media, not to anyone else. But now we found ourselves in one of those tricky situations where we just didn't seem to have a choice... As it happened, Gerry had a mild stomach upset which we used as an excuse to postpone the trip."]

Trip to Huelva

The Huelva trip goes ahead, despite all public places being closed. The timeline, according to The Sun, is as follows:

09:00 Leave Praia da Luz

12:15 Arrive Huelva (expected at 11:00am)

13:00 Distribute leaflets and posters at train station

13:30 Distribute leaflets and posters at cathedral

14:00 Distribute leaflets and posters at bus station

14:20 Leave to return to Praia da Luz

A '100% sure' Maddie sighting is reported

In Belgium, details emerge of a possible sighting of Madeleine. A child therapist says she is '100% sure' she saw Madeleine at a restaurant in the town of Tongeren, not far from the Dutch border. A bottle is taken for DNA testing but turns out to be that of a man.

The 'sighting' actually took place on 28 July 2007.

Covered here

Gerry's blog:

It is exactly 3 months since Madeleine was abducted. Kate and I had an early start as we drove to

Huelva

, 50Km over the border from

Portugal

in

Southern Spain

. We were meant to go yesterday but had to cancel because I was ill.

Unfortunately it was a public holiday in

Huelva

and the large shopping centre we planned to visit was closed. We did distribute posters in several garages, taxi ranks and the bus and train stations and gave out some Madeleine wristbands. This was definitely a worthwhile exercise, as many people did not seemingly recognise Madeleine but we did get a very warm response from the Spanish people we met. We would encourage everyone to continue taking posters on holiday but please ask permission before putting them up in public places.

When we arrived back in Praia

da

Luz we did a couple of media interviews to building up to August 11th, which will mark 100 days if Madeleine is still missing. There will be a lot of media activity next week reviewing Madeleine's abduction, the investigation and of course the campaign to help find her. It is an opportunity to highlight that we have not given up hope and are still optimistic of being reunited with Madeleine.

Tonight we prayed for Madeleine at a vigil in the church. This has happened every Friday since

Madeleines

abduction and was very well attended tonight, probably due to the greater number of tourists in the resort.

Search of Casa Liliana, summary from 'The Truth of the Lie'

- 4 and 5 August. Ground "aired" and opened. Over two days of thorough searching, no signs from Eddie at Murat's home.

Jon Corner returns home

(see Gerry's blog below)

Gerry's blog:

Another early

start

to the day as I dropped the crew who did some filming for the website and other forthcoming events. Kate and I did a short interview reviewing the last 3 months and the search for Madeleine. We spent the rest of the day with the kids and Kate's family. We were all glad it clouded over in the afternoon to give us some respite from the intense heat.

The most recent searches by the police have attracted a lot of renewed media interest with satellite trucks arriving back in Praia

da

Luz. It is likely that some of the British Broadcasters will also come back out.

We

werre

all very tired and we managed to get off to bed at 10.30pm, which is very early for us by recent standards.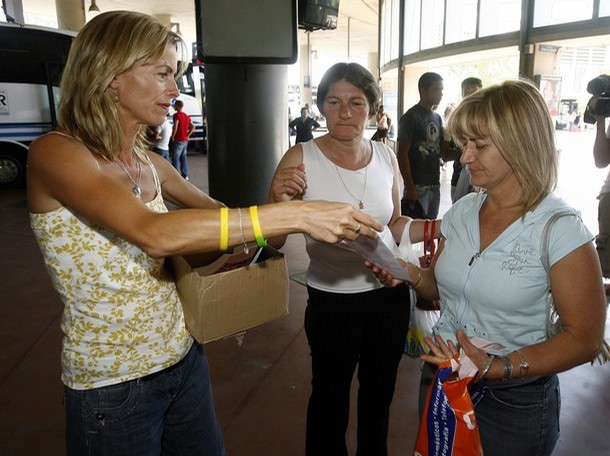 Madeleine Push Delayed As Gerry Sick, 02 August 2007
Madeleine Push Delayed As Gerry Sick Sky News (article no longer online)
Updated: 12:40, Thursday August 02, 2007
A new push to publicise the search for Madeleine McCann has had to be delayed as the four-year-old's father is suffering from a stomach bug.
Updated posters of Madeleine have been printed in the latest appeal for information.
Gerry and Kate McCann had been due to travel to the Spanish city of Huelva to begin handing out the posters and meet politicians.
The fresh campaign is timed to coincide with the upcoming 100-day milestone since Madeleine's abduction in the Potuguese resort of Praia da Luz.
But the plans have been put on hold until Mr McCann has recovered from his illness.
The cardiologist, who is on unpaid leave from his job at Glenfield Hospital in Leicester, was said to have returned exhausted from his recent trip to the US.
New push to find Madeleine
He has also been busily filming new appeals on camera, as he describes in his blog.
As the painful milestone in Madeleine's disappearance approaches, Kate McCann's parents have flown to Portugal to support their daughter.
Madeleine's brother and sister, twins Sean and Amelie, were said to be very happy to see them.
Grandparents Brian and Susan Healy will be looking after the two-year-old twins when the McCanns eventually make the trip to Spain.

"Gerry and Kate's parents have been incredibly supportive," said a spokesperson for the McCanns.
"They like seeing their grandchildren and it is natural for them to want to visit their daughter as much as they can."
Three months on, Madeleine's parents make fresh plea for help in finding their daughter, 03 August 2007
Three months on, Madeleine's parents make fresh plea for help in finding their daughter Daily Mail
Last updated at 15:00 03 August 2007
Exactly three months after their daughter was abducted, the parents of missing Madeline McCann today made a renewed plea for help in finding their daughter.
Kate and Gerry McCann travelled to Huelva, the capital of Andalucia in Spain, to put up posters of their missing child across the city.
They are distributing the images of Madeleine across the city exactly three months after her abduction.
Ms McCann said: "Gerry and I want to remind people that our lovely little girl, Madeleine, is still missing. Today will mark three months since she was cruelly snatched from her bed.
"We do not know where she is, or where she has been taken, but would urge tourists and residents in Portugal and Spain to keep looking for Madeleine. All we want is to be reunited with Madeleine and to be a happy family once again."
There are no plans as yet to mark the 100-day anniversary since her disappearance, with the couple instead intending to grind their way along the main motorway between southern Portugal and Spain, raising awareness over the four-year-old's disappearance.
Writing on his blog on Tuesday, Mr McCann said he intended to ramp up the campaign over the coming week.
He said: "Relatively quiet day apart from phone calls and campaign related emails. We have busy couple of days coming up so off to bed relatively early."
The couple have been boosted by the news that DNA tests are being carried out on a glass and straw used by a girl resembling Madeleine in Belgium.
The girl was seen by a witness - a children's therapist - who is said to be '100 per cent sure' that the little girl she saw with a young couple on a Belgian cafe terrace was Madeleine.
Police are said to be taking the sighting 'very seriously'.
She has told police the girl was with an English-speaking woman and a Dutchman on the cafe terrace in Tongeren, near Maastricht, on Wednesday.
PJ investigates trip to Huelva, 27 September 2007
PJ investigates trip to Huelva Correio da Manhã (article no longer online)
Suspicions: Authorities went to Spain to try to understand what the McCanns did on August 3
27 September 2007
Thanks to 'astro' for translation
The Policia Judiciaria are investigating a trip of the McCann couple to Huelva, Spain, made on August 3, which used the Renault Scenic that contained traces that are presumed to belong to Maddie. These diligences are performed according to the theory, which is now followed more intensely by the investigators, that points to the child's death and the moving of the corpse in that car. The PJ has already collected video surveillance images in "locations that make no sense" where the Renault Scenic may have been through.

The suspicions become more dense with some details of the trip. Namely the fact that for almost three months, Kate and Gerry had an intense media agenda, which included the presence of the press all over Europe. This was until August 2, a time when Maddie's father alleged intestinal problems and cancelled the entire program, which included meetings with some associations in Huelva.

Gerry missed that day, but PJ found out later that the trip from Praia da Luz to that Spanish city was made the next day, this time including the couple and a small group of journalists. This was the first time in three months, since their daughter disappeared on the night of May 3.
The 'strangest' part is the fact that on that day, it was a holiday in Huelva. And the McCanns didn't schedule any meetings, everything was closed - and there was a big agitation at the city centre. At a time when the inspectors are trying to reconstitute thousands of 'unjustified' kilometres that the Renault Scenic made during this period, CM knows there was even a meeting between the leaders of the investigation and the Spanish police.

After the detection of residues that may lead to the presence of the body inside the car, the PJ, besides failing to find a justification for the exaggerated amount of kilometres travelled, already owns several images of the passage of that van through Spain, on August 3. The van may contain the key to the crime.

Kilometres have not been justified

PJ owns the records of the kilometres that were made with the van, between May 27 and July 3. The distances are being checked, in order to try to reconstitute the locations where the van that was hired by the McCanns passed through.

Residues collected in August

The blood residues that are presumed to belong to Madeleine, were collected inside the car in early August. That was also the time when the English dogs smelled cadaver odour inside the boot, and on the vehicle's key.

(...)

Results delayed

PJ still awaits the results from analyses that are being performed on the rest of the residues that were collected inside the McCanns' car and in the apartment. They are not expected this week.

Awaiting interrogations

The Policia Judiciaria is preparing the request letters that will be sent to England. The purpose is to interrogate the McCanns and their friends.
Why did the McCann family travel to Huelva in Spain on August 3?, 27 September 2007
By h.b. - Sep 27, 2007 - 12:34 PM
Portuguese newspaper 'Correio de Manha' asks the question today as police try to cover the 2,750 kilometres reportedly used by their hire car over a month

According to the Portuguese newspaper 'Correio da Manha', the Portuguese Police are now investigating a journey allegedly taken by the McCann family to Huelva in Spain during August.

The investigators are trying to justify a reported 2,750 kilometres which the parents of missing Madeleine McCann added to the Renault Scenic hire car in the month they used it. This was the same car from which DNA evidence was taken by the investigators.

The McCanns reportedly went to Huelva on August 3, which was a local fiesta in the Spanish city, but the reason for the trip is not clear.

The newspaper claims that the Portuguese police are concentrating their efforts now on the search for a body, although other lines of investigation remain open.

The police believe the child died accidentally on the night she vanished May 3rd and that the parents later moved the body. However the evidence they have is not sufficient they say to charge the parents who it seems will not be questioned again unless new evidence is found.

The McCanns continue to proclaim their innocence and say all the police efforts should remain concentrated on the search for Madeleine.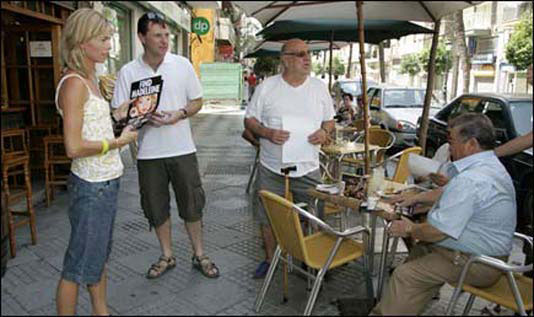 Maddie's body may be buried in Huelva, 28 September 2007
Maddie's body may be buried in Huelva Diário de Notícias


By PAULA MARTINHEIRA and JOSÉ MANUEL OLIVEIRA
28 September 2007
Thanks to Astro for translation
There are two hours that remain to be clarified during the trip that was made on August 3 by Madeleine McCann's parents to the Spanish city of Huelva, in the Renault Scenic that was rented three weeks after their daughter disappeared from Praia da Luz.
Although it was a holiday in Huelva, the McCann couple went to that town in Andalucia, accompanied by a cameraman who was hired to make a video about the Maddie case, and a friend of his.
Gerry and Kate met Portuguese and foreign journalists between 10.30 and 12.30, at various locations, namely at department store El Corte Ingles, at the train station and at the cathedral, where they distributed and put up posters with the image of their daughter and the police contact numbres, so anyone who located her could get in contact.
One of the British reporters who, since the first hour when Maddie disappeared, accompanied the McCanns' steps, lost their track for two hours in Huelva, as DN could discover. It would have been during the afternoon that Gerry and Kate, probably without their two companions, stopped being seen by the reporter, who hadn't lost them out of his sight until then.
What they did, nobody knows. A mystery that now thickens the suspicions that Madeleine's body may have been buried in the Huelva area, which could justify the thousands of kilometers that were made during four months.
Among the British journalists that follow the Maddie case at Praia da Luz, there are some who remember that one of the rituals that are practised by many catholics, namely in England, consists in visiting the tomb three months after someone's death. Curiously, on August 3, the day the McCanns "vanished" in Huelva, was three months to the day that their eldest daughter disappeared.
Policia Judiciaria already owns several images from the video surveillance system of petrol stations and highways, along with other locations where the Renault Scenic driven by Gerry McCann went through, which the investigators considered have "no apparent reason" to be.
The trip to Huelva was scheduled for August 2, a day when the McCanns were supposed to meet representatives from associations that are connected to missing children.
But the trip was delayed to the next day, allegedly because of "intestinal problems" of Gerry McCann, according to the justification that was then given by the couple's spokesperson, Justine McGuiness, who didn't travel with them that day.
Cops probe Spain trip, 28 September 2007
Cops probe Spain trip
Daily Mirror

By Lucy Thornton in Praia da Luz
28/09/2007
CCTV film of Gerry and Kate McCann's visit to Spain is being studied by Portuguese police, it has been claimed.
Officers apparently have footage of the parents' hired Renault driven in "places without reason" last month.
They are said to be suspicious of their last-minute change of plan to distribute missing Madeleine posters in a store in Huelva when the shops were closed. Portuguese paper Correio da Manha claimed: "Officers have been in the country trying to redefine their timetable."
The McCanns' spokesman Clarence Mitchell said: "The trip was organised on behalf of the Find Madeleine campaign. It was entirely open and innocent."
Police probe lost two hours, 28 September 2007
Police probe lost two hours The Sun
From CLODAGH HARTLEY in Praia da Luz
and ANTONELLA LAZZERI in Rothley
Published: 28 Sep 2007
KATE and Gerry McCann were stunned yesterday at the latest police claim about missing Madeleine – that they buried her during a "missing two hours" while putting up posters in Spain.
A furious pal said as the outrageous theory emerged: "Kate and Gerry have had enough.
"Underneath all this rubbish are horrible accusations and rumours.
"There are sightings of Madeleine which they want properly investigated."
Kate and Gerry – shattered that a girl thought to be Maddie in Morocco turned out not to be the four-year-old – urged police to get on with finding their daughter.
The couple – both doctors aged 39 – were incensed that it took The Sun to discover that the blonde tot photographed by a tourist was the daughter of a local farmer.
Face recognition experts yesterday said they were amazed police in Portugal – where Maddie vanished on May 3 – never followed up the lead. They described the girl in the photo as "highly similar" to her.
David McIntosh, of Omni-perception, said: "I would have expected police to have been on the first plane out – there were enough scientific matches between the photo and Madeleine."
Yesterday it emerged Portuguese detectives are working on the bizarre theory that the McCanns hid their daughter's body in their hire car THREE MONTHS after she was reported missing.
On August 3, the couple drove from the fateful Algarve resort of Praia da Luz across the border to the Spanish town of Huelva to put up posters. With them were Gerry's brother John and a cameraman hired to take footage for the website findmadeleine.com.
Once in Spain, the couple were followed around by an army of media. Despite this, police are focusing on what they claim was a "missing two hours". They are investigating the possibility Gerry and Kate either buried the body then – or returned to the site of a grave they made earlier.
It is the latest in a string of controversial theories by the Portuguese – many of which have been discredited. To bolster their latest idea – leaked to one of the country's newspapers – police say it was: SUSPICIOUS the trip was postponed from the day before – because Gerry had intestinal problems.
"STRANGE" that the couple, from Rothley, Leics, chose to visit Spain on a national holiday when shops were shut.
MYSTERIOUS that the McCanns racked up "unjustified mileage" in their Renault Scenic – hired 25 days after Maddie disappeared.
Police are awaiting further tests on the car – in which they claim to have already found DNA linked to Maddie. They are said to have met with Spanish counterparts to study CCTV showing the motor travelling in "places without reason."
Yesterday Clarence Mitchell, spokesman for the McCanns, insisted: "The trip to Huelva was organised on behalf of the Find Madeleine campaign. It was conducted in the full glare of journalists from all over Europe and beyond."
A source close to the McCanns yesterday said the couple had a "new determination" to find their daughter. The insider said: "A new ad campaign due to be revealed in two weeks is aimed at getting the message across – keep searching." Yesterday the couple left their home in Rothley to take their two-year-old twins to nursery. Gerry told supporters: "It is just over two weeks since we returned home from Portugal.
"The major news in that time is that we have not been charged with any offences regarding Madeleine's disappearance. For Kate and I it has been incredibly difficult to come home without Madeleine but particularly in such circumstances."
*
Note: It was Jon Corner who accompanied the McCanns to Huelva, as seen in the Panorama footage and the photograph below. There is no evidence to suggest that John McCann was there at that time.
Portuguese police study CCTV of 'suspicious' car journey made by McCanns, 28 September 2007
Portuguese police study CCTV of 'suspicious' car journey made by McCanns Daily Mail (no longer available online)

By SAM GREENHILL, VANESSA ALLEN
28 September 2007

POLICE searching for Madeleine McCann are studying CCTV showing where her parents drove their hire car in Spain, it was claimed yesterday.

They are trying to plot a map of the car's movements on August 3 in the hope the trail will lead to her body.

Detectives are convinced Madeleine died the night she vanished and that her corpse was later transported in the boot of the car.

According to the newspaper Correio de Manha, Spanish police have given their Portuguese counterparts CCTV footage showing the Renault Scenic in places in Spain where there was 'no reason' for the couple to be.
The development was dismissed by friends of Kate and Gerry McCann as yet more evidence of the police's desperation in their fast-crumbling case against the couple, who were made official suspects in the case on September 7.

It emerged as the McCanns were coming to terms with the latest setback after a sighting in Morocco proved false.

A young girl in a Spanish tourist's holiday photograph turned out to be two-year-old Bouchra Benaissa, the daughter of a local olive farmer.

Kate McCann's aunt Janet Kennedy said yesterday: 'Inevitably it is a disappointment. I think they are very philosophical about it because it's happened so many times. You just have to keep on.'

On August 3, the McCanns drove their Renault rental car to the Spanish town of Huelva, just across the border from Portugal, as part of their campaign to raise awareness of their missing four-year-old.
Police are intrigued by the date - it was three months after Madeleine's disappearance - and by what they claim were two hours 'unaccounted for' during the trip.

Traces of Madeleine's hair and bodily fluids have reportedly been found in the car, hired 24 days after she went missing.

Hair samples are being analysed by the Forensic Science Service in Birmingham for evidence that she suffered an overdose of sedatives or sleeping pills, with the final results expected any day now.

But friends of the McCanns scorned the idea and pointed out it would be absurd for the couple to have attempted to move a body on a trip they had invited the world's press to cover.

Several British photographers accompanied them on the day trip, in which the McCanns handed out Madeleine posters and wrist bands at a bus and petrol station.

Portuguese police allege there was 'unjustified mileage' done in the Renault Scenic and are said to have met with their Spanish counterparts to discuss the trip.

A friend of the couple said yesterday: 'It is utter nonsense to suggest they invited a dozen photographers then drove to Spain with a body in the boot.

'They went to Spain to try to find Madeleine, not to bury her. These allegations are as hurtful as they are untrue and they just want to get the focus back to finding their daughter.' The McCanns' official spokesman,Clarence Mitchell, said: 'Kate and Gerry McCann are entirely innocent and have nothing to hide.'

The police case against the McCanns has been sinking ever since detectives failed to extract confessions from the couple during two days of questioning.

Yesterday, it emerged police have now scaled back plans to dig in Praia da Luz, including the area around the church where the McCanns prayed, saying they will only excavate if they have 'credible' leads.
Witness statement, from the PJ files, disputing claim in Daily Mail that 'several British photographers' had 'accompanied' the McCanns on their trip to Huelva, 29 September 2010
Text of witness statement, 29 September 2007
Text of witness statement PJ Files

Presented below in the correct chronological order.

Page 2902 (repeated on page 2903)

Rec By :TPHONE 29/09/07 Page 1 of 4
NOT A COUNTY EXCHANGE
Location:HUELVA SPAIN/OFA,OUT OF FORCE AREA

Text: CALLER STATES ON 3/8/07 SHE WAS AT LOCN AT HUELVA IN SPAIN. AT APPROX 1120HRS SHE WAS SITTING NEXT TO THE MC CANNS AT TRAFFIC LIGHTS (ROAD NAME NOT KNOWN BUT KNOWS IN THE CENTRE OF HUELVA) CALLER STATES IF SHOWN A MAP SHE COULD IDENTIFY THE ROAD AS

Rec By :TPHONE 29/09/07 Page 2 of 4

CALLER HAS A HOUSE JUST OUTSIDE HUELVA. CALLER STATES THEY WERE DRIVING THE RENTED RENAULT SCENIC AND THERE WERE PICTURES OF MADDY ON THE WINDOWS. CALLER STATES SHE WAS ACTUALLY SITTING ALONGSIDE JERRY MC CANN WHO WAS DRIVING, HIS WIFE WAS NEXT TO HIM IN THE FRONT AND THERE WAS A WHITE MALE SITTING

Page 2901 (repeated on page 2904)

BEHIND JERRY MC CANN - CALLER HAS SEEN THIS MALE ON TV HE IS WHITE, "LOOKED A BIGGISH SORT OF GUY AND REALLY REALLY SHORT HAIR ALMOST SHAVED AGE 40-45YRS". CALLER IS NOT SURE BUT SHE ALSO THINKS THERE WAS ANOTHER PASSENGER IN THE BACK BEHIND MRS MC CANN - POSSIBLY A WOMAN BUT "WOULD'T LIKE TO SWEAR TO IT". CALLER IS SURE OF THE DATE AND THE TIMES AS SHE WENT TO THE TRAIN STATION TO CHANGE HER TICKETS AND SHE STILL HAS THE

Rec By :TPHONE 29/09/07 Page 3 of 4

CHANGED TICKETS WITH THE DATE ON. CALLER IS RINGING IN AS SHE HAS READ IN THE PAPER ABOUT "LOST HOURS IN HUELVA". CALLER STATES WHEN SHE SAW THE MC CANNS AT THE TRAFFIC LIGHTS THERE WERE NO OTHER CARS BEHIND THEM (PAPERS STATED THEY HAD PHOTOGRAPHERS WITH THEM IN HUELVA - DAILY MAIL DATED FRIDAY 28/09/07). CALLER IS HAPPY TO SPEAK TO POLICE IF NECESSARY. CALLER WILL HANG ON TO HER TICKETS AS PROOF OF HER BEING IN HUELVA.


---

Note: There is no 'Page 2905' presented in the files.
Enough is enough, 29 September 2007
Enough is enough
Daily Mirror

By Lucy Thornton in Praia da Luz
29/09/2007
THE HUNT FOR MADELEINE SPOKESMAN PLEA OVER SLURS 'It's just one ridiculous allegation after another, each is unsourced, unsubstantiated and unnamed..'

Kate and Gerry McCann begged "enough is enough" yesterday as they fought off yet another outrageous slur.
The latest extraordinary claim in the Portuguese press is that missing daughter Madeleine was killed in her parents' holiday apartment before dinner and her body stored in a fridge.
Branding the report "total rubbish", the couple's appalled spokesman Clarence Mitchell said: "It's just one utterly ridiculous allegation after allegation - unsourced, unsubstantiated and unnamed.
"For the family's sake surely it's time for this to stop. It's ludicrous.
"Each and every one of these nonsensical allegations causes real pain and hurt for Gerry and Kate.
"They make a most awful situation far worse.
"We just hope everyone can see them for what they are - ridiculous."
His comments were backed by Spanish police who fiercely denied another astonishing report which claimed they were investigating a "suspicious" trip by the couple to Huelva city.
Their denial added weight to the McCanns' belief that they are victims of a smear campaign by unnamed police sources.
Portugal's Diario newspaper alleged yesterday that Madeleine, four, was killed between 7pm and 8.30pm in her parents' apartment at Praia da Luz.
A report claimed that during this time Kate was on her own putting Madeleine and two-year-old twins Sean and Amelie to bed while Gerry played tennis.
The paper said: "There are no witnesses who saw Kate and Maddie in that fatal and mysterious hour and a half."
It added that police believe Madeleine's body may have may "passed through various locations" before being put in the boot of the couple's hired car.
Detectives are now allegedly set to search fridges in Luz.
The slur appears to implicate the couple's friends whom police reportedly accuse of a "pact of silence". Reacting to the smear, a source close to the McCann family said: "Rubbish. Have you seen the size of the fridges there? Of course they didn't stuff her in a fridge."
Of the 90 minute "window", the source added: "Kate was not in the apartment alone with Madeleine. She and Gerry had both been playing tennis. Then they put her to bed together."
Portuguese police are said believe the 39-year-old McCanns might have used their visit to Huelva on August 3 to bury Madeleine's body during a "missing" two hours.
Sources have said Spanish authorities were checking CCTV.
But Huelva Civil Guard said: "We're not investigating the McCann parents.
"We're not studying CCTV footage and we haven't been contacted by Portuguese police in relation to the visit. The reports are totally false."
Madeleine will tomorrow have been missing for 150 days. Her parents, of Rothley, Leics, remain official suspects.
The two 'missing' hours on the trip to Huelva, 30 September 2007
Madeleine: Portuguese detectives send British police 40 questions to ask the McCanns
Daily Mail
By TOM WORDEN
Last updated at 17:30 30 September 2007
Portuguese detectives plan to send a legal letter to their British counterparts outlining more than 40 questions they insist the parents of Madeleine McCann must answer.
The British police will then decide how and where the questions will be posed.
The move has been ordered by prosecutor Luis Bilro Verao, who issued a public statement earlier this month saying there was not enough evidence against Kate and Gerry McCann to order a fresh grilling about the little girl's disappearance.
The new interrogation will be based on more than 40 questions Kate McCann refused to answer when she was quizzed by police in Portimao on September 7.
It will focus on two "missing" hours on a trip the McCanns made to the Spanish city of Huelva on August 3 when the McCanns reportedly 'evaporated' from the view of accompanying journalists.
They are said to suspect that Madeleine died in the holiday apartment at Praia da Luz and that her parents hid the body and moved it three months later on the trip to Spain.
But the couple's spokesman, Clarence Mitchell, insisted yesterday that Mr and Mrs McCann, both 39-year-old doctors from Rothley, Leicestershire, have a full account of their visit to Huelva.
He said the couple were never alone during the trip and were always in the company of PR adviser Jon Corner and a cameraman.
There is even a video of the trip on the website YouTube, showing the McCanns handing out leaflets as part of their drive to find their daughter.
Mr Mitchell said: "Kate and Gerry stopped several times to distribute leaflets and they had the car boot open all the time.
"They transported all the campaign material in it. If there had been a body in there, people would have seen."
Spanish authorities said yesterday they have not been asked to investigate the Huelva trip.
Spokesman Manuel Bago insisted: "There is no investigation involving Madeleine's parents in the province of Huelva."
Forensic tests from the McCanns' Renault Scenic hire car are expected back within two weeks. Police believe the results will give a "fresh breath" to the investigation.
Meanwhile, despite having their hopes dashed last week when a blonde child photographed in Morocco proved not to be their daughter, the couple believe North Africa may hold the key to her safe return.
In Gerry's blog yesterday, he wrote: "When we hear of potential sightings of Madeleine, Kate and I try not to get too excited, otherwise we would be on a continuous emotional rollercoaster, more than that we are experiencing already.
Madeleine McCann: Parents' 'suspicious' trip, 01 October 2007
Madeleine McCann: Parents' 'suspicious' trip
Telegraph
By Caroline Gammell in Praia da Luz
Last Updated: 1:36AM BST 01 Oct 2007
Portuguese detectives are investigating a trip Kate and Gerry McCann made to Spain, it has emerged.
A day after a possible sighting of four-year-old Madeleine was ruled out, police re-focused on her parents, who are formal suspects in her disappearance.
They are believed to be studying CCTV footage of their journey to Huelva, across the Spanish border on August 3 where they went to raise their daughter's profile.
It is understood police are suspicious of the trip because the McCanns changed their plans at the last minute and did not have any formal meetings while there. Detectives are said to be working on the theory, dismissed as ludicrous by the McCanns, that Mrs McCann may have accidentally killed her daughter and relied on her husband to help cover it up.
One line of inquiry is whether they could have hidden her body and used their silver Renault Scenic -hired 25 days after she disappeared - to dispose of the body. Traces of Madeleine's DNA were allegedly found in the vehicle.
Police are puzzled by the high mileage, with 1,700km added to the clock between May 27 and July 3. They are sceptical about the Spanish visit because the couple did not arrange any meetings with dignitaries and two hours are unaccounted for, it was claimed. A police source told Portuguese newspaper Correio da Manha: "The trip to Spain on a national holiday raised suspicion and investigators have been to the country trying to find out where the McCanns went."
The couple's spokesman Clarence Mitchell insisted the journey was innocent: "The trip to Huelva was organised on behalf of the Find Madeleine Campaign.
"It was conducted in the full glare of journalists from all over Europe and beyond. Kate and Gerry McCann are entirely innocent and have nothing to hide."
It is less than 24 hours since a little girl with striking similarities to Madeleine in Morocco was identified as Bouchra Ben Aisa, a farmer's daughter. There were concerns that the authorities were slow to act after she was traced by journalists rather than police.
A source close to the couple said: "Frankly it is a sign of the times that journalists can locate a relatively obscure child in the Moroccan mountains and one would hope that the authorities were able to locate a child as quickly as that."
But Mrs McCann's aunt Janet Kennedy said the McCanns were "philosophical".
"Inevitably it is a disappointment, but I think they are very philosophical about it because it's happened so many times.
"Just suppose Madeleine is in Morocco, what does that mean? You just have to keep on."
Mrs Kennedy spoke as she helped parcel up more than 2,000 toys and gift given to the McCanns which they have decided to send to underprivileged children in Belarus.
They were left at the war memorial near the family's home in Rothley, Leicestershire, alongside thousands of green and yellow ribbons.
They will be sent to Zhodina, some 20 miles from the capital Minsk, and Bobrusk in the south of the former Russian republic, next week.
The family has spent nearly £300,000 of the fund set up to help find Madeleine, which has now raised £1,041,697.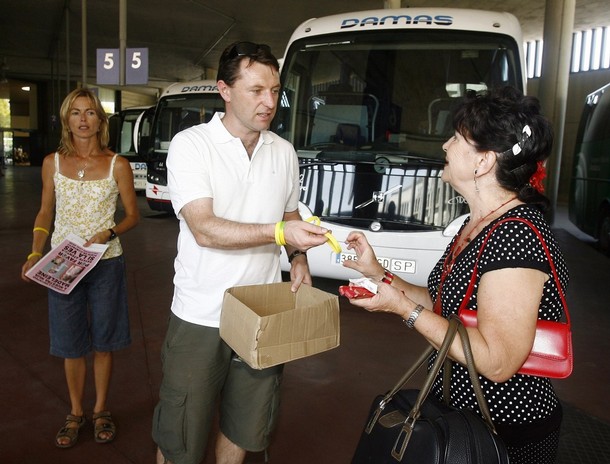 PJ searches in Huelva, 02 October 2007
PJ searches in Huelva Correio da Manhã (article no longer online)
Policemen want to find cadaver
02 October 2007
Thanks to 'astro' for translation
The investigators from the PJ in Portimao are meeting the Spanish police today, in Huelva. The goal is to verify again all the details of the McCann couple's trip to that city on August 3, three months after the child disappeared.

The PJ admits that the cadaver may have been taken to that location, a little over 50 kilometers from the Portuguese border, or that Maddie's parents went to visit the child's grave.

The trip was considered suspicious, and there is an interval of two hours when the couple were alone, and which could be related to the translation of the girl's body.

At a time when all data is being checked and the authorities are concentrating their attention on recovering the child's cadaver, the investigators don't dismiss any leads. So they decided to advance into Spain, as they are convinced that the body was transported in the van that was rented by the couple.

It should be mentioned, as CM reported first hand, that there are many details in the trip to Huelva that are considered to be strange by the investigators. First, the couple chose a holiday to publicise their daughter's disappearance, then they were not followed by the batallion of journalists that was usual. Besides, the car was captured by video surveillance cameras in several "unexplained" locations, which intensifies the mystery.

While the PJ runs against time to solve the crime, the McCanns' pressure increases. Yesterday, daily newspaper 'The Times' announced that Maddie's parents are going to try to "annul" the constitution of arguidos because of a lack of clues. Also Sky News broadcast a large report, which mentioned the failures in the investigation and left many doubts about the police work. Police sources that were heard by CM devalue the pressure, guaranteeing they were aware this would happen.

And that it would increase at the moment the parents would be considered suspects.

E-MAIL WAS JUST A FARCE

Another lead followed by Policia Judiciaria revealed itself a farce. The e-mail that was reported by several newspapers yesterday, including CM, and which was sent to Prince Charles, mentioning an abduction as revenge for a dismissal at the Ocean Club, was sent by someone who signed under a false name. The woman, who said her name was Esmeralda Luego, does not exist after all, and the authorities failed to track down the electronic mail itself. Besides, the woman mentions the kidnapping of a child in a hotel in Lisbon, which gave the story little credibility. The McCanns had already been informed that the lead was inconsistent, and was considered just one more, among so many unreliable pieces of information that have reached the investigators over the recent months. The most media-exposed and most recent one was a sighting in Morocco, a piece of news that was promptly commented by the McCann's advisor. After all, the girl that had been photographed by a Spanish woman was four years old and the daughter of a Moroccan woman and a Belgian man. In less than 24 hours, the news was dismissed, but the McCanns reaffirmed the thesis that the child is alive.
PJ accuses English police of favouring the McCann couple, 02 October 2007
PJ accuses English police of favouring the McCann couple
Diario de Noticias
PAULA MARTINHEIRA
JOSÉ MANUEL OLIVEIRA

02 October 2007
Thanks to 'astro' for translation
"The British police has only been working on the issues that the McCann couple wants, and which are convenient to them." It was with an explosive and rebellious tone that the coordinator of the investigation into the Madeleine case, Gonçalo Amaral, commented in brief statements to DN the news that was published yesterday in several English newspapers. This news was about an anonymous email that was sent to Prince Charles' official site, which accuses an ex-employee of the Ocean Club of kidnapping the four-year-old girl, as an act of revenge against the resort's administration, after having been dismissed.
"That situation is completely set aside, and it has no credibility whatsoever to Portuguese police", the leader of the Criminal Investigation Department (CID) of Portimao told DN, considering that his English colleagues "have been investigating leads and information that were created and worked by the McCanns, forgetting that the couple is suspected of the death of their daughter Madeleine".
"That story of a kidnapping for revenge is another fact that was worked by the McCanns", Gonçalo Amaral accused, stressing that the Ocean Club "is located in Praia da Luz and not in London, which means that everything that concerns the resort and its employees (present or former) was already or is being investigated by Policia Judiciaria".
"It's not an email, even less an anonymous one which is easy to track, that is going to distract our investigation line", he said.
Gonçalo Amaral, before entering the CID in Portimao, was at the PJ's Directory in Faro, having been mainly responsible for fighting drug traffic.
The opinion of the coordinator of CID in Portimao coincides with statements that were made to DN by the president of the Union of Criminal Investigation Employees (ASFIC), Carlos Anjos, who accuses Gerry and Kate McCann of "trying to distract and confuse the investigation by announcing a new fact on a daily basis". For him, as DN could report, "the McCanns have launched a campaign to discredit the Portuguese police when it presented the theory of the girl's death, substituting that of an abduction, which was very convenient to them". "As long as the theory of the disappearance because of a suspected abduction subsisted, the PJ was very pleasant company for the couple. When things changed and the death theory emerged, there was a radical change in the stance of the McCanns, who by the way never helped or facilitated, since the beginning, the investigation".
In late August, early September, a few days before Gerry and Kate were constituted arguidos, for suspicions of the negligent death of their daughter Madeleine, a top member of staff of Judiciaria commented the following: "After buying ourselves a war with the British media, we are now buying one with the English police."
Over the last few weeks, the Policia Judiciaria has been silent, which was helped by the fact that the spokesman of this force for that case, Olegario Sousa, has left that function, which he occupied since the child's disappearance.
---

Note: The day after this article appeared, 03 October 2007, Alipio Ribeiro reportedly sent a brief fax to Mr Amaral's office in Portimao on the detective's 48th birthday, reading: "Transfered to Faro for convenience of the service".