A brief introduction to the work of Eddie and Keela, as well as general information regarding the work of cadaver dogs
Keela's Nose Makes Her Top Dog, 30 December 2005
11:52am UK, Friday December 30, 2005
Keela is a top dog in the police world, earning more in a day than her force's Chief Constable by working on some of the country's highest-profile crimes.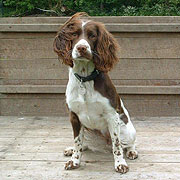 The pride of South Yorkshire
The 16-month-old springer spaniel can sniff out the smallest samples of human blood - even after items have been cleaned or washed many times.
The South Yorkshire Police dog has already helped forces across the country, including working on the stabbing of Abigail Witchalls in Surrey.
Her going rate is £530 per day, plus expenses.
If she worked every day of the year, she would earn almost £200,000 - around £70,000 more than her force's Chief Constable.
In the New Year, Keela will be travelling to America to assist the FBI with two murder inquiries.
A South Yorkshire force spokeswoman said the crime scene investigation dog has saved more then £200,000 nationally since April this year, helping with investigations in Ireland, Cornwall, Wiltshire, Surrey and the Thames Valley areas.
Her handler, PC Martin Grime, has been responsible for training Keela, along with National Search Adviser Mark Harrison, since June last year.
Unlike ordinary police dogs, Keela has never taken part in the usual six-week training course but has been trained, bit by bit, by PC Grime every day.
Her programme involved training her to ignore decomposing body materials other than human blood.
Instead of barking when she smells blood, she has been trained to have a "passive" alert - freezing with her nose as near to the subject matter as possible without touching, to enable scientists to recover the sample quickly and efficiently.
This technique has saved time and money on major investigations.
South Yorkshire Chief Constable Meredydd Hughes said: "Keela's training gives the force an edge when it comes to forensic investigation, which we should recognise and use more often.
"We know we have an operationally excellent dog section, and our specialist dogs are being developed in a unique way."
UK's No1 Sherlock Bones, 30 December 2005
By Alastair Taylor
Published: 30 Dec 2005
BRITAIN'S most amazing police dog can earn more than her chief constable.
Springer spaniel Keela is so smart she is hired by other forces for £530 a day - plus expenses.
That is a rate of £200,000 a year, compared to the £129,963 paid to South Yorkshire's top cop Med Hughes.
Keela, 16 months, has helped detectives around the country with high profile cases, including the stabbing of Abigail Witchalls, 26, in Surrey.
Now she is going to the United States - to show off her skills to the FBI
Her sense of smell is so keen she can sniff out blood on clothes after they have been washed repeatedly in biological powder.
She can pick out microscopic amounts of blood even on weapons that have been scrubbed clean. And she is able to lead detectives to minuscule pieces of other evidence.
Handlers PC Martin Grimes and PC John Ellis devised a special training regime to focus Keela's remarkable sense of smell.
On scent of success: sniffer dog Keela earns more than her Chief Constable, 30 December 2005
On scent of success: sniffer dog Keela earns more than her Chief Constable
Timesonline
By Karen McVeigh
December 30, 2005
HER detective work is unsurpassed, her dedication to duty during some of Britain's most challenging murder cases unfailing.
Keela, a 16-month-old springer spaniel, has become such an asset to South Yorkshire Police that she now earns more than the chief constable.
Her sense of smell, so keen that she can sniff traces of blood on weapons that have been scrubbed after attacks, has her so much in demand by forces up and down the country that she is hired out at £530 a day, plus expenses.
Thought to be the only one of her kind, the crime scenes dog earns nearly £200,000 a year. Her daily rate, ten times that of ordinary police dogs, puts her on more than the chief constable, Meredydd Hughes, who picks up £129,963.
Keela's considerable talent in uncovering minute pieces of evidence that can later be confirmed by forensic tests has put her in the forefront of detective work across Britain. She was drafted in to help after the stabbing of the young mother, Abigail Witchalls, in Surrey, and has been involved in high- profile cases across 17 forces, from Devon and Cornwall to Strathclyde.
She has already helped to apprehend a murderer after sniffing out blood on a knife.
PC John Ellis, her handler, said that police sent for Keela when the scenes of crime squad failed to find what they were looking for. "She can detect minute quantities of blood that cannot be seen with the human eye," he said. "She is used at scenes where someone has tried to clean it up. If blood has seeped into the tiles behind a bath where a body has been, she can find it."
The spaniel can sniff out blood in clothes after they have been washed repeatedly in biological washing powder, and can detect microscopic amounts on weapons that have been scrubbed and washed.
When faced with a "clean" crime scene, Mr Ellis and PC Martin Grimes, Keela's other handler, will first send in Frankie, a border collie, and Eddie, another springer spaniel, to pick up any general scent. Then they wheel in the big gun.
"We take Keela in and she will find the minutest traces of blood," Mr Ellis said. "It's not like looking for a needle in a haystack any more. The other two dogs will find the haystack and Keela will find the needle."
While the other dogs bark, Keela has been trained to freeze and pinpoint the area with her nose.
Mr Ellis said Keela's "perfect temperament" and enthusiasm made her a great asset. "We thought we would get one or two deployments a year, but things have just snowballed. Obviously when we are called in by other forces they are charged a fee and it's quite funny to think she can earn more than the chief constable."
Mr Hughes showed there were no hard feelings. The chief constable said: "Keela's training gives the force an edge when it comes to forensic investigation which we should recognise and use more often."
Mr Ellis and Mr Grimes came up with a special training regime to focus on Keela's remarkable skills. It has proved so successful that the FBI has inquired about it. "The FBI is very interested in how we work because they don't have this sort of facility in-house and they are looking at setting up their own unit," Mr Ellis said.
Paul Ruffell, of K9 Solutions, a security firm specialising in dog units, said he was amazed at Keela's abilities. "I've been working in this business for 25 years and I've never heard anything like it," he said.
ANIMAL MAGIC
£200,000 DOG
Keela crime scene investigation dog, South Yorkshire Police
Pay none. Charges £530 a day plus expenses for services. Earned almost £200,000 last year
Career joined South Yorkshire Police in 2003 at 12 weeks. Came originally from West Midlands Police, from a large litter. Period of training lasted a few months
Hobbies chasing her tail and eating
£129,000 MAN
Meredydd Hughes, Chief Constable of South Yorkshire
Pay £129,963 a year
Career joined North Wales Constabulary, 1979. Promoted to Superintendent in West Yorkshire Police in 1995 and Assistant Chief Constable in Greater Manchester, 1999
Hobbies rock climbing, mountainbiking and mountaineering
Portuguese police turned down offer of dog help, 23 May 2007
By Ian Hepburn and John Askill
Published: 23 May 2007
Stubborn Portuguese police chiefs are refusing to let the world's best sniffer dogs join the hunt for Madeleine McCann.
Senior British cops last night urged officers leading the inquiry to accept help from UK dog teams before it is too late.
Two dogs attached to Britain's National Policing Improvement Agency have developed such powerful tracking skills they can follow a scent for miles, even one up to 28 days old.
By sniffing an item of Maddie's clothing, they could trace a trail that might finally unlock the mystery of the four-year-old's disappearance.
Police in the Algarve appear no nearer to finding Maddie 20 days after she was snatched from her bed in the family's holiday apartment in Praia da Luz. But the sniffer dogs are still being snubbed.
A senior UK police source said: "It is an absolute scandal, time is fast running out for this little girl.
"These dogs have immense capability. Their tracking skills are among the finest in the world.
"The dogs were put on standby to go to the Algarve within days of Madeleine's disappearance.
"You would expect the Portuguese to make use of the best resources available to them, but they repeatedly ignore the offers of assistance."
The dogs include a spaniel whose sense of smell is so keen she can sniff traces of blood on a weapon even after it has been scrubbed clean.
But the source warned: "They work most effectively within a 28-day time frame. After that the scent becomes much weaker."
Other British dog-handling teams did join the initial search for Maddie, and local cops later reported that dogs found a scent, but the trail was lost after 250 yards.
Top sniffer dog to join Maddy search, 08 August 2007
Spaniel used in Ulster murder hunts flies in
By Brendan McDaid
Wednesday, August 08, 2007
The sniffer dog who found the body of murdered Ulsterwoman Attracta Harron has been flown to Portugal in the hunt for the body of Madeleine McCann, the Belfast Telegraph can reveal.

Specially-trained English springer spaniel Eddie and his companion Keela were taken to Praia de Luz complex in the Algarve several days ago as the search for the missing four-year-old intensified.

The police dogs, which are trained to sniff out minute traces of blood, were drafted in after the focus of the investigation again turned on the apartment where the McCann family were staying when Madeleine disappeared 97 days ago.

The dogs, which have also been involved in the Ulster search for missing Tyrone teenager Arlene Arkinson, were yesterday still in Portugal.

The identity of the two hounds emerged as reports that sniffer dogs from the UK found specks in the apartment where the four-year-old was last seen.

As Madeleine's parents Gerry and Kate last night clung to the hope that their daughter will be found alive, it is understood forensic tests are being carried out to determine whether the substance is actually blood.

If the tests prove positive, DNA samples could be used to see if there is any match to Madeleine.

Used across the world for his accuracy, seven-year-old hound Eddie helped police put Trevor Hamilton behind bars in 2006 after the victim recovery dog found 63-year- old Attracta Harron's blood on the 23-year-old murderer's burned-out Hyundai.

Eddie, who works for South Yorkshire police, also located Attracta's body in a shallow grave in April 2003.

Last year the dog and his handlers returned to Ulster for a third time to help find missing Arlene Arkinson.

The Tyrone teenager went missing after leaving a disco in Bundoran, Co Donegal, on August 13, 1994.

Both Eddie and Keela have also been used in various disappearance and murder cases in the US and the Republic of Ireland.

Despite the upsurge in activity, Kate and Gerry McCann have said that they are remaining focused on finding their daughter alive.
Four-legged sniffers of the truth, 08 August 2007
ROBERT MATTHEWS salutes the extraordinary olfactory abilities of the springer spaniel
F
IRST
P
OSTED
A
UGUST 8, 2007
If, or as seems increasingly likely, when, the full story of the disappearance of Madeleine McCann is revealed, one question will demand an answer: why did detectives wait three months before bringing in sniffer dogs?

Traces of blood were found earlier this week by specially-trained springer spaniels in Madeleine's bedroom in Praia da Luz. Samples taken from the scene are now being tested by British forensic scientists.

Whatever the outcome, there can be no doubt that the job of linking them to the missing three-year-old girl - and possibly even finding her - has been made harder by the delay.

The wonder is that the traces of blood were found at all. Invisible to the naked eye, they have almost certainly been subject to scrubbing and cleaning agents. But then, sniffer dogs are trained to perform such wonders on a daily basis

Using simple Pavlovian stimulus-and-reward methods, their handlers train them to sniff out substances ranging from bodily fluids to drugs and explosives. The secret of their success lies in their noses - more specifically, their olfactory epithelium, an area of scent-detecting cells which is 50 times larger in dogs than in humans.

The sensitivity of these cells is astounding, allowing dogs to detect molecules in concentrations 100 million times weaker than humans can manage. This was how one dog deployed in the Algarve nailed the murderer of Attracta Harron in 2006, detecting traces of her blood in her assailant's burned-out car.

Scrubbing, detergents, masking scents, incineration: these four-legged molecule hunters will take it all in their stride - if only humans give them the chance.
The English sniffer dogs that are helping in the hunt for Madeleine, 10 August 2007
The English sniffer dogs that are helping in the hunt for Madeleine
Daily Mail
Last updated at 12:58 10 August 2007
A dog who was 'earning' more money than her force's Chief Constable has been brought in to help Portuguese police in their hunt for missing Madeleine McCann.
Specially-trained Keela was flown to Praia da Luz in the Algarve last week because she can detect human blood - even after items have been cleaned or washed many times.
Keela, and another English springer spaniel called Eddie, have now both been enlisted in the hunt for the missing four-year-old.
Keela hit the headlines two years ago because she was earning more than her force's Chief Constable.
The South Yorkshire Police dog has already helped forces across the country, including working on the high-profile stabbing of pregnant mother Abigail Witchalls in Surrey, and was being hired out for £530 per day, plus expenses.
Back then she would have been earning almost £200,000 - around £70,000 more than her force's Chief Constable - if she worked every day of the year.
She has been trained to ignore decomposing body materials other than human blood.
And instead of barking when she smells blood, she has been trained to have a "passive" alert - freezing with her nose as near to the subject matter as possible without touching, to enable scientists to recover the sample quickly and efficiently.
This technique has saved time and money on major investigations.
She can search any area, including houses, cars, boats, both indoors and outdoors, and will lead her handler to spots of blood so small that humans cannot see them.
She screens textiles and can pick out traces of blood even after clothing has been washed many times or weapons cleaned.
When Keela was working on the Abigail Witchalls case she found eight piece of blood-stained clothing in just one day.
Now the dogs have been brought in to help after the police looking into her disappearance re-focused on the McCanns' holiday apartment.
Madeleine has now been missing for 99 days and police are increasingly desperate for any kind of breakthrough in her case - as are her parents Kate and Gerry, who are still in Portugal.
Both sniffer dogs are attached to South Yorkshire Police.
Eddie is a "victim recovery dog" who can detect blood and human remains.
It appears highly likely that Keela was the dog who was brought in by British detectives last week who located tiny traces of blood in the McCanns' apartment despite alleged attempts to wash them off.
Police are still waiting for the results of tests on the recovered traces, which arrived yesterday at a top UK forensic laboratory.
The sniffer dogs have already travelled around Britain, and to Ireland and the US to help police investigating murder and missing person cases.
A dog diary about Keela on the South Yorkshire Police website when she was six months old says she and Eddie live "with my dad" at home in Bawtry, Doncaster.
It reads: "He is going to train me to search for very small spots of blood at crime scenes, so small that the humans can't see it.
"My very sensitive nose will be able to smell the blood and I will show Dad where it is. He can then show the scientists so that they can take samples." South Yorkshire Police were unavailable for comment last night.
Specialized K-9 to Aid in Ga. Search, 14 September 2007
Monika Rued
Updated: 9/14/2007 11:19:53 AM
A dog trained to detect tiny bits of blood evidence has been brought to Georgia from the UK to help search for a missing woman.
The FBI, the GBI and Walker County, Georgia, Sheriff's investigators have some new and potentially powerful help in solving the seemingly unsolvable disappearance of Theresa Parker, the Walker County 911 dispatcher. A world-renowned police dog and his handler from England just arrived in Georgia.
The FBI considers them -- Martin Grime and his 7-year-old, English Springer Spaniel, Eddie -- two of the best in the law enforcement specialty of canine forensics, able to find evidence everyone else missed.
"Yes, hopefully we will find Theresa Parker. Yes, we will hopefully find evidence," Grime said at an afternoon news conference with Sheriff Steve Wilson in the Walker County Seat of Lafayette on Thursday afternoon.
Eddie's skill and training enable him to find microscopic evidence that others cannot, even when the evidence is hidden, or even when someone has tried to wash it away.
"A small amount of forensic evidence," for example, "may be under a board in a house, or under a large boulder, and things like that, where forensic evidence can't normally be recovered from. We'll use the dogs to try and locate it for us," Grime said.
Grime and Eddie are in high demand, world wide.
Getting them to Walker County from England to help solve Theresa Parker's disappearance is an indication of how high a priority her case is for the FBI, according to one FBI agent close to the case.
Eddie is a veteran of more than 200 homicide cases, working with Grime, who has 30 years' of law enforcement and military experience in conducting criminal investigations.
No one is officially calling Theresa Parker's case a homicide.
Parker disappeared nearly six months ago, on March 21.
Investigators in Walker County consider Parker's estranged husband, Sam Parker, to be a person of interest in her disappearance. So that's one line of inquiry they will pursue using Eddie's unique technique.
"It focuses on a particular line of inquiry so that we can either say, yes, we found Theresa and we found the guy who's done it or the lady that's done it, or, no," Grime said.
Earlier this year, in Portugal, for example, Martin Grime and Eddie were working the case of the missing 4-year-old English girl, Madeleine McCann.
And it was Eddie that detected what may have been Madeleine's blood in her parents' rental car.
That's one of the reasons investigators now consider Madeleine's parents to be suspects.
Grimes said Eddie is "no miracle machine," but the FBI, GBI and Walker County investigators are clearly hoping the team from England can help crack their case, a case that has confounded everyone.
This past Sunday, Theresa Parker's family and friends marked her 42nd birthday with prayers, saying they are still confident that investigators are doing all they can.
"We still have not given up hope," Sheriff Wilson said Thursday, "and we're still optimistic that she will be found, or that we can find the reason why she disappeared."
Sheriff Wilson is not saying how long Martin Grime and Eddie will be in Walker County, but Grime had already been consulting with investigators, long distance, from his home in the UK, before he arrived in Walker County, and will continue to do so after he returns home.
Madeleine: McCanns consult American lawyers over 'cadaver dog' evidence, 16 September 2007
Madeleine: McCanns consult American lawyers over 'cadaver dog' evidence
Daily Mail
Last updated at 18:07 16 September 2007
Kate and Gerry McCann's legal team have consulted the lawyers of an American man accused of murdering his estranged wife in a case where cadaver dog evidence was key, a source said today.
Two British sniffer dogs, one capable of detecting blood and human remains, were brought to Portugal in early August.
The cadaver dog picked up a "scent of death" on everything from Mrs McCann's clothes to missing Madeleine's favourite soft toy Cuddle Cat, according to reports.
During police interviews the McCanns were shown a video of the animal "going crazy" when it approached their Renault Scenic hire car, newspapers have claimed.
Leaked reports from the investigation have suggested Madeleine's parents could have accidentally killed her and then disposed of her body using the car.
Although they do not know the full details of Portuguese prosecutors' case against them, the McCanns are concerned it may rest on the dog's reaction.
They want to highlight the judge's dismissal of cadaver dog evidence in the high-profile Eugene Zapata murder trial in Madison, Wisconsin.
The couple's lawyers have already contacted Zapata's defence team, who are now sending their large file on the matter to Britain.
Zapata's estranged wife, flight instructor Jeanette Zapata, was 37 when she vanished on October 11 1976 after seeing her three children off to school. Her body has never been found.
Detectives suspected Zapata of involvement in her disappearance but did not charge him because of a lack of evidence.
Police decided to conduct new searches using cadaver dogs, a new investigative technique, when an old friend of Mrs Zapata contacted them about the case in 2004.
Zapata, 68, was charged with first-degree murder last year after the dogs indicated they sniffed human remains in a small basement "crawl space" at the former family home in Madison and other properties linked to him.
But Dane County Judge Patrick Fiedler ruled last month that the evidence that led to the charge could not be put before the jury.
He said the dogs were too unreliable in detecting the odour of remains and noted that no remains were actually found.
The judge agreed with an analysis of the three dogs' track record by Zapata's defence team that found they were incorrect 78 per cent, 71 per cent and 62 per cent of the time.
According to the Wisconsin State Journal, Mr Fiedler told the court: "The state has failed to convince me that it's any more reliable than the flip of a coin." Zapata denies murder, and the jury in the case went out on Friday to start considering its verdict.
A source close to the McCanns' solicitors said: "The legal team are in touch with the lawyers who represented the defendant in the case.
"The court papers, giving the legal submissions, are on their way to the McCann team for consideration.
"At the moment there are no formal charges and therefore there is no formal allegation against which the McCann team can work. We are having to work a little bit in the dark.
"But given that we understand the central plank of what the police are alleging involves sniffer dogs - albeit British ones which are said to be particularly good - this is important and relevant, and will be raised with the police and brought to the judge's attention."
*
Note: Eugene Zapata later confessed to the crime. The report concerning Zapata's guilty plea
can be viewed here
.
Gerry McCann attacks handling of sniffer dogs, 17 December 2007
Madeleine: Gerry's fury at 'bungling' dog handlers Daily Mail
Last updated at 13:07pm on 17th December 2007
Gerry McCann was furious when he saw video tape of British police dog handlers examining the family's hire car, a source revealed today.
He believes they bungled the moment a sniffer dog allegedly detected "the scent of death" in the back of the Renault Scenic.
The animal's reaction led to Mr McCann and his wife Kate being named official suspects by Portuguese officers investigating the 3 May disappearance of their daughter Madeleine.
But Mr McCann has told his legal team that the dog walked around the car and was beginning to walk away but it was brought back by its handler and held at the boot when "it went rigid".
A source close to the McCanns said: "Gerry saw it on the tape. Vehicles were lined up in an underground car park. Gerry says the dog went up to the Scenic, sniffed around it and went to head off.
"But he says he watched the dog brought back to the vehicle and finally it reacts around the boot area.
"Gerry was open-mouthed when he saw it. He feels the dog was manoeuvred into a position where it could react. To Gerry it looked like the dog was being encouraged to react in certain places of relevance."
Portuguese detectives showed the video to Mr McCann during lengthy interrogation. The dogs were used to look for human remains in the McCanns' Praia da Luz apartment and in several vehicles seized by police.
According to the source, the dog spent seconds around vehicles owned by the other official suspect in the case, Robert Murat and his family and friends, but was kept for a minute at the hire car, rented 25 days after Madeleine vanished from the family's apartment in Praia da Luz.
The boot was later said to show traces of Madeleine's DNA and evidence that a corpse was kept in there - claims disputed by the McCanns who have had their own tests carried out.
The family have compiled a dossier of evidence to disprove the police case against them. This includes analysis of evidence provided by the sniffer dogs which they claim is unreliable.
The claims over the handling of the dogs comes amid growing anger over the revelation that Mr Murat had sat in on a police interview with one of the so-called Tapas Nine, the group of friends dining together when Madeleine, three, went missing.
Just a couple of days later, Mr Murat, 33, was made an arguido or official suspect.
Last night, a friend of the couple said they feared he may have influenced the police's understanding of any statement made in the interview.
How can a dog sniff through concrete?, 26 February 2008
How can a dog sniff through concrete?
BBC News
Page last updated at
13:23 GMT, Tuesday, 26 February 2008
WHO, WHAT, WHY?
The Magazine answers...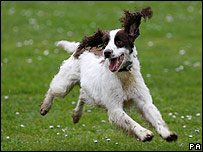 Eddie has worked with the FBI
A child's remains were discovered under several inches of concrete at a former children's home in Jersey after police bought in dogs to search the site. But how can they sniff through concrete?
For Eddie, it's all in a day's work.
When police suspected human remains were buried on the site of a former children's home in Jersey, the springer spaniel was part of the specialist team brought in to investigate.
Jersey Police said the seven-year-old dog located parts of a child's body even though they were buried under several inches of concrete. So how did he do it?
Eddie is an enhanced victim recovery dog and is specially trained to detect the scent of human remains. He is able to smell through solid materials, like concrete, because of scientific training techniques.
It's this training that sets him apart from standard police sniffer dogs, which are able to detect human remains in shallow graves. The springer's nose is more sensitive and he is called in on more complicated cases.
Super sensitive
The specialist training techniques - which are highly confidential - were developed by Eddie's handler Martin Grime, along with the UK's National Policing Improvement Agency (NPIA) and America's Federal Bureau of Investigation (FBI).
They are scientifically based and rely on how dogs smell and the chemicals involved.
Canines are known for their outstanding sense of smell, estimated to be 10 times stronger than a human's. Like us they smell using special receptors in the nose, which react to tiny chemical scent particles in the atmosphere and send a message to the brain.
Dogs can smell so well because they have an estimated 200 million such receptors, compared to five million in a human nose. The extra receptors mean canines are able to distinguish between different smells much more acutely.
"We don't discuss what the training involves, but it's a lot more than putting bits of meat on the ground for them to hunt out," says Mr Grime, a retired South Yorkshire Police officer who now works as an independent consultant.
Focus
"A standard sniffer dog is like a basic tool. An enhanced dog goes through much more training and is a lot more discriminating about smells, basically its nose is super sensitive. It's also about getting the dog to really focus on a task."
While rare, Eddie and partner Keela are not the only enhanced victim recovery dogs in the UK. The Metropolitan Police and forces in Surrey and Greater Manchester have them. But what sets these two springers apart is that they work exclusively in this field, says Mr Grimes.
"Other dogs have to do other police duties but mine work full-time in this area, making them very sharp and highly skilled."
The dogs have been used by police forces across the world and were called in to help with the Madeleine McCann investigation.
Both are springer spaniels, but the breed is no better suited to the job than any other. A dog just needs to show a keen sense of smell and it's the training that makes them good enhanced victim recovery dogs, says Mr Grime.
Eddie was bred by a specialist search-dog breeder and Keela came from the West Midlands Police breeding programme.
Both live with Mr Grime and have a normal life outside of work. He is currently training two new dogs, Morse and Lewis.
In the Jersey case, parts of a child's body were found on Saturday. The remains are thought to date from the early 1980s. Police have yet to say whether they are male or female.
Report of PJ discards abduction theory, 05 July 2008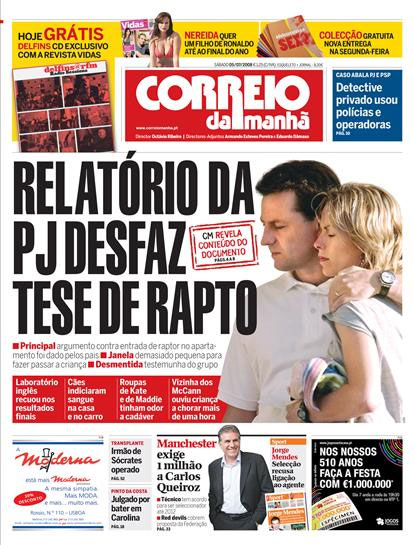 Translation by Joana Morais

CM reveals content of the document



The main argument

against the kidnapper entry through the apartment's window was given by the parents.


Window

too small to pass the child through it


Group Witness

contradicted

Main Topics


English Lab

withdrew the final results


Dogs scented

blood in the house and in the car


Kate and Maddie

clothes had cadaver odour


McCanns Neighbour

heard child crying for more than one hour

*

The animals detected cadaver odour in the apartment, the stuffed animal and Kate's clothes

Dogs decisive for PJ

British animals (both) agreed on the scent of "indications" in various places and objects

05 July 2007

Many thanks to Joana Morais and 'debk' for translation of these articles

The alerting of the British dogs specially trained to detect cadaver odor and human blood was decisive in making Kate and Gerry arguidos.

[Note: Diagram above is incorrect as it indicates cadaver odour beside the bedroom window. The odour was actually found outside the patio doors 'in the flowerbed of the yard']

Text beside dogs:

Red dog (Eddie): 'Places where cadaver odour was detected'

Orange dog (Keela): 'Places where biological vestiges were detected'

Cadaver/Biological vestiges: 'Behind the sofa' (living room)

Cadaver: 'To the side of the wardrobe' (parents bedroom)

Cadaver: 'In the flowerbed of the yard' (outside patio door entrance)

Text beside other items:

'Other vestiges'

Cadaver: 'Piece of Madeleine's clothing'

Cadaver: 'Stuffed toy'

Cadaver: 'Two pieces of clothing or Kate Healy McCann'

Cadaver/Biological vestiges: 'Luggage area and car keys of the McCanns'

Faced with the coincidence of the alerting of both animals, which signalled the same locations and objects related to the McCanns, the authorities were obliged to admit a possible involvement of Kate and Gerry in the disappearance of their daughter and to make them arguidos in order to confront them with evidence which could result in their incrimination – for, as [merely] witnesses, they could not opt to remain silent.

According to what CM has discovered, in the final investigation report produced by the PJ the investigators explained that the animals only gave their detection signals in places and objects related to the McCanns: in the apartment where Madeleine disappeared (in the parent's bedroom, the living room and next to a side window), in the back patio, the family's car (rented 24 days after the girl disappeared), two pieces of Kate's clothing and Maddie's stuffed animal – the one Kate never released in the days following the disappearance.

In the McCann's friend's apartments, in the Luz village and in all the vehicles used by Robert Murat, the first to be made arguido, nothing was found by the dogs.

Given these indications, reinforced by other detailed tests done in Portugal and England, the PJ interrogated Kate and Gerry and made them arguidos.

The animals, Springer Spaniels, are heavily used in the UK in the search for missing people or homicide victims, with positive results.


KATE JUSTIFIES DEATH ODOUR

Kate McCann didn't negate the fact that her two pieces of clothes and the stuffed animal had been signaled by the English dogs trained to find cadaver odor and justified it by her profession. Madeleine's mother alleged that as a doctor at the Leicester health centre, she was present at six deaths directly before she came to Portugal on holiday, giving the same excuse for Madeleine's stuffed animal, that was with her in the months after her daughter disappeared.

VESTIGES OF A CRIME

Two specially trained dogs, used as criminal investigation assistants, detected cadaver odour in the McCann's bedroom, the living room, Kate's clothes, the girl's stuffed animal and the car key, as well as spots of blood in the boot of the car and the apartment living room.

Main Article: PJ couldn't find child's body

INVESTIGATION REVEALS ABDUCTION IMPOSSIBLE

Final report describes dozens of diligences and unravels incongruences in the theory proposed by Maddie's parents

Thirteen months after Madeleine disappeared, the PJ ended the investigation that continues to be marked by uncertainties. The final report, the CM today exclusively reveals, does not determine guilt but leaves new and strong doubts about the theory presented by the English child's parents. It describes in great detail the diligences done by the investigators – who tried, in every possible way, to confirm their hypothesis – and reveals that it was theoretically impossible to have happened. The witnesses don't make sense, especially not the way that one of the friends said she saw a man carrying a child almost an hour before the alert about the disappearance occurred. This would be Jane Tanner, who guarantees she surprised the unknown man in a street where Maddie's father and another witness also were. Both guarantee that they saw nothing, even though they were in the same line of sight. Tanner, who much later made a photofit of the supposed abductor, also said that the man carried the child in a horizontal position. The size of the window reveals that this could only have happened if the child were carried vertically.

Being that as it may, the PJ tried through all possible means to find who could have taken Maddie. They did dozens of diligences related to suspects of sexual abuse. Elements were collected about those registered that could have been on holidays in the Algarve during that time period, in order to verify if there could have been any connection with little Maddie.

In addition, all the other residents of the village were investigated. The PJ entered more than 400 houses surrounding the Ocean Club and found nothing. On the window where Kate guaranteed that Maddie was taken no vestiges of the girl were found. Only marks that confirmed the DNA of the girl's mother.

The PJ's final report shows the details of an investigation that reached unprecedented levels. A couple was investigated that had allegedly tried to abduct another child, a fine toothed comb was used to research the clues that Maddie had been seen at a gas station. A crematorium was searched and Maddie's genetic profile was compared to that of a child's body found on the coast of the United States.

The PJ investigated a supposed beggar and followed thousands of clues around the world. In vain. Nothing confirmed the proposed abduction theory.

Change of versions: Laboratory was no longer certain

ENGLISH RETREATED ON THE EXAMINATIONS

They said the vestiges were compatible with Maddie's DNA, then later denied it.

Dog's indications were not corroborated by science

It was the strangest about-face in the investigation. The first examinations done by the English laboratory, a pioneer in the analysis of biological vestiges, said it was probable that the residues collected in the McCann's car were compatible with Madeleine's genetic profile.

Months later – after the PJ had made the parents arguidos, according to the final report only because of indications that they had hidden the child's body – the laboratory ended up correcting their initial information. In the end, the examinations of the vestiges collected from the Renaul Scénic rented by the McCanns were not conclusive and it wasn't even possible to determine the quality of the material, that is, to know whether it was bodily fluid or vestiges of blood.

This scientific alteration, still not completely clarified, ended up leading the investigation to a dead end. The utilisation of the dogs that detected cadaver odors and blood are not valid within the Portuguese judicial system and it was necessary to scientifically corroborate the dog's detections.

The PJ's decision to send the analyses to England was based on a question of credibility. The investigators didn't want the results to be disputed by the English, accepting therefore that the vestiges should be analysed in that country.

USELESS TRIP TO ENGLAND

In April of this year, Paulo Rebelo and two of the investigators for this process who were trying to understand the puzzle of Madeleine's disappearance went to Leicester to interview the British who spent holidays in Praia de Luz with the McCanns. From the final report, we now know that nothing conclusive was discovered from these interrogations.

The PJ maintained the same close collaboration with the local police, but from the depositions they brought nothing new. The McCann friends limited themselves to confirming what they had said in the earlier interviews and the PJ left with empty hands from that city just north of London.

CHANGES

Paulo Rebelo, the new leader of the investigation after Gonçalo Amaral's exit, was at the Ocean Club several times, from which were collected a variety of vestiges. He was also in England, where he heard testimonies.

NUMBERS

443

door to door interviews at Ocean Club apartments, done by the PJ, are part of 2000 diligences, formal and informal, undertaken during the investigation

134
village employees were heard by the inspectors in the days following the crime. The PJ also spoke with the 12 GNR officers that went through the apartment on the night of 3 May.

130
police and civil guard workers were involved in the first 24 hours of the search. On the following day, this number increased to 300.

188
garbage bins were searched with a fine-toothed comb in Praia da Luz, Lagos, in an attempt to find Madeleine's body.

30
square kilometers is the area covered in searches by all the land forces during the first days, in addition to the Maritime Police.

OVER ONE HOUR CRYING

Pamela Fenn remembers hearing the child uncontrollably crying

Madeleine parents never contradicted that it was already a habit for their three children to be all alone inside the Praia da Luz apartment while they dined; a fact corroborated by several witness statements - the Oceans Club employees.

Although the parents defended themselves by stating that they visited the children every half an hour, every night, the witness statement of neighbour Pamela Fenn crumbled the McCann couple's version, when she guaranteed to the PJ that she had heard Maddie crying out loud for one hour and fifteen minutes, two nights before the crime. The British woman lives at the first floor, just above the apartment rented by the McCanns and she told to the inspectors, that on the night of the 1st of May, at 22:30, she heard a child crying, and by the sound it was Madeleine.

She guaranteed to the Judiciary Police that the child was uncontrollably crying for one hour and fifteen minutes, until the parents arrived. The neighbour heard the noise of the door at 23:45, when Kate and Gerry ended their usual gathering with their friends at the Tapas Bar – the Oceans Club restaurant at the pool side, where they had dinner daily. This testimony contradicts the daily routine of visits that the couple declared to have with their children – and the McCanns are not free from criticism by another British woman. Yvonne Martin, a British Social Care worker on holiday in Luz, who also blamed the McCanns negligent behaviour.

Correio da Manhã, print version, 5 July 2008, page 5

Judiciary Report
Francisco Moita Flores

The speculation surrounding the final report of the Maddie case would like to make one believe that the upcoming archival means the PJ have persecuted the child's parents without reason. This is a manipulated falsehood.

The final report of any process does not find innocence nor guilt. Doing this is beyond the reach of the PJ. Their responsibility is just to describe the facts and relationships with the people involved.

The report will narrate all the activities completed since the night of 3 May. It will tell which diligences were done, reveal the steps that took them to constitute as arguidos several players in this story. It will vigorously present the references for the searches, the tests, the diligences with the dogs, the activities done abroad to find the child, the news from the papers, the witnesses who directly or indirectly were involved in the case, the reconstitution of which so much was spoken and never was done. It will describe the facts.

The Public Ministry will have to say whether there was abandonment of minors, whether or not the process should continue with more diligences, or conversely, further develop the homicide theory or, finally, archive with no further delays.

PJ INVESTIGATES TRANSPORTATION

One of the slowest pieces of the investigation was to collect and analyse all information relative to possible means of transportation/escape, by land, sea or air. In addition, all the images collected from tourists on holidays at that time, but, once again, nothing was found. This information was all compiled in an appendix attached to the process, with another containing just information on those suspected of sexual crimes. The PJ also created a dossier of all individuals with a history of violent crimes, with their lives being examined to the tiniest detail. It was important to determine if they could have had any connection with the abduction.

VESTIGES: DELAYS
The vestiges collected in the McCann's car were collected in August 2007. The test results should only have taken a few weeks.

IML: TESTS IN PORTUGAL
The first vestiges collected by the investigation were sent to the IML (Institute of Legal Medical). The tests were also not conclusive.



=======================================


TIMELINE

3 May 2007: Disappeared
Between 21h05 and 20h00. Madeleine Beth McCann, 3 years old, disappeared from the Ocean Club apartment in Praia da Luz. After 17h30 only the parents had contact with the girl.

14 May: First Suspect
The British man, Rober Murat, is interrogated and constituted an arguido. The PJ performs searches at his home and telephone tapping, but never successfully connected him to the crime being investigated.

4 August: Blood
Two trained dogs, from England, detected cadaver odor and vestiges of blood in the apartment, the yard, Kate and Maddie's clothes and the McCann's car

11 August: Death
100 days after Madeleine's disappearance, and after the search with the English dogs, the investigators publicly admit that the child could be dead

7 September: Arguidos
Based on the results of the scientific team, Kate and Gerry McCann are interrogated again by the PJ and made arguidos

29 November: DNA Tests
Portuguese and English technicians meet at the Leicester Police headquarters to debate the results of the DNA tests collected during the investigation

20 January 2008: Photofit
The McCanns release a photofit based upon witness statements. Later they will admit that the man in the drawing was not involved in the crime
'Send In The Dogs' - ITV documentary, 22 July 2008
Tuesday, 22 July 2008, 8:00PM - 9:00PM
Thanks to 'newperson' for video clip (Note: video stalls at 0:35 and restarts at 0:38)
With exclusive access to handlers working with some of Britain's hundreds of police dogs, this new four-part ITV1 series explores the everyday challenges they face – including explosives, armed criminals and violent crowds, a well as potential terrorists.
Police dogs are considered to be officers in their own right, tackling dangerous and volatile situations and venturing into hazardous areas where humans fear to tread. The dogs are trained to sniff anything from explosives to weapons, drugs or tobacco.
This week, Send in the Dogs follows dogs from the West Yorkshire Police and Eddie and Keela, two of the most famous dog detectives in Europe, who used to work for South Yorkshire Police. Eddie and Keela are highly skilled sniffer dogs - technically known as victim recovery dogs - who search for and locate human remains. Owner Martin Grimes demonstrates how he trains them by hiding a jar of sand containing the remains of a corpse that was buried one hundred years ago. Eddie successfully finds the scent within minutes.
Keela is trained to find blood traces on murder weapons which have been wiped clean, as well as the scent from decomposing bodies. Because of their skills, both dogs have been called into two of the highest profile investigations of the past year. Martin Grimes tells Send in the Dogs how he, Keela and Eddie flew out to Portugal to try to find clues about what might have happened to Madeleine McCann. And more recently, both dogs have spent months in Jersey at the Haut de la Garenne looking for human remains.
Last edited: Wednesday, 9 July 2008
English defended the use of the dogs

, 20 July 2008
English defended the use of the dogs Correio da Manhã
(no online link, appears in paper edition only)
Traces: Finding the trail of a death changed the direction of the investigation
Thanks to Joana Morais for translation
An exhaustive report explains the possible scenarios to hide a body and defends the animals' reliability
Mark Harrison, the English police who was designated to help the Polícia Judiciária in the search for Madeleine McCann, wrote a report last summer, in which he defended the usage of the dogs that are experts in the detection of cadaver odours and blood traces. The discovery of the residues and the signalling of the trail of a cadaver thus ended up formally changing the direction of an investigation that had been limited to the theory of abduction until then.

The report, which praises the Portuguese authorities' work, suggested that the animals should be taken to all the locations where the body might have been hidden. From the apartment that had been rented by the McCanns up to the crèche, through the beach and the church area.
Mark Harrison explained that it was necessary to analyse the scenarios of Madeleine having been killed that night and her body abandoned by a person on foot or by car. The expert added that despite the high costs of that search, it should be carried out in order to clarify the case.

Dogs are reliable

In the report, Mark Harrison says that it is very unlikely that the body was buried in the sand. The English policeman defends that a launch into the sea is the most likely scenario, while the body should also be searched for within an area of cliffs and dense bushes that lies east of Praia da Luz.

The two English dogs were presented as an indispensable help to the investigation, after their abilities and the manner in which they are trained were explained in detail, as well as the fact that they both react to blood traces and cadaver odours, without a single episode of "false positives" in the investigations.

In his report, Mark Harrison listed cases of success that offered a guarantee of reliability. And he asserted that if the dogs came to signal Maddie's death, then it would be a fact.

Details

High costs - Mark Harrison stressed the high cost of the dogs. Their daily rate amounted to one thousand euros; the cost of the trip for them and their handlers was of 2750. There was also the cost of the passport for the animals (450 euros), adding to the lodging, the food and the transportation of the vehicles that were necessary for the animals.

False positives – Eddie, the dog that specialized in cadaver odour detection, has never given a false alert. He has participated in approximately 200 searches in homicide scenarios in Great Britain and never signalled any products that derived from meat or any other food item.

Human blood – Keela was trained exclusively with human blood; blood that is subject to strict testing and which comes from hospitals. She locates contaminated guns, smells vehicles and clothing items, and accurately detects residues, even if the locations are subject to cleaning.
The dogs' work as described by their own handler, 07 August 2008
Thanks to 'astro' for translation
They were the main entities responsible for the turnaround of the process, at a point in time when the Polícia Judiciária was already leaving behind the possibility of Madeleine having been kidnapped.

The cadaver detection dog "Eddie" and the blood detection dog "Keela" showed themselves as "very excited" when they entered apartment 5A of the Ocean Club, the one that had been occupied by the McCann couple during their holidays.

Despite the fact that the images can only be viewed in September, the process includes the verbal report from Martin Grime, an expert in dogs that are used in investigations and an FBI advisor, who says that he "noticed in the first instance", as soon as he entered the apartment, that the dogs "are very excited" and how the handler can "pick up the body language".

He then explains that Eddie (one of the dogs) was the first one to get into action. When he entered the house "he caught up with an odour that he recognises". Martin tells that the animal walked through the apartment in an attempt to locate the odour, and that he discovered it behind the sofa in the living room. At that moment, he started to bark. Keela was the second to go into action. "She will only give me the indication when she finds human blood, only human blood", the expert says, asserting that "there has to be something there, physically, for her to be able to alert me".

In the dispatch, the prosecutor reminds that "any trace, even if invisible to the naked eye, which is collected through the use of this type of dogs, has to be subject to a forensics test, in a duly accredited laboratory".
General information on Human Remains Detection "Cadaver Dogs"
RESIDUAL SCENT IN BUILDINGS
CSST
One of the questions we are commonly asked as forensic canine handlers is "How long will scent last in any given situation?" This is a very complicated question, but we want to begin to unravel the secrets. We know some of the elements that will affect residual scent are heat/sun, wind, humidity and rain.
Our first project was conducted in a closed, unused building. Items were placed in different rooms for 5 hours and then removed.
What is Residual Scent?
Residual is defined by Webster's dictionary as - leaving a residue remaining effective for some time.
Within this paper we are using the term in conjunction with decomposing human scent. Residual scent searches are those conducted when no physical form is present. Residual scent is what is left when the decomposing item has been removed. It is something we cannot see and humans cannot necessarily smell.
Introduction
This project began by accident, so was not preplanned as a residual scent research paper. We make no claims to having ruled out all variables, but are using this project to learn what the variables are and how to more effectively set up our next residual scent project.

Our goal in this paper is to look at residual scent in a closed, unused building and see if we can find out how long a trained cadaver / forensic evidence dog can locate the original scent location. All the dogs used in this project ranged from those with some basic training in the finding of cadaver scent to specialized trained dogs in forensic evidence / body recovery. We see this as just the beginning of ongoing residual scent undertakings.

On November 9, 1996 several items were placed in different areas of a building. The building used was built in the 1930's and was used as classrooms up until 1995. It is part of a large developmental hospital that was built before 1900. Most of the furniture is now gone. There is still human clothing around, chairs, desks, shelves with things on them, wardrobes, curtains, and boxes of books and general effects. The facility has been closed down and most of the buildings are scheduled to be demolished.

Room #11 was used as an activity or day room. It is a large open room. The scent sources were blood (3cc) left to dry on the floor and door in the room.
Room #16 is a closet/storage room off room #11. The scent source was blood (approx. 1cc) on paper on the floor.
Room #5 is a large storage room with closets and shelves. The scent source was a soil sample with dried fluids from a gunshot to the head suicide enclosed in a 50ml vented container. The upper window has been open the whole time in this room.
Room #18 is a large living room. Scent sources were; hair mixed with cadaver scent in the fireplace flue, and a very small amount of blood inside a trash can.
Room #9 is a tiled utility area across the hall from a kitchen area. Scent source was hair and blood in a 50ml container placed in the foot of standing ironing board, so the sample was 5 feet off the ground.

Since the original set up date on November 9, 1996, we have returned to the building 4 times: January 8, 1997, April 2, 1997, July 23, 1997 and December 7, 1997. On our visit in April we found that they had removed most of the original furniture and some boxes of trash, so the building had little left in it. Two of the objects (the ironing board and a box of trash), that had held scent sources were now missing.

Results
Each dog participating in this project was able to find most or all of the locations where the decomposing scent articles had been. We saw dogs, which varied, from full alert and pinpointing to general interest in the room or area.

What we have found so far is; residual scent will last 1 year in a building with minimum environmental influence, or human disturbance. Even after the objects where the scent source had been were removed, the dogs were able to locate the rooms, general area, or pinpoint where it had been.

Each time we have worked the problem we have included teams that had not worked the area before. We now have had 16 teams work the residual scent problem. The dogs have ranged from veteran cadaver trained certified teams to 1 year old puppies (who have been training from 8 weeks of age on cadaver and residual scent).

Observations
We noticed that there was a big difference between teams that do mainly live person searching and teams that specialize in forensic evidence / body recovery searches. The general difference being, forensic evidence / body recovery dogs are searched slower, have been taught to do a fine search, check items for scent sources, and alert without seeing an object. Most live human search dogs are trained to keep looking until they find the person and then to alert. Younger and less experienced dogs had fewer problems and were willing to commit to an alert more readily than some of the mainly live human search dogs.

Questions, Variables, Problems, Future Ideas
One of the questions that we have wondered about after observing dogs who have worked the problem prior is; do the dogs remember where items were previously placed or where they alerted before and how long do they remember?

Also, what effect does having an observer that is knowledgeable of all the locations have on the team? Can the handler and or dog read body language that gives them information as to where they should look or alert?

Plans for our next visit include having first time teams work the building by themselves without an observer on deck. The handler will then report any alerts or interest to the observer by showing them on a diagram of the building. This way the handler will have to commit to what the dog has done without any input from the observer. The observer will not be able to influence the team while they are searching.

No food reward will be allowed in the building.

Our next residual scent projects will employ measurable scent items. Example: 3cc of blood mixed with 2oz of human hair, or a specific human bone. This way we can control and repeat the scent items more closely in different conditions.

Room with the blood (3cc) is not a true residual scent problem, as we have defined it, because the blood has been left on the floor and door. But we now have data on how long dogs can locate dried blood.

Our next step in studying residual scent is to set up problems in different environments. We want to compare our results with problems set up in open areas, areas with sun and shade and no building to protect the scent.

Room #11 - dried blood - dogs able to show dried blood on door and floor

Room #5 - soil with dried fluids - dog showing
inside closet where source had been

Room #18 - Hair with scent - all dogs indicated
flue area of chimney where source had been

Room #18 - area where trash can had been - dogs all indicated
area and showed pile of curtains now on floor but had been
hanging above trash can originally. Curtains are porous and
holding scent.
*****
We have found that there is no standard terminology for describing various disciplines, specific search tasks that canines are trained to perform. Therefore, we propose and use the following terminology:
Search Dog
A general term referring to a canine trained for searching based upon visual, olfactory, or auditory clues. This would include the disciplines of: area search dog, trailing search dog, cadaver search dog, decomp search dog, disaster search dog, water search dog, forensic evidence search dog and human remains detection dog.
Area Search Dog
This dog is trained to cover or grid large geographic areas by sampling the air currents for traces of human scent. The dog searches and samples the air currents by ranging/quartering back and forth through the area that is assigned to the team.
This dog is sometimes referred to as "Wilderness Search Dog or "Air Scent Dog" which is another general description of many search dogs. Some area search dogs are also scent specific. They work from a scent article to search for the person that matches the scent article, ignoring all other humans in the area.
Trailing Dog
A canine with the specific ability and training to track/ trail and locate a specific human on the basis of scent.
Cadaver Dog
A narrow term, used in a search-and-rescue context, to indicate a canine primarily trained as a trailing or area search dog that has also received cross training in the location of dead human bodies.
Decomp Dog
The term "decomposition dog" was started by the NecroSearch group. They felt it better describes how dogs will indicate decomposed human scent which includes blood, feces, urine or other material with human scent on it.
Forensic Evidence Dog
A general term that can describe several different kinds of specialties. Include but not limited to firearms, weapons, articles or scent discrimination. There are some people that describe Human Remains Detection Dogs as Forensic Evidence Dogs.
Water Search Dog
A dog trained to locate dead bodies under water. This can be done from a boat or as a shoreline search.
Human Remains Detection Dog
This Detection Dog is a specialist and has never been trained to look for live humans. They specialize in crime scenes, old cases, small scent sources and residual scent. These dogs have been trained to exclude fresh human scent along with all other animal scents.
________________________________________

FREQUENTLY ASKED QUESTIONS
When would I use an Area search dog?
If the missing person is despondent or a potential suicide you will need area search dogs that have been cross-trained as cadaver search dogs. Using both resources will give the best coverage, whether the missing person is alive or dead.
When would I use a Human Remains Detection Dog?
Human Remains Detections dogs are best used for cases like buried bodies, aged disarticulations, old homicide or suicide cases, bone searches, blood evidence, residual scent, crime scenes, building searches, and vehicle searches.
What are the qualities and skills of a Human Remains Detection Dog?
The Human Remains Detection Dog is trained to alert on residual scent along with other faint scent sources like dried blood. The dog is taught not to disturb the crime scene by digging or retrieving evidence. An important skill the dog is taught is how to search homes or vehicles without causing harm to property. The dog is taught to discriminate between human and all other non-human items. The dogs usually work more slowly and more methodically.
What is CSST?
Canine Specialized Search Team (CSST) is a volunteer resource of the County of Santa Clara Medical Examiner-Coroner's office. CSST uses specially trained and certified canines in the field of forensic evidence and in the location of human remains. We are available for all agencies in the county and as mutual aid with other counties throughout California.
How can I contact CSST?
Can I join?
To join CSST you need to be at least 18 years old; if you are younger you might want to check with your county to see if they have an explorer Search and Rescue program you can join.
How long does it take to train a dog?
The first time handler will take from 1 1/2 -2 years to train their first dog. At the same time you will also be taking classes on learning map and compass, first aid, crime scene preservation, hazmat, as well as learning how to train your dog. The more time you have to train the faster the training goes. We expect handlers to train 2 to 3 times a week minimum with their dog, more is desirable.
What kinds of breeds can do this work?
Many breeds are capable of doing detection and search work, but the working, herding, sporting and hound groups have the best track record. Some mixed breed dogs have also been successful doing detection and search work.
If you are interested in Human Remains Detection and you do not have a dog, we recommend that you contact us first. Come to a training and see the dogs work and talk to us about the kind of dog you are thinking of getting. If you have a dog, contact us and make an appointment to bring the dog out to training. We will be happy to evaluate your dog.
Can I make a donation to CSST?
Yes ~ CSST is a charitable 501(c) (3) nonprofit corporation. All donations are tax deductible and will be greatly appreciated. Please, make checks payable to:
CSST
P.O. Box 81, Los Altos, CA 94022-0081
888.413.2778
Searches
Our team members can boast over 100 years of combined search experience and have participated in hundreds of searches including:
? Charles Ng & Leonard Lake, Calaveras Co.
? Mexico City Earthquake
? Loma Prieta Earthquake
? Oklahoma City Bombing
? Oakland Firestorm
? Sierra Chemical Co. Explosion, Nevada
? Kristin Smart, Cal Poly SLO
? Amber Schwartz
? Polly Klaas
? Christina Williams
? Xiana Fairchild
? Ground Zero at World Trade Center, New York City
? Laci Peterson
? The Space Shuttle Columbia Disaster
*****
CANINE TRAINING: HISTORICAL versus CADAVER
K9forensic
Bev Peabody
Institute for Canine Forensics
The Society for Historical Archaeology Annual Conference
Sacramento, California, January 11-15, 2006
Abstract
Canine training as an adjunct to fields such as archaeology and anthropology has advanced significantly over the past few years. Canines trained to locate human remains can be subdivided into three broad disciplines: cadaver dogs, human remain detection dogs, and historical human remains detection dogs. Although there are significant overlaps in the skills necessary for certification in these three disciplines, there are also distinct differences.
Cadaver dogs are usually called upon to locate recently deceased individuals in missing person and law enforcement cases. Human remains detection dogs are more likely to be employed to locate human remains related evidence at a crime scene.
Historical human remains dogs are specially trained to locate very old human remains, and are most likely to be employed by archaeologists to locate old burials.
Key Terms
Historical Human Remains, Human Remains Detection, Cadaver, Dog, Search, Canine, Burial.
Introduction
There are three different types of working canines that find human remains: historical human detection, human remains detection, and cadaver. Significant differences exist in the training, testing, and usage of dogs working in these disciplines. Consistent terms and definitions are important to clearly distinguish the difference between these disciplines.
Historical human remains detection dogs are used to locate human remains that range in age from recently skeletonized to prehistoric.
Human remains detection dogs are used to locate human remains that range in age from recently deceased through all stages of decomposition, including disarticulated and skeletal remains. These dogs are typically employed by law enforcement agencies at crime scenes. They are able to locate trace evidence, blood splatters, and residual scent.
Cadaver dogs are used to locate recently deceased human remains, whole bodies and recently disarticulated bodies on the surface of the ground or hanging above ground. These dogs are also frequently training to locate live subjects.
Training
Training detection dogs usually begins when they are still puppies, at about 6-8 weeks old. The puppy is introduced to the desired scent source in an open area with no distractions. When the puppy looks at or sniffs the source a reward is given. It only takes a few training sessions for the puppy to understand what their new job is. Training sessions are short, but may be repeated three to four times a day. As the puppy matures and learns the scent work, longer and more difficult training problems will commence. For historical work dogs are trained to do a passive alert behavior, usually a sit or down. The dogs are rewarded using food, a favorite toy, or praise from the handler. As the dog continues to advance in their training, multiple scent sources are used in a single training session.
The types of scent sources and their location vary depending on the discipline the dog is being trained for. Dogs being trained to do cadaver work are trained using fresh scent sources including: blood, hair, bone, teeth with residual blood and tissue, and body fluids. The scent sources are located at or above ground level. Human remains detection dogs are trained using scent sources in all stages of decomposition. The scent sources are located above and below ground. Training scenarios emphasize crime scene situations. These dogs are not trained on live human scent or on articles with fresh live human scent. Historical human remains detection canines are trained using older scent sources including: dry old bones, teeth with no blood or tissue remaining, artifacts, old grave dirt, and coffin wood.
Prior to being deployed on actual searches, each discipline must pass a unique set of certification tests. The State of California has developed a certification standard for cadaver dogs. Other states also have developed standards at a state and local levels.
The Institute for Canine Forensics has developed certification standards that address the unique requirements for human remains detection dogs and for dogs focused on historical human remains.
Search Utilization
The field techniques used by each of the three disciplines are also very different. The primary use of historical remains detection dogs is to locate old burial sites. The dogs may be called in to assist with an ongoing archeological research project, to locate burials prior to excavation or construction, or to determine the boundaries of old cemeteries. Historical searches are slow, methodical, and time consuming. Typically a search area is divided into small sections that a handler and dog can work under an hour. Several teams independently search each section, with an observer recording the locations indicated by the dogs. Multiple dogs independently indicating the same location provides extra assurance of accurate results. In cemeteries, placing flags at each location identified by the dogs will often reveal a pattern of rows, which can be documented, photographed, and mapped for future reference.
Human remains detection searches are frequently preformed at crime scenes, which can be in wilderness areas, buildings, vehicles, ponds, rivers, and lakes. The human remains evidence may be buried below ground, on the surface, or even above ground level. These searches are often preformed in conjunction with the execution of a search warrant. The warrant may have specific limitations that must be observed by the team. In other cases, the search is in a public area, but needs to be conducted discreetly in order to avoid alerting potential suspects. Many of these searches are initiated on information gathered during the investigation or passed on by informants. It is common to find no trace of human remains at a search location.
Cadaver searches are usually related to a specific missing person. The missing subject may still be alive or they may be recently deceased. The body may be on the surface or may be above ground. These searches typically require the dog team to cover large areas rapidly. It is not uncommon to be requested repeatedly for the same subject, as new information can clues are gathered.
Hazards and Their Solutions
There are conditions that can make the dog's work difficult or even hazardous. It is important that the requesting organization be aware of these conditions so that they can be identified in advance, communicated to the handlers, and where possible, plans made to mitigate the unfavorable conditions. The difficult and hazardous conditions are similar for all three disciplines.
Extreme heat or cold, will limit the amount of time the dog can work between rest breaks to as little as a few minutes. Both air temperature and ground temperature need to be considered. Remember the dog's nose is working at ground level. Often the hottest parts of the day can be avoided; the dogs can work early in the morning, and in the late afternoon and evening. In some cases it may be feasible to reschedule the search for cooler weather, or even for a cooler season.
Soil conditions also play a significant role in the quantity of scent that escapes the ground. Hard baked clay soil is almost impossible to work in any weather, however, watering and probing or drilling may help this situation. Likewise west sticky clay also tends to be less permeable to scent. Probing and drilling may help.
The foxtail is a type of grass with seedpods that have a sharp point and stiff bristles on the back end. Foxtails may enter a dog's nose or pierce their skin. Once a seed is embedded, the bristles cause it to work deeper and deeper into the dog and the sharp point can continue to penetrate soft tissue. Few handlers will work their dogs in the presence of foxtails, as the result is often expensive veterinary work. Foxtail penetration is occasionally fatal.
Thorns, thick brush, barbed wire, bees, berry bushes, poisons, loose dogs, and traffic are all hazards that may be potential problems.
Requesting Organizations and Their Expectations
It is important that an organization that is requesting canine resources clearly communicate their expectations with the dog handlers. In all cases the organization should expect the responding dogs have been trained not to damage any exposed artifacts or bones, and not to dig or disturb gravesites.
The organizations that request historical human remains dogs include archeologists, cultural resource management firms, native American groups, churches, genealogy groups, and historians. Each of these groups may have different types of projects, specific requirements that are unique to the organization or project.
Typically law enforcement agencies request human remains detection dogs for crime scenes and unattended deaths. Their expectations are that the dog is trained to preserve evidence. Furthermore they expect the handler to be familiar with crime scene protocols, evidentiary procedures, and court testimony.
Conclusions
With a clear understanding of the different disciplines of dogs used to locate human remains, organizations that are considering utilizing dogs to assist with the location of historical human remains should be able to differentiate available canine resources. The organization must also communicate their needs and expectations early in the planning process. Finally the organization must recognize the unique conditions that may pose problems for the dogs, and communicate these situations early in the process. With these things in mind, it should be possible for organizations to make good use of this exciting new resource.
*****

The latest Police Canine Detector Specialty

by Ofc. Allen Lowy and Ofc. Pat McAlhany
Miami-Dade Police Department Canine Unit

A successful HRD program must begin with motivated personnel who readily accept the fact that they will be working and training under morbid scenarios. While the exciting prospect of locating an explosive device, a large cache of narcotics or apprehend a fleeing criminal easily attracts most police canine handlers, few have the requisite interest or motivation for dealing with all phases of human decomposition and disarticulation that will be encountered by the HRD team. The demands placed on the canine handler specializing in human remains detection go beyond dog training and include studies in Forensics. awareness of basic human anatomy and knowledge of the rate of decomposition of human bodies when subjected to varying disposal methods (i.e.: soil type, temperature, scavenger activity, presence of water) and how to conduct "field craft" (i.e.: assessment of a potential grave site or disposal area based on the knowledge that certain changes in the soil, plant life and insect population indicate the possible presence of human remains) must be demonstrated by HRD canine handlers desiring to be successful in the specialty. Once the prospective canine handlers have been chosen, it is necessary to identify suitable canine partners.

Selection of a canine for HRD involves testing (as required before selection for any detector specialty) of the animal's motivation and demeanor as well as its attraction or aversion to odor of human remains. As is the case with potential human team members, not all working police canines are well suited for human remains detection. Use of valid selection criteria for HRD teams is of paramount importance if a successful training experience is to occur and yield a qualified HRD canine team.

After recognizing the need for a HRD program and selecting team members, the focus turns to training, to prepare the teams for deployment during actual investigations. A review of an agency's needs that involve locating and recovering deceased persons will provide useful data which can be used to create training situations that will be similar to real death investigations that HRD teams will become involved in. Training must be designed to include scenarios that closely resemble cases that the HRD team might be expected to handle. Training situations must simulate searches for bodies or the disarticulated remains thereof that have been disposed of or concealed by burying, hanging, placing in water, in vehicles, in structures or under structures, in the environment in which the canine team will normally operate. Effective training must prepare HRD canine handlers to take into consideration the variables of temperature, soil types, terrain, surface and ground water movement and their impact on decomposition rate and availability of the odor of human remains. The variety of handler skills developed during training, combined with the olfactory abilities of a specialized canine partner produce a "team"....

Preparing the police canine specialist for the task of recognizing the odor of human remains and locating its source is an area of uncertainty for many departments because of the mystique that seems to surround the specialty. In reality, training protocols for HRD canines involve application of the same Pavlovian techniques used to motivate a dog to perform any task or trick; familiarize with the behaviors required for the task or trick, creation of opportunities to perform the task or trick and presentation of a desirable reward to motivate the dog to perform the task or trick when directed to do so. The specialized training of the HRD canine begins with the repeated presentation of the odor of remains which is followed by teaching the dog to consistently display a trained alert behavior when encountering the odor. The motivation for the desired canine behavior is the reward which the handler consistently provides when the dog correctly performs the required tasks.

Once the human and canine team members have completed the basics, its time to add variables such as those that will be encountered beyond the controlled training environment. Introduction of the potentially distracting odors of garbage, food, and deceased animals becomes part of the curriculum along with searches of areas where no "odors" have been placed. Initial and ongoing training must include these "proofing" exercises where the team is presented with search areas that contain animal carcasses as well as search areas that have neither dead animal nor human remains odors present. Preparation for real searches includes the realization that not all areas searched are going to yield human remains odors thereof. Thus, a successful training program constantly challenges both the human and the canine team members with reality based, learning experiences..

The completion of preliminary, intensive, HRD training equips the team for the responsibilities of their specialized, investigative assignments. During actual field work, the primary responsibility of the canine handler is to evaluate the circumstances surrounding a case; gather the necessary information and combining it with their specific training to define the search area and formulate a search plan to insure that the dog has the best opportunity to locate the odor of the human remains. If the handler fails to define the search area or make the odor available and the canine never gets near the area where the human remains odor is present, then the handler must accept the blame for the teams' failure. A search is not merely walking around and permitting the dog to randomly sniff an area, it involves careful fact gathering, analysis and appropriate use of tools that are employed to make existing odor available for detection by the dog. Some of the tools that might be employed to increase the availability of odor include venting rods, power tools, a machete or a boat, etc.. Precise identification of a search area is imperative and should include a written record of any procedure used during a search.

Each investigation must be handled as though the area(s) to be searched will be a crime scene. Not only must an accurate written record of the HRD team activities be made, but the team must conduct their search so as not to disturb or alter crime scene evidence. For example, some of the techniques used by conscientious HRD teams include use of canines that display a passive trained alert behavior when locating the odor of human remains. The passive response might consist of the dog assuming a supine position or sitting as close as it can get to the source of the odor. The passive alert involves no action on the part of either team member that would destroy evidence. It is also critical that the HRD team recognize the functions of other specialty units involved as a death investigation progresses. Not only must the team endeavor not to damage anything during their part of the investigation, they must utilize flags or other recognizable means of marking sites requiring further investigation and communicate their needs and methods clearly. A written record as well as a verbal explanation of the HRD teams methods or findings should be provided to the lead investigator(s) and crime scene specialist. Mutual respect must be practiced by all investigative counterparts if a search is going to be fruitful and evidence obtained therefrom be of value in future court proceedings.

To fully appreciate the HRD teams, it is necessary to learn as much as possible regarding the circumstances surrounding investigations in which they are asked to participate. Bodies buried, disarticulated bodies, bodies submerged in water, or hidden in vehicles or structures have been efficiently located by HRD teams. HRD teams are equally important in revealing that there was no odor of human remains present at a designated location, despite an informant's insistence to the contrary. "Clearing" an area by determining that no odor of human remains was available enables the investigation to move on to other venues. HRD teams do not work miracles and in some cases, foot searches have been conducted by the requesting agency following the HRD teams preliminary scan of an area. Use of credible HRD teams will contribute to the expeditious and through conclusion of most searches for human remains.
A Nose For Crime, 07 October 2009
A Nose For Crime
A video about the remarkable capabilities of police sniffer dogs.
With thanks to
Mercedes
Things you didn't know about..., 17 January 2010
Things you didn't know about... Mail on Sunday - You Magazine (paper edition only)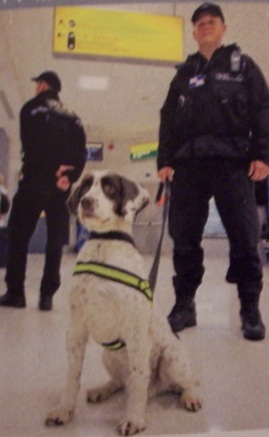 Sunday 17 January 2010

SNIFFER DOGS

These tail-wagging detectives can find anything from explosives and crystal meth to bodies and bees

They don't just crack crimes

Most sniffer dogs are four-legged law enforcers, searching for drugs, money, bodies and explosives, and patrolling ports and airports for smuggled people, food, even DVDs. But conservationists also use them to trace species, from bees to rhinos. They can also zoom in on dry rot and help hotels find bed bugs.

Dogs can even detect cancer

They can scent tumours at an early stage (in a trial for bladder cancer, the dogs kept sniffing a sample from a healthy volunteer in the control group, who was later found to have a malignant growth).

A dog's nose is 10,000 times more powerful than ours

We have enough smell cells to cover a stamp but a dog's would cover a tea towel. The bigger their snout the better. Polly, a springer spaniel, sniffed out £7 million of drugs and cash in Dover in five years, thanks to her huge nose.

They need more than a keen sense of smell

A strong hunting instinct, stamina and agility are crucial. Top breeds are gun dogs, such as labradors, springer and cocker spaniels and german pointers, which use their nose rather than their eyes in the chase.

Some of the most successful are rescue dogs

In four years Scooby, an abandoned springer spaniel, netted £25 million-worth of drugs in the port of Dover.

It's all a game to them

A tennis ball is key to training, which starts when the dog is a year old and lasts for three months. The ball is impregnated with the scents required and hidden in increasingly complex places. The dog is also taught to ignore smells such as bread, coffee and pepper, which are used to disguise the scent of drugs.

When they've found something they sit and stare at it

This saves embarrassment if they find drugs while off-duty. They stay put until they're called off. One dog went round on the luggage carousel at Gatwick airport until its handler caught up - and retrieved several kilos of cocaine.

Hundreds work in war zones

Mine detection and bomb disposal are all in a day's work for Ministry of Defence sniffer dogs. Sadie, a black labrador who was awarded the Dickin Medal (the animal equivalent of the Victoria Cross) for finding a bomb in Afghanistan, had previously served in Northern Ireland, Kosovo and Iraq. Sadly, there are casualties. Sniffer dog Sasha and her handler were killed by the Taliban in 2008, and some have to be treated for post-traumatic stress.

Your pet could be one

The army is appealing for dogs to train. If you have a young german shepherd or gun dog, call 01664 418668 or visit yourcountryneedsyourdog.co.uk

Dog Squad will be shown on Sky Real Lives, channel 243, and in HD on channel 278, tomorrow [Monday 18 January] at 8.30pm
Sniffer dog used in search for Madeleine McCann found missing Orkney man's body, 17 February 2010
Sniffer dog used in search for Madeleine McCann found missing Orkney man's body
Daily Record
Feb 17 2010
A SNIFFER dog used in the search for missing Madeleine McCann found a man buried in sand dunes in Orkney, a court heard yesterday.
FBI consultant Martin Grime told the High Court in Glasgow he and his springer spaniels Eddie, Keela and Morse were called in by police in the hunt for Bob Rose, who disappeared on the island of Sanday last June.
Eddie, who is trained to detect dead bodies and was used in the McCann case and the Soham murders inquiry, reacted when he was taken to sand dunes at Sty Wick on June 24.
Mr Grime said: "His normal reaction is to bark. On this occasion he started to dig."
The body of "Black Bob" Rose was later found at the spot.
The trial was also told one of the two men on trial for Bob's murder, Stephen Crummack, had indicated the area to police days before.
Detective Constable Neil Docherty said Crummack, 51, went on to blame his co-accused, John Campbell, 59, for killing Bob.
The pair deny murder and a string of related charges and the trial continues.
Jersey Haut de la Garenne sniffer dog footage posted online, 12 March 2012
Jersey Haut de la Garenne sniffer dog footage posted online BBC News
BBC News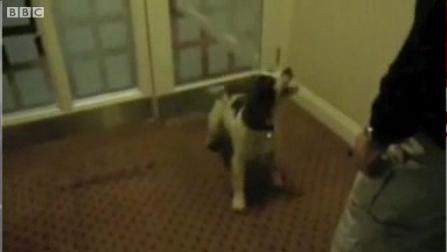 Footage of a dog trained to sniff out human remains working at Haut de la Garenne was filmed by a police officer working on the investigation
12 March 2012 Last updated at 09:32
Footage of a sniffer dog searching inside a Jersey children's home as part of an historical abuse investigation has been published on an internet site.

The film was acquired and published by the blog site Voice for children.
The footage was shot on a mobile phone by police investigators at Haut de la Garenne in early 2008.
The former senior investigating officer Lenny Harper said the dog, Eddie, gave officers enough evidence to widen their abuse investigation at the home.
He said he was initially sceptical about using the dog and his handler, Martin Grimes, but said his initial impression changed after working with them.
He said: "Whilst dogs can always get it wrong, I think that there was ample corroborating evidence of the dog's reaction to justify the need to investigate further."
'React strongly'


Eddie is trained to detect human remains and helped in the search for Madeleine McCann.
In the video he was seen to react strongly in certain parts of the building.
The day after the video was made, the police found what they thought were partial human remains.
Dozens of teeth were also uncovered, but later that year statements from the police cast doubt on those initial findings.
It was not clear why it had come out now, but the video shot in 2008 was posted by Voice for children with accompanying comments from Mr Harper.
---
Exclusive Footage of "Eddie" Cadaver Dog at HDLG.
voiceforchildren.blogspot.com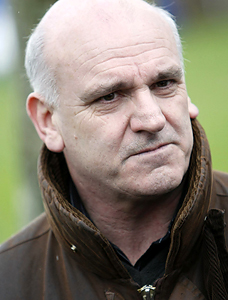 Saturday, 10 March 2012

Once more VFC is able to bring our readers/viewers another, what we are told is, a world exclusive.

With the assistance of Former Senior Investigating Officer of the Jersey Child Abuse Investigation, and Former Deputy Chief Police Officer Mr. Lenny Harper, we are able to bring you exclusive video footage of arguably the world's most renowned Cadaver Dog "Eddie" not only working at the crime scene of the Former Jersey Children's Home, Haute de la Garenne, but alerting to the scent of human death.

Not a great deal of these Cadaver dogs work has been reported in the State Media, other than to discredit them, so we asked Mr. Harper to document for us just exactly what is happening in the video below, what does a Cadaver dog do? How significant to the investigation the dog was? What, if anything did he (the dog) find? The results, it has to be said were astounding. Mr. Harper agreed to our request and once again we thank him for his commitment to the truth and justice.

For viewers information "JAR/6" is the fragment of child's skull.

00.00.0 Getting ready. I was reluctant to let the dog inside as I did not feel that it would do much good. In truth, I was a little sceptical – I had not felt a favourable impression from the handler (Martin Grimes) at our initial meeting and I was dubious, although my opinion of his qualities and integrity was to markedly change as events unfolded. I began to realise as I worked closely with him over a period of months that what I originally took as arrogance was simply supreme confidence in the ability of his dogs in the face of jealous, empire protecting rivals who were not as professionally capable. Throughout the investigation, we subjected Martin and his dogs to many 'verifying' tests, from burying swabs in sand (which he always found no matter how large an area), to minute blood stains. The dogs never failed. Many of these tests were carried out in front of Jersey politicians and media, including Channel Television and Diane Simon of the JEP. Frank Walker and Andrew Lewis were only two of the politicians who witnessed the ability of the dogs in hugely impressive displays. Funny how they all forgot this when they jumped on the bandwagon which sought to ruin Martin Grime's reputation. One of the most spectacular exercises occurred when one of the Anthropologists brought a vial of sand back that she had removed from the tomb of a mummy in Egypt. We put this vial on a beach, below the sand, and let Eddie off to look for it. The dog amazingly sought it out in a few minutes and gave us the reaction you will see in this video. To get back to the start of the video and my initial doubts, after a few days outside I had at least gained a grudging respect for Martin's hard work and dedication. I still was not keen to extend the search inside the house with the dog; however, I reluctantly conceded that we should look at all our possibilities so that we could walk away and say that we had given it a good shot. You can see me standing looking less than confident.

00.00.45 The first indication that the dog (Eddie) is finding something amiss. His behaviour has changed, and is remarked on by the handler. He is initially reacting further down from where we were to eventually find the initial fragment, (which ILM and others still incorrectly claim to be definitively identified as coconut) and in the flow of the drainage from the area where it was found. To clarify, Eddie is trained to trace the scent of dead human flesh. He will react where this scent is found, not necessarily where it was originally located. His strongest reaction will normally be where that scent is strongest, which will usually be where the dead flesh has lain longest, but he will sense it in areas where the scent has been carried, for instance, by drains.

00.01.08 Eddie is starting to react strongly now. Although still some yards from the finding of JAR/6, he smells something which has been carried down in the drainage from the original source. We were later to find that the drain ran down from where we found JAR/6 and where the bones were found by the builders, who suspected that they were also the bones of juveniles. One of them identified a child's pelvic bone from the internet. These bones were found with children's' shoes which were to be later the source of interesting conflicts between the evidence of the pathologists and the staff at the Jersey Museum.

00.01.50 The doors and wall where Eddie is reacting so strongly now lead into the room where the top wall adjoins the stair area where JAR/6 (the infamous initial fragment) was found. Note the change in the dog's behaviour, and the strong indication from his that there is something to be investigated here. It is important to note at this point, that the dog is only telling us that the scent of human death is here. He is not telling us that there has been a murder; he is not telling us that this is the spot where a body has been buried. He is only telling us that the scent of human death is at this spot. He is saying, "There is something here for you to investigate." It is worthy of note, that this is also next to the location where builders found the bones which they thought were human juveniles, and where they were told that if they found bones to let "bygones be bygones."

00.02.25 Eddie is now at the doors leading to the stairwell where both JAR/6 and the "builders' bones" were found. Note that he is reacting strongly. To corroborate Eddie's reaction we used the most up to date geological equipment supplied to us by the British Army and the Metropolitan Police (more services obtained through the use of contacts and a hospitality budget!) for which we paid nothing. These surveys confirmed inconsistencies in the sub floor levels.

00.02.39 Eddie is telling us that there is something we need to investigate on the other side of the door and he wants through to indicate this to us.

00.02.58 Eddie is now reacting very strongly and indicating to us that the scent of dead human flesh is in this location. This is where we were to find JAR/6, which the establishment continue to say was only coconut, but cannot explain how Eddie reacted as he did, nor indeed, how the lab at Oxford found Collagen.

Collagen is not found in coconut or wood, it is only present in mammals, which would seem to destroy the claims of the Jersey establishment, aided and abetted by the Jersey Evening Post and Channel Television, that JAR/6 is coconut or wood. Again, it is worthy of recall, that the builders who found the bones at this location thought they were human, and that one of them actually identified a bone as that of a child's pelvic bone from the internet. Additionally, the police officer who was called to the scene was also dubious of the bones' origins, as was the female pathologist who attended. She "did not like" the situation and referred the matter to her boss who said the bones where not consistent with being human. However, an Anthropologist later stated that he was incorrect and the measurements he quoted were entirely consistent with the bones being children's' pelvic bones as identified by one of the builders. The Anthropologist further stated that the Pathologist was not qualified to make the statement that he had.

00.04.06 Now Eddie has just left the wall adjoining the stair area where he reacted earlier. The drains in the building run from those stairs, under the adjoining wall, and down the room where we are now standing. As the dog is trained to detect the scent of dead human flesh, he is now following the strong scent emanating from the other side of the wall and being carried in the drains under the floor of this room and down the room towards the corridor seen earlier in the video.

00.04.15 Note the dog's return to the wall. This was almost the exact spot where JAR/6 was found. It is a few inches from where the builders found the bones which they thought were human and which they were told about, "Let bygones be bygones." If this dog was a waste of money, then how did he lead us to this exact spot? How did he later, in the 'live' presence of Wendy Kinnard (the then Home Affairs Minister) and Graham Power (the then Chief Police Officer), lead us to the bones in the cellars which an Anthropologist in the United Kingdom said were "fleshed and fresh" when burnt and buried? It cannot be a co-incidence that this dog, trained to detect the scent of dead human flesh, reacted so strongly in an area where we were to find a fragment of substance initially identified by a professional, accomplished, Anthropologist, as a part of a child's skull, and right beside the spot where builders found bones and children's shoes which they thought were human bones. No amount of spin by Le Marquand and others can contradict this, and no amount of misinformation from Warcup and Gradwell can conceal this truth.

00.04.41 Eddie still on stairs, right above the location where JAR/6 was found. He comes down again to the exact spot.

00.05.20 Eddie still reacting strongly at the spot where JAR/6 was found.

This is the live video, filmed on a mobile phone as it happened. The film was made by the Homicide Search Advisor of the National Policing Improvement Agency, on his mobile phone. He was to later say that the way we had carried out the search of HDLG was a "shining example" and should be documented as an example of good practice. Where has this recommendation been lost in the mists? The reactions of the dog speak for themselves. Eddie is not telling us that murder was committed at HDLG. He is telling us that somewhere in the floor-space of the premises; the scent of human death has been present. He is telling us that there is something there for us to investigate. His findings have been corroborated by the finding of the bones and teeth, by the results of the surveys carried out by the most sophisticated of electronic geological equipment, and by the evidence of builders and former residents and victims of abuse in HDLG. This video totally contradicts the spin of Frank Walker, Andrew Lewis and Diane Simon of the Jersey Evening Post, all of whom were taken on a tour of the building and given a demonstration of the ability and capability of Eddie and his companion "Keela" the blood detection dog. All of them were aware of the true situation relating to the dog and the finds. All of them, for their own reasons, chose to ignore the truth and to peddle the myths of those seeking to discredit the victims of the horrific abuse within HDLG. They are now, in my opinion, exposed as craven cowards and not fit to lick those victims' boots. As for Martin Grimes and the dogs that they have tried to discredit, they are now working full time for one of the best Law Enforcement Agencies in the world in the USA. (END)
Missing girl Tia Sharp: Detectives are examining previous cases including Shannon Matthews and Madeleine McCann, 09 August 2012
Missing girl Tia Sharp: Detectives are examining previous cases including Shannon Matthews and Madeleine McCann
Evening Standard

- Detectives consult Shannon Matthews's fake kidnap team
- Uncle says "We stand united"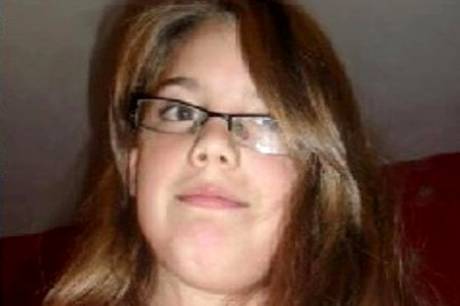 Justin Davenport, Crime Editor
09 August 2012

Detectives searching for vanished schoolgirl Tia Sharp are examining similar cases of missing children including the fake kidnapping of Shannon Matthews, it was revealed today.

They are searching for similarities in other cases where children have vanished without trace for no apparent reason.

Tia, 12, who has never run away before, disappeared from her grandmother's house in New Addington last Friday after telling relatives she was going shopping at the Whitgift Centre a few miles away in Croydon.

Scotland Yard today denied officers from West Yorkshire police, which investigated the Matthews case, were involved in the search.

It was also being reported this afternoon that they will be talking to officers involved in the Madeleine McCann case.

However, sources said detectives were consulting the National Policing Improvement Agency about other cases of children who have disappeared.

He said : "Cases like this are extremely unusual and we are looking for similarities to other cases. We have not ruled out anything in this inquiry but it is wrong to say that we are focusing on one line of inquiry."

Nine-year-old Shannon Matthews was kidnapped by her mother and her partner's uncle in February 2008.

Karen Matthews and her accomplice Michael Donovan, from Dewsbury, were convicted in December 2008 of her kidnap, which they committed in a plan to claim £50,000 in reward money. They were both sentenced to eight years in jail but have since been released.

Tia is thought to have been last seen at the house where her grandmother Christine Sharp, 46, lives with partner Stuart Hazell, 37, at The Lindens in New Addington.

Mr Hazell, who has a conviction for drug dealing and is the last known person to see Tia, was questioned by police as a witness for more than two hours yesterday before returning home.

Today Tia's biological father Steven Carter said : "There's been malicious messages posted on Facebook. They are having a dig at Tia's mum's side of the family.

"Tia's mum is very distressed. The focus seems to be going away from Tia but people should spend time posting pictures of her not making negative comments."

David Sharp, uncle on the mum's side, younger brother, denied claims there is a rift in the family.

"We've all known each other for years and there's never been any problem. We stand united."

Police have searched Tia's grandmother's bins and others around the estate, using sticks to scour through rubbish.

More than 80 officers have joined the hunt for Tia, while members of the local community have staged their own searches in the area where she vanished. Scotland Yard has received more than 300 calls and 60 reported sightings of Tia, including a member of the public who came forward saying they saw her leaving her grandmother's house at about noon on Friday.

Metropolitan Police area commander Neil Basu said police could not be "absolutely sure" who the last person to see Tia on the estate was. He stressed the investigation remains a missing persons inquiry, with no suspects, adding: "I am looking to find Tia safe and well."

Meanwhile vigilante groups carrying out their own searches for missing schoolgirl Tia Sharp were today told they could be destroying crucial evidence.


---

Screenshot of header to the original article, which is no longer online:
---
Tia's body is found following use of cadaver dogs:
Shambles: Murder probe police arrest Tia Sharp's step-grandad in park eight hours after her body is found in granny's home following week-long hunt that saw officers search their house THREE times
Daily Mail

By Chris Greenwood, Eleanor Harding and Tom Kelly
PUBLISHED: 21:10, 10 August 2012 | UPDATED: 23:14, 10 August 2012
- Extract -

Police were alerted to the possible presence of a dead body when sniffer dogs trained to detect decomposition returned to her grandmother's home early yesterday.
---
Clarification on the search from the Met Police:
Statement re. Tia Sharp investigation
Met Police

11 August 2012

Statement from South East London Area Commander Neil Basu regarding the Tia Sharp investigation:

We wish to provide further details regarding the searches that occurred in the past week at 20 The Lindens, New Addington.
The Metropolitan Police has launched a murder enquiry following the discovery of a body at the address yesterday and a number of people are in custody.
It is important that we explain more about the circumstances of the searches.
Four scene examinations were conducted of the property. The first followed immediately from the missing person report that was received on Friday 3 August. An initial visit was made to assess the situation and examine the property. This visit was not regarded or viewed as a full search of the property.
The second visit was a full search of the property with the consent of the occupiers. This was conducted on 5 August over a period of two hours. All parts of the premises were searched including the location where a body was discovered, five days later, on Friday 10 August.
An early review has been conducted and it is now clear that human error delayed the discovery of the body within the house. We have apologised to Tia's mother that our procedures did not lead to the discovery of the body on this search.
A third visit was undertaken on 8 August. This was not a search, but the attendance of a body recovery dog to assist the investigation team in their enquiries.
It is not appropriate to comment further on aspects of the criminal investigation currently being conducted but our investigation was such that it was decided that a further intrusive search needed to be undertaken - it was that search, yesterday, which resulted in the discovery.
On behalf of the Metropolitan Police I apologise for the distress and concern this delay will have caused. A continuing review and examination of our search processes will be undertaken to ensure such a failing is not repeated.
---
'Body recovery dog' graphic:
'I wish I was there to protect you': Tears of Tia's heartbroken mother as step-grandad is charged with murder
Daily Mail
By Russell Myers, Jonathan Petre, Ben Ellery and Damien Gayle
PUBLISHED: 16:17, 12 August 2012 | UPDATED: 18:53, 12 August 2012

- Extract -

WEDNESDAY AUGUST 8

Police search Mrs Sharp's home with a German shepherd (below) trained to detect blood and evidence of composition. More than 80 detectives and officers are now working on the case. Police interview Hazell as a witness.
---
Madeleine McCann/Tia's body may have been moved:
The torment of Tia's family: Father of murdered schoolgirl reveals mother's heartbreak at death of her 'baby girl'
Daily Mail
By Anna Edwards
PUBLISHED: 10:48, 14 August 2012 | UPDATED: 14:42, 14 August 2012

- Extract -

Angie Niles, whose son David is Tia's mother's boyfriend, told how she would look after the little girl every other weekend and would treat her by taking her to the shops and buying her little gifts.
She sobbed as she told The Sun: 'You see stories about Madeline McCann or James Bulger and you think it must be awful what the family are feeling.
'But you switch the telly off because it is not actually happening to you.
'It is just awful, I can't find the words to describe how terrible this is.'
(...)
Officers found Tia's body in plain view in the loft.
Detectives are investigating whether her body was moved and whether this explains how it was missed during a two-hour search the previous Sunday.
---
Body may have been moved:
Body of schoolgirl Tia Sharp was identified by dental records because of decomposition
Daily Mail
By Chris Greenwood
PUBLISHED: 12:43, 16 August 2012 | UPDATED: 20:50, 16 August 2012

- Extract -

Scotland Yard admitted that her body was missed during an earlier search due to 'human error' and apologised to her mother Natalie, 31.
A senior officer suggested it may have been moved before a dog trained to detect blood and decomposition eventually raised the alarm.
The Dogs of 9/11, 11 September 2012
The Dogs of 9/11 American Thinker

By Elise Cooper
September 11, 2012

As the years pass and memories fade, it becomes easy to relegate 9/11 to the history books. It's been eleven years since that awful day, when three thousand Americans lost their lives. American Thinker decided to honor those who have not received much recognition -- the rescue and cadaver dogs, as well as their handlers -- by interviewing a few who worked through the debris at the Pentagon and World Trade Center (WTC).

Nona Kilgore Bauer wrote in her book, Dog Heroes of September 11th: A Tribute to America's Search and Rescue Dogs, "Without their contribution hundreds of victims' families would not have found the peace that comes with the return of a family member or beloved friend." These animals and people worked tirelessly at first to find survivors, but ultimately, they found just human remains that helped families find closure.

Throughout the book there are excerpts from the handlers that described the atmosphere as smoldering debris with deep odors, smoke, dust, and noise, having to face death all around. Bauer told American Thinker, "I realized these dogs were not recognized even though they were such an important part of the search and rescue effort. America needs to know that these were brave, brave people and animals that were truly heroes. The dogs are not working to be heroes -- just doing the job they were taught to do. However, the fact is what they found was extremely important, which makes both dogs and handlers heroes to me."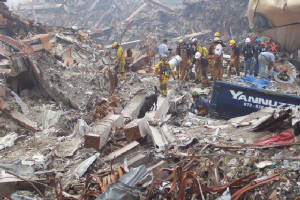 Bauer felt that the Pentagon search was a lot more organized, partly due to all the restrictions. At the Pentagon, it was quickly determined that cadaver dogs were needed as opposed to the "live-find" dogs used at the WTC. They also quickly decided to put Officer Jim Lugaila from the D.C. Metropolitan Police Department in charge. He has been a canine handler since 1988 and prefers German Shepherds because of their versatility, intelligence, stamina, and athleticism.

He described to American Thinker the atmosphere at the Pentagon: "I told the FBI, who was in charge, that they were missing a lot with their hand-sorting since cadaver dogs could find human remains the size of a dime or less for DNA purposes. I was given the job of canine commander after proving the dogs' worth. King, my German Shepherd that looked like Rin Tin Tin, came across a piece of metal that looked like a pizza pan folded in half. King went crazy. After recovering it and opening it up, a piece of a human brain was found inside. Unfortunately, non-dog people don't believe in the dog until you prove to them that the dogs can recover more."

What he implemented was teams that mostly worked eight- to ten-hour shifts, twenty minutes on, twenty minutes off. He wants Americans to understand that the dog handlers were mainly volunteers who would come to help after working a full day. What was learned from this experience was that animal decontamination is very important. Lugaila implemented procedures so that after the dogs were done searching, they would be watered down and taken to a park area where the handler and the dog could cool off. The dogs were washed and visited by a vet tech for a medical exam.

Jim minced no words when he was asked to describe the situation. "Think of taking a giant blender, filling it with pieces of ceiling, metal, pieces of flesh, pieces of clothing, paper, glass, and putting it on the highest speed possible. That is what we had to sort through to find something sometimes no bigger than a dime."

Heather Roche heads the Bay Area Recovery Canines (BARC) and was part of the Pentagon search team. She wants Americans to understand that there is a difference between "live find" dogs and cadaver dogs. Live find dogs are trained with interactive games such as hide and seek, while cadaver dogs are trained to compare odors. She noted, "The dogs use their noses, not sight, to achieve their finds and are much more successful than any human could be. After the dogs make a find, they bark, lie down at the source, and box it it in with their body.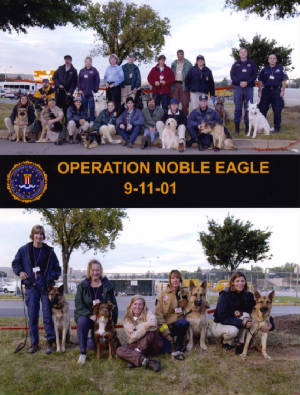 She takes what happened at the Pentagon personally since her dad, the secretary of the Air Force on 9/11, was present. Although she was one of the lucky ones whose loved one was unhurt, she felt a personal connection because of her dad. "I found it rewarding when my dog Alley, a Labrador Retriever, found someone because that helped families with closure. I could not stop the bad things that happened, but at least I can bring closure."

Debra Tosch, currently the executive director of the National Disaster Search Dog Foundation, searched at the WTC with her dog Abby, a Labrador Retriever. What Debra likes to emphasize is that out of the despair and ruins of 9/11, there were lessons to be learned which would help in future disasters. Currently her organization is building a national training center in Southern California. The lessons learned from 9/11 will be incorporated into the training: how deep to bury objects to be found, how to make sure the dogs are able to identify someone underneath the rubble with hundreds of people around, understanding how heat is transferred through burning metal, and identifying the different odors of humans. "Humans smell differently from how other animals do, and a dead human smells different from how a live one does. Sex, race, religion does not matter. Everyone has a similar scent."

Besides finding pieces of bodies, the dogs served another purpose: therapy. Debra tells the sad story of how hard it was to see the emotions of the firefighters who lost their brothers. "When someone was found, work would stop, and I watched as the tears rolled down the firefighters' faces. I remember one firefighter who hugged Abby and buried his face in her neck after just finding out a fellow firefighter was found."

Heather wants Americans to remember that the 9/11 story is not about the dogs, but rather, "[i]t is about the victims of 9/11. The dogs do a great service, but they are just doing what they are trained to do. The heroes are those that risk their lives and have lost their lives: the 9/11 victims. I also think of those who were there at the two main sites where they did run into the flames and chaos to pull out the living and the hurt, as it was all unfolding. They are the heroes, not my dogs. I am proud of my dogs, but we aren't heroes."

Jim is proud that the dogs were credited with at least one-third recovery of the human remains. A 9/11 family interviewed by American Thinker in the past never had their son, U.S. Navy 1st class Ronald Hemenway, identified. It is believed that he is buried in a casket at Arlington Cemetery with the unidentified remains of four other victims. Jim told American Thinker, "Dogs can find human remains that have been turned into ash. However, currently there is no way to get the DNA from ash. These five people were found but can't be identified because of the major fireball at the Pentagon. I am sure that was the case in New York as well."
Have the finders' lives changed since experiencing the disaster of September 11th? Heather lost Alley in 2008 to multiple myeloma, a rare blood disease. She believes that it was due to Alley being exposed at the Pentagon. She is currently training a puppy whom she named PENTA, in honor of the 9/11 victims, and whose registered name is Pentagon Remembrance.
Debra says she came away with a different outlook on life. "After seeing something that overwhelming, piles of debris and the body parts, I decided not to be stressed out over the small things in life like being stuck in a California traffic jam."
Jim was affected like everyone else there -- "not then, while we were working, but later. I don't like to go to commerative services. Certain smells will trigger my memory. I don't watch the anniversary shows. It was a very emotional experience."
All want Americans never to forget that day. They want the value of these service dogs to be recognized since the service performed is invaluable -- a large area can be covered in a short amount of time. In addition, a dog's nose can find a minuscule piece of DNA for identification, which a human can never do. Nona said it best: "From my perspective, the canine is G-d's greatest gift to mankind. Although they did what they are trained to do, they are still amazing creatures."
---
Links:


Bay Area Recovery Canines
National Disaster Search Dog Foundation
Man convicted of murder of missing person - no body found, prosecution case included indications from a cadaver dog:
Former CSUN Recruiter Convicted of Killing Actress' Sister, 08 April 2013
Former CSUN Recruiter Convicted of Killing Actress' Sister
Northridge-Chatsworth Patch

A jury finds Lyle Standford Herring guilty of killing his wife, the sister of TV star.
By City News Service | April 8, 2013
A one-time Hollywood resident and recruiter at Cal State Northridge was convicted of second-degree murder Monday for killing his wife, who was the sister of actress Aasha Davis.
Lyle Stanford Herring's attorney argued during trial that his client's wife, Lesley, simply disappeared in 2009 and there was no evidence to suggest she had been killed or that she was even dead.
Members of Lesley Herring's family, including the actress, were in court in downtown Los Angeles when the verdict was read, and some cried uncontrollably and hugged each other.
Los Angeles Superior Court Judge George Lomeli, sitting in for Judge Ronald Coen, who presided over the case, set sentencing for June 7.
Lesley Herring, 44, was last seen Feb. 7, 2009, at the couple's condominium complex in the 2700 block of North Cahuenga Boulevard. Aasha Davis - - who has appeared on
Grey's Anatomy
and
Friday Night Lights
-- reported her sister missing after she failed to show up at work for several days. The actress made public pleas for information to find her sister, and Lyle Herring even took part in a 2009 police news conference asking for help locating the woman.
Herring, now 59, was arrested more than a year later, on April 29, 2010.
During closing arguments, Deputy District Attorney Pak Kouch told jurors they had two questions to answer -- whether Lesley Herring was dead and whether the defendant killed her.
"He killed her and then he covers up," the prosecutor said. Left behind were the woman's car, purse, wallet, keys, cellular telephone and the bracelets she routinely wore, along with $26,000 in her savings account, according to Kouch.
Lesley was thinking of leaving her husband, something Lyle couldn't let happen, according to Kouch.
The prosecutor said Herring told his cousin that he did something he can't recover from and that he would "burn in hell" for what he did.
Kouch noted that a neighbor had seen the defendant wheeling a dolly containing a carpet large enough to hold a dead body on to an elevator at the condominium complex, and that another neighbor saw him later with an empty dolly.
A cadaver dog from the Los Angeles County Coroner's Office alerted on the defendant's two vehicles -- a Mitsubishi and a Cadillac -- suggesting that her body had been in each of the vehicles, Kouch said.
"The defense would have us believe ... she is out there," Kouch said. "Where is the corroboration that Lesley is out there somewhere?"
Defense attorney Marvin Hamilton Jr., however, argued that the prosecution had "failed miserably" to show that Lesley Herring's disappearance was anything other than a missing-person case.
"She had left before, but she'd always come back," he said.
Hamilton suggested that she may have gone "underground" to leave her husband.
"I would suggest to you that she's still able to return," the defense attorney said, telling jurors there was no plausible evidence she is dead.
He accused investigators of being overeager to pin the murder on his client.
"They did not investigate the one area that was most important," he said. "They were treating him (Lyle Herring) as a suspect from the very beginning ... It's the proverbial rush to judgment."
He also questioned the work of the cadaver dog, named Indiana Bones.
"We don't know what Indiana Bones was smelling ... He could have been smelling a ham sandwich," he said. "It was not corroborated when they searched the cars."
Aasha Davis, whose real last name is Pforzheimer, testified that she became concerned in February 2009 after her sister's boss called and said she hadn't shown up for work.
"My heart skipped a beat," the actress testified.
She said when she phoned her sister and her brother-in-law, both of their voice mailboxes were full.
The sister's acting career helped the case get a higher profile, including being featured on Nancy Grace's show on CNN.
Some background on Indiana Jones:
Indiana Bones pieces together Hollywood severed limbs case, 20 January 2012
Indiana Bones is an eight-year-old German Shepherd who is a full-time cadaver dog for the Los Angeles County Coroner's office.

About 6 on a cold clear morning one bright-eyed German shepherd and about a dozen other members of the Los Angeles County coroner's skeletal recovery team gather for a Wednesday briefing.

The previous afternoon, a dog walker had discovered two of her charges playing with a human head in a plastic bag near a trail below the Hollywood sign in Bronson Canyon Park.

Police had performed a preliminary search of the rugged Hollywood Hills terrain, but they weren't sure whether more body parts might be found; coyotes could have scattered the remains over miles of parkland.

Indiana Bones to the rescue.

An 8-year-old German shepherd, Indy is one of the nation's few cadaver dogs retained full-time by county law enforcement. On the staff for six-and-a-half years, she has been on hundreds of searches for human remains. And has honed her skills on the job.

"She's saved us here," says handler and coroner Investigator Renee Grand Pre. "Lots of times you get that call from police that someone is missing. ...Where do you start?"

On this particular morning, Grand Pre takes out a tightly knit brown stick-like toy and the revved up, 75-pound Indy lunges out of the truck. "Site," Grand Pre commands, speaking to Indy in her native Dutch. Indy pushes her hind legs down, gazing up toward the toy in rapture.

"Sook," Grand Pre orders, pretending to throw the toy forward, stuffing it in her back pocket, as Indy gets to work, busily sniffing the ground, ears up and back against her head.

After a few brief forays into steep vegetation and some animal trails, Indy tries to lie on a slope and stares at a hole in the ground. After only 20 minutes, she has found the hole within which investigators will later discover two feet and a hand.

The team, which consists of a criminologist, anthropologist and several coroner's investigators, comb the area and discover a severed hand about 100 yards away.

Investigators believe the body parts were all placed in the hole that Indy found, and were scattered by animals.


---

Cadaver dogs are not easy to obtain. But if anyone could get one for the department, it is Grand Pre.

At 51, Grand Pre is a compact, fit woman with dirty blond hair and slightly clinical demeanor. She has been with the coroner's office for 11 years and in addition to being a trained nurse and investigator, she is also the acting department emergency coordinator and the weapons of mass destruction team leader. She balances these responsibilities with duties to the National Guard and working with Indy.

In 2004, Grand Pre stumbled upon a line item for a canine in the department's homeland security grant budget. Until then only volunteers had worked with them, and then only on non-crime-scene investigations. She wrote a letter to the state outlining why a large-scale disaster response required a cadaver dog on staff that could identify and locate human bodies.

About $10,000 in federal money was set aside for Indy's purchase and training; the coroner's office provides about $1,000 annually for food, toys and vet visits.

"In my mind, that [also] makes her a federal resource," Grand Pre said. And these days, Indy can get busy. She is often called upon by agencies such as the L.A. County Sheriff's Department or LAPD homicide investigators to help hunt for a possible body. "You're not going to dig up the person's whole backyard. The dog is one more tool."

Most detector dogs are bred in Europe, where there is a greater market for German shepherds, and then sent over to the United States. Indy is an import from Holland. In the summer of 2005, Grand Pre flew to Peru, Ind., just outside Indianapolis, to pick up Indy from a kennel where dogs are primarily trained to detect bombs.

Working dogs have certain natural characteristics, such as a strong drive to hunt and play, which is nurtured, and focused on certain tasks. At 1-and-a-half years old, they are "imprinted," or introduced to and trained to recognize the odor that they will spend a good part of their lives seeking.

"When detector dogs work, they're not looking for bombs, humans or body parts," Grand Pre says. "They're looking for their toy. They're not motivated by what we're motivated by."

Taphonomy, or the study of how a human body decomposes, is not easily mastered. For example, a hand can feature a different level of decomposition and discoloration on each finger. A decomposing human body gives off a distinctly tangy, sweet but putrid rotting stench that is nearly as difficult to describe as it is to forget.

For Indy, the ability to tell the difference between animal bones and human bones is somewhat equivalent to a person's ability to walk into the kitchen and know whether chicken or turkey is cooking.

To train them, the kennel used a box with a hole through which a tennis ball pops out after the dog "alerts" to the odor emanating from within.

When Indy recognizes the odor of a decomposing human body, she sits or lies down, staring at the spot. It is the same passive alert most bomb dogs have because handlers do not want them disturbing the scene. In Indy's case, a wagging tail or digging alert could wreak havoc on a crime scene and damage bones.

The Indy of today is starkly different from the one that came home with Grand Pre from the kennel six years ago. That Indy was more "machine-like" than "dog-like," Grand Pre says. And though Indy still leads a regimented life — "eats once in the morning and once at night, poops once in the morning and once at night" — she no longer pees on command.

The discipline comes in handy, for example, when the pair had to search trash cans for possible body parts Wednesday. A lot of the waste included leftover food that would distract most dogs. Indy keeps her focus.

Indy was originally named Toby after her "T Litter." And though you're not supposed to change their names, Grand Pre did a small shift — calling her Indy, since she picked her up in Indiana. After a phone conversation with a friend, she decided her full name should aptly be Indiana Bones. And that's the name on her dog tag.


---

The roughly dozen old Army barracks on a cul-de-sac at Los Alamitos Joint Forces Training Base are a perfect training location for Katrina-esque levels of calamity: unkempt, rickety apartments abandoned and ignored, with peeling blue paint, broken glass and scattered animal feces and dirt. Weeds sprout everywhere. This is one spot where Indy works out.

In the back of Grand Pre's truck is a black case that holds four specimen jars, each filled with a different "training aid" that she switches to accustom Indy to identifying the smell of human decomposition. These include dried blood, a small bit of brain tissue and congealed human body fat.

The coroner's law allows for the use of human body parts for training and educational purposes. But even so, the office is very careful about using bones, which can be linked to individuals if they are lost.

Indy and Grand Pre train four to eight hours a week. A session starts with obedience. "Site," Grand Pre says, turning and walking away from Indy, glancing back every few step to make sure she doesn't move. When Indy's about 20 feet away, Grand Pre tells her to "komen." Indy runs forward. Grand Pre stops her — "site" — and Indy responds with precision.

Indy's Dutch vocabulary is minimal, but key. A handful of words have been used to train her since she was a pup: "Sook" means "seek" or "search," "bliven" means "stay," "auf" means "off" or "lie down," "louss" means "loose," "komen" means "come," and "site" means "sit."

Training includes hidden problem sets placed around and within different apartments that all look alike. "Luckily, if I forget where they are, she can find them," Grand Pre says. She's had make the problems more creative as Indy has gained experience over the years.

Indy is now a pro, with more than six years of experience and a resume that includes a variety of investigation scenarios: homicide, missing persons, suicide followups, wilderness and backyard searches, among others.

"If somebody is missing...when you find them, you find their remains and it brings closure to the family, it gives them a final wrap-up," Grand Pre says. "For police investigations, it can be critical to the case."

But Indy, at 8-years-old, is also getting older, and does not yet have a successor. On average, a working dog's life span is eight to 10 years, Grand Pre says, but Indy isn't involved in some of the rougher patrol jobs those figures take into account.

The department has been trying to find another dog, but a price tag of up to $8,000 is difficult to fulfill during tough times. With a lead time of roughly a year to gain real on-the-job experience, Grand Pre says, the department really needs to get that second dog.

The program has "been successful, and if it's going to continue to be successful, we need to have the resources available to continue to grow," Grand Pre says. "I'll use Indy as long as she's healthy and able to go out. It's hard to say [how long], but she's very, very healthy."