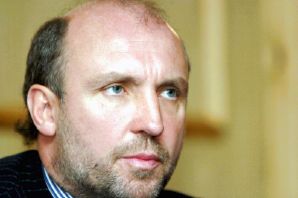 In September 2007, millionaire businessman and Jehovah's Witness, Brian Kennedy, was revealed as the McCanns mystery benefactor.
"I play to win" Rugby, business and the life of Brian
"I play to win" Rugby, business and the life of Brian
insidermedia
Michael Taylor finds out why Brian Kennedy continues to build his home improvement empire and what it feels like to taste sporting success
Michael Taylor
Undated
Brian Kennedy doesn't need to work. He's amassed a £3250m fortune, owns houses, planes, boats, even a title-winning rugby team. But here he is, launching a £360m takeover bid for the ailing conservatories business Ultraframe to bolster his home improvement businesses.
But before we get to the detail of the deal, here's the question for BK - as colleagues call him - and he gets asked it all the time. By his family, his friends and no doubt by many successful people who have made less money than he has and yet have chosen a life of retirement and leisure. Why do you do it?
"I play the game; it's like playing rugby. You want to play, so you want to win. So when the opportunity comes up then I make the moves for the good of the business. I don't want to be on the touchline," he says.
"I did semi-retire; I lived in Majorca. It drove my kids nuts and it drove me nuts. I would travel, I would see seriously monied people in these executive lounges and exclusive hotels and they all had one thing in common: they looked miserable, absolutely bloody miserable. They look for the next big high, the next big stimulus. But what they are trying to replace is what all of us want and need: a job.
"I need a job, I need this. Otherwise I'd get bored stiff."
So that answers the question about his motivation as well as anyone could have hoped. Some whisperers throw in the anecdote that he's a Jehovah's Witness, as if that would draw a streak of eccentricity across his character. The truth is he is driven by a faith in God, and was indeed raised in that religion, but he's not a strict adherent and is driven by the same gods as many entrepreneurs.
And so for a serial deal-doer and sports nut like Kennedy he couldn't be happier right now. His rugby team, Sale Sharks, are the champions of rugby's Zurich Premiership. The sun is shining on Cheshire, where he lives, and he's in the midst of shoring up his bid for Ultraframe, a business desperately in need of a turnaround job. Conservatories has proved a tough market for the Clitheroe-based company and it has lost £335m in the first six months of this year. Yet here was a business that was valued at more than £3600m less than six years ago but has lost money for the past two years as, supposedly, spending on big-ticket home improvements has dived.
But first of all there's a deal to be done. As we spoke the negotiations were at a delicate stage. There was still a private equity player sniffing around, but when it saw the interim figures it called it a day. But for a man with a frighteningly firm handshake and an imposing presence you also know for certain Kennedy won't be screwed around by anyone.
He'd had firm commitments from the board for his 30p a share offer and from 40 per cent of shareholders. But while shares have traded at a price slightly higher than he's offering, there's always the possibility of a hedge fund sniffing around looking to block his path. In this case it was Mellon HBV Alternative Strategies - building on its 11 per cent stake and attempting to construct a deal that can extract a higher price from Kennedy's Latium Group or tempt the other shareholders by underwriting a rights issue and refinancing.
Kennedy is ably partnered in these negotiations by Stuart Lees, well known in these parts as a deal junkie from his time as a head of corporate finance with Arthur Andersen. As the chief executive of Latium Plastics, one of the parts of the home improvement business owned by Kennedy, he's one of a number of lieutenants to whom Kennedy is fiercely loyal - through good times and bad - and who he intends to help become wealthy as well as wise.
And like the other chapters in Kennedy's tale you can always expect the unexpected.
He's spent a life in the home improvement business. After ditching early plans to be a civil engineer, he began selling kitchens at Farouche Cuisines, which was sold in 1988 netting him £31m.
He went into double glazing but his first venture went into liquidation in 1992. Learning from that he bought Weatherseal Holdings from the receiver for £350,000 and has never looked back. Everest, one of the top names in double glazing, was sold by Kennedy in 2003 to a management buyout team in a £363m deal, three years after he had bought it for £347m. His other home improvement companies include Weatherseal Windows and Space Kitchens & Bedrooms.
He is happy to integrate the businesses horizontally, expand into Europe and believes that Wenland and Ultraframe will fit well together.
But he's been diversifying his interests of late. A chance conversation in Knutsford Wine Bar led him to apply for a phone licence and he built Genesis, a telecommunications business, selling his mobile phones business to Dixons for £331m.
The constant in all of this is capacity to build and invest in businesses and, as he is fond of saying, he's in it to win. He now has an empire that spans 13 companies with a combined turnover of £3600m. He runs each one as a separate entity, not as a group with calls on working capital. "It makes the chief executives impotent," he says with typical steel. "Really we're hands-on investors, rather than operators. That's how we can afford to run businesses that span retail to manufacturing and direct sales. It doesn't matter what the market is, but I do have the know-how to motivate.
"Stuart Lees has a bright mind and has a capable mind but he's also having to learn the new role and understand how to run a business day to day. How to make 25 decisions a day and get 20 of them correct.
"We saw the same thing in rugby, we look at the business and make it happen. But you have to get the right chief executive. In all the businesses I've been involved in we will turn things round if we work with the chief executive, direct them and make them better.
"Businesses fail because of a lack of control, decisions aren't made and management neglect the minutiae."
At this point in our conversation he speaks candidly, openly and directly to Niels de Vos, the chief executive of Sale Sharks, who is also present. "Niels was a three out of ten when he started, now he's a seven," he says.
That assessment may be helped by the fact that Sale Sharks are the Zurich Premiership champions, but both Kennedy and de Vos maintain that progress off the pitch has been noticeable. "We're not in sport to make money, but we are in sport to give us something exciting for the community and that doesn't require a benefactor," says Kennedy. "It's got to be financially self-sustaining. Now it will pay its own way on a day-to-day basis and pay down some of the debt. If it grows successfully then there could be something we can be very proud of."
It's been a hard slog that has cost Kennedy £330m, not least because the experiment of combining a top-flight rugby club with a declining football club, Stockport County, was a disaster. County have plummeted through the divisions since it was bought by Kennedy's company Cheshire Sport. Now he has secured the Edgely Park stadium for the Sharks, sold the club to the fans and they pay rent to stay at the ground.
"It was a great plan and it didn't work. We didn't think through the consequences of Stockport County failing on the field. We thought we'd sprinkle a bit of stardust and things would just work. It didn't and they then continued on a downward spiral," Kennedy reflects.
But the Sharks have gone from strength to strength. Aside from the silverware, the club is just about profitable on turnover of £38.7m, with rising player salaries and medical bills accounting for the biggest costs.
The short-term plan is to develop Edgely Park and hope that attendances can creep up to the 15,000 mark, which would put Sharks closer to pacesetting rival Leicester's 16,500.
But de Vos has even greater ambitions to move the club to Manchester, indeed they would have played the prestigious European Cup semi-final at the City of Manchester stadium had they got through. "I could see a future for Sale Sharks being based at Sport City. The endgame is for a state-of-the-art facility with 20,000 people cheering on the national champions. The people will come if we build it," he says.
And Kennedy, looking at his prodigy, nods in agreement.
He could almost be talking about a reborn Ultraframe.
Revealed: Cheshire millionaire funding Maddie campaign, 22 September 2007
Sep 22 2007
Millionaire businessman Brian Kennedy tonight confirmed he is providing financial backing to the parents of missing Madeleine McCann.
Mr Kennedy, who owns the Latium Group and rugby union team Sale Sharks, said he felt "compelled" to support Gerry and Kate McCann following the accusations made against them.
He said in a statement: "In light of the quite literally incredible accusations against Gerry and Kate McCann, which are clearly exacerbating their emotional torture, I felt compelled to offer, along with other like-minded businessmen, financial support and the full logistical support of the Latium team.
"That support is principally our in-house lawyer Ed Smethurst and (official spokesman) Clarence Mitchell.
"This will relieve the McCanns of the daily pressure of co-ordinating the legal teams that will expedite the clearing of Gerry and Kate's names, allowing all parties to refocus on finding Madeleine."
Cheshire-based Mr Kennedy is estimated to be worth £250 million and made his fortune in double-glazing and home improvement ventures.
His companies have included Weatherseal Holdings, Everest and Space Kitchens & Bedrooms. Earlier this year, St Helens Glass, which his company Latium Group bought in 2001, was closed down by Mr Kennedy. Around 400 people were made redundant.
The Latium Group of companies, which has annual turnover of approximately £400 million, is involved in plastics extrusion, conservatory roof manufacture, glass processing, home improvement retailing and property.
The Edinburgh-born entrepreneur previously owned Stockport County football club through his company Cheshire Sports and bought Sale Sharks in 1999.
Revealed: Mystery benefactor funding Madeleine's parents is a millionaire double-glazing magnate, 23 September 2007
Revealed: Mystery benefactor funding Madeleine's parents is a millionaire double-glazing magnate
Daily Mail
By IAN GALLAGHER and DANIEL BOFFEY
Last updated at 12:25 23 September 2007
The mystery benefactor behind Kate and Gerry McCann's fight back is a double-glazing magnate with a £250million fortune.
Brian Kennedy, who made his money from Everest windows, has pledged to meet all the growing costs of 'Team McCann', the nickname given to the array of legal and media advisers supporting the family.
A senior source close to Mr and Mrs McCann said Mr Kennedy, 47, decided to act after being moved by the plight of the missing girl's parents when they were made formal suspects in her disappearance.
Mr Kennedy is believed to have had no previous contact with the McCanns.
He made his offer shortly after it was made clear the McCanns would not be drawing on the £1million donated to the Find Madeleine Fund to pay for legal fees and media advice.
The couple had feared they would be forced to sell their home in Rothley, Leicestershire, as they struggled to rebut the leaks and allegations coming from the Portuguese authorities.
However, with Mr Kennedy's help, the McCanns have in recent weeks been able to take on former BBC reporter Clarence Mitchell and lawyers Kingsley Napley to fight their case. One of Britain's leading lawyers, Michael Caplan, QC, has also been employed.
Last week the couple's Portuguese legal team was strengthened with their lawyer Carlos Pinto de Abreu being joined by one of the country's brightest legal brains, Rogerio Alves.
Ed Smethurst, the in-house lawyer and legal director of Mr Kennedy's plastics firm, Latium, will also be on hand to assist the family. Despite not having a background in criminal law, it is understood his legal acumen and contacts could be of value.
In addition, funds will be made available for the continued efforts by the McCanns to find Madeleine. A leading international security firm founded by former SAS soldiers has been taken on to 'do the work that the Portuguese have failed to do'.
In a move that underlines the couple's despair at the Portuguese police's handling of the inquiry, they have turned to Control Risks Group, which began 30 years ago by helping kidnap victims in Latin America. Using CRG is costing tens of thousands of pounds a week.
The McCanns' benefactor - who shares his name with Kate's uncle, but to whom he is not related - is the son of an Edinburgh window cleaner, who was brought up a Jehovah's Witness.
The double-glazing magnate will be funding 'Team Madeleine' as Kate and Gerry McCann continue searching for their daughter.
He is one of Britain's richest businessmen. In 2003 he sold double-glazing firm Everest for £63million, three years after buying it for £47million.
Mr Kennedy's business empire includes about 20 firms spanning plastics, conservatory-roof manufacturer Ultraframe, glass processing, kitchens and other home improvement retailing. They have a combined annual turnover of £500million. He also owns Sale Sharks rugby club.
Reportedly described by friends as a rough diamond, the father of five plays rugby and regards himself as 'one of the lads'. He lives in the village of Swettenham, in Congleton, Cheshire, with his wife Christine. The average house price in the area is close to £1million.
The McCanns are believed to earn about £120,000 a year as doctors, but have not worked since May when Madeleine vanished. They were widely assumed to be dependent on a £100,000 donation made by Sir Richard Branson.
But Sir Richard was just one of several high-profile millionaires who have given them financial support. Others have included Harry Potter author J.K. Rowling and entrepreneurs Sir Tom Hunter, Sir Philip Green and easyJet founder Sir Stelios Haji-Ioannou.
Most, however, have refused to get involved in their legal costs because of the 'sensitivities' of the investigation.
Last night Mr Kennedy said that he had been happy to step in.
He said: 'In light of the quite literally incredible accusations against Gerry and Kate McCann, which are clearly exacerbating their emotional torture, I felt compelled to offer, along with other like-minded businessmen, financial support and the full logistical support of the Latium team.
'That support is principally our in-house lawyer Ed Smethurst and Clarence Mitchell. This will relieve the McCanns of the daily pressure of co-ordinating the legal teams that will expedite the clearing of Gerry and Kate's names, allowing all parties to refocus on finding Madeleine.'
It is believed that Mr Mitchell, who resigned from the Cabinet Office's media monitoring team to take up the McCanns' cause, will work for Mr Kennedy once his job with Madeleine's parents comes to an end.
Mr Mitchell's predecessor, Justine McGuinness, quit her position eight days ago to launch her bid to become a Liberal Democrat MP.
She has been accused by some in the Find Madeleine Trust of filing 'high' expenses and it is believed that she did not have a great relationship with the McCanns. However, accusations that she was fired by the McCanns have been denied by sources close to the family.
Meanwhile, the McCanns have asked search and rescue experts CRG to launch an investigation independent of the Portuguese police. Madeleine's parents believe detectives have failed to follow up dozens of crucial leads and have told friends that the advice and logistical support from CRG is worth the huge overheads.
The security group has a small team in Portugal. However, a key strand of the group's investigation has been to follow up on an early sighting of Madeleine in Morocco, made just five days after she disappeared from her parents' apartment in Praia da Luz.
Norwegian holidaymaker Mari Pollard, 45, reported seeing a 'lost-looking' toddler asking a man in a petrol station in Marrakesh: 'Can I see Mummy soon?' The McCanns have now learned of an earlier sighting at a hotel next door to that garage by a man from Yorkshire who was on holiday.
A source said that the Portuguese police had failed to quiz the witness, who did report his sighting to Leicestershire police.
Control Risks, which has been working with the McCanns for several weeks, is believed to be focusing on this sighting, which came a day before Ms Pollard spotted a girl similar to Madeleine.
The man's identity is not yet known by the McCann team but they are said to be keen to get in touch with him.
Other leads are also being pursued by the group, which has been advising the McCanns on the veracity of all the tip-offs that have come their way since Madeleine disappeared.
The McCanns are in constant contact with senior representatives of the company, according to a source close to the family. They turned to CRG after the Portuguese police began to move their attentions away from the search for Madeleine.
CRG, based in London and with high-profile connections to the Foreign Office, is held in high regard worldwide and has more than 600 employees, many of them former Special Forces members.
CRG declined to comment, saying: 'All our dealings with clients are highly confidential.'
Rugby boss is McCanns' mystery benefactor, 26 September 2007
by Katrina McKeever and Miles Skinner
26/9/2007
MILLIONAIRE Wilmslow businessman Brian Kennedy is giving financial backing to the parents of missing Madeleine McCann.
And he has provided staff from his own Wilmslow business HQ to help.
The owner of Sale Sharks rugby union club said he felt 'compelled' to support Gerry and Kate McCann following the accusations made against them.
Speculation had been growing about a mystery benefactor who was said to be helping meet the growing costs faced by the couple.
Now Mr Kennedy has put the financial clout of his Wilmslow based Latium business group behind the McCanns, who Portuguese police have made formal suspects in Madeleine's disappearance.
Mr Kennedy said in a statement: "In the light of the quite literally incredible accusations against Gerry and Kate McCann, which are clearly exacerbating their emotional torture, I felt compelled to offer, along with other like-minded businessmen, financial support and the full logistical support of the Latium team. That support is principally our in-house lawyer Ed Smethurst and (spokesman) Clarence Mitchell.
"This will relieve the McCanns of the daily pressure of co-ordinating the legal teams that will expedite the clearing of Gerry and Kate's names, allowing all parties to re-focus on finding Madeleine."
Edinburgh-born Mr Kennedy made his fortune in double-glazing and home improvements. His companies have included Weatherseal Holdings, Everest and Space Kitchens & Bedrooms.
The Latium Group of companies, based on Grove Street, has an annual turnover of about £400m and is involved in plastics moulding, conservatory roof manufacture, glass processing, home improvement retailing and property.
Experts place his personal fortune at around £250million.
He previously owned Stockport County FC through his company Cheshire Sports.
Former Stockport County MD, Kevan Taylor, said: "I have not experienced Brian doing anything quite like this before.
"But I can say that I have observed him being incredibly supportive of people who have worked for him who fell ill.
"He ensured they and their families had the best possible private medical care."
Mr Taylor, now a finance director with the Lawn Tennis Association, added: "Although Brian is an extremely private person, he is a genuinely very generous man.
"Let's just say that when I first read the news I said 'oh'...but then I wasn't really surprised at all."
Mr Kennedy, a Jehovah's Witness, has also put his financial clout to help build a church in recent years and gave Wilmslow High School funds to build an electronics workshop last year.
Born in Edinburgh, the son of a window cleaner, he opted to go into accountancy rather than go to university at the age of 18.
While working as a trainee accountant, Mr Kennedy saw potential as a salesman.
He later set up Genesis Communications in Trafford, which was once the fastest-growing mobile communications business in Britain, and bought Sale Sharks in 1999 followed by Everest Windows in 2000.
He is married with five children and divides his time between homes in Cheshire and Spain.
McCann team tests car for traces of Madeleine, 21 November 2007
McCann team tests car for traces of Madeleine
Telegraph
By Fiona Govan in Praia da Luz
Last Updated: 2:15AM GMT 21 Nov 2007
The McCanns' legal team has carried out independent forensic tests on the car hired by the couple 25 days after Madeleine disappeared and found no trace of the missing girl, it has emerged.
Portuguese police made Kate and Gerry McCann arguidos - formal suspects - after allegedly finding "bodily fluids" belonging to Madeleine in the boot of the McCanns Renault Scenic hire car.
It has been reported that police believe that Madeleine's body had been transported in the rental car, weeks after she accidentally died in the holiday apartment, perhaps from an overdose of sedatives.
They are said to be awaiting the results of DNA tests from a laboratory in Birmingham to confirm their suspicions.
Last night it emerged that lawyers working for the couple had hired independent forensic scientists to examine the car, which had been kept in a garage of an Algarve holiday villa after they returned to the UK.
Brian Kennedy, the wealthy business man who is funding the McCann's own efforts to investigate their daughter's disappearance, confirmed the tests had taken place.
"We did our own tests on the hire car and found no traces of Madeleine," he said.
He said that the tests had been carried out by a team of independent Home Office accredited pathologists and were completely reliable.
The forensic team also examined hairs belonging to Madeleine's siblings, twins Sean and Amelie, 2, but found no trace of them ever having been given sedatives.
Madeleine, who was three years old at the time, went missing from her parents holiday apartment in Praia da Luz on May 3.
Edgeley Park millionaire brings Maddie's dad to Stockport, 30 January 2008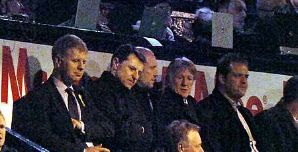 30/1/2008
HEARTBREAK dad Gerry McCann took time out from the frantic search for his missing daughter Madeleine to watch Sale Sharks beat Harlequins at Edgeley Park on Friday.
Mr McCann and his legal adviser Clarence Mitchell were guests of Sharks' millionaire owner Brian Kennedy.
Mr Kennedy, a previous owner of Stockport County, who sold the football club to the supporters' trust, has been a staunch supporter of the McCann family's campaign to find Madeleine.
The youngster's disappearance in Portugal last May, just days before her fourth birthday, sparked a worldwide hunt, and since then Gerry and his wife Kate have been at the centre of the media spotlight.
It has been widely reported that the McCann family's spokesman Clarence Mitchell's £75,000 salary, is being paid by Mr Kennedy and further help is being given by his lawyer Ed Smethurst.
Mr Kennedy told the Stockport Express yesterday: "Gerry McCann came out (to the match) for a couple of hours to help clear his mind. I wouldn't want this to compromise our campaign to find Madeleine. I remain absolutely committed to the campaign to find Madeleine and my support goes on."
Visit to Robert Murat, 04 May 2008
Steven Swinford
May 4, 2008
Excerpt:
Brian Kennedy, the home improvements tycoon backing the McCanns, admitted yesterday that he flew to Portugal last November and spent an evening with Robert Murat, apart from the McCanns the only other official suspect. A source close to Kennedy said he was "gathering information".
Kennedy's lawyer, Ed Smethurst, approached Murat through a mutual friend and said that Kennedy wanted to offer him a job.
But the job offer never transpired. Kennedy spent the evening with Murat and his lawyers at his aunt's house in Praia da Luz, discussing Madeleine's disappearance.
He left with a "flea in his ear" after being confronted over reports that Metodo 3, the McCanns' private investigators, had suspicions about Murat.
Brian Kennedy and Metodo 3 meet the PJ detectives, 14 August 2008
By
Duarte Levy and Paulo Reis
14.08.2008
On October 19, 2007, Alberto Carbas, the head of the Spanish CID Anti-Kidnapping Unit (Unidad de Secuestros de la Policia Judicial) contacted the PJ and asked detectives in charge of Madeleine's investigation if they were willing to have a meeting with a representative from Metodo 3 and a Spanish police officer from the same unit.
The purpose of the meeting was to give the PJ some information those detectives had. The Spanish police officer made it clear that Metodo 3 had no intention of interfering in the Portuguese police work, but only wanted to transmit some useful information. In the same contact, Metodo 3 said that they were not working for the McCanns, but for Brian Kennedy.
On November 13, 2007, the meeting took place, in Portimão. Two PJ detectives – Ricardo Paiva and Paulo Ferreira. - the director of Metodo 3, Mr. Francisco Marco, an adviser from the private detectives company, Mr. António Jimenez (former head of Police Anti-Kidnapping Unit from Catalonia) and Mr. Brian Kennedy participated in the meeting.
The two PJ detectives submitted a report, about the meeting, the information exchanged and the investigations, following the leads given by Metodo 3.
On the report, which is in the DVD files, it's referred that Mr. Kennedy stressed, just as the meeting started, that his only intent was a charitable one, because he was concerned with cases related with child neglect and missing children. He stated that his concern, in that specific case, was only the truth and nothing more than the truth, no matter the McCanns, their friends or any other person was involved or suspect.
The man hiding in shadows
The director of Metodo 3 gave PJ a written report with three situations, allegedly received through their hotline and related with Madeleine's disappearance The first was about an incident that the British Media already referred, at the end of October 2007: a woman who was babysitting at Ocean Club, in apartment 5A, on August/September 2006, spotted a man
"hiding in shadows" on a Thursday – the same day Madeleine, four, vanished", as The Sun wrote on October 31."
"The nanny – identified only as M.H. – reported the chilling incident to police in England shortly after the hunt for Madeleine began in May, but did not speak to cops in Portugal.", according to the newspaper. Clarence Mitchell added:
"This evidence backs up what we have always said, that Maddie was taken from her bed by an abductor."
PJ dismissed this report, as detectives considered that there was no evidence it was related with the disappearance of Madeleine.
The second information was about the alleged existence of a paedophile picture in a computer at the home of Sergei Malinka, witnessed by the fiancée of a British girl, four years ago, when he was at Malinka's home. The girl's fiancée questioned Malinka about that and he said the computer belonged to a client and he would report it to the authorities, later, according to the same witness.
All computers found at Malinka's home were apprehended and searched, but nothing relevant or suspect was found, the PJ report says.
Murat's girlfriend seen with Madeleine
The third information referred to a witness detailed sighting of what was described, in the report from Metodo 3, as a woman handing what that witness was convinced was a child, wrapped in a blanket or a sheet, to a man, over a fence, with two cars parked close to them, near a city 100 miles from Algarve. The witness, a Portuguese truck driver, M.G., saw several pictures and picked up Michaela Walczuch photo, saying that it was the most similar to the woman he saw.
The
British Press also got the story, on November 19, 2007, but with different details. "A witness is said to have spotted Mr Murat's German-born girlfriend Michaela Walczuch in a car with Maddie in central Portugal on May 5", wrote Metro
. The Daily Mail
had a similar story, the same day: "A new witness has identified Michaela Walczuch as a woman seen with the missing girl in central Portugal about 100 miles from where she disappeared on May 3, a source said."
As usual, Mr Clarence Mitchell had something to tell the media
: "We will not comment on any active line of the investigation other than to say we are encouraged that our investigators appear to be making progress.
Kate and Gerry are not ruling anything in or out."
The
PJ investigated this last incident, and questioned the Portuguese truck driver. But the facts he reported to Police were a little bit different: He saw the woman handing something to the man, over the fence, wrapped in what seemed to be a blanket. It was not heavy, because they did it easily and the fence was around 1.60 metres high. Asked if it could be the body of a child, he said that nothing of what he saw could point to that.
Questioned also about the positive identification of

Michaela Walczuch, according to Metodo 3 report, the witness told PJ that he couldn't see the face of the woman, as he was driving his truck, at 70/80 km per hour, and the couple was at a good distance. He only picked up Michaela's picture from the other pictures that Metodo 3 showed him, because it had the same hair colour and a similar body build.
Brian Kennedy's quest to find Madeleine

, 17 October 2008
October 18, 2008 (appeared online October 17, 2008)
There is no doubt that Brian Kennedy is a driven man. He has built a business empire with a turnover of more than £400million, as owner he has transformed Sale Sharks into one of the leading rugby clubs in Britain, who face Munster tomorrow in the second round of the Heineken Cup, and fathered five children.
He is ultra-competitive. Only last weekend he raced Kingsley Jones, the club's coach and former Wales captain, uphill and beat him even though there is more than ten years between them. Family - he married at 19 - sport and the commercial world are his life blood. But over the past year he has also been consumed by another cause. Kennedy has been heavily involved in supporting Gerry and Kate McCann in the search for Madeleine, their missing daughter.
Kennedy 48, is reluctant to talk about his role or the reasons why he chose to put a chunk of his fortune, estimated at more than £250million, at their disposal. He has said before that he simply felt compelled to step in. "I have chosen to keep a low profile on this," Kennedy said yesterday. "It is not about me. It is about Madeleine. I don't want to comment personally on this except to say there is a big job still to do and we are focusing on getting it done."
Seventeen months after her disappearance in Portugal, Kennedy remains as committed as ever to discovering what happened to Madeleine and helping the family to end their torment. "Am I still involved?" he said. "Absolutely. Have we given up hope? Have we hell. The battle has just commenced. We have plans and when we are ready to tell the world about them we will do so."
Kennedy has become friends with the McCanns and Gerry has been his guest at Sale. "He is a keen rugby man and really likes his sport," Kennedy said. Asked how he thought they are coping, he replied: "The only person who could answer that is someone who has gone through the same thing. Fortunately, the vast majority of us have not. As a parent you feel for them. Whatever you feel, the horrible feeling you feel when you think about it, you have to multiply it by infinity to start getting a glimpse of how it must really feel."
On Thursday, two newspapers had to pay substantial damages to seven friends of the McCanns who were on holiday at the time Madeleine went missing. Kennedy cannot comprehend how people could even think that the couple were somehow culpable, or how difficult it must have been to live their nightmare in public. "To lose your child and then be blamed?" he said. "It is ludicrous and horrible the things the press were saying."
Is he optimistic that there will be a positive resolution? "I am neither optimistic nor pessimistic," he said. "I am realistic. We are just getting on doing what can be done and who knows how it will turn out. It is a very big part of my life. There are a lot of people helping by putting in a lot of time. But as I have said, it is not about me, them, Kate or Gerry. It is about a poor little kid who might be out there needing to be found. So therefore we need to move mountains to find her."
The discussion switches to rugby, the tremendous victory away to Clermont Auvergne in the opening round of the Heineken Cup and tomorrow's equally daunting meeting with Munster, the champions, at Edgeley Park.
"The whole occasion in France was remarkable and there were several facets to it," Kennedy said. "It was against one of their top teams, the atmosphere was incredible, and there was a big emotional angle for Philippe [Saint Andre, the Sale director of rugby]. This is where he played for many years, captained them, where he is thought of very highly and he has come back as a conqueror on a white horse. This weekend we are going to have to do it all again."
Standards have been set high. Kennedy believes that this team are the best in the club's history and that winning the Guinness Premiership or the Heineken Cup remain realistic targets this season. "The result last Saturday underlines the potential of this club when we get it together," he said. "We have never had a team that could have got that result."
The change in mentality and emphasis had its genesis in the surprising home defeat by London Irish in the final league game of last season. "We were not expected to lose that," Kennedy said. "That set the tone for all the pre-season work.
"It was obvious there was something we were not doing right. It is about focus and mental hardness. Philippe and Kingsley decided to go about things in a different way. Whether that leads to anything we'll wait and see. But we are in a better position than we have ever been."