The national charity Missing People has teamed up with photographer
James O Jenkins on a poignant exhibition to highlight the thousands of people in the UK who are living in limbo after the disappearance of a loved one. It will open on Wednesday October 14 and be displayed until November 22 at The Crypt, St-Martin-in-the-Fields, Trafalgar Square.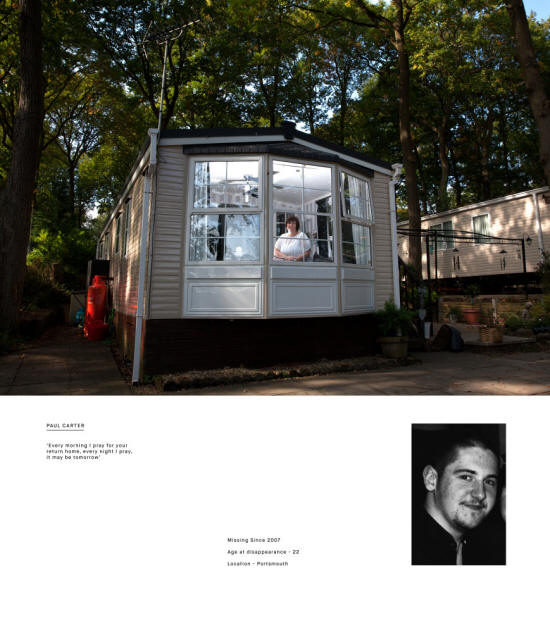 1-PAUL CARTER
Missing since: 2007
Age of disappearance: 22
Location: Portsmouth

"Every morning I pray for your return home, every night I pray it may be tomorrow"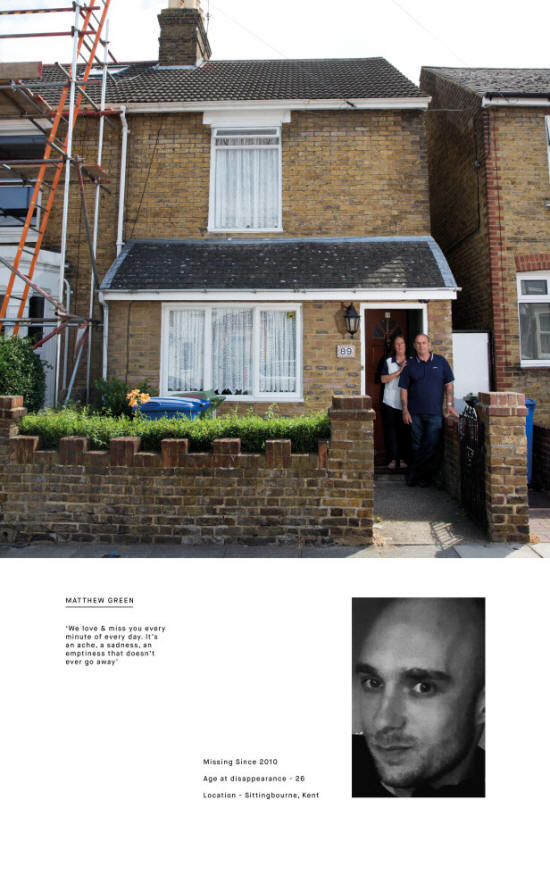 2-MATTHEW GREEN
Missing since: 2010
Age of disappearance: 26
Location: Sittingbourne, Kent

"We love and miss you every minute of every day, its ache, a sadness, an emptiness that doesn't ever go away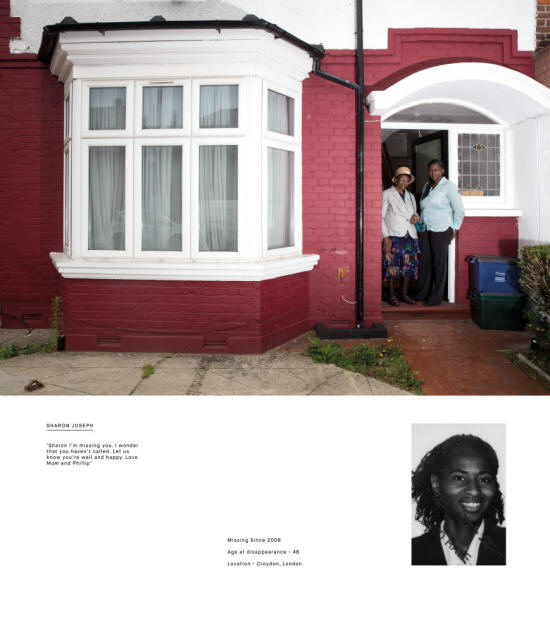 3-SHARRON JOSEPH
Missing since: 2008
Age of disappearance: 48
Location: Croydon, London

"Sharron I am missing you. I wonder that you haven't called. Let us know you're well and happy, Love Mum and Phillip"
4-QUENTIN GOODWIN
Missing since: 1992
Age of disappearance: 18
Location: Titirangi, New Zealand

"Quentin has never seen our front door but if he was to walk in this Christmas, it would be the greatest moment for us all"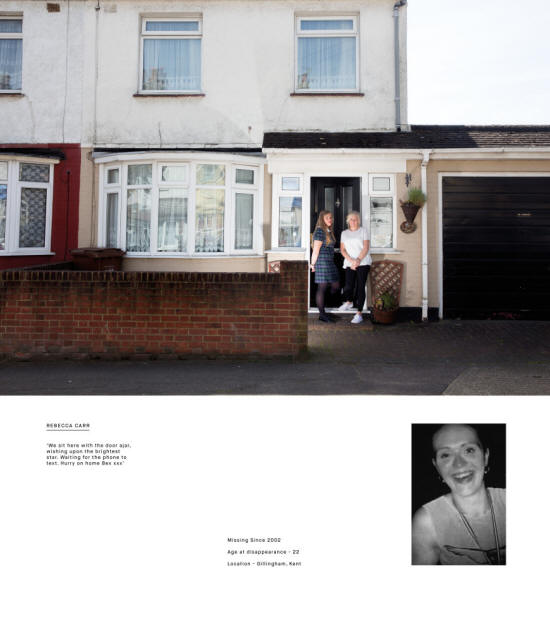 5-REBBECCA CARR
Missing since: 2002
Age of disappearance: 22
Location: Gillingham, Kent

"We sit here with the door ajar, wishing upon the brightest star. Waiting for the phone to text. Hurry on home Bex xxx"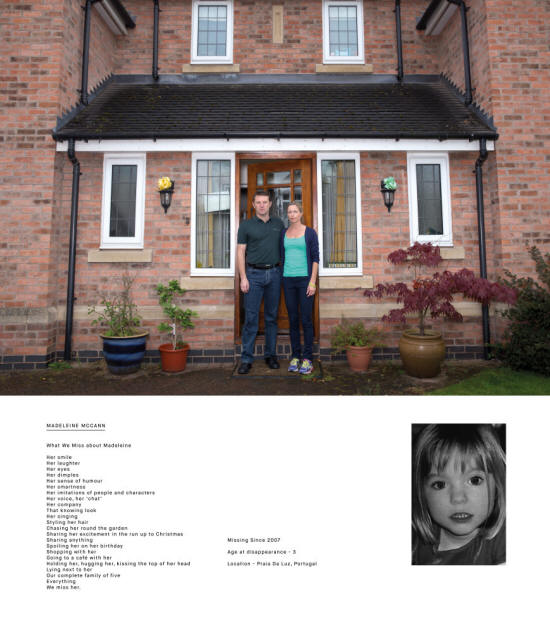 6-MADELEINE MCCANN
Missing since: 2007
Age of disappearance: 3
Location: Praia Da Luz, Portugal

What We Miss about Madeleine

Her smile
Her laughter
Her eyes
Her dimples
Her sense of humour
Her smartness
Her imitations of people and characters
Her voice, her 'chat'
Her company
That knowing look
Her singing
Styling her hair
Chasing her round the garden
Sharing her excitement in the run-up to Christmas
Sharing anything
Spoiling her on her birthday
Shopping with her
Going to a cafe with her
Holding her, hugging her, kissing the top of her head
Lying next to her
Our complete family of five
Everything
We miss her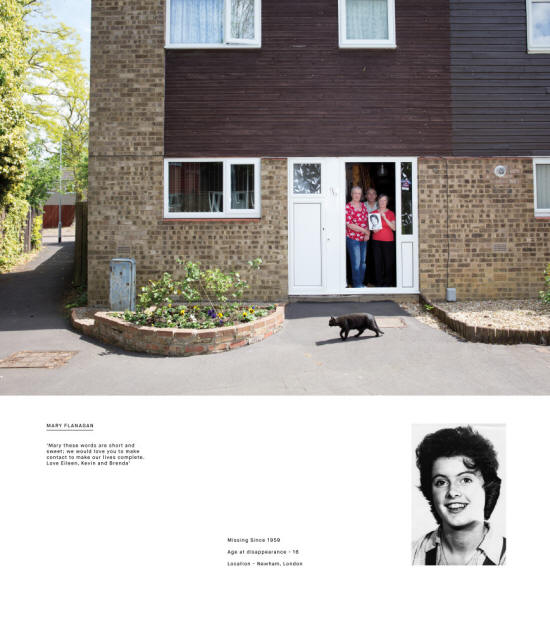 7-MARY FLANAGAN
Missing since: 1959
Age of disappearance: 16
Location: Newham, London

"Mary these words are short and sweet; we would love you to make contact to make our lives complete. Love Eileen, Kevin and Brenda"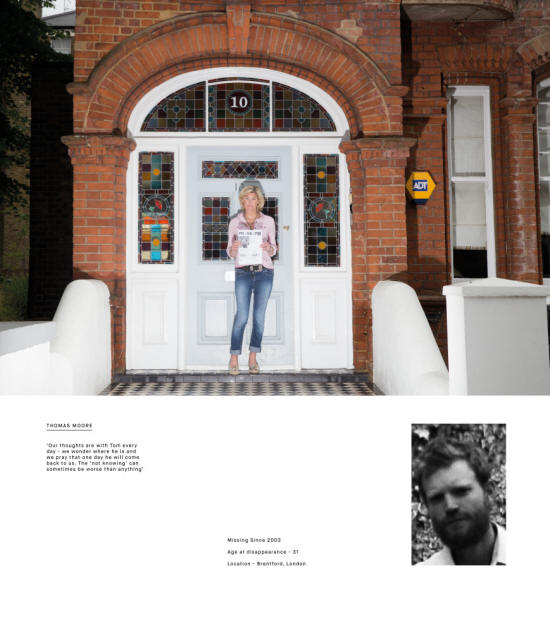 8-THOMAS MOORE
Missing since: 2003
Age of disappearance: 31
Location: Brentford, London

"Our thoughts are with Tom every day – we wonder were he is and we pray that one day he will come back to us, The "not knowing" can sometimes be worse than anything"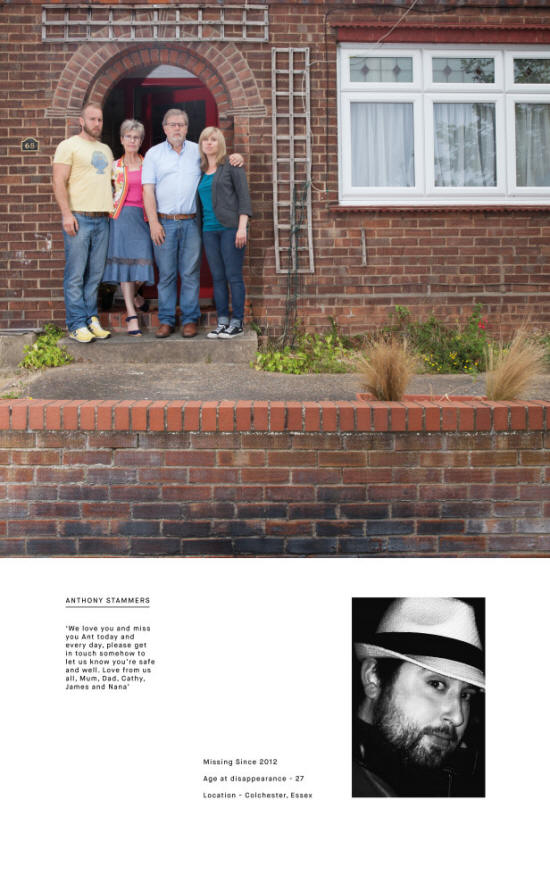 9- ANTHONY STAMMERS

Missing since: 2012
Age of disappearance: 27
Location: Colchester, Essex

"We love and miss you Ant today and every day, please get in touch somehow to let us know you're safe and well. Love from is all, Mum, Dad, Cathy, James and Nana"
10-LEE BOXELL
Missing since: 1988
Age of disappearance: 15
Location: Sutton, London
"Where are you now?
Are you safe and well?
Maybe tomorrow we'll wake up and find you"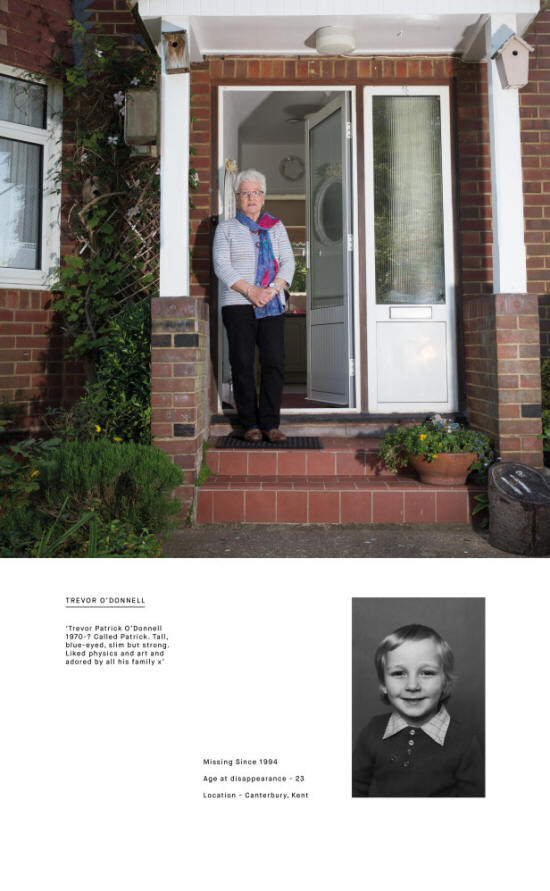 11- TREVOR O'DONNELL
Missing since: 1994
Age of disappearance: 23
Location: Canterbury, Kent

"Trevor Patrick O'Donnell 1970-? Called Patrick. Tall, blue-eyed, slim but strong. Likes physics and art and adored by all his family x"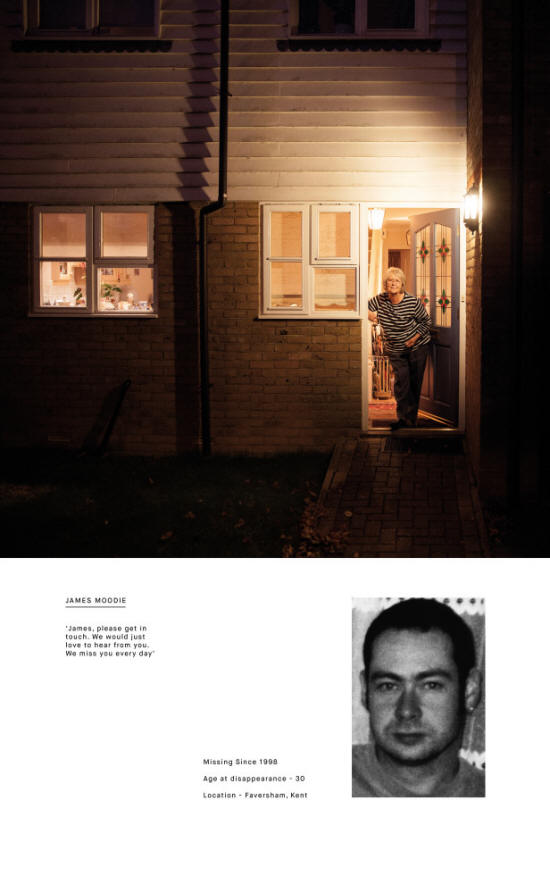 12- JAMES MOODIE
Missing since: 1998
Age of disappearance: 30
Location: Faversham, Kent

"James please get in touch. We would just love to hear from you.
We miss you every day"
Amanda Redman Kate McCann Fiona Phillips 5_11_2015