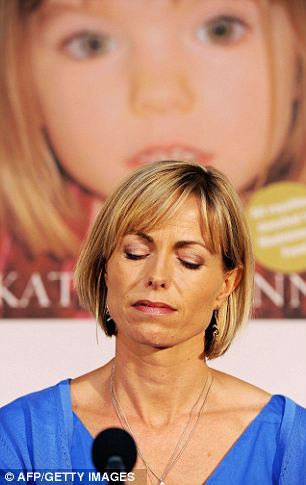 Can Scotland Yard find Maddie' The Met joined the hunt for Madeleine McCann last night after her parents begged David Cameron for help - Kate McCann is pictured at the launch of the book Madeleine
Scotland Yard joined the hunt for Madeleine McCann last night after her parents begged David Cameron for help.
Kate and Gerry McCann made an anguished personal plea to the Prime Minister to intervene, warning: 'We are at the end of our tether.'
Within hours of their desperate appeal, Home Secretary Theresa May announced that Scotland Yard would help Portuguese police review key evidence about Madeleine's disappearance, aged three, from an Algarve resort in 2007.
The McCanns believe potentially vital clues were missed in the botched Portuguese investigation, which was formally shelved in 2008. The Portuguese have been reluctant to reopen the failed inquiry into Madeleine's disappearance but they have now agreed that the Met should lead a review of the evidence.
It is not clear whether British officers will travel to Portugal.
The McCanns have previously asked three Home Secretaries for help, including Mrs May. If new leads or missed opportunities are thrown up, the inquiry could be formally reopened, Government sources said.
Ministers hope the Met team can bring a 'new perspective' to the controversial case and have agreed that the Home Office will fund their work, which will be conducted in tandem with Portuguese police.
But the move has prompted questions about why the review could not have been carried out earlier, when evidence was fresher.
And critics will question whether there is any realistic prospect of a breakthrough in the case, which has seen no major developments since Madeleine's disappearance on May 3, 2007.
Mrs May said: 'The Government's primary concern has always been and remains the safe return of Madeleine. Although she disappeared in Portugal, and the Portuguese retain the lead responsibility in the case, law enforcement agencies here have continued to follow up leads and pass information to the Portuguese authorities as appropriate.
'The Prime Minister and I have today agreed with [Met boss] Sir Paul Stephenson that the Metropolitan Police will bring its particular expertise to this case. Clearly, the detail of what that will entail will be a matter of operational judgment.'
Missing: Madeleine disappeared in May 2007 from a holiday resort in the Algarve
The Home Secretary did not reveal if it would amount to little more than a cursory 'paper review' in which detectives only had access to documents in the case files.
Police sources stressed last night that the Yard has 'no jurisdiction' in Portugal and that officers would not be taking over the inquiry. One official said: 'Any such move would cause a major diplomatic row. We will be providing expertise and assistance.'
A team of officers in the Met's Specialist Crimes Directorate will be formed in the next few days. It is expected they will report to Assistant Commissioner Cressida Dick.
The shambolic handling of the Portuguese police investigation, in which the McCanns were named as suspects only to be cleared months later, has proved a major embarrassment to Portugal, which has been reluctant to accept international offers of help.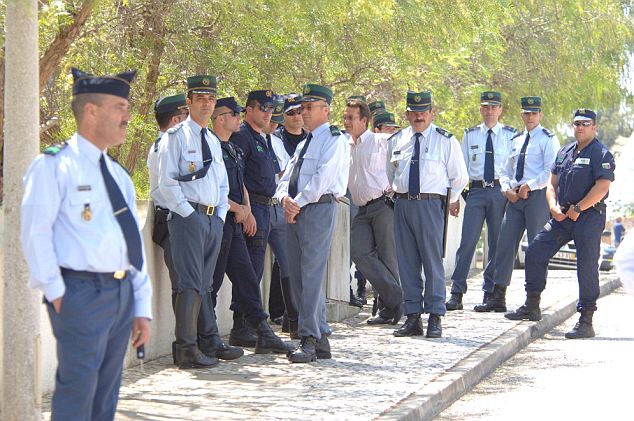 Shambolic: British detectives have expressed dismay over flaws in the Portuguese investigation into Madeleine's disappearance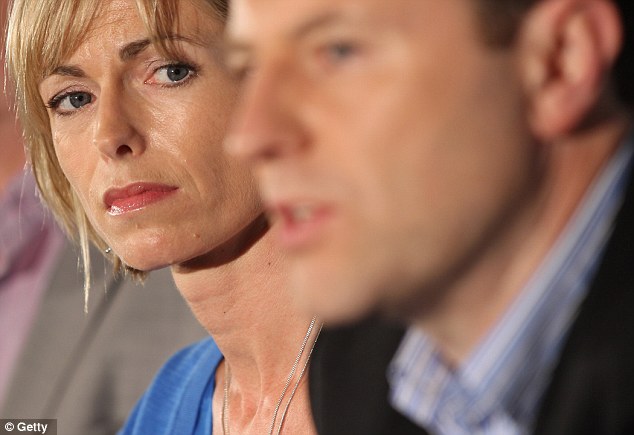 British detectives have expressed dismay over flaws in the investigation, in which dozens of people were allowed to trample over the crime scene and evidence was found to be contaminated with cigarette ash.
At a press conference yesterday, on Madeleine's eighth birthday, Mr McCann said: 'We really have come to the end of our tether, we want to see action from the Government, not rhetoric.'
The heart consultant, 42, had made a personal appeal to Mr Cameron, and recalled Mr Cameron's own suffering over the death of his six-year-old son Ivan in 2009, saying: 'He will understand what we've gone through.'
Mr and Mrs McCann, of Rothley, Leicestershire, have used public donations to their Find Madeleine fund to pay for their four-year hunt for their daughter. They have spent more than '1million on their search, including hiring private detectives.
Leicestershire Police ' the McCanns' home force ' sent three family liaison officers to Portugal in May 2007 to support the couple.
The force also carried out investigations on behalf of Portugal's Policia Judiciaria, including gathering DNA evidence and interviewing the McCanns' holiday friends after they had returned to Britain.
■ For details of ways to donate to the Find Madeleine fund, visit www.findmadeleine.com
by PAUL HARRIS
Some time in the future, if all their prayers are answered, Kate and Gerry McCann will walk hand in hand into a press conference without those haunted looks on their faces, without all the uncertainty.
There will be no more appeals, no pleas for public or government help, no need to defend themselves against criticism and accusations.
They will face the cameras with beaming smiles and announce the good news they always believed they would one day be able to share.
Yesterday wasn't that day.
Four years after she vanished, as a mother and father should have been celebrating their beloved daughter's eighth birthday, Madeleine McCann was still missing. All the money, hope, effort and determination they had poured into finding her these last 1,471 days had come to nothing. They still couldn't declare she had been found safe and well.
And so, in a movingly familiar re-run of their anguished appearances during those weeks in the spring and summer of 2007, Kate and Gerry McCann entered another phase of the struggle.
With remarkable fortitude, they laid themselves bare before worldwide audiences in the hope it might lead them to their little girl. They wouldn't give up, they told us. They still harboured the image of her running back into their arms.
How could anyone abandon hope when there was 'absolutely no evidence' to suggest Madeleine had come to harm' Remember the other missing children who had turned up after months and years away. 'I feel that she's out there,' Kate said in one of the marathon round of interviews marking publication of her book yesterday.
'I don't know if all mums would feel like that but what I do know is that there's nothing telling me to stop or slow down. I truly believe that she's out there and if we can get the help we need then one day we might find her and get her home.'
Seeing the couple like this turned the clock back four years to the Algarve, where Madeleine disappeared, and to the travelling appeal that took them through Europe, Morocco, America and the Vatican

Yesterday the revitalised tour took them to a succession of TV and radio studios.
In the space of a few hours we learned that the couple believe authorities have given up any possibility of finding her; that reported sightings and bits of information being given to Portuguese police are simply put in a stagnant file; and that not a single law enforcement agency anywhere in the world has been looking for Madeleine for the past three years.
That was why they had called on David Cameron to launch an independent review of all the information relating to the case ' in the belief, as Gerry put it, that there 'must be' some detail somewhere which is worthy of investigation, and could provide a lead on Madeleine's abductor.
Holding it back, he said, was 'not acceptable'.
Yet it was the depth of personal and incidental information they were prepared to make public which underlined how desperate they are to rekindle the astonishing wave of public help and support that hallmarked those first few weeks of the search.
Kate ' who held her husband's hand discreetly throughout the 45-minute QEII press conference ' admitted she did not want any more children. Sean and Amelie, the couple's six-year-old twins, now knew what happened to their big sister and say she was taken 'by the naughty man'.
The 43-year-old GP still wakes up every morning, she told us, 'thinking this could be the day we find her'. Most of Madeleine's toys were still in her room back home in Rothley, Leicestershire, minus a couple that the twins had quietly liberated.
But one question seemed genuinely to puzzle her. Would they ever reach a point where she felt she could do no more'
'I don't feel we'll ever reach a point where we feel we've done everything we can,' she said. 'If Madeleine's still missing then we haven't done enough.
She bowed her head slightly and looked momentarily upset. Even when she found a few seconds to laugh yesterday, she quickly brought herself in check. She admitted that she struggles to overcome a sense of 'shame' at the times when she is able to enjoy life.
But she has worn the same pained expression for so long now it has changed her face for ever, and little wonder. You had only to look at photographs in her book to realise how much she has lost ' not just a daughter, but so many happy moments together as a family of five, and the irretrievable joy of seeing Madeleine grow up.
In the book, the smiling child is frozen in time less than two weeks short of her fourth birthday.
Copies of it were everywhere the couple went yesterday as figures showed it was already topping sales charts, an indication that it might be on the way to raising the '1million the McCanns need to fund their continuing campaign.
They also hope it could jog memories of potential witnesses, and rebuild the kind of political support they critically need.
There are clearly still a lot of questions to ask, and still no answers. And still no sign of Madeleine